Ho Chi Minh Mausoleum Complex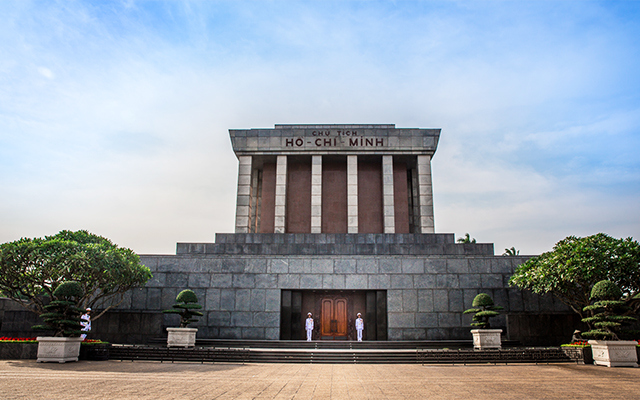 The complex of Ho Chi Minh's Mausoleum is one of the must-visit places in Hanoi, especially for those who are interested in contemporary history of Vietnam. It is also the final resting place of President Ho Chi Minh (Bac Ho) – the most iconic leader of Vietnam who has led Vietnam to independence and reunification. This complex includes Ho Chi Minh's Mausoleum, Ba Dinh Square, Presidential Palace, Ho Chi Minh's Stilt House, Ho Chi Minh Museum and One Pillar Pagoda. Visiting time of this complex lasts for about 3 hours or more, so you could manage your time to arrange your most interesting day tour in Hanoi.
1. President Ho Chi Minh
For Vietnamese, President Ho Chi Minh has always been a shining symbol of revolutionary morality and an example of lifetime sacrifice and devotion to the glorious revolutionary cause of the Party and the nation, wholeheartedly serving the Fatherland and the people. He is also known as with the name of Nguyen Sinh Cung (originally name), Nguyen Tat Thanh or Nguyen Ai Quoc and all Vietnamese people call him Uncle Ho.
Ho Chi Minh was the founder of the Indochina Communist Party and its successor, the Viet-Minh and the President from 1945 to 1969 of the Democratic Republic of Vietnam. Under his lead, Vietnamese people succeeded in the resistance war against French colonialism.
Ho Chi Minh passed away on the morning of 2 September 1969 due to a heart attack. In his will, he said that he wished to be cremated and buried ashes on the hills of the North, Central and South Vietnam. However, to honor Uncle Ho's great dedication to the country and the love of all Vietnamese for him and  opportunity for Southern Vietnamese could be able to see him when the country united, the government decided to build Ho Chi Minh Complex in Hanoi.
2. Mausoleum of Ho Chi Minh
Built over 2 years from 1973 to 1975, this project was the result of a close collaboration between engineers from Vietnam and the former Soviet Union. Mausoleum of President Ho Chi Minh is divided into three floors and the second is the center of the construction, where the remains of the President Ho Chi Minh are kept in a chamber, accessible through a series of passages and flights of marble stairs.
Outside, visitors can see his popular quote "Khong co gi quy hon doc lap tu do" (translated as "Nothing is more precious than independence and freedom") on the top face of the mausoleum. In front of the mausoleum is the 79 cycad trees, symbolizing Uncle Ho's 79 springs of life. The two bamboo ranges on the two sides whistle in the wind that sounds like they are commemorating the President.
Visiting the mausoleum is free of charge but involves a set of strictly enforced regulations. Do not wear short skirts, tank tops or hats. You may be requested to store day packs, cameras and phones before entering. Taking photos, talking, putting your hands in your pockets or finger-pointing are strictly prohibited inside the mausoleums. Visitors are expected to remain silent and walk in two lines slowly and steadily through the mausoleum.
Opening time: 7:30 AM – 10:30 AM on Tuesday, Wednesday, Thursday, Saturday and Sunday.
Closing time: Every Monday and Friday, from 15 June to 15 August for maintenance.
Location: 2 Hung Vuong, Dien Ban, Ba Dinh, Hanoi.
Entrance fee: Free.
3. Ba Dinh Square
Ba Dinh Square is where Ho Chi Minh's Mausoleum lies. Here on September 2nd, 1945 in front of thousands of Vietnamese people, President Ho Chi Minh read the Independence Declaration of Vietnam – giving birth to the Socialist Republic of Vietnam. Ba Dinh, which means "Three Communal Houses", was originally a village's name in Thanh Hoa, in which the first revolution against French colonialists took place. After independence, the Square was given this name as a reminder of the past, of Vietnamese arduous but heroic resistance.
This is the Vietnam's largest square, with 320m in length, 100m in width, and capacity of 20 thousand people and a flag tower of 29m high. In the past, it was a historical witness of many remarkable events. And nowadays, various national events and meetings, military parades celebrating the country's anniversary are organized at this square. Especially, the flag raising and lowering ceremony are solemnly taken place daily under the formal national rites.
Opening time: 5:00 AM – 10:00 PM every day
Location: Hung Vuong Street, Dien Ban, Ba Dinh District, Hanoi.
Entrance fee: Free.
4. The Presidential Palace
The Presidential Palace was designed by a German architect for a French Indochina Governor. At that time, this was the most luxurious construction with more than 30 rooms and took approximately 6 years to complete, from 1900 to 1906, then named as Indochina Governor Palace. In 1945, it was renamed the Presidential Palace and Uncle Ho was supposed to live and work there but he refused to do that as he said it would be unsuitable for him to live in such a luxury huge building while the other residents were poor and starving.
Like other buildings that the French colonists built in Hanoi, the Presidential Palace has noticeable architecture with yellow color and greens domes. Rock, tile, and brick were tailor-made at some factories in Vietnam while fir, window bar, glass were imported from French and other European countries.
Today, the Presidential Palace is mostly used for Vietnamese government to welcome many heads of states, high-ranking delegations of various parties and governments all over the world. It is located in the precinct close to Ho Chi Minh's Mausoleum and Ba Dinh Square.
Location: No. 2 Hung Vuong, Dien Ban, Ba Dinh, Hanoi.
Not allowed to visit, just see outside.
5. Ho Chi Minh's Stilt House
Built in 1958, this house is a place President Ho Chi Minh lived and worked from 1958 to 1969. The two-storeys house with wooden tiled roof is so humble and simple. He used the ground floor as a living room to meet guests. A long table is set in the middle with wooden and bamboo chairs around. Wooden stairs at the back of the house lead to the second floor which is divided 2 small rooms simple arranged for work and rest.
In the front of the house, there is a fish pond with a variety of orchids bloom year around on its bank. There are also many scented flowers like fragrant jasmines and eglantines and fruit trees planted around the house. The fence around the house and gate is formed by hibiscus trees that reminds an image of his house in Nghe An Province. US President Obama once visited Vietnam in 2016 and fed the fishes at this pond as a friendly welcome gesture to Ho Chi Minh's historic house
Presently, more than 250 documents and objects made of various materials in the stilt house have been kept intact and well-preserved to the state they were during his last days.
Opening time: 7:30 – 11:00 AM and 13:30 – 16:00 PM every day.
Entrance fee: 25,000 VND/ visitor
6. One Pillar Pagoda
With a great historic and architectural value, One Pillar Pagoda was officially recognized as "The Pagoda with the Most Unique Architecture in Asia" by the Asia Record Organization in 2012. Aslo known as "Chua Mot Cot", "Dien Huu" or "Lien Hoa Dai", One Pillar Pagoda is an ancient pagoda situated next to Ho Chi Minh Mausoleum. It started being constructed under Ly Thai Tong's Dynasty in 1049.
Experiencing decades, the pagoda was repaired and restored several times. In 1954, French colonists used explosives to destroy the pagoda before withdrawing from Vietnam. In 1955, Ministry of Culture had One Pillar Pagoda rebuilt by architect Nguyen Ba Lang and it remains as this shape until now.
This pagoda is distinctive and unique in terms of architecture. A wooden square pagoda with a curved roof was built on a single concrete pillar in the middle of the pond. It was designed to resemble a lotus blossom which represents pure beauty and is regarded as symbol of pagoda.
Opening time: 6:00 AM – 18:00PM
Entrance fee: Free.
7. Ho Chi Minh Museum
The museum is located on an area of the historical Ba Dinh square, the last spot in Ho Chi Minh complex. It was commenced in August 1985 and inaugurated on May 19th 1990 right on the birth centenary anniversary of President Ho Chi Minh.
The museum was built in the shape of a white lotus flower, which is nearly 20m high, including 3 floors. The ground floor is a hall with 400 seats, which is usually used to host national and international meetings, conferences and scientific seminars. The main exhibition area of the museum is on the second floor covering an area of nearly 4,000 square meters. More than 2,000 documents and show-pieces are displayed, systematically reflecting President Ho Chi Minh's life and Vietnam's Revolutionary Stages since late 19th century.
Opening time: 08:00 AM – 12:00 PM and 14:00 PM – 16:30 PM on Tuesday, Wednesday, Thursday, Saturday and Sunday.
Closing time: Every Monday and Friday..
Location: No. 19 Ngoc Ha, Doi Can, Ba Dinh, Hanoi.
Entrance fee: 25,000 VND/ visitor
8. How to get Ho Chi Minh Mausoleum Complex
Located in the center of Hanoi, Ho Chi Minh Mausoleum Complex can be reached by many ways such as motorbikes, taxis, public buses…or walking if  your hotel located in Ba Dinh District.
Note that, the drop off place is not close to the pickup point at this site so for the first-time travelers, it is recommended to book a private guided tour with private car for your better convenience and experience. Let Vietnam Travel provide you these services, just get in touch with us and our dedicated Travel Consultant team will give you the best advice!
9. Travel Tips
• Dress code: Visitors are required the formal dress. No shorts or mini skirt or tank tops allowed. If you don't, you may rent them at the shops by the entrance (It takes your time).
• Please be quiet inside the mausoleum to pay respect to the remains of Ho Chi Minh.
• There are no camera/phone back packs… when entering the mausoleum. So you could handle to your tour guide and meet him/her to get it back on the way out.
• Strictly follow the regulation of using camera in this restricted area.
• Don't bring food or electric device in to the mausoleum.
• Children younger than 3 years old will not allowed for entry, so you have option to skip this mausoleum and see the rest of this complex.