Tran Quoc Pagoda – Oldest pagoda in Hanoi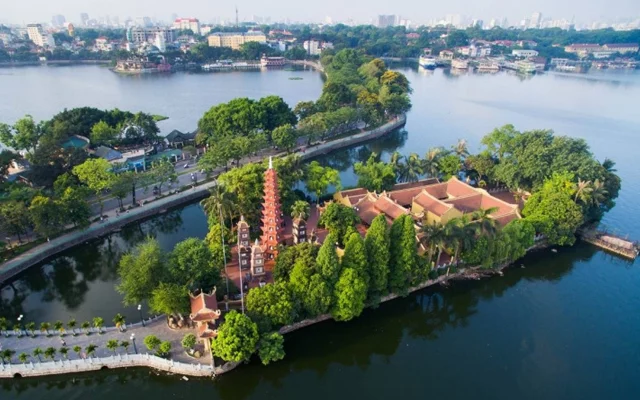 Tran Quoc Pagoda, the Pagoda of National Defence, is one of top sightseeing attractions in Hanoi for those who are fascinated by history, local legend and the Buddhist faith. Below is some information about it that you may like to know before visiting…
History of Tran Quoc Pagoda
According to historical records, the pagoda started to be built in 541 on the bank of the Red River, outside of the Yen Phu Dyke and completed in 545 under the reign of Emperor Ly Nam De. It was initially named Khai Quoc Pagoda (National Founder Pagoda). During the Ly Dynasty, Khai Quoc Pagoda became the Buddhist Center of the Thang Long Citadel, accepting the teachings of many Zen masters.
Due to the river's encroachment, in 1961, the pagoda was relocated to Kim Ngu (Golden Fish) islet of the West Lake – its current address. The pagoda then continued to go through major changes regarding its name and construction over the following decades. These alterations tied to the name of ruling kings at the time. Its name was changed as Tran Quoc (National Defence) during the reign of King Le Hy Tong (1680-1705).
At the beginning of the Nguyen Dynasty, the pagoda was further refurbished, and statues, bell-shaped. In 1842, King Thieu Tri visited the pagoda and renamed Tran Bac (Guardian of the North). However, the local people still regard it as Tran Quoc pagoda.
Unique Architecture of Tran Quoc Pagoda
Like other temples in Vietnam, the most outstanding feature of Tran Quoc Pagoda is its architecture following strictly the Buddhist architectural philosophy with many layers of buildings and three main houses.
Walking along the slightly curved road leading to the temple, visitors would encounter Tien Duong (Front House), one among the holy trinity, overlooks West, while incense burning house and Thuong Dien (Upper House) are located further inside. The highlight of the precinct is the 15m tall tower called Bao Thap (Precious Stupa), which was built in 1998 with 11 floors. Each floor consists of 6 domed doorways where the Amitabha Buddha statues are placed. On the top of the tower is a precious nine-layers stone lotus. Besides, Tran Quoc Pagoda is compared to a small museum of ancient worship statues and priceless antiques. They were carved and polished meticulously by the skillful hands of craftsmen.
It would be a miss if not mentioning the Bodhi tree, regarded as Buddhism symbol, symmetrically with the stupa in the garden of Tran Quoc Pagoda. It is a gift of the former Indian President Razendia Prasat on the occasion of his visit to Hanoi in 1959. It is believed that this is a branch of the sacred Bodhi tree where Sakyamuni meditated to achieve enlightenment 25 centuries ago. Now the tree is green and easily recognizable in accordance with the heart-shaped leaves.
Tran Quoc Pagoda is a harmonious combination of the elegant landscape and Buddhist architecture, creating a special spiritual space. It is a reason why it becomes very famous and attracts many domestic and international visitors. Daily Mail newspaper also listed Tran Quoc Pagoda among one of the 16 most beautiful pagodas in the world.
How to get to Tran Quoc Pagoda
Located about 2km north of Ho Chi Minh Complex or 5km from Hoan Kiem Lake, Tran Quoc Pagoda can be reached by some different means of transportation:
– By public bus: Yes, this is the cheapest option, about 7,000 VND/ a ticket. You can get the bus No. 55B, 31, 14 near Hoan Kiem Lake to stop at An Duong – Yen Phu bus station, then you can walk around 5 minutes to get to the pagoda.
– By metered/ Grab taxi: Another option is to take a taxi to get there easily. It is better to book a taxi drive via Grab application – very popular in Vietnam – on your mobile phone and you know exactly how much you will pay for it.
– By private car: If you choose this option, it is suggested to book a guided Hanoi city tour including this place with a local agency. A private driver and tour guide will accompany with you and give you more informative knowledge than exploring the place by yourself.
Useful Advices for Visitors
– Dress conservatively out of respect for the monks and locals.
– The pagoda is often crowded with a lot of worshippers and locals during annual festivals: Tet holiday and Buddha's birthday, and on 1st and 15th days of each lunar month. If you don't fancy huge crowd, it is better to avoid these days.
– The pagoda is open daily from 8:00 AM to 4:00 PM. It is free to visit all year round but you can give a small donation.