Nga Nam Floating Market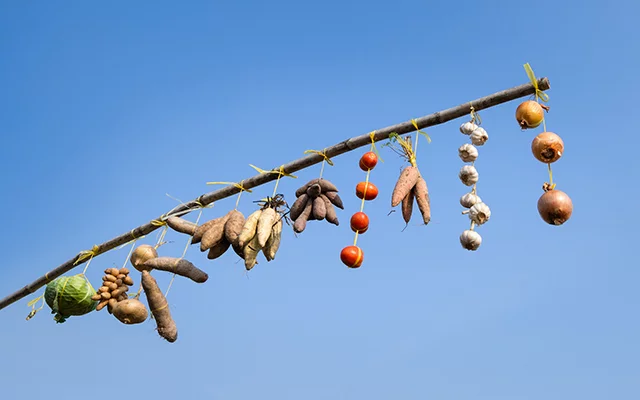 For those who travel to Mekong dealt without visiting the floating market, the trip seems uncompleted. Floating market is  place for purchasing products and for visitors to learn about the unique cultural features along Mighty Mekong river. Together with the Cai Rang ( in Can Tho City), Cai Be (in Tien Giang Province) or Nga Bay ( in Hau Giang Province) markets, Nga Nam Floating Market in Soc Trang Province is another gem in the Mekong Delta. Located about 60 kilometers from Soc Trang center, this floating market still bears a bold simplicity and is one of the oldest floating markets in a history hundred of years with large-scale in the region.
Get up early and let's find out how interesting Nga Nam Floating Market will bring to you!
History of Nga Nam Floating Market.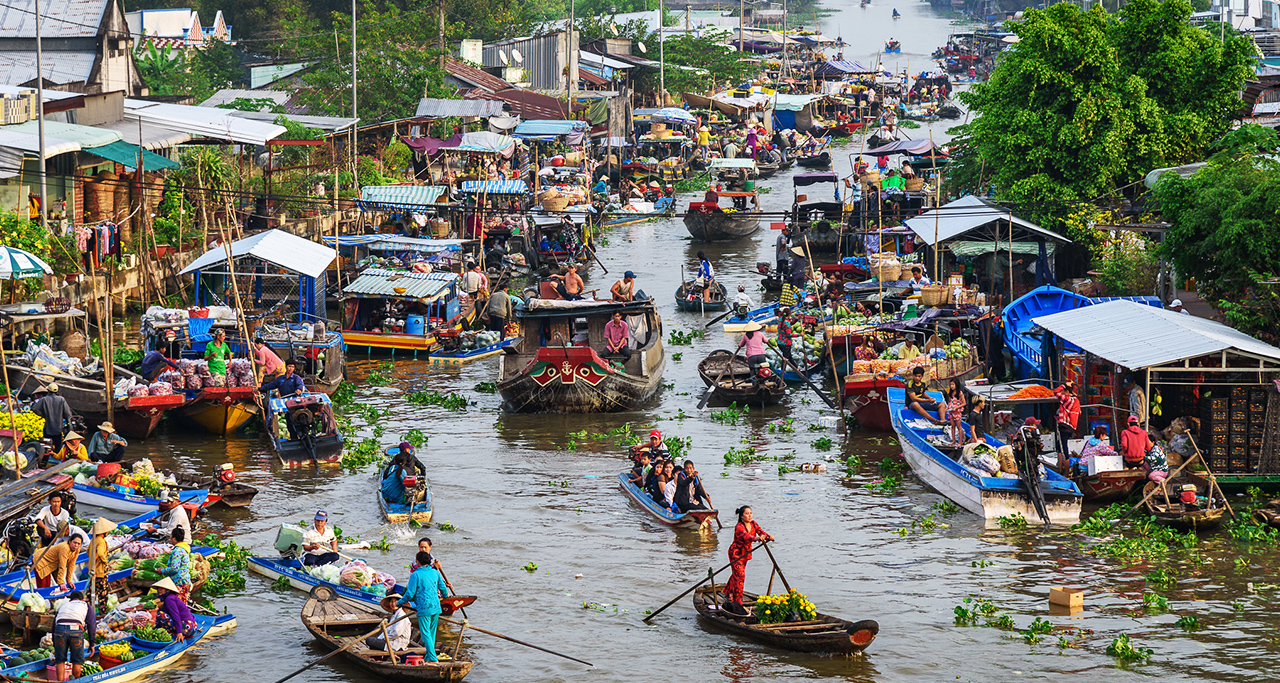 According to some historical documents, Nga Nam was officially found in the early 19th century when the Nguyen Dynasty's land reclamation policy applied to the Mekong Delta.
In the late 19th century, Nga Nam district was still a forest full of mangroves and reeds with a sparsely populated area. This land was considered a quite adventurous place to explore by the French colonists.
In the Indochina conquest, the French dug a system of large canals with the aim of exploiting new lands and making the region's management better. There were Quan Lo Phung Hiep Canal, Long My – Phu Loc Canal, Ngan Dua – Cau Sap Canal and Gia Rai – Pho Sinh Canal.
The word "Nga Nam", meaning five directions was born when Quan Lo Phung Hiep Canal and Xang Canal crossed a river, forming a tributary which emptied into five directions.
Because of an ideal position for trading, people from Rach Gia, Soc Trang, Vinh Long, Can Tho, and My Tho have come to Nga Nam to exchange their agricultural products and goods, creating Nga Nam Floating Market as you see nowadays.
Best time to visit Nga Nam Floating Market.
To be able to fully explore the beauty of this place, you need get up very early. The market will be started when the sky is still dim, at 3-4am. After sun rises, by about 7-8am, most of the market was dissolved. Then, the boats spread out everywhere to bring the goods to surrounding areas.
How Nga Nam Floating Market is special?
1. A colorful and vibrant prospect of Nga Nam Floating Market.
As soon as the market was formed, people from many different places quickly gathered to trade in this area. The market welcomes all sellers to come to exchange their agricultural products whatever they are. Big and small boats are the main transfers used by all sellers and buyers to move on the river for trading, creating a hustling vista that no one should miss. The vehicles are always full of eye-catching colors with a wide range of goods such as signature types of rice, vegetables, tropical fruits, seafood, etc, and slowly go through waterways so everyone can easily see & exchange their products.
This market becomes even more animated during the Tet holiday when a lot of buyers and sellers coming in and out on different sizes of boats, loading, unloading, buying and selling numerous goods.
2. "Cay Beo" – Advertising bamboo.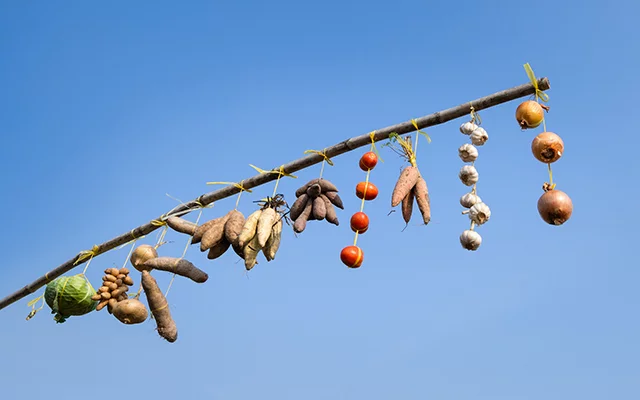 In order to facilitate information transmission between sellers and buyers, Cay Beo is an effective means of advertising for this type of floating market.
This tool is usually made of old bamboo, straightened, about 4-5 m long, has a sharp angle for easy plugging and pliers when parked. The top is punched and can be skewered to hang the goods. Buyers only need to stand from a distance, look at the Scar trees to observe and find the type of goods to buy. This becomes a unique feature in the culture of Nga Nam Floating Market.
3. Tasting delicacies of the Mekong Delta on the river.
Enjoying street food version on the river will absolutely be an impressive way that you really wish to experience, and it will be found when you visit Nga Nam Floating Market. Local vendors will come to offer breakfasts including rice noodle soup with pork and meat; paddy crab paste vermicelli soup; vermicelli with grilled pork and sweet and sour fish sauce; rice noodle soup with seafood; iced or hot coffee with or without milk; orange juice, and other more at reasonable prices. You will feel good at regional foods with wide smiles.
4. Attracted by the simple and authentic things in the life of locals.
This trip will surely bring you many new experiences into how the locals live, work and behavior toward each other. Despite of more bustling trading activity with more tourist visitors to come, Nga Nam Floating Market still retains its rustic appearance in both the way of trade and the invitation of the sellers with very friendly smiles. You can catch the uniqueness of Mekong country side as well as typical attributes such as ao ba ba, sweet old folk song and distinctive accent of Southern people. It is obvious that the attraction of this tourist destination probably comes from those simple things.
Around Nga Nam Floating Market.
With investment and development to become an important tourist center, along with a visit to Nga Nam Floating Market for better understandings about river culture, you can also visit some other attractions nearby, such as:
1. Lady Chua Temple of My Dong
This national monument is located in My Quoi Commune, Nga Nam District. This place had great revolutionary significance for Soc Trang because the first Party Branch of the province was born here. Coming to this temple, you will visit the scenery, burn incense and be introduced to the history of this heroic land.
2. Tan Long stork garden
Close to Nga Nam Floating Market, this eco-tourism area attracts visitors everywhere to visit because of its peaceful and relaxing space with an area of 1.5 hectares.  Many species of birds and storks live in harmony in this place. Every day at dawn or dusk, this stork garden chirps by the sound of birds and storks spreading their wings flying away and returning. There is an observatory over 10 meters high so you can see the whole stork garden and admire the scenery of each herd of storks gathering in the early morning.
Where to Stay near Nga Nam Floating Market?
When coming to the Nga Nam Floating Market, you can book a room in the budget motels in the town with the price about 150,000 – 300,000 VND / night.
Or you can choose some small hotels with basic standard in the center for overnight before reaching Nga Nam Floating Market to visit in the very early morning, such as:
Phu Quy Hotel
Add:  21 Phan Chu Trinh Street, Ward 1, Soc Trang City
Tel: +84 299 3611 811
Khanh Hung Hotel
Add:  17 Tran Hung Dao Street, Ward 3, Soc Trang City
Tel: +84 299 3610 106
Phong Lan Hotel
Add:  136 Dong Khoi Street, Ward 4, Soc Trang City
Tel: +84 299 3821 619
How to Get Here?
Moving from Ho Chi Minh City to Soc Trang City
If you move from Ho Chi Minh City to Soc Trang City, you can take bus which is about 5 hours transfer. Bus tickets can be bought at the Western bus station at 395 Kinh Duong Vuong, An Lac, Binh Tan District, Ho Chi Minh City. There are many transport company moving to Soc Trang City with fares ranging from 160,000 to 200,000 VND / ticket / passenger. Here are some trusted suppliers for your reference:
+ Phuong Trang Vehicle: +84 28 38309309 (in HCMC) and +84 299 3868 868 (in Soc Trang)
+ Mai Linh bus: +84 28 39393939 (in HCMC) and +84 299 3621 777 (in Soc Trang)
You will need to overnight in Soc Trang City before joining the floating market in the early of next morning.
Moving from Soc Trang City to Nga Nam Floating Market
From Soc Trang City, you will move another 60 km along the national highway 1A to Phu Loc town in Thanh Tri district. After that, turn right for another 24 km along provincial highway 42 to reach Nga Nam town where the floating market is in operation.