Phong Dien Floating Market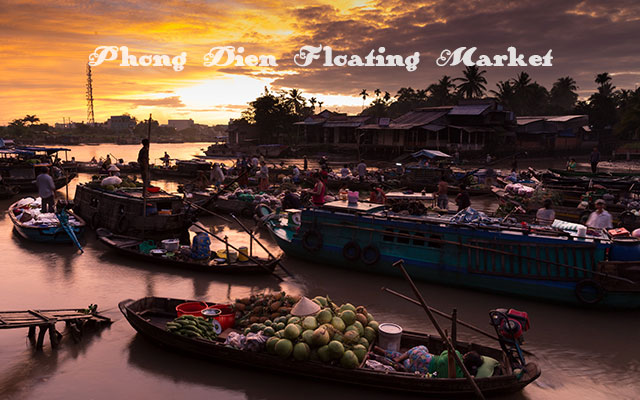 Phong Dien floating market is not as popular and famous as the largest one – Cai Rang – in Can Tho but it brings each own unique characteristics. Less crowded, less touristy, more authentic may be what you are seeking for, so let pay a visit to Phong Dien floating market in your Vietnam journey.
Phong Dien floating market's features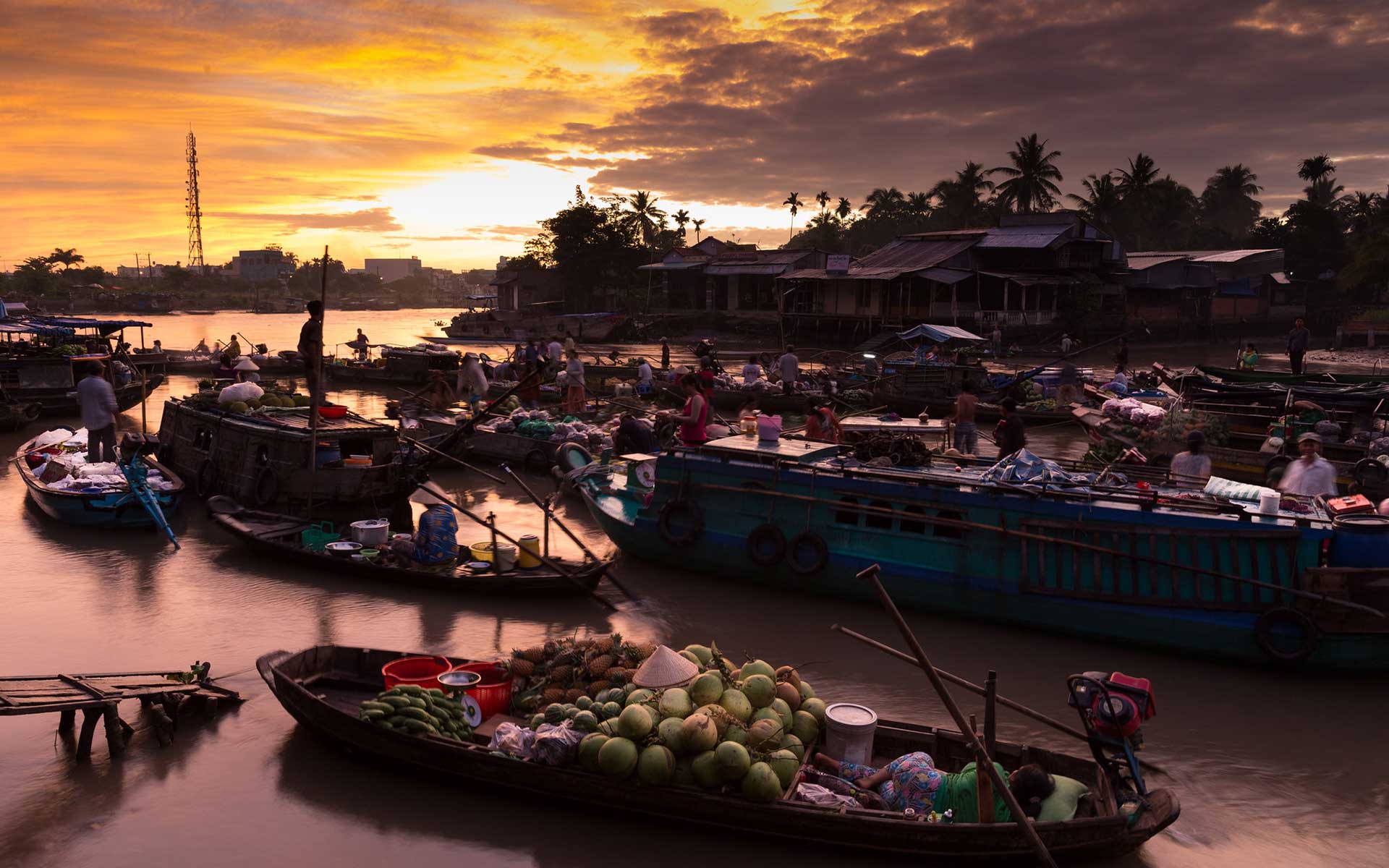 Unlike the wholesale Cai Rang floating market, Phong Dien is a small retail one. It is less crowded yet more authentic. The trading products in Phong Dien are very diverse and abundant. In addition to agricultural products and tropical fruits such as coconuts, pineapples, durians, mangos, potatoes, vegetables…, the market also offers household appliances, working tools: canoes, boats, knives, machete, hoes, roofing sheets, …; fishing tools: fishing nets, cages…; rattan weaving products: baskets, sieves… All items you can find in inland markets are sold here.
Especially, the market also features with floating services including petrol station, tailor shops, mechanic shops, engineering shops, and grocery stores to meet locals' demands. This makes Phong Dien to be more outstanding than other floating markets in Mekong Delta. As a small retailed market, there are more rowing sampans than motorized boats so the atmosphere is quieter that you can hear the sounds of people talking, gossiping and advertising their own products they are selling.
As the locals wake up so early to attend the market, there are some boats serving some typical foods for breakfast such as "pho", "hu tieu", porridge, coffee and many more. It is nothing interesting than sitting on the boat, enjoying an early breakfast and feeling local commercial atmosphere on floating market.
Perfect time to visit Phong Dien floating market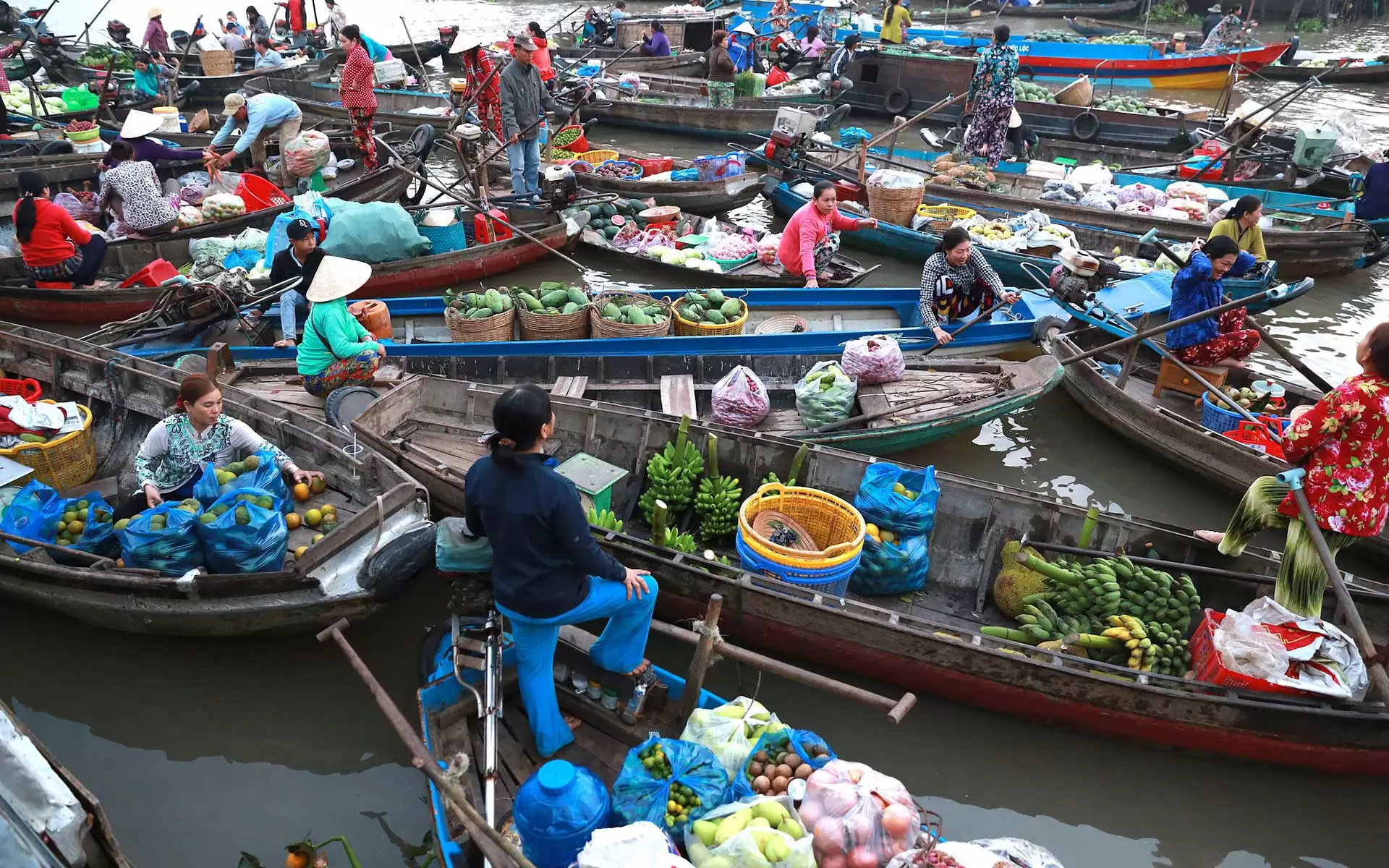 Like other floating markets in the region, Phong Dien is open from very early morning, around 4-5am, until afternoon. The most crowded time is between 6-7am when a lot of locals come here to buy goods before they start their day. When the sun is rising high and it becomes hotter, the market is gradually sparse. So you should come here before 8am to catch the wonderful scene of the market – a truly unforgettable experience.
How to get there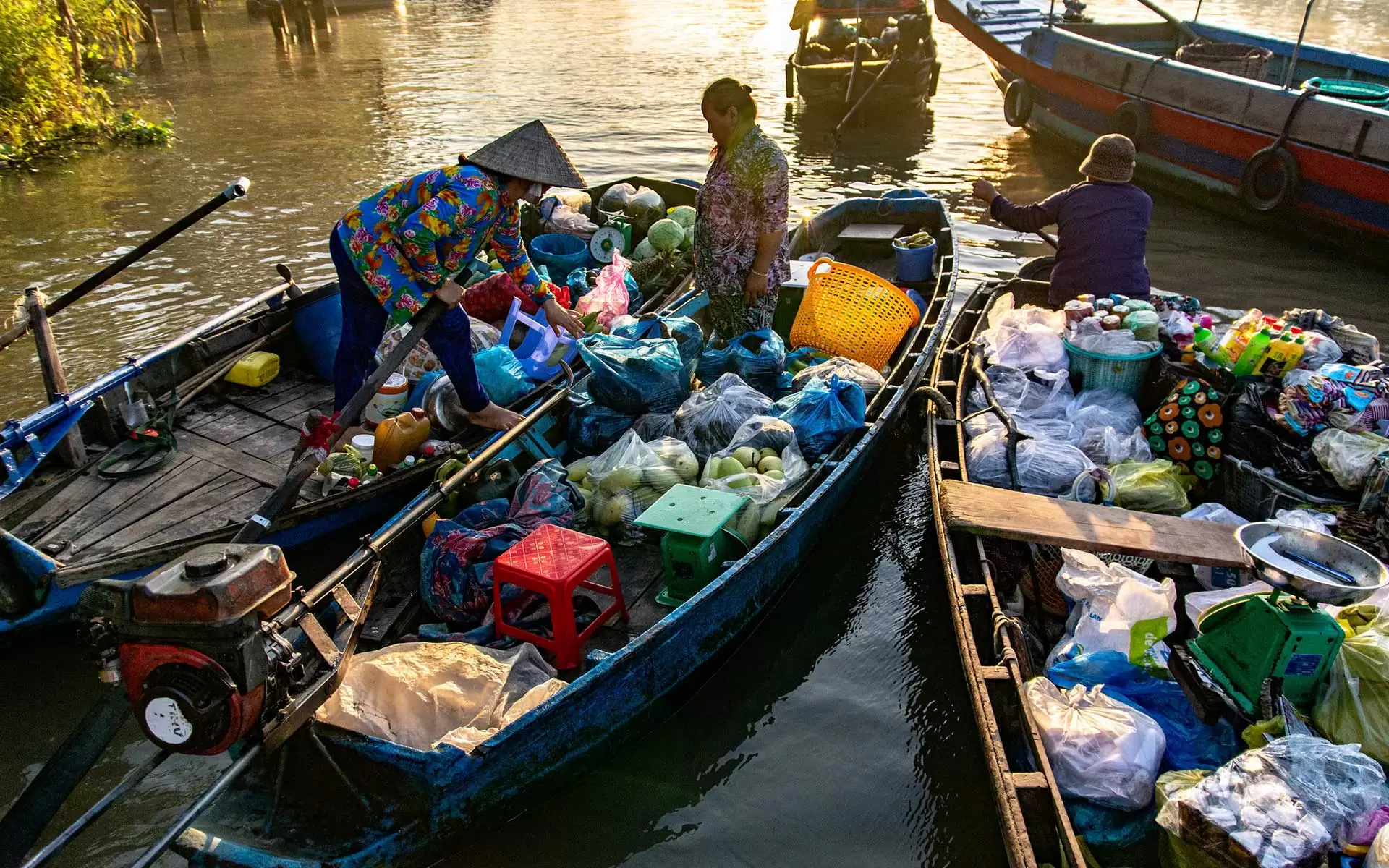 Phong Dien floating market is best to visit in the morning; it means that you should spend at least one night in Can Tho City and explore the market in the next morning.
From Saigon, you can take a bus, taxi or book a private car from local agency to Can Tho City. The distance is about 200km and it will take you 4-5 hours. Of course, the most comfortable and expensive way is private transfer but if you look for a budget option, a local bus is the best. Some certified tourist bus companies for your choice are Phuong Trang (Futabus), Vu Linh, Thanh Buoi…The price is around 5-8 USD/ one-way ticket.
From your hotel in Can Tho City, you can take a taxi to Ninh Kieu pier, about 6km, to buy boat ticket (about 20 USD per private boat). You will go through Cai Rang floating market and down to Phong Dien on the same way. Another option is to drive directly to Phong Dien floating market area and book a boat right there from friendly locals. That is really good way for your experience.
Though the road has well developed to the remote rural areas of Can Tho City in particular, the Mekong Delta in general, floating markets on the river are still maintained and the locals still keep unique characteristics of culture in the region. If you are curious about this type of market, plan the trip to Vietnam to discover and don't hesitate to contact us for better support.