Top 6 resorts in Vietnam
According to Luxury Travel Diary – a British travel consulted website – introduces high class resorts in Da Nang, Hoi An and Con Dao.
Those resorts have won many international awards such as World's Best Award, AsiaSpa Awards, Five Star Award from Forbes, Travel & Leisure…
Six Senses Con Dao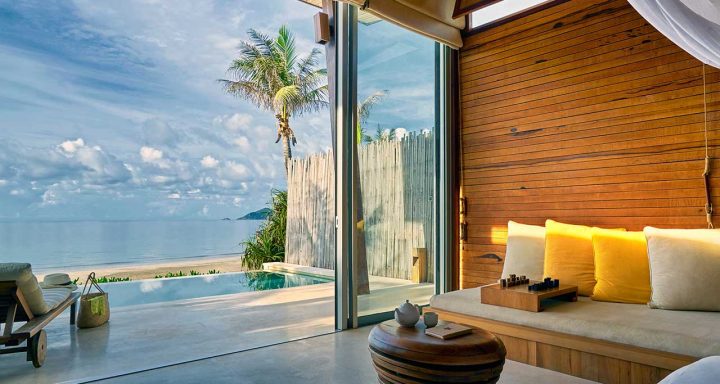 This is the first luxury resort of Con Dao, located in the national park and the sea. Six Senses Con Dao has modern design but still retains the characteristics of Vietnamese traditional fishing village.
There are 36 one-bedroom pool villas and 15 multi-room villas, including butler service. Therein, Ocean View Deluxe Pool is the most ideal villa for travelers who love private space or enjoy honeymoon.
Staying here, visitors can also experience different types of activities such as scuba diving, exploring the rainforest, fishing, and health care. The proudest thing of the resort is its eco-friendly design. Beside using solar energy to save electricity, the Six Senses Con Dao has a butterfly-shaped roof and carved wooden walls, which help to circulate air and welcome wind flow.
Every month, this place organizes beach cleaning activities and organizes seminars to raise environmental awareness to locals.
Fusion Maia Danang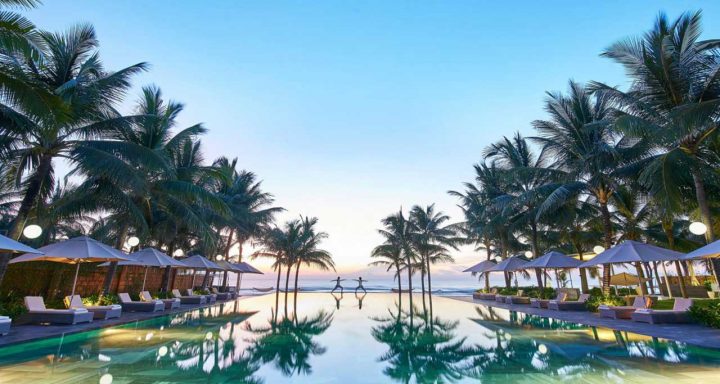 Situated in the pristine My Khe beach, 15-minute drive from Danang International Airport and Hoi An, Fusion Maia Danang has total 87 rooms at 5-star standard. This resort is suitable for couples, families enjoying luxury services in a cozy atmosphere, environment friendly and close to nature.
Each villa has a private swimming pool and a private garden. Some rooms overlooking the sea give tourists a magnificent view of the sunset. Here, visitors can participate in yoga classes, tai chi, qigong or golf at the Danang golf club. Spa, facials and other healthcare treatments are included in the room rates.
In November 2018, the resort received the Spa Cup of the year, at the AsiaSpa Awards, overtaking well-known competitors such as Banyan Tree Phuket, The Ritz-Carlton Koh Samui, Thailand and Four Seasons Resort, Maldives.
On TripAdvisor, this place gets an average rating of 4.5 / 5 points. A Japanese tourist commented: "This place is far from the center, so it provides a completely quiet space. Breakfast is served in the yard, private pool, and at the beach. The service is very good, they also provide a free bus to Hoi An ancient town".
Intercontinental Danang Sun Peninsular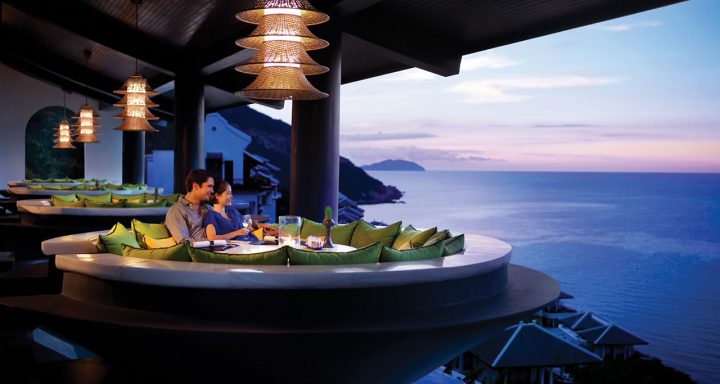 With beautiful scenery, luxurious facilities and high-class service style, Intercontinental Danang Sun Peninsular received the prestigious award of World Travel Awards for 3 consecutive years.
Located behind Son Tra peninsula, also known as Monkey Mountain, the resort is surrounded by lush forests stretching to the beach. With an area of 39 hectares, stretching on sloping terrain, the resort has 4 types of villas: Paradise, sky, earth and sea.
The rooms are designed with white walls, black wooden columns, inspired by Vietnamese temples. In addition, the carvings such as dragons, elephants, lotus, etc. are included in the design. In the room, there is also an essential oil diffuser, creating a relaxing and pleasant atmosphere.
Open the door and walk out to the private yard, you can see the ocean and listen to the lovely sounds of the waves. Because of its large area, visitors will be transferred by tram if they want to go to the restaurants, bars, beaches, etc.
Danang Peninsular resort also includes karaoke rooms, spa, craft class, cooking class, yoga class, tai chi and heritage village. There is also a daily trip to explore the flora and fauna of Son Tra Nature Reserve. Free shuttle bus to Danang and Hoi An are available too.
Four Seasons Resort The Nam Hai Hoi An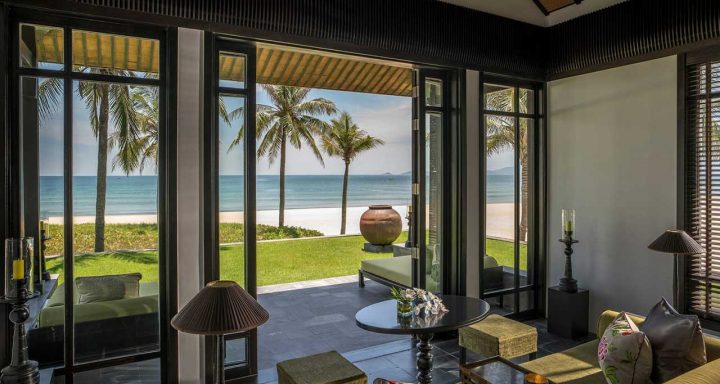 The Nam Hai Hoi An resort is located on Ha My Beach – one of the most beautiful beaches in the world according to Forbes. It has 100 villas with sea views, including one-bedroom to 5-bedroom villas, 8 family villas and 40 private pool villas.
The central area of the resort is surrounded by three infinity swimming pools: Family, Olympic and Lap, next to the pristine white sand beach. Here, visitors can also participate in water sport games such as jet skiing, windsurfing and cruising X-Jetpacks. The gym has a sauna, 4 tennis courts, badminton court and basketball court.
Taking a cooking class, you can visit the on-site vegetable and herb farm. The resort also has a children's club, with its own swimming pool and indoor play area.
The resort earned a maximum score of 5/5 on TripAdvisor and 4.7 / 5 on Google. Amber, an American tourist, reviewed: "The resort is extremely beautiful and peaceful. The staff is very helpful and every corner is beautiful and comfortable. I wish I could live here."
Alexandra, a British visitor, was totally impressed with the enthusiasm and thoughtfulness of the resort staffs. In addition, she also praised the facilities: "The pool has a moderate temperature, super clean … A week here helps me to have more fun, good spirit and attention. I do not want to leave ".
Amanoi Ninh Thuan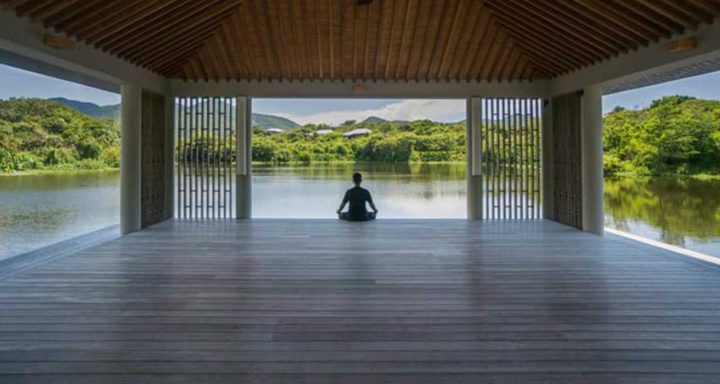 Located on the pristine white sand beach of Nui Chua National Park, overlooking Vinh Hy Bay, this resort was named Amanoi, in Sanskrit as "peaceful land". Going up to the resort, visitors will see the panoramic blue sea, mountains and forests appearing in front of their eyes.
This is the first 6-star resort in Vietnam, with 36 villas with delicate architecture, close to nature.
In 2014, Condé Nast Traveler magazine voted it as one of the best 33 new hotels in the world.
On TripAdvisor, the resort scored an absolute point of 5/5, with compliments on the landscape, architecture and cuisine. Sanjeev Jain, a guest who used to stayed here, said: "At the resort, we are pampering ourselves to the fullest, away from the bustling city life and becoming part of the nature."
Six Senses Ninh Van Bay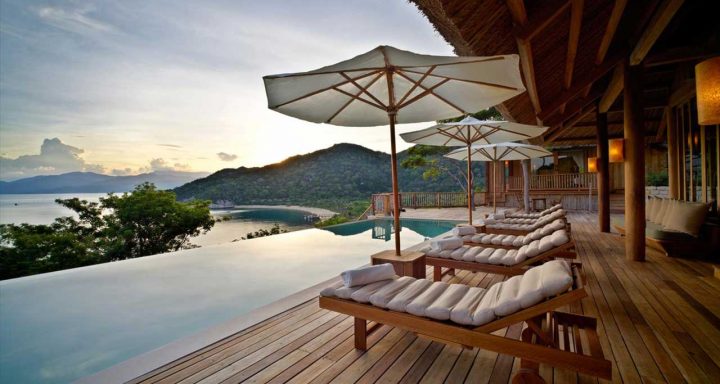 Six Senses Ninh Van Bay resort is located on the bay with majestic sea view, where there are golden sand and towering mountains. There are total of 62 private villas with private plunge pools.
The restaurant serves international and local cuisine, with fresh seafood such as lobster, prawn and vegetables grown in temperate climate. Guests can relax on the bed with a glass of cocktail or healthy juice.
Moreover, you can relax yourself with healthcare treatments, yoga, exercise, hairdressing. Location on the bay, visitors can easily participate in beach activities such as windsurfing, snorkeling and watching coral.
Chelsey L, a traveler who awarded 5 stars for this resort on TripAdvisor, wrote: "Our family had a wonderful vacation at this beautiful resort. I could recline on the couch watching the sunset, enjoying delicious breakfast and saw the bright smile of the staff every day ".