The Municipal Theatre of Ho Chi Minh City (Saigon Opera House)
Saigon Opera House (officially known as The Municipal Theatre of Ho Chi Minh City) is one of outstanding examples of French colonial architecture in Vietnam. Built in 1898 with its prime position in the cinematic heart of Ho Chi Minh City, this is home to the national ballet, orchestra, and opera, especially best known for evening cultural shows such as A O show, Teh Dar and the Mist.
Standing as an important cultural venue which was designated as a national relic in 2012, Saigon Opera House is considered to be a versatile theater that specializes in theatrical performance and is also used to host a number of major events. Let's go with Vietnam Travel to get more information about this impressive building!
History.
After conquering Cochinchina, French government invited a theatre company to perform in Saigon for the French legion in 1863. At first, the performances were taken place at the wooden house of the foreman's palace at Clock Square (Place de l'Horloge) which is presently the corner of Nguyen Du and Dong Khoi streets. After a short time, a temporary theatre was set up at the site of Caravelle Hotel today. In 1898, the construction of the new theatre was started on the site of the old one, and it was inaugurated on 1 January 1900.
Between World War I and World War II, the municipal government paid all operation costs. Although the theatre was planned as an entertainment venue for the growing middle class, the appearance of nightclubs, music bars, and dance halls made Saigon Opera House lost its customers gradually. As a result, performances were only occasionally presented during this period, some being concerts and others Cai Luong programs.
In 1943, some decorations, engravings and statues were removed from the theatre façade to make it look youthful.
In 1944, the venue was bombed by the Allied aerial attacks which lead the shutdown of Saigon Opera House due to serious damage.
In 1954, after the French army surrendered to Viet Minh during the Battle of Dien Bien Phu which led to the Geneva Accords in the same year, the theatre was then used as a temporary shelter for French civilians arriving from North Vietnam.
In 1955, Saigon Opera House was renovated and functioned as the Congress House (later called the Lower House of the State of Vietnam) of the Republic of Vietnam.
After 1975, the theater was returned to its original function as an art performance organization.
In 1998, the city authority provided a huge renovation to preserve the intact French architectural style of the opera house, on the occasion of 300th anniversary of the founding of Saigon.
In 2005, a group of exterior lights were installed to deliver some stunning night shots to audience easily.
In front of the house, there used to be a small park with fountains. However, it was later removed to build the first metro project in Ho Chi Minh City, as well as in the whole of Vietnam which was commenced in 2008.
Certified as a national relic in 2012, Saigon Opera House is now a famed venue for many important events and cultural – entertainment activities of the city.
Architecture.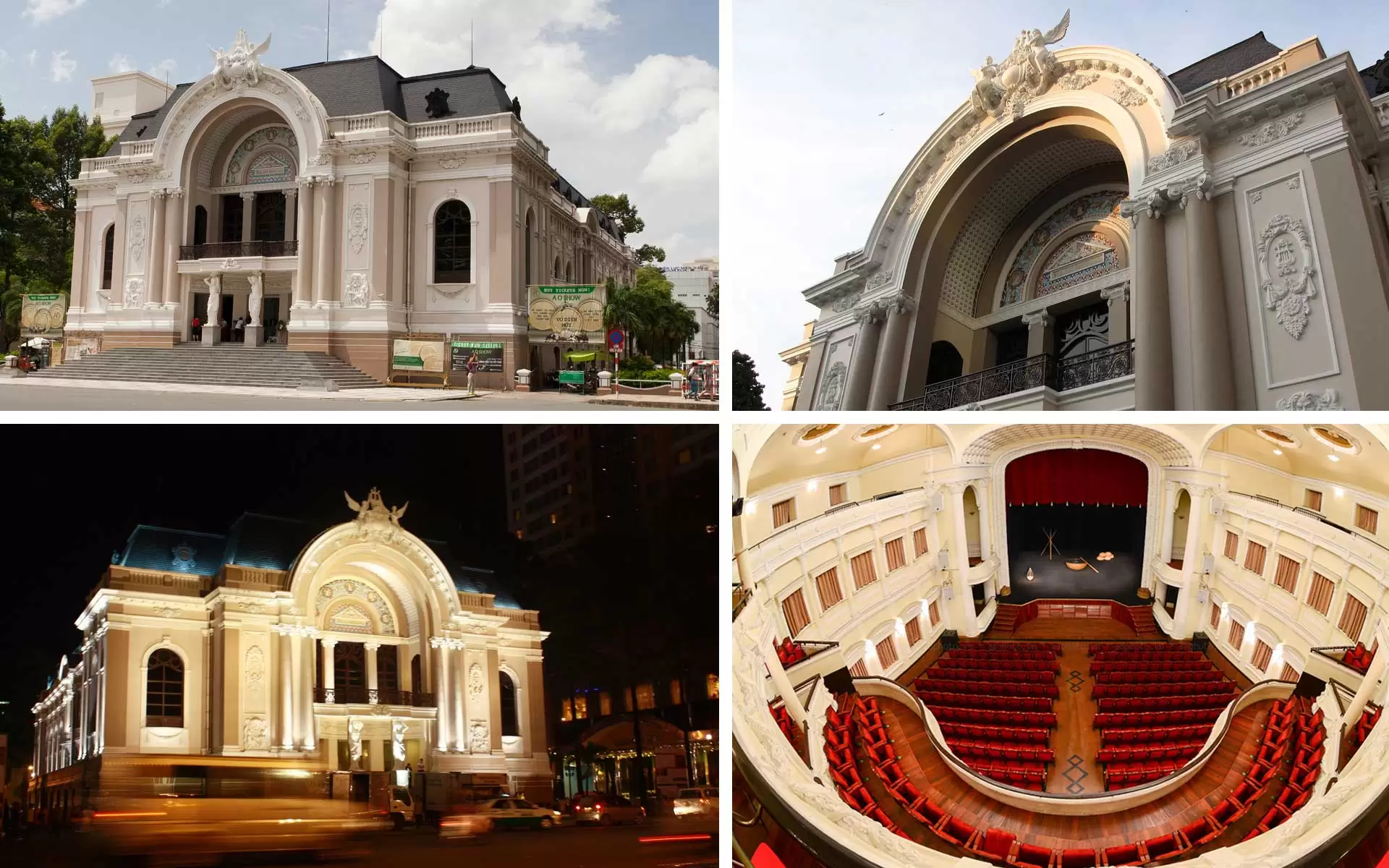 The Saigon Opera House was begun its construction in 1898 on the total area of nearly 3,200 m2 and was completed in 1900. Its structure owns specific characteristics to the work of famous architect Félix Olivier, and under the supervision of two French architects – Ernest Guichard and Eugène Ferret. The architecture was inspired from the Palace Garnier and the Petit Palais which were both popular buildings in Paris at the time.
From the exterior, the house boasts stone-carved ornaments and statues at the entrance. It was raised over 2 meters (6.5 feet) from street level and afforded a double set of doors to keep out the traffic noise outside.
While inside, there is a main seating floor on the orchestra level plus two upper seating levels which was once capable of accommodating 1,800 people. The system of arched windows with raised railing was designed in bold classical French architecture. Materials for the building's interiors such as shiny granite floors, crystal chandeliers, stone statues, rails for stairs, cartouches, and ceiling were brought all the way from France. It is also equipped with modern electrical facilities, lighting, sound systems and eco-free so all the sound will be preserved inside the theatre.
Today the capacity of Saigon Opera House is nearly 500 plush velvet seats in an elegant oval auditorium with good view from each seat.
Obviously, the building stands out as one of the splendid sights in Saigon – both night and day. You can admire the magnificence of the house illuminated with colorful light by night. It also becomes a counterpart to Hanoi Opera House in Hanoi capital, which was built between 1901 and 1911.
Shows at Saigon Opera House
Add: No. 7 Cong Truong Lam Son Street, District 1, HCM City
As home to the Ho Chi Minh City Ballet Symphony Orchestra and Opera, the Municipal Theatre offers many kind of shows such as classical concerts, opera, ballet, Vietnamese traditional & modern dance, plays and more.
The below are some of popular shows that taken place at Saigon Opera House for your choice:
A O Show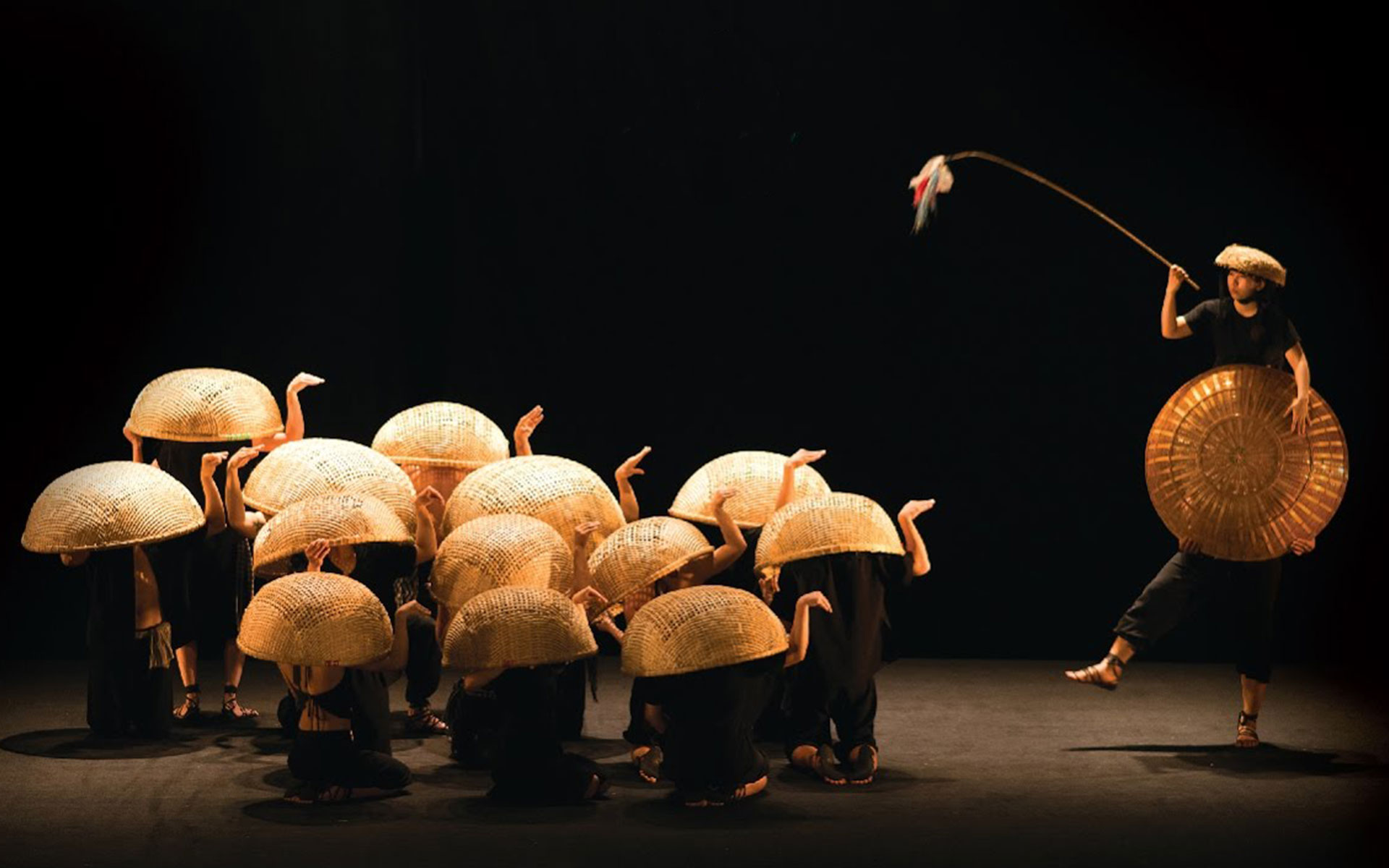 A O Show is a unique merge of bamboo circus, acrobatics acts, contemporary dance, traditional Vietnamese music and theatrical visual art. The name "A O" derives from "Lang Pho" which means village and city. The show stands out on the contrast between the charming beauty and cultural richness of Vietnamese life in the countryside and the nation's racing urbanization. This one-hour show is a chance for those who want to transcend time and space for a front-row immersion in the artistic and emotional life of Vietnam.
Read more: https://vietnamtravel.com/a-o-show/
Teh Dar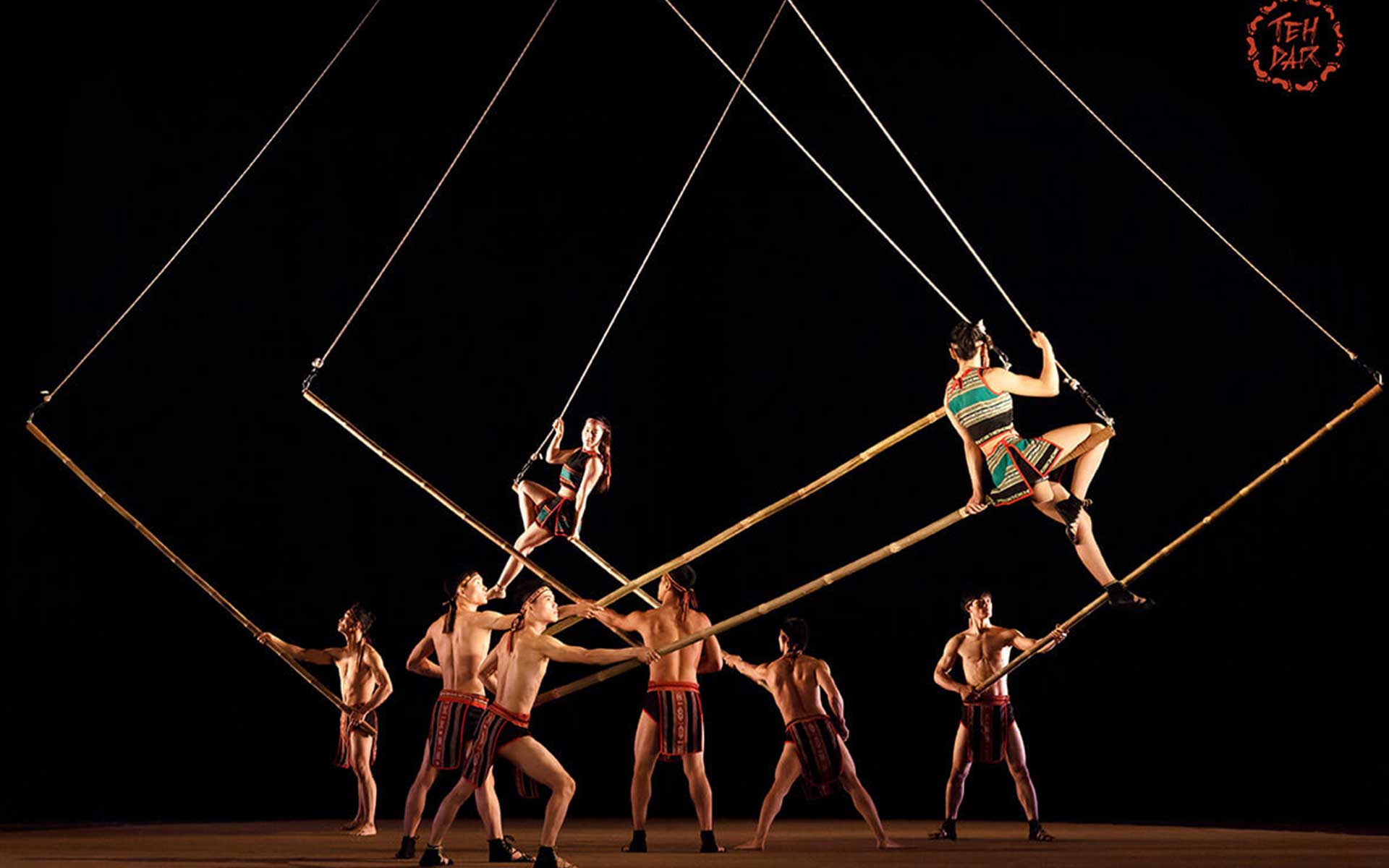 Teh Dar show invites audiences to the enchanting world of Vietnamese highlanders with untold wild stories. Meant as "going to the circle" in the highland tribe K'Ho's language, the show brings an entertainment and exotic Vietnamese tribes cultural show; a blend of stunning Bamboo Cirque and daring Acrobatics with live music on stage performed by tribal musical instruments.
The Mist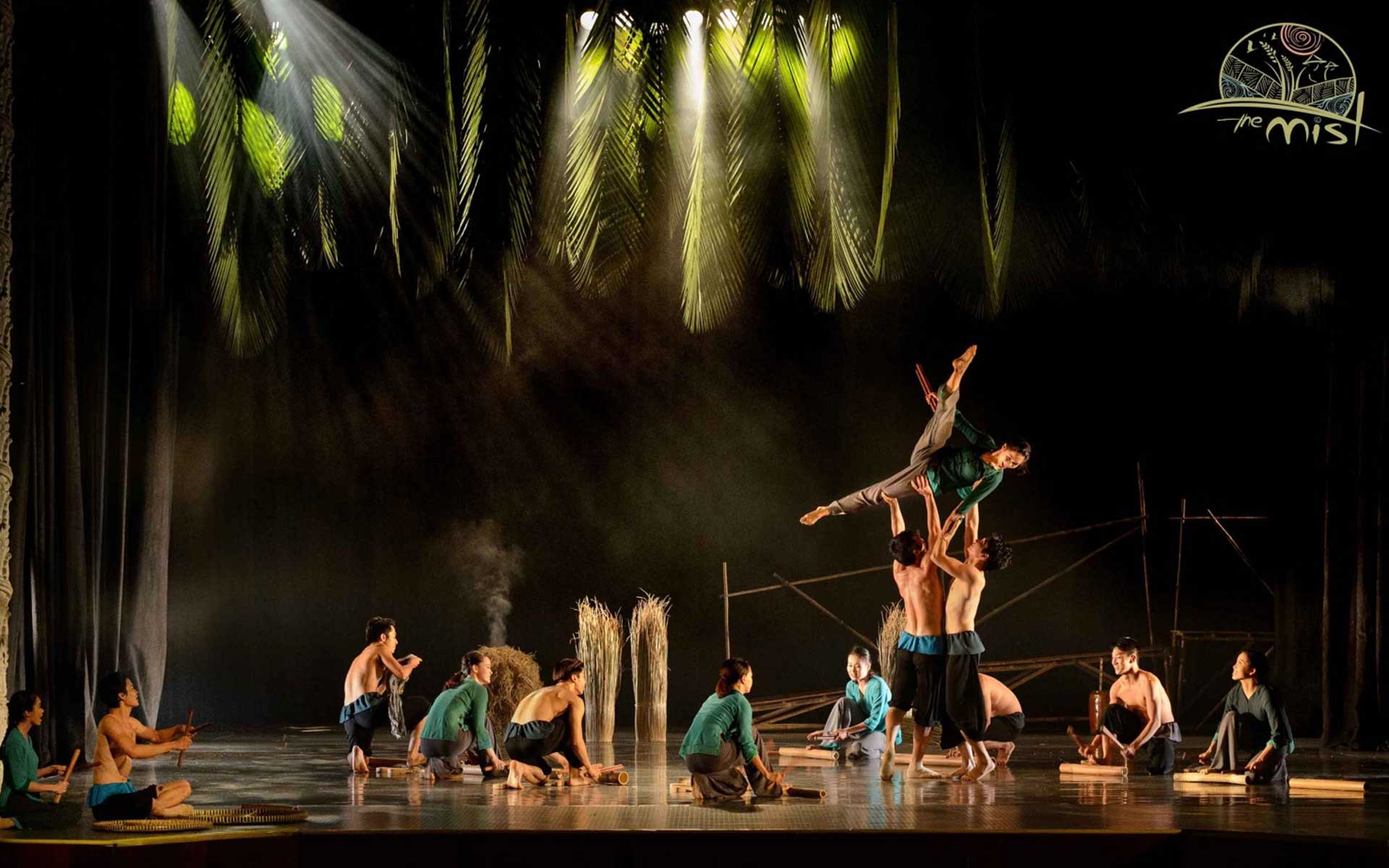 The Mist tells you a story of Southern Vietnamese farming life expressed through neo-classic and modern dance by skillful artists. By using rice cultivation as a metaphor, the show appreciates farmers' dedication and their hardship to rise up rice on humble muddy soil, from the foggy dawn on the fields to the moment they show up like shining pearls at harvest. Lasting for one hour of emotions, the show attracts audience with a myriad of the ups and downs painted by the sensational live music, magnificent visuals, and lively lighting effects. In addition, there are the indispensable wooden clogs, the simple but subtle and elegant outfits from the "ao ba ba", "ao dai" and robes.
Things to Know.
– For fans of acrobatics, cultural shows at the Saigon Opera House are a must.
– The short theater tours before each performance can be signed up for architecture buffs. Ticket prices vary according to not only the show but also seat class.
– You can wear your smart casual clothes or dress up, especially on important occasions.
– Saigon Opera House can get busy over weekends or Tet holiday so it is better for you to book ahead of time when reserving show tickets.
Opening hours and entrance fee:
Since Saigon Opera House is only open to the public during events and performances, there is no actual opening time as well as entrance fee. The price varies according to type of show / event, time and seat class. To follow the schedule, you can refer to the website Lune Production https://www.luneproduction.com/saigon-opera-house or at the box office next to the house which works daily from 9 AM to 4.30 PM. Tickets can be bought at the box office, or via the website, or just ask Vietnam Travel for a help then you will receive e-ticket via email.

Things to do around Saigon Opera House.
Enjoying the Nguyen Hue Pedestrian Street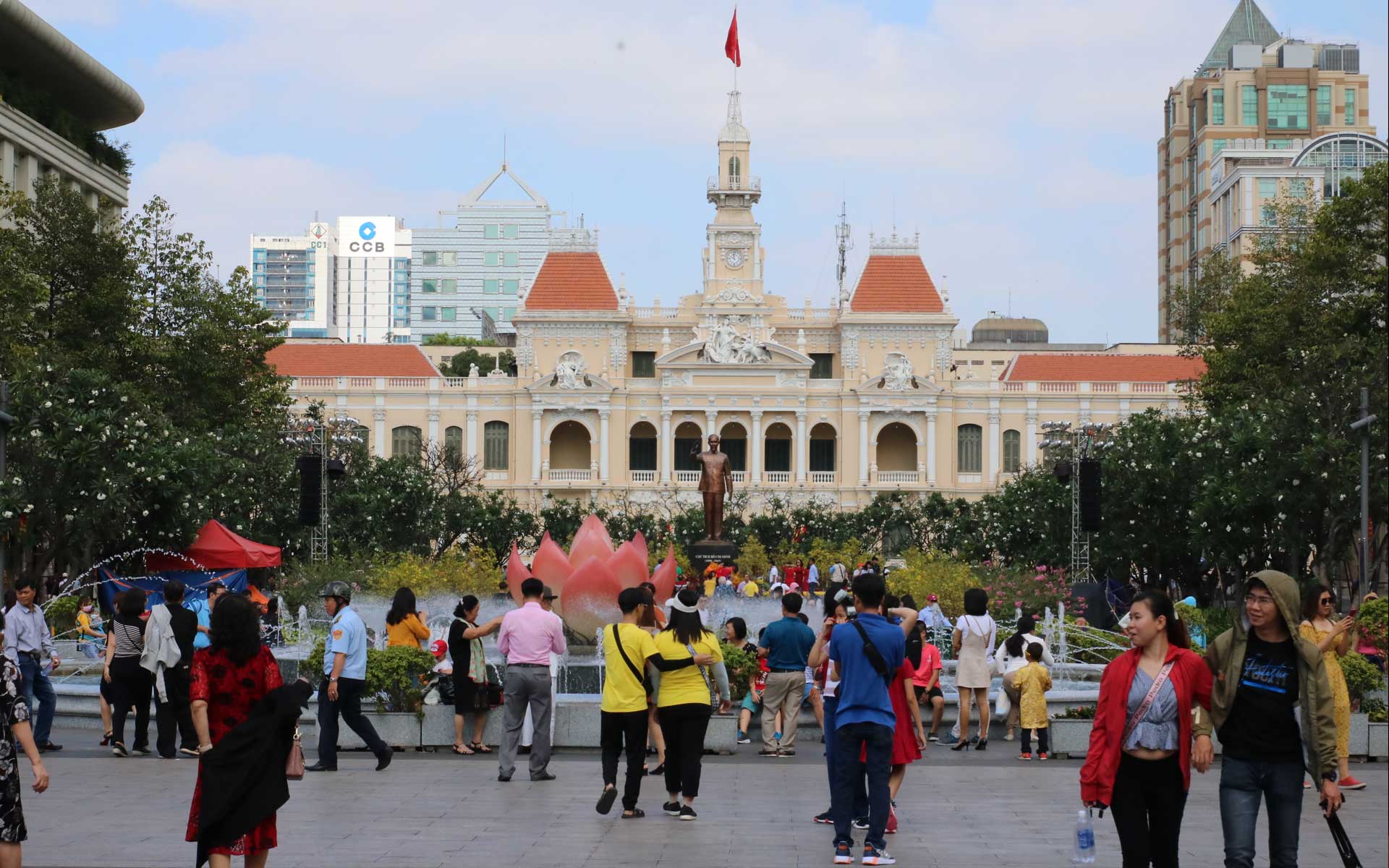 Location: Nguyen Hue Street, Ben Nghe Ward, District 1, Ho Chi Minh City.
Distance: 300m far (~ 4 mins by walk)
Opening hour: 24 hours daily. The street becomes busy, especially on weekend nights and more colorful and vivid by night.
Visiting Saigon Notre-Dame Cathedral
Location: No.1 Cong Xa Paris Street, Ben Nghe Ward, District 1, Ho Chi Minh City
Distance: 500m far (~ 7 mins by walk)
Opening hours: under renovation now, just look from outside
Entrance fee: Free
Read more: https://vietnamtravel.com/notre-dame-cathedral-of-saigon-things-to-know/
Shopping at Ben Thanh Market
Location: Le Loi Street, Ben Thanh Ward, District 1, Ho Chi Minh City, Vietnam
Distance: 800m far (~ 10mins by walk)
Opening hours: daily from 7.00AM to 6.00PM
Night market: 6.00PM – 12.00AM (East Gate – Phan Boi Chau Street and West Gate – Phan Chu Trinh Street of Ben Thanh Market)
Highlight products: Clothing, textiles, fashion, handicrafts, fresh food, fruit, fresh flowers, raw material.
Read more: https://vietnamtravel.com/quick-guide-to-ben-thanh-market-saigon/
Visiting the Independence Palace
Location: No. 135 Nam Ky Khoi Nghia Street, Ben Thanh Ward, District 1, Ho Chi Minh City
Distance: 1km far (~ 12mins by walk)
Opening hours: 8.00 AM to 5.30 PM (hours of ticket: 8.00AM – 4.00PM)
Entrance fee: 40,000VND/ adult and 10,000 VND/ child. If you want to see the Exhibits "From Norodom Palace to Independence Palace 1868 – 1966", you should pay more 25,000 VND/ adult and 5,000 VND / child.
Visiting Central Post Office
Location: No. 2 Cong Xa Paris Street, District 1, Ho Chi Minh City
Distance: 550m far (~ 8mins by walk)
Opening hours: 7.00AM to 7.00PM, except Saturdays and Sundays: 8.00AM – 6.00PM
Entrance fee: Free
People's Committee Building (Saigon City Hall)
Location: 86 Le Thanh Tong Street, District 1, Ho Chi Minh City
Distance: 300m far (~ 4mins by walk)
Opening hours: just look outside. Photos of the outside are allowed.
Entrance fee:  Free
Ho Chi Minh City Museum of Fine Arts
Location: 97A Pho Duc Chinh Street, District 1,Ho Chi Minh City
Distance: 1km far (~ 12mins by walk)
Opening hours: 8.00AM – 5.00PM
Entrance fee:  30,000VND/adult
Read more: https://vietnamtravel.com/fine-art-museum-of-ho-chi-minh-city/
How to Get There?
Situated in the very heart of Ho Chi Minh City, Saigon Opera House is close to many symbolic attractions of the city including the Central Post Office, Notre-Dame Cathedral, etc. You can easily get here on foot or if you stay further, taxi, motorbike can be the good choice.
Don't forget to consider Private Car / Van for the most flexibility while combining your visit to other highlight sights of Ho Chi Minh City in the day or more. Vietnam Travel team & experienced tour guides will always be ready to assist whenever you need.