Best Time to Visit Ho Chi Minh City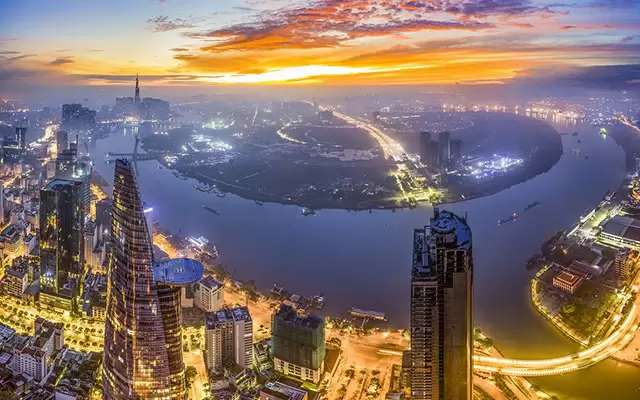 When you decide to travel to any new destination, surely there are a few questions in your mind. Some of these definitely are: "When is the best time to visit the city?", "When is the dry season and the wet season?", and "If my schedule is fixed to visit this city in wet season, may I experience just as much as with the dry season?" Therefore, this article is aimed to provide you some useful guidelines to answer those questions so you can plan a perfect journey to Ho Chi Minh City – one of the most alluring cities in the Southeast Asia.
Due to its geographical location, the city of Ho Chi Minh has tropical climate type with two main seasons: dry season and rainy season. It's very much a typical steaming hot Southeast Asian metropolis where you can expect it to be either hot and dry or hot and wet. The monsoon period lasts from May to November while dry season falls between December and April.
Dry season in Ho Chi Minh City
December, January and February are the most favourite months of the year for almost tourists, which makes them are the busiest period in this city. Those are the time when you can leisurely take a stroll around and enjoy the atmosphere of Saigon (another name of Ho Chi Minh City) because the heat is no longer an obstacle. The temperature can be as cool as 17°C (62°F) in the mornings, and as the day comes, it will normally increase to around 24- 26°C (75 – 78°F) in the afternoons and evenings.
Several big festivals and important public holidays also fall into December, January and February, such as: Christmas, New Year, Vietnamese Lunar New Year (also locally known as Tet Holiday).  During these time, the vibrant city will become more gorgeous because you can see lots of twinkling lights and festive decorations everywhere.
Although Vietnam is predominantly Buddhist, the Christmas spirit is quite popular in big cities like Saigon. See many huge Christmas trees and Christmas decorations in every corner of this wonderful place may make you feel like home when you are in a new destination in this holiday season period.
Lunar New Year (or Tet Holiday) can be in between January and February. The city will be more colorful with decorative flowers and you can hear Tet-related music played everywhere. But the city gets quite empty during the first 3 days of the Lunar New Year as locals will leave the big cities and gather to their family in their hometowns. Don't be surprised if you find out that most shops, local restaurants and shopping malls will close down during Tet Holidays. However, Vietnam Travel can organize a short visit to local family, where you can immerse yourselves in the authentic traditional festive atmosphere.
The dry season will be hotter and dryer when it comes to March and April. The temperature in these months can hit around 36 – 40°C (97 – 104°F) in most days. Don't panic if you are escorted by our comfortable A/C vehicles and our local tour guides will be flexible to find A/C in shopping centers and coffee venues all over the city in case you want to take a short break during the day trips.
Wet Season in Ho Chi Minh City
From May to the beginning of November, the humidity is higher than average and heavy showers happen more frequently. This is a sign that the monsoon season is about to begin.
After so many hot days, the rain starts pouring down in intervals to cool off Saigon. For tourists coming to HCMC from cooler climates, the daily downpours can offer a respite from the heat during the rainy season. Beware that the water might drop non-stop for some days in a row – especially when the storms hit the city in August, September and October. If you are on a slightly tight travel budget, then it can be an ideal time for you to go.
The local Saigonese often say that city's weather in rainy season is compared to "a teenager girl with mood swings" because it is very hard to be predicted. In the morning, you can see the sun shines brightly. Suddenly, it starts raining heavily, which makes commuters to stop and put on raincoats. And then the rain stops immediately.
Many people claim that any time of the year still can be the best time to visit Saigon and we can't disagree with this statement. If the heat is not a problem, we would recommend you to visit the city during the dry season. But if you want to see how Saigon looks like on a rainy day with moderate temperature, then go for the wet season. Because better saving on accommodations and fewer tourists are among the main benefits brought by the wet season.