Ninh Binh Travel Guide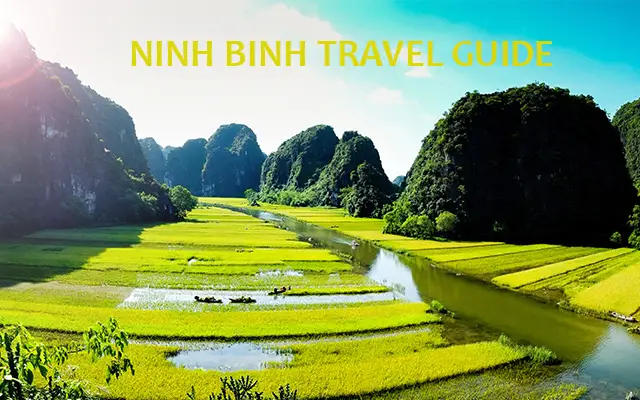 Only 100km from Hanoi, Ninh Binh has become a popular destination in North Vietnam thanks to its beautiful natural scenery of vast rice fields, shimmering rivers, limestone mountains, along with many historical sites, pagodas and temples. Ninh Binh is an ideal place to explore rural Vietnam, immerse yourself in nature and tranquil atmosphere. So if you are looking for a break away from the busy and bustling city life, Ninh Binh is the perfect choice for you. This Ninh Binh Travel Guide below will provide you all useful information that you need to plan a perfect trip to this fascinating place. Let's check it out:
1. Brief History
Ninh Binh was originally called Hoa Lu – the capital of Dai Co Viet (Vietnam today) for 42 years, through 3 dynasties, including the Dinh, the Early Le and the Ly. Thanks to its ideal location with many high mountains and valleys acting as a natural barrier to protect the kingdom, Ninh Binh was chosen to become the capital at that time. In 1010, King Ly Cong Uan moved the capital of the country from Hoa Lu to Dai La and changed the name of Dai La into Thang Long, which is Hanoi capital nowadays. However, Hoa Lu was still an important military base in the north of Vietnam.
2. Ninh Binh weather and best time to visit
Like in all North Vietnam, Ninh Binh is characterized with tropical monsoon climate. This wonderful land has four seasons including winter (dry season), summer (rainy season), spring and autumn as two transition periods. It can be said that almost any time of the year is good to visit Ninh Binh but there are some special occasions that you can enjoy the best of Ninh Binh.
– From March to April: The weather during this period is mild and pleasant, not too hot and too cold, perfect for getting lost in nature. You can take a boat ride to explore the landscapes or pay a visit to Bai Dinh Pagoda and Hoa Lu Ancient Capital.
– Late May and early June: This time is a great chance for you to admire the golden rice paddies in Ninh Binh. The weather is relatively hot but the beautiful sight makes up for. The best way is to take a rowing boat tour along Ngo Dong River and enjoy the surrounding picturesque views or conquer Mua Cave to see the panoramic view of Tam Coc – Bich Dong. Other than that, June is the time for blooming lotuses, which is great for lotus lovers and photographers.
– October and November: Traveling to Ninh Binh during this time, you cannot see rice fields but the weather in autumn is relatively pleasant and the temperature is around 20°C, perfect for outdoor activities such as trekking in Cuc Phuong National Park, cycling around countryside, climbing to Mua Cave…
Time to avoid: Apart from the best times to visit Ninh Binh, there are some months which are not most appropriate for boat rides, such as December and January when the weather is relatively cold and has a lot of drizzle. Also, it may not be a good idea to travel just before or after Vietnamese Traditional Lunar New Year – Tet holiday due to heavy crowds.
3. How to get to Ninh Binh
The easiest way to reach Ninh Binh is by bus from Hanoi. On either the local bus from Giap Bat Station, south of the city, local bus tickets will cost 70,000 – 80,000 VND (~3 USD) or a tourist bus for 7- 10 USD which will pick you up from your hotel. The bus ride will take 2 hours approximately. You can see more details about getting to Ninh Binh from Hanoi here.
If you coming from Halong Bay or Cat Ba, there are direct buses to Ninh Binh so no need to return Hanoi. From other places from South Vietnam like Hue, Danang, Quy Nhon…, it is best to take a train.
4. How to get around Ninh Binh
Ninh Binh is the type of place where you need your own transportation since sites are so far apart.
Bicycle
Renting a bicycle at your hotel or homestay in Ninh Binh is easy or they can recommend a place to get one. It is great fun and gives you the chance to get out into the countryside, explore the surrounding villages and get to beautiful temples when riding a bicycle. Since some amazing spots are quite far though, be ready to do at least 30 to 40 kilometers per day.
By motorbike
A motorbike is probably the best way to get around Ninh Binh. Again, you can get one at your hotel with the price around 100,000 VND (~4 USD) per day plus gas. Getting a motorbike will make it easy for you to get to all amazing places in Ninh Binh without tiring yourself out completely before even reaching your destination.
By car
A private car with driver is another option to get around Ninh Binh. You can book this service with a local travel agency and a local tour guide is recommended to accompany with you to help you know more about the places, rather than exploring them by yourself. This is a good option if you are traveling in a group or with small kids.
5. Accommodation in Ninh Binh
As a famous attraction, nearby Hanoi, Ninh Binh has a wide range of accommodations, from hostels in city center, homestays to the luxury hotels and resorts. It is suggested to book your hotel or homestay in or around Tam Coc area for the quiet and tranquil atmosphere. It is also closer to many top sights in Ninh Binh such as temples, pagodas, beautiful rice fields and offers a nice experience of a small countryside town.
Here below are some recommended hotels for your considerations:
Tam Coc Rice Fields Resort (3-star)
Tam Coc Rice Fields Resort offers a chance to immerse yourself in wild nature with paddy rice fields, beautiful gardens, marvelous mountains and typical tropical bamboo bungalows. With an area of 38 sq.m, every room, with its private terrace, opens onto a panorama of rice fields or limestone peaks. The tastefully decorated rooms marry material with furnishings, to give them a refined charm without pretentiousness. Stone, wood, traditional tiles, ceramic and bamboo are naturally integrated for ultimate charm.
Address: Hai Nham, Ninh Hai, Hoa Lu, Ninh Binh
Price: from 40 USD
Ninh Binh Hidden Charm Hotel & Resort (4-star)
Ninh Binh Hidden Charm Hotel & Resort is located in Tam Coc – Bich Dong, a famous tourist attraction in Ninh Binh. This is a 4-star hotel with total of 98 rooms designed in warm colors and decorated with mosaic ceramic tiles and fine-art items. Each room at the hotel offers the stunning view of vast rice fields and beautiful limestone mountains.
Address: No. 9, Tam Coc – Bich Dong Tourist Center, Ninh Thang, Hoa Lu, Ninh Binh
Price: from 80 USD
Emeralda Resort Ninh Binh (5-star)
Nestled in the Van Long Nature Reserve, a primeval tropical forest, and surrounded by spectacular mountains, Emeralda Resort Ninh Binh has been built and furnished in the style of traditional Tonkin Vietnamese villages but with modern comforts and environmental commitment. The resort offers large rooms, a beautiful restaurant and a spa complete with all kinds of relaxing treatments.
Address: Van Long Reserve, Gia Van, Gia Vien, Ninh Binh
Price: from 100 USD
6. What to see and do in Ninh Binh
In the fact that the city of Ninh Binh itself is not pretty and there is basically nothing to see. It is the reason why you should not book hotels in the city center, but in the other tourist areas in Ninh Binh.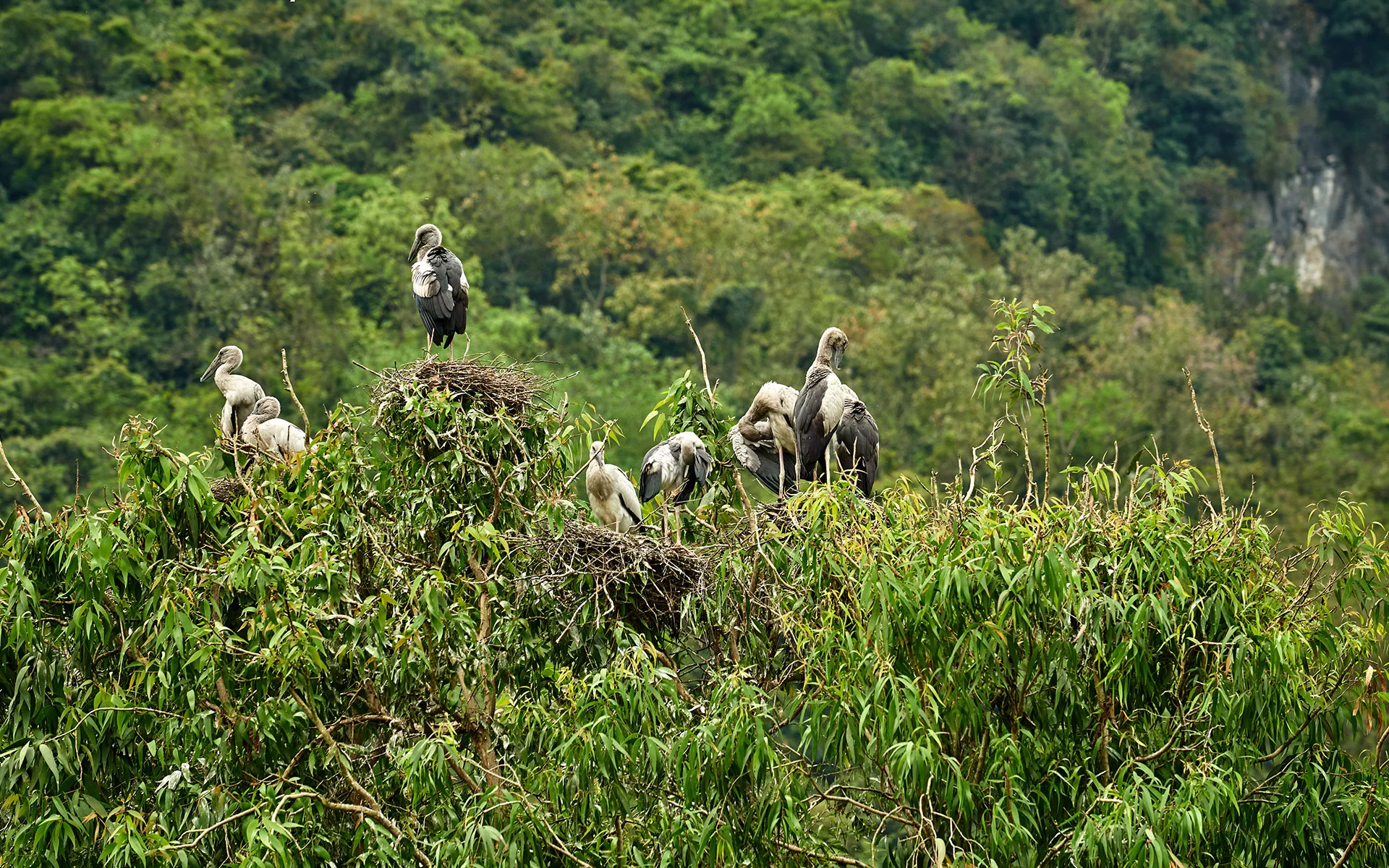 Ninh Binh offers many landscapes and historical sites for you to explore from dawn to dusk, including:
Hoa Lu Ancient Capital
Trang An Grottos
Bai Dinh Pagoda
Thung Nham Bird Garden
Tam Coc Boat Tour
Bich Dong Pagoda
Mua Cave
Cuc Phuong Pagoda
Read more detailed information at Things to do in Ninh Binh
7. Travel tips and advice
– There is no appeal to visit or stay in Ninh Binh City so let's look for hotels in or around Tam Coc area.
– Ninh Binh is best discovered by motorbike or bicycle. If you are not comfortable with these means of transportation, a private car with driver and local tour guide accompany is recommended.
– There is no ATMs in Tam Coc area so remember to bring enough cash with you; otherwise, you need to go to Ninh Binh City.
– One day is enough to explore Ninh Binh but if you have more time, stay at least 1 or 2 nights here for better experience.
8. Conclusion
Ninh Binh is definitely a worthy place you should not miss when visiting North Vietnam, along with Halong Bay and Hanoi Capital. Travel Vietnam hopes that the above travel guide has delivered useful information for you to plan a future trip to Ninh Binh. If you have any questions, contact us for constant support.