Best Nightlife in Sai Gon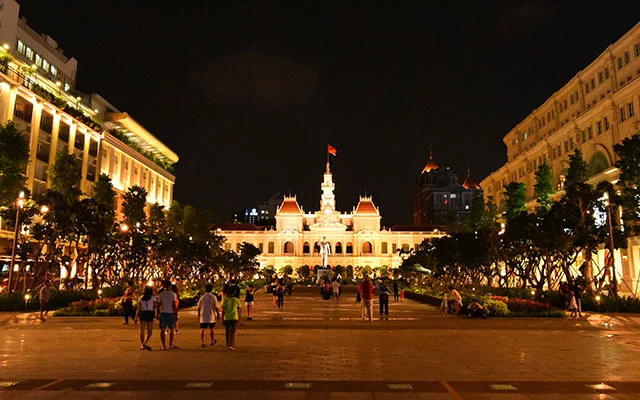 Ho Chi Minh City, also locally called Saigon, is one of the main hubs among must-travel destinations in Vietnam. If the city is loaded with history and interesting sightseeing places in day time, you will find this bustling city a different face when the night falls. Becoming more colorful and exciting, Ho Chi Minh City will definitely attract visitors with lots of night activities as another best part of the city to explore. When you are wondering what to do & where to go in the evening, read on for our picks to find the best nightlife in Ho Chi Minh City.
1. Live Music at Bars and Clubs
Music always plays an important role in daily life. It can help people to get away from stress by its beautiful melody and lyrics. While some choose listening music through their phone, radio or TV shows, others enjoying immerse themselves in live music party. At night, nowhere is more suitable than coming to Bars and Clubs. Depending on your music style, the below can be a list that you should try.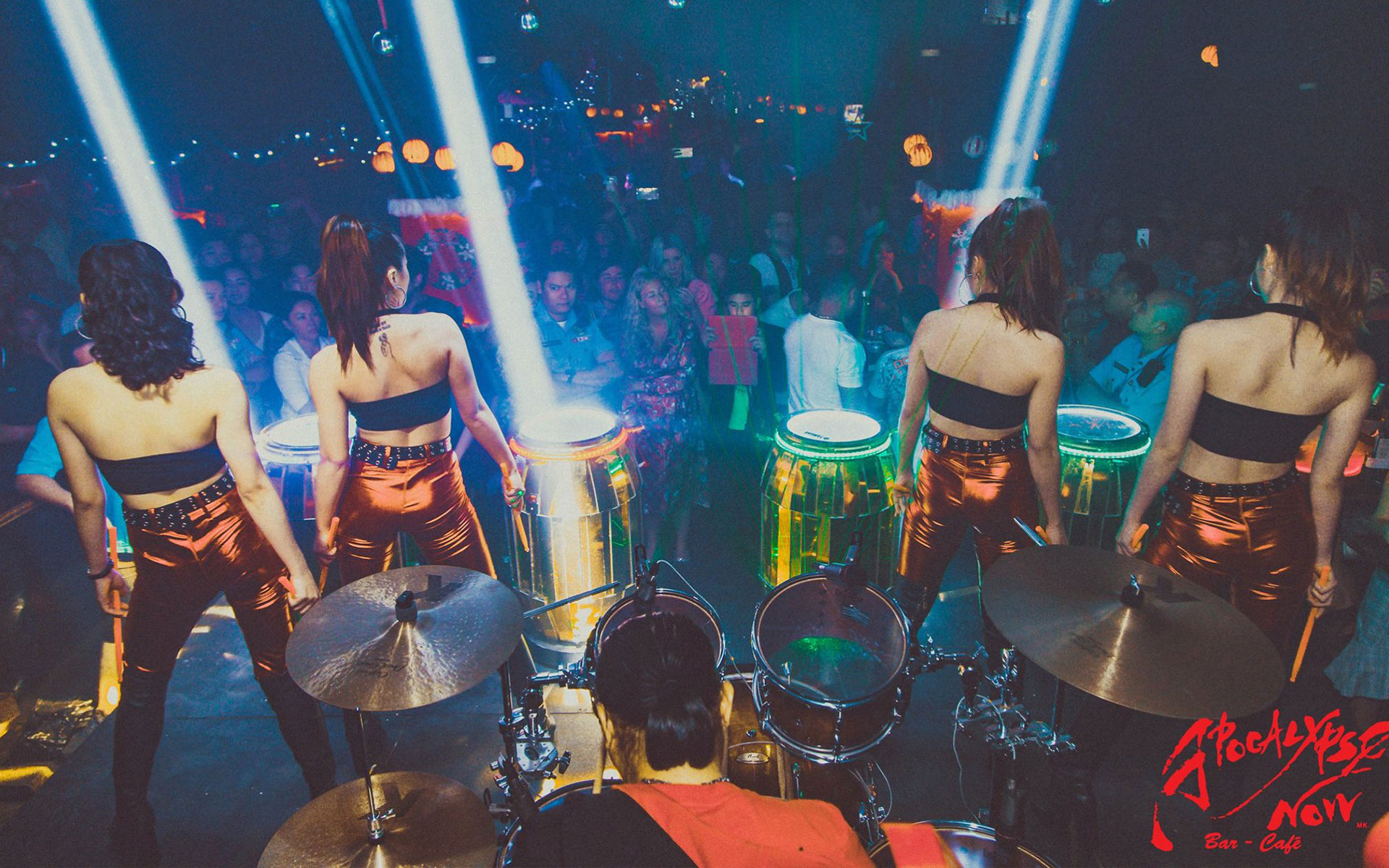 Apocalypse Now Bar – 2B Thi Sach, District 1, HCM City
Envy Club – 74 – 76 Nam Ky Khoi Nghia Street, District 1, HCM City
Lush Club – 2 Ly Tu Trong Street, District 1, HCM City
Carmen Bar – 8 Ly Tu Trong Street, District 1, Ho Chi Minh City
Seventeen Saloon Saigon – 103A Pham Ngu Lao Street, District 1, HCM City
Besides, if you are a fan of sports, Game On Sports Bar (81 – 83 Nguyen Cong Tru Street, District 1, HCM City) will be an ideal place to choose. This bar not only offers you music party in their 2nd floor, but also bringing Live & Loud Sports from English Premier League games to Ultimate Fighting; World Cup to NHL Stanley Cup playoffs; Wimbledon tennis to The Golf Masters; Cricket Test Matches to Major League Baseball. They have the best live sporting streams to bring to you.
Read more: https://vietnamtravel.com/best-bars-clubs-in-ho-chi-minh-city/
2. Looking the city from the above.
Rooftop bars will also be one of the great choice to enjoy lively atmosphere and stunning view overlooking the city from the above. Here are some recommended places in HCM City for your pocket list.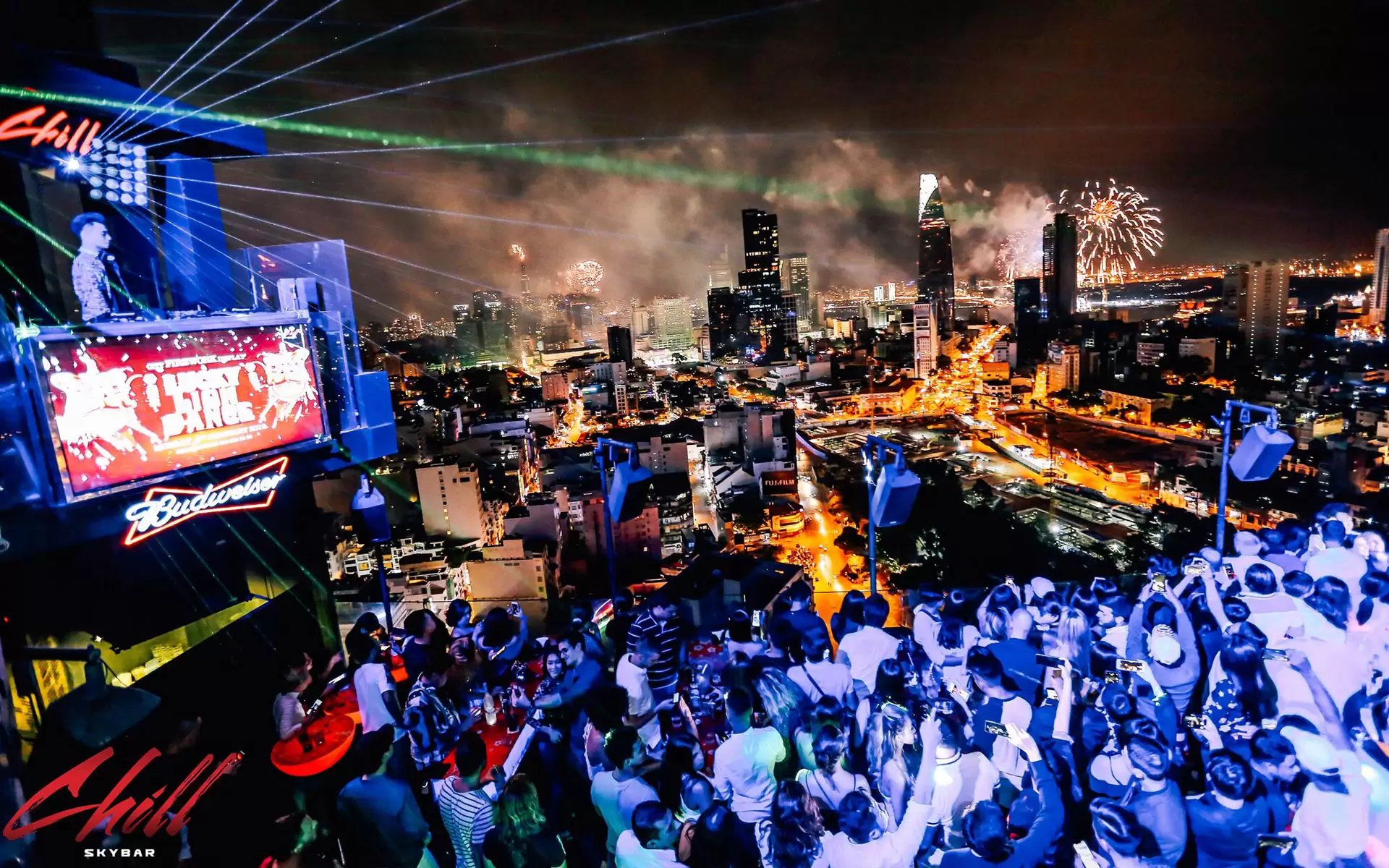 Chill Sky Bar – Rooftop 26th Floor, AB Tower, 76A Le Lai, District 1, HCM City
As its name, Chill Skybar is indeed a chill place to hang out with friends and family. Located on the 26th floor of the AB tower, it attracts a lot of international business people, socialites, expats, tourists and wealthy Vietnamese. The view might be the best in the city, especially at the sunset, which coincides with happy hour for all kinds of drinks from 5:30 pm – 8:00 pm.
Air Saigon (previously as Air 360 Sky Lounge) – Rooftop 22th Floor, Ben Thanh Land tower, 136-138 Le Thi Hong Gam Street, District 1, HCM City

Located on top of the Ben Thanh Tower, Air Saigon offers an open 360 degrees panoramic Saigon such as Ben Thanh Market, Opera House City, peaceful Bach Dang Ben or magnificent Bitexco building. With a blend of food, drink, and music, all served in a stylish and vibrant setting of multi-level and multi-space venue, you can enjoy Air Dining by the poolside or an indoor lounge and an upper level VIP-area for more privacy.

The View Rooftop Bar – 195 Bui Vien Street, District 1, HCM City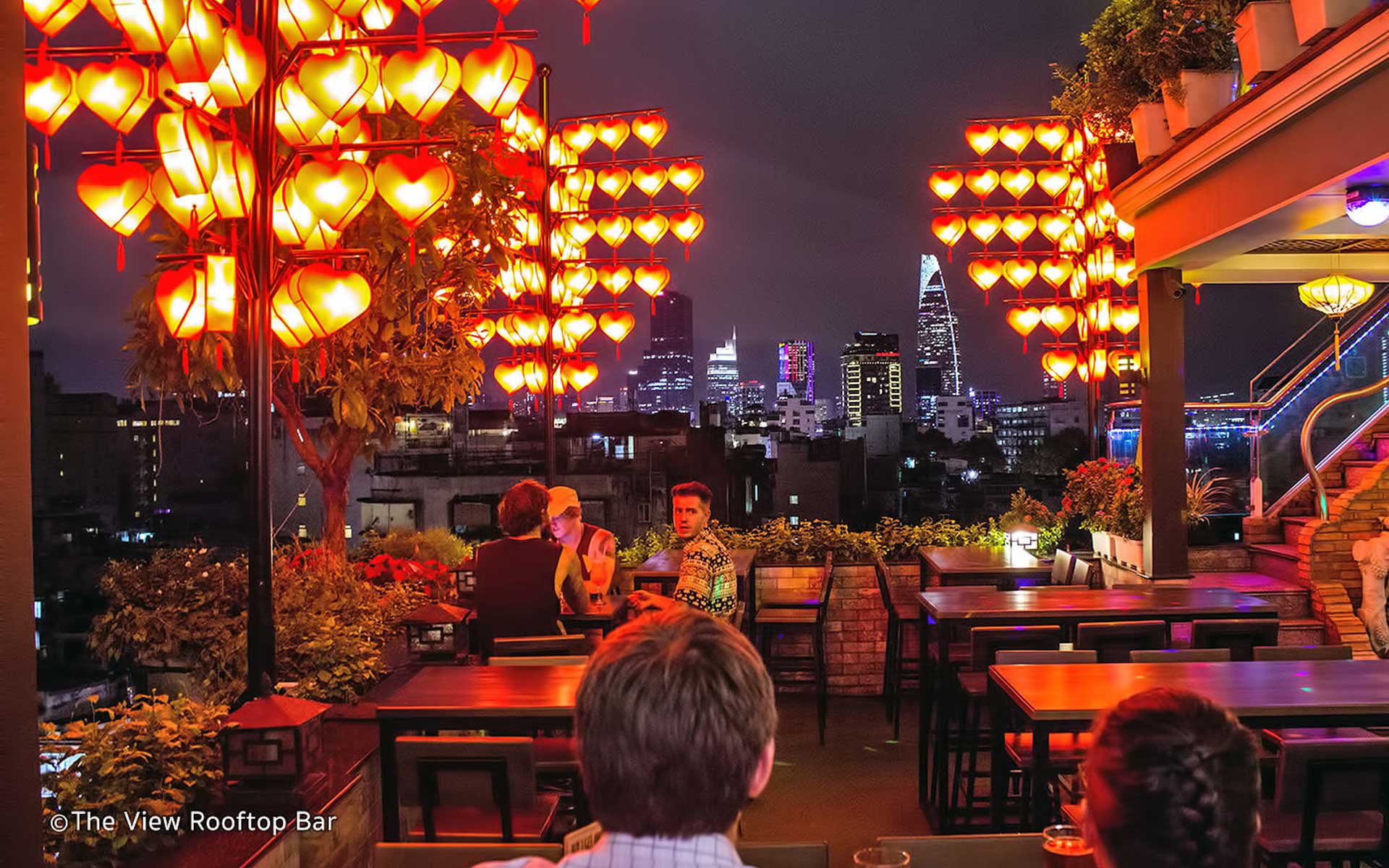 The View Rooftop Bar uses bright and colorful decorations. What greets you is a view of modern and older buildings that symbolize the growth of Ho Chi Minh City throughout the decades.
Above Sky Bar – 59 Pasteur Street, District 1, HCM City
Located on the 19th floor of the modern Liberty Central Saigon Citypoint, Above is a chic and modern rooftop bar with a fabulous 360-degree views of the Saigon skyline. More of a pool bar during day, where guests at the hotel can enjoy a cocktail in the comfy sun loungers and swim in the fantastic infinity pool.
Saigon Saigon Rooftop Bar – 19-23 Lam Son Square, District 1, HCM City
Situated at the classic Hotel Caravelle, right opposite the Opera House, the Bar offers an old-style rustic in décor, with large wooden chairs and tables on the main terrace and on the "balconies" surrounding the inside bar, along with spectacular views of the skyline.
3. Get Lucky at a Casino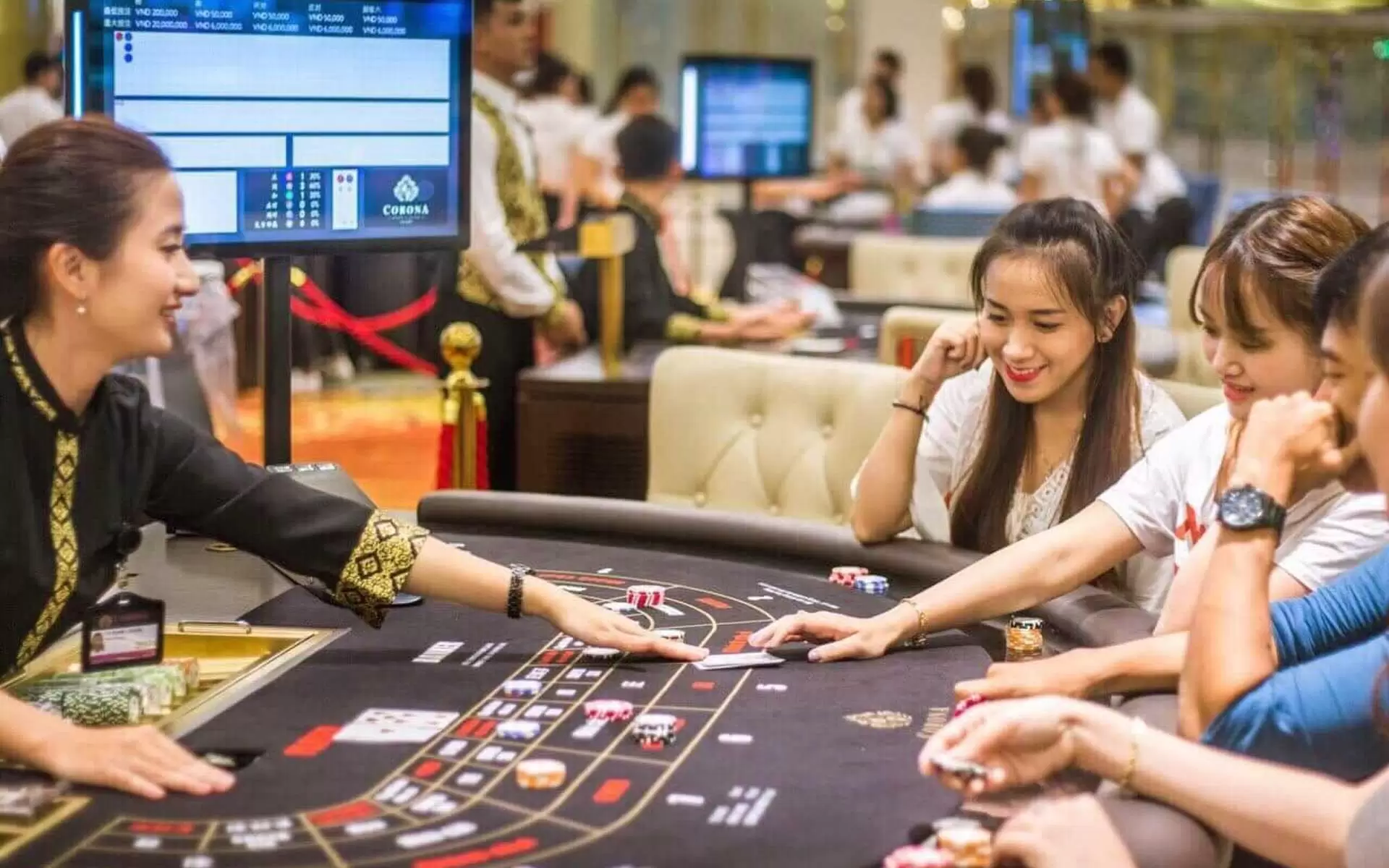 Although not on the scale of Las Vegas, you still can spend your time by night at some Casinos in the city. There are casinos which are located in the Caravelle Hotel, Majestic Hotel or Grand Saigon hotel… At here, you can hit the roulette table, play some mah-jong or get lucky on the slot machines.
4. Drinks along Pham Ngu Lao Street & local street food
Known as the backpacker hub of the city, the drinking scene along Pham Ngu Lao Street is legendary. This place welcomes a mix of foreigners and local Vietnamese who prefer drinking cheap beers while enjoy local street food on small plastic stools all along the street.
Though this is the place where most backpacking travelers stay during their holiday, Pham Ngu Lao Street is not limited to only low-budget travelers, but draw people from everywhere due to its close proximity to the city's prominent landmarks.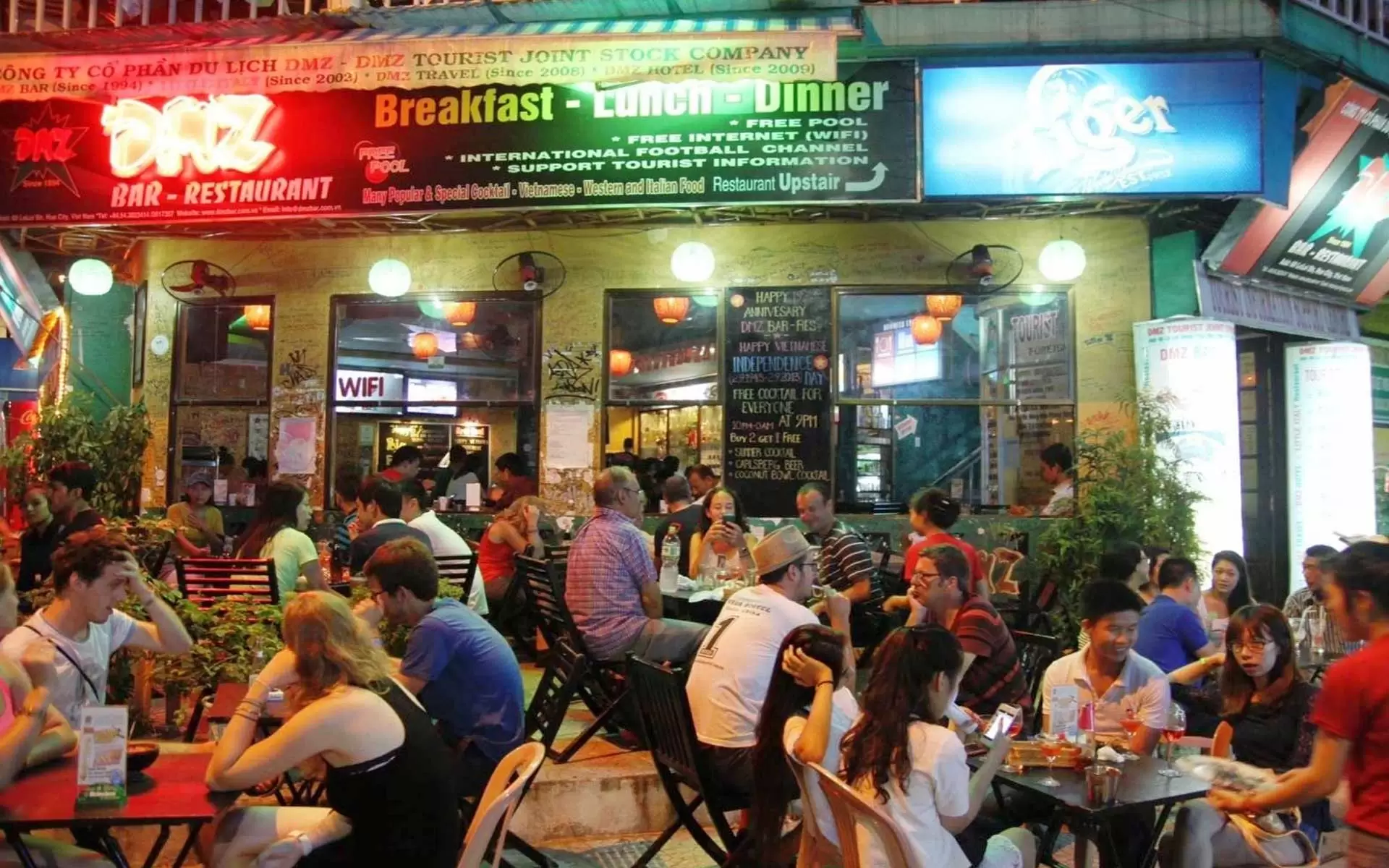 More local street food dishes can be found at some other streets such as:
Street Nguyen Canh Chan, District 1 (24/7 service): The unique food here is bun rieu (noodles with crab chowder), crab soup, fruits, etc.
Street Nguyen Thuong Hien, District 3 (8.00am – 8.00pm): The unique food here is banh trang tron (mixed rice paper cake), hu tieu (Cambodia rice noodle soup), ha cao (shrimp dumplings), etc.
Street Le Van Sy, District 3 (8.00am – 8.00pm): The unique food here is Fried Half-Dried Cuttlefish with Fish Sauce
Street Tran Binh Trong, District 5 (6.00pm – midnight): This street is famous for com tam (broken rice).
5. Wander down Nguyen Hue Boulevard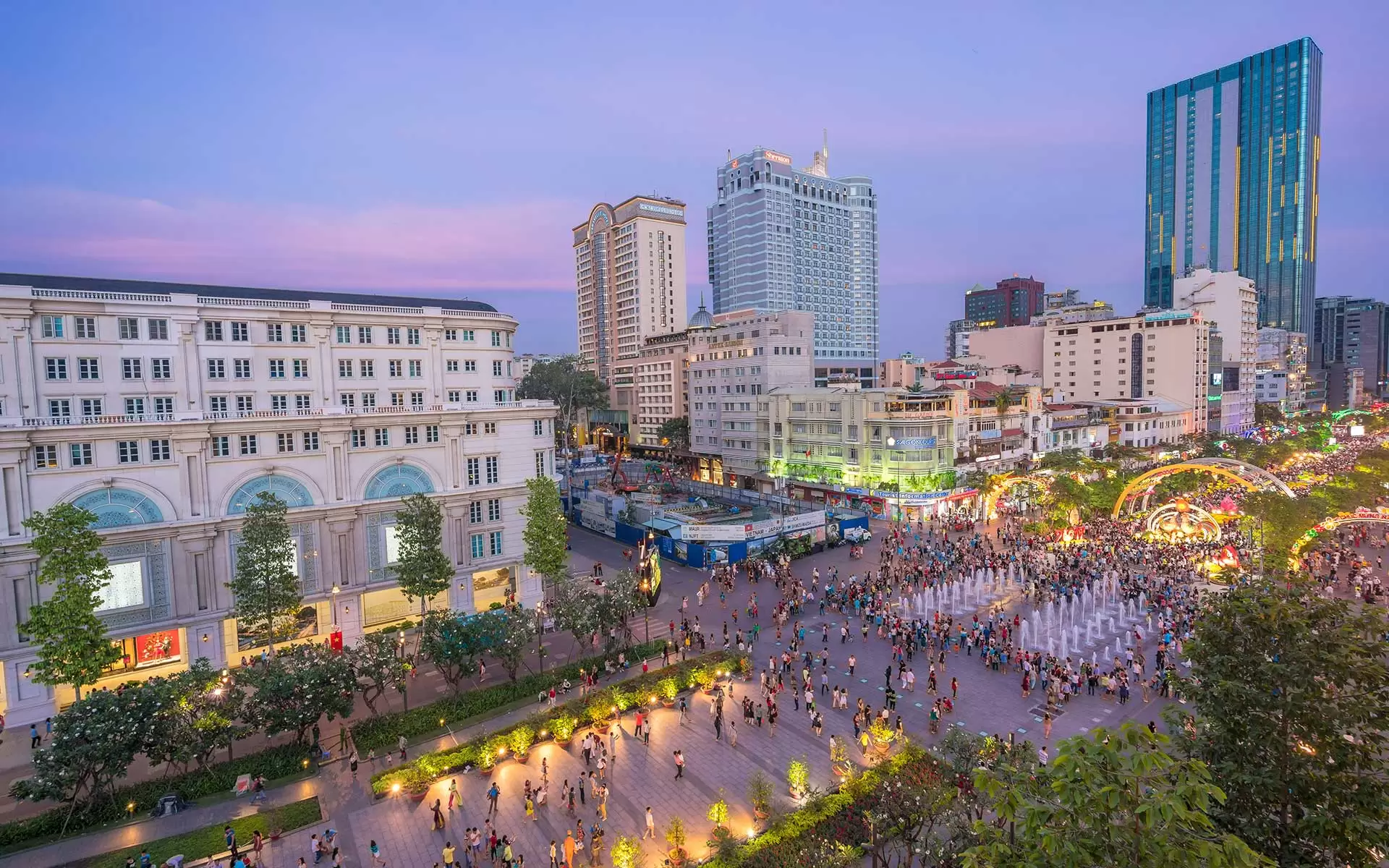 Located in the middle of District 1 which is a very attractive and luxurious downtown area  in Ho Chi Minh City, it will absolutely easy to reach Nguyen Hue Street. Becoming "walking street" in 2015, Nguyen Hue Street is busy, especially on weekend nights of Saturday and Sunday. From here, you can also admire its surroundings with some beautiful French colonial architectural wonders like the People's Committee Building with Ho Chi Minh's statue in front, the Rex Hotel and a luxury shopping mall. All become more colorful and vivid by night.
6. Enjoy vibrant atmosphere at Ben Thanh night market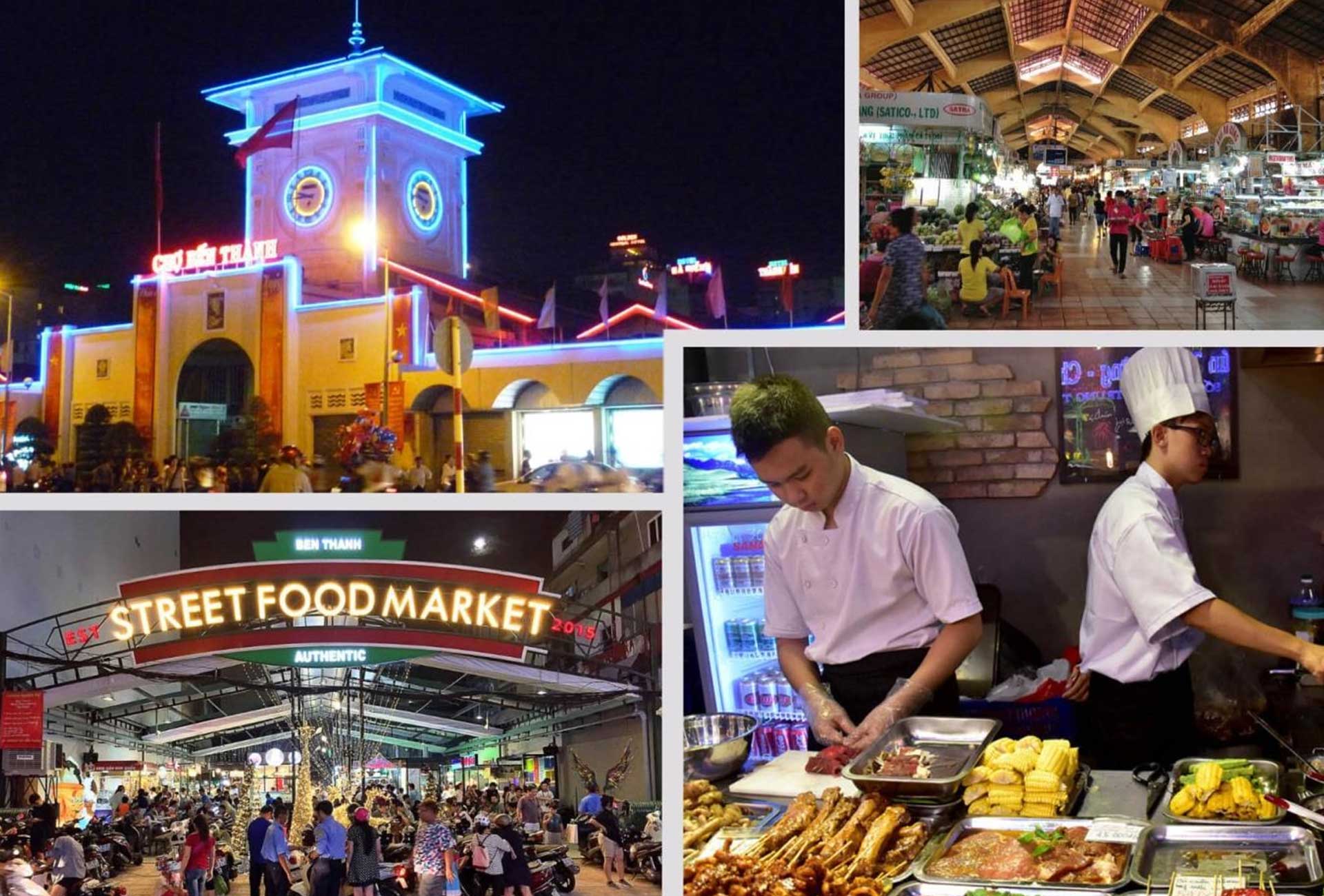 Ben Thanh Market is a symbol of Ho Chi Minh City due to its existence in parallel to the city's history. When the night falls, the market can be described as the miniature Saigon, where visitors can experience fully the local life and food culture. Not only offering a wide range of items for purchase, such as clothing, handbags, and handmade souvenirs, you can taste mouth-watering local dishes in night food courts; or just simply immerse yourselves in the bustling atmosphere, crowded in the busy streets of this modern metropolis.
Read more: https://vietnamtravel.com/quick-guide-to-ben-thanh-market-saigon/
7. Cruise along Saigon River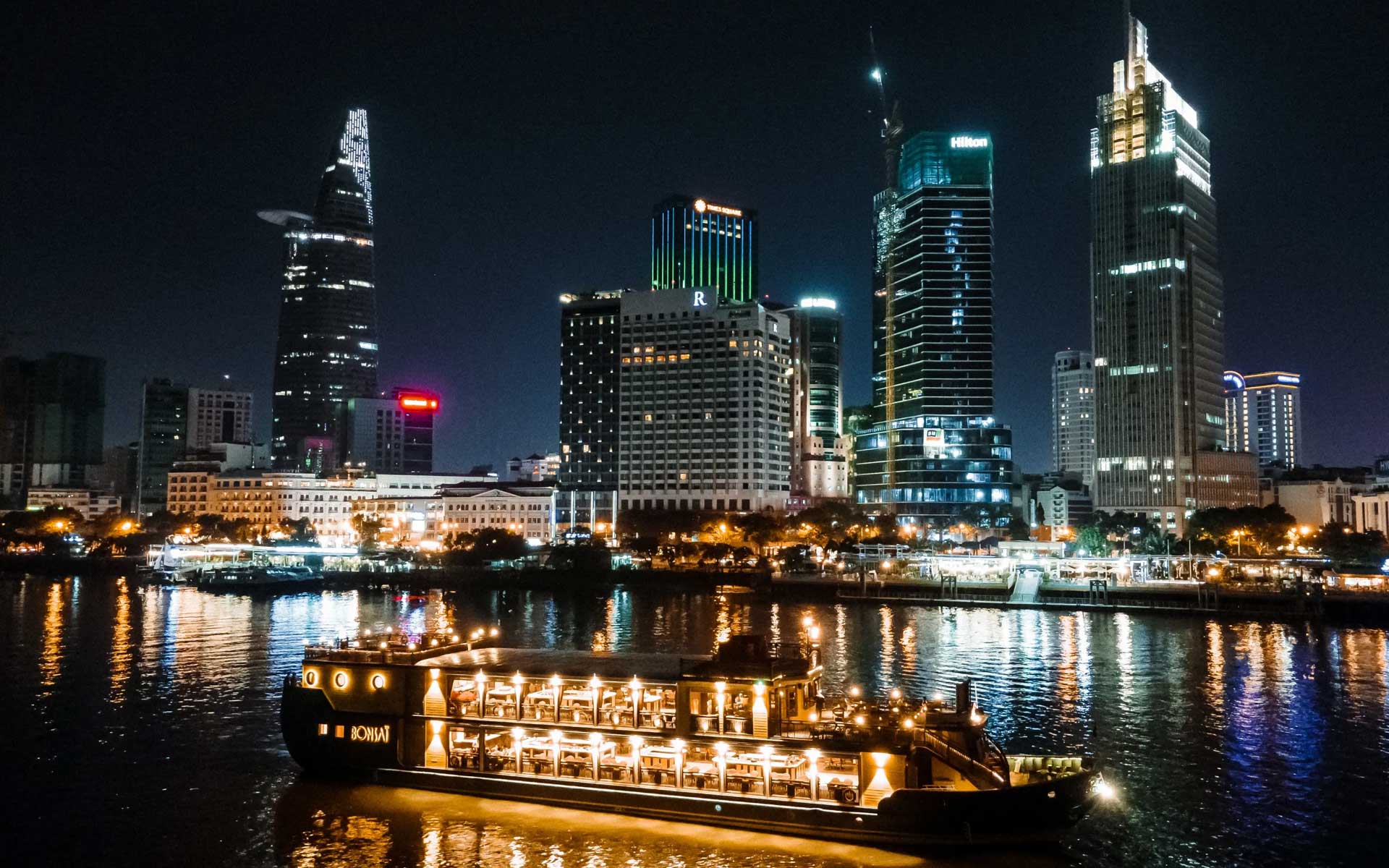 A leisurely cruise down the Saigon River is such a great idea to enjoy the beauty of the city by night. You can see both modern buildings and rural villages along the river. Having a dinner on cruise with a sumptuous feast of Western and Vietnamese favourites as well as enjoy live music performance on board bring such a romantic night. Find the best options as following:
– Indochina Queen: Designed with Asian and European neoclassical style. The capacity can be up to 600 passengers on 3 decks, with a VIP cabinet on 3rd deck. The Vietnamese traditional music instruments and dance performances are inclusive service during the buffet dinner on cruise. Welcome guests from 18.30 and end of services at 21.15.
– Saigon Princess: Wearing a white look, along with soft, gentle and delicate lines, Saigon Princess cruise will be the ideal place to experience a unique, luxurious and unique culinary atmosphere. Featuring modern interiors but a classic European style, there are two main decks of four serving dinner, and the top floor-sun deck Sky view 360 degrees offers dance floor, music theater or fashion. Welcome guests from 18.15 and end of services at 21.15.
– Saigon Sensation Lounge and Dinner Cruise: Offering a breathtaking view of Ho Chi Minh City by night, this is also a great choice for your dinner cruise. The food is prepared by professional chef, fusion between Asian and Western with wide range of selection for you. Welcome guests from 18.45 and end of services at 21.30.
8. Chill out with friends at Tea or Coffee Shops

If luxury bars or clubs are not your favorite things, spending time with your friends to chit chat at Tea or Coffee Shops can be an good alternative choice. Drinking tea/coffee seems to be an "office culture" when officers, young staffs to come and have fun time together during their break time or after works.
Here are some shops with 24/7 service and high-speed wifi which can be useful for all of you.
Snob Coffee: 147A Tran Hung Dao Street, District 1, HCM City
Thuc Coffee: Locations are all in District 1, including:
– 156B Pasteur Street
– 182 Pasteur Street
– 48-50 Huynh Thuc Khang Street
– 37 Ly Tu Trong Street
And some other shops in Phu Nhuan, Go Vap, Tan Phu District.
Den Da Coffee: 182 Pasteur Street, District 1, HCM City
Open Tea Club: 1st floor, 39 Ly Tu Trong Street, District 1, HCM City.
Read more: Vietnamese Tea Culture
9. Watch a Show at Saigon Opera House
Enjoy everything belonging to old traditions including folk stories/song or cultural shows are always attracting the visitors who love to understand about the destination culture.
Watching live performances at Saigon Opera House, which is also known as the Municipal Theater (No. 7 Cong Truong Lam Son Street, District 1), will bring you a great time. The following show name can be put in your pocket list while in Ho Chi Minh City. The show schedule should be checked in advance to get the availability & seats.
– A O Show by Lune Production: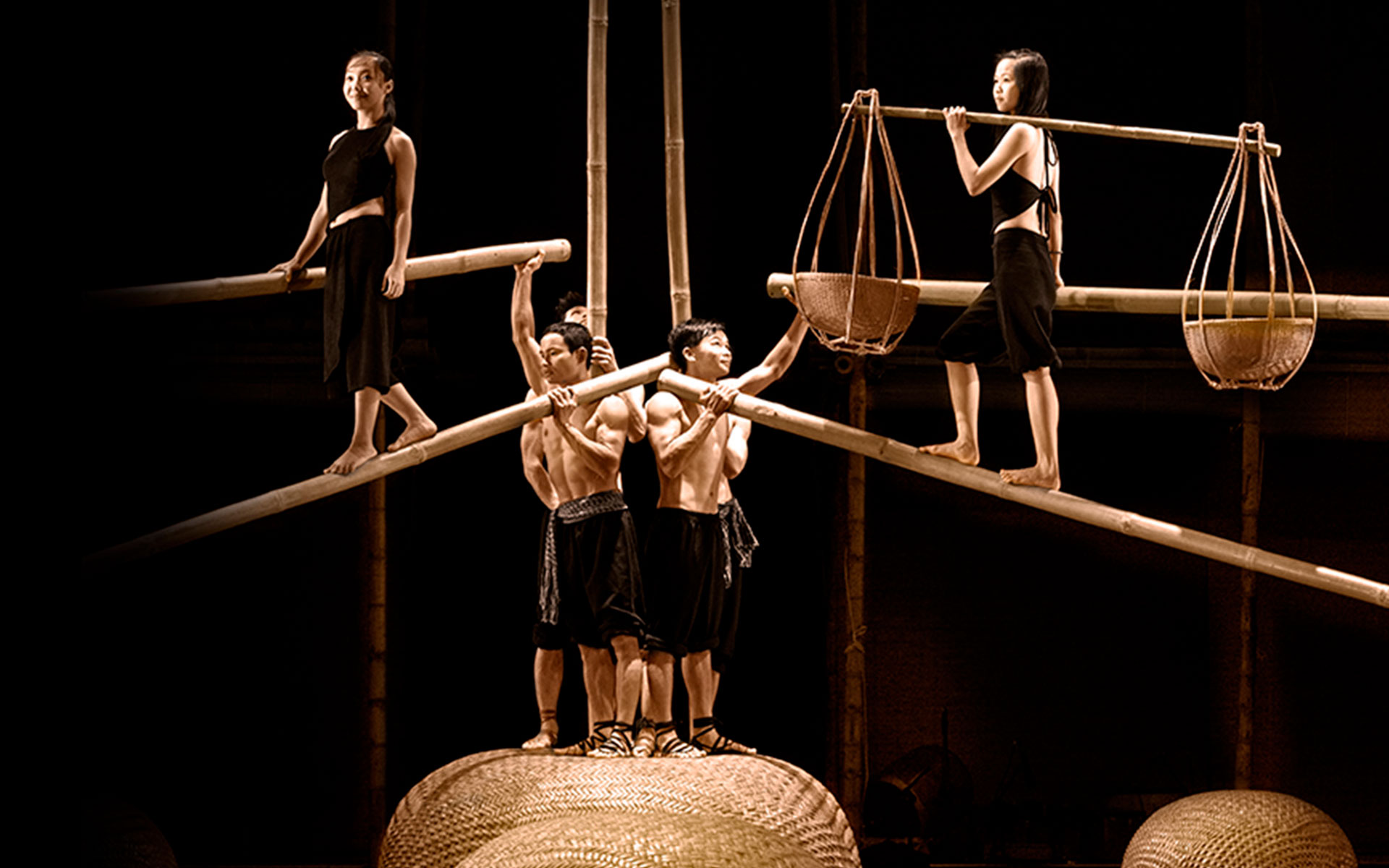 The name 'A O' derives from 'Lang Pho', which means 'village and city'. A O show depicts the charming beauty and cultural richness of Vietnamese life in the countryside, in contrast with the nation's racing urbanization. The show is a unique mix of bamboo circus, acrobatic acts, dance, and theatrical visual art. The live music echoes Vietnamese Southern work songs. All in all, this beautiful blend of genres creates a unique stage language, which well captures the essence of Vietnam's fascinating culture.
– Teh Dar: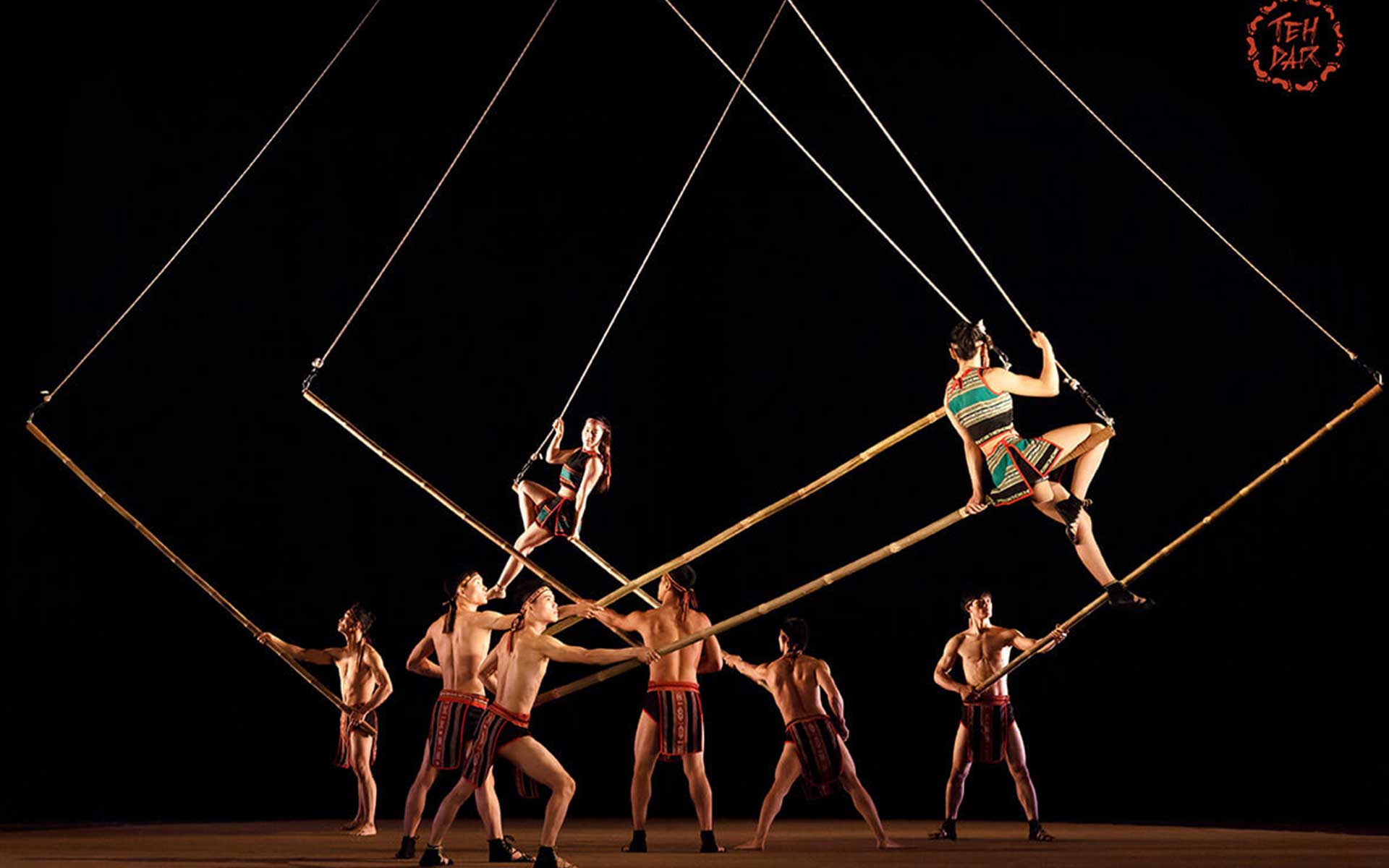 Teh Dar invites audience on a venture into the enchanting world of Vietnamese highlanders. Wild animal hunts, moonlit romance, jungle's tales of death and reincarnation, are all recreated with stunning Vietnamese Bamboo Circus, daring acrobatics, and hypnotizing melody from exotic tribal instruments certified cultural heritage by UNESCO. Meaning 'going in circle' in the highland tribe K'ho's tongue, Teh Dar embrace and preserve beautiful and diverse Vietnamese tribal cultures. As the artists keep inspiring, the circle of tribal life keeps going, the cultures shall remain.
– The Mist: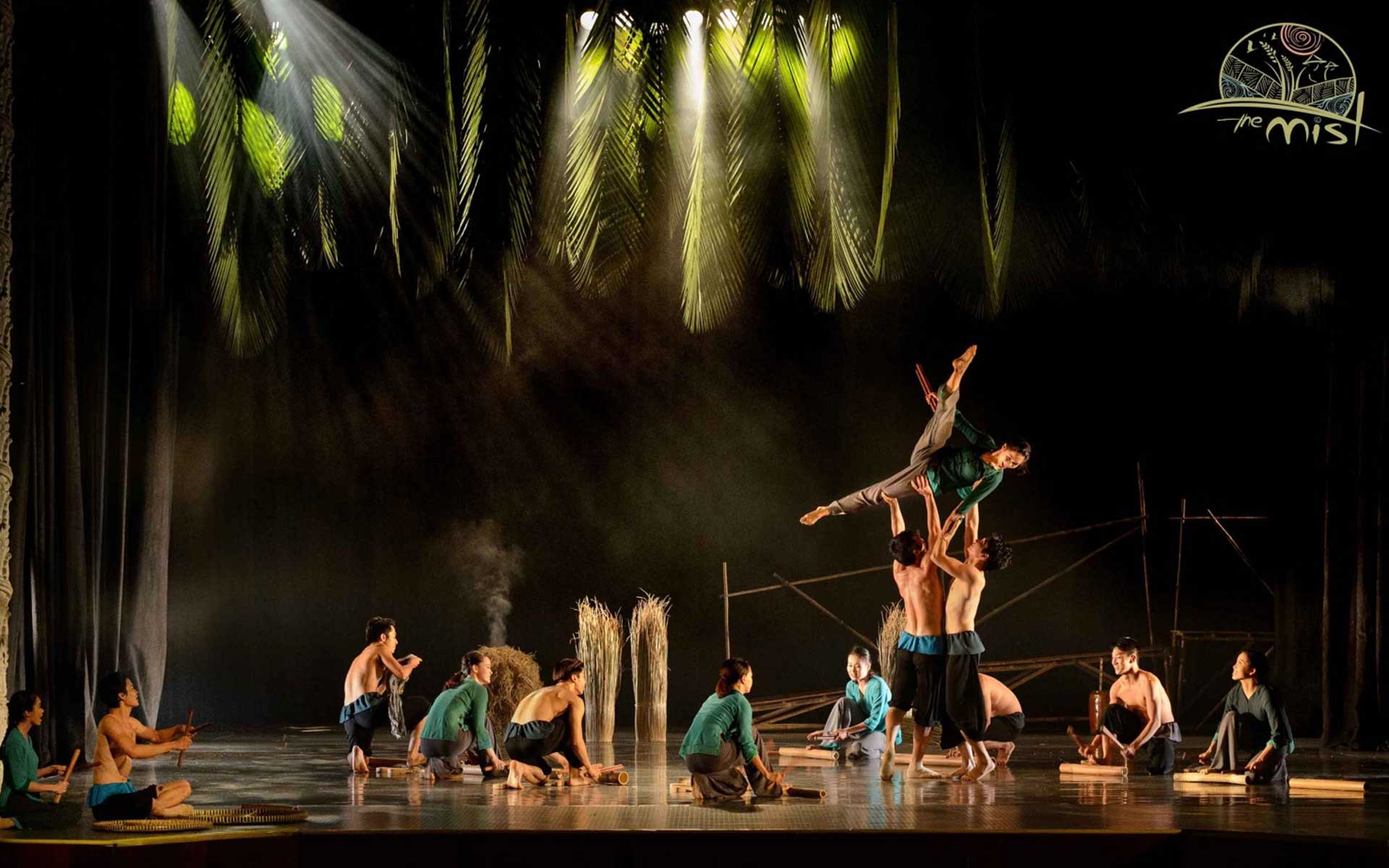 The Mist tells a story Southern Vietnamese farming life, expressed through neo-classic and contemporary dance by skilled artists. Using rice cultivation as a metaphor to appreciate farmers' dedication, from their misty dawn on the fields, their hardship and will power to rise up from humble muddy soil, to brace storms, to the moment they arrive joyously like shining pearls at harvest. The Mist is an hour of emotions, with myriad ups and downs, painted by sensational live music, splendid visuals, and colorful lighting effects.
Besides, if you are interested in Water Puppet show – another traditional Vietnamese art, let come to Saigon's main water-puppet venue at Golden Dragon Water Puppet Theatre – 55B Nguyen Thi Minh Khai Street, District 1. The shows will start at 6.30pm and 8.30pm and last about 50 minutes per each.
10. Street food tour by scooter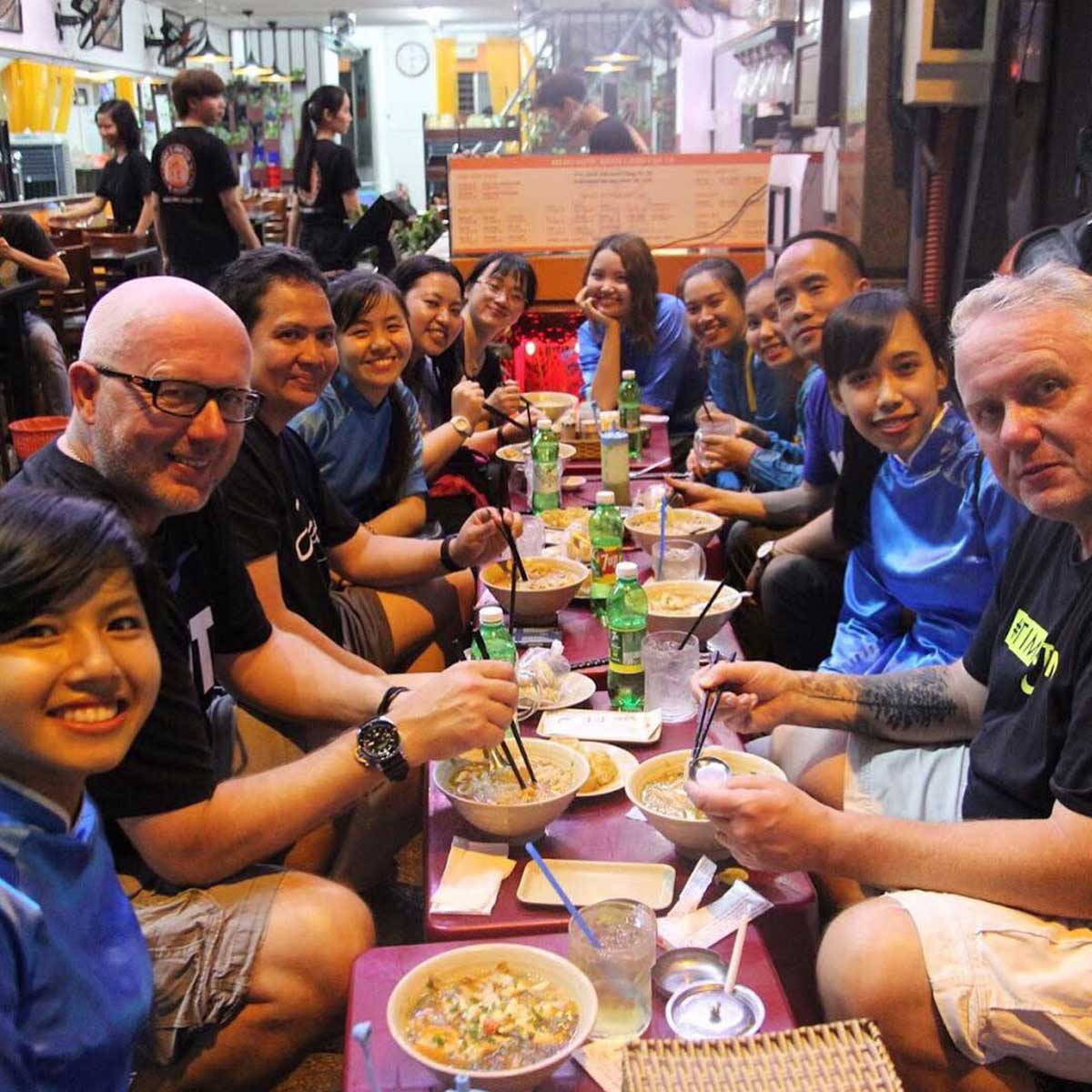 For those who are food lovers, taking a food tour by sitting behind skillful guide on a scooter will be a great experience. Following this way, you will enjoy the local nightlife, tasty food and live music as you ride pillion on vintage Vespas along the busy streets of this vibrant city. See Saigon come alive at night on this after dark adventure!
This tour will normally base on joining group, depart every evening at 6:00pm and lasts for 4 hours, finishing at 10:00pm approx. Private tour is also available and upon your request. As you can see, Ho Chi Minh City's nightlife scene is always in high spirits. Come and experience yourself to know how great this energetic metropolis brought to you. If you need our further helps related to accommodations, tours and excursions, flight tickets and visa or any travel advices to Vietnam and Indochina, contact Vietnam Travel's consultants!