Lucky Money (Li Xi) - Vietnamese traditional New Year Custom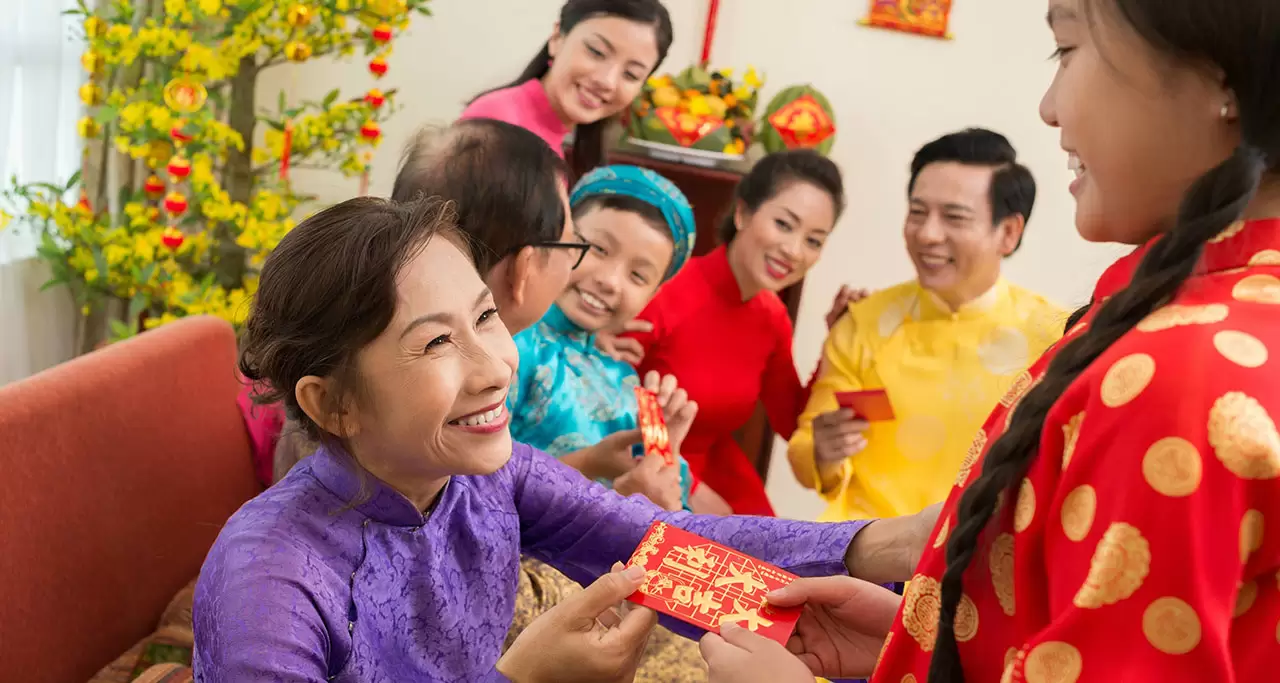 Traditionally, the Lunar New Year (Tet), the most special and waited-for holiday in Vietnam, usually arrives around late January or early February. Tet is the time for Vietnamese family reunion. The first three days of the springtime new year are celebrated by everyone, although for many others, the festivities and other forms of celebrations can last an entire week. Many Vietnamese traditional customs are practiced on this special occasion, like honoring ancestors' spirits, visiting and exchanging New Year wishes with relatives, neighbors and friends, and especially giving "Li Xi", or lucky money, to children and elders. "When in Rome, Do as the Romans do!", and if you are visiting Vietnam during this special holiday of the nation, you'd better to understand Vietnamese New Year customs, and one of them is "Li Xi". We hope this post would help.
"Li Xi" means "Giving money to welcome the new age on the first day of Lunar New Year". It is a small amount of money that can bring good fortune to the upcoming year. However, "Li Xi" is not limited only on the first day, but can even last to the 9th or 10th day of Tet Festival. The red envelope itself has many functions and meanings. According to traditional beliefs, the money in red envelops, usually in nominal quantity, bears a symbolic meaning while the red color of the envelopes symbolizes good fortune, wealth, a beneficial year, and is supposed to ward off evil spirits. The envelope also keeps the amount money inside secret so the children won't be jealous of each other if their lucky money is not the same, thereby avoiding unnecessary conflict. Additionally, it is the color of hope and luck. Those who receive lucky money believe that this red envelope will bring them happiness and wealth all year long.
In many Asian traditions, patrons would give "lucky money" as a form of appreciation to people who serve you all year round such as your waiters at your regular restaurants, your baristas at your coffee houses, your security guards who look after your apartment; and may be in your case perhaps your travel consultants, tour guides, drivers, boat rowers etc. for going the extra miles. Lucky money doesn't have to be Vietnam Dong but whatever currency. Wow, don't be surprised if you may receive some lucky money in Vietnam as well!
"How much "Li Xi" should I put into the red envelop?" is the main concern of the first comers on their Vietnam tours in the Lunar New Year and want to practice this interesting custom. Indeed, the amount of money contained in the red envelop depends on the relationship between the giver and the receiver. There is no right or wrong answer to this question. Most importantly, the precious value of lucky money is not evaluated by how much money you receive, instead by the wishes that others give you.
If you plan to visit Vietnam during the Lunar New Year, early reservation is highly recommended as flight and train tickets are often fully booked, restaurants are closed, tour guides are also… off despite salary is double to triple paid! Ask our Vietnam Travel consultants for more details!
Extra tips if you are traveling or staying in Vietnam during Tet Holiday:
DO:
+ Say "Chuc Mung Nam Moi", means "Happy New Year" when you meet someone.
+ Give people good wishes.
+ Give lucky money in the red envelopes (Li Xi) to those in close relationship, or offer some gifts related to luck.
+ Smile, laugh often, and be energetic.
+ Dress bright-colored clothes.
DON'T:
– Don't show up at somebody's house on the 1st day of the Lunar New Year unless you have been invited by the owner first.
– Don't give presents with unlucky signs.
– Don't ask for "Li Xi" if it was not given.
– Don't use unlucky words.
– Don't talk about negative topics such as  debt or loan, accidents, deaths, or funerals.
– Don't hurt or kills something.
– Don't break objects in somebody's house.
– Don't wear dark clothing or just black and just white.
– Don't take water and/ or fire away from Vietnamese houses.
– Avoid demanding requests during Tet.