Best places to visit in Vietnam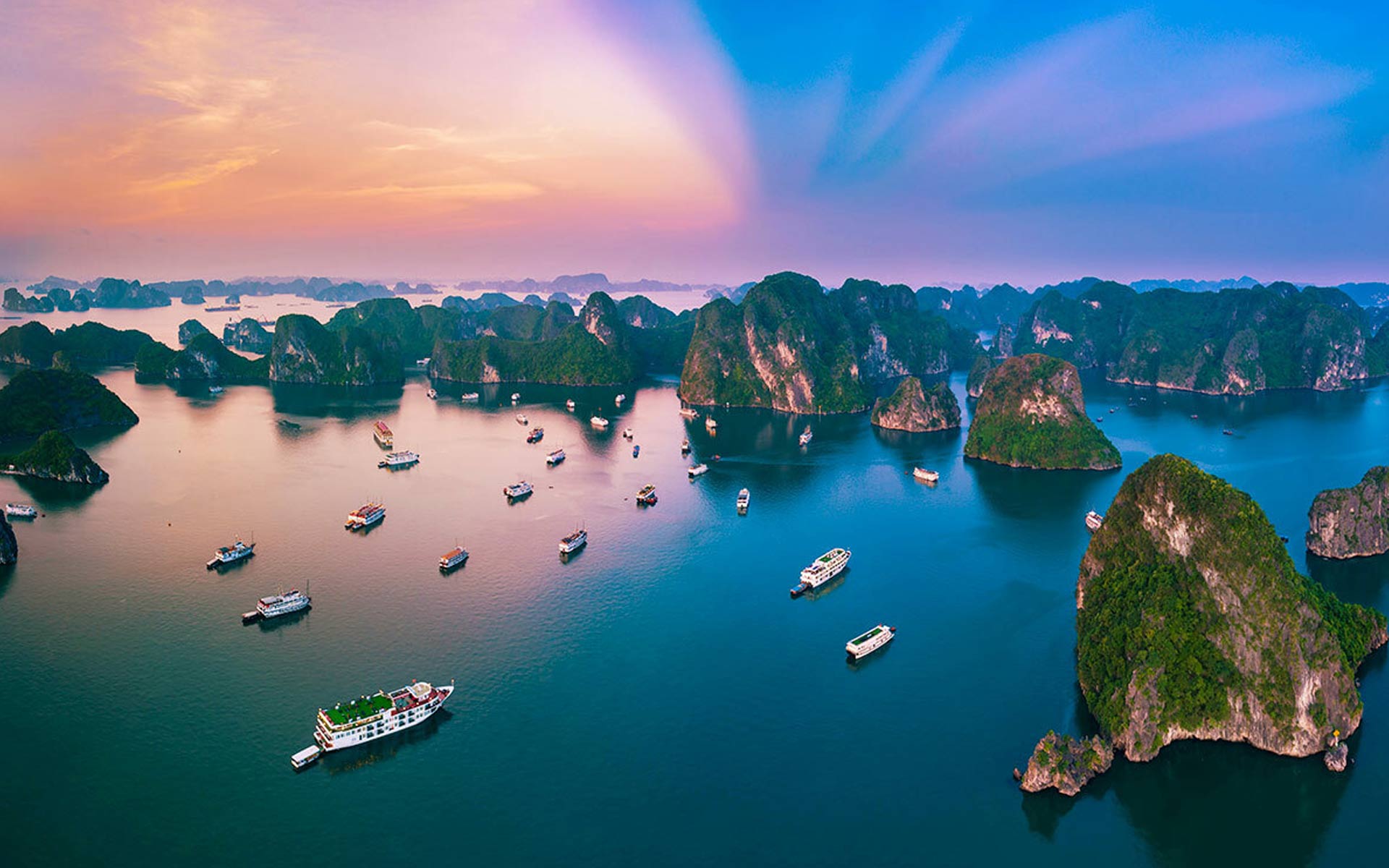 Vietnam is a beautiful and diverse country that offers something for everyone. Whether you are looking for breathtaking scenery, fascinating history, or vibrant culture, you will find it in Vietnam. In this article, we will show you the best places to visit in Vietnam, covering the most popular destinations as well as some hidden gems. You will also learn about the best places to visit in Vietnam for different types of travelers, such as honeymooners, families with kids, or history buffs. So read on and get ready to plan your dream trip to Vietnam.
Best places to visit in Vietnam
Vietnam is considered a great place to visit by many travelers. With everything from superb cuisine to stunning landscapes, this corner of Southeast Asia dazzles the senses. Peaceful paddy fields give way to frenetic urban centers like Ho Chi Minh City and Hanoi, where the youthful population rushes to embrace the future. Boutiques fill the French colonial buildings in enchanting Hoi An; in the north, a world away, are Sapa's ethnic markets. Around Vietnam, lush jungles and jagged karst peaks beckon adventurers. Absorb it all but take time to relax, perhaps on the long, alluring coastline with its world-class beaches.
It is a fascinating country with a rich culture, diverse landscapes, and friendly people. Whether you want to explore the bustling cities, the ancient temples, the stunning beaches, or the majestic mountains, you will find something to suit your taste and budget. Some of the most popular places to visit in Vietnam are Halong Bay, Hoi An, Ho Chi Minh City, Hue, and Sapa. If you want to discover more about this amazing destination, check out our places to visit in Vietnam guide and plan your trip today. Here are some of the best places to visit in Vietnam:
Ha Noi City
Ha Noi is the capital of Vietnam, with a booming population and economy. It's an exhilarating blend of eastern and western culture. Exploring Ha Noi, you'll see French colonialism visible through cuisine and architecture.
Ha Noi is packed with incredible temples. The standing ones are the 11th-century Temple of Literature and One-pillar Pagoda. One of the major attractions of Ha Noi is Uncle Ho's mausoleum, a striking building from the exterior.
At night, Ha Noi shines its vibrant life that is young and crowded that worths any cost to join. It is time for fancy dinners or budget meals with reasonable drinks.
Hanoi: The capital of Vietnam, Hanoi is a bustling city with a rich history and culture. Here you can visit the Ho Chi Minh Mausoleum, the Temple of Literature, and the Long Bien Bridge. You can also wander through the Old Quarter, where you'll find traditional markets, shops, and restaurants.

Read more: Things to do in Hanoi
Ha Long Bay
Halong Bay is a must-visit destination in Vietnam with its stunning combination of karst limestone peaks and sheltered, shimmering seas. This UNESCO World Heritage Site is home to over 1,600 limestone karst islands and islets. Visitors can explore the bay by boat, kayak, or even swimming. Ha Long has a reputation that is well-deserved for the true beauty of this place. The name of Ha Long means descending dragons, indicated in the silhouette of the limestone cliffs. A day cruise through these huge stones allows you to see the sublime of this otherworldly bay. Then, take a day swimming in the blue water and another day exploring caves or some of the more remote, uninhabited islands.
Recently there is huge investment on overnight cruise on the bay. There are more than 500 cruises with luxury furniture and spacy cabins for travelers. Visitor is advice to take 1night cruise or even 2 night cruise to enjoy the best that Halong has to offer and see all moment of Halong the top attraction of Vietnam.
It's easy to book a cruise on this link at the best rate and instant support of Halong Cruise specialist.
Halong Bay: This UNESCO World Heritage Site is a must-visit for any traveler to Vietnam. Its stunning karst islands and limestone formations rise up from the emerald waters of the Gulf of Tonkin, creating a truly magical sight.

CHECK RATE LUXURY HALONG CRUISES  Click
Recently, tourists yet have a new way to sight-see Ha Long from above. Sitting on a seaplane, Ha Long appears to be more salient. Prominent activities in Ha Long can count kayaking on the bay, cruising through caves and islands, climbing cliffs, visiting fishing villages, and more.
Sapa
Sapa is a small town located in Lao Cai, a province in the Northwestern region of Vietnam. It offers plenty of interesting things to do and places to see, including spectacular mountain landscapes, verdant rice terraces, and unique ethnic minority villages. Known locally as the "town of clouds," Sapa effortlessly mesmerizes travelers with its beauty. Whether you're interested in outdoor activities like trekking and biking or simply want to soak up the local culture, Sapa is a destination that should not be missed when traveling to Vietnam.
Sapa: This mountain town in northern Vietnam is a popular destination for hiking, trekking, and mountain biking. You can also visit the nearby Bac Ha Market, a traditional market where ethnic minority people from the surrounding area come to sell their produce. Planning your Sapa getaway and feeling overwhelmed? Worry not, as this list of top things to do in Sapa will ensure you have an amazing trip.
Ninh Binh
Located in the Southeast of Ha Noi, Ninh Binh is a paradise that accommodates tons of unspoiled parts of the nation. It's a jump-off destination for those who seek to get rid of dust and fume of urban life.
Notably, in Ninh Binh, Tam Coc features wondrous landscapes dotted with several limestone cliffs and rock formations amongst emerald green rice paddies. Seeing Tam Coc, in reality, is yet an exclusive experience. The best way to explore the place is to set up yourself on a boat and row along the green paddies between the cliffs. Along the way, there will be three tunnels that run through the mountains, which were carved over time by the river itself.
Ninh Binh is a province in northern Vietnam known for its stunning natural beauty and rich cultural heritage. The area is often referred to as 'Halong Bay on land' due to its limestone karsts and scenic waterways. Visitors to Ninh Binh can explore its many attractions, such as the Trang An Scenic Landscape Complex and the ancient capital of Hoa Lu. With its breathtaking landscapes and fascinating history, Ninh Binh is a must-visit destination for anyone traveling to Vietnam. Seeking recommendations for your stay in Ninh Binh? Explore this carefully compiled list of exciting things to do in Ninh Binh and make the most of your visit.
Hue
There is no place more serene than Hue in Central Vietnam. Known as the imperial capital of the Nguyen dynasty. Today, the vestiges of this former glorious time are reflected in the city's architecture, lifestyle, and dishes. To get the best out of a trip to Hue, visitors should not miss the Citadel, the sprawling complex of grand palaces, ornate temples, walls, and gates back in the days.
Another important landmark is the Thien Mu Pagoda, the city's official symbol. This divine building carries history in a unique architecture reflecting the religious belief voraciously at that time of the royal family.
Hue is a city in central Vietnam that was once the capital of the Nguyen Dynasty. The city is known for its rich history and well-preserved architecture, including the Imperial City and the Thien Mu Pagoda. Visitors to Hue can explore its many historical landmarks, take a boat ride on the Perfume River, and sample its delicious cuisine. With its unique blend of history, culture, and natural beauty, Hue is a destination that should not be missed when traveling to Vietnam. For more information on what to see and do in Hue, check out this comprehensive Hue travel guide.

Read more: Things to do in Hue
Hoi An Ancient Town
The 2,000-year ancient town of Hoi An is a fantastic place to visit. It is not just a town with some old buildings, but it also is a historical site full of color and vitality. What makes Hoi An so different is architecture, tradition, culture, and food. Around the outskirt of Hoi An is a number of traditional villages following crafting, old-fashion farming, and fishery for hundreds of years. Those atmospheric places feature a sky of fresh air to inhale and release whatever burdens you in the common life.
Old-town Hoi An is a quarter filled with antique buildings of Japanese style. Inside those traditional wooden houses, the local set up shops for clothes, shoes, bags, textiles, souvenirs, and dining places.
Hoi An Ancient Town sits in Quang Nam Province, centrally located in Vietnam, nestled on the northern bank where the Thu Bon River meets the sea. This ancient trading town is a UNESCO World Heritage Site and one of the best-preserved examples of a traditional Vietnamese town. Its well-preserved architecture, including Chinese shophouses, Japanese merchant houses, and French colonial buildings, make it a fascinating place to explore. If you're planning a trip to Vietnam, be sure to check out this Hoi An travel guide for ideas on what to do and see.
Nha Trang
Situated in one of the most beautiful bays off the coast in the South Central of Vietnam, Nha Trang offers a premium breeze by the beach.
This seaside resort city is a favorite tourist spot with lush beaches, islands, and spectacular mountains. Besides, the place is adorned with resorts, palm trees, and crystal clear water. Not only that, but Vinpearl land is also a complex of amusement park and leisure check-in. It provides entertainment of all kinds from roller coasters, outdoor bar bars, swimming pools, to restaurants all situated on an isolated island.
Nha Trang is also a land of an interlaced culture of Champa and Viet people. The customs have been around for hundreds of years and keep showing off their uniqueness and pride. Don't miss Ponaga temple when you visit Nha Trang.
This coastal city is a popular tourist destination with beautiful beaches, resorts, and restaurants. Nha Trang is not only a popular beach destination in Vietnam, but also a paradise for golf enthusiasts. You can find some of the best golf courses in the country here, such as Diamond Bay Golf & Villas, Vinpearl Golf Club, and KN Golf Links. You can also go diving or snorkeling in the clear waters off the coast. If you want to experience the ultimate golf vacation in Nha Trang, check out our golf tours in Vietnam and book your trip today. Not sure what to do during your stay in Hoi An? This list of things to do in Nha Trang has got you covered.
Da Lat
For those who miss the chilling vibe but not freezing cold, Da Lat is a place of dream. The city of mist has year-round cool weather with idyllic scenery of valleys, pine trees, and vivid streets full of flowers. Da Lat is a hidden gem among the cities to visit in Vietnam. With its cool climate, stunning natural beauty, and charming French colonial architecture, it's no wonder that Da Lat is considered by many to be the best city to visit in Vietnam. Whether you're looking for adventure or relaxation, Da Lat has something for everyone.
Da Lat was a summer retreat of the royal family of the Nguyen dynasty and high-ranking officials of the French colonials. Today, this charming town is a tourist center with walkable streets, old buildings, pine tree forests, misty valleys, splendid lakes, and picturesque landscapes.
Savoring a BBQ dinner and some wine in a chilling night of Da Lat while viewing streams of people of the city live, work and trade will be an extraordinary joy. In Da Lat, tourists shouldn't miss a cup of hot coffee in the morning and some soy milk sold on the street at night. Just sit and look at the spiraling smoke from the cup is such a relieving feeling that not many places on earth can offer.
Da Lat is a city located in the Central Highlands of Vietnam. It is famous for its countryside charm and cooler climate, which draws couples, wellness seekers, and outdoor enthusiasts. The city was once a summer getaway for the French, who left their mark in the European-inspired architecture and countless lakes. Da Lat is situated on a lake on the Lam Vien Plateau at 4,920 feet (1,500 meters) above sea level and sits among pine-covered hills with picturesque waterfalls nearby. Whether you're interested in exploring the city's landmarks, playing a round of golf, hiking, biking, or sampling the local coffee culture, Da Lat has something for everyone.
Ho Chi Minh City
In southern Vietnam, the most considerable capital of economy and population, Ho Chi Minh city, welcomes all visitors to its blend of historic and modern attractions. The city is formally known as Saigon, a respected name called by the citizens who live with the memories of the old time.
Vibrant Saigon is the city of a dynamic lifestyle where people can do all the shopping, dining, touring, and exploring the very distinctive life here. Wandering around city, not only the bustle you will see but also the poised-manner Saigon hidden in alleys and corners off the rushing streets.
Cuisine in Ho Chi Minh city is a mix of new and old. People of Saigon are genuinely creative in the way they cook and create new dishes. A food tour in Saigon will be a noteworthy experience for anyone, especially at an unbelievable price.
Ho Chi Minh City, also known as Saigon, is the largest city in Vietnam and a bustling metropolis with a rich history and culture. The city is known for its French colonial architecture, vibrant street food scene, and bustling markets. Visitors to Ho Chi Minh City can explore its many museums and historical landmarks, such as the War Remnants Museum and the Reunification Palace. From exploring bustling markets to visiting historic landmarks, there are plenty of Ho Chi Minh City activities to keep you busy. With its lively energy and endless things to see and do, travelers to Vietnam should make it a point to visit Ho Chi Minh City, an essential destination.
Mekong Delta
The Mekong Delta is a region in southwestern Vietnam where the Mekong River empties into the sea. Known as the "rice bowl" of Vietnam, the Mekong Delta is a lush and fertile area with a rich agricultural heritage. Visitors to the Mekong Delta can explore its many waterways by boat, visit floating markets, and sample delicious local cuisine. With its unique culture and stunning natural beauty, the Mekong Delta is a must-visit destination for anyone traveling to Vietnam
The flagships of Mekong Delta are the colorful life on rivers, fruitful orchards, verdant paddies, and hospitable locals. This agricultural region, with a large portion of land fertile by the Mekong river, features a maze of canals and tributaries. It is not only rich in culture but also in the natural endowment.
Touring Mekong delta is ideally done on boats through branches to experience the serenity under shades of palm coconut trees on both sides. On the other hand, tourists can visit orchards and savor juicy fresh tropical fruits. Then, take a trip around the quaint villages on a bicycle and greet farmers laboring on the fields. That'll make an unparalleled experience of a whole different world from anywhere on this globe.
Mekong Delta: This region is known for its lush rice paddies, floating markets, and traditional villages. You can explore the Mekong Delta by boat, bicycle, or even cyclo (a three-wheeled bicycle rickshaw). If you're visiting the Mekong Delta region of Vietnam, be sure to check out the Mekong Delta floating markets for a unique shopping experience or if you're looking for a relaxing and luxurious way to explore the Mekong Delta region, consider taking one of these Mekong River cruises.
Best Honeymoon Destinations In Vietnam
If you are looking for some of the best places to visit in Vietnam for couples, you will be spoiled for choice. Vietnam is a wonderful destination for romance, with its stunning scenery, rich culture, delicious cuisine, and friendly people. Whether you want to relax on a tropical beach, cruise on a scenic bay, explore a charming town, or trek in the mountains, you will find something to suit your taste and budget. Here are some of the best places to visit in Vietnam for couples and how to get there:
Places to Visit in Vietnam for Families with Kids
Vietnam is a great destination for families with kids, as it offers a variety of attractions and activities that are fun, educational, and affordable. Whether you want to enjoy the beach, the mountains, the city, or the countryside, you will find something to suit your family's interests and preferences. Here are some of the best places to visit in Vietnam for families with kids and how to get there:
Places to Visit in Vietnam for History Buffs
Vietnam has a rich and diverse history that spans thousands of years, from ancient civilizations to colonial influences to modern conflicts. If you are a history buff, you will find plenty of places to visit in Vietnam that will satisfy your curiosity and inspire your imagination. Here are some of the best places to visit in Vietnam for history buffs:
These are just some of the places to visit in Vietnam for history buffs. There are many more historical sites and museums that you can discover in this fascinating country. Whether you are interested in ancient civilizations, colonial influences, or modern conflicts, you will find something to suit your taste and interest in Vietnam.
If you want to explore some amazing hidden gems in Vietnam that are off the beaten track, you have plenty of options. Vietnam is full of incredible places that most tourists don't know about. From stunning waterfalls and caves to ancient ruins and islands, these places will make you fall in love with Vietnam's natural beauty and cultural diversity. Here are some of the off-the-beaten-path places in vietnam that are also hidden gems that you might not know about:
These are just a few of the many hidden gems that can be found in Vietnam. With its diverse landscape and rich culture, Vietnam is a country that has something to offer everyone.
Final lines
In conclusion, Vietnam has something for everyone, whether you are looking for a budget or a luxury tour. If you are a budget traveler, you can still enjoy the best of Vietnam's scenery, culture, food, and activities. You can explore the natural beauty of Halong Bay, Phong Nha-Ke Bang National Park, and Ban Gioc Waterfall. You can learn about the history and heritage of Cu Chi Tunnels, Imperial Citadel of Thang Long, and My Son Sanctuary. You can experience the urban and rural life of Ho Chi Minh City, Hanoi, and Hoi An. Some of the other places that are suitable for budget travelers are Hanoi, Ho Chi Minh City (formerly Saigon), Da Lat, Mekong Delta, Danang, and Hue. These places are affordable, accessible, and enjoyable. You can find cheap and comfortable accommodation, transportation, and food. You can also benefit from the free or low-cost attractions and activities. You can visit museums and temples, hike or bike around nature, join a street food tour or a cooking class, or shop at local markets and shops. You can also save money by booking cheap tours and packages that can help you visit multiple places in one trip.
The S-shape land of Vietnam is a remarkable place for traveling that offers all kinds of experience from hiking in the mountains, trekking through trails, chilling in urban nightlight, resting on beaches, savoring gourmet food, and beyond. Every destination in Vietnam has a unique sense to make each trip an incredible one to keep in memories.
And it's not just about 10 best places to visit in Vietnam above; this country has more waiting for you to discover along the way. Get well-prepared for the Vietnam trip and be ready for incoming surprises.
In conclusion, Vietnam is a country with a rich history and diverse culture that offers something for every traveler. From the bustling cities of Hanoi and Ho Chi Minh City to the stunning natural beauty of Ha Long Bay and the Mekong Delta, there are countless places to explore and experiences to be had. Whether you're interested in history, food, adventure, or relaxation, Vietnam has it all. So pack your bags and get ready for an unforgettable journey through this beautiful country.