Overview of Hoi An, Vietnam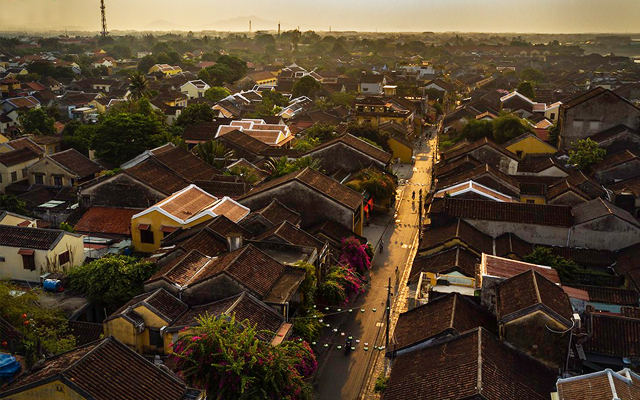 Hoi An is one of the top attractions of Vietnam. It was a charming prosperous international trading port from16th century but during Nguyen Dynasty, it was closed. Tourism in the years of 90s wake up the sleeping beauty of Hoi An.  Nowadays, the World Heritage – listed ancient town is praised for well-preserved buildings, pedestrianized streets and unique cuisine, allowing visitors a glimpse of its illustrious past. Let us provide you some brief information and overview of Hoi An.
1. History of Hoi An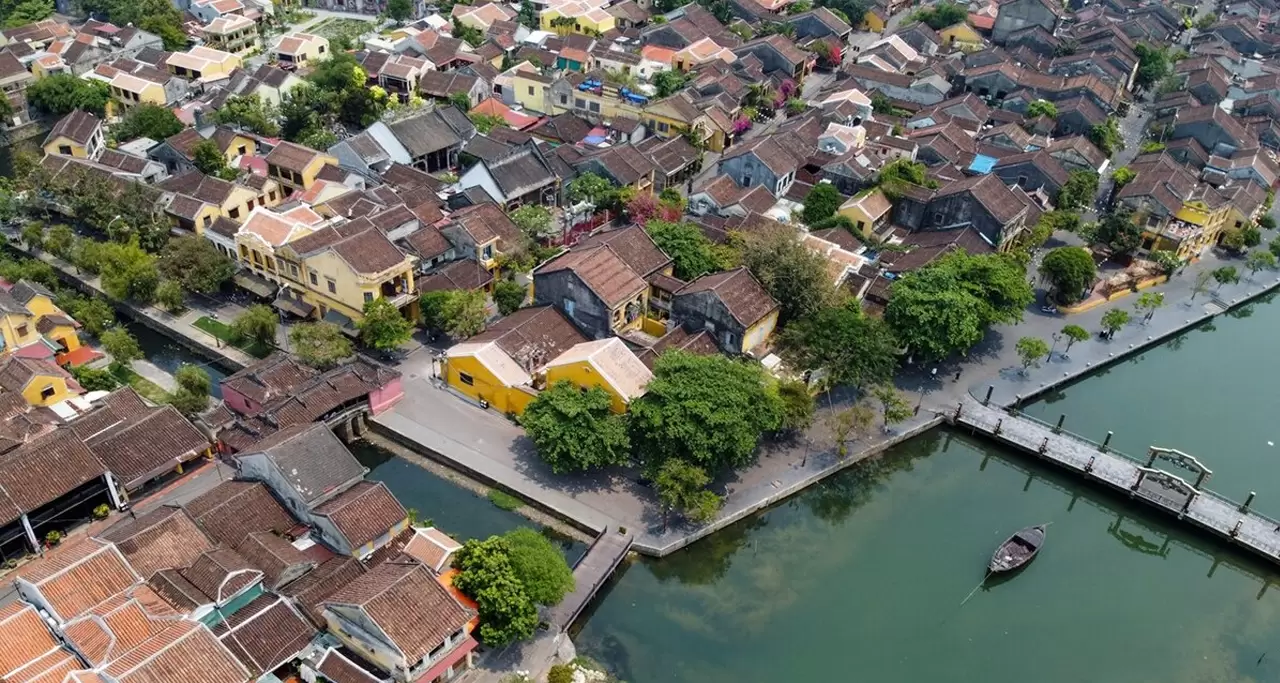 Hoi An has an interesting history that can be traced back almost two millennia to the Sa Huynh peoples, before it served as an important port for the Champa Kingdom that extended over central and coastal Vietnam. Then it became the busiest Southeast Asian international trading port during the 16th and 17th centuries, harboring foreign traders, especially Japanese, Chinese and Dutch; partaking in all sorts of trades such as high-grade silk, fabrics, paper, porcelain, areca nuts, pepper, Chinese medicines, elephant tusks, beeswax, mother-of-pearl and lacquer. In the period of China trade, Hoi An was known as Sea Town ("Hai Pho" in Vietnamease) and called as Faifo by the French and the Spanish.
At the end of 18th century, the Trinh Lord invaded Quang Nam palace, Hoi An ancient town fell into chaos war and lost its important trading port role. After that, for political as well as practical reasons (the mouth of the Thu Bon river was silted up, blocking access to larger ships), the focus of trade shifted southward to Danang and Hoi An was a forgotten backwater. Due to that, Hoi An could avoid a variation from the impact of modern urbanization to keep preserving an urban architectural ensemble unique and great till now.
In 1999, this lovely ancient town was recognized as a world heritage site by UNESCO as it is "an exceptionally well-preserved example of a South-East Asian trading port" and its buildings "reflect the influences, both indigenous and foreign".
2. Weather in Hoi An
The climate of Hoi An is considered tropical. This means that the temperatures are warm throughout the year, and the year is distinctively broken up by the rainy and dry seasons. The rainy season in Hoi An is from October until February. During this time, rain clouds will constantly move through the area, particularly during October and November. It can rain constantly and there is a high probability of floods and typhoons. There are days during which sunshine is abundant, but they are not the majority. December and January are the coldest months of the year, so bringing extra layers to keep you warm is recommended. The dry season is from March until September. These months provide plenty of sunshine, with warm temperature. March to May are considered as the best months to visit, but you can also see Hoi An from June to September if you don't mind the intense heat.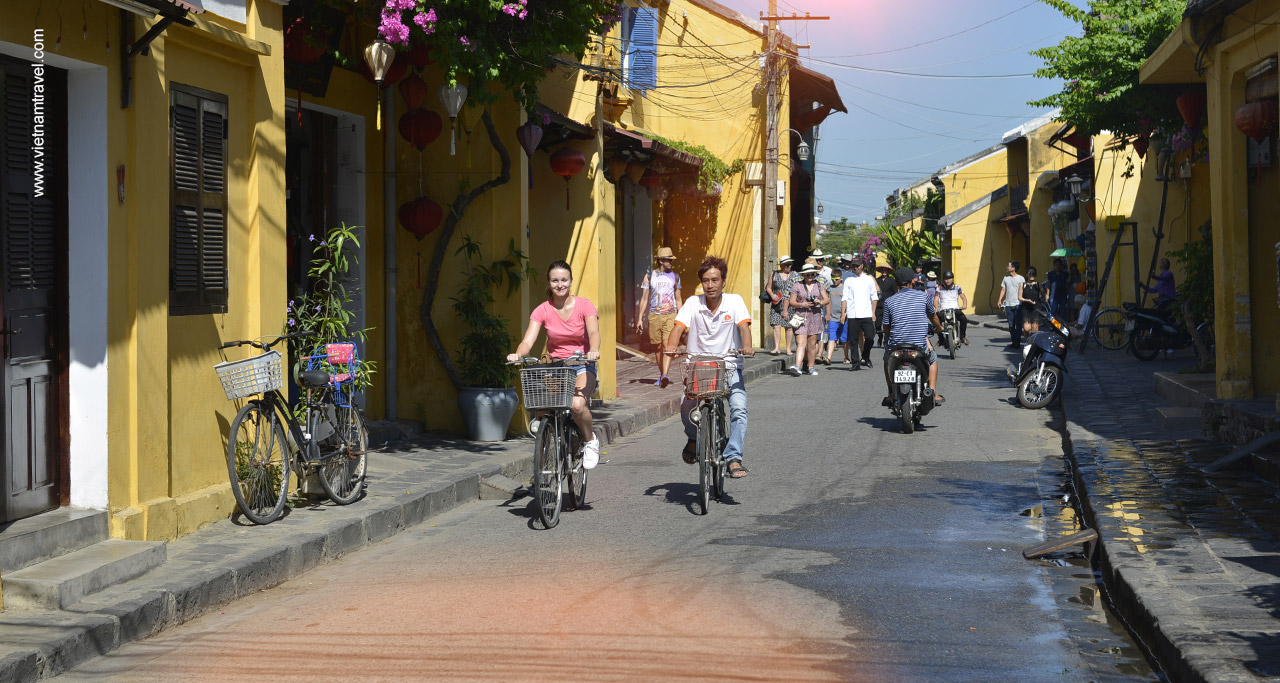 3. How to get to Hoi An
This city has no airport and train station. The easiest way to access Hoi An is to fly into the nearest Danang International Airport, just 30km to this Ancient Town. There are many direct domestic flights operated daily from Hanoi, Ho Chi Minh City, Nha Trang, Phu Quoc, Dalat… as well as from Bangkok, Siem Reap, Hong Kong, Melbourne (Australia) to Danang. When you reach the Danang airport, you can take a bus or book a private car for your convenience from Vietnam Travel to reach Hoi An Ancient Town in a 45-minutes drive.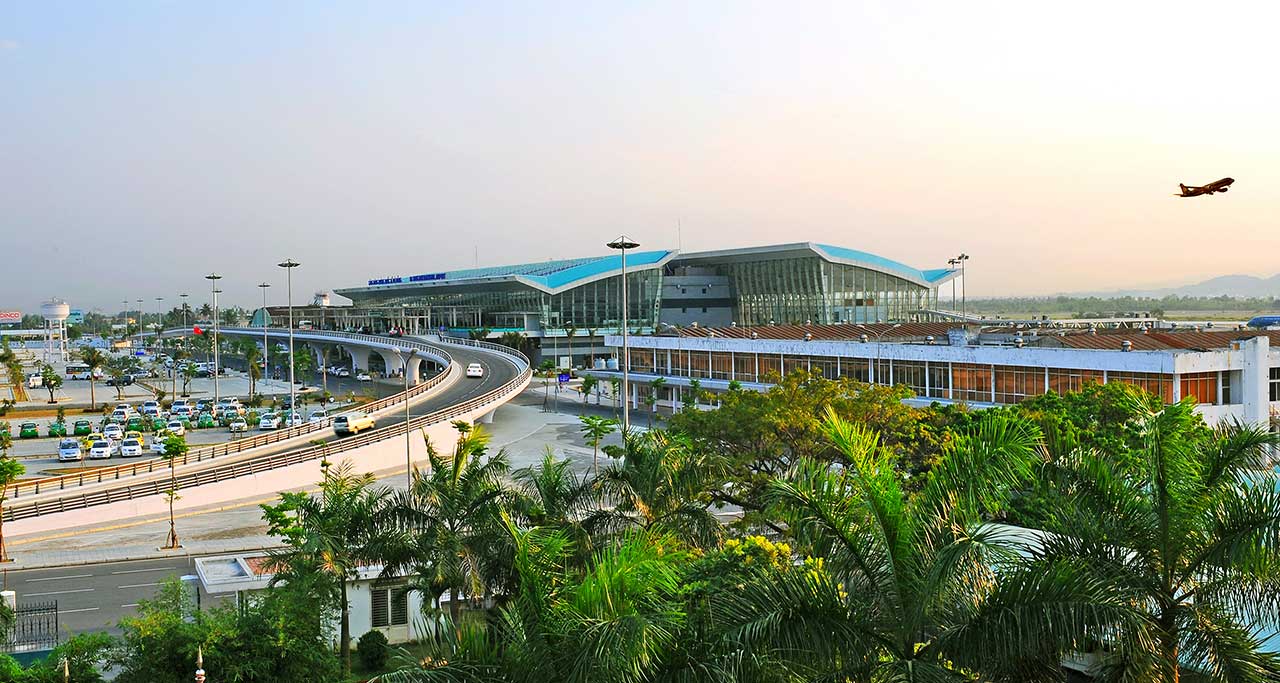 4. What to do in Hoi An
Like a hidden gem in Central Vietnam, Hoi An has much to offer from interesting activities to tranquil rural countryside and beaches.
4.1. Take part in a cooking class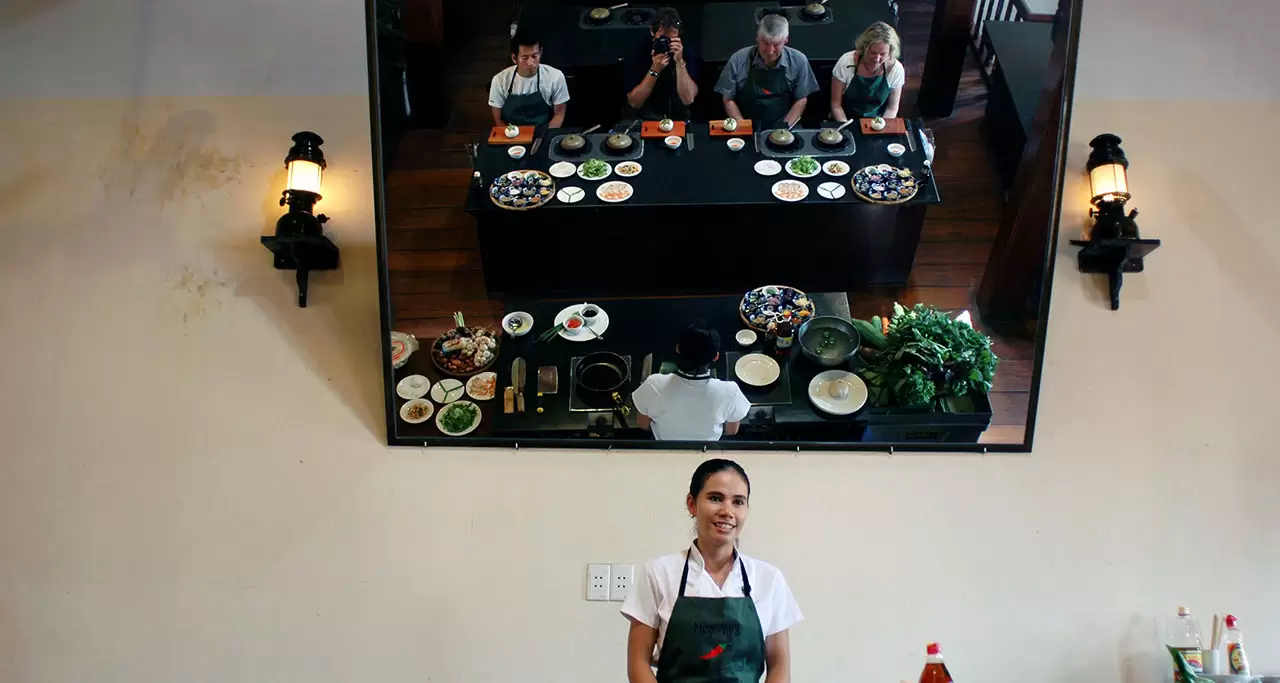 Whether you're an expert chef or feel dizzy whenever you set foot in your kitchen, cooking classes are tremendous fun! Food is an important part of Vietnamese culture, with Hoi An having its own dishes that are unique to the area. Most cooking classes include a local market tour, a rice paddy cycle or boat trip and a hands-on class with a few extras like rice-paper making. Here you will find a great deal out about local culture and food traditions, hear some stories, meet local people, and get to eat everything you have prepared. Red Bridge, Vy Cooking School and Glory Morning are some recommendations to try your hand at cooking.
4.2. Chill out at An Bang beach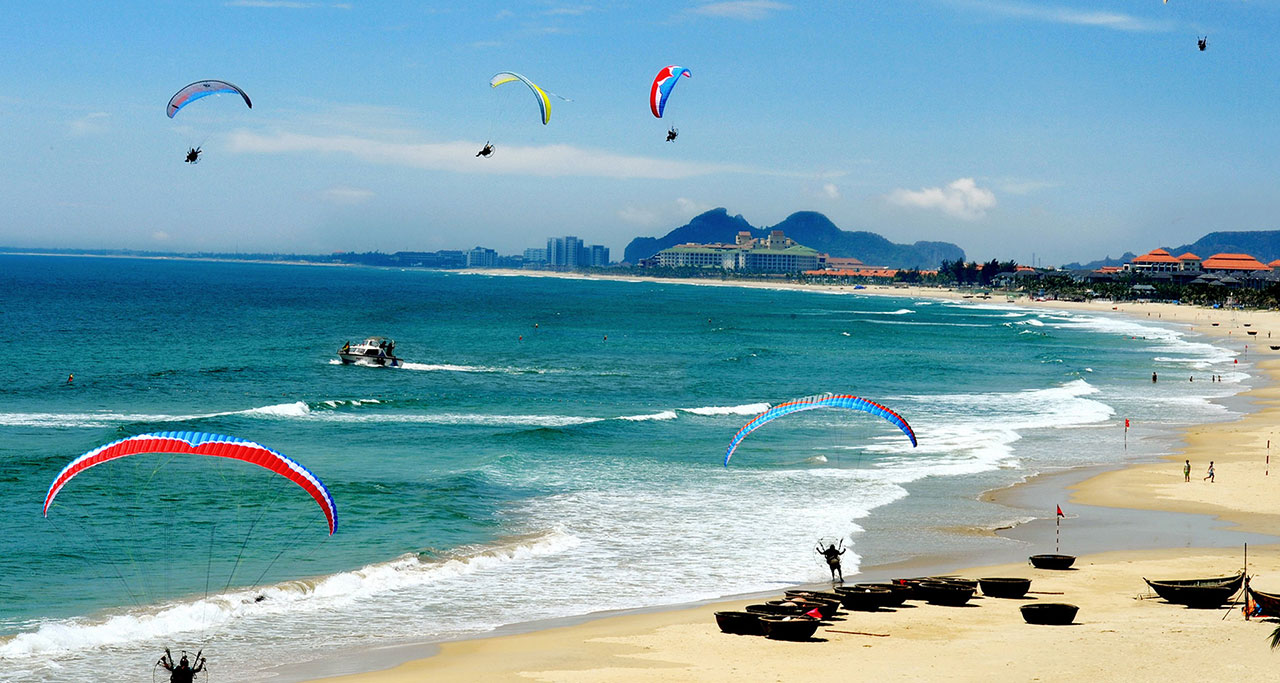 Given its prime location on the coast, Hoi An has plenty of beaches to choose and one of the best beaches is An Bang, just 5km from city center. An Bang beach is relatively unspoiled, making it a popular option for soaking up the sun and enjoying an array of seaside activities. Also, it is a home of many beachfront resorts, seafood restaurants, hippy bars which you can easily find along the coastline.
4.3. Discover My Son Sanctuary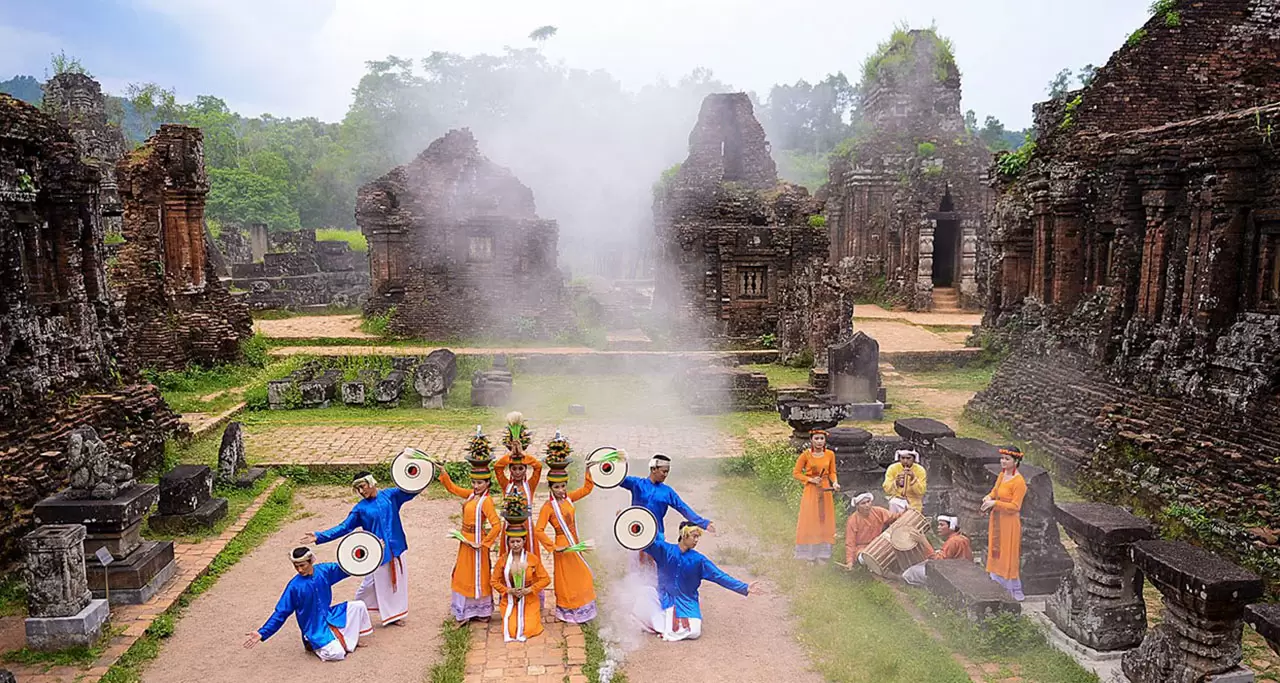 My Son Sanctuary was first built in the 4th century under the order of the Cham king Bhadresvara and continued until the 13th century. It is considered to be one of the best-preserved Cham structures in Vietnam. This site is a must-see place for those who are interested in architecture and ancient civilizations. In 1999, My Son Sanctuary has been recognized as a World Cultural Heritage Site by UNESCO. From Hoi An, you can hire a motorbike or private car with driver to explore My Son in a half-day tour.
More information at: Things to do in Hoi An
5. What to eat in Hoi An
Not only attracted by the history and beauty of Hoi An, travelers are but also immersed by the city's colorful cuisine. There are a plenty of local delicious dishes with the authentic taste within the town. And it will be imperfect if you leave this city without trying some kinds of famous dishes such as Cao Lau, Quang noodles, chicken rice, banh mi Phuong, banh bao – banh vac…
5.1. Quang Noodle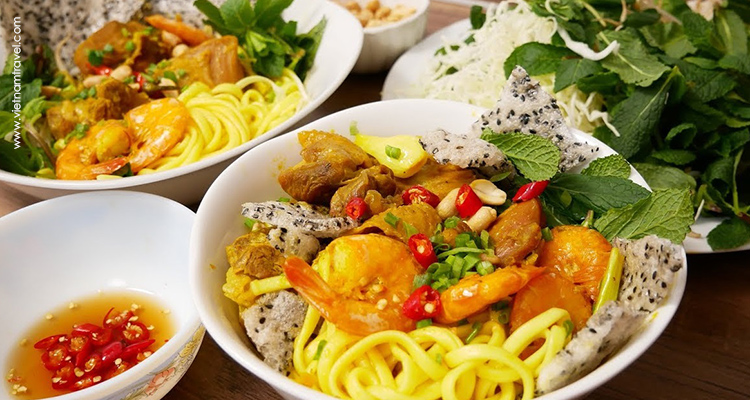 Quang Noodle is popular and famous around the old town Hoi An and recognized by vibrant yellow and white thin rice noodles. It is a mixture of shrimp and pork which are also used to cook the broth and as toppings together with peanuts and rice crackers. Comparing to other Vietnamese noodles, Quang noodle is served with a little unique broth or almost like a dry noodle dish but with a variety of herbs such as mint leaves, houttuynia, cabbage, onion, coriander and so on, which brings a plentiful amazing taste for everyone.
The best eatery recommended by many Vietnamese foodies to enjoy Quang noodle is at 6A Truong Minh Luong street or a street stall on Nguyen Hue Street with original version of Quang noodle.
5.2. Cao Lau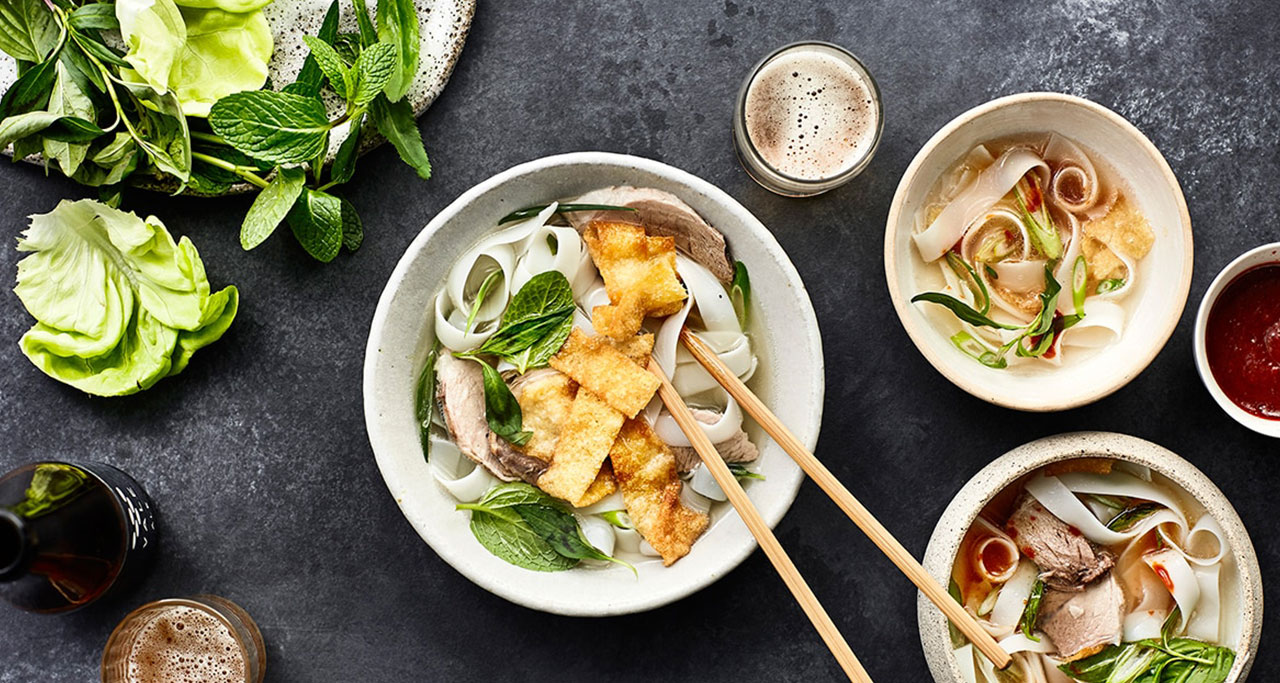 Cao Lau is a specialty dish of Hoi An. The special feature of Cao Lau is its noodle which must be made with the water from Ba Le well, a one-hundred-year-old well in Hoi An to knead the dough. Besides, the rice to make noodle is of the local rice variety. The rice used is neither freshly harvested nor too aged. This dish comprises of the signature noodles, thinly slices of barbecue pork, pork crackling, bean sprouts, crispy croutons, lettuce and herbs, it is then finished with a spoonful of stock.
Cao Lau is available in every corners of Hoi An but finding the best Cao Lau restaurant is not easy. Here are some recommended places you can enjoy the truly Cao Lau in Hoi An, namely, Cao Lau Ba Be – Tran Phu and Ba Thanh restaurant – 26 Thai Phien, Hoi An.
5.3. Com ga (Chicken Rice)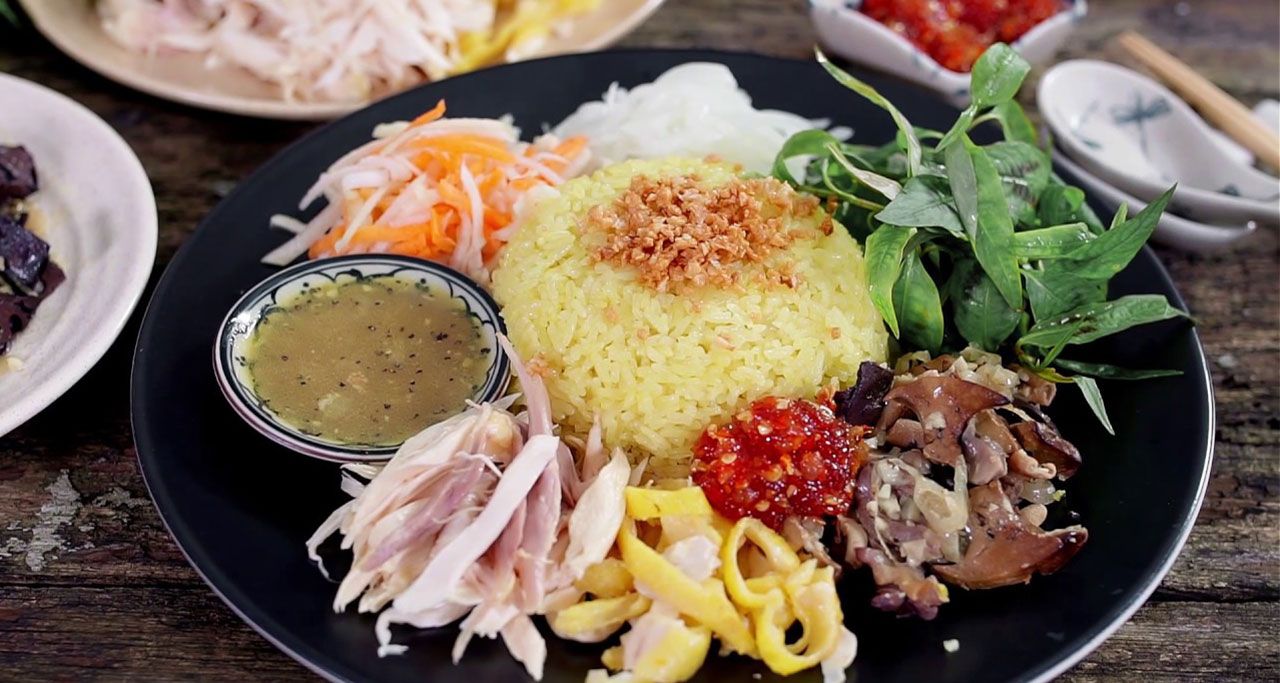 Another ridiculously delicious dish that tourists should try in Hoi An is "com ga" – chicken rice. Fluffy rice is cooked in chicken stock with a little turmeric for yellow color, Vietnamese spices and topped with boiled and hand-shredded chicken. Decorated with crushed onions, coriander, a very spicy chili sauce and pepper makes this dish become extremely attractive. Besides, it is also served with a small bowl of soup containing some chicken giblets like heart and liver.
Let's go to 48 Le Loi Street in Hoi An center to try "Com Ga Huong" – a eatery which opens daily at around 14:00 and stops serving once the pot is clean. If you want to experience a family-run restaurant set up in the 1950s, "Com Ga Ba Buoi" at 22 Phan Chu Trinh in outside center is the most highly recommended place.
5.4. Banh mi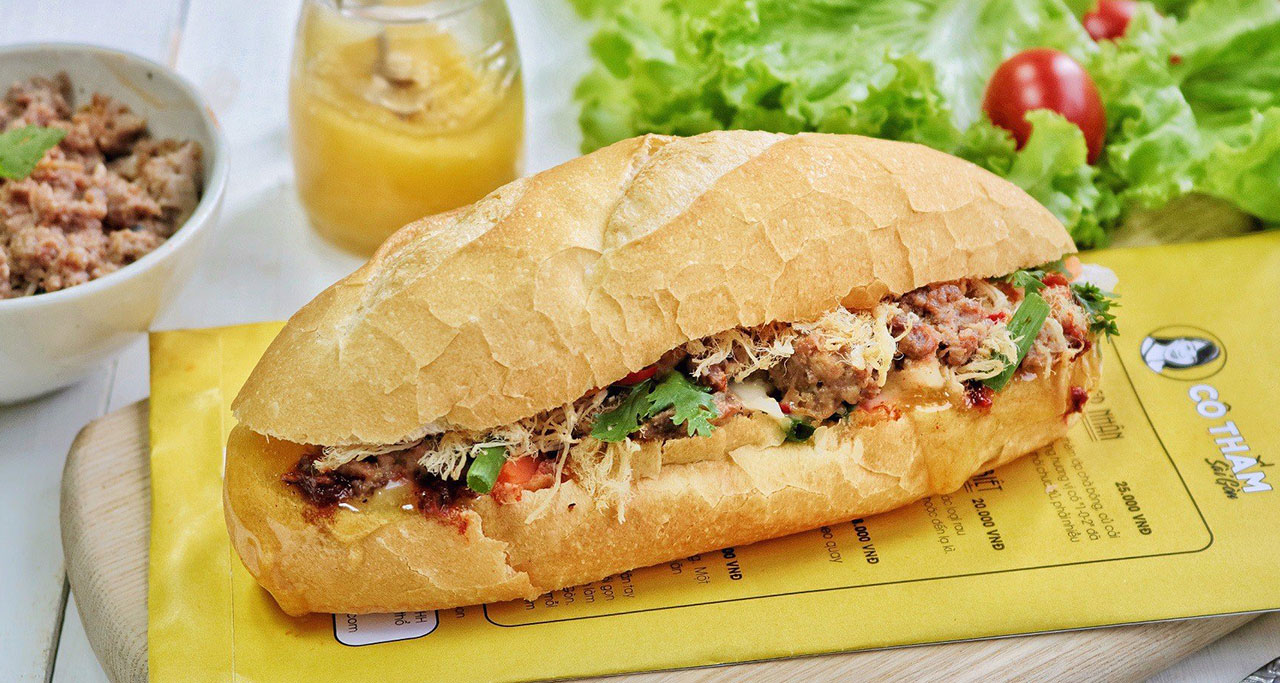 Quick and tasty, "banh mi" or bread is one of Vietnam's quintessential dish that you should not miss. "Banh mi" in Hoi An has a special unique flavor and is well-known all over the world. There are a variety of things inside "banh mi" which you can choose to put in your own one, including roasted pork belly, "cha ca" (fried fish with turmeric and dill), "cha lua" (boiled sausages), "xiu mai" (meatballs), boiled shredded chicken, fried egg, tomato, cucumber, herbs, sauces…
Banh mi Phuong at 2B Phan Chau Trinh is praised as the best Vietnamese sandwich by American celebrity chef and TV personality – Anthony Bourdain so many people want to try this dish. Another famous shop in Hoi An where you can find the best "banh mi" is Madam Khanh at 115 Tran Van Cao.
5.5. Banh bao – banh vac (white rose dumpling)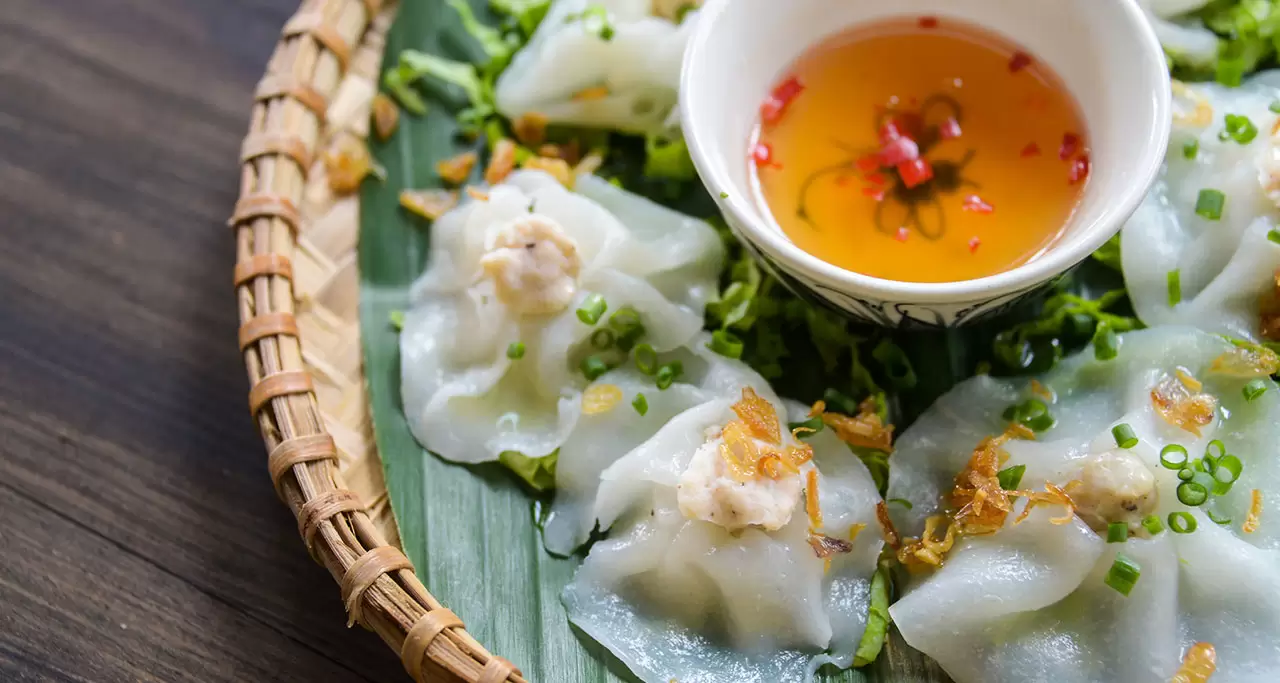 "Banh bao – banh vac" are two famous kinds of steamed rice dumplings made from translucent white dough bunched up to look like a rose, so-called White Rose. The main fillings of "banh bao" are minced pork and mushrooms. Meanwhile, "banh vac" is filled with ground shrimp, garlic, spring onion, lemon grass and spices. Both of these rice dumplings are served with a dipping sauce made of shrimp broth, hot chilies, lemon and sugar.
There is only one family making and distributing these dumplings to all local restaurants. You can find "banh bao – banh vac" at 533 Hai Ba Trung Street or Bong Hong Trang (White Rose) on Nhi Trung Street in order to try the delicious and beautiful dishes.
6. Where to stay in Hoi An
As a tourism hub, Hoi An has a wide range of accommodation options from budget to luxury resorts which meets all travelers' needs. Depending on your travel style and length of stay, you can choose accommodation either in or around old town or near the beach. For those who have a short time in Hoi An, a hotel or resort right in heart of Hoi An center is a best option since you can easily explore the old town within walking distance. Meanwhile, if you want to have a beach relaxation, staying near the beach is ideal. Don't worry about the location since most of hotels will provide a private shuttle and free bicycles for guests to get around.
Here below, Vietnam Travel will recommend you some best accommodations so you can consider where you want to stay during your Hoi An holiday:
6.1. Accommodation located in old town
– Anantara Hoi An Resort (Luxury):
It boasts an enviable setting, less than a kilometer from the historic quarter of Hoi An, in lush gardens fronting the Thu Bon River. Boutique luxury at Hoi An hotel offers riverfront dining, blissful spa journeys, and sunset river cruises.
Address: 1 Pham Hong Thai street.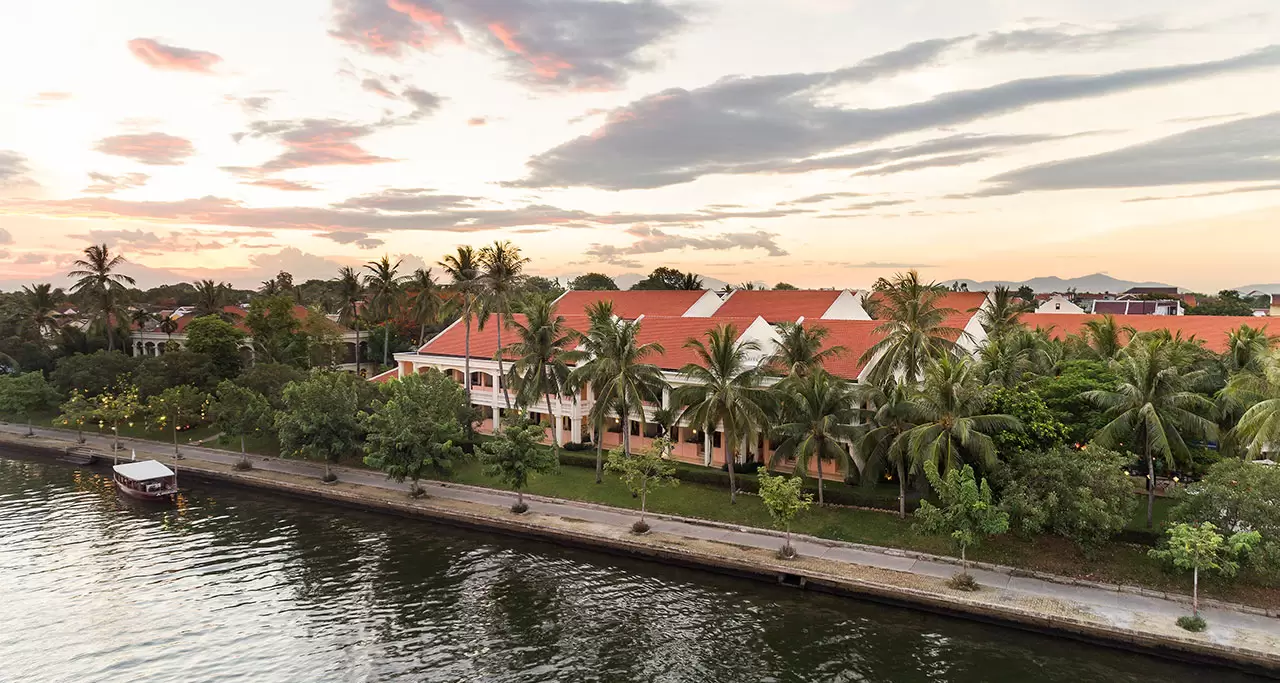 – La Siesta Hoi An Resort & Spa (5 star):
Here you will experience the cultural art of luxury hospitality in Hoi An and have chance to relax in a boutique retreat reflecting the essence of Hoi An ancient town's characteristic style. This hotel is next to green rice fields and winding village lanes, near the Thu Bon River and a short walk from Hoi An old town.
Address: 132 Hung Vuong, Thanh Ha Ward.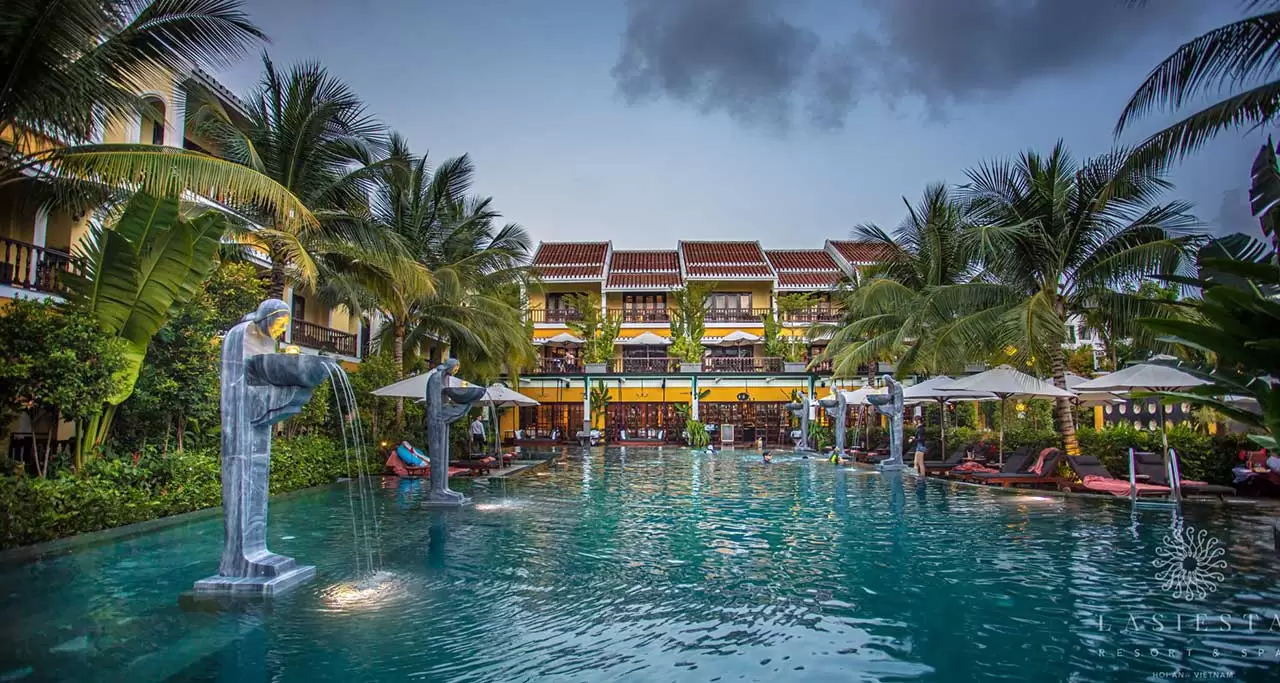 – Allegro Hoi An – A Little Luxury Hotel & Spa (5 star):
Situated at the heart of the locale, Allegro Hoi An also exemplifies the heart of Hoianese people: hospitable, honest and welcoming. It provides you with upscale comforts and the ideal ambience to unwind and absorb Hoi An's peaceful pace of life.
Address: 86 Tran Hung Dao street.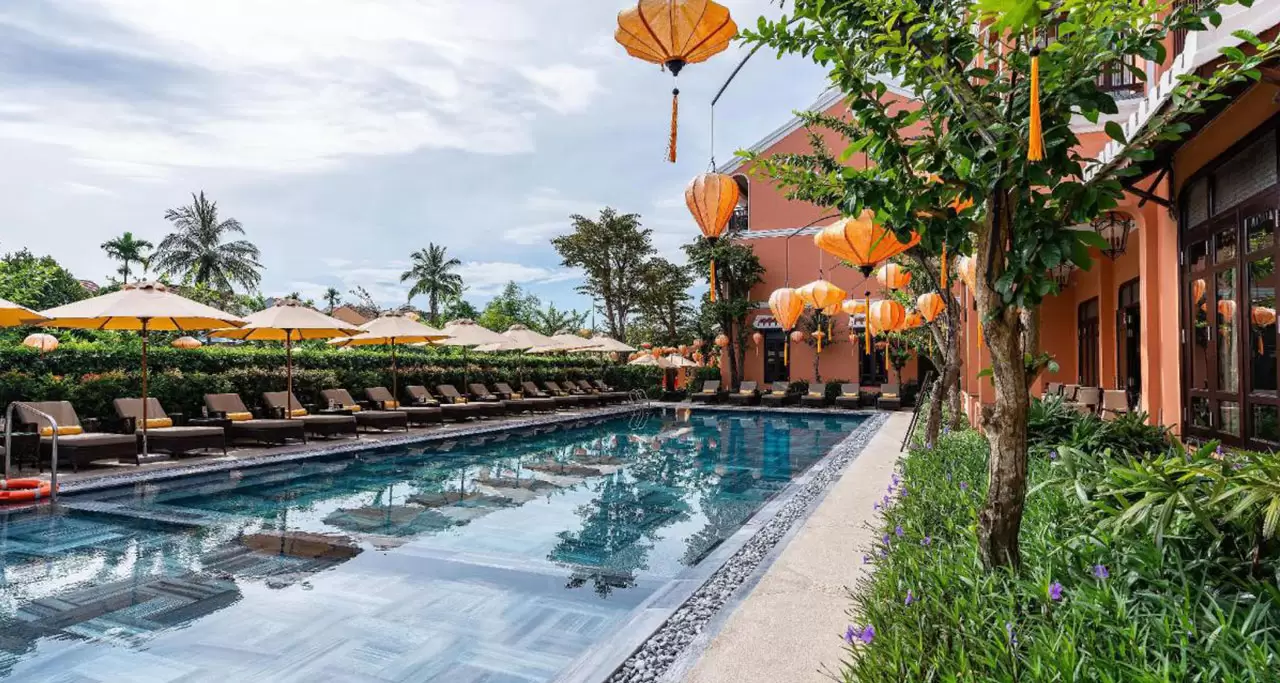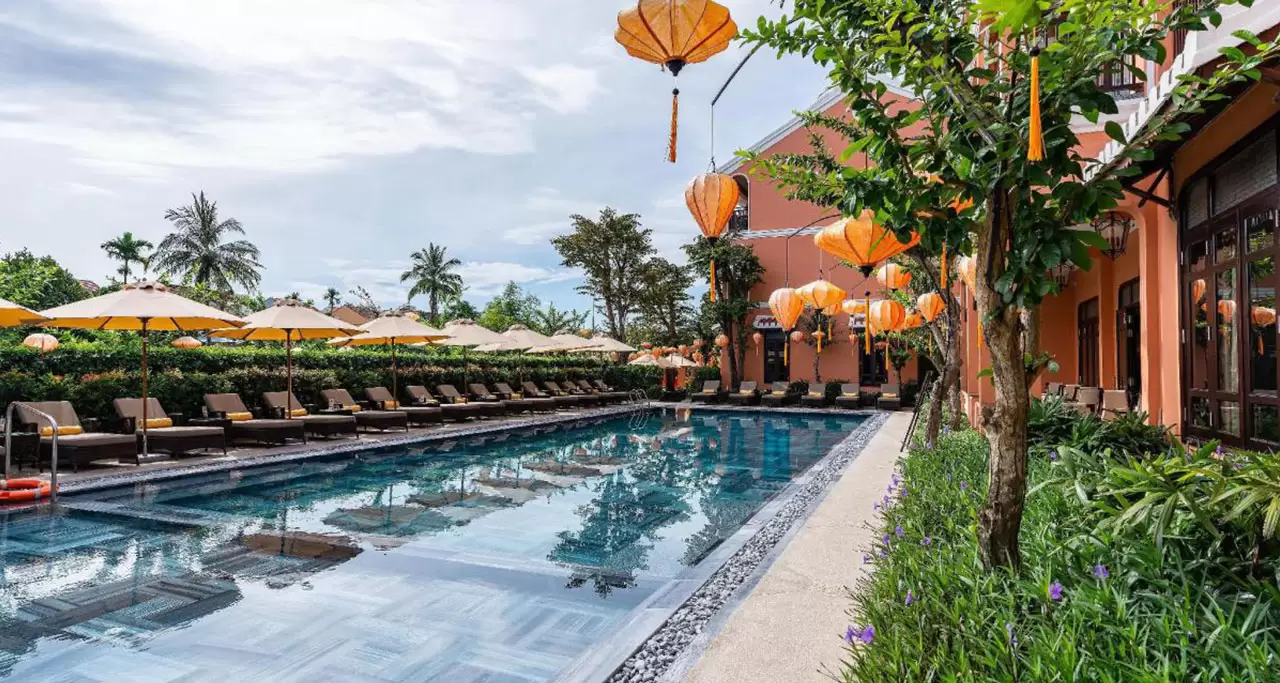 – Bella Maison Hadana Hoi An Resort & Spa (4 star):
Located just 700m from Hoi An Ancient Town, the hotel encapsulates the uniqueness of Hoi An's heritage and culture to create an enchanting and serene charm, being the home of elegant lifestyle and utmost indulgence for all guests.
Address: 538 Cua Dai street
– Vinh Hung Emeralda Resort (3 star):
Set in the tranquil district of An Hoi, the resort is located on the banks of the romantic Thu Bon River and within 10-minute walking distance to the ancient town of Hoi An.
Address: 127 Ngo Quyen, An Hoi Ward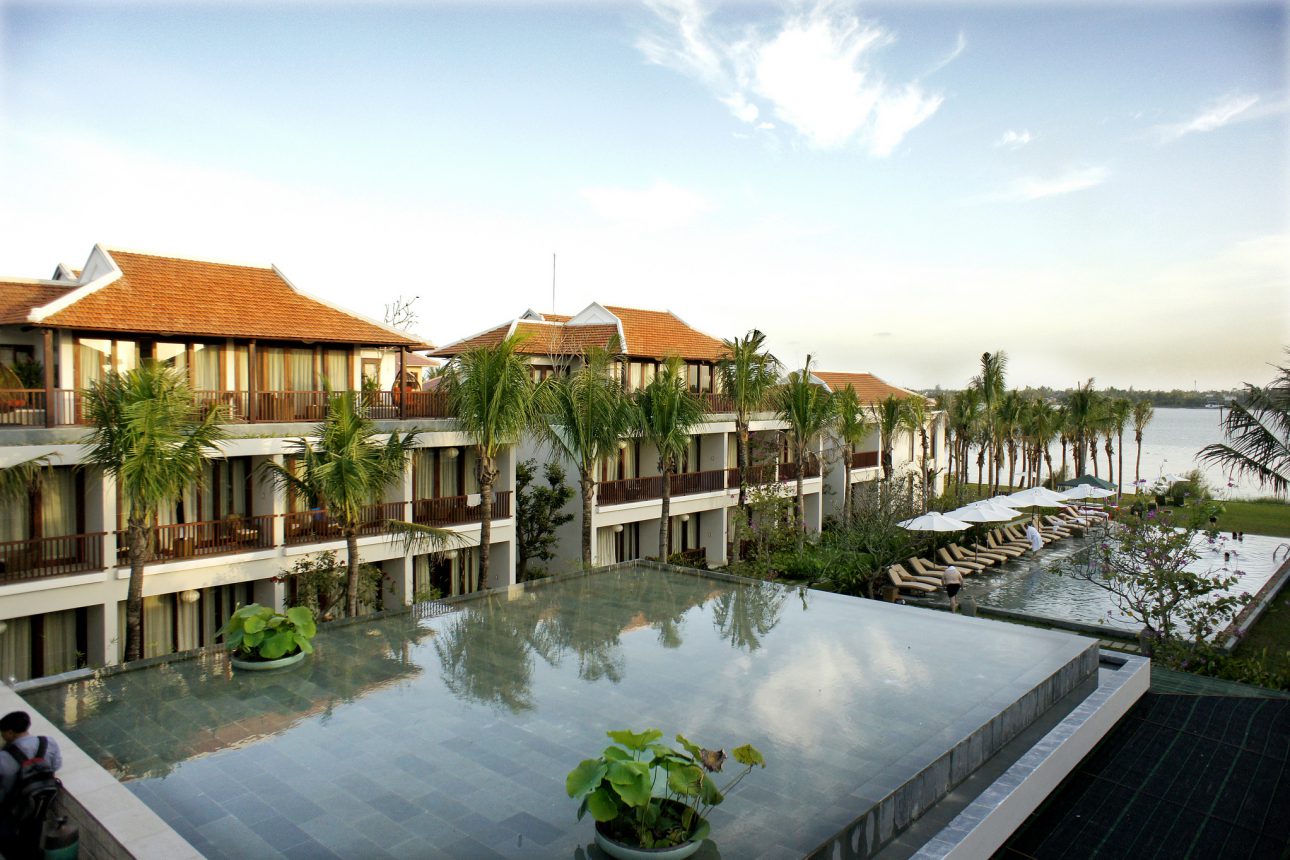 6.2. Accommodation near the beach
– Victoria Hoi An Beach Resort and Spa (Luxury):
Famous in Hoi An for nearly 20 years for its design, ambience, and heavenly beachfront swimming pool, The Victoria Hoi An is laid out as a replica of a traditional fishing village with small streets, water ponds, and village houses. The rooms are modern and elegantly decorated combining Japanese and French elements, with traditional Vietnamese touches, each has its private balcony.
Address: Au Co, Cua Dai Beach
– Palm Garden Resort (5 star):
Palm Garden Resort, one of favored 5-star beach resorts in Hoi An, overlooks the magnificent Cua Dai beach. Only 5km to the center of Hoi A, the resort takes one back to the pure nature by the sandy beach to feel the cool sea breeze on the skin and to listen to the melody of life.
Address: Lac Long Quan street, Cua Dai Beach
– Aira Boutique Hoi An Hotel & Spa (4 star):
Uniquely located right by the white-sand An Bang beach, nestled in lush tropical gardens, lulled by the song of the sea, people will find the ultimate relaxation in the luxury Aira Boutique Hoi An Hotel & Spa. It provides the private sun beds, umbrellas and towels on the beach for beach lovers.
Address: An Bang Beach, Cam An Ward

– Little Beach Hoi An – A Boutique Hotel & Spa (4 star):
5 kilometers away from the town center, Little Beach Hoi An perches on a commanding location in Cua Dai beach.
Address: 19 Lac Long Quan, Cam An Ward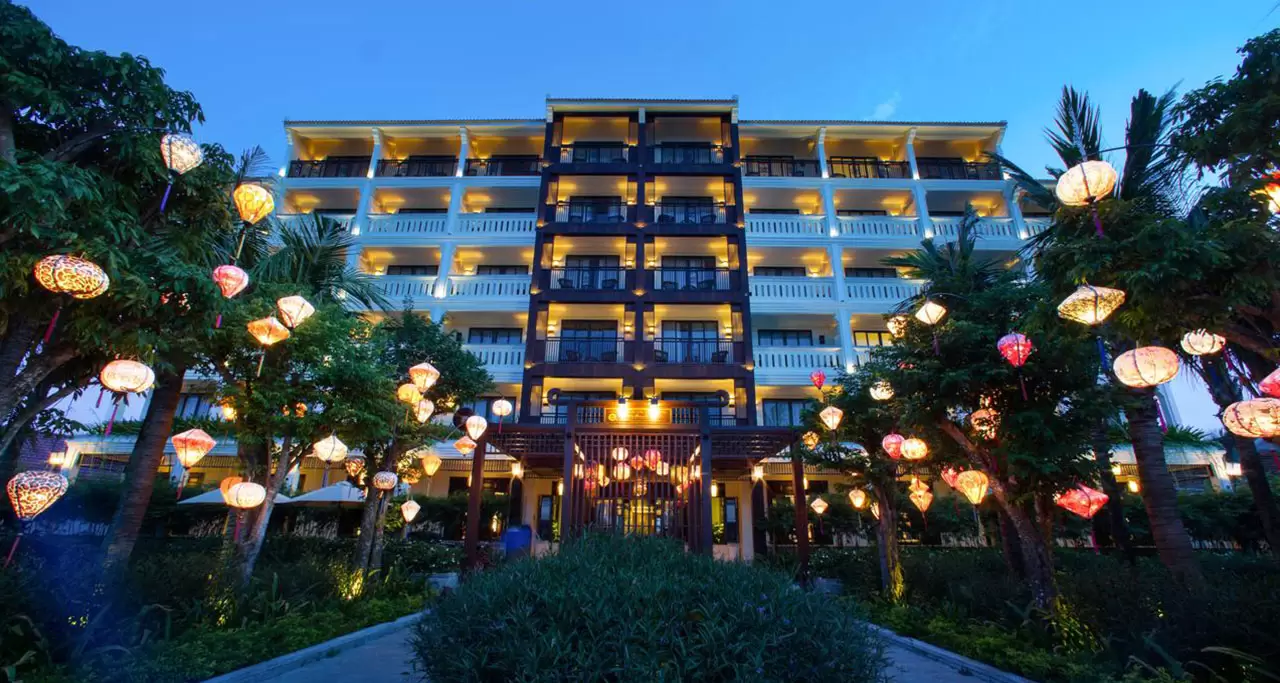 – The Villa Hoi An Boutique Hotel (3 star):
The hotel embraces a modern and contemporary design and offers comfortable rooms with beautiful natural light, luxurious bedding and amenities. You will have chance to enjoy the beautiful view of the river, paddy fields and garden, from the unique window seats in the rooms.
Address: 91 Cua Dai Street, Hoi An.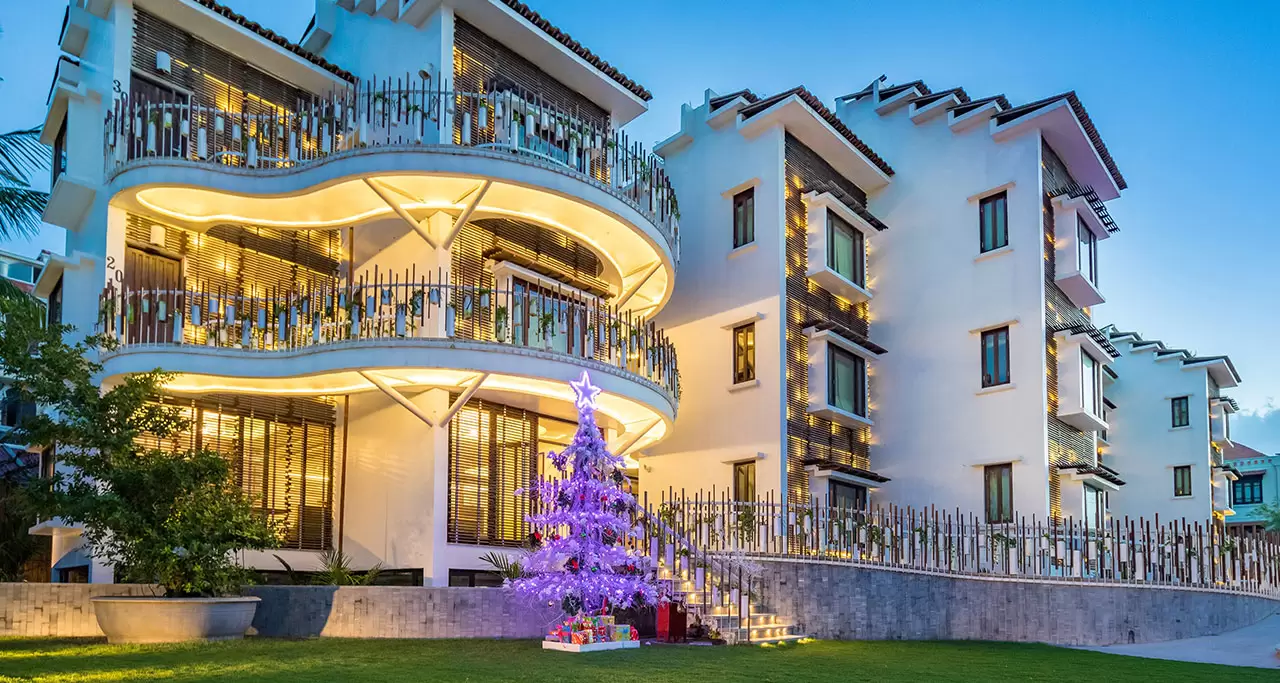 7. Hoi An Travel Services
Hoi An is a truly ideal place for those who want to escape from the bustle city life, look for the peace and tranquility in beautiful surroundings and learn more about historical and cultural values. Once you put your first step into this ancient town, you will feel like you have traveled back in time, to the old countryside society of Vietnam. Hoi An packages are available at Vietnam Travel with the selected services. Let contact our Travel Consultant team for instant support and best offers.