Bà Rịa – Vũng Tàu Tourism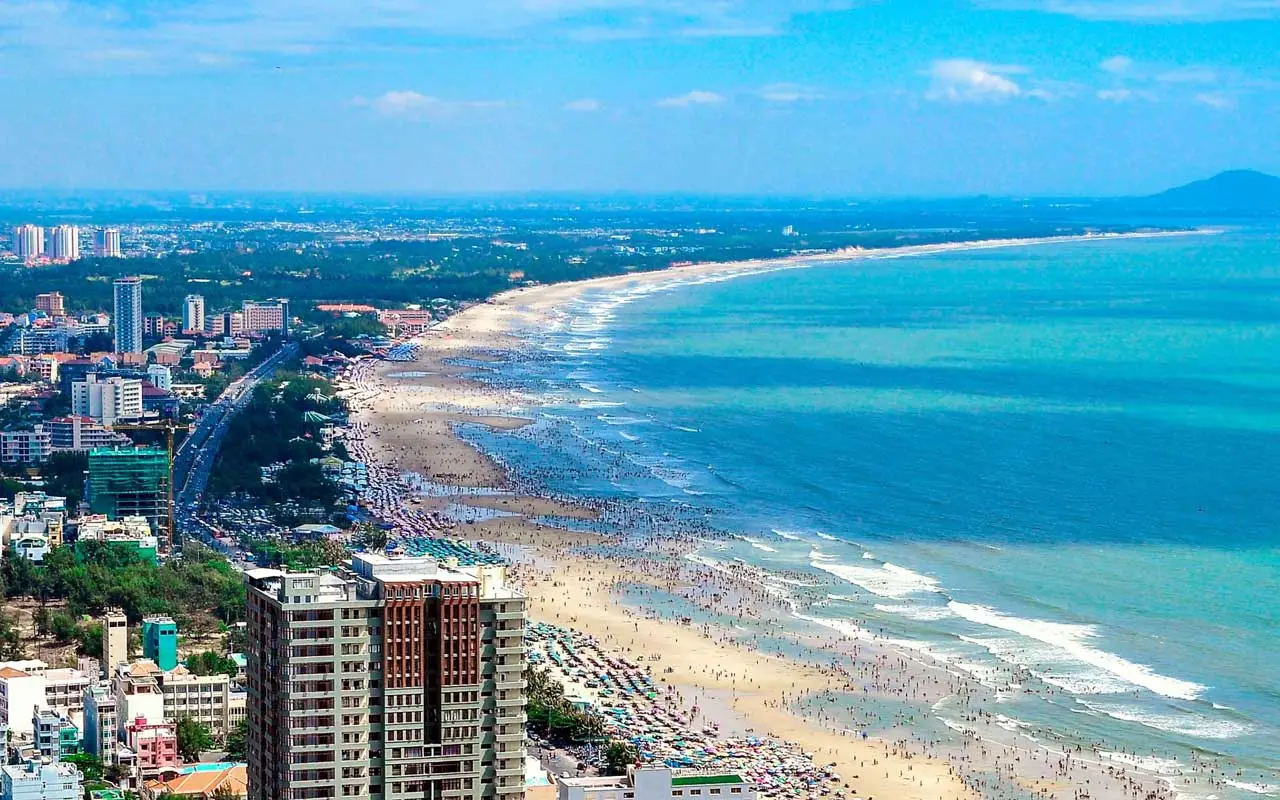 The ocean city of Ba Ria – Vung Tau has a lot to offer to visitors with its oceanic vibe. Get the hang of this location to prepare better for your next trip to Vietnam.
Overview of Ba Ria – Vung Tau
Ba Ria – Vung Tau is a large center of tourism in the South. It attracts tourists from both inside and outside of the country. Located on 95km from Ho Chi Minh, Vung Tau city is a frequent destination for residents in neighboring regions to look for an alternative vibe off the urban life.
Vung Tau owns highly-invested and beautiful beaches that have fully advanced infrastructure. Besides, the city is also the center of the Vietnam oil and gas industry.
Area: 1.980,8 km²
Population: 1.148.313 people (2019)
Provincial Capital: Vung Tau City
Districts: Chau Duc, Xuyen Moc,Tan Thanh, Long Dien, Dat Do, Con Dao
History
In the 19th century, Vung Tau was known as Chan Bo town then conquered by Nguyen Phuc Nguyen in 1658. From 1775, Vung Tau became a trading port welcoming ships from Portugal and France.
Before 1975, Vung Tau got developed to become a resorting city, growing along with fishery and seafood preservation. Many infrastructures, shops, services, entertainment facilities were built to serve American advisers and Saigon government. That made a fancy Vung Tau at that time.
Geography
Ba Ria – Vung Tau has the north face Dong Nai, the West to Ho Chi Minh City, the East to Binh Thuan and the East Sea, the South to the East sea.
The province's topography can be divided into four areas: the island peninsula, the midland mountainous area, and the coastal plain. Vung Tau peninsula is long and narrow, with an area of 82.86 km², an average height of 3 – 4m above sea level. The area has wet rice fields, mixed with low flats and open forests with coastal sandy beaches.
Climate
The weather in Ba Ria – Vung Tau belongs to the tropical monsoon climate. There are two distinctive seasons: rainy and dry. Rainfall starts from May to October. The dry season starts from November to April next year.
Tourism
It only takes 3 hours to drive to Vung Tau. That is why this place is a top-of-the-line destination of visitors in the South. In Vung Tau, it's possible to see sunrise and sunset right on the East Sea.
Besides the values of natural landscapes, Vung Tau is also a land of rich historical, cultural tradition and customs.
Bai Truoc and Bai Sau in Vung Tau city are the hot spots that gather a crowd of tourists. Historical sites include Thich Ca statue, Christ statue, the White Palace, Thang Tam shrine, and more.
Transportation
Getting to Ba Ria – Vung Tau is not hard. It's accessible by road and hydrofoil. From Ho Chi Minh city, tourists can catch a bus for a ride to Vung Tau, or drive there on a motorbike.
The Pacific Express hydrofoil costs a bit more but takes less travel time. It lands Cau Da port, which is about 3km from Vung Tau city center.