Best Beaches In Halong Bay, Vietnam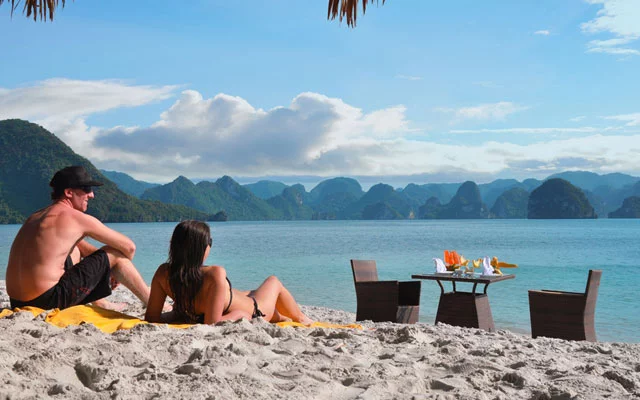 Halong Bay is known as a UNESCO World Heritage Site with more than 1,900 limestone islets rising from the water, mysterious caves and scenic landscape. It deserves to be one of the best attractions in Vietnam that you should not miss. However, few people know that Halong Bay also possesses a series of stunning beaches scattering around the area. Most of them are very pristine and tranquil. Let's check out the top best beaches in Halong Bay and plan to explore them.
The 9 Most Beautiful Beaches of Halong Bay 2023
Tuan Chau Beach – Most Popular Beaches In Halong Bay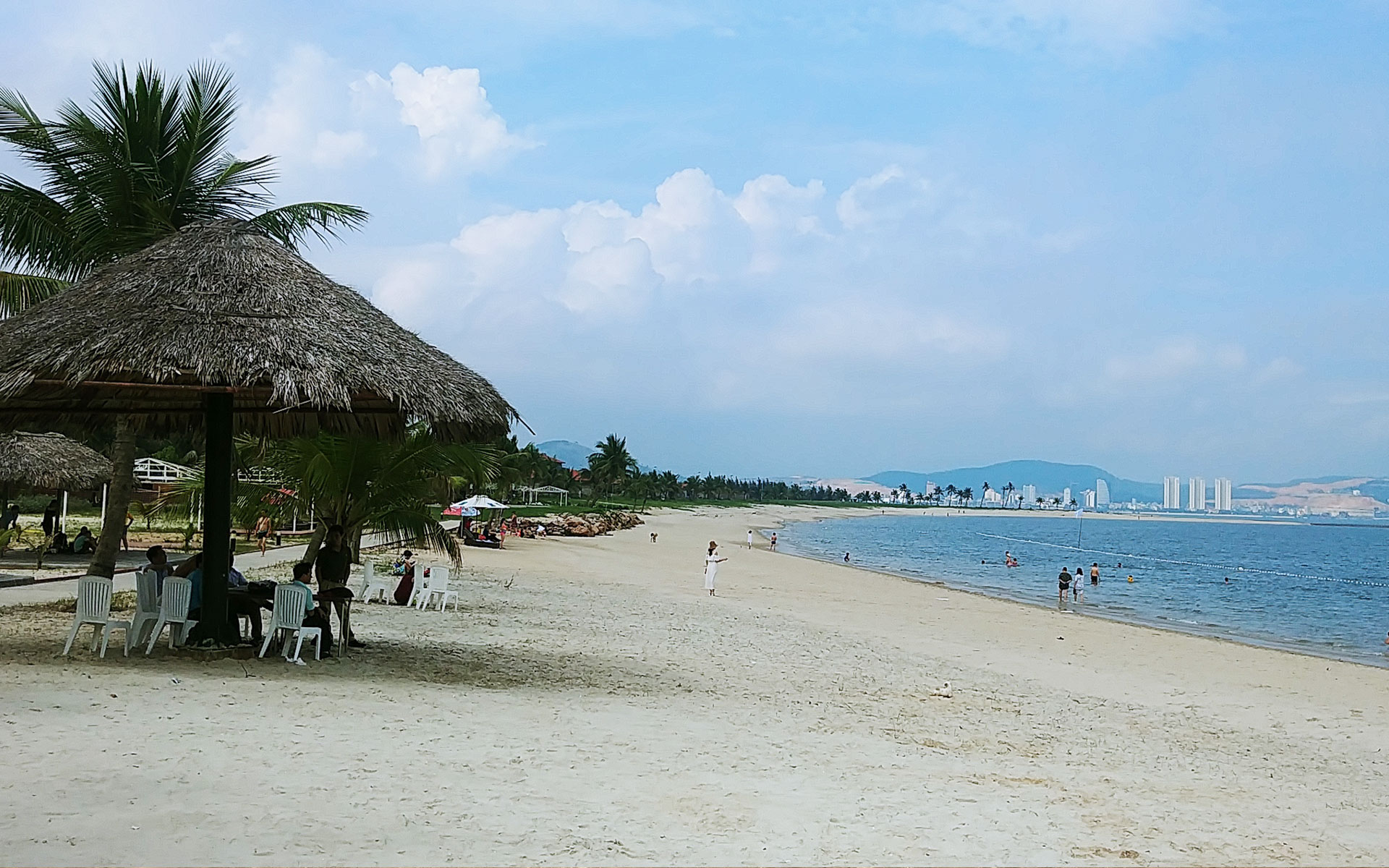 Known as one of the most gorgeous beaches in Halong Bay, Tuan Chau Beach allures a lot of both domestic and foreign tourists. It is especially crowded during weekends and holidays in the summer time, from May to August. This artificial beach stretches over 3km long, with white smooth sand and clean water, creating a large space for many interesting activities such as swimming, sunbathing, canoe parachute, kayaking, mountain climbing, camping…
Tuan Chau Beach belongs to Tuan Chau Island – a center tourism hub of Halong City so there is a wide range of accommodation from budget hostels to 5 star hotels and luxury resorts. You can easily find and book a suitable one for your stay.
Ti Top Beach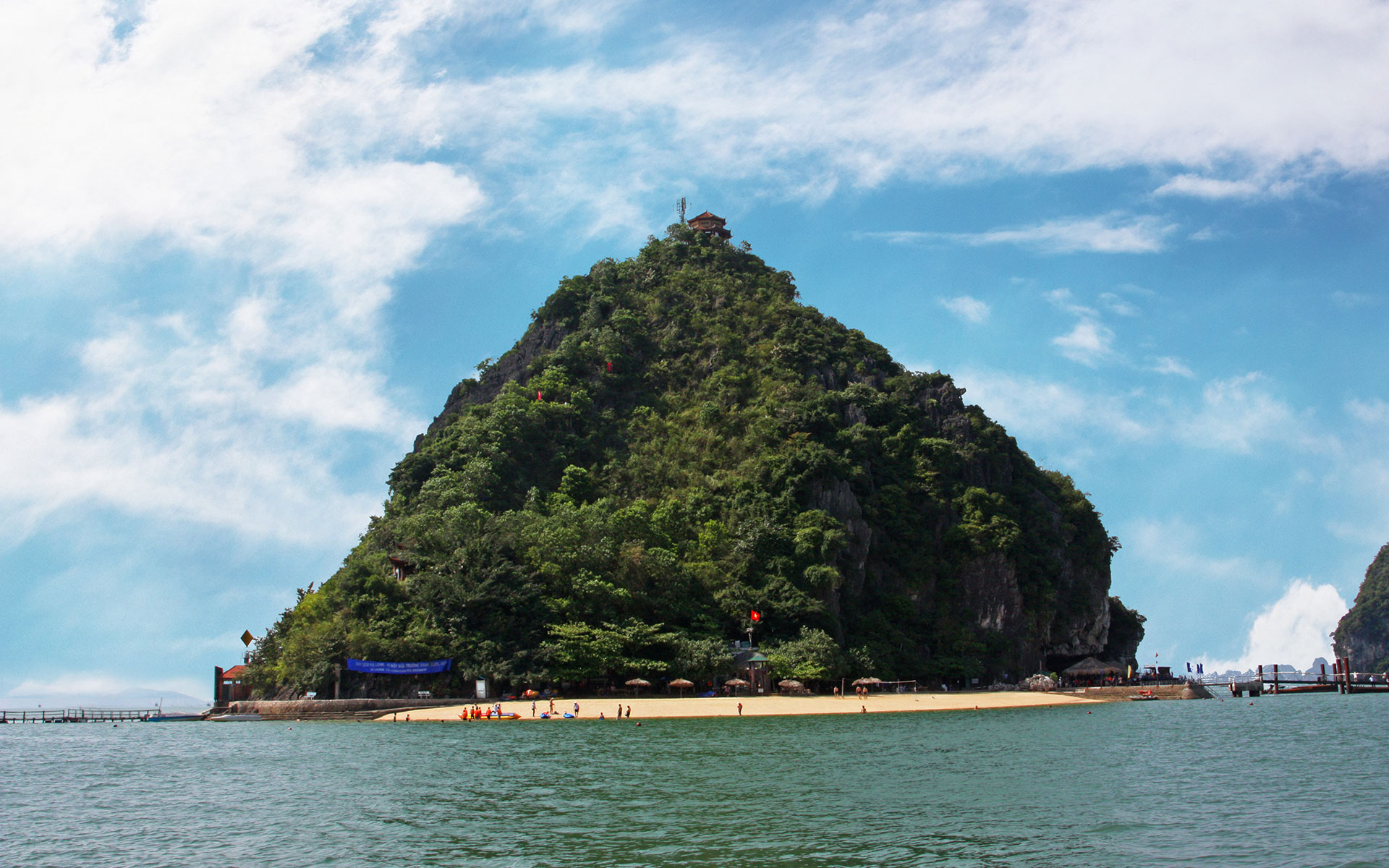 Ti Top is one of the most popular beaches in Halong Bay, about 5-6km from Tuan Chau Harbor. Thanks to its convenient access and beauty, many overnight cruises include this place in itinerary. Though Ti Top Beach is quite small, it wins the tourists' hearts by its quiet and fresh atmosphere, and stunning landscape.
There are many relaxing activities for travelers to enjoy on the beautiful island such as swimming, kayaking, snorkeling, parachuting, surfing… It is a well-organized beach with available deck chairs, cool drinks, souvenirs, and fresh water showers for visitors. In addition, for those who want to admire the panoramic view of Halong Bay, climbing 400 steps staircase to the top of the island will be an interesting experience. Remember to take some breathtaking photos.
Soi Sim Beach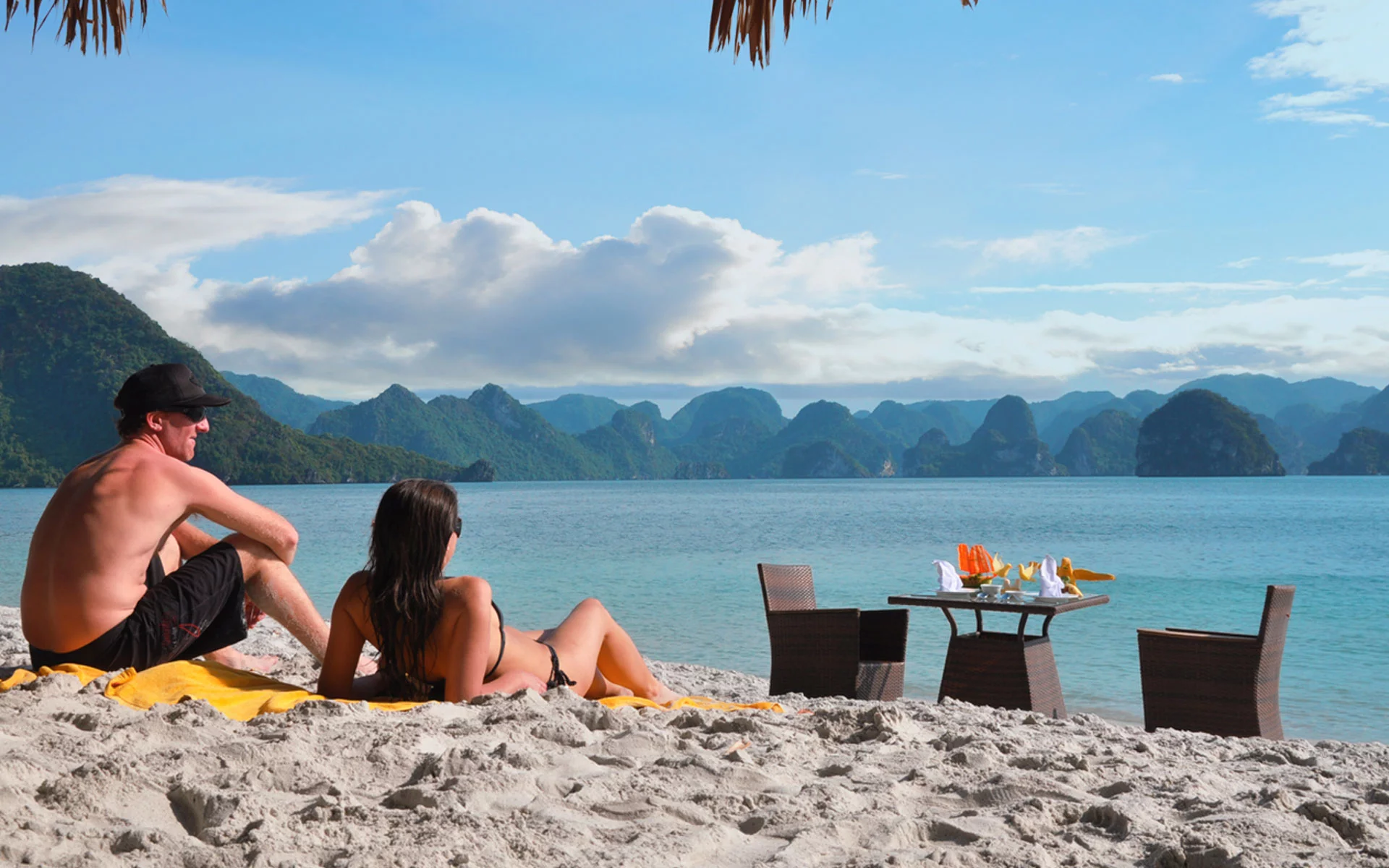 Soi Sim Beach is sit on Soi Sim Island,  just about 700m away from Ti Top Island. This places is pretty new, comparing with other attractions in Halong Bay, since it has just been opened for 10 years. There are many "Sim" trees (rose myrtle) on the island and they often bloom from March to August, making a purple forest. This is why it has the name of Soi Sim.
Soi Sim Beach appeals tourists by its green color of plants, wild scene, quiet atmosphere, clean and clear-cut emerald water, you will even see the little fish swimming around at the bottom. Moreover, you can also enjoy panoramic view of UNESCO Heritage Site from the highest peak of the island. This is the wonderful place for photo walk and others activities…
Ba Trai Dao Beach
Ba Trai Dao Beach is nestled into a nook of Ba Trai Dao Islet on Lan Ha Bay – a less touristic part of Halong Bay and nearby Cat Ba Island. Its name means "Three Peaches Beach" because of its 'peach-like' appearance of the surrounding rock formations.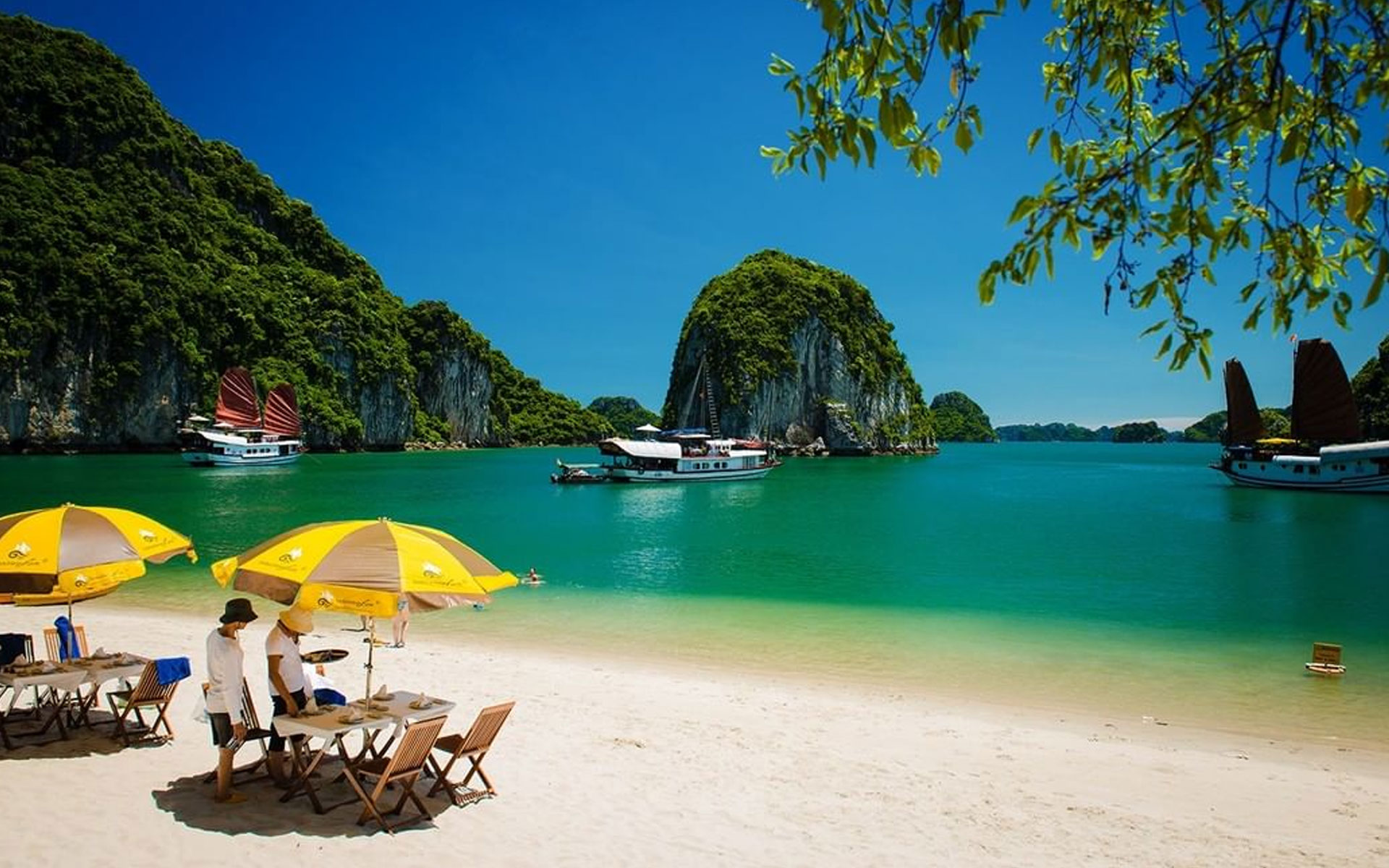 Ba Trai Dao Beach is blessed with soft white sand, emerald clear water and stunning surrounding scenery. On sunny days, tourist can even see the bottom of the sea. As one of the most well-known beaches in Ha Long Bay, Ba Trai Dao Beach is included in the itineraries of many overnight cruises. So tourists will have chance to soak in the fresh clear water as well as go kayaking around the islet. However, the beach is only open for swimming within 2-3 hours in the day due to high tide. There is no accommodation options on this beach; therefore, it is just a stop for the cruises.
You may also like:

Best Beach Hotels And Resorts In Vietnam
Ngoc Vung Beach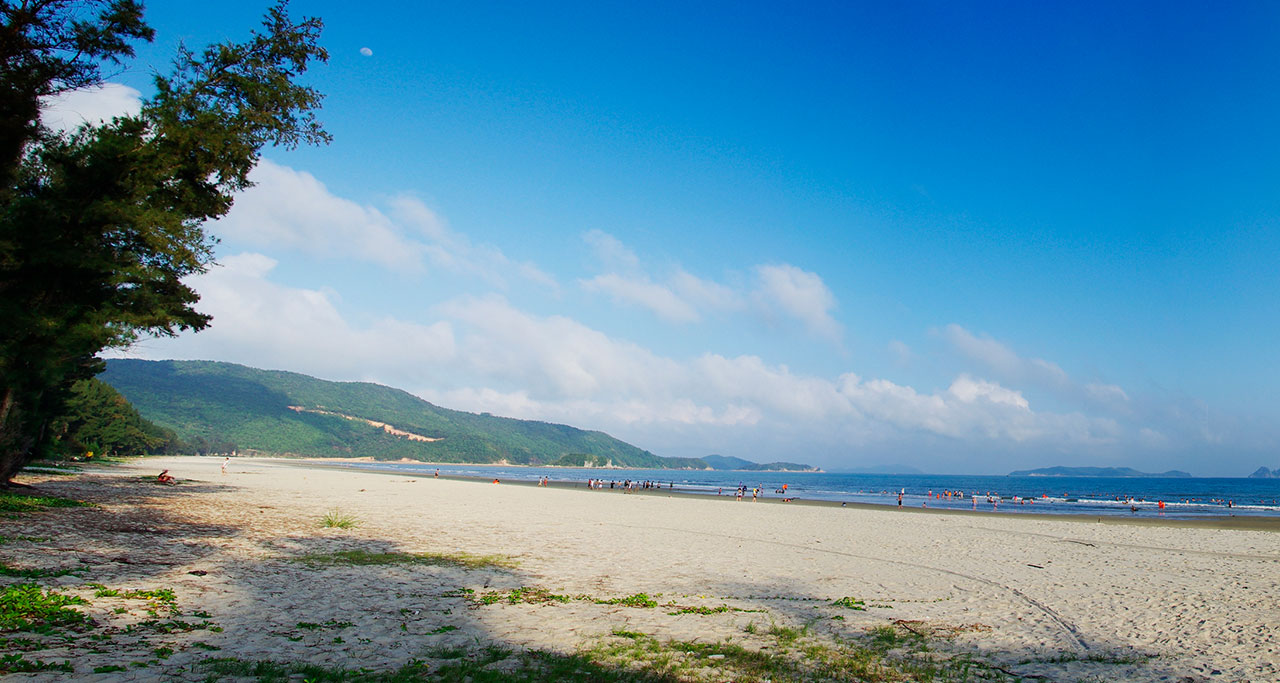 Compared to another beachside in Halong Bay, Ngoc Vung is a hidden gem that stays away from the sight of mass tourism. This pristine beach stretches about 3km, with clean white sand and emerald water that is barely found elsewhere. Therefore, it is not a surprise if you happen to witness the magnificent diversity of the animal kingdom under the sea when visiting Ngoc Vung. Visitors can sunbathe, swim and enjoy the idyllic surroundings or take the opportunity to cycle away from the beach and around the island.
Ban Chan Beach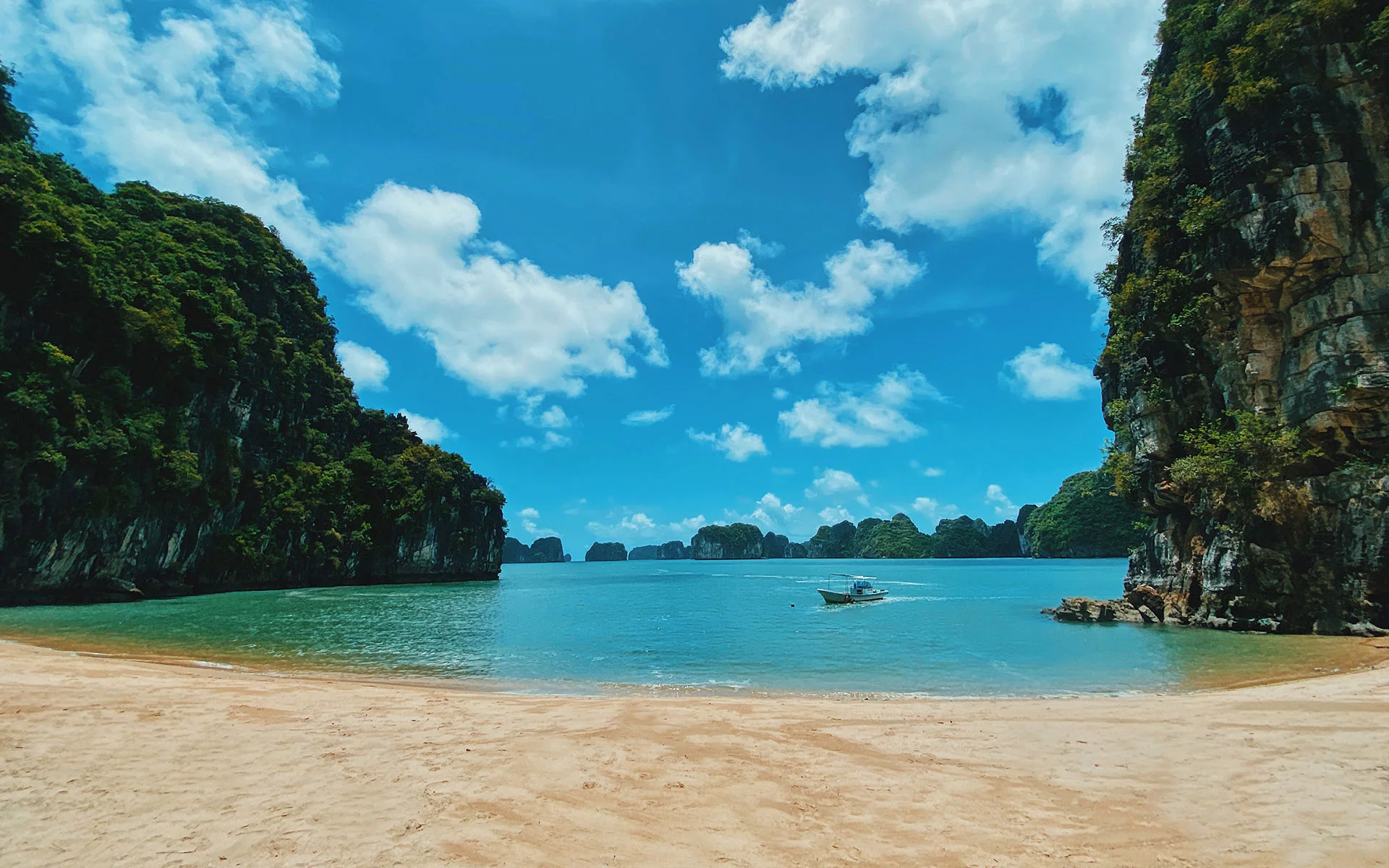 Tucked away in a corner of Bai Tu Long Bay, Ban Chan Beach is certainly an off-the-beaten-track. It is not as popular as other beaches in Halong Bay and very few tourists make the journey over it. This is a reason why the beach remains pristine with its smooth white sand, crystal water, fresh air and the towering limestone outcroppings on either side. Its landscape is definitely a unique masterpiece, bewitching any travelers.
Heading to Ban Chan Beach, tourists can enjoy swimming in fresh clear water, sightseeing, kayaking, camping and many interesting activities awaiting for you to explore.
Quan Lan Beach – Best Beaches In Halong Bay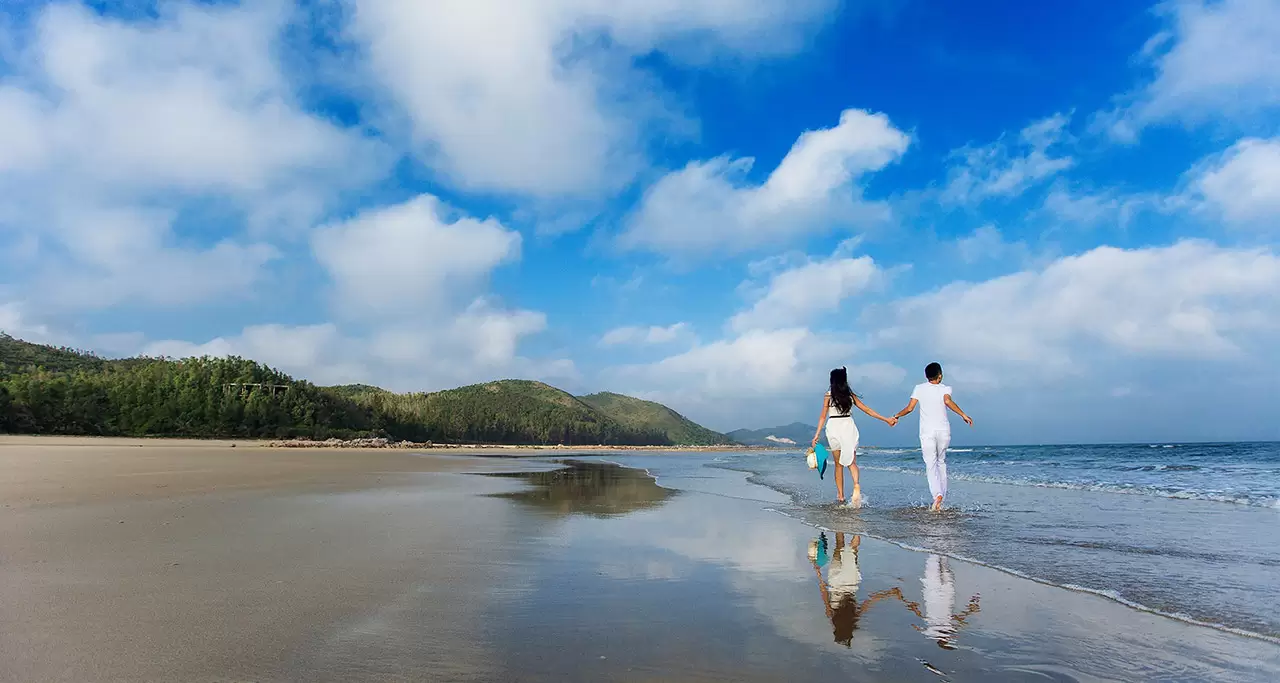 Quan Lan Beach is located on the island of Quan Lan, in Bai Tu Long Bay. Quan Lan features a little village in the middle of the island hidden from the sight of tourists. That is why the whole site still preserves the pristine beauty of untouched land. The beach is well-known for its majestic wilderness, fine white sand, blue water, creating a peaceful space. Therefore, Quan Lan Beach attracts lots of tourists, especially for visitors who love swimming and camping.
To get to Quan Lan Island, you have to transfer to Cai Rong Port (210km from Hanoi) or Hon Gai Port (160km from Hanoi), then take a speedboat in 45 – 60 minutes to the island. An one-way ticket price is about 120,000 – 180,000 VND/ passenger.
Minh Chau Beach – Most Splendid And Pristine Beaches In Halong Bay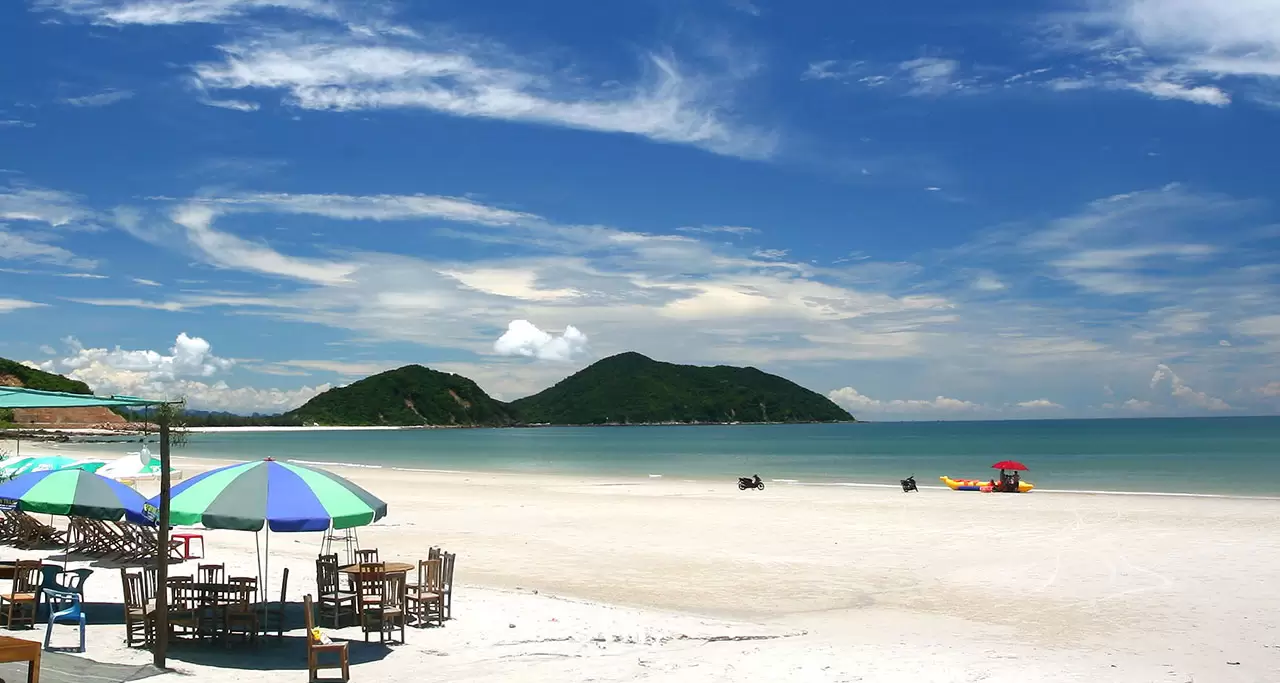 Minh Chau Beach is considered as one of the most splendid and pristine beaches in Halong Bay. Situated about 15km from Quan Lan Beach, it is ideal spot for any beach lovers and those who want to immerse in the tranquil and peaceful atmosphere. The unique feature is the pristine white non-sticky sand that gives a comfortable sensation walking on. Many couples choose Minh Chau Beach for wedding photos or honeymoon holiday. A variety of beach activities here you can enjoy are camping, swimming, snorkeling, exploring the island or simply lying on the beach and relaxing.
Son Hao Beach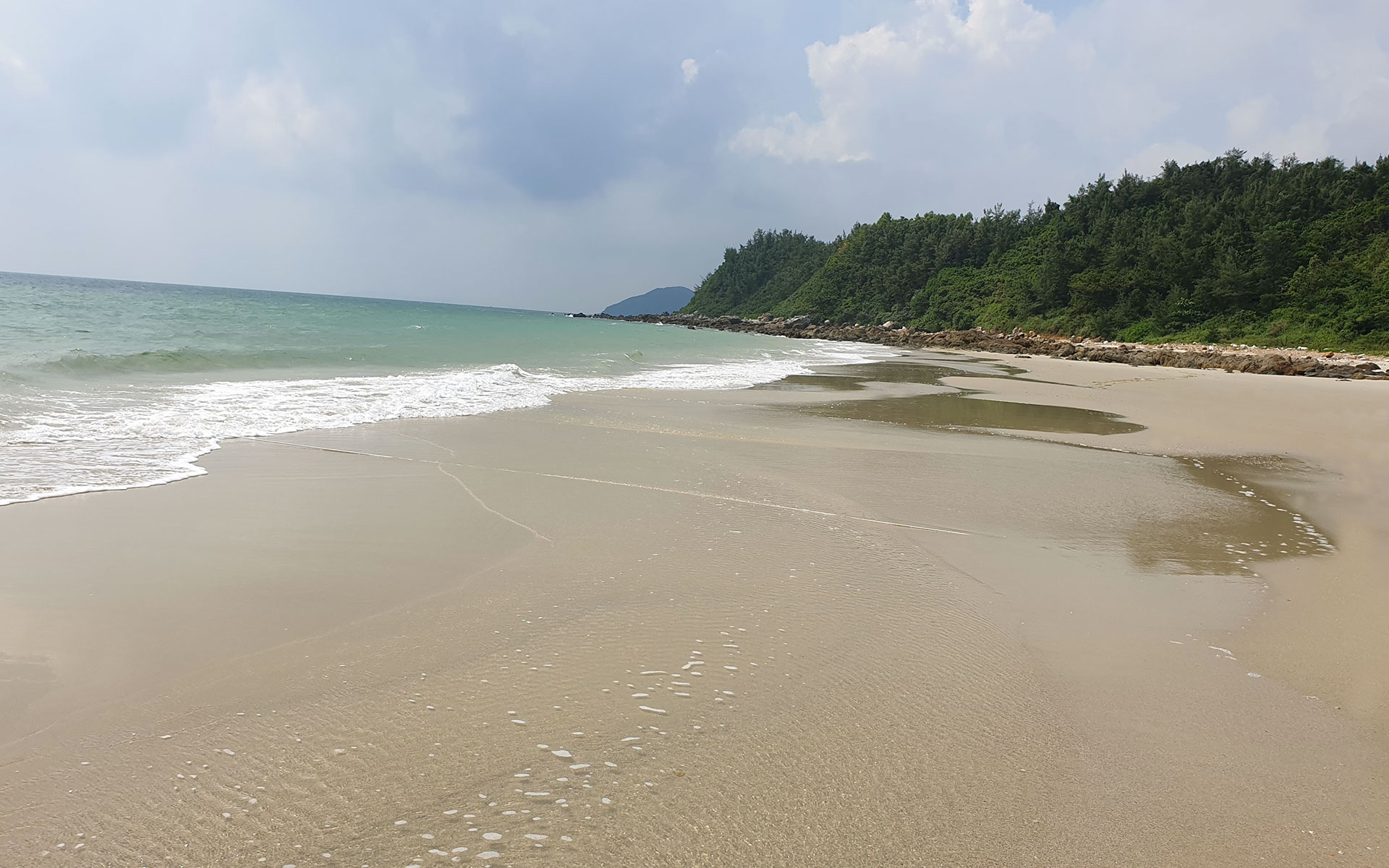 Son Hao is another stunning beach on Quan Lan Island. It is apparently not covered with a modern look compared to the beaches in the area but there is nothing can beat the reputation of Son Hao, regarding the idyllic scene of an untouched destination. However, Son Hao is a lesser-known destination in Halong Bay and it may be a little challenge for those aspiring a sneak peek of this place. Therefore, if this is on your bucket list, don't forget to get a hand from a local tour guide for the best arrangement.