Top best bars & clubs in Danang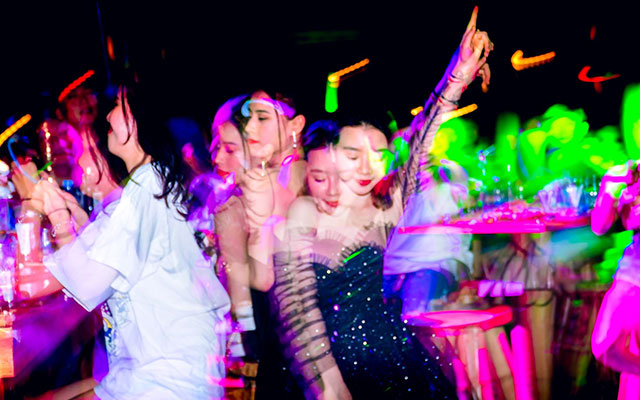 Nowadays, Danang – the largest city in Central Vietnam, is attracting more and more travelers than ever before. As becoming a major tourism hub and commercial center, the nightlife with lot of bars and club scenes in this coastal city has improved exponentially. If Hoian to the south is good for quiet drinkers, Danang offers more boisterous nightlife options. We are here to introduce you the list of best bars & clubs for a night out in Danang City.
1. Apocalypse Beach Club
Apocalypse Beach Club brings you different feelings when stepping inside with beach vibes at dawn, and changes into a nightclub after dark. Located on one of the 6 most beautiful beaches in Vietnam voted by Forbes magazine, Apocalypse Beach Club attracts domestic and foreign tourists because of its simple but sophisticated design space in every detail.
Apocalypse is famous for its unique and attractive programs such as Ladies Night on every Tuesday night, Fire Dance on Thursday evenings and Live Band on weekends. In particular, 22:00 – 2:00 is the time of passionate "dancing" with new and extreme EDM Set: Trap, G-House, Hip Hop … from famous Guest DJs.
This is also a new virtual live check-in place with excellent combination of East and West dishes.
Add: 51 Vo Nguyen Giap Street, My Khe Ward, Ngu Hanh Son District, Danang.
Tel: +84 98 481 88 80
Theme: Beach Club, Restaurant
Opening hours: 10:00 am – 2:00 am
2. New Phuong Dong Club – largest bars & clubs in Da Nang
Operating since 1994 and covering a large space of 2000m2 with the occupancy up to thousand people, New Phuong Dong Nightclub becomes the largest bars & clubs in Danang. Setting in the city center, it boasts modern audio-visual systems, operating with a large capacity to ensure that the music creeps in every corner. Stepping inside, the first impression will be a majestic stage with three performance floors which can be flexibly dropped from top to bottom or vice versa and a led screen that can change the image in a diverse way.
New Phuong Dong Nightclub offers different types of music from EDM, Disco, house to jazz, rock and funk. Every night, there are special music programs performed by famous singers which will make you constantly sing along to familiar songs.
The price you pay here may be higher than the other average bar in Danang, but the fun-loving crowds and lively atmosphere will make the well worth for any extra expense.
Add: 20 Dong Da Street, Thuan Phuoc Ward, Hai Chau District, Danang
Tel: +84 766 303 079
Opening hours: 6:00 pm – 4:00 am
3. Sky 36 club
If New Phuong Dong club is the oldest & largest place of the city, Sky 36 is known as the highest rooftop bar when its location is on 35th, 36th, 37th floor of Novotel Da Nang Premier Han River hotel, owned by Sun Group. With an area of more than 1000m2, Sky 36's space is a harmonious combination between outdoor bar, sofa bed and inside VIP Lounge area with elegant design bringing a world of classy entertainment.
Offering panoramic views of Danang City and Bach Dang River, this nightlife spot attracts a steady number of clients who are affluent travelers and local elites looking for a party in style. The music styles vary from EDM, Electro, Progressive, Hip-Hop, R&B, Techno…
Add: 35th, 36th, 37th floor, Novotel Da Nang Premier Han River Hotel – 36 Bach Dang Street, Hai Chau District, Danang.
Tel: +84 901 151 536 / +84 935 046 488
Theme: Skybar, Night Club, Lounge, Event Venue
Opening hours: 6:00 pm – 2:00 am
4. Seventeen Saloon Bar
If you used to think that the bar is a modern architecture with a luxurious style, the Seventeen Saloon Bar will bring you different thoughts, as if you were lost in the American town of Texas in the late 19th century. Rows of cacti with a few branches of pineapple in front of the bar make it feel like standing in a dry, hot desert. Besides, there are horse wheels that seem to recall the ancient Indian wars.
The inside space is designed mostly in wood and brown color making the Bar a cozy and close atmosphere. Coming here, you will not only be immersed in the vibrant and fun music of Flamenco, Rock'n Roluc which is performed by professional DJs, but you can also drift away to the old places with the melodious tunes of Country music, Folks, Blues. In addition, the bar often hosts special events or holidays such as Christmas, Halloween, Thanksgiving and others.
Drinks are served with a selection of imported and Vietnamese beers, wines, shots, cocktails, and liquors. Happy hour promos for Tiger draught beers are from 7:00 pm until 9:00 pm daily.
Add: 76 Tran Hung Dao Street, Son Tra District, Danang.
Tel: +84 236 3917 917
Opening hours: 06:00 pm – 12:00 am
5. Waterfront Danang Restaurant & Bar
Overlooking to Han River, Waterfront Danang Restaurant & Bar is place where sport fans can catch the latest events while enjoying authentic cuisine in diverse taste of Vietnamese, Thai, European, Japanese and American. Setting up with two levels, a modern dining venue and terrace is upstairs and the lively sport bar is downstairs. The extensive drinks list at the Bar ranges from imported wines by bottle and glass, ciders, malt whiskies and beers to rums, vodkas and cocktails. There's also live music performances every Friday and daily happy hour between 5.30pm – 6.30pm.
Add: 150 Bach Dang Street, Hai Chau District, Danang.
Tel: +84 905 411 734
Opening hours: Tuesday – Friday: 3 pm – 10:30 pm & Saturday Sunday: 11 am – 10:30 pm
6. Brilliant Top Bar
Brilliant Top Bar is set on the rooftop of Brilliant hotel, offering an open-air space overlooking Danang City, Han River and My Khe Beach, with a good selection of western delicacies, cold beers and bar snacks. Fitted with warm lighting, rattan chairs, unobtrusive music, and glass panels that overlook the iconic Dragon River Bridge, the rooftop bar is perfect for quiet evenings with fellow tourists and expats. Happy hour promo is also available from 17:00 and 23:00, where you can enjoy free flow of Tiger draught beers at reasonable price.
Add: 162 Bach Dang Street, Hai Chau District, Danang.
Tel: +84 236 3222 999
Opening hours: 10 am – 12:00 am
7. Bamboo2 Bar
Say goodbye to the popular and crowded bars, Bamboo2 Bar welcomes you with a rustic and peaceful feeling in the design style of graffiti by past patrons, ample bamboo bar stools, and a pool table. Located along the bustling Bach Dang Street, this is one of the best expat bars in the city.  There are three levels in the bars with open-air terraces overlooking to the Han River and Dragon Bridge. This small yet vibrant nightlife spot draws mostly expats and tourists who are sport fans to catch live matches such as AFL, NRL, Rugby Union, and Premier League.
When there is no match, everyone can unwind at the rooftops, listening to some swanky English tunes over a chilled mug of beer. You can enjoy 'buy two, free one' drinks promos from 17:30 until 19:00. Bamboo2 Bar also hosts a local DJ every Fridays at 21:00 onwards.
Add: 216 Bach Dang Street, Hai Chau District, Danang.
Tel: +84 905 544 769
Opening hours: 5:00 pm – 1:00 am
8. Oasis Tapas Bar
Oasis Tapas Bar is one of the most favorite expat bars in Danang for its tasty and authentic Spanish delicacies, friendly service, and satisfying range of cocktails, wines, and premium gins. Located a few minutes from downtown and closer to Bac My An Beach, Oasis is a slice of Barcelona in Vietnam where offers over 40 types of tapas such as buffalo mozzarella, Spanish omelette, duck crepe and stuffed eggplants.
At Oasis Tapas Bar, you can enjoy a wide selection of funk, soul, chilled out beats and Spanish classics until late. This is a perfect place to come after an action-packed day of beach frolicking.
Add: An Thuong 4 Street, Ngu Hanh Son District, Danang.
Tel: +84 1228 649 220
Opening hours: 5:00 pm – 0:30 am
From delicious cuisine, wide ranges of beverages to live music performances, Danang nightlife at bars and clubs caters to all tastes and will assuredly offer you an experience that you'll never forget. Please feel free to ask further information with Vietnam Travel team right away to jazz up your night in Danang!