Explore Son Doong – The world's largest cave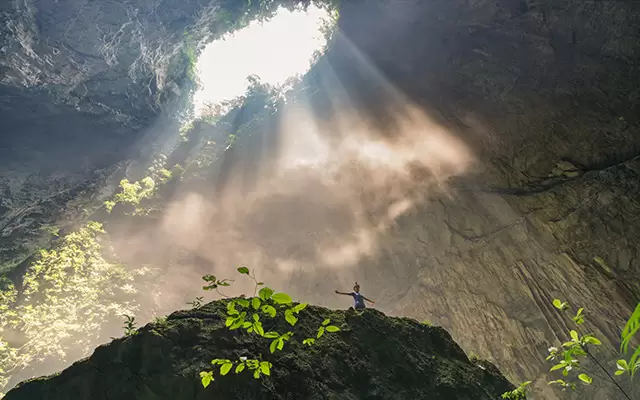 As home to many spectacular landscapes nationwide from the cascading rice terraces of Sapa, the thousands of limestone karst isles in Ha Long Bay to the maze of rivers in Mekong Delta, Vietnam has no shortage of sights to see. Besides, Vietnam is also proud to be home to the world's largest cave – Son Doong which is nestled in the heart of the UNESCO-listed Phong Nha-Ke Bang National Park in Quang Binh province.
Expert Howard Limbert, one member of the British Caving Research Association (BCRA) who conducted caves searches and surveys in the region from the beginning said to the CNN travel that: "Watch out for dinosaurs. That's what we called this place when we first discovered it". This state showed as an obvious reference for the prehistoric atmosphere and the grandeur of this cave which made Son Doong as one of the most captivating destinations for adventurous lovers worldwide to come & experience.
Here is all you need to know about Son Doong Cave.
1. Overview
Son Doong is the biggest cave on the planet when measured by cross-section which is believed to be twice that of the next largest passage, in Deer Cave, Malaysia. This is relatively young at about 2-5 million years old in the Asian oldest major karst area dating back 400 million years of Phong Nha – Ke Bang National Park.
Son Doong was formed on a fault line of the Truong Son mountain range and eroded by the Rao Thuong River for millions of years, forming a giant tunnel underneath the limestone mountain. Cracks in the ceiling of the cave were corroded and subsided, forming large holes to the outside. Water droplets that have fallen from the ceiling of the cave for millions of years create cave pearls with the size of a baseball. Inside that magnificent space is a separate world, a rare natural wonder that surprised the conquistadors of Son Doong.
Being discovered and explored in the first time of 2009, Son Doong Cave only opened to the public since 2013.
At more than 200m high, 175m wide and 9.4km long, Son Doong cave could fit an entire 40-story New York City block skyscraper or allowed a Boeing 747 comfortably fly through without any danger for its wings. The new discovery by mid-2019 added an extra 1.6 million cu metre of volume to its existing 38.5 million cu metre, which is the equivalent of climbing 8848m of Mount Everest and discovering a mound that made it 1000m taller, as Limbert recently told CNN.
The cave becomes unique with the 2 enormous hố sụt (cave roof collapses or dolines) and underground rainforests as well as the "Great Wall of Vietnam" – a 90m high calcite barrier.
There are various unusual cave formations including towering stalagmites, phytokarst and huge cave pearls inside.
Cave experts are now still researching the connection between Son Doong Cave and nearby Thung Cave to find the connection. If it is successfully made in the future, Son Doong will become the largest cave in the world by both volume and cross-section.
2. Discovery and its name
2.1. Discovery
Son Doong entrance was first discovered by a local man, Ho Khanh, in 1990 while he searched food and timber in Phong Nha-Ke Bang National Park for the income, and later took shelter from a storm at the base of a huge cliff in the jungle where he found a deep hole at the base of the rock that was emitting wind and even puffs of cloud. Thoughts of the gulls in the legendary tales living in rock caves blowing wind out made him scared and discouraged him from entering the cave.
Its location was forgotten until 2008 while hunting for food, Ho Khanh stumbled across the entrance again. A following year in 2009, he met Howard and Deb Limbert from BCRA, who were conducting exploratory caving expeditions in the area by this time. Then, he led Howard Limbert and his team to the opening.
They began the exploration of the cave but the process was stopped by a large high flowstone-coated wall or later named as the Great Wall of Vietnam. It was traversed in 2010 when the group reached the end of the cave passage and determined it to be the largest ever discovered in terms of the size of its cross-section which shook the caving world.
2.2. Its name
Since Ho Khanh was the first to discover this cave, it was firstly called Ho Khanh cave. But sooner then, the expedition asked Mr. Khanh's permission to rename the cave as "Son Doong" which was created by combining the name of Son (meaning mountain) and nearby Doong village where is home to less than 40 Bru-Van Kieu ethnic minority.
3. Expedition
3.1. When it started?
Son Doong expedition is rated as type of international class adventure tour with tour's design criteria as well as safety standards according to European standards.
The cave was open to the first tourist group by 1st Aug 2013. However, the access was strictly controlled and limited for only 1000 permits each year to guarantee the environment and ecology of Son Doong cave.
All tours are exclusively organized and led by Oxalis Adventure Tours. Howard Limbert and his wife, Deb are the technical directors.
Running from January to August yearly (after which the cave becomes impassable due to rainy season) for the required expedition of 4 days 3 nights, Son Doong tour just welcomes 10 guests as maximum for each. Each tour requires 30 other staffs/attendants to escort, including cave expert, tour guide, safety assistant, chef and porter bringing a total of about 600kg of equipment in and out of the cave. Everything brought in must be taken out of the cave, including human waste.
3.2. How much the expedition costs?
It is US$ 3000/person.
You can wonder why it costs US$ 3000/person for just 4 days? Not cheap at all. The answers are because this price covers 660 USD entrance fee and forest environmental services paid to the management board of Phong Nha – Ke Bang National Park; fees for all staffs/attendants, expenses for airport pick up / drop off, hotel, meals; administration and other administrative expenses; 10% VAT.
3.3. How to explore?
To reach Son Doong Cave, you need to pass through Doong ethnic minority village which is surrounded by dense jungles and only accessible by foot. The village is home to less than 40 Bru-Van Kieu people. The discovery of the cave alleviated the villager's hardships by their subsequent conservation partnership with Oxalis. Exploring the village and interacting with the locals are also an exciting part of the journey, in which you can learn a view of a way of life that has been unchanged for centuries.
It takes two days of intense jungle trekking and river crossings in order to reach the entrance of Son Doong Cave. Once inside, you will experience your own skills to abseil, climb, crawl, and wade/swim through underground rivers to complete your journey. Camping, eating inside the cave with taking extraordinary photos make your trip even more amazing. Hang En (En Cave), the world's third largest cave is also included in the tour where you can enjoy swimming if interested.
3.4. What to explore inside Son Doong Cave?
The eco-system in Son Doong Cave is very unique because it is large, and even has its own localized weather system. Many rare limestone cave pearls are scattered in dried pools inside the cave.
The Dog's Foot Block (khối bàn chân chó): This is a massive natural stalactite block in Son Doong Cave. From a distance, the Dog's Foot Block can be seen, a majestic spectacle of the largest cave.
From this position you can almost admire the panoramic view of Son Doong Cave.
Fossil corridor (hành lang hóa thạch): An area where cave walls are filled with coral fossils dating back 300 million years old. This area is right next to the first campsite.
The first campsite (bãi trại 1): located near 1st cave ceiling collapse or doline. The camp ground is nestled on a fairly flat sandy area and has a beautiful view looking towards 1st doline.
1st Doline – Watch out for dinosaurs (hố sụt 1 – vọng khủng long): Formed by a part of the cave ceiling that collapsed thousands of years ago, sunlight can enter the cave allowing foliage to grow inside the cave and microscopic organisms thrive in the darkness. At 1st Doline, there is also a large stalactite layered block named "Wedding Cake" by tourists. On the other side of 1st Doline is a large cave called "Rat Run", from here you can see the panoramic view of this cave ceiling collapse. This is the ideal place to take pictures of the most beautiful Son Doong Cave.
2nd Doline (hố sụt 2): This is also known as "Garden of Edam". The formation of a sinkhole allows light to enter the cave and creates a small forest with trees and vegetation.
2nd campsite (bãi trại 2): Also known as seaside camping because of its location on a cave covered with white sand like the beach. This is also considered the campsite with the most majestic view in the world.
The Great Wall of Vietnam: is the highest stalactite wall with 90m tall, located at the end of Son Doong Cave. This section of the cave is also the place where the highest ceiling is about 200 meters.
In this journey, you will also discover Hang En, the world's third largest cave.
Moreover, the cave is rich in other forms of life as well. The cave explores have seen monkeys, snakes, squirrels, rats, flying fox, birds and bats. The team also discovered 7 new species of fish, spider, scorpion, shrimp, wood lice and plankton. All of them completely white and without eyes, the evolutionary consequences of existing in complete darkness.
4. Things to know
Son Doong tour welcomes guests from January to August yearly. You can book tours at a time that suits the accommodation, schedule and availability.
The Son Doong Cave Expedition is considered difficult (highest level) and you must be physically active with regular trekking experience. Distance: 17km trekking, 8km caving which includes rope climbs and rocky scrambling, 800m elevation change, 90m climb of the "Great Wall of Vietnam".
The difficulty in the jungle is very dependent on the weather. It can get very cold here during January to March (8-15oC) and very hot during June to August (32-40oC), not to mention anytime it rains the jungle becomes very slippery and muddy. However, in the cave it usually ranges from 18-23oC in the winter (when a fleece and extra warm clothes are necessary) to 22-25oC in the summer, when shorts and t-shirts will suffice around camp.
Check weather conditions via accuweather.com in advance to get an idea of what the weather will be like during your tour for the best preparation.
Swimming is not a part of the Son Doong tour. You can swim in Hang En and splash in the rivers on certain days when you're washing up if you wish. However, there are no required swimming sections on the tour.
Guests only need to bring their own drinking water, snacks (trail mix, nuts, protein bars, etc), camera and personal belongings to use during the day. Other items that you use at the campsite every night as well as safety equipment, food and other items will be taken care by the porter team.
There will be a wide variety of different types of food served in the cave, even for those who are vegan or gluten-free. A notification ahead of time is required for better care.
Sun Group – a Vietnamese development company – has been pushing to build a cable car to Son Doong Cave, which could potentially ferry 1,000 visitors an hour to the cave. Staunch opposition from UNESCO and activist group Save Son Doong encouraged the Vietnamese government to temporarily halt the construction permits in 2015. The project will only be proceeded with the approval from the World Heritage Commitee.
5. How to get there?
Located in the heart of Phong Nha – Ke Bang National Park in Quang Binh Province, the closet city to reach is Dong Hoi which is around 1 hour of drive away.
There are many ways for your travel to Quang Binh from Hanoi (~ 500 km south), Ho Chi Minh City (~ 1200km north) and other cities by airplanes, trains and coaches.
Network of caves in Central Vietnam have transformed the region. Once one of Vietnam's poorest, it is now the world's most popular spot for cave exploration and the country's fastest-growing tourist destination. If you are adventurous lovers and meet all health requirements, don't miss Son Doong Cave expedition the once-in-a-lifetime experience.
Vietnam Travel team will more than welcome you to visit Vietnam and we are always pleased to assist whenever you set the holiday to our beautiful country!