Vietnam Weather in February
Similar to January, February is amongst the best months to travel in Vietnam when the weather conditions are at the very best expected along the entire length of the country. The coasts in the Central and the South are perfect for beach vacation while the North sees the chill lifting, leaving clear and warm days for hiking and exploring the region. As second busiest month of the year, traditional Tet holiday (late January – mid February – varying by year) will start a month full of festivals that add more color and fun. Continue reading to find out more about the weather in Vietnam in February!
1. Regional climate in February.
1.1 North Vietnam
Highlights: Hanoi, Halong Bay, Cat Ba, Sapa, Ha Giang, Mu Cang Chai, Ninh Binh, Mai Chau, etc.
The weather of the North Vietnam in February will be quite cool at average temperature at around 17oC. The annual rainfall is at its lowest (~ 25mm) although the haze and fog still frequently appear, especially around Halong bay and the coastal areas. The conditions in the far North, such as Laocai / Sapa, Ha Giang, etc, are dry but chilly and occasionally foggy in early morning or late night.
During this time, you can also expect to get some light rain, as a signal of lucky for starting the New Year in Vietnam (according to Lunar calendar).
1.2 Central Vietnam
Highlights: Hoian, Danang, Hue, Nha Trang, Quy Nhon, Dalat, etc.
At average temperature of 25oC, summer returns to the Central Vietnam in February. The beaches of Hoian and Danang like to be basking in sunshine with just a light sprinkling of rain expected from time to time. Hue is also dry and warm while Dalat and other provinces in Central Highlands are cooler due to altitude. This weather condition is good for outdoor activities such as trekking, cycling…Some other beaches in the coastal provinces like Nha Trang are being endowed with the clear blue sky and higher temperatures as well.
1.3 South Vietnam
Highlights: Ho Chi Minh City, Phan Thiet & Mui Ne, Mekong Delta, Long Hai & Ho Tram, Con Dao & Phu Quoc, etc.
February is expectedly good weather for the South. Most beaches in the region are experiencing clear blue skies, plenty of sunshine with the average temperature at 27°C, including Phan Thiet / Mui Ne, Phu Quoc, especially Con Dao where is ideal place for diving with clear waters. Temperatures remain high but comfortable because sprinklings of light rain (usually afternoon showers or short-lived downpours) help keep things temperate.
2. Where to Go in February?
When the coastal resorts in February bask in sunshine, pack your sunscreen and beach towel and head to Phu Quoc or Con Dao islands, two peaceful tropical paradises off the southern tip of Vietnam. An exploration of Ho Chi Minh City metropolis with one of the nearby coastal resorts, such as Ho Tram or Phan Thiet is also great idea.
Meanwhile, the waters of the Mekong Delta are high enough to make it prime time for visiting the floating markets, and for sailing trips upriver.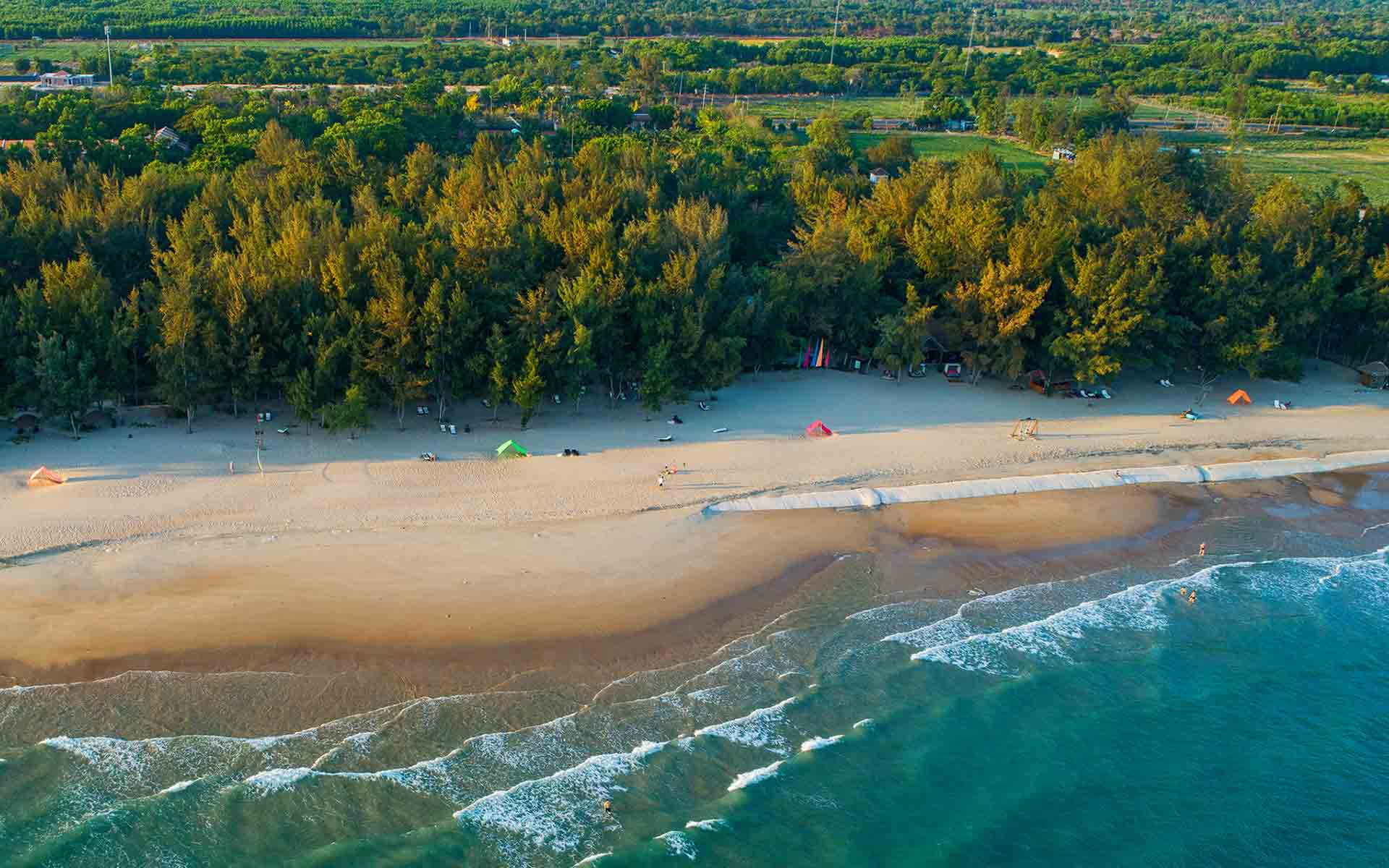 With the sunny and beautiful beaches of Danang, Hoian, Nha Trang, these destinations should not be missed. Hoian is also offering its Lantern festival for every 14th day of Lunar calendar which present the most beautiful effect during this time.
Besides, Hue is ideally dotted with important and impressive historical sites to visit.
For those who are adventure-seekers, just heading to Northern Vietnam, where spring is in the air north of the Bach Ma mountains. Hanoi, Vietnam capital, offers a multi-cultural cornucopia, with ancient pagodas, French colonial architecture, unique museums, plus great shopping and the Tet celebration at its most vibrant. Then, the gorgeous upland landscapes are abloom with flowers and the temperatures are deliciously mild for mountain trekking, including Sapa, Ha Giang as the favorite choice.
3. February Events
3.1 Tet, Vietnamese New Year (nationwide).
The year's most important festival falls between late January and mid-February (varying by year). This is celebrated throughout the country and lasts a full week. There are many other own unique festivities in many cities as part of Tet holiday.
3.2 Dong Da Mound Festival (Hanoi).
It is held annually on the 5th day of the Lunar New Year (late January – February, varying by year). The celebration is to commemorate the uprising against foreign invaders of Emperor Quang Trung (Nguyen Hue) in 1789, in which drum performances, lion dances, and human chess are highlights.
3.3 Perfume Pagoda Festival (Huong Son Commune, My Duc Dist., Hanoi).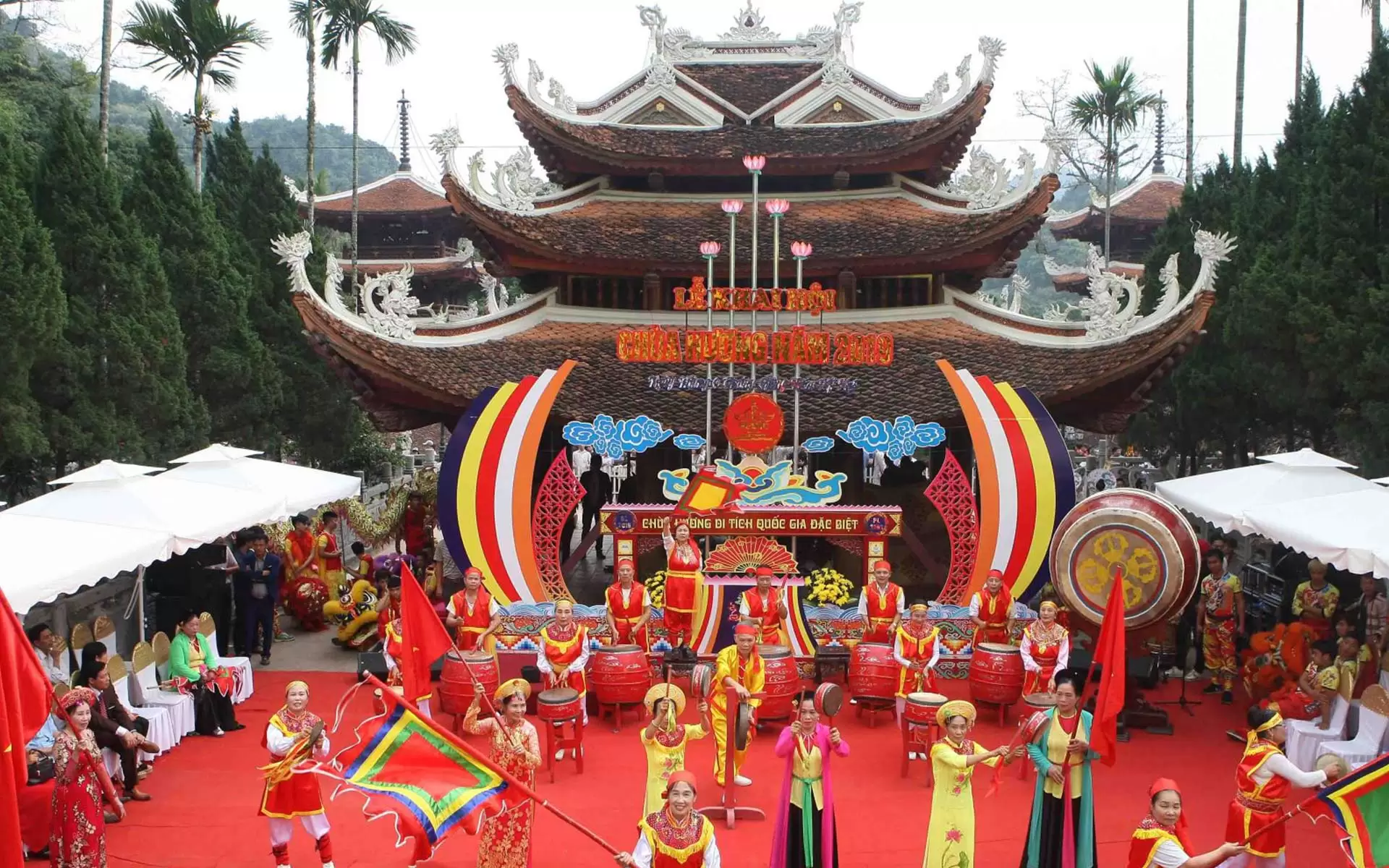 Taking place on the 15th day of the first month of Lunar New Year, the Perfume Pagoda festival
is one of the most significant pilgrimage festivals in Vietnam, welcoming thousands of pilgrims who make their way to the sacred caves to pray for a happy, and a prosperous year ahead.
This stream of pilgrims reaches its peak at the Perfume Pagoda by passing through a picturesque landscape of limestone mountains via a boat, rice paddies, walk past historical shrines and about hundreds of steps made of stones to arrive at the ultimate destination.
3.4 Lim Festival (Bac Ninh).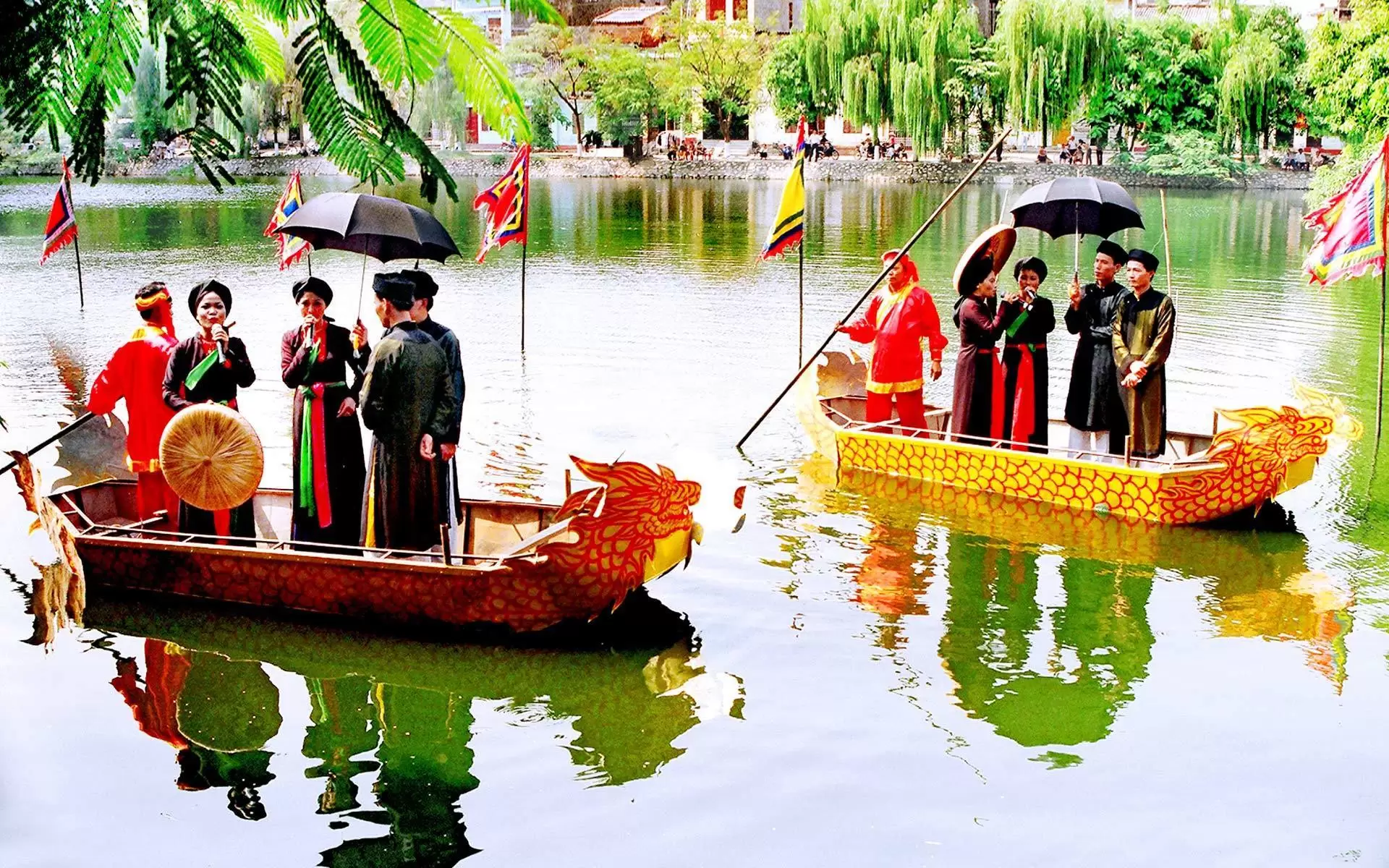 Coming to Bac Ninh Province on the 13th day of the first Lunar month, visitors will enjoy Lim Festival which the celebration of "quan ho" singing – local folk songs performed by both men and women in colorful traditional costumes from boats or from Lim Pagoda. These songs show many topics: greetings, exchanging love sentiments, etc. In the festival, there are many other local games for your experience such as tug of war, bamboo fighting, wrestling. This is one of interesting way to know more about Vietnamese tradition and culture.
3.5 Hoian Lantern Festival.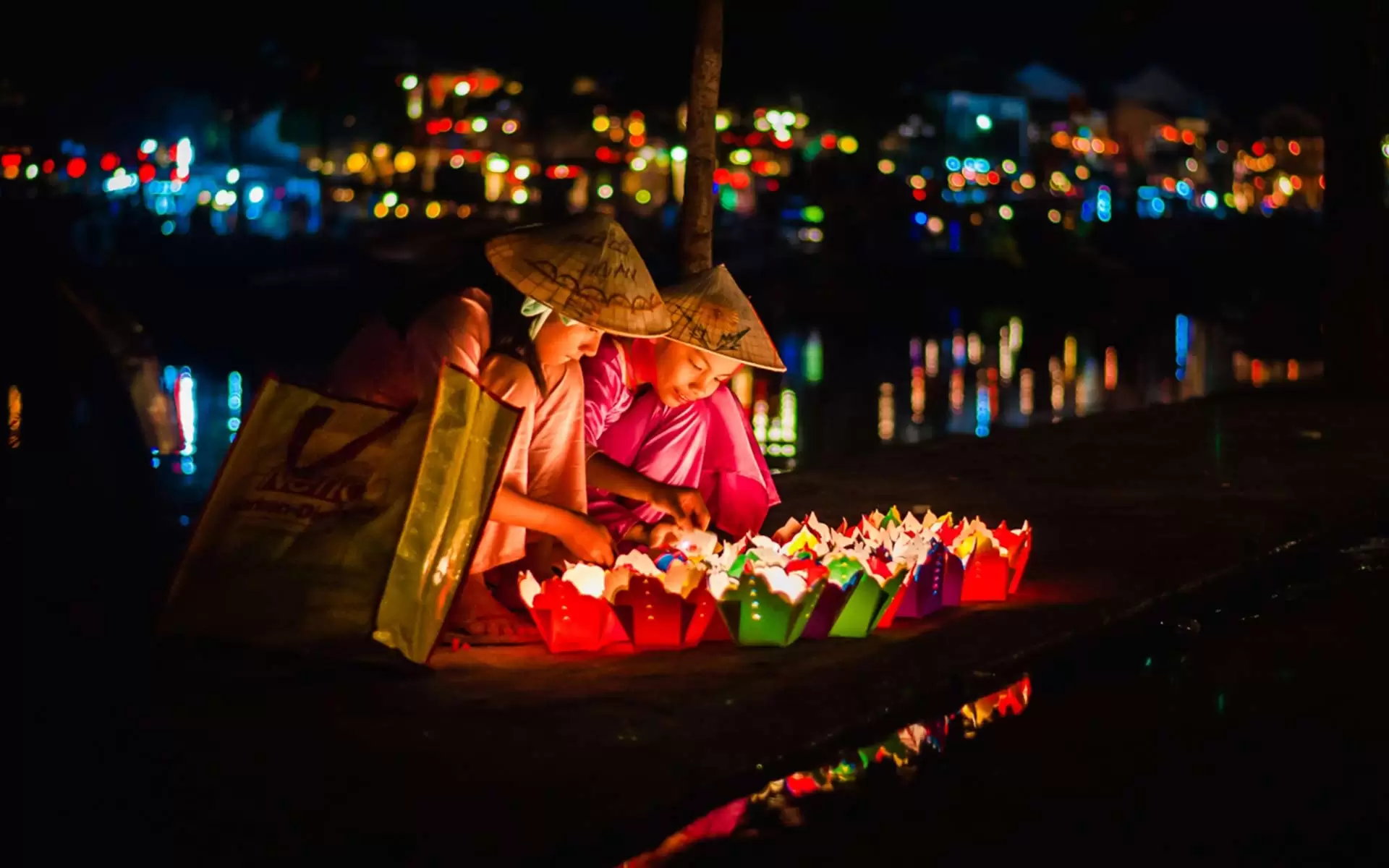 In every 14th day of the lunar month (full moon every month), you can witness a spectacular display of paper lanterns of all shapes, sizes, and colors. On this day, Hoian Ancient Town bans all motorized traffic, and every restaurant, bar, shop, and business in the ancient town stops using electricity and lights up their venues with hundreds of lanterns as well as candles. The temples are at their busiest during the festival when the locals honor their ancestors during this auspicious time of the month.
3.6 Cau Ngu Festival (or Whale Festival).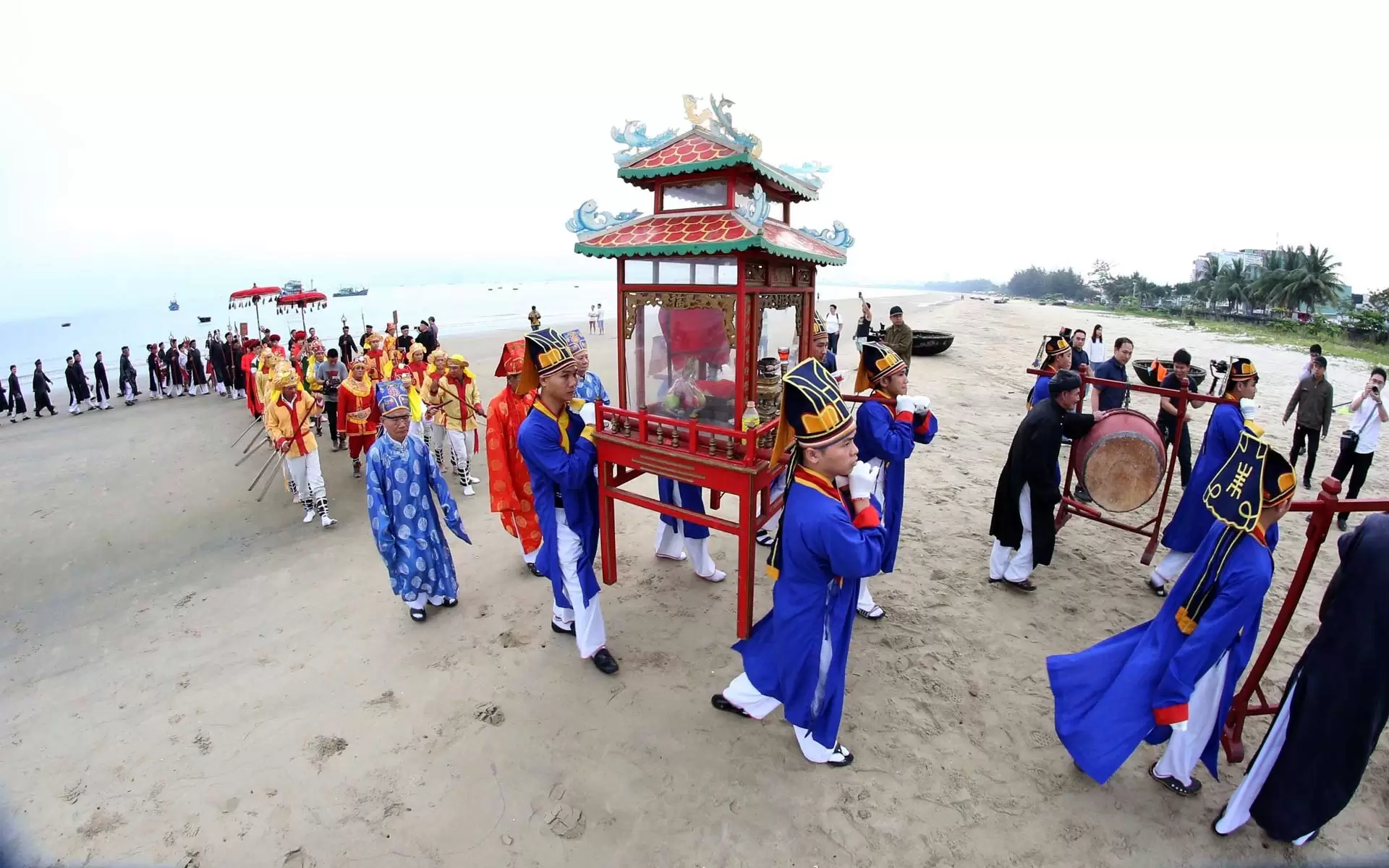 For marine community life, Cau Ngu Festival is the biggest ceremony of the year, associated with the worship of Whale (or Ong fish). Being held on the 12th day of the first lunar month in Thua Thien-Hue Province, this festival not only shows the respect for the Gods but also for the prosperity of the whole village or area.
This festival is also a cultural typical of the other coastal communities throughout the country with the same meaning, just in different time of the year.
3.7 Nui Ba Den Festival (Nui Ba Spring Festival).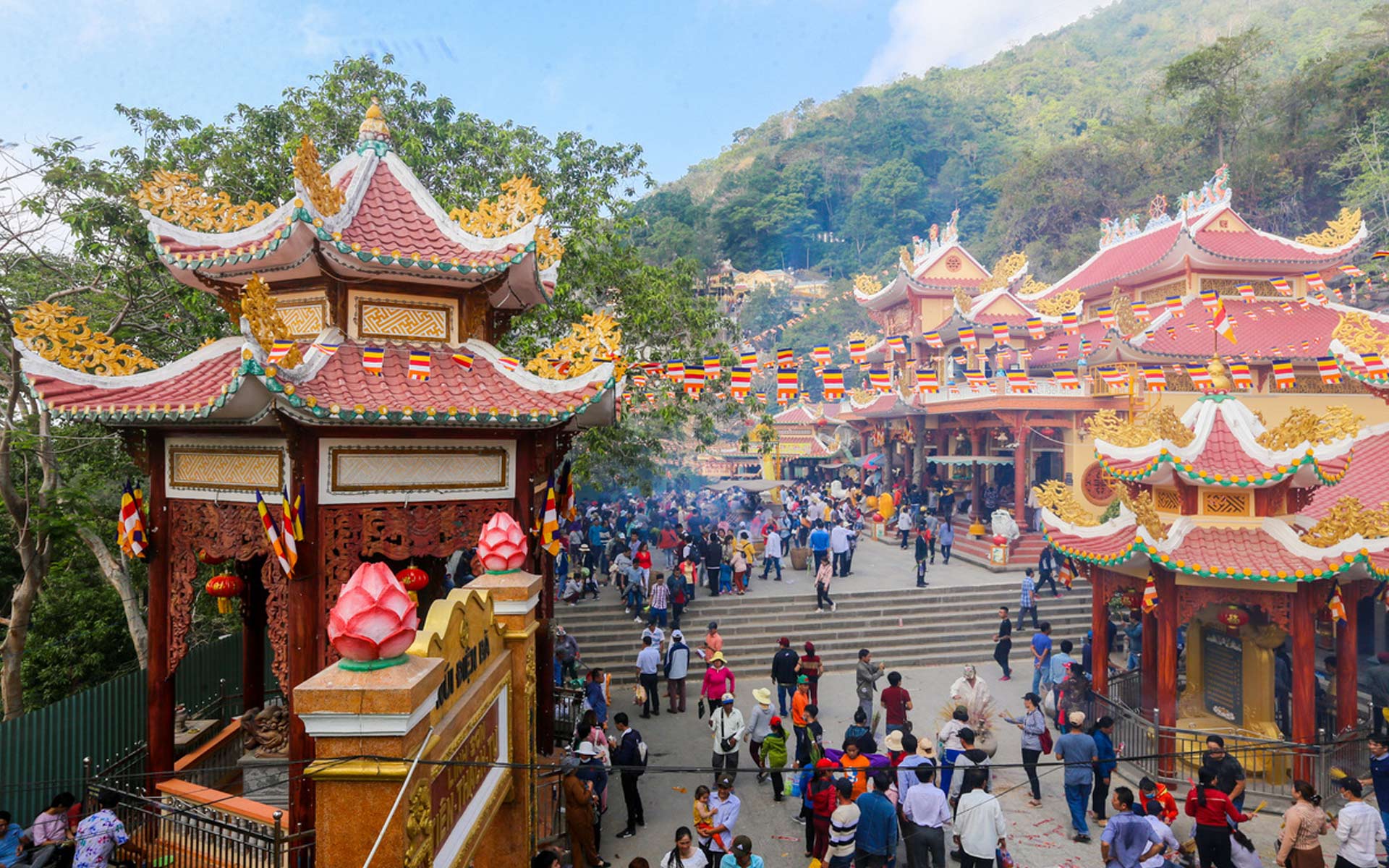 Nui Ba spring festival is one of the largest festival in the South of Vietnam and attracts many tourists each year. Taking place in Ba Den Mountain – Tay Ninh Province starting on 18th night and 19th morning of first lunar month for the main ceremonies and lasting for month, this is not only cultural festival but also the place for the young to enjoy together in many sports activities like unicorn dancing, art fireworks, film screening, traditional games and sports contests.
4. What to Pack?
– As one of the most unpredictable months, What to Pack in February depends on the weather of the place you plan to go and other matters related to religion and culture of the particular destinations in Vietnam.
+ North part: packing warm clothes or shoes or warm layers because the weather is still cold/cool and occasional light rain. Good pair of hiking / walking shoes for such kind of outdoor activities.
+ Central part & South part: lightweight, loose-fitting clothes in natural fabrics such as linen, silk and cotton that will keep you cool and are easy to wash and dry. Sunglasses, hat, sunscreen are good to protect you from the heat and sun. Pack your swimwear or any other beach appropriate gear if you're heading to coastal areas. An umbrella is necessary, not just for the rain, but to shield you from the sun if you're out for long periods of time.
– Wear particularly conservative clothing if you visit a culturally sensitive area such as a temple or pagoda. Generally, the less bare skin is better and specifically no shorts, short skirts, tops with low neck lines, or bare shoulders. Opt for long pants and a long-sleeved cotton shirt.
– Pack a few nice outfits for special dinners or nights out as there are some really gorgeous outdoor restaurants to experience.
– Like January, February is high season so making reservation in advance, especially for beach vacation or during Tet holiday will be necessary. An expect of increasing cost at 20-30% from high season will be added if it falls in the Lunar New Year eve.
Please check information about Vietnam weather in other months of year at here: