Best Beach Hotels And Resorts In Vietnam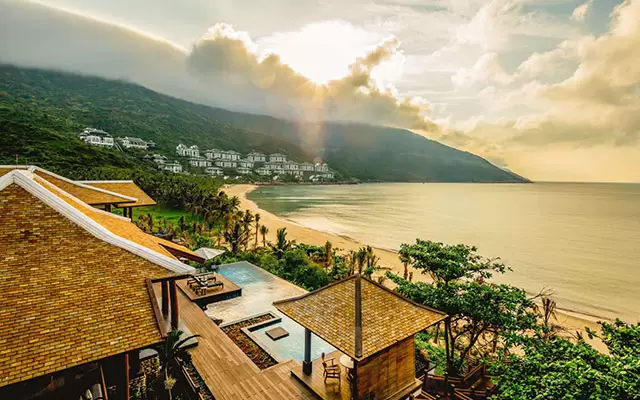 With friendly people, a rich culture, delicious and inexpensive food, sunny weather, a wide range of beachfront accommodation and over 3,000 kilometers of coastline sweeping from China in the north to Cambodia in the south, Vietnam is rapidly becoming one of the world's best beach destinations. The beauty and the tranquility of Vietnam beaches is one of "Asia's best-hidden secrets".
Start planning your holiday today whether you are a honeymoon couple, a family, a group of friends, or on your own, with this list of the best beach resorts in Vietnam – named in the most best beach cities of the country. Some are unusual, some exclusive, and all are perfect for armchair travel or booking that next warm getaway…
1. Beaches and beach hotels & resorts in North Vietnam
When to go: between late April and October.
The North Vietnam has untouched beaches but a limited infrastructure. It is quiet cold during months of winter and spring (late November to early April), however, visitors absolutely can swim at the rest time. Though it is best to spend just a few days on beach in the North Vietnam, there are some ranges to choose from Cat Ba Island to Halong City. Two of the best names are listed below:
1.1. Best beach hotel in Cat Ba, Haiphong

Hôtel Perle D'Orient – Mgallery, Cat Ba Island, is a boutique hotel with personality for a remarkable travel experience. It is nestled between towering limestone karsts and lush island mountains. The hotel brings a cosmopolitan touch to a classic Indochine style, while offering guests with sublimes views of Lan Ha Bay and the nearby Cat Ba National Park. Each room features an open style layout modeled after traditional Vietnamese homes and designed to evoke Indochina's storied history. Rooms range from 110 USD to 480 USD.
1.2. Best beach resort in Halong City
Vinpearl Resort & Spa Halong is located separately on Reu Island in the Ha Long Bay complex, highlighted by a gigantic picture of gorgeous nature. The resort is inspired by Rennes Opera House (France), with a bow-shaped design that gradually embraces the sea to create a unique charm in full harmony with nature. Vinpearl Resort & Spa Ha Long offers an exceptional experience with a wonderful seaside holiday and easy access to famous attractions in Halong Bay. Rooms range from 135 USD to 455 USD.
2. Beaches and beach resorts in Central Vietnam
When to go: between February and September.
Central Vietnam boasts some of the country's most beloved beach cities. At the same time, a series of pristine beaches adorn the coastline. Central Vietnam's beach-trimmed coast also plays host to four UNESCO World Heritage Sites (Phong Nha Ke Bang National Park, the Imperial Citadel of Hue, Hoi An Ancient Town and My Son Sanctuary), which allows for some cultural exploration on top of your beach time. Beaches in Central Vietnam stretch from Quang Binh down to Ninh Thuan, passing many other famous names such as Lang Co, Danang, Hoian and Nha Trang.
Bigger international hotels are opening more and more, contributing to many current luxury brands, but the white-sand beaches are so long that they retain a quiet air. The waters are clear and turquoise, lending themselves to snorkeling and scuba diving, as well as fishing.
2.1. Best beach resort in Quang Binh
Located at the gateway to the UNESCO World Heritage Site of Phong Nha – Ke Bang National Park with Son Doong – the world's largest cave, Dong Hoi is on the coast with 12 kilometres of white sand beaches, and it's now starting to realise its potential as a beach destination. The long, idyllic sliver of sand is completely clear – clear of litter, clear of people, clear of hotels. It's just beautiful smooth beach and a horizon to gaze out at. Dong Hoi isn't on the tourist track – yet. But with a great strip of beach and convenient location, it's only a matter of time until more travelers decide to use Dong Hoi to break up their trip from Hanoi to Hue.
Sun Spa Resort & Villas is set amidst a spacious 29 hectares of landscaped garden along pristine white sand Bao Ninh Beach Vietnam and on the banks of the legendary of Nhat Le River. Located in the picturesque Central Vietnam city of Dong Hoi, 50 kilometers from the mystical, UNESCO recognized caves of Phong Nha, Sun Spa Resort offers luxurious accommodation in Dong Hoi, excellent facilities along Bao Ninh Beach and the perfect gateway to discover the World Heritage. Rooms range from 68 USD to 250 USD.
2.2. Best beach resort in Hue
Far away from Vietnam's big cities, Lang Co Beach is more geared to Vietnamese day-trippers than Western travelers. Interestingly, Lang Co offers an idyllic tropical escape from the world. There's a turquoise lagoon on one side and oysters to eat that are simply otherworldly. With pristine white sand beaches, glistening blue sea and golden sunshine, it is an oasis of relaxation.
Banyan Tree Lang Co is a private paradise of luxurious all-pool villas nestled between the azure waters of the East Vietnam Sea and the Truong Son mountain range at Laguna Lang Co. This is the perfect destination for travelers who seek a luxury hideaway or a base from which to explore this beautiful area. Step into a world of ancient and modern history, of unspoiled natural beauty and unparalleled luxury at Banyan Tree Lang Co. Featuring warm decor and sea, lagoon, or beach views, the luxurious villas have soaking tubs, gardens, and wood sundecks, plus private pools. Rooms range from 285 USD to 1,320 USD.
2.3. Best beach resort in Danang

Danang Beach, in today's time, is known for its mammoth stretch of white sandy beach which extends from Monkey Mountain to Hoi An with the popular Marble Mountain smack in the middle of it all. With a pristine coral reef, palm-fringed shoreline, and some top-notch beach resorts, Danang Beach is definitely one of the most well-liked beaches not only in Vietnam but the entire world. The beach is an excellent spot for water activities such as surfing, scuba diving, sunbathing, and swimming. Additionally, the area is known for its active expat scene. There are several sections of the beach, some of which are My An, My Khe, Cua Doi and Non Nuoc that collectively known as "beaches of Danang".
Two-time winner of the World's Leading Luxury Resort award, Asia's Best Resort Spa and Vietnam's Best Resort Spa, the InterContinental Danang Sun Peninsula Resort is a sprawling resort and spa set above a sparkling private bay. In the unlikely event of wanting to leave, the resort is situated near the beautiful Hoi An Ancient Town and the aptly named Monkey Mountain. Amenities are lavish, butlers are discerning, and the views unspoiled, and that's all without mentioning that the resort's head chef has three Michelin stars to his name. Rooms begin at 455 USD, while the three-bedroom villa will set you back 4,045 USD a night.
2.4. Best beach resort in Hoian

Hoian is Vietnam's most loved travel destination, and home to the charming lantern-lit streets of the old town, which lie nestled along the river bank. Hoian is also known to possess some of the most beautiful beaches in Vietnam (both for relaxing and diving). All the beaches of Hoian are pretty close to the city center: Cua Dai, An Bang and Ha My. If you are craving for even more adventure experience, head to Cham Islands.
Ha My Beach in the middle of Danang and Hoian is the setting for the Four Seasons The Nam Hai, one of Vietnam's best beach resorts for its exceptional service levels, large rooms and contemporary Vietnamese feel. The Nam Hai offers 60 one-bedroom villas and 40 pool villas scattered across 35 hectares of tropical gardens and the fringe of Ha My Beach. It's a location that is almost impossible to beat. Like many beach resorts, there are infinity pools, spa treatments and a focus on wellness, but what The Nam Hai offers is something next level. "Treatment pavilions" that float "like lotus flowers" on the resort's Koi-fishes filled lagoon is an escape that allows privacy, serenity and the opportunity to relax unlike any other. Rooms range from 619 USD to 4,101 USD.
2.5. Best beach resort in Quy Nhon
Quy Nhon, a small seaport town, is bordered by a beach admittedly less picturesque than others along the coast, but, for this reason, almost free of foreigners. For more adventurous travellers, this is a good place to get away from tourists, something that only adds to the town's intrigue. The beaches around Quy Nhon coastal city are by no means empty. But, so far, they remain mostly on the radar of Vietnamese holidaymakers and elderly couples heading here to retire.

Built side by side to the south of the city, the Anantara Quy Nhon Villas occupies a quiet stretch of beach surrounded by low-lying jungle-covered hills. Anantara is a collection of villas, many with their own pool. Rooms range from 515 USD to 1,735 USD.
2.6. Best beach resort in Phu Yen

Tuy Hoa City (Phu Yen Province) is about as far off the beaten track as you can get while still being on the main train line of the Reunification Express. The beach is big, impressive, and decidedly empty. But it's the friendly people and the street food that set this place apart.
In harmony with its awesome setting rises Rosa Alba Resort & Villas – a luxury beach resort inspirationally conceived to capture the essence of surrounding natural wonders of the Central Coast of Vietnam and host the most welcome and appreciated guests with world-class facilities. Rosa Alba Resort &Villas offers the perfect setting for precious moments of romance, adventures, excitement and memories to last a lifetime. Rooms range from 65 USD to 380 USD.
2.7. Best beach resort in Nha Trang

Nha Trang is possibly Vietnam's most famous beach destination. Nha Trang itself is one of the larger cities in Vietnam, and Nha Trang Beach is a massive, miles-long stretch of white sand and clear turquoise waters. The beach is stunning. That, combined with Nha Trang's popular nightlife scene, makes it a prime destination for both Vietnamese and international travelers.
A white sand beach, a towering mountain and a five-star beach resort between, Six Senses Ninh Van Bay could stand apart from Vietnam's other beach resorts on its location alone. Prioritizing sustainability more than any other resort on this list, Six Senses works with the landscape and stunning setting that gives it such a unique quality. Nestled in a calm, sheltered bay that feels like an island, Six Senses is a world away from the chaos and hustle of Vietnam's cities. Six Sense offers a sanctuary in the form of villas with private beaches or hillside retreats that look out over the East Sea. Gentle waves lap the white sand beaches or the rocks around the beachside private swimming pool, organic produce grown nearby is transformed into delicious meals, and the win cave has to be seen to be believed. It's a place built to offer the most luxurious relaxation possible while prioritising the ecology and sustainability that keeps Vietnam going from strength to strength. Private villas range from 976 USD to 4,105 USD a night.
2.8. Best beach resort in Vinh Hy, Ninh Thuan

Vinh Hy Bay lies in the scenic Ninh Thuan Province of Vietnam. The bay still remains unspoiled due to its proximity to Nui Chua National Park and thanks to this stunning setting, it has become a corner of the tourism triangle. As an eco-tourist spot, the bay has preserved its rural beauty with white sandbanks circling steep rocky mountains and extensive green forests. Some great coral reefs for diving and snorkelling can be found in this area, but fishing is the main trade here. A range of water sports can also be enjoyed, from kayaking to water skiing, which are sure to keep the most active of visitors entertained.
Amanoi Resort is the Aman debut in Vietnam. Ensconced in Nui Chua National Park where pristine jungle tumbles into the crystal waters of Vinh Hy Bay, Amanoi is a secluded retreat where adventure and serenity meet and mingle. The resort feels like it is a million miles away from civilization. Amanoi's atmosphere of tranquil seclusion enhances the wellness offering of the Aman Spa and its pioneering duo of Wellness Villas, which invite immersive holistic retreats amid the natural wonders of this unique and special place.
Amanoi's 31 Pavilions and five Aman Villas are all nestled into the rugged hillside, providing plenty of privacy and impressive views with a fusion of contemporary elegance and traditional Vietnamese architectural styles. Each Pavilion is timeless with beautiful clean lines. The combined sleeping and living areas seamlessly moves from inside to out with the timber sundecks. The Pool Pavilions come equipped with private swimming pool and panoramic views out over the expansive Vinh Hy Bay or Nui Chua National Park. For even more space, each Aman Villa consists of four or five free standing bedroom pavilions with separate living and dining pavilions and large private swimming pool – perfect for those travelling in larger groups. Double rooms from 875 USD in low season, and from 1,225 USD in high. The 5-Bedroom Bay Residence costs up to 7,870 USD per night.
Drop everything and leave your cares behind, Vietnam Travel invite you an escape to Vinh Hy Bay and stay at Amanoi, Vietnam's most exclusive luxury resort.
3. Beaches and beach resorts in South Vietnam

When to go: between November and April.
Southern Vietnam – here defined as the area from Muine to the islands off the southern coast – has a warm climate all year round, with dry season from November to April, making it ideal for a beach vacation in the winter time (of the Northern hemisphere). From intrepid water sporting, world-class diving spots, and a series of unique islands, below are the major beach destinations and easy to access.
3.1. Best beach resort in Mui Ne, Phan Thiet

Mui Ne is a gorgeous little fishing town in the south of Vietnam. While the beach here may not be the best (you do get some awesome off-the-beaten-track places though), there is a lot more to explore here – like two sets of giant sand dunes and the fairy stream surrounded on both sides by large colorful limestone cliffs and greenery. The seafood here is also worth dying for and the nightlife is worth a mention as there are some great bars where you can chill all day, play board games and hang out with others also on a mission to escape the bustle of Ho Chi Minh City. Spend your days in the water, diving, snorkeling, jet skiing or kite-surfing, and then the rest of your time playing Uno while drinking lots and lots of beer.
Four hours east of Ho Chi Minh City, a 10 km stretch of golden beach invites unwinding. Pool villas dot tropical gardens surrounding the resort's lagoon. Anantara Mui Ne Resort invites beachfront unwinding, and adventures in coastal, desert and lush landscapes. It is one of Vietnam's elegant so-called 'sea-side' resorts. Anantara Mui Ne Resort & Spa offers 89 suites, rooms and pool villas all decorated in suttle shades with a splash of colour, four restaurants and bars. There is an infinity pool with sundeck, gym and Anantara Spa with luxury treatments along with activities and water sports including kiteboarding lessons, sunset sailing, and aerial yoga. Rooms range from 145 USD to 830 USD a night.
3.2. Best beach resort in Ho Tram, Vung Tau

Located along the coastal road of Ba Ria – Vung Tau Province, Ho Tram Beach is the ideal get-away from the hustle and bustle of Ho Chi Minh City.  A mere two-hour leisurely drive from Ho Chi Minh City (Saigon), Ho Tram Beach is ideal place for beach vacation or weekend retreat.
The 17-hectare Meliá Ho Tram Beach Resort blends Mediterranean philosophy with accents of Vietnamese culture, featuring a comprehensive interior design influenced by local traditions, contemporary design and Asian culture. The 152 elaborately designed rooms and suites all offer a picturesque view of the ocean and white sand beach. An additional 61 deluxe villas offer magnificent private infinity pools, surrounded by lush tropical gardens and unspoiled nature. The resort currently offers the opportunity to kayak or paddle board, and more programs are going to become available soon. Rooms range from 135 USD to 2,290 USD a night.
3.3. Best beach resort in Con Dao Island, Vung Tau

Con Dao Islands, also known as Poulo Condore, are an archipelago of 15 islands with a total of 200 km of stunning coastline and amazing coral reefs. Con Son, the largest of this chain, is ringed with lovely beaches, coral reefs and scenic bays, and remains partially covered in tropical forests. Established in 1993, Con Dao National Park is the only place in the country where both forest and marine life are conserved. Famous for its wild beauty, the floral system in Con Dao National Park is extremely rich with over 882 species of plants and 150 species of animals.
Located in a national marine park in southern Vietnam, the secluded Six Senses Con Dao is the first genuine luxury property in the stunning archipelago of Con Dao. With a barefoot luxury concept and a design inspired by a traditional fishing village, the resort comprises fifty contemporary pool villas, set perfectly on the beachfront. There are several delicious dining options, focused around seafood and international cuisine, along with a plethora of activities to suit the whole family, ranging from scuba-diving to cooking classes. Cultural tours can be arranged for those curious to learn more about daily life on the island, and Six Senses Spa offers a true holistic retreat, focused on yoga and wellbeing, against the striking backdrop of the Lo Voi Mountains. Six Senses Con Dao hotel in Vietnam is the kind of hotel that will have you tearing up your passport and nailing down your beach towel: why would you ever want to leave your private villa with its own pool on one of the world's most beautiful beaches? Double rooms from 615 USD, including tax. Ocean View 4 Bedroom Pool Villa (great for families) costs up to 4,410 USD a night.
3.4. Best beach resort in Phu Quoc, Kien Giang
Phu Quoc Island, located at the southern tip of Vietnam, has some absolutely stunning beaches. The main drag, known as Long Beach, is relaxed and offers easy public access to the water. The beach stretches for around 20 kilometers and the ocean along Long Beach is crystal clear, calm and warm with resorts, restaurants, and hotels encroaching on much of it. Toward the island's southern coast, Bai Sao is famous for its stunning scenery and comes with the added adventure of navigating Phu Quoc's dirt roads. Further north, you'll find more secluded shores, from Ong Lang beach to the long, empty stretch of Bai Dai with white powdery sand and palm trees. There are plenty of water sports to take advantage of, too.

Edging the sand and surf of Khem Beach, JW Marriott Phu Quoc Emerald Bay Resort & Spa is a luxury haven amid a stunning travel destination. What was once a 19th-century French university has been re-imagined as an eclectically themed, lavish beachfront playground by renowned resort architect Bill Bensley. Set along a ribbon of beautiful shoreline in Phu Quoc, the resort welcomes you with luxury rooms and suites with private balconies, along with beautifully appointed villas, complete with sparkling plunge pools. Ignite your senses with a global range of gourmet cuisine at any of our five sophisticated restaurants and bars. Lounge by the mosaic-tiled, seashell-shaped pool or on the immaculate white sands of Khem Beach, reserved exclusively for hotel guests. Rejuvenate your well-being with locally inspired massage, beauty and luxury wellness therapies at Spa by JW. Let the beauty of Vietnam's largest island inspire every sense at JW Marriott Phu Quoc Emerald Bay Resort & Spa. Family-friendly, yet great for honeymoons, this resort has it all. Rooms range from 320 USD to 5,530 USD a night.
Final Lines
Life is filled with opportunities to seek the exceptional, encounter the new and widen our horizons. Time wasted at the beach is time well spent! Rise and shine in some of the world's best luxury beach resorts in Vietnam and discover some of the best untouched beaches around. To start planning your tailor-made holiday with Vietnam's best beach resorts, call us on +84.982 661 133 or email us: [email protected]