Thien Cung Cave – Halong Bay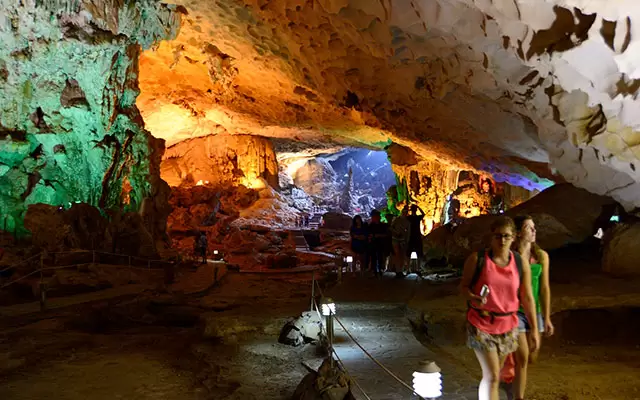 Thien Cung Cave is considered as one of the most beautiful caves in Halong Bay, which offers numerous special stalactites and stalagmites. The cave is close to the harbor so it attracts a lot of tourists annually. Let's explore Thien Cung Cave with Vietnam Travel to see what it has.
1. Legend of Thien Cung Cave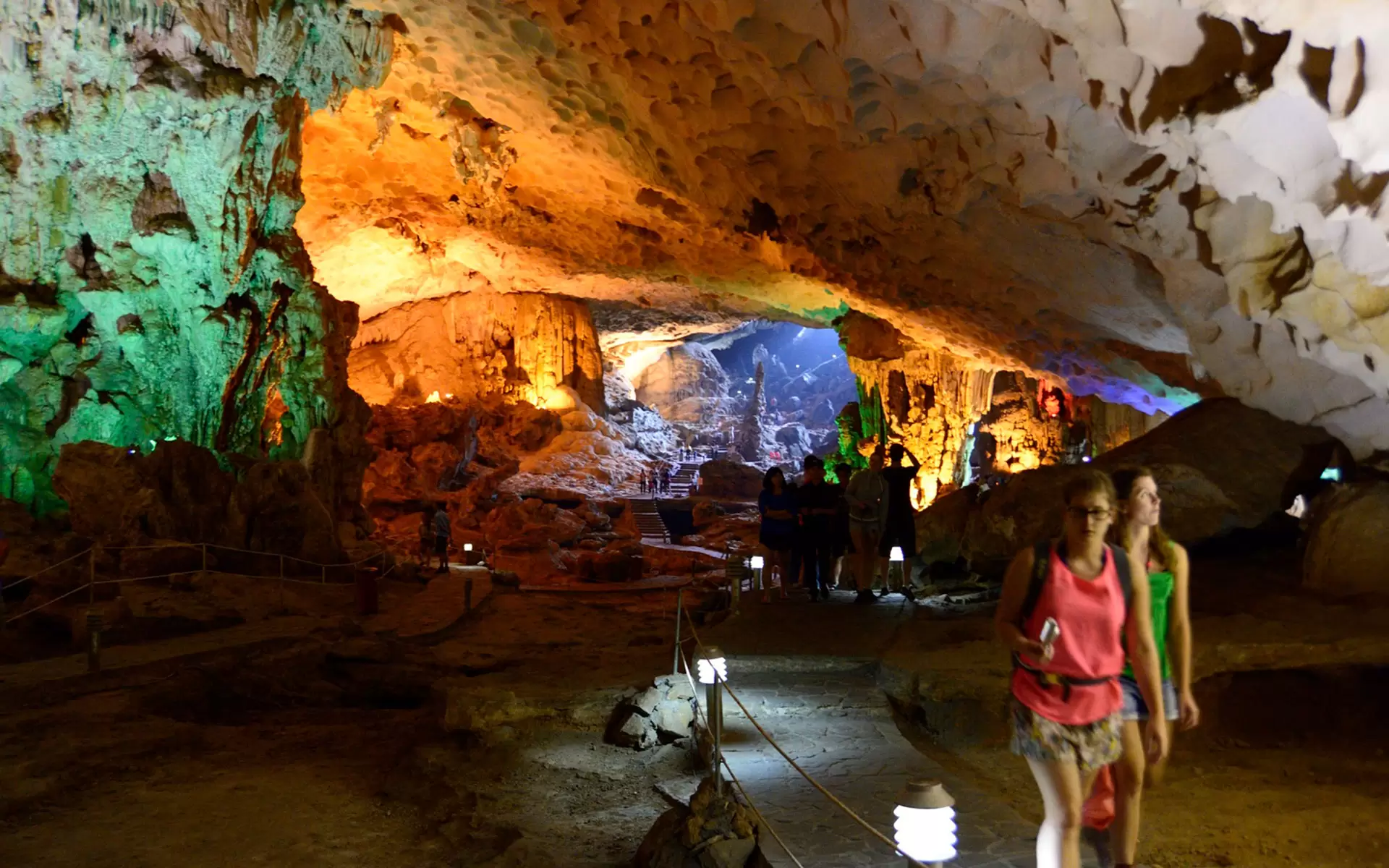 Each cave in Ha Long Bay is associated with a legend story that explains the appearance and formation of that cave and Thien Cung Cave is no exception.
Dating back a long time ago, after helping the people defeat invaders, Dragon King returned to his cave. One year, there was a severe drought, crops failed to grow and gradually dried up so locals went to find Dragon King for help. However, the path to Dragon King's cave was so dangerous that many people lost their lives before they reached.
In that village, a young couple with their daughter, named May, still decided to seek Dragon King. May was an extremely beautiful and charming girl when she grew up, which made Dragon Prince fell in love with her at the first sight. Later on, their lavish wedding was organized at the heart of the cave, lasting 7 days 7 nights. It took place in a happy and boisterous atmosphere with dragons flying in the clouds, baby elephants and lions dancing, huge pythons slithering around old banyan tree, and giant eagles outstretching their wings. They raised 100 children together inside the cave. There are three clean inner ponds in the cave where May used to take bath for her children. When all children grew up, May took a half of them outside to explore the new lands and build new lives and the rest stayed with their father continuing to help and guard their hometown.
2. General Information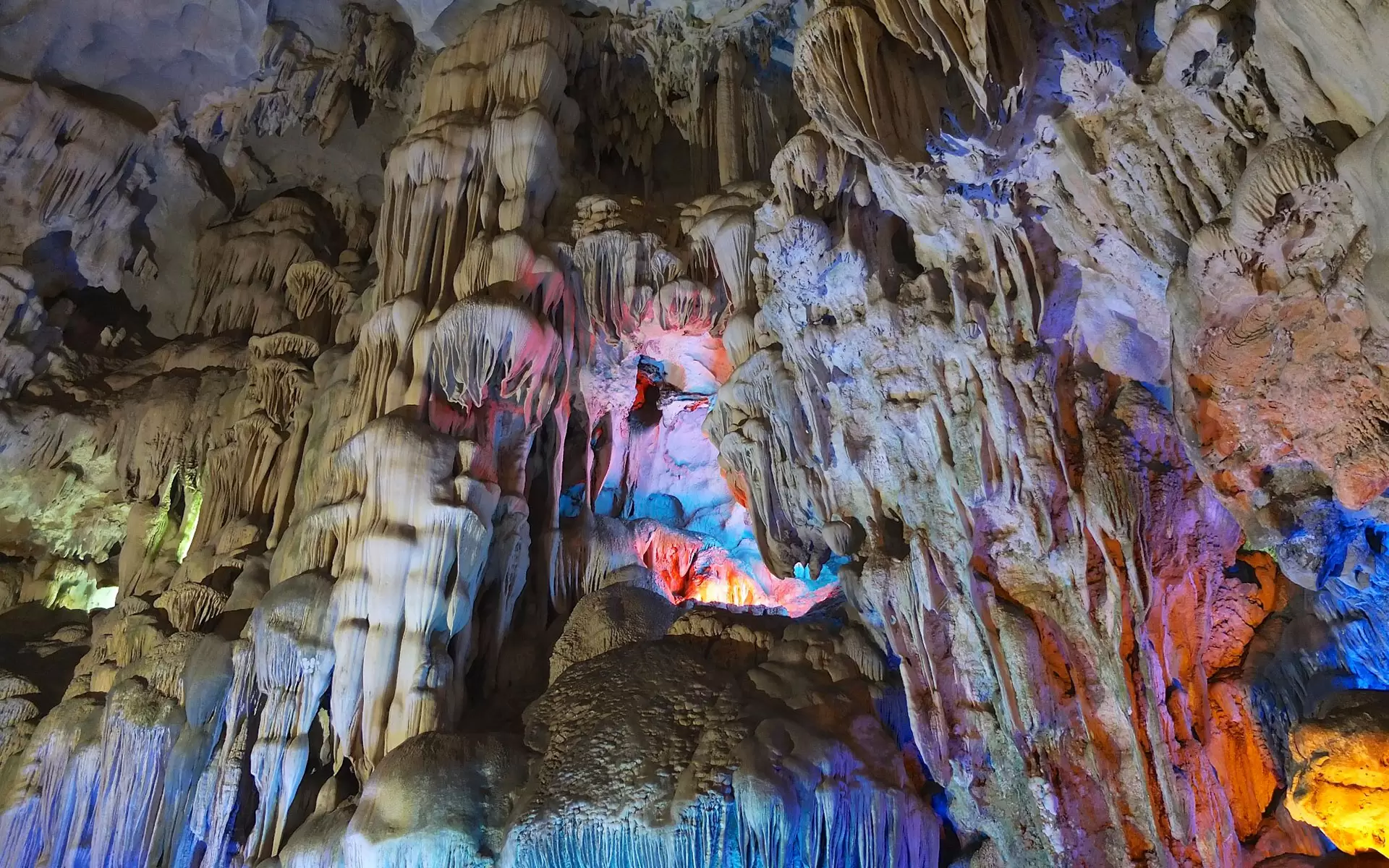 Thien Cung Cave (aka Heavenly Palace Cave) is located on Dau Go Island, in the southwest of Ha Long Bay, about 4km from Tuan Chau Harbor. It is 25m high from sea level. Due to its narrow mouth surrounded by thick jungle, Thien Cung Cave was discovered quite late. In 1993, while finding shelter from a bad storm, fishermen accidentally explore this cave. Thanks to its unique stalactites and stalagmites, Thien Cung was quickly exploited for tourism and opened since 1998.
Today, the overgrown entrance to the cave was cut away and a walkway was built so it is easier for tourists to reach the cave. Thien Cung Cave covers an area of 10,000m2 and has a complex interior featuring a stunning array of stalactites and stalagmites, formed by water seeping through the limestone over millions of years.
The cave is dry with high ceilings. Passing through a narrow crack in the door, tourists will enter inside the cave and be astonished by the vivid and splendid beauty of stalactites. In the center, there are four huge pillars with many strange shapes such as birds, fishes, scenes of human activities, flowers, leaves… A huge and monumental picture of ancient characters in fairy tales with smooth and exquisite lines created by nature is lied on the east cliff of the cave. These objects are illuminated by strategically placed colored lights, which add to the magic of the cave.
3. How to get there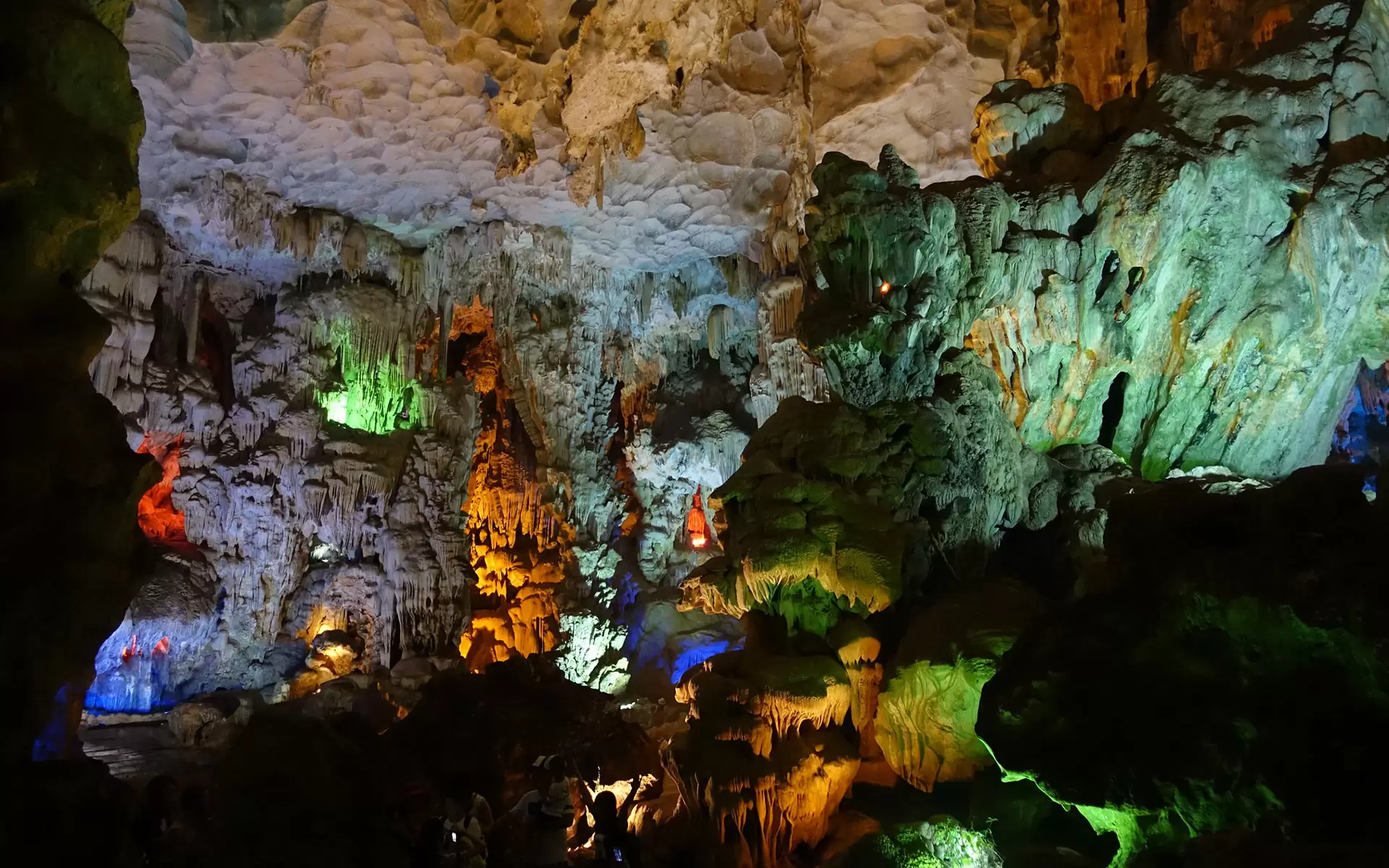 Thien Cung Cave is included in Halong Sightseeing Route # 1 which takes about 4 hours. Tourists will visit Thien Cung Cave, Dau Go Cave, Cho Da Islet (Stone Dog islet), Ba Hang Cave, Dinh Huong Islet (Incense Burner Islet) and Trong Mai Islet (Fighting Cock). Go to Tuan Chau Harbor to buy entrance fee and join-in boat ticket to start your journey. However, Thien Cung Cave is included in itinerary of many day cruises that makes it crowded and touristy. Vietnam Travel highly recommends you visiting Sung Sot Cave (Surprise Cave), Dark & Bright Cave, Thien Canh Son Cave etc. on an overnight cruise to experience Halong Bay at its best.
Ticket price of Sightseeing Route #1: 290,000 VND/ passenger.
Ticket price of join-in boat: 150,000 VND/ passenger.