Conquering Ma Pi Leng Pass (Ha Giang): Things to know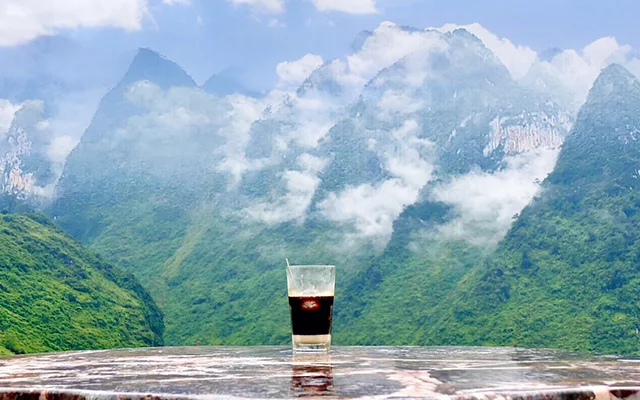 Located in Ha Giang Province, Ma Pi Leng is known as one of the most famous passes in Vietnam with its rugged curves and steep cliffs. When reaching the top of the pass, all visitors will feel worthy for the spectacular scenery here with white clouds drifting through your hands, majestic green hills and mountains, calming Nho Que River in turquoise green color below. A great feeling for those who love adventure and beauty of nature.
Ma Pi Leng – One of the four great peaks of passes
Together with O Quy Ho Pass – Khau Pha Pass – Pha Din Pass, Ma Pi Leng in Ha Giang Province with a length of about 20km is considered one of the most dangerous passes but plays an extremely important role to the ethnic people of the region. The top of Ma Pi Leng is about 1,200 – 1,400 meters high above sea level, belonging to Dong Van Karst Plateau Geopark. The pass is a part of Highway 4C named "Con Duong Hanh Phuc or Happiness Road" connecting Ha Giang City, Dong Van District and Meo Vac District.
Reaching here, visitors will have opportunity to admire the majestic scenery of the rocky plateau and understand more about the history of this pass. To build about 200km Con Duong Hanh Phuc, tens of thousands of young volunteers and workers from 16 ethnic groups of 8 northern provinces had joined hands in 6 years (1959-1965), of which the pass part crossing Ma Pi Leng took 11 months to complete. All they had were rough tools without any machine support. However, overcoming all difficulties and dangers, the unity and determination lead the success of this legendary construction as "Pyramid of the Meo".
Means to Ma Pi Leng Pass
To get to Ma Pi Leng Pass from Hanoi, you can choose to travel by bus or motorbike or private vehicles.
For young people who are passionate about adventurous feeling, you can choose to travel by motorbike. However, the road going up the pass is quite dangerous, very high and steep so it requires you to choose the right vehicle type in good quality with confident driving skills to ensure the safety. Do not forget to bring extra fuel and vehicle repairing kits to easily handle whenever trouble comes on the way.
Along the way to the top of the pass, your eyes will catch the majestic natural scenery of the rolling mountains and forests of the Northeast, terraced fields, small rustic houses scattered quietly or meet Mong girls carrying her baby or younger brother/sister on her back. A simple but yet beautiful scene in mind.
If you cannot afford to travel by motorbike, sharing buses from Hanoi will be another option. The buses to Ha Giang will depart from My Dinh, Giap Bat, Nuoc Ngam or Gia Lam bus stations. On arrival in Ha Giang City, you can rent another means for your continuous traveling from the city up to the pass. You should book tickets in advance to avoid running out of seats, especially on weekends and holidays.
For the stress-free, private services with experienced drivers and knowledgeable tour guide from Hanoi will ensure your safety at best.
Necessary Things when conquering Ma Pi Leng Pass
Clothes
If travelling in the summer, you should bring cool, comfortable clothes, long pants to avoid insect bites.
In winter, bring warm clothes, wool towels, and gloves to keep the body warm, because the temperature drops down quite low.
Hiking Shoes
You should choose climbing shoes with good anti-slippery, and soft toe shoes will help you not hurt your feet while moving.
Fast Food
Bring some fast food is smart idea in case you are hungry, as when approaching the Ma Pi Leng Pass area, it will be difficult to find eateries.
First Aid Kit
As this is adventurous experience, it will be difficult to avoid being scratched when going through the dust, or tripping at the pass road. So, first aid kit will be important and necessary for the instant solution.
Time to conquer Ma Pi Leng Pass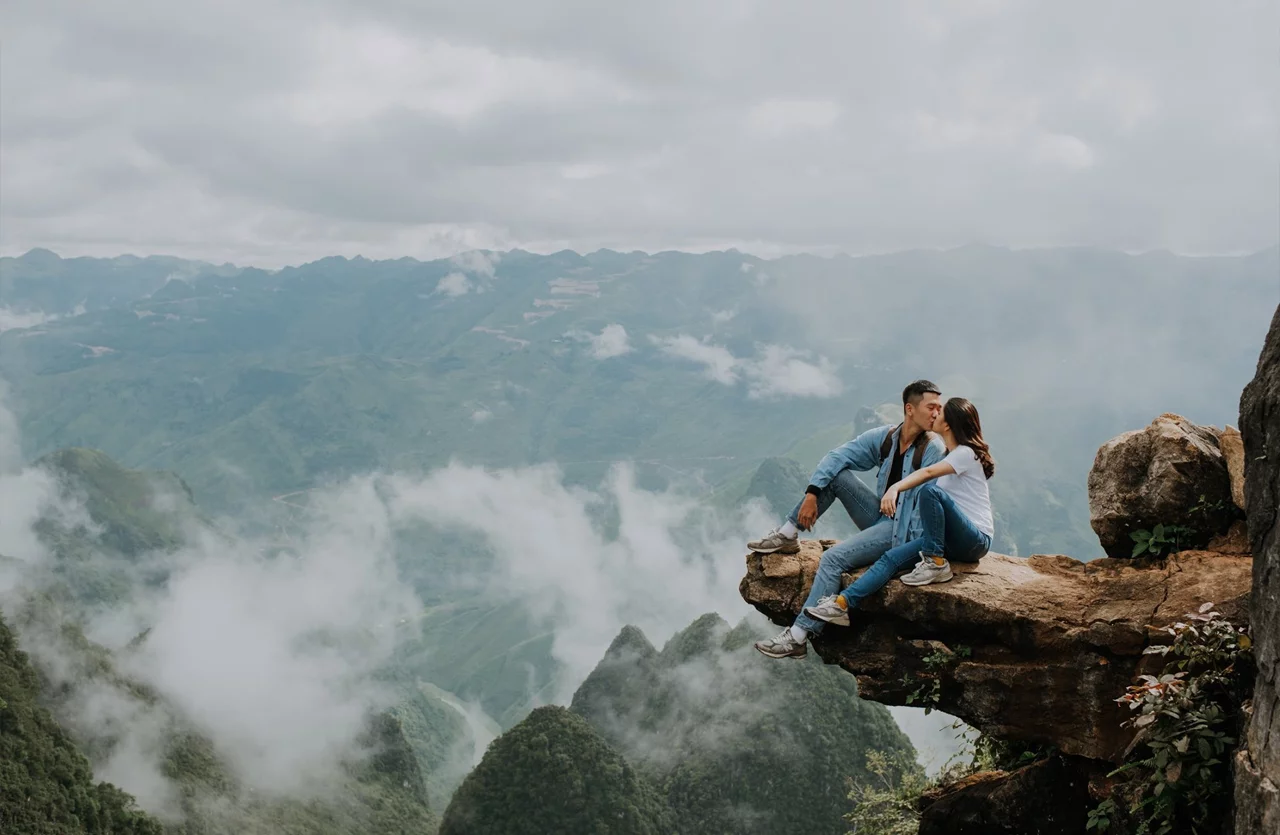 Ha Giang is considered as the "muse" of the mountains and forests, with the gentle, pure and serene nature bestowed on this place. Even if you go to Ha Giang in any season of the year, you can also admire the full flavor of nature beauty here.
January to March: the time after the Lunar New Year is always chosen by many people to travel spring festive when blooming apricot, plum and yellow canola flowers can be seen everywhere. Admiring the scenery of Ha Giang from the top of Ma Pi Leng Pass will present a picture of a vibrant spring in front of your eyes with the beautiful colors of yellow canola flowers in harmony with the gentle colors of plum, apricot blossoms – an extremely beautiful view.
If you want to join the Khau Vai love market, don't forget visit Ha Giang on 26th – 27th day of third lunar calendar (April). This love market is famous and very unique for couples who used to be ex-lovers but were not destined, can come to find each other again to chat and share about the present life. Husbands and wives can come together and then freely finding their ex-ones with the respect each other as their responsibility. After 27th day, everything will be back to normal without any influence from the love market.
Visiting Ha Giang in May is the pouring water season when people lead water from rivers and streams to terraced fields so that the water gradually seeps into the soil and prepares for planting. Not as bright as autumn when the rice is flowering, but Ha Giang from the top of Ma Pi Leng Pass is still extremely charming and attractive by the colors created from terraced fields.
The water flowing down each field under the bright summer sun has created sparkling rays like a silver cloth covering mountains and hills.
June to August is summer time when the weather is beautiful to conquer the pass and explore the majestic rocky plateaus. However, it also often rains which make the road slippery and more dangerous. Prepare yourself if choosing this time for travelling here.
In September, Ha Giang becomes more brilliant and attractive than ever, with its golden terraced fields entering the ripe rice season. Along the way to the top of Ma Pi Leng Pass, visitors will be see the golden fields among the forest and rocky mountain.
October and November is time when buckwheat flowers begin to bloom. Tiny petals with fading pink color will then darken when the end of the season give visitors a sense of peace. The soul becomes softer when it relaxes among the flower fields stretching to the horizon.
In December, when the weather started to get colder, the canola flowers bloomed in a corner of Ha Giang and gradually covered the rocky plateaus with its brilliant yellow color, making the picture of Ha Giang in winter no longer bleak as people think.
Ma Pi Leng – Legendary Road of the Meo people
The name "Ma Pi Leng" in H'Mong language means "the bridge of a horse's nose" that describes its topography. It refers the danger of the pass that the horses even felt breathless when climbing the slope. However, a special terrain and always associated with dangers of Ma Pi Leng is always a dream destination for many tourists because of its spectacular scenery that give their strength and motivation to conquer. Along the way, you can easily see the high cat-ear rocky mountain with sharp peaks like piercing the high sky together with mountains of all shapes, some covered with gray ash while others covered by the green color of the trees. Each scene gives you many different levels of emotions.
While on the top of Ma Pi Leng Pass, the first scene that appears in front of visitors is the gentle Que Nho River flowing around the mountains. The river originates from Nghiem Son Mountain (about 1,500m high) in Yunnan Province, China, flowing downstream in the direction of Northwest – Southeast through Dong Van, Meo Vac District to join the stream of Gam River, Cao Bang Province. The river is like blowing soul for the mountain scenery here to be softer, more poetic in the eyes of visitors.
Standing in the middle of mountains and forests in harmony with nature, visitors will feel lucky for this moment to witness the beautiful scenery of the mountains by their own eyes and experience. Mentioning Ha Giang is to mention Ma Pi Leng Pass as a symbol of pride here. It takes a few hours to reach this peaceful highland. As a saying "My country is still strange, nothing needs to be done abroad", let's go to Ha Giang to explore this land and conquer Ma Pi Leng Pass!