10 Famous Mountains In Vietnam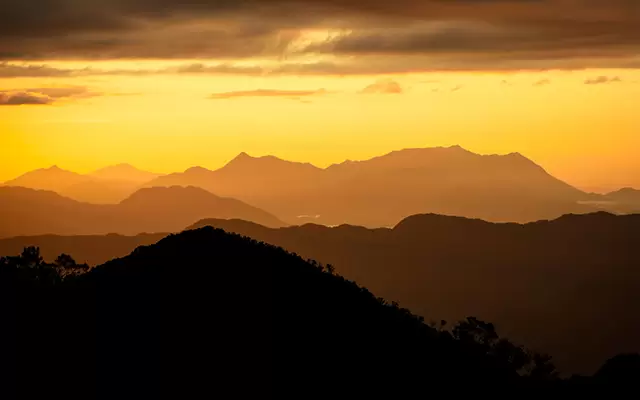 Whenever thinking of the first trip to Vietnam, the most popular places often come up in travelers' minds are: Hanoi, Halong Bay, Sapa, Danang, Hoian, Nha Trang, Phu Quoc and Saigon. However, this beautiful country is not just all about bustling cities, Buddhist pagodas or untouched beaches, it's also famous for spectacular mountain ranges. Mountains in Vietnam possess incredible landscape and unique features that differentiate them from the others. If you are climbing enthusiasts or you like spectacular and panorama views, don't forget to check out the top 10 famous mountains in Vietnam with Vietnam Travel's recommendations.
1. Fansipan Summit, Hoang Lien Mountain – Lao Cai Province.
Located about 9km west of Sapa Town, Fansipan Peak belonging to Hoang Lien Son Mountain Range, is the tallest mountain in Vietnam with an impressive height of 3,143m and was labelled as "the Rooftop of Indochina". Fansipan means "Hua Si Pan" in local language (aka Huge Rock). Conquering the summit of Fansipan is a challenge itself as you have to be physically fit, have great experiences in hiking and trekking. It is highly recommended to hire a local guide or porter to escort your groups because he can lead you on the right and safest trekking path; help you carry some stuffs and prepare meals during the journey.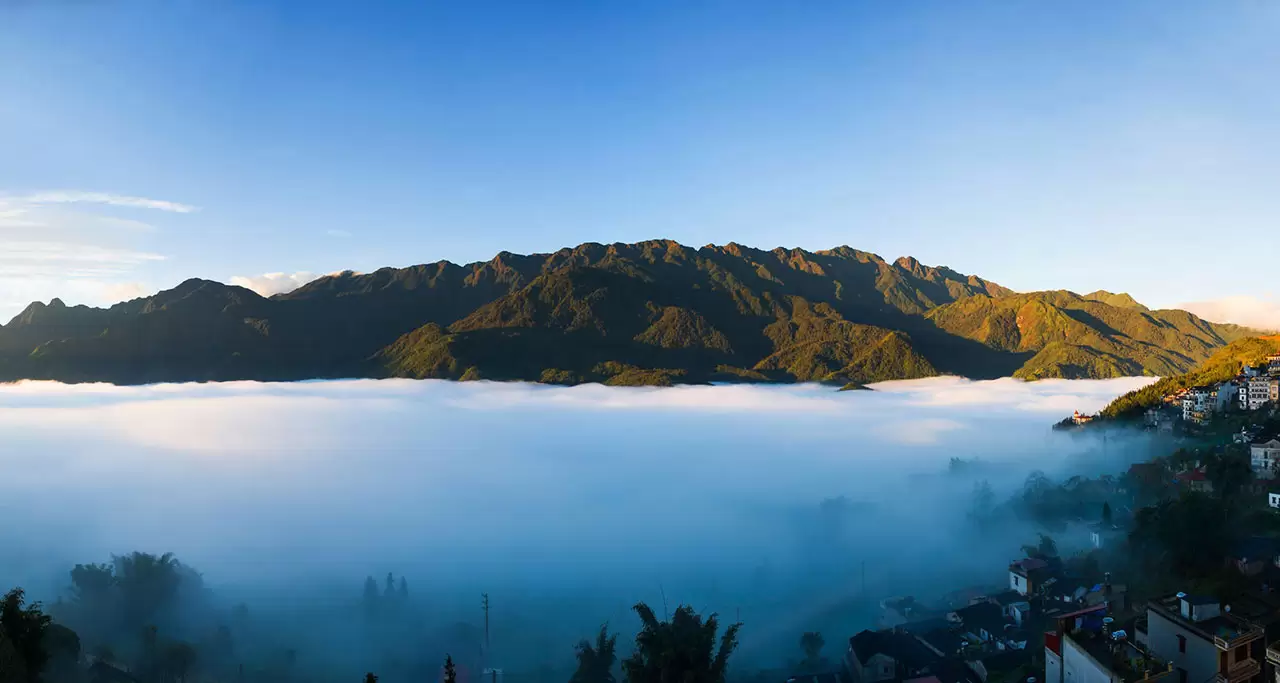 If you don't want to take risks and can't pass the physical tests, Fansipan Cable Car is available to meet your desire to visit the summit. The cable car was opened to public in 2016, got the Guinness World Records of the longest three – rope cable car in the world (6,292.5m) and the greatest elevation difference by a non-stop three – rope cable car (1,410m). Thanks to the massive cable car system, it takes only 15 minutes of riding and around 600 extra steps to reach the summit; instead of 2 – 3 hard trekking days. The cable cars operate from 7:30am to 5:30pm every day, with capacity of 35 passengers per car. Once you leave the station, you'll immediately start to float high above the rice terraces and rocky cliffs below. Huge windows let you take in the sights all around, as you ascend gradually to this towering tip above the clouds.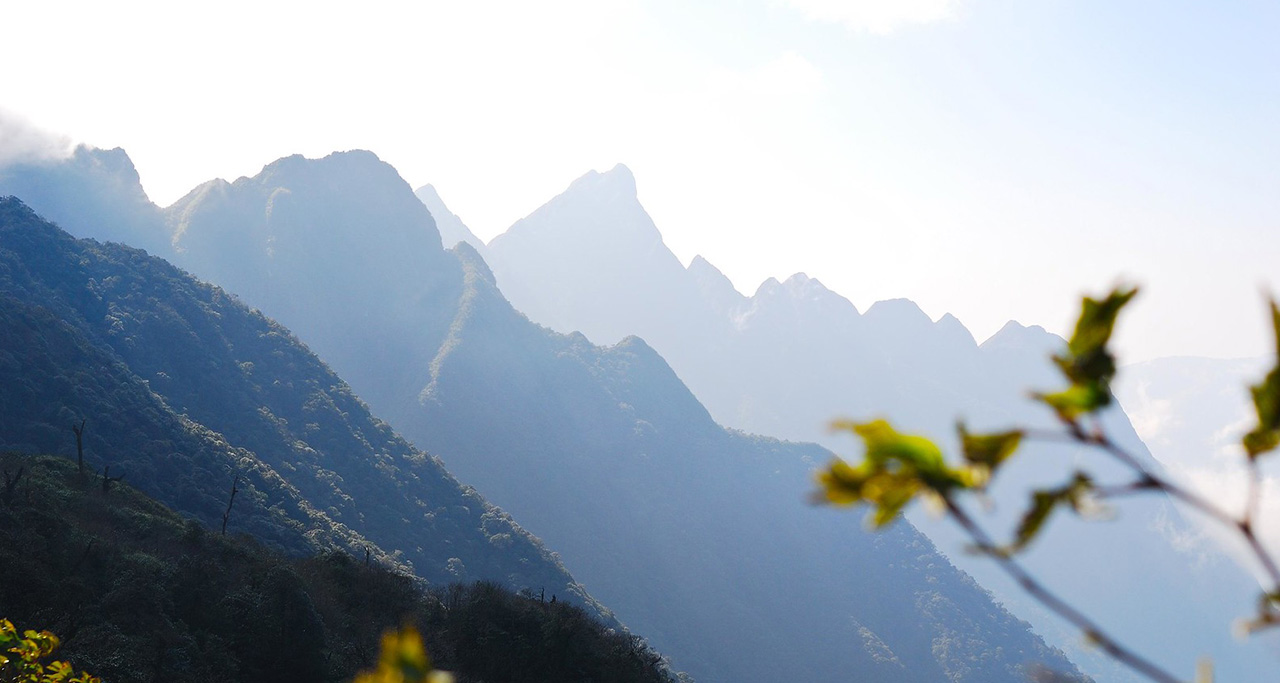 The most suitable time for taking a visit to the mountain is from September to the next March. Especially, you can witness the magnificent landscape of Fansipan in February when various mountainous flowers in the valleys start to bloom, or breathtaking views of golden rice paddy fields in September. Despite modern commercialism with the appearance of cable car, Fansipan is still a favorite mountain destination in Vietnam and a true adventure experience – a must-do on any Sapa itinerary.
2. Yen Tu Mountain – Quang Ninh Province.
Yen Tu Mountain is located 40km away from Halong Bay in Quang Ninh Province. It belongs to the Dong Trieu Mountain Range in the north-eastern area of Vietnam. Previously, Mount Yen Tu was called as "Bach Van Son" (translated into English as" White Could Mountain") because it is surrounded by white huge clouds around the year. Yen Tu is well known for the picturesque landscapes, ancient pagodas and especially the capital of Buddhism in Vietnam. King Tran Nhan Tong (1258-1308), the third emperor of Tran Dynasty, who guided Dai Viet army to defeat the Mongolian invaders in 1285 and 1287, decided to leave the palace and devoted his life to the Buddha. Then he established temples, meditation centers where he could perform his lectures to other monks and propagate Buddhist scriptures. Later, he co-established the Truc Lam Zen Sect, the first Vietnamese Buddhist Zen Institution. Up to now, a lot of Buddhists from around the country choose this sacred landmark to pray and pilgrimage, especially during the first three months of Lunar Calendar. That's the time of spring festival in Yen Tu (from January to March) when the worshipers show their sincerity and wish for a new peaceful and prosper year.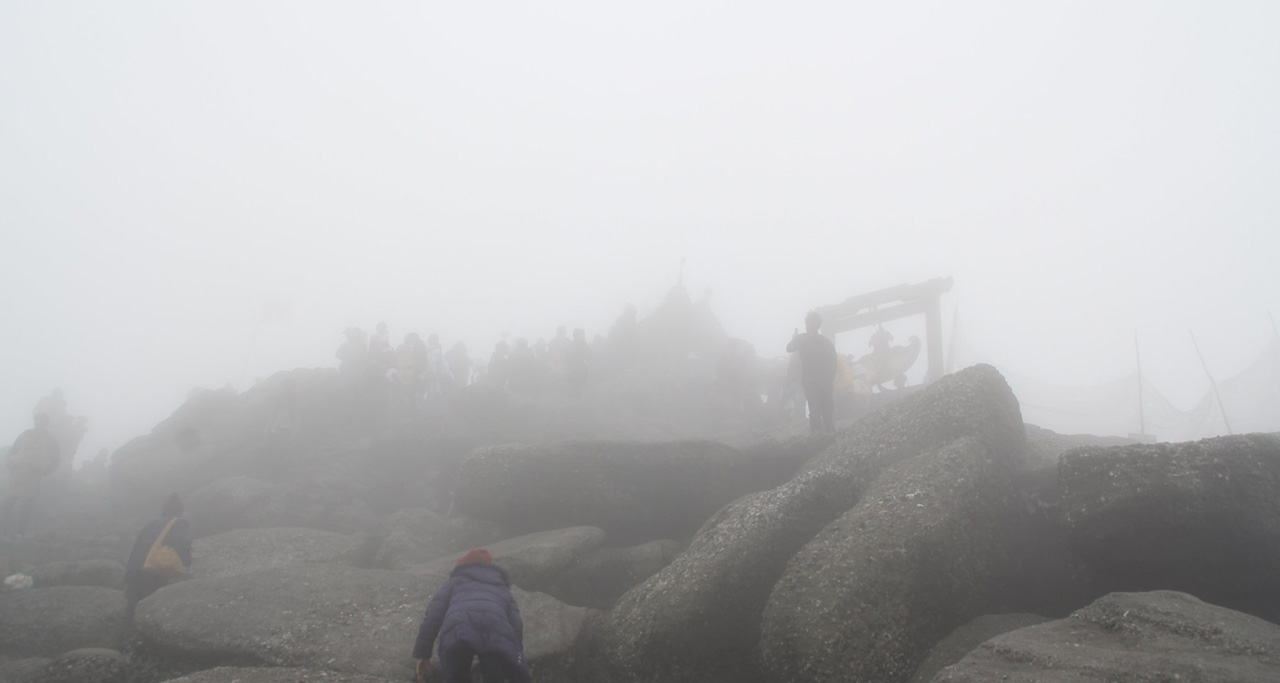 In addition, Yen Tu has its own great natural diversity. There are thick bamboo and pine forests along the path to ancient pagodas and temples. In the dense forests, next to the pagodas and temples, or even at the peak of the mountain are architectural masterpieces. Dong Pagoda (Bronze Pagoda) lies in the highest peak, with the altitude of 1,068 meters above the sea.
To reach this peak, there are 2 options: on foot or by aerial tramway. The walking distance is around 6,000m with 6 hour hiking up thousands stone steps, passing through the dense green bamboo forests, stream. This option requires good physical conditions and many Buddhist pilgrims take this way because they believe that is a way of expressing their sincerity to Buddha. Another way to reach the mountain top is taking Yen Tu Aerial Tramway which was introduced in 2002. Travelling by this cable car, passengers will have an amazing experience to contemplate the whole fascinating view of the Yen Tu National Forest. From the top of Yen Tu Mount, visitors enjoy the poetic scenery of Halong Bay with thousands of limestone islands at the East or they can look to the South towards Hai Phong City with Bach Dang River flowing gently.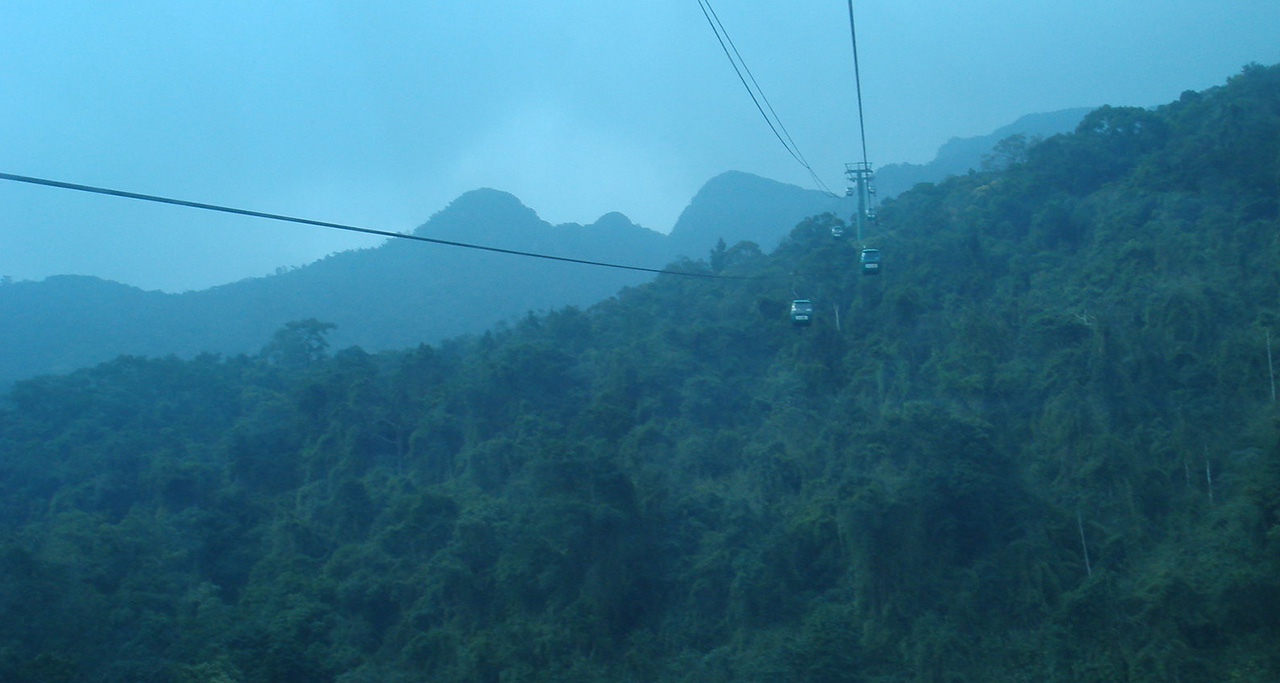 It is possible for visitors to take a day trip to Yen Tu Mountain from Hanoi or combine with Halong cruises.
3. Ma Pi Leng Mountain Pass – Ha Giang Province.
Ma Pi Leng Pass is a high mountain pass at an elevation of 1.500m (4,921ft) above the sea level. It's a part of the Dong Van Karst Plateau, lies on the Happiness Road, which connects Ha Giang City, Dong Van and Meo Vac. Happiness Road is about 200km long and was built by thousands of youth volunteers from 16 ethnic groups of 8 Vietnam Northern provinces. It took 6 years (1959-1965) to complete the construction and especially, the 20-km pass Ma Pi Leng was built by suicide troops volunteers who had to hang themselves on rock cliffs and move every centimeter to finish the dangerous 11-month building process.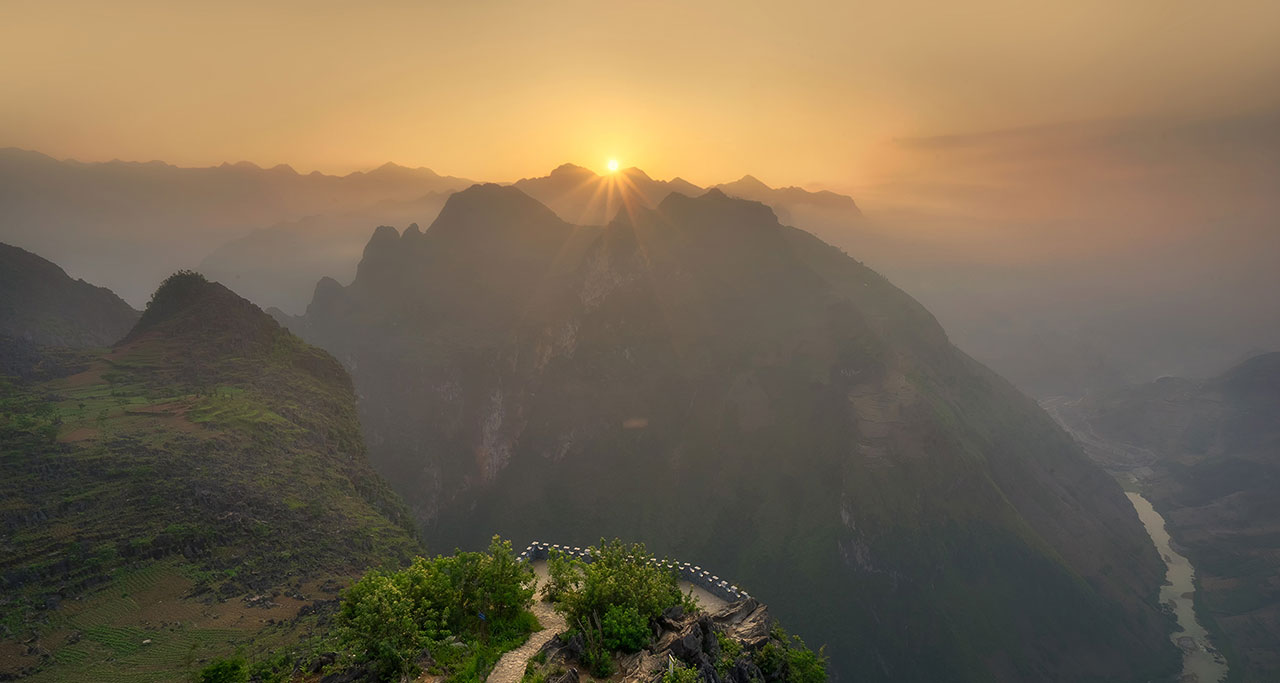 The name Ma Pi Leng means literally "horse's nose", implying the dangerous of the topography here when mountains upstanding like horse's bridge of the nose. It is considered as one of the "greatest four mountain passes" in the northern mountainous regions of Vietnam, together with Khau Pha in Yen Bai Province, O Quy Ho in Lao Cai Province and Pha Din in Lai Chau Province.
Conquering the legendary Ma Pi Leng Pass and stopping by the Ma Pi Leng viewpoint to look down to Nho Que River is the dream of many adventurous motorbike-riding lovers. One of the first turnout points on the road heading south is the Ma Pi Leng Skywalk, complete with a statue celebrating the construction of the Happiness Road. In addition, there's a small museum known as the "Happiness Road Museum" which documents some of the history of the road. A bit further south, you'll find the Ma Pi Leng Viewpoint, the best-known stop in the area because it offers a perfect view of the dramatic valley the river has carved into the mountains. Taking Ha Giang Tours with Vietnam Travel, tourists definitely will have chance to ride a bike along the Happiness Road and seeing the sunrise or sunset over Ma Pi Leng Pass. Neither words nor photos can beat the awesome experience of standing there physically among those awe-inspiring mountains.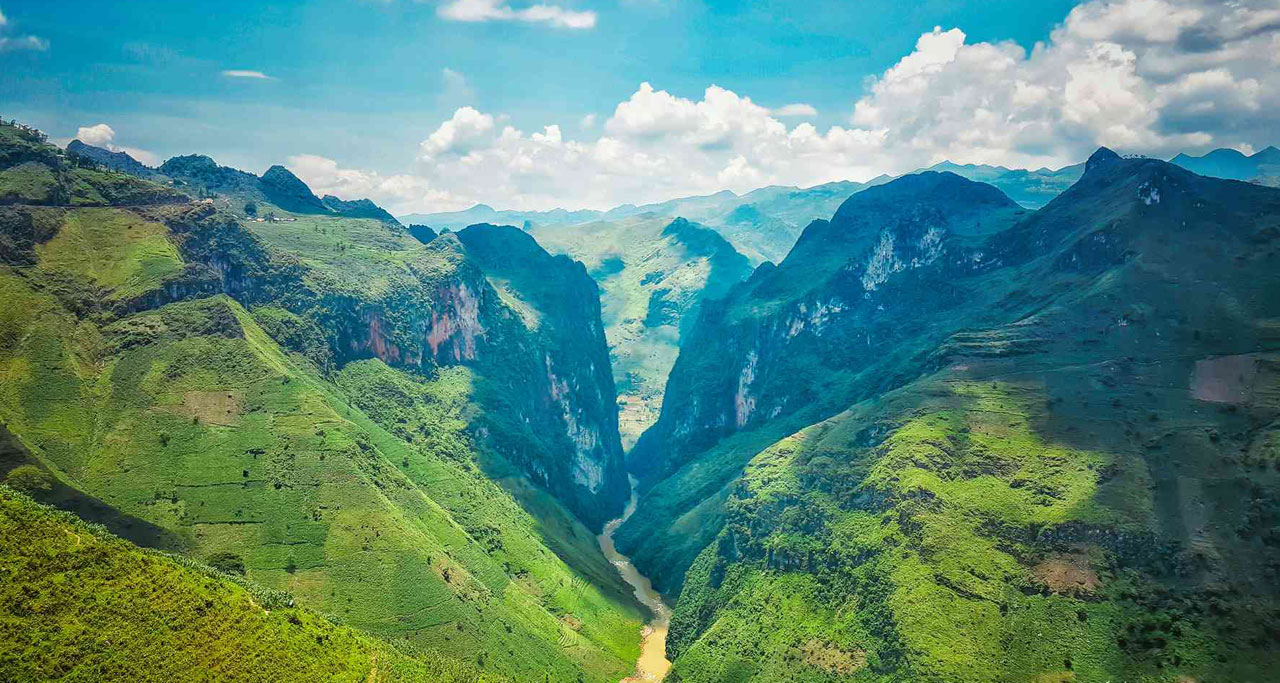 4. Thung Khe Pass – Hoa Binh Province.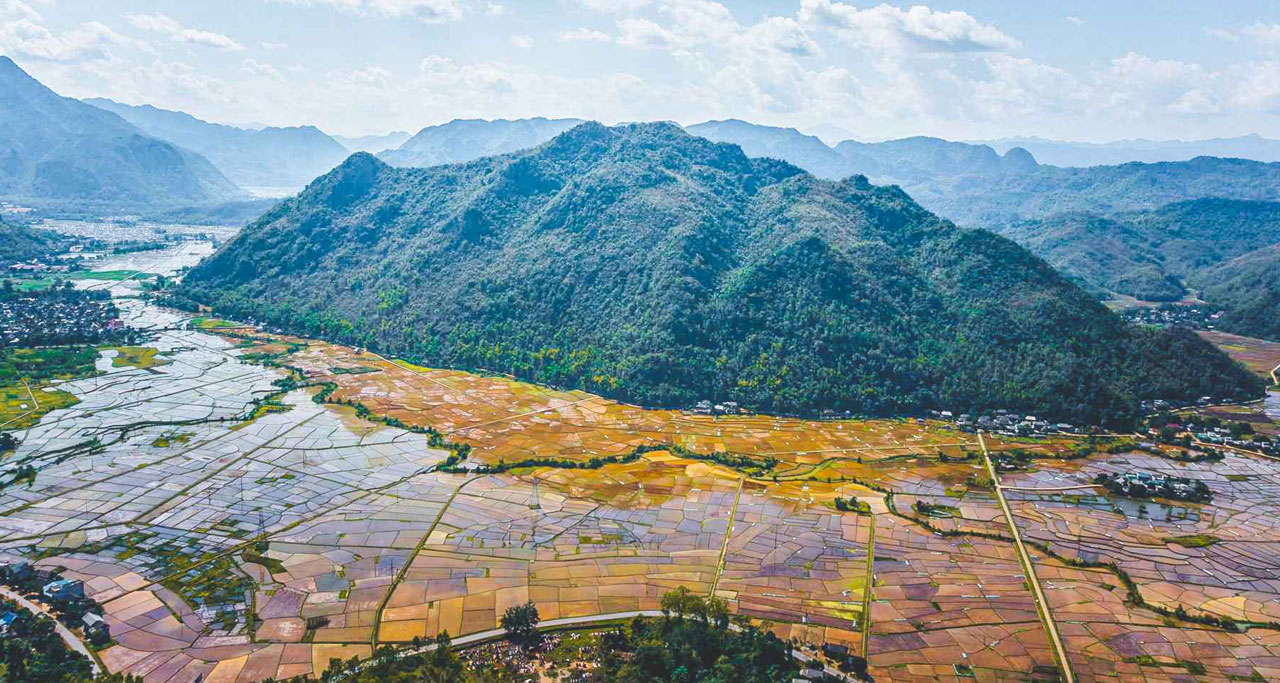 Thung Khe Pass (also known as the White Stone Pass) is located on Highway 6 connecting Mai Chau and Tan Lac Districts of Hoa Binh Province. It's considered as the main gate to Mai Chau, Moc Chau and other beautiful destinations in the Northwest Vietnam. The pass is at an altitude of 1000m above sea level with spectacular scenery but dangerous due to steep and sharp curves. On the way to Mai Chau or Moc Chau, buses often stop at the peak of Thung Khe pass for short break. There are few local stalls setting aside to sell local specialties, such as wild herbs and vegetables, fresh corns, sticky rice. Visitors stop here to take photos, enjoy panorama view of greenery Mai Chau valley in the cool breeze.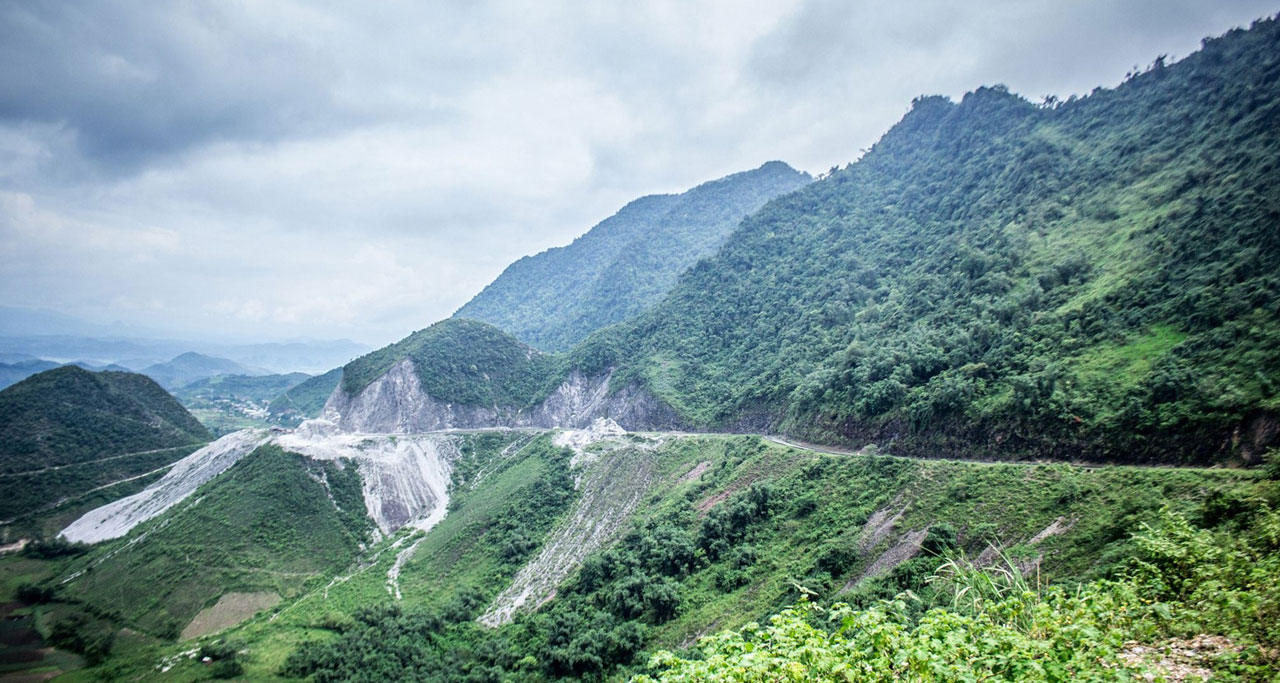 Staying at the pass, tourists can enjoy four seasons in a day: spring in the morning, summer at noon, autumn in the afternoon and winter at night time. Thung Khe is really an attractive spot that you should not miss on the way to discover Northwestern regions in Vietnam.
5. Bach Ma Mountain – Thua Thien Hue Province.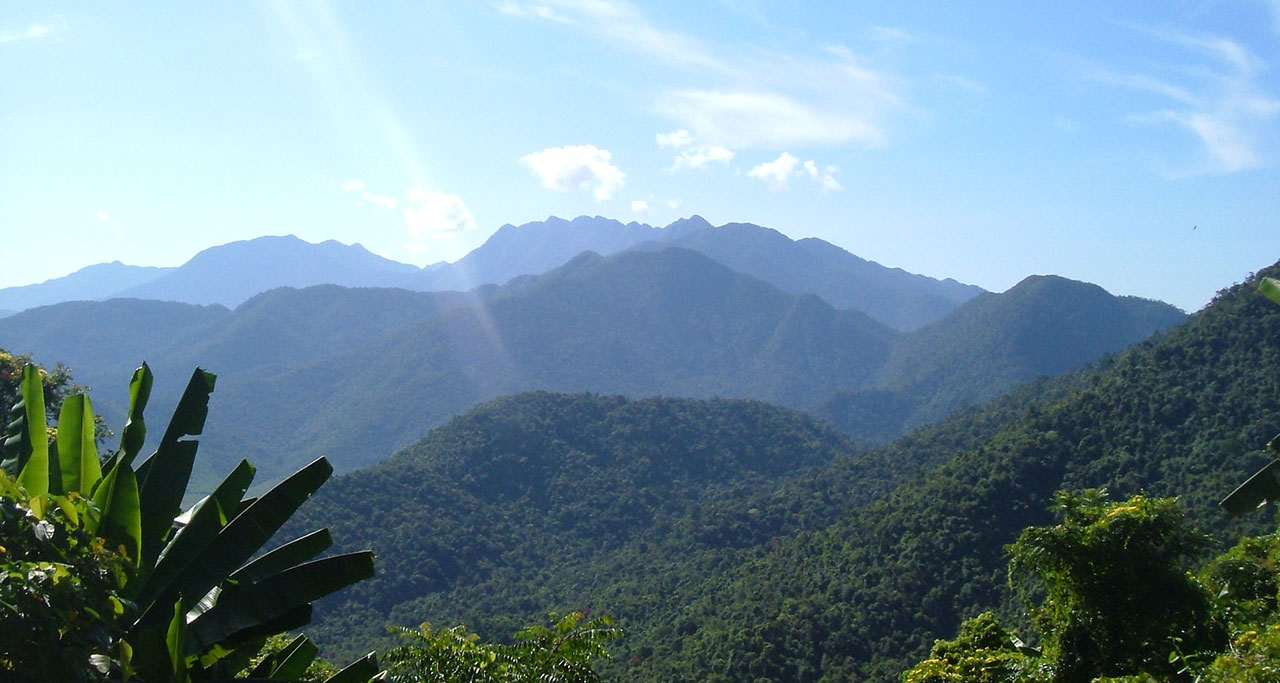 Bach Ma or White Horse Mountain is a natural border between Thua Thien Hue province and Danang city. Bach Ma Mountain belongs to Bach Ma National Park, located at Phu Loc village, Nam Dong district, Hue Province. It is about 60 km to the south from Hue city centre and 90 km away from Danang city. Bach Ma is only 18km from the coast, also the only connection of Vietnam's primeval forest between the sea and the Vietnam – Laos border. Located at an altitude of 1450 meters above sea level, Bach Ma mountain range features typical weather of two sides of the Truong Son Mountain Range and recognized as one of the biodiversity centre in Indochina for ecological diversification.  If you are nature lovers, this region is truly a paradise with more than 1400 species of plants, including rare orchids, representing one fifth of the flora of Vietnam. In addition, the park is the home to 132 species of mammals, three of which were only discovered in the 1990s: the antelope-like saola, the Truong Son muntjac and the giant muntjac.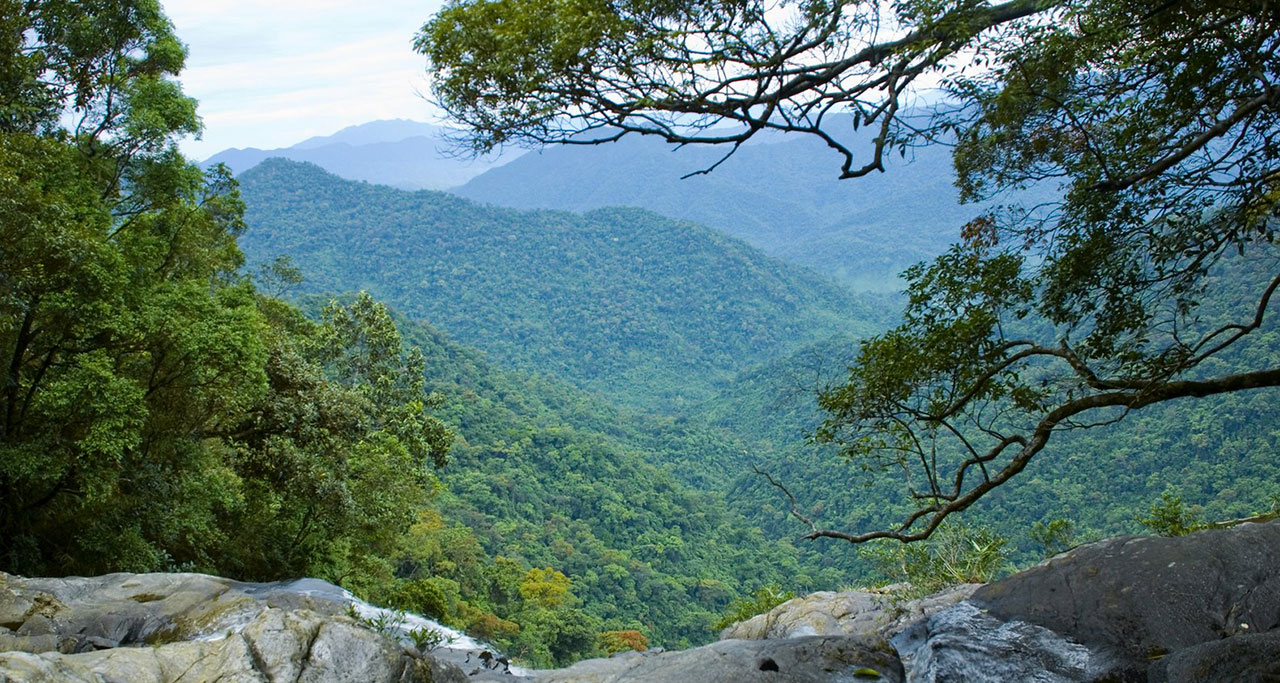 Not surprisingly, Bach Ma was selected to become a hill station for the colonial administration of Hue in the year of 1932. Over a hundred villas were built here to accommodate the colonial French officers and Hue's upper-class families. When the French – Vietnam war ended in 1954, Bach Ma was soon forgotten and the villas abandoned. In the 60's the Americans took over this region as a strategic base for their military actions controlling the stretch between Hue and Da Nang. After our independence in 1975, the Vietnamese Government stated the Bach Ma National Park at this mountain and extending the Park over the years to its current. Nowadays, this mountain is a popular summer retreat for locals and foreigners thanks to its legendary history, exotic nature with spectacular beauty, astoundingly pristine atmosphere and the cool climate all year round. The mountain trails are quite slippery during the rainy season (September – December) so tourists should avoid visiting Bach Ma Mountain in these months or should follow the instructions from experienced tour guides. The best time to visit Bach Ma National Park is from December to April, which is the dry season with low rainfall offering the perfect stretch of jungle walk.
6. Son Tra Mountain – Danang City.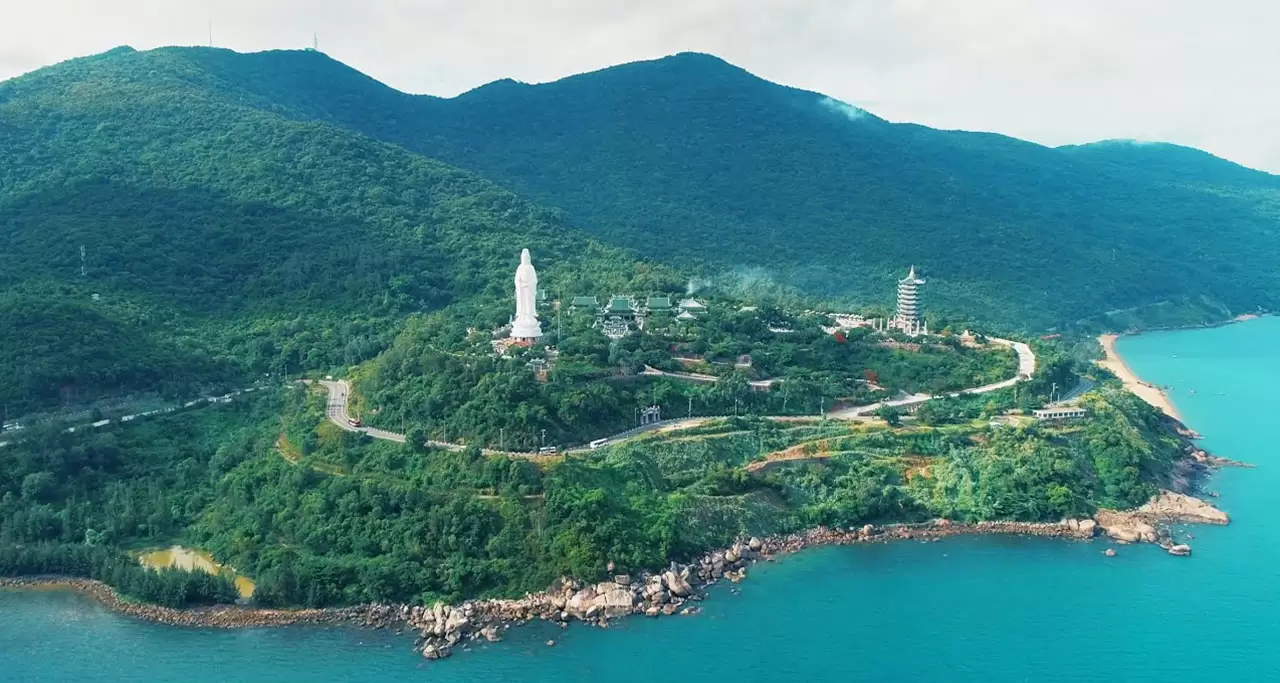 Son Tra Mountain, known to American soldiers during the Vietnam War as Monkey Mountain, is located on Son Tra Peninsula, in Son Tra District, 35-minute drive from Danang City. Standing at the height of 693m above sea level, the mountain peak overlooks the Bay of Danang and the East Sea. Used to be a former U.S. military base during the Vietnam War, Monkey Mountain houses two radar domes that are now taken over by the Vietnamese military as well as a helicopter pad. The mountain is a favorite place of animal lovers and adventure seekers while traveling in Danang because it's the rich diversified nature reserve, protected under the nationally prohibited forest regime with many rare wild animals, especially pygathrix (red-shanked douc) is on the IUCN Red List of endangered species. The lush mountain is also surrounded by unspoiled beaches such as Bai Bac, Bai Nam, Bai But and Tien Sa Beach. Thanks to its sea-oriented location, Son Tra acts as a giant screen protecting Danang City from storms and typhoons coming from the sea.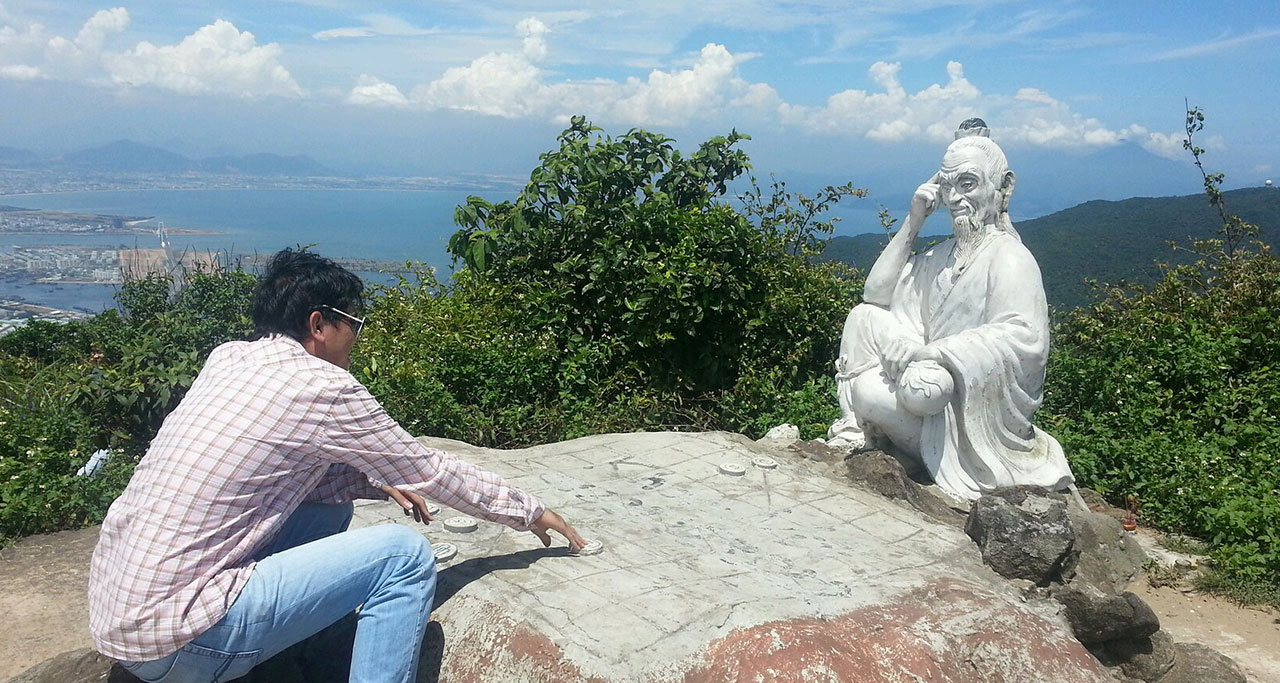 The prominent attraction set on this mountain is Linh Ung Pagoda. The stunning pagoda was built during the 18th century and houses a 67 metre-tall white statue of the Goddess of Mercy set atop a lotus-shaped platform. This is the largest pagoda by its scale and artistic architecture in Danang City. The statue of Lady Buddha facing to the sea is believed to protect the locals from strong storms. Entrance to Linh Ung Pagoda is free of charge, though it gets crowded with pilgrimages on special occasions. Additionally, Tien Sa Port at the base of the mountain's western face, is one of the most important and largest deep-water seaports in central Vietnam. Tien Sa port welcomes thousands of international tourists from sea cruise ships visiting Vietnam annually. With its perfect location, Son Tra Mountain is a popular retreat for tourists and locals alike looking to day trip to stay away from the crazy noise of the big city.
7. Bana Hills – Danang City.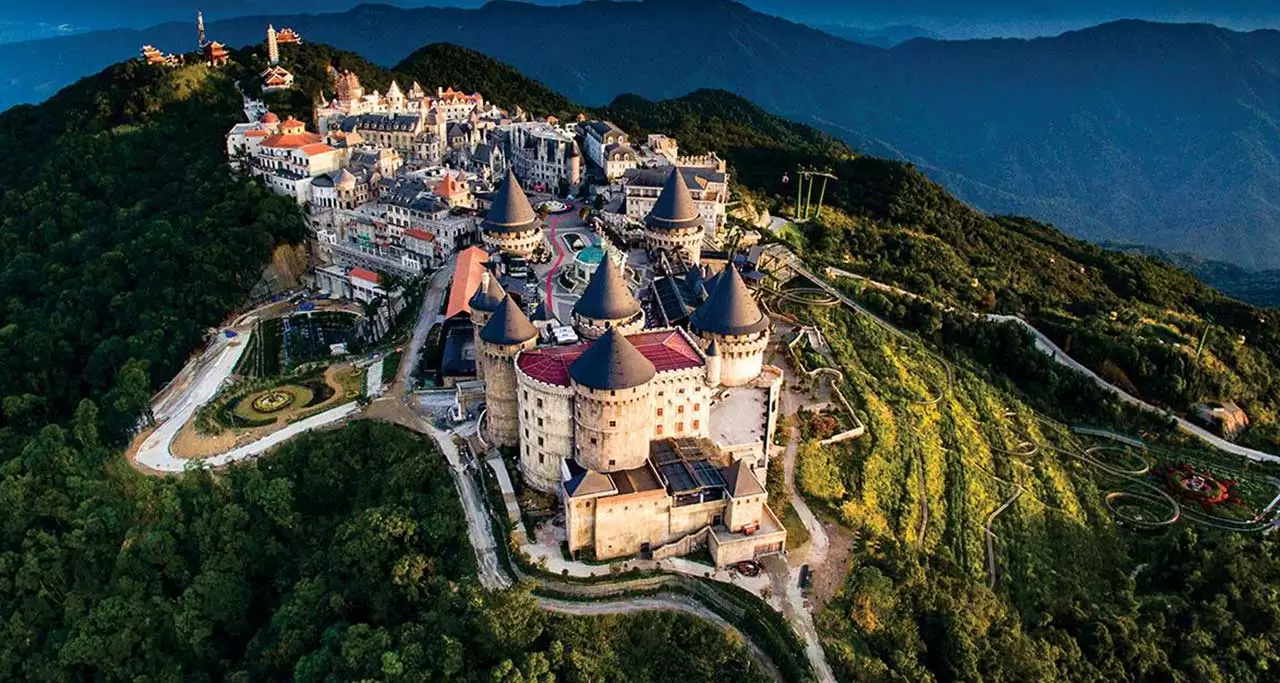 Bana Hill is a mountain top resort complex, located in the Truong Son Mountains at the west of Danang City. The station was founded and built in 1919 by French colonists to be used as a leisure destination for French tourists. Being located above 1500 metres above sea level, it offers stunning view over the East Sea and the surrounding mountains. Due to the elevation, the temperature here is significantly cooler (10 – 15 degrees) than the environment near the coast, you can revel yourselves in the typical rotation of four seasons in a single day. Bana Hills is most famous for its French village with buildings that look like medieval castles, but inside these stone walls are majestic Golden Bridge, popular hubs of endless entertainment and more.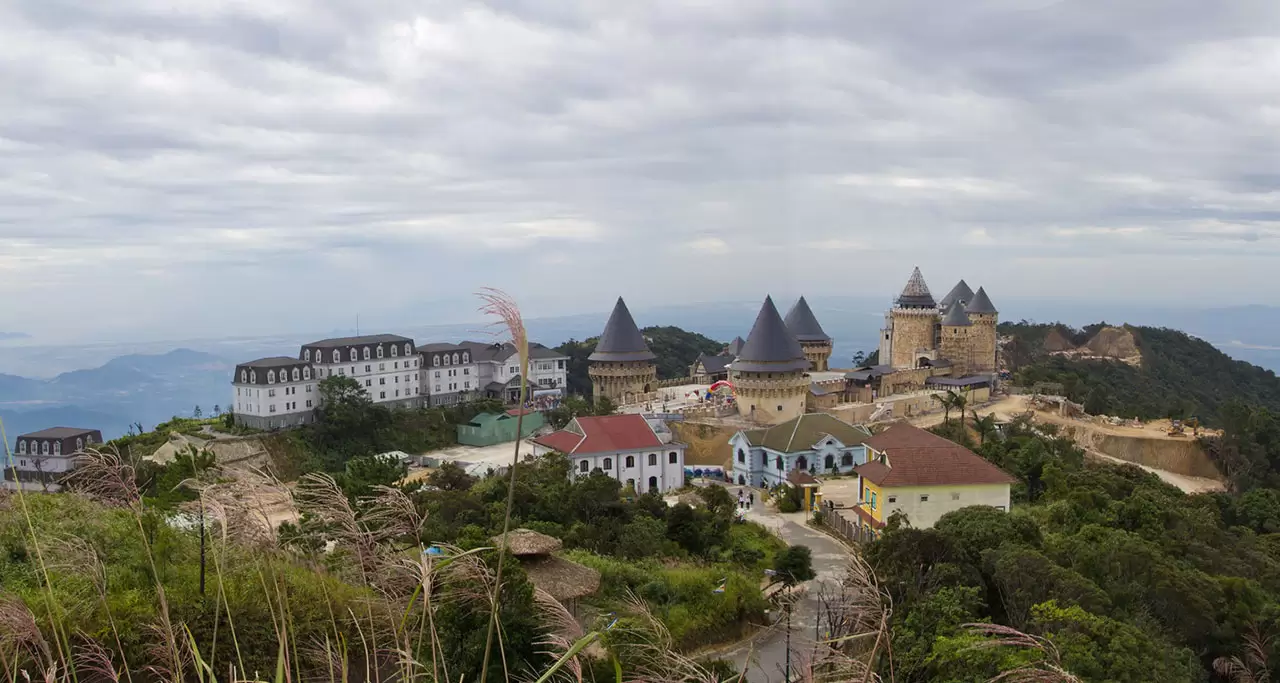 To reach the hilltop, visitors get to take the picturesque cable car. The cable car system at Bana Hills was completed in 2013 and holds several Guinness World Records, including the widest gap between stations and the greatest change in elevation. During the cable car ride, you can enjoy the surrounding views of the lush forest leading up to your destination. In recent years, Bana Hills has get more and more attentions from tourists all over the world thanks to newly built Golden Bridge. Golden Bridge with the length of 150m and at the height of 1,414m above sea level, was officially inaugurated in June 2018 in Bana, was also voted by TIME magazine as one of the "Top 10 best destinations of the world 2018" and admired by The Guardian as "The world's most impressive pedestrians' bridge".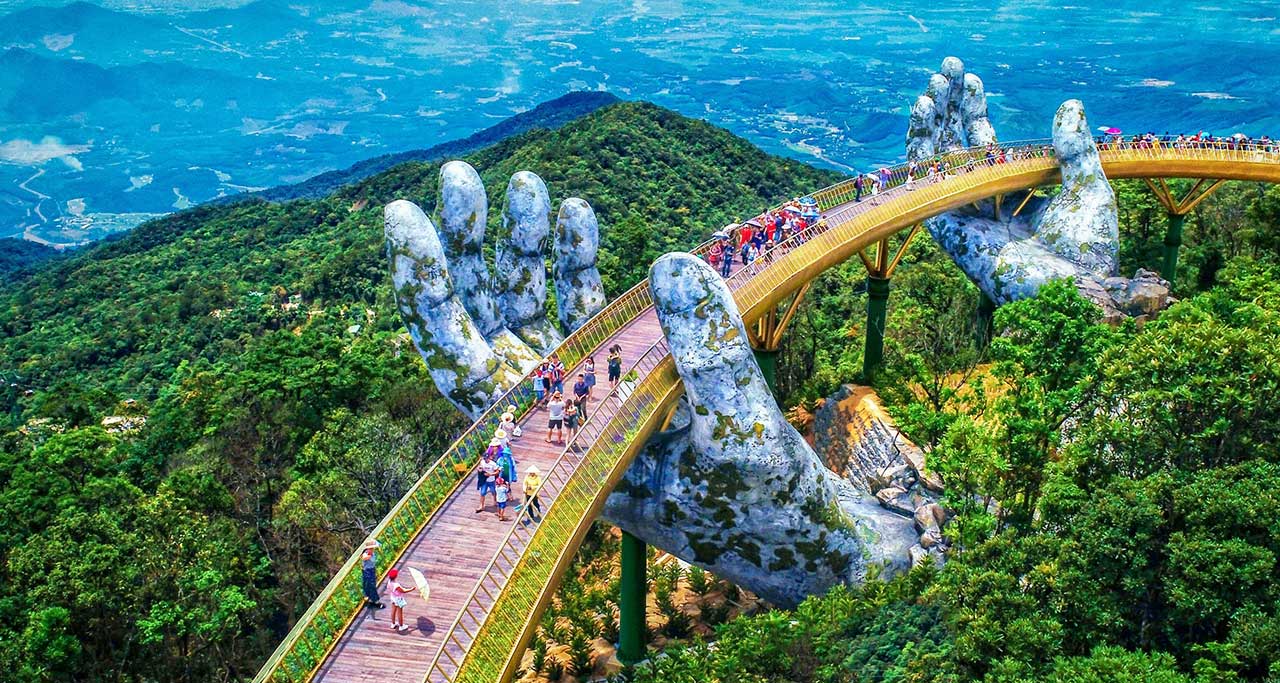 Exploring Ba Na Hills, you will not only enjoy the spectacular views of mountains, greenery, and cities but also join a plethora of recreational activities in one of the most amazing amusement parks in Vietnam.
8. Lang Biang Mountain – Lam Dong Province.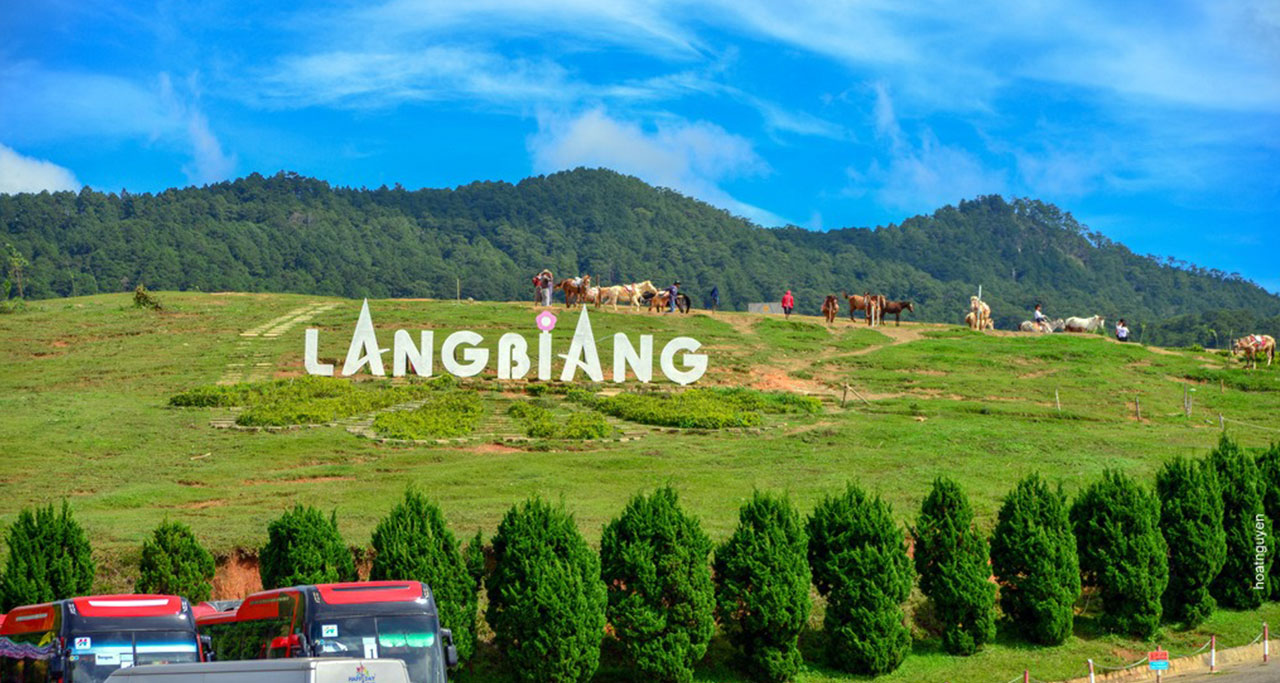 Lang Biang Mountain is located in Lac Duong district which is 12km North of Dalat City, Lam Dong Province. Impressively standing at an altitude of 2,169 meters above sea level, Lang Biang Mountain is considered as the roof of Dalat. The mountain is the paradise for both nature lovers and adventure seekers. There are several options to reach the mountain top: by jeeps, by motorbike on a paved road. Or if you look for a physical challenge, it takes around two or three hours along a forested trail to hike to the peak. But you should be aware of four seasons within one day even Dalat's temperatures are known as pleasant for hiking activity. Standing on the top of mountain, tourists can enjoy pleasant climate, bewitching nature and marvelous views of the whole city, forests, rivers and houses of tribal villages.
The name Lang Biang itself originated from a bittersweet love story. Long time ago, there was one couple who were deeply in love with each other. The boy was K'Lang from Lach minority and the girl was H'Biang from Chil minority. According to the long-standing feud between their tribes, they couldn't get married so they left their hometown, got married and lived in the mountain top. When H'Biang was ill, K'Lang found many methods to help her get over the illness. He even came back to H'Biang's village to ask for help but no one welcomed him. They even prepared poisoned arrow to kill him. Suddenly, H'Biang appeared to protect her husband from the arrow. After her death, K'Lang cried a lot and also died. His tear turned into a scream called Dankia (Golden Stream) nowadays. After their death, H'Biang's farther realized his faults and tried to unify two tribes. To memorize the couple with profound love, the mountain range was renamed into what we call it today: Lang Biang.
Nowadays, Lang Biang is an ideal place for adventurous activities like mountain climbing, conquering high peaks, paragliding and trekking. Camping, exploring the natural flora, bird-watching and enjoying the unique culture of ethnic minority groups are recommended activities for tourists coming to Lang Biang.
9. Ba Den Mountain – Tay Ninh Province.
Located 11km in the northwest Tay Ninh, around 3-hour drive from Ho Chi Minh City, Ba Den Mountain (Black Virgin Mountain or Nui Ba Den in Vietnamese) is suitable for those who love outdoor activities and want to escape from the hustle and bustle of big cities. Together with Nui Heo (Pig Mountain), Nui Phung (Phoenix Mountain), Nui Ba Den (Black Virgin Mountain) are parts of Nui Ba Historical and Cultural Complex. At the height of 986m, this mountain is the highest mountain in the southeastern part of Vietnam because it was formed by the extinct volcano rising from the flat Mekong Delta jungle and farmland. It is also best known for pristine natural scenery and long-standing spiritual architectural complex.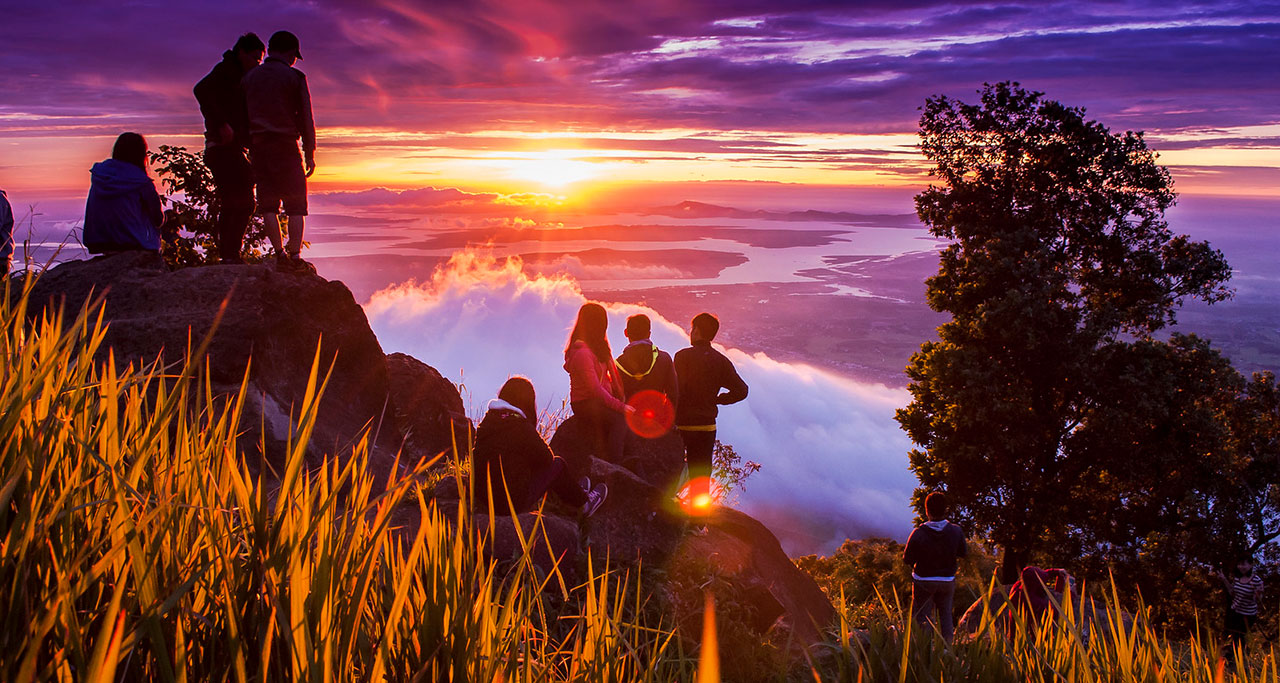 The mountain name of Ba Den is translated into English as Black Virgin Mountain because it's related to the myth about Ly Thi Thien Huong, the woman who is considered as the Black Virgin. At the end of the 18th century, there was one loving couple named Le Sy Triet and Ly Thi Thien Huong. Thien Huong was a beautiful girl with lovely tanned skin. Le Sy Triet is a young man with great intelligence and bravery. He enlisted in the army of Nguyen Hue – a general who later became King Quang Trung. When Triet was away from home, Thien Huong was forced to marry a rich man in the village. She committed suicide by jumping off the mountain edge to protect her virginity. After her death, villagers regretted her beauty and trait and built a temple on that mountain, which was changed as Ba Den Mountain (Black Virgin Mountain or Black Lady Mountain) in memory of this mysterious young lady.
Nowadays, the mountain is best known for its temples. Buddhists come to worship at Linh Sơn Thiên Thạch pagoda. There's a large reclining Buddha statue, and many pleasant paths to explore.
The visit to Ba Den Mountain can be really dangerous and a reasonable level of fitness is required. It takes around 2.5 to 3 hours trekking on the foot path to the top of the mountain. The trail is well defined but steep, rocky and uneven in places but you can reward yourself with the stunning views along the way. However, it's much easier to reach the mountain top thanks to newly built cable car system by Sun Group. Instead of the difficult journey as before, all visitors from the old to the young are able to move quickly and gently when visiting Ba Den Mountain. Not only helps to shorten the travel time to visit Ba Den Mountain, Ba Den cable car also helps visitors have unique and interesting experiences during the journey to conquer the roof of the South.
10. Sam Mountain – Chau Doc, An Giang Province.
Sam Mountain is often include in the Mekong Delta tours which suitable for a 3-4 day package or for a stopover between Cambodia and Vietnam by boat trip. Travelling about 6km to the west of Chau Doc Town, An Giang Province, visitors will have chance to view Sam Mountain at the height of 230m with beautiful landscapes and many historic remains. On the way to the foot of mountain, there are rice paddy fields stretching along the road's two sides. The mountain is mainly well-known as a sacred place for Buddhists with dozens of pagodas and temples. A strong Chinese influence makes it particularly popular with ethnic Chinese. Moreover, temples at the base and surrounds can illustrate Islamic, Indian and Khmer influences.
While climbing up to the summit, don't forget to visit temples and pagodas dotted around the foot of the mountain, such as Ba Chua Xu Temple, Tay An Pagoda, Thoai Ngoc Hau Tomb. Chua Xu Festival is annually held on the second half of the 4th lunar month and attracts lots of worshippers all over the country. If weather permits, the views from the top are spectacular and Cambodia can be easily looked out from there.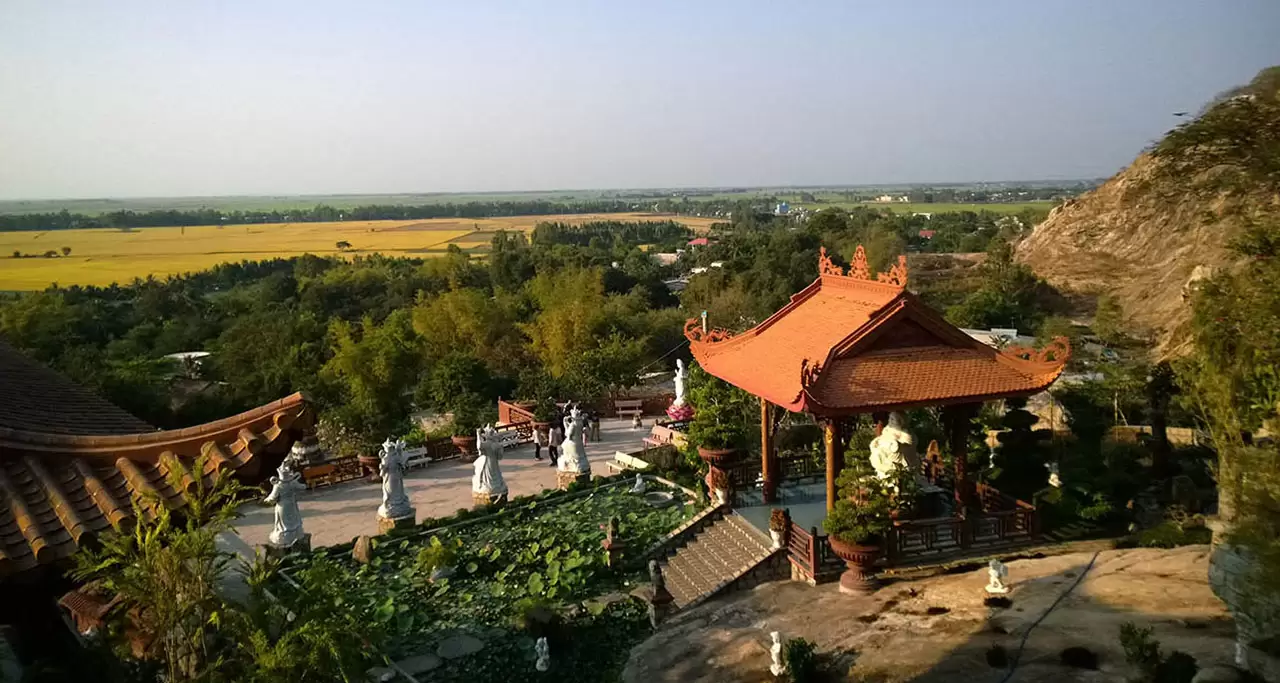 If you are planning for a truly breathtaking adventure, you definitely have to put one of the spectacular mountains of Vietnam on the bucket list of things to do while in Vietnam. Travel with Vietnam Travel and our experienced tour guides will take you to any mountain in your wish list.