How to get from Danang City to Bana Hills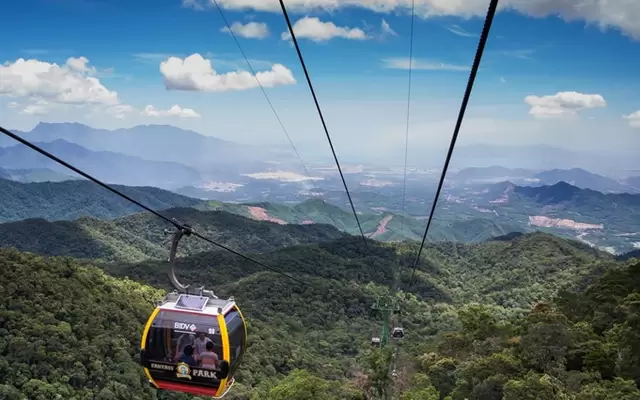 Bana Hills, located 42km west of Danang City, features breathtaking natural landscapes, lush green mountains, word-class amusement park and inspiring architectural constructions such as a fully-fledged French replica village, spiritual landmarks and, of course, the Golden Bridge – a worldwide phenomenon. Situated at an altitude of 1,487m on the Nui Chua mountain, Bana Hills used to be a hill station founded in 1919 and was invested to become a leisure holiday destination for French colonists at that time.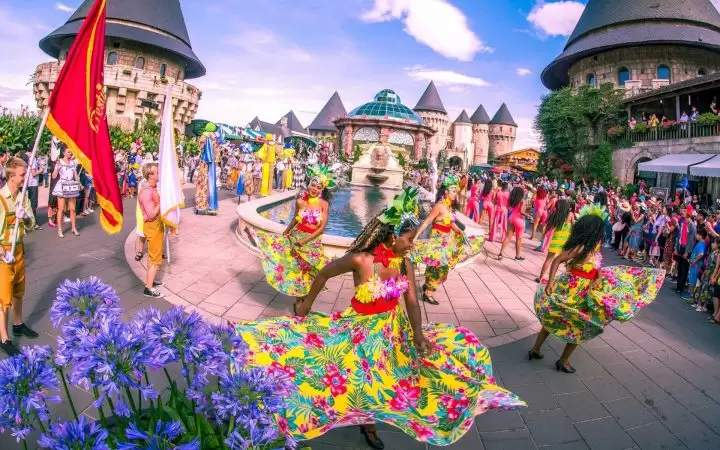 Nowadays, Bana Hills is always on top of everyone's Vietnam bucket list. In this article, Vietnam Travel gives you the detailed guidance on how to get to Ba Na Hills from Danang City. Generally speaking, Bana Hills is known as Sun World Bana Hills – a part of Sun World Amusement Park Group. Therefore, we will provide information of several ways to reach to the cable car's ticket counter at the foot of Bana Hills.

Shuttle bus is suitable for a big family and a small group of friends who want to save cost because it's the cheapest option. Two-way ticket costs 130,000 VND – 150,000 VND. It includes local guide on board, one bottle of 500ml water and travelling time is around 70 – 80 minutes per way. Please be advised that the shuttle bus will pick up and drop off passengers in several points within Danang City center. And they always run on a fixed timetable, so make sure to keep the bus schedules in mind! Another drawback of this option is that shuttle buses depart from Bana very early (around 3:30 – 4 PM) so tourists will miss the chance to experience Bana Hills at sunset.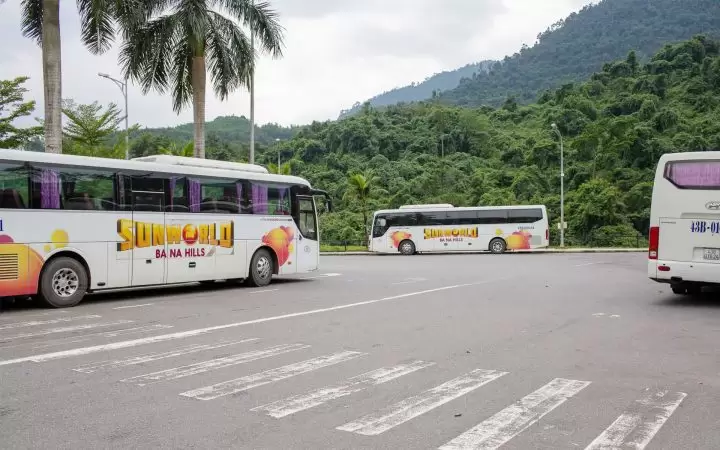 Below are the most popular companies offering shuttle bus service between Danang and Sun World Bana Hills:
Danang Green Bus
+ Address: 376 Nguyen Tri Phuong Street, Danang City
+ Phone: (0236) 247.5555 – (0236) 650.6789
Travel routes
Timetable (Daily departure)
Pick up/Drop off Points
Price
Danang > Bana
7:45 – 8:15
Hotels in city center/ near My Khe beach
130,000 VND/2 ways/ person
Bana > Danang
15:30
Bana Hills Parking Lot
City Tour Danang Bus
+ Address: 39 Le Huu Khanh Street, Danang City.
+ Phone: 0905.777.229 – 0935.434.335
Travel routes
Timetable (Daily departure)
Pick up/Drop off Points
Price
Danang > Bana
7:30 – 8:15
Hotels in city center/ near My Khe beach
150,000 VND/2 ways/ person
Bana > Danang
15:30 – 16:00
Bana Hills Parking Lot
* Shuttle Bus included in the combo "Bana Night"
If tourists book combo "Bana Night", they will have an alternative to take returned shuttle bus to visit Bana Hills from 4 PM to 9 PM. The combo costs 600,000 VND/person and includes shuttle buses from key stops in Danang downtown to the complex, cable car ticket, buffet meal and one liter of German drought beer for free at Beer Plaza square.
2. By metered taxi
This option is very convenient for family traveling with kids. When you travel with small children, you cannot follow a fixed schedule and flexibility is the priority. Taxi or grab drivers can adjust the program per guests' requests. However, taxi fares are much more expensive than other means of transportation. It's about 350,000 VND – 420,000 VND per way or 500,000 VND – 600,000 VND for 2 ways (including 4 hours of waiting time, extra waiting hour will cost you more). Meanwhile, Bana Hills is a very large complex with many attractions and activities to enjoy so 4 hours is definitely not enough to explore all the main sites.
* List of trust worthy taxi brand names in Danang City:
– Song Han taxi – Phone: 0236.3.72.72.72
– Tien Sa taxi – Phone: 0236.3.79.79.79
– VinaSun taxi– Phone: 0236.3.68.68.68
– Mai Linh taxi – Phone: 0236.3.56.56.56
3. By hired motorbike.
Renting a motorbike is an interesting choice for those who are looking for a real adventure or want to test their driving skills. You can easily hire a motorbike at any rental shops nearby your hotels with a reasonable price – about 150,000 VND per day, plus 50,000 VND for fuel. Your ID card or passport and a deposit amount of 500,000 VND will be kept by shop owners until you return the bike. From Danang City Center, there are two popular travel routes to Sun World Bana Hills Complex:
Options
Travel routes
Bana – Suoi Mo
(Distance: 37km)
Danang City Center > Duy Tan St. > Nguyen Van Linh St. > Nguyen Tri Phuong St. > Dien Bien Phu St. > Hoang Van Thai St. > Bana – Suoi Mo St. > Bana Hills Parking Lot.
Route DT602
(Distance: 42km)
Danang City Center > Duy Tan St. > Nguyen Van Linh St. > Nguyen Tri Phuong St. > Dien Bien Phu St. > Ton Duc Thang St. > Highway 1A-DT602 > Bana Hills Parking Lot.
The drive out to Bana Hills from Danang City takes about 45 minutes. Getting outside the city area, the streets widen and become less crowded, the terrain changes from an urban landscape to rolling hills, and the air freshens. Please remember to use Google Maps to navigate to the "Ba Na Cable Car Service Parking Lot". If you just search for Ba Na Hills, you will be directed to the top of the mountain.
One important note is that this type of vehicle is not for everyone. It's only limited to young persons with good physical conditions, as long as they can navigate Vietnam's complicated traffic system.
4. By private transfer
Vietnam Travel team provide private transfer from Danang City to Bana Hills to accommodate all travel group sizes: 4 seats – 7 seats – 16 seats – 30 seats – 35 seats and 45 seats.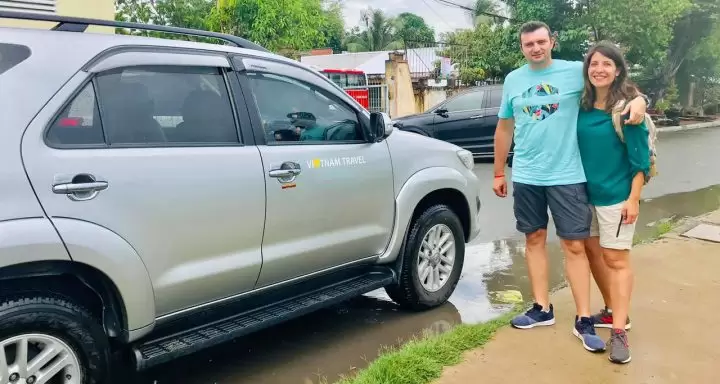 Clients can book single service such as private transfer only or combo of private transfer and cable car ticket or all-inclusive package (included transportation, cable car ticket, buffet lunch and private tour guide).
The advantage of this option is that you will have a hassle-free day trip without worrying about how to get from places to places. All you need to do is to be ready for adventure, our air-conditioned, high-quality fleets and enthusiastic team are always ready to serve you at any time.
5. Tips when visiting Bana Hills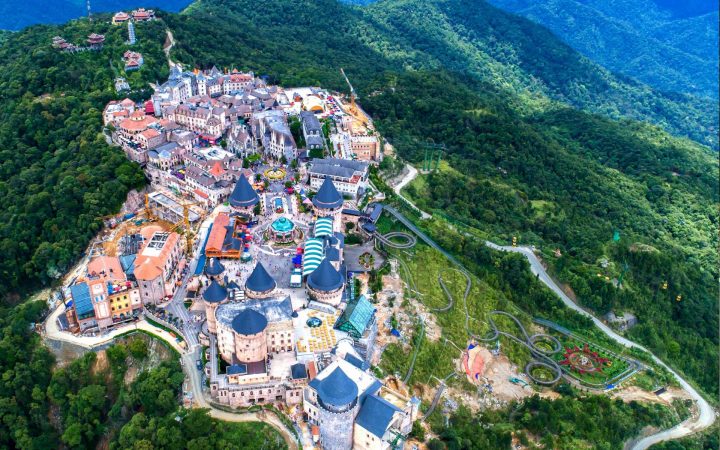 Tickets are only available on a specified date.
Entrance ticket includes round trip transfer by cable car, most games in the Fantasy Park, the train ride, the wine cellar, the French village.
It takes you roughly 6 – 7 hours to fully discover Bana Hills.
Best time to visit Bana Hills:
– Peak tourism season in Bana Hills is from April to August when thousands of domestic and Asian tourists gather here. If you prefer quiet to enjoy the landscape, you may consider planning a trip between September and March. However, raining season falls into September to November so you should prepare an umbrella in your suitcase.
– Due to weather conditions, you may have to content yourself with a more atmospheric scene of the mountains wrapped in mist, but while it's raining on the lower slopes, the summit may be above the clouds and enjoying brilliant sunshine.
Cable Car's operating schedule:
If you choose to travel from Danang to Bana Hill on your own (by taxi or motorbike), you should know these important information to prepare your plan in advance.
Cable Car Route
Operating time
Detailed operating schedule
Cable Car Route 1:

HOIAN STATION –

MARSEILLE STATION

7h30 – 11h30
No. 1: 7h30 – 7h45

No. 2: 8h30 – 8h45

No. 3: 9h30 – 9h45

No. 4: 10h30 – 10h45

No. 5: 11h30 – 11h45

Cable Car Route 2:

DEBAY STATION – MORIN STATION

7h30 – 21h30
No. 1: 7h30 – 9h30

No. 2: 10h00 – 12h30

No. 3: 13h00 – 14h00

No. 4: 16h00 – 17h30

No. 5: 18h45 – 19h30

No. 6: 20h45 – 21h30

Cable Car Route 3:

L'INDOCHINE STATION –

TOC TIEN STATION

12h30 – 21h15
No. 1: 12h30 – 12h45

No. 2: 14h00 – 14h45

No. 3: 15h00 – 15h15

No. 4: 16h00 – 16h15

No. 5: 17h00 – 17h30

No. 6: 19h00 – 19h15

No. 7: 20h00 – 20h15

No. 8: 21h00 – 21h15
6. Map of Ba Na Hills