Get to know Cai Be Floating Market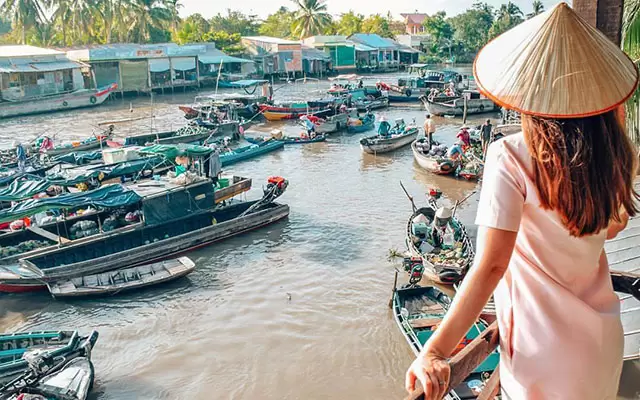 Cai Be Floating Market, one of around six well-known markets in the western region of South Vietnam, was formed in the Nguyen Dynasty in the 19th century. It is always busy, bearing all the characteristics of the daily locals' life. For those who have never heard floating markets, Cai Be will be definitely a destination not be missed in the Mekong trip.
1. Brief information
Vietnam's floating markets have become a way of life and trade for Mekong Delta dwellers for more than a century, thanks to the complex and extensive river system of the region.
Cai Be Floating Market lies in the area where the Tien River shares the border between 3 provinces of Tien Giang, Vinh Long and Ben Tre. Mingling in the bustling vibe and chaotic atmosphere of the market with the sound of water, paddles, engines and bargaining voices, you truly know that it is what you are looking for.
The market is divided into two parts: buying and selling places. In the very early morning, locals are so busy to transport goods from mainland and rearrange them in an appealing way on the boats. There are a lot of boats from distant gardens such as Ho Chi Minh City (Saigon), Long An, An Giang, Can Tho, Ca Mau… coming here to buy and sell agriculture products. This makes Cai Be Floating Market richer and more diverse in term of products, from fruits, vegetables to household goods, poultry, seafood… The various colors of fruits, flowers and goods combined with bright blue and white color of sky adorned the picturesque floating market.
To attract and to help customers easier to find the item they need in the middle of a vast river, the sample of the merchandise is hung on a long pole, called a "cay beo" in front of each boat. This seems to be a common and unique sign you only find in the floating markets in Mekong Delta.
2. How to get to Cai Be Floating Market
Cai Be is about 112 km from Ho Chi Minh City (Saigon) or 65 km north of Cai Rang – the most famous floating market in the Mekong Delta. You can get there by motorbike, local bus or private car with about 2 hours driving. So Cai Be is a perfect choice for a day trip from Saigon if you don't have much time to discover the whole Mekong Delta.
The best way to explore Cai Be Floating Market is definitely to take a boat trip with local tour guide in 2 hours. A shared boat ticket costs from 40,000 to 80,000 VND per person; a boat can carry about 10-15 people. If you seek for the privacy, a private boat is recommended for only your group but the price is much higher, about 600,000 VND per boat.
3. See and Do
As said above, visiting Cai Be Floating Market in the early morning with a small sampan ride is enjoyable. Sure, it's touristy, but also fun, and you can learn a lot about daily life here – especially if it's your first trip to the Mekong region.
The go-to sites for a Cai Be boat tour include a trip to the floating market; a visit to one of many coconut candy factories, home-made bee honeys and crispy rice popcorn; some handicraft workshops, a rustic; local-style lunch at a orchard restaurant in the area; a bike ride through tropical fruits and bonsai gardens…
While sitting on a dinghy and weaving around the river; buying and enjoying delicious fruits right on the boat is one of the most incredibly wonderful experiences for you.
If you want to venture into more narrow bodies of water, you can always ask for a tour of narrow canals. Done in wooden sampan boats and adeptly steered by riverside denizens; you will see small canals; authentic "monkey bridges" and rivulets that you'd never be able to explore with a larger vessel. Additionally, you may like to wear a Vietnamese conical hat ("non la") and pose for some great photos, which adds enjoyment for everyone involved.
We also bet that you will like to walk through orchard gardens to the beautiful lotus tea house for the real South West folk music that locally called "Don Ca Tai Tu". The people here are all very friendly and warm; so you can talk with, interact and share some great photos for the meeting moments.
For those who are into the quiet and peaceful atmosphere, visiting Cai Be Floating Market in the afternoon is a great option as you stay at Mekong homestay. It is best to go around from 4 PM when the sunlight will be more gentle. You will be able to gaze at the tranquil beauty of riverside village, explore daily activities of local people and admire sunset on the river.
4. Best time to visit Cai Be Floating Market
Every morning, hundreds of boats gather here to trade their local products, mainly fruits, creating a bustling fair. Unlike the other big floating markets in the region, Cai Be is a retail market and it ends around mid-day; so try to visit it early or miss its vibrancy. If you seek for the authentic local life, experience the market at the most exciting moment and catch the liveliest scenery, you should get up early and come here before 8 AM. At sunrise, the market will be at its best; boasting its vibrant colors of fruits and vegetables; and the clattering sound of water, chatter and engines.
Cai Be Floating Market is getting smaller recently due to the development of inland construction; you still find something special here. So don't miss the chance to fulfill your journey to South Vietnam with Cai Be Floating Market. It certainly will not make you disappointed. It is easy to take a day trip to Cai Be from Ho Chi Minh City or add it into any Mekong Delta itineraries such as Ben Tre, Can Tho, Chau Doc or even a part of journeys to Phu Quoc Island. Vietnam Travel can help you to tailor make your private trip to Vietnam perfectly; contact us now if you need our assistance.