Cai Rang Floating market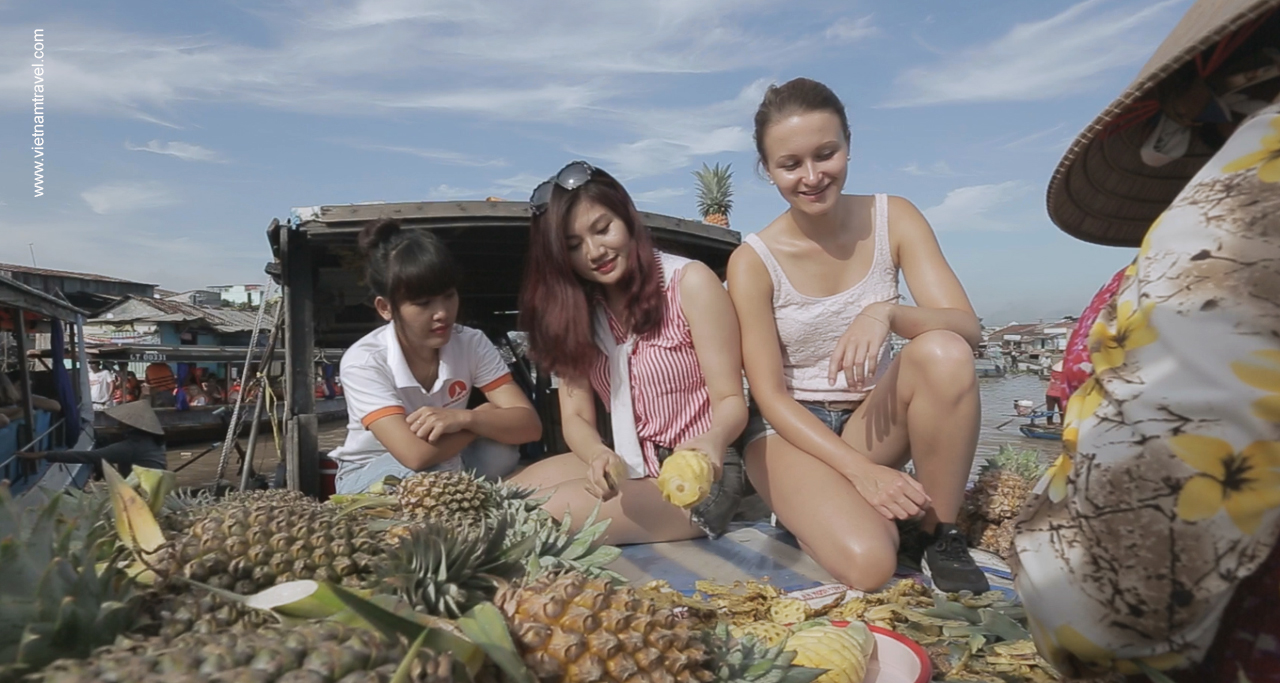 Cai Rang Floating Market is the most famous and biggest floating market in the Mekong Delta. The market is unique culture of local people living along this mighty river, instead of shopping in the town, they shop, barter… on the river that is more convenient to access by waterways.
It is located on Cai Rang river (part of Mekong River), Cai Rang district – about 6 km away from the center of Can Tho city; about 45 minutes away from Ninh Kieu quay by boat; and about 500m away from Cai Rang Bridge, following Vo Tanh road to Ba Lang canal towards Phong Dien district.
In 2016, Cai Rang floating market was recognized as a national intangible cultural heritage. The market was also elected as one of the most impressive markets in the world by UK's Rough Guide.
Once you visit Mekong, Floating market is things should not miss in your travel plan. Get up early but it is worth for your day visit.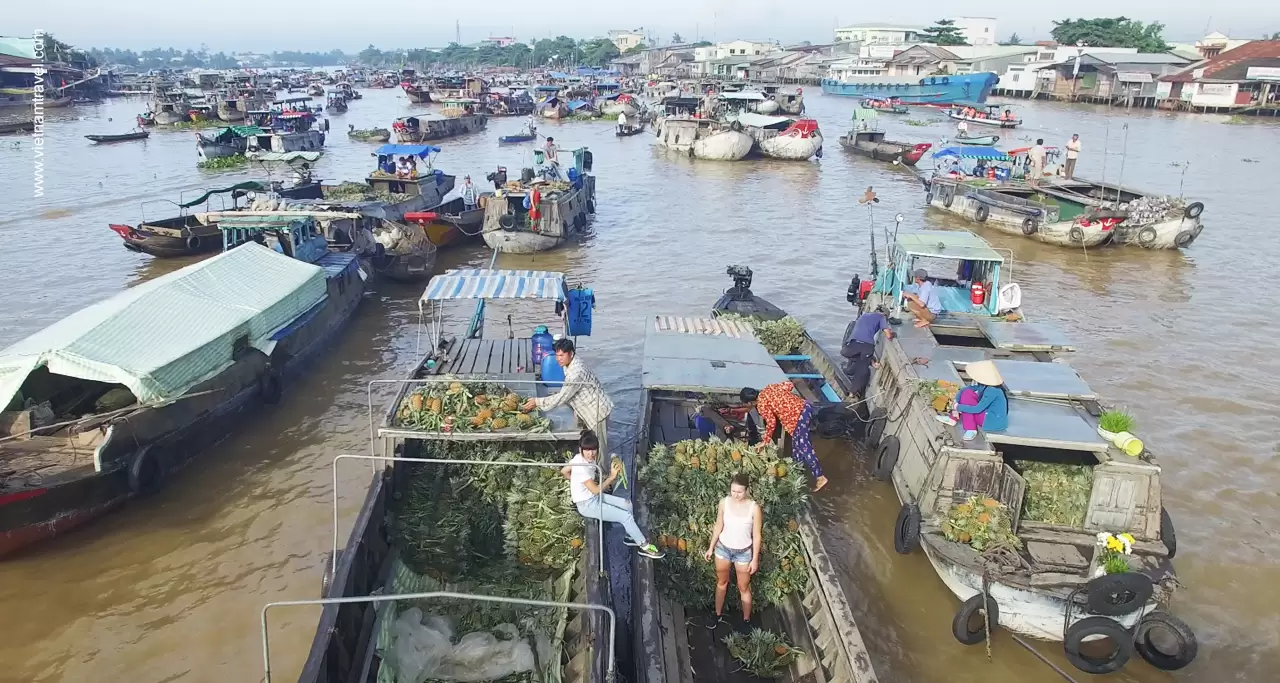 1. History of Cai Rang Floating market
The market, which has thrived for over a century, has been a centre for commerce in Cần Thơ city and its neighbouring provinces, such as An Giang, Vĩnh Long, Đồng Tháp, Trà Vinh and Sóc Trăng. It was formed when road and transportation had not been developed yet.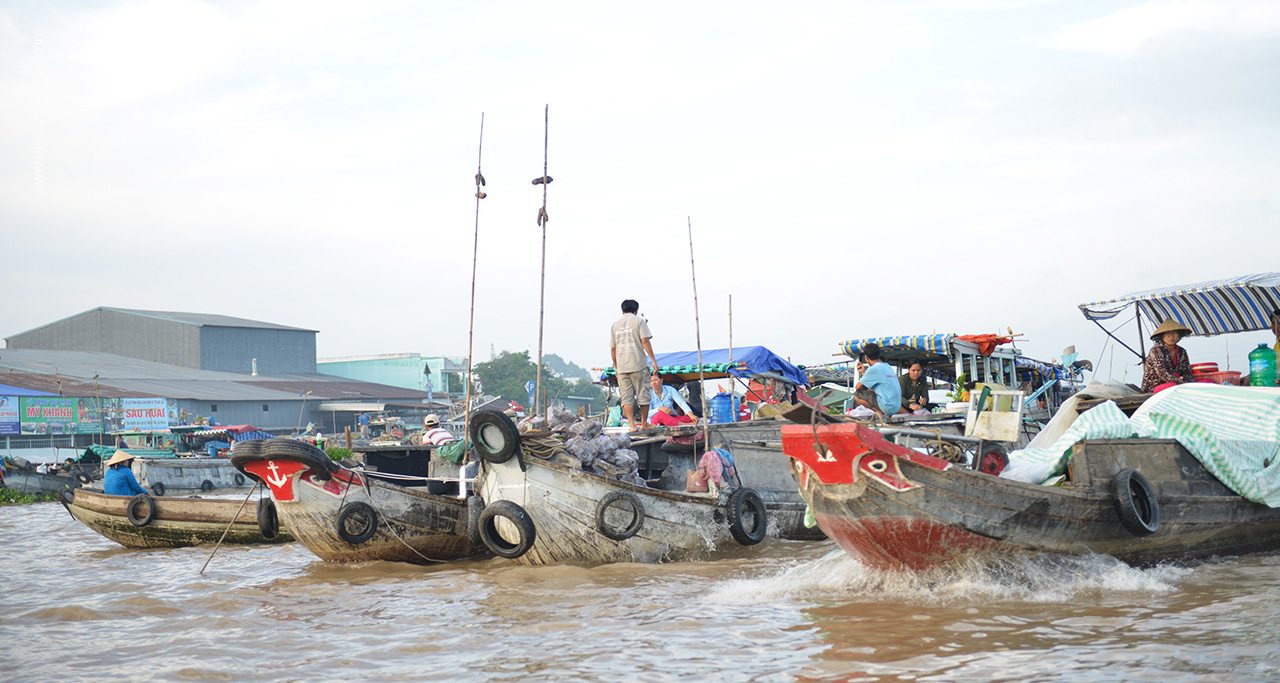 The name of this market has been existing for a long time, but its origin has not been clear. Legendarily, the name came from a big crocodile's teeth which were plugged into the river's bank. Thus, the land was called Cai Rang (means a tooth). Another theory mentioned in a book related to southern language, that Cai Rang has its origin from Khmer language – "karan" means a molded clay stove. Khmer people made a lot of "karan" and sold them everywhere in this land. Since then, local people pronounced "karan" into Cai Rang.
The need of exchanging agricultural products, and basic things connected local people by boats on rivers. Today, even though the road traffic network has developed significantly, Cai Rang floating market keeps growing and brings value to the locals of the country and area in terms of economy, culture, and tourism.
2. Weather & Best time to visit Cai Rang Floating market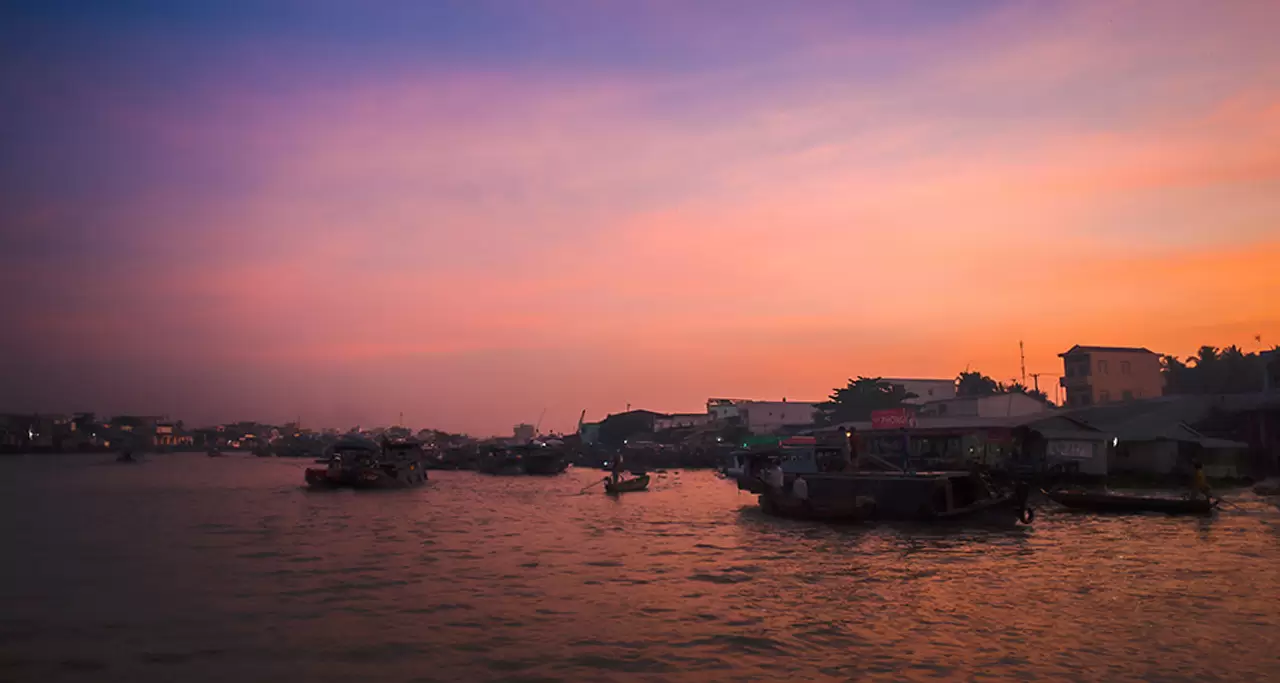 Unlike the Northern part of Vietnam where there are 4 distinct seasons, the South has only 2 major seasons: the rainy season (from May to November) and the dry season (from December to April). The weather in Vietnam is quite mild, so you can visit Cai Rang at any time of the year, each season of course makes for a different experience.
Trips during the rainy season will be much more relaxing due to the cooler atmosphere while the harvest season falls during the dry months, which means there will be more types of native fruits and agricultural products available.
3. The best time to visit this floating market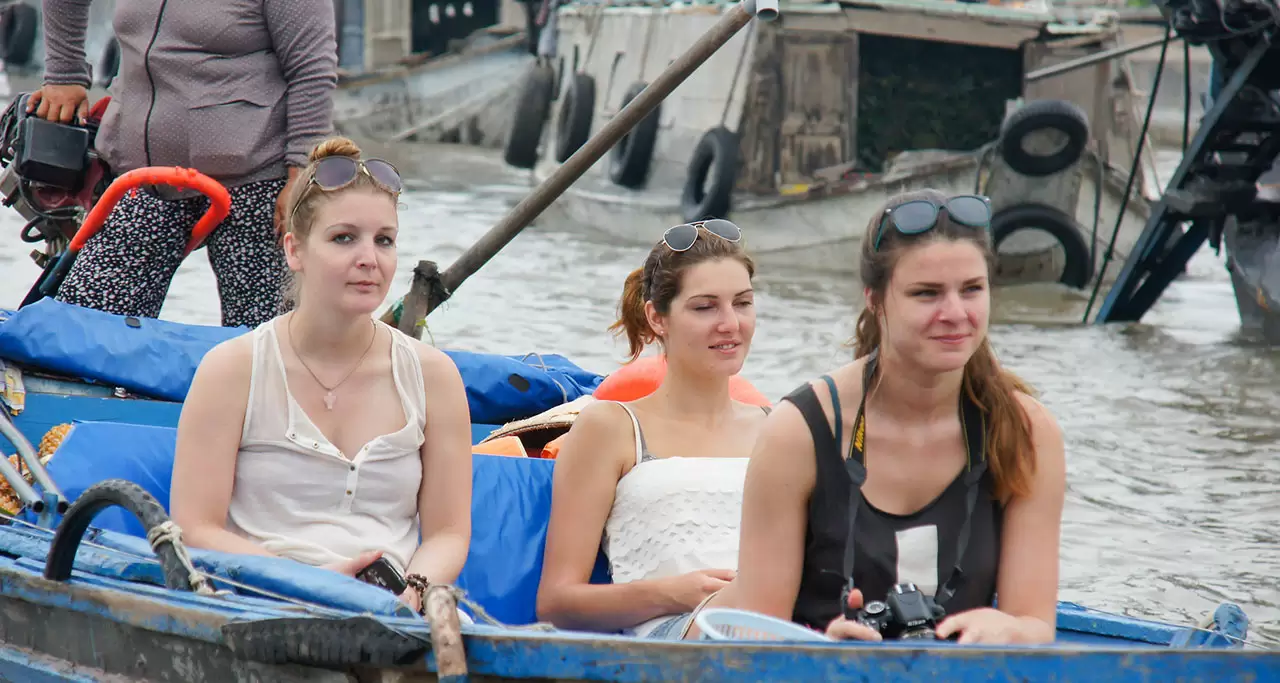 Local merchant bring their farm products and things to market from the night, they start before sunrise when it is still dark, The buyers also want to shop early when it still cool and go home early to start their day. That is why you need to get up early for the most exciting time of the market. From 5 AM to 7AM is also the most bustling and busiest moment of the market. It gathers hundreds of boats to buy and sell goods in crowds. The most distinctive feature of the floating market is probably the bamboo pole called "Cây Bẹo", a unique way to advertise goods. "Cây Bẹo" is a bamboo with a length of 3m – 5m hanging all kinds of goods they sell on the top so buyers could see from distance.
This market does not open in lunar festive days as the first and second days of the first lunar month, Doan Ngo Festival (the fifth day of the fifth lunar month).
Read more: Top Floating Markets in Mekong Delta
4. What to see at Cai Rang Floating market?
4.1 The Bustling Trading Scene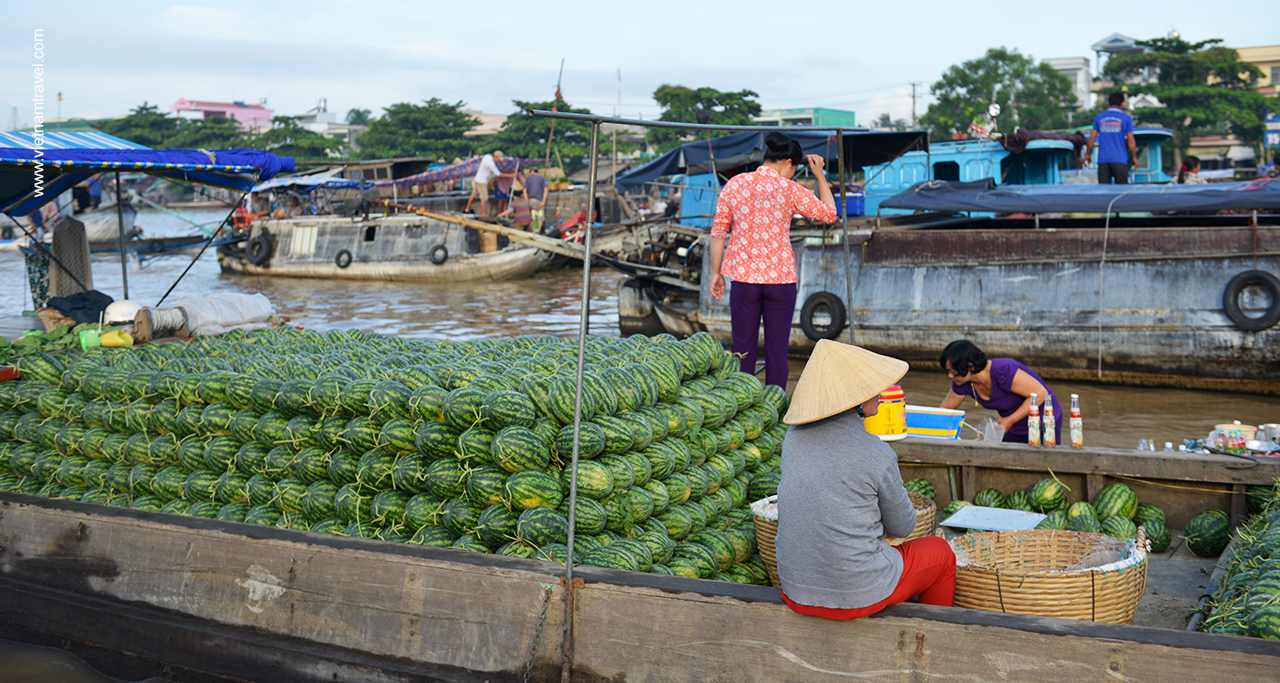 Cai Rang Floating Market is specialized as a wholesale market of fruits, agricultural products of the region. Goods here are concentrated in a large number. You can see the smooth performances of traders juggling fruit from boat to boat. Just look at what's tied to the long pole above the boat to see what they're selling. Local people and surrounding areas often use middle-size boats, canoes to carry agricultural products to consume here, while the big boats are owned by traders to deliver fruit to everywhere.
4.2 Daily life of the Locals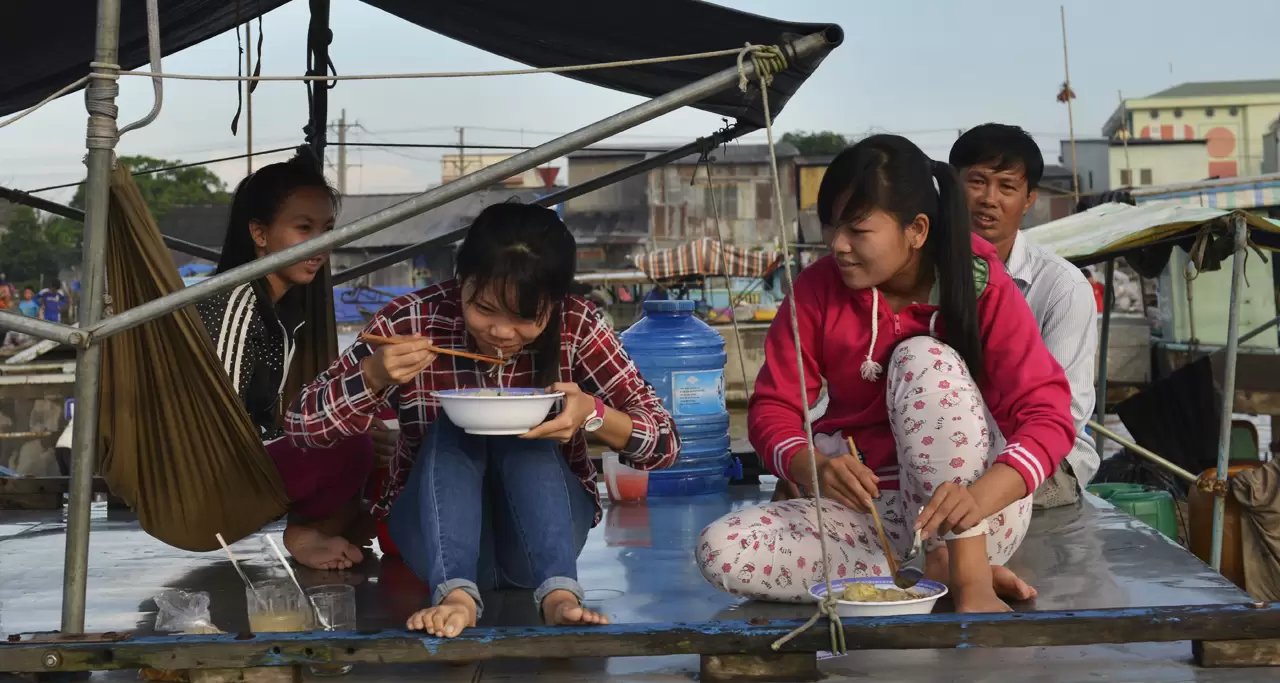 Soaking up in the bustling atmosphere of the special market, you can observe and learn life of many families with several generations living together on boats. There are boats as "mobile apartment" on the river with flower pots, animals, and full interior such as TV, DVD, stereo, … including motorcycle parked on the boat. Not only is the vehicle used to purchase and deliver, but it is also the residence of traders' family. All daily activities take place on boats.
4.3 Local products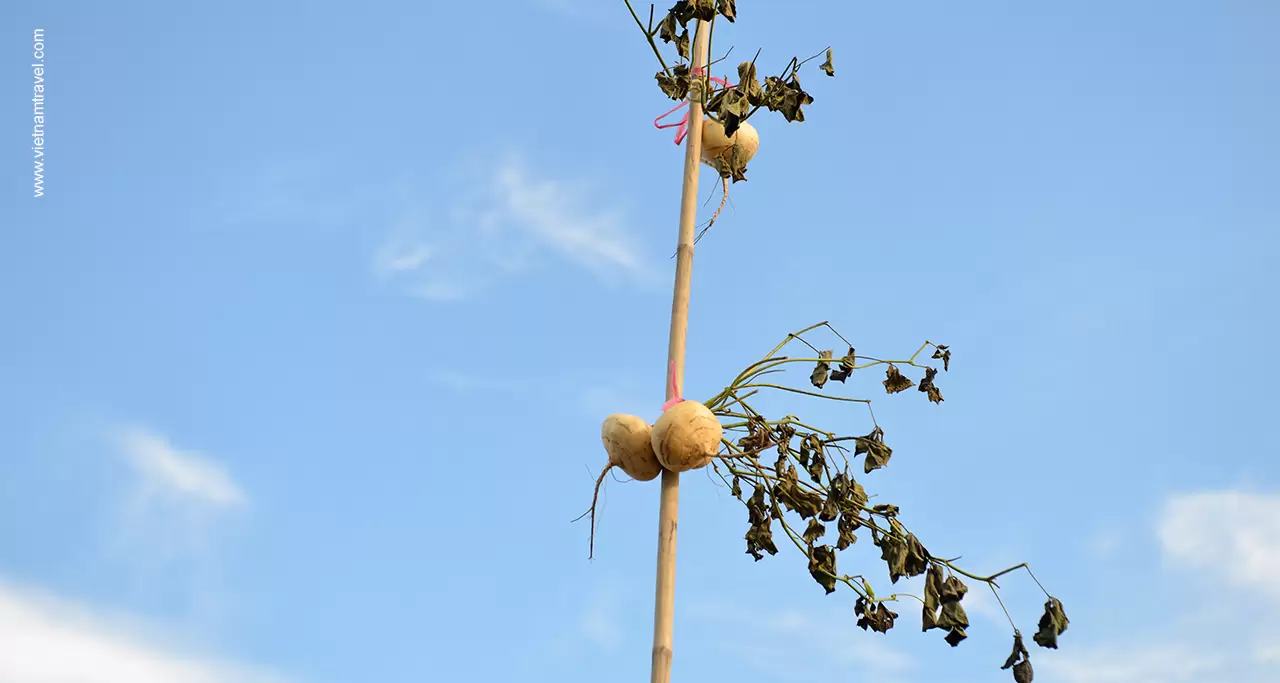 As one of the main trading centers of the Mekong Delta, Cai Rang is a place where the locals sell and buy a wide range of products catering to their daily lives. Besides staple commodities, this is a famous location to find local products priced quite reasonably. You can find the freshest fruits harvested from nearby farms: durian, milk fruit, rambutan, mangosteen, grapefruit, etc., or even other processed specialties, such as fish sauce, coconut candy, or dried fish. You can choose from a variety of fresh fruit for a picnic later in the day!
4.4 Food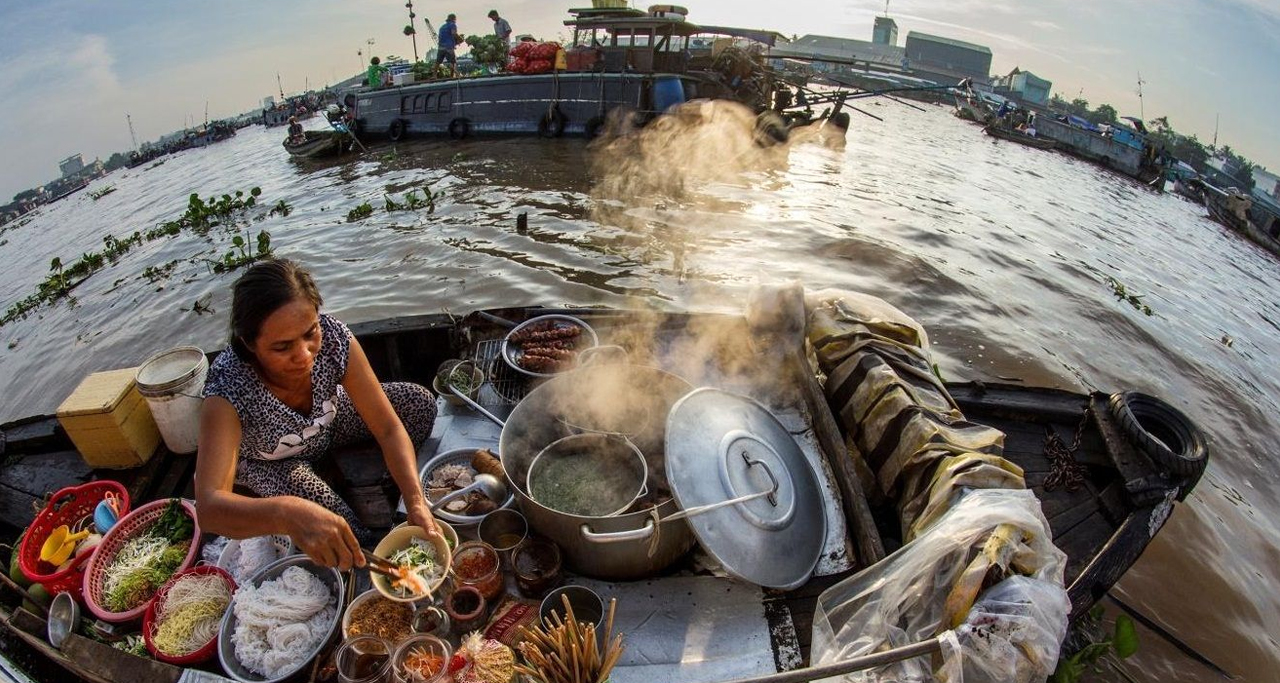 Visitors shouldn't miss out on interesting eating experiences while visiting the floating market.
Many floating restaurants open to serve breakfast for both sellers and shoppers. Here, you can find most local dishes, such as pho, hu tieu, com tam, bun rieu, etc. With only 25,000 VND
(over 1 USD), surely you can treat your hunger with quite a hearty meal.
5. Some local tips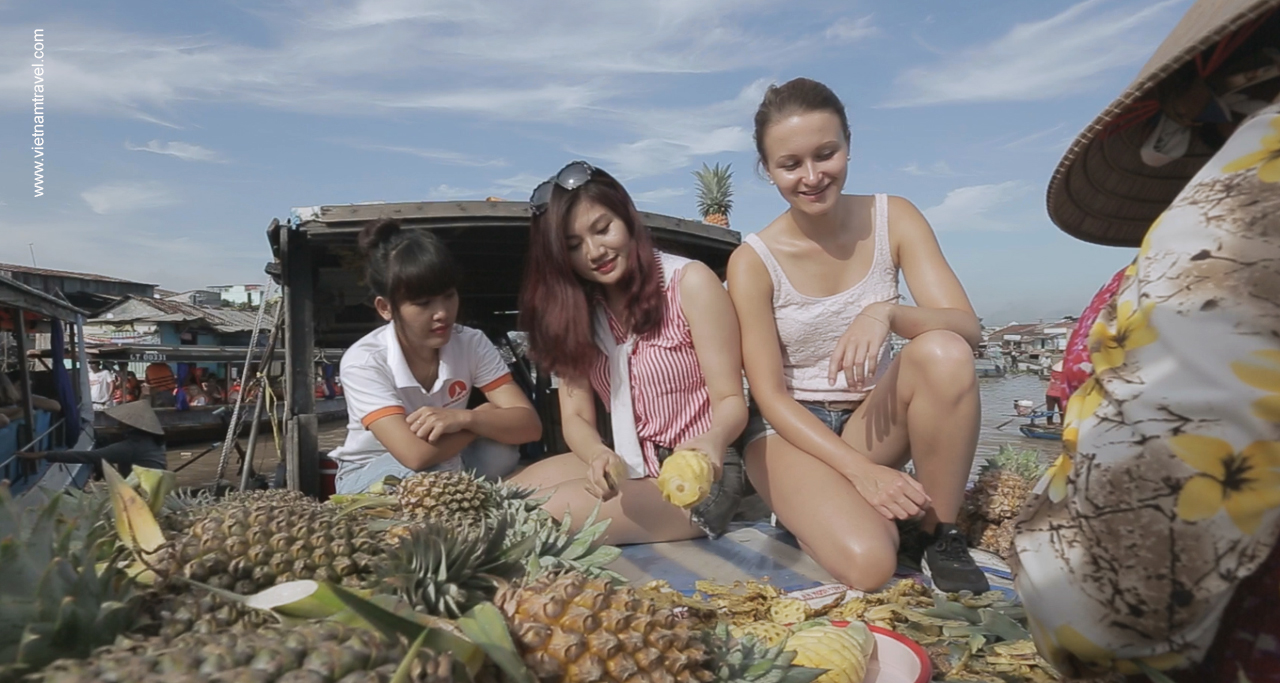 • Make sure to get there early. The sunrise from the boat is fantastic and the food is at its freshest. You can see the market waking up from its slumber.
• Know what goods a boat sells, customers only need to obverse the poles erected in front of the boat from a distance. On these poles, the sellers will hang a sample of the products they are selling.
• Remember to bring a hat and sunblock since the sun will become hot very quickly.
6. How to Get to Cai Rang Floating Market?
6.1 From Hanoi
A 2 hour & 10 minute flight to Can Tho airport (VCA) will be a good choice for you from this city (HAN).
You need a night stay in Can Tho city and join the market in the next morning. A private car / van with an experienced guide will also work well in this case for your best travel experience.
6.2 From Ho Chi Minh city or HCMC (~ 170km)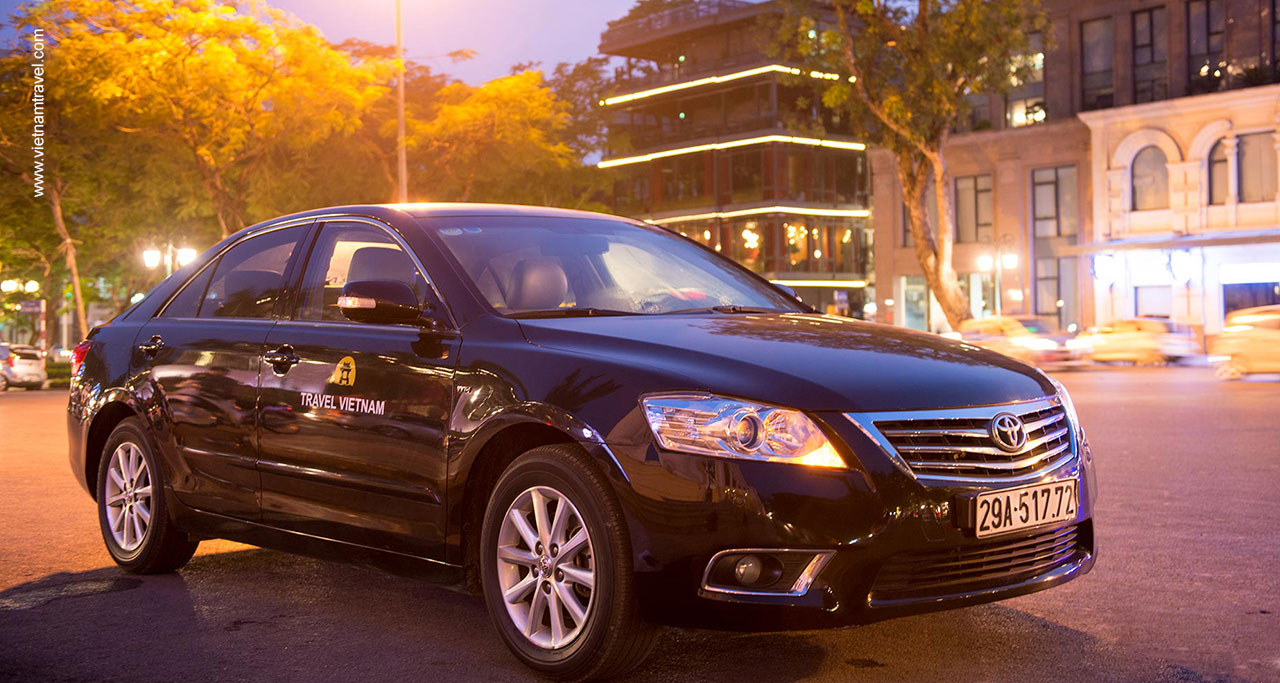 There is no train connection between Ho Chi Minh city and Can Tho. There is an international airport but no direct flight from HCMC to Can Tho. So, you can travel by bus, taxi or private car / van which takes around 4-5 hours.
The cheapest way will be by bus with some certified tourist bus companies for your choice: Phuong Trang (Futabus), Vu Linh, Thanh Buoi…The price is around US$ 5-8/ticket. Upon arrival at bus station in Can Tho, you will continue your travel to the market by taxi or local motorbike. Another way can be with taxis which cost US$ 100 – US$ 130 per vehicle.
Private car/ van will, again, be definitely your great choice for this location. It may cost you few more dollars proving you the most flexible itinerary, stops, photo opts… and could reach to few other interesting places that you don't on the bus or taxi. A senior travel guide go along with private car/ van would be a great combination and which could ensure a great trip.
6.3 From Can Tho city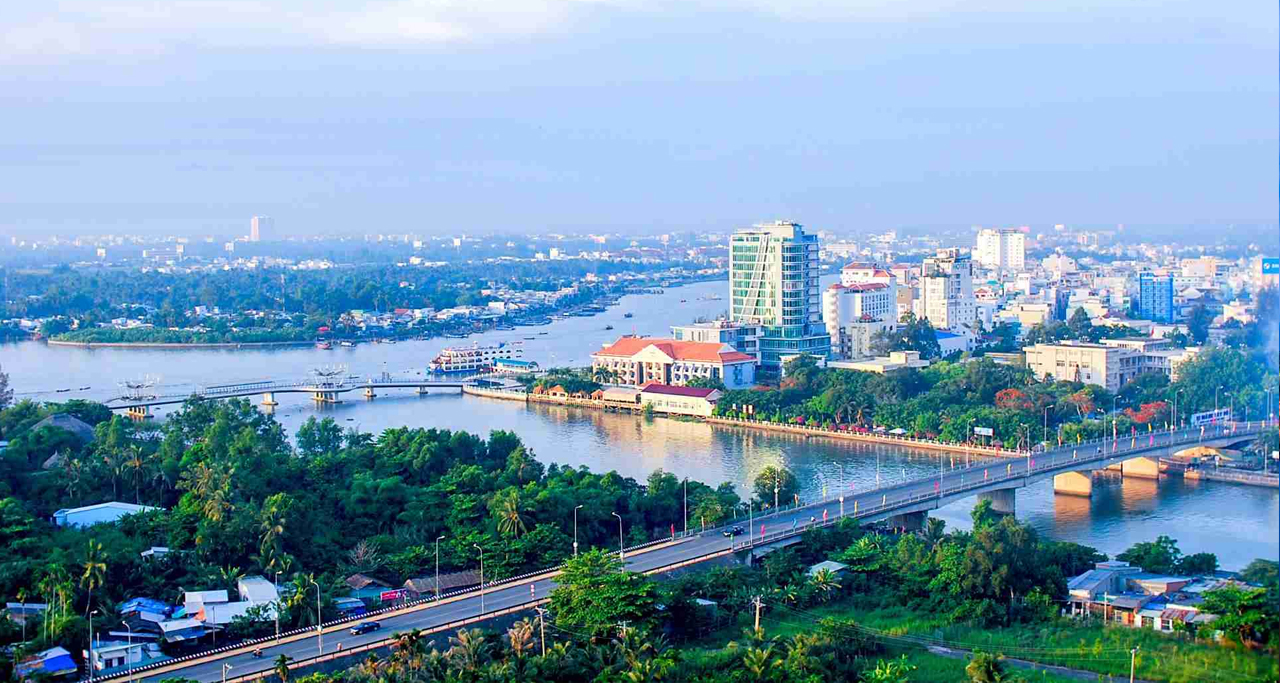 It is around 6km away from the city centre to Ninh Kieu wharf. You can easily take a taxi or motorbike to the quay then buy boat ticket (~ US$ 20 per private boat) to explore the floating market. Besides this, you can also take time to walk around the villages along the river to visit rice paper factory or fruit gardens. That is really good way for your experience.
Cai Rang Floating Market is only a few kilometers from Can Tho City. It is quite convenient for tourists to enjoy the cultural life in Hau Giang River. This is the destination of many Mekong tours. Your Mekong Delta trip will not be completed if you miss to drop by this destination.
Vietnam Travel welcomes any question from you and we are more than happy to design your perfect trip. Our knowledgeable staffs will assist you in selecting destinations, accommodations and activities that best suit your requirements!