4 Best Eco Tours in Hoi An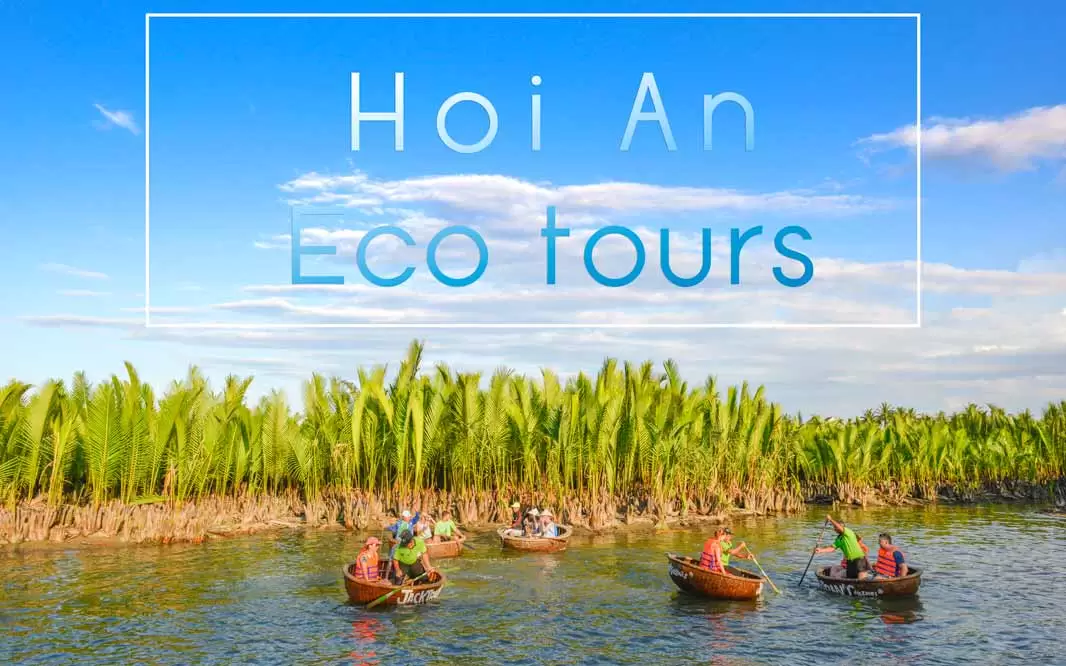 Hoi An Eco tour is a local fishing family who runs business to present travelers about Vietnamese generally but central people's lifestyle: How they work, live, eat and make ends meet. The owner want to create such a sustainable business that preserve and encourage environmental, social and cultural values to all people in all over the world.
This tours organizes and hosts many cultural tours in and around Hoi An even the countryside. They connect tourists with local people in which they will provide tourists knowledgeable instructions, indicate traditional local farming and fishing styles, then give them a chance to practice in hand
They specialize plenty of tours representing for our Vietnamese cultures with some highlight tours as below:
1-  Rowing basket boat and riding buffalo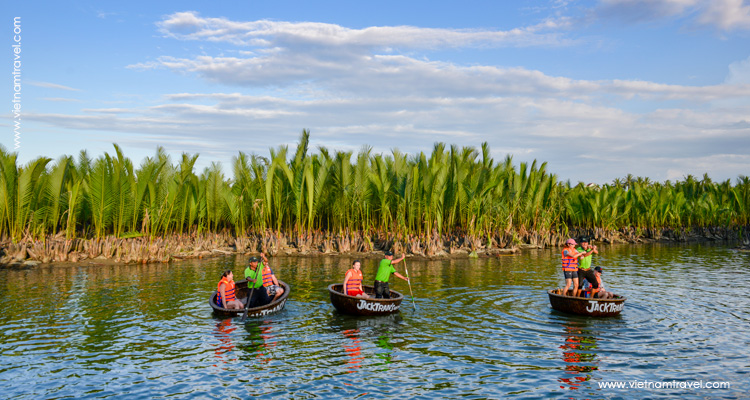 Buffalo plays an important role in our agricultural department and nowadays, it is not only for farming but using as a factor to attract tourist who want to experience the real unique Vietnamese farm style.
Tour will start at 09.00 am or 15.00 pm every day and occur at a local fishing village and rice paddy field away from Hoi An town. This tour is believed to make your day lightened up with lots of fun and joy on these great experience.
You will be transferred to a rice paddy farm where you can see local farmers and his buffalo. There is a short instruction before starting in which you will have a chance for a ride on the back of his buffalo. Continue down to a local fishing village where you can learn about the fishing industry and normal local lifestyle of a fisherman. The best part of the tour will be at the riding basket boat adventure. You will be guided how to keep balance and how to paddle in a proper way. The tour will end after a light snack at a local house meanwhile you can see one of the greatest rowing basket boat show that you will never forget.
2- Fishing Village and Waterway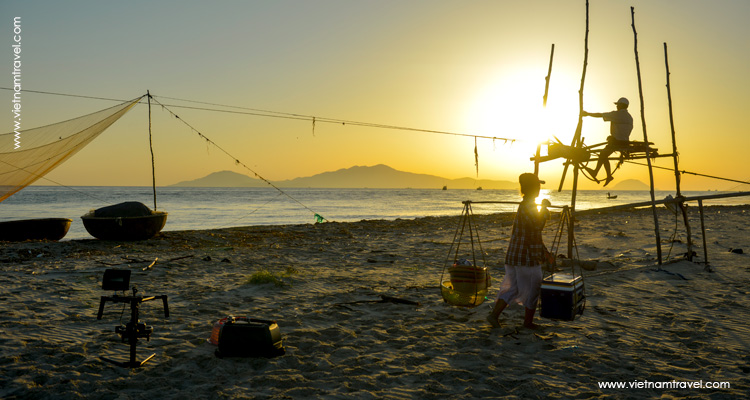 Departs at 08.30 am or 14.00 pm every day, you will have an opportunity to learn about Vietnamese fishermen lifestyle. Departs on cruise sailing along Cua Dai river and you can join experience of round net and cast net fishing, paddle the bamboo basket boat as well.
After that you will enjoy the basket boat dancing of Gangnam style by the crews while discovering the calm of coconut palms along the waterways.
Ending tour with a special lunch and cold beer or cold soft drinks along river after returning to hotel
3- Early fish market and sunrise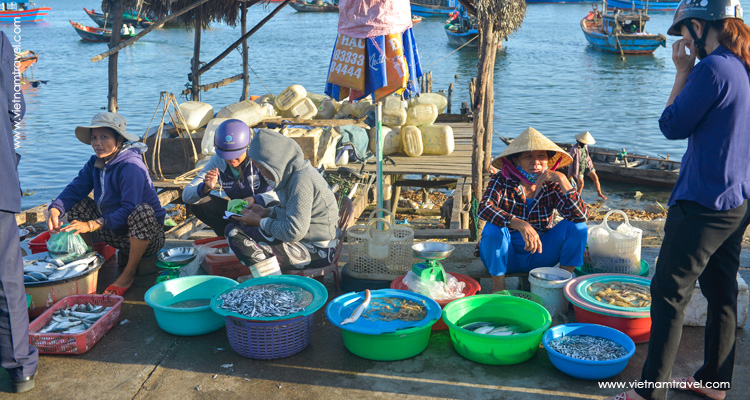 Before the sun shine lights up, fishermen will return from the sea and bring their products after a long and tiring night fishing in Cua Dai sea with a variety of fish, crabs, prawns, squids and shellfish. Before delivering it to local markets, they will have a really quick and fresh sale for those who are there early. This is kind of a spiritual activities everyday in every fishing family. The tours will bring you closest to the local life to see and experience.
You will be picked up early in the morning at 4.30am by coach, embark on a boat and sailing along the river where you meet the Cua Dai Sea. You will see there are so many local fishing fleets returning at the dock. Then continue to visit local fishing market where a quick sale occurs. You can take part in with the fishermen to take the fish out of their nets, learn how to paddle the Vietnamese bamboo basket boat in a proper way. Last but not least, you will return Hotel after enjoying the coffee and complementary traditional fisherman's breakfast on boat. End tour after not seeing the sunrise, but local fishing market and sailing along the river will make your trip in Hoi An unforgettable
4- Buffalo pulling cart and meet the farmer
Buffalo Pulling Cart is known as a traditional vehicle used for farmers carrying their products after harvesting. It is attractively designed with or without roof and with simple bamboo decorations with soft seat (The original is without seat to easily deliver the big things)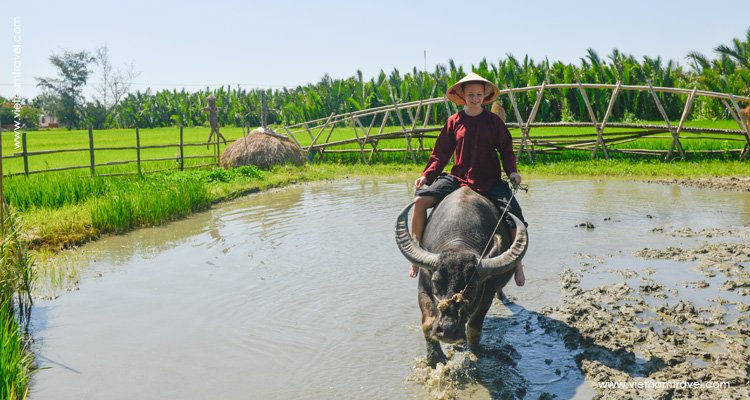 The tour will start at 15.00 pm and end at 18.00 pm, occurred at Cam Thanh Village. You will be picked up by coach and travel to the Village then touring in Buffalo Pulling Cart through the farming villages and rice paddy fields while enjoying the cold beers or cold soft drinks. You will also spend your time to share story with farmers about farming life when you feed and water your buffalo as well. Lastly, you will learn about story of rice, how to raise and cook it then enjoy the traditional rice meal in an authentic Vietnamese meal.
The 4 tours above are only the most highlighted ones but there are so many other tours. Vietnam Travel can also professionally tailor your trip based on your requests so just feel free to contact them. With such a great passion and customer cares, The tours was highly recommended in Hoi An and you can see there are so many gorgeous reviews on TripAdvisor.
Many packages of Vietnam Travel cover Eco tour in Hoian. For more information and best offer, please email [email protected].