15 Vietnam villages you should visit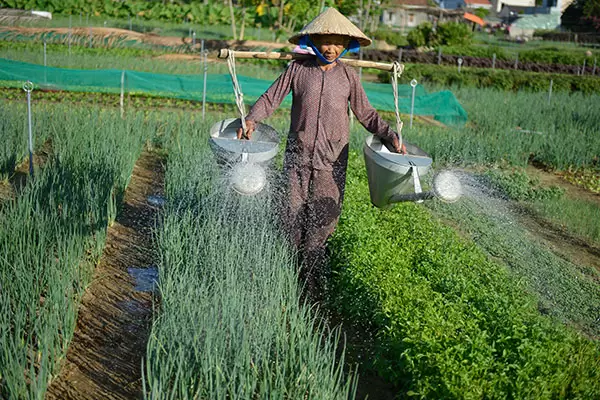 Village is small administrative unit in Vietnam – It is an essential part of Vietnam Countryside. Through the development of Vietnam History, Village is living community that build up the system of Vietnam country. There are many names for " Villages" in Vietnam: Cha, Buon, Soc, Phum, Ban, Van, Lang…they all means" Village". Vietnam Travel listed the top Vietnam villages that you should put in your list when you plan a trip to Vietnam.
Traditional Villages in North Vietnam
1- Bat Trang Village, Ha Noi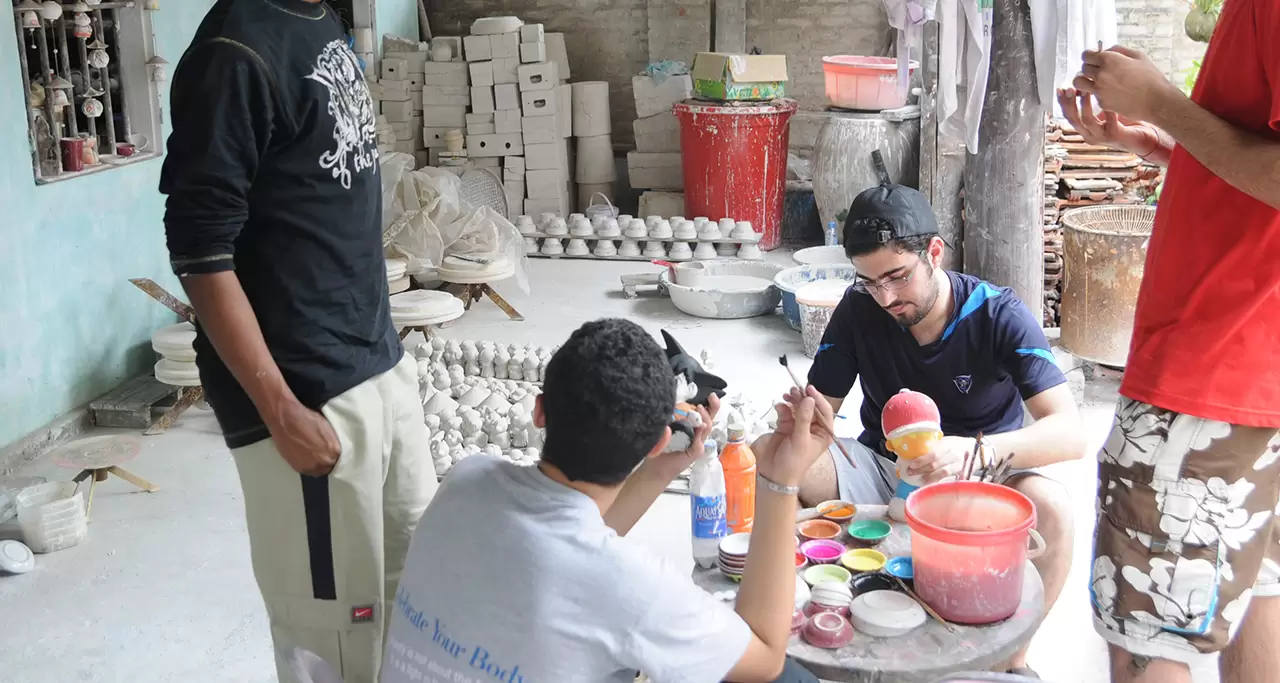 An ancient village located by the bank of Red River about 25km from Hanoi. The village has been making ceramic for over 500 years. The local craft men have hundreds of skills to process clays and controlling fire… they have made so many nice works of ceramics for local use and exports and arts…
A trip to Bat Trang, visitors could meet the local, visit the kilns, see how they make ceramics or make the paintings on ceramics works… visitors could join hand in some of the activities too. The trip to bat Trang last for 2-3 hours and you could combine with visiting Van Duc Village or Van Giang flowers villages.
2- Van Duc Village, Hanoi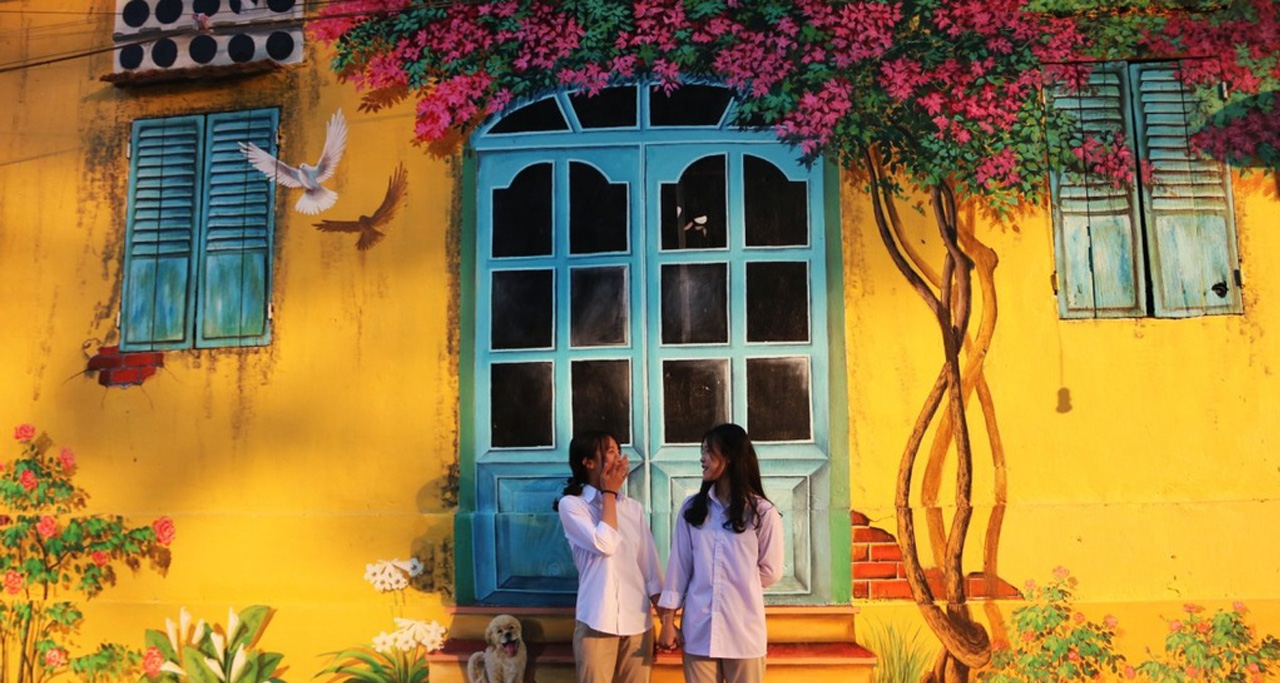 Van Duc is an agriculture village outside Hanoi about 30km or 40 minutes' drive.
The village is located by the bank of Red river. The farmer has been growing all type of local vegetable to supply for the city. In the temple of village, they worship Chu Dong Tu one of 4 most powerful saint in the believe of local.
Recently in 2019, Trip Azia is a local company develop the eco tour in Van Duc.  Visitors to Van Duc could experience the local life of Red River delta, join hands in some farming activities as fishing, farming vegetable or harvesting their farm products… The local painters and coordinators of Trip Azia project made some lovely hand paintings on the walls along country lanes, Most of the painting is about countryside life and farming activities…
It is about 3-4 hours visit and you could combine with the stop at Bat Trang village or it could be a nice visit when you come back to Hanoi from Halong bay.
3- Ban Lac Village, Mai Chau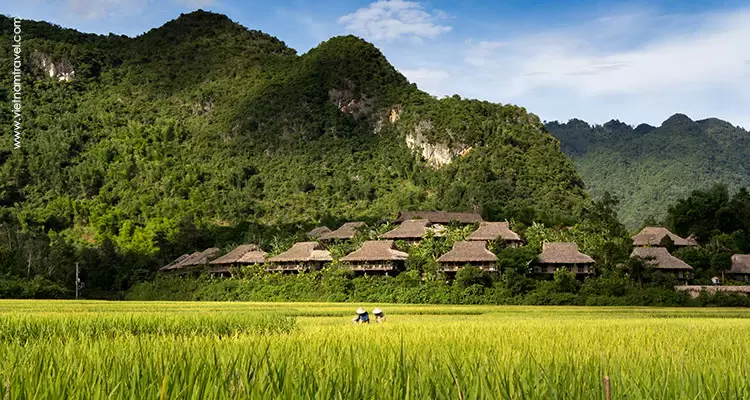 Ban Lac is located in the Mai Chau Valley, It is about 146km from Hanoi or 3 hoursdrive. Nowadays the road to Mai Chau has been renovated and it becomes so much easy and enjoyable to access Mai Chau.
Ban Lac and Mai Chau in general is home of White Thai hill tribe and Hmong tribe. At night visitors could enjoy the show of dance and songs of local band, they will perform right on the floor of long house where visitors stay overnight.
You should visit Mai Chau on the 2 day trip. Vietnam Travel have very nice " Mai Chau Escape- 2 Days" and bring people in to the culture of Thai people and the trip get you to know much more about the local life of ethnic minority here in Mai Chau.
Remember to bring the walking shoes for the nice soft trek to Pom Com, Na Phon village and if you could manage the longer trek, you will reach to Xom Cum, Mai Hich villages.
4- Duong Lam village, Hanoi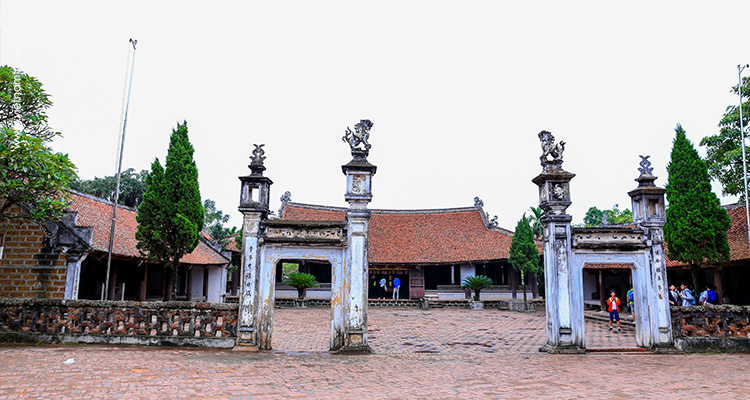 Duong Lam village located in Son Tay about 60km or more than an hour drive from Hanoi.
This village become famous because it is birth place of Two Kings in Vietnam: King Phung Hung (761-802) and King Ngo Quyen (896-944).
The trip to Duong Lam bring you to countryside of Vietnam with lots of bamboo bushes and rice paddy along the drive. You will see the ancient houses, meet local at their home and see they working at their farm..
It is half day trip and you could combine with a stop at Chua Thay pagoda and Tay Phuong Pagoda for a full day trip.
5- Quynh Son Village, Bac Son, Lang Son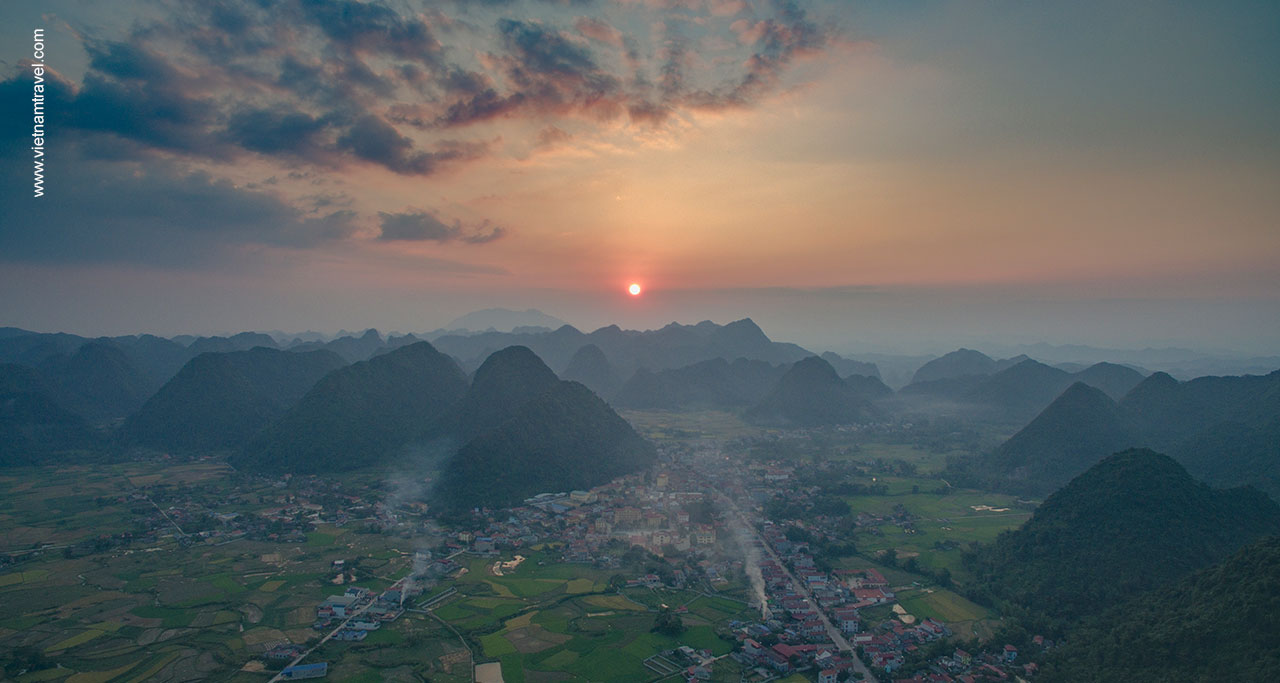 Quynh Son is village of Tay tribe – one of 54 tribes in Vietnam. It is in Bac Son district, Lang Son province about 3-hour drive from Hanoi. You would better take 2-day trip to Bac Son and stay overnight at long house of Tay people, enjoy the dance and show of local band and next day trek to Na Lay peak (1,200 steps) for spectacular of rice field and mountains ranges. It was the base of Viet Minh (earlier of Viet Cong). The trip should include the visit of small waterfalls and a lovely cave that less people visit. Local culinary of Tay people with authentic home cooking is also the highlight of this trip.
Vietnam Travel operates 2 days escape to Bac Son with lot of activities and amazing arrangement is highly recommended.
6- Cua Van Village, Halong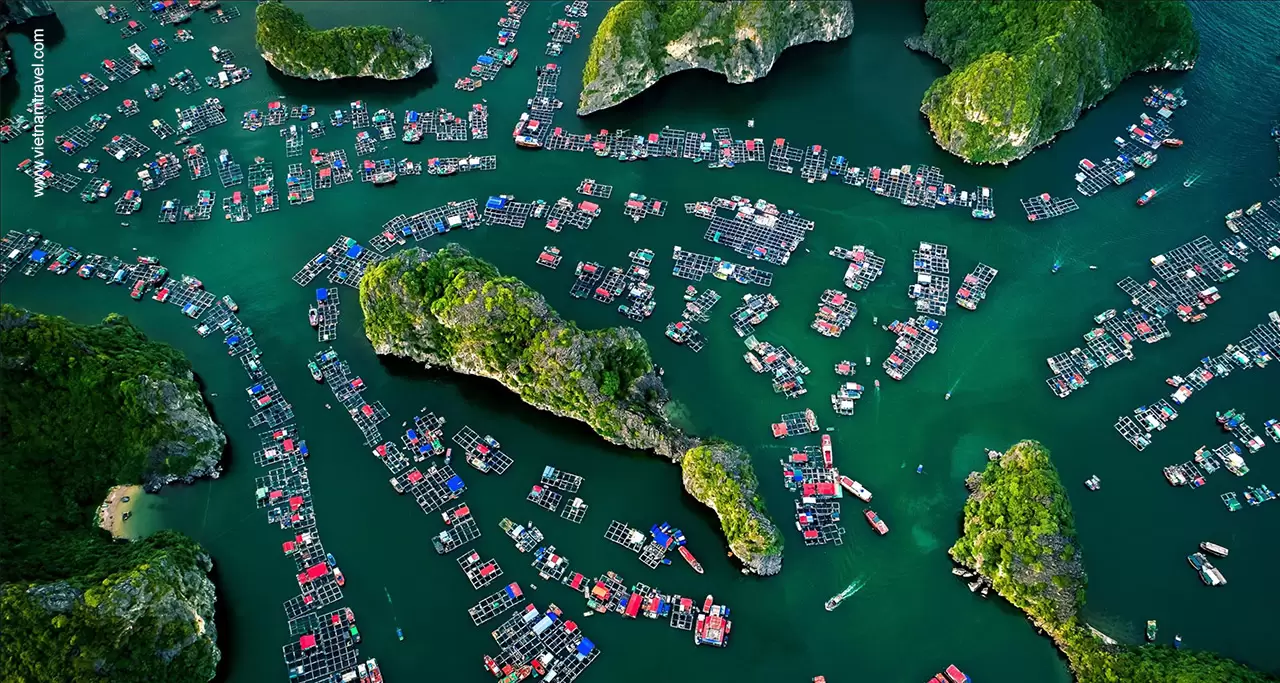 Cua Van is a fishing village in the heart of Halong Bay– the top attraction of Vietnam. Cua Van is a lovely stop when you cruise on the bay. In this stop, time is limited because you have so many other next activities going on but you could take some photos, say help to local and get to know their life out here in Halong sea. You will find Fisherman's house is so simple may know the real reason of that simplicity.
A community of around 1,600 people live on Hạ Long Bay in four fishing villages: Cua Van, Ba Hang, Cong Tau and Vong Vieng in Hung Thang ward, Ha Long city. They live on floating houses and are sustained through fishing and marine aquaculture (cultivating marine biota), plying the shallow waters for 200 species of fish and 450 different kinds of mollusks. Many of the islands have acquired their names as a result of interpretation of their unusual shapes. Such names include Voi Islet (elephant), Ga Choi Islet (fighting cock), Khi Islet (monkey), and Mai Nha Islet (roof). 989 of the islands have been given names. Birds and animals including bantams, antelopes, monkeys, and lizard also live on some of the islands.
In general, Cua Van village is a lovely stop and you should be ready for this shot trip when you cruise on Halong Bay.
7- Viet Hai village, Hai Phong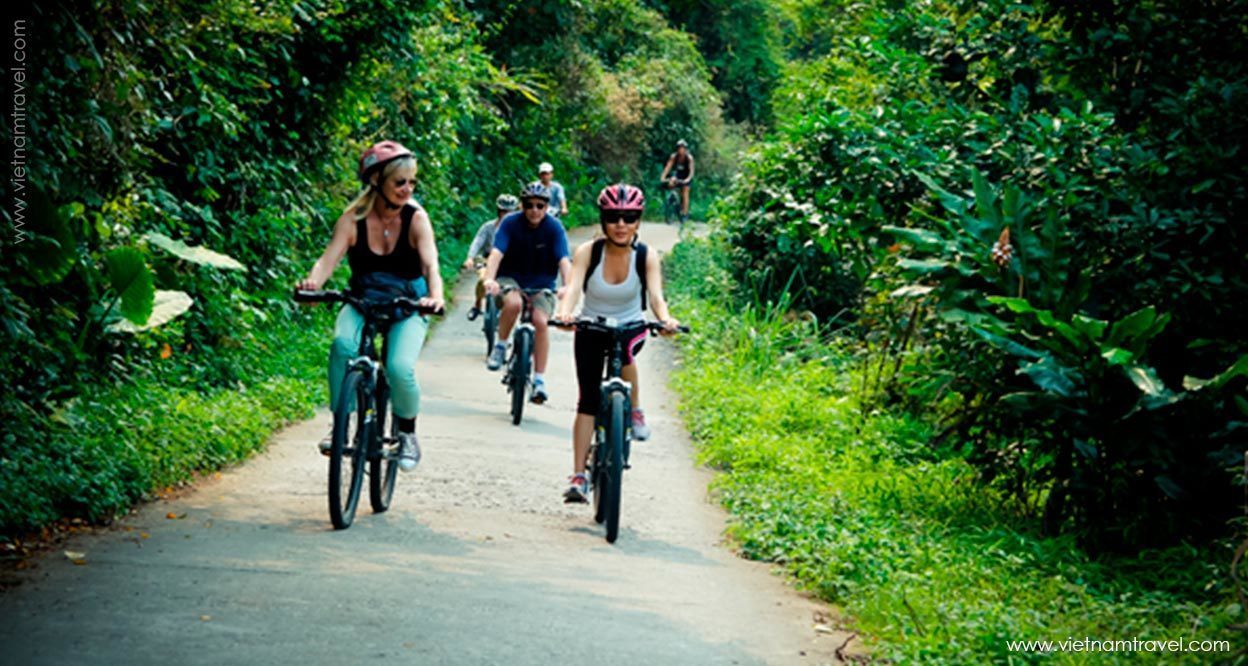 Viet Hai is a small village in the midst of Cat ba National Park, covered by high mountains ranges and tree by the sea in Hai Phong province.
Viet Hai is included in 3 days Cruise in Halong bay or Lan Ha bay. You could reach to Viet Hai by hydrophoid or ferry from Hai Phong to Cat ba then take the biking or private car to Viet Hai too.
In Viet Hai village, visitors could take a short walk to bike along small road to some local home, visit the herbal farm where local show you many leave that good for human 's health.
Vietnam villager is very friendly, you may like several type of rice wine that distilled in the home kitchen
It is about 2 hours visit and it is worth it.
8- Ta Van Village, Sapa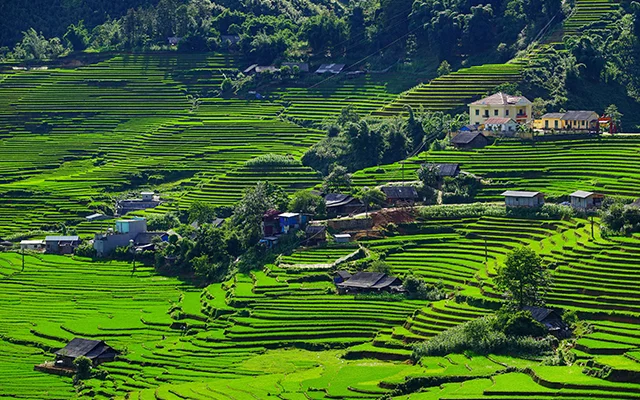 Ta Van is home of Zday tribe, one of 54 tribes in Vietnam. It is located 8km downhill from Sapa.
The trek to Ta Van village passing Ylinh Ho, Lao Chai to Ta Van – the most spectacular of Muong Hoa valley and right at the foot of Fansipan Mountain – the top roof of Vietnam 3143 meters above the sea level (you may see the peak in the clear day).
Visitor could take a half day trip if you leave early otherwise take it slowly and enjoy the picnic lunch along the stream or ask tour guide book lunch at Ta Van communal house.
This is one of the best thing to do in Sapa.
Remember to bring camera for many nice shots and some bottle of water along the trek.
You could stay overnight at the home stay in Ta Van but homestay here is pretty basic and I guess you may like hotel in Sapa better. Hotel in Sapa is pretty cheap and ask Vietnam Travel to book for you a special contract rate.
Must-visit Traditional Villages in Central Vietnam
9- Thanh Toan village, Hue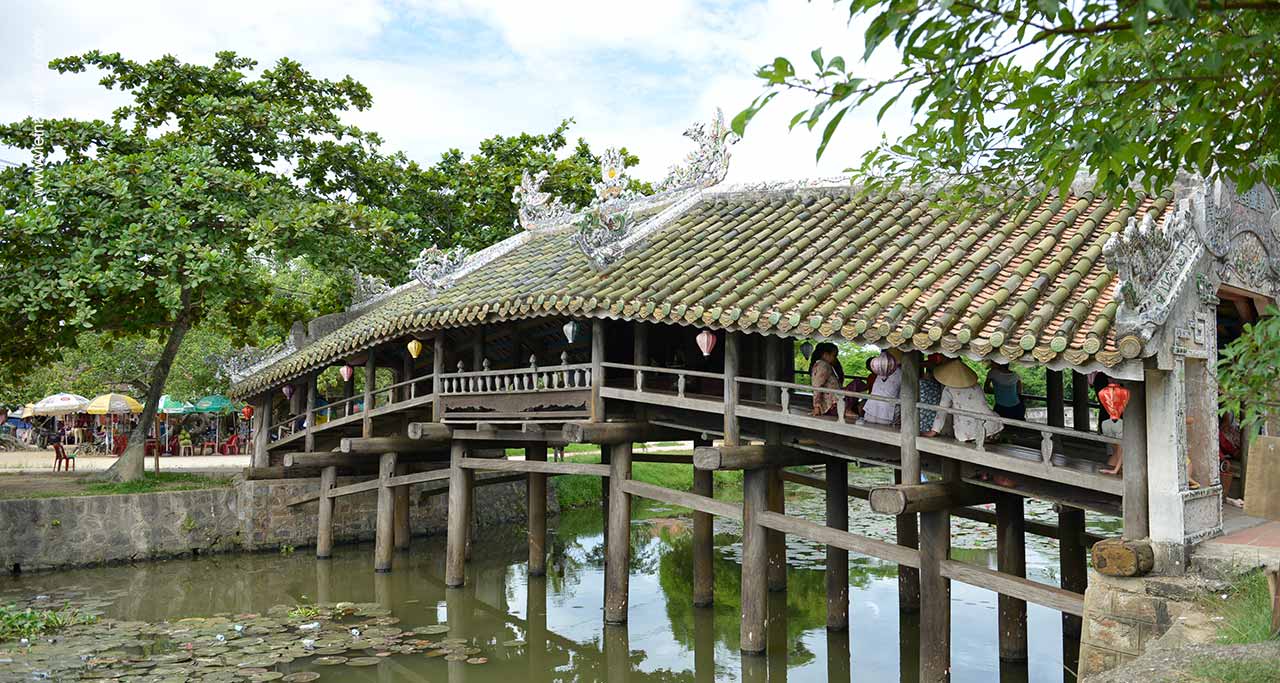 Than Toan village is famous for the unique bridge which was built in 1776 by  a lady who was born in this village, It is located in Thuy Thanh commune, Huong Thuy district. About 8km from Hue City. You could get to Thanh Toan village by bike, motor bike or private car. It is very nice drive to the countryside of Hue passing the rice paddy and small lane along the banks of river and ponds.
Visitor could walk in the village and meet and talk to local at their works and home. If you come early, you could be able to attend the morning market of Thanh Toan where farmers selling and buying the farm products and food for their day cooking. Local market is also the socialize place where they update the news, meeting friends and relatives…
A half day trip to Thanh Toan village is worth for visit.
10- Thuy Bieu Village, Hue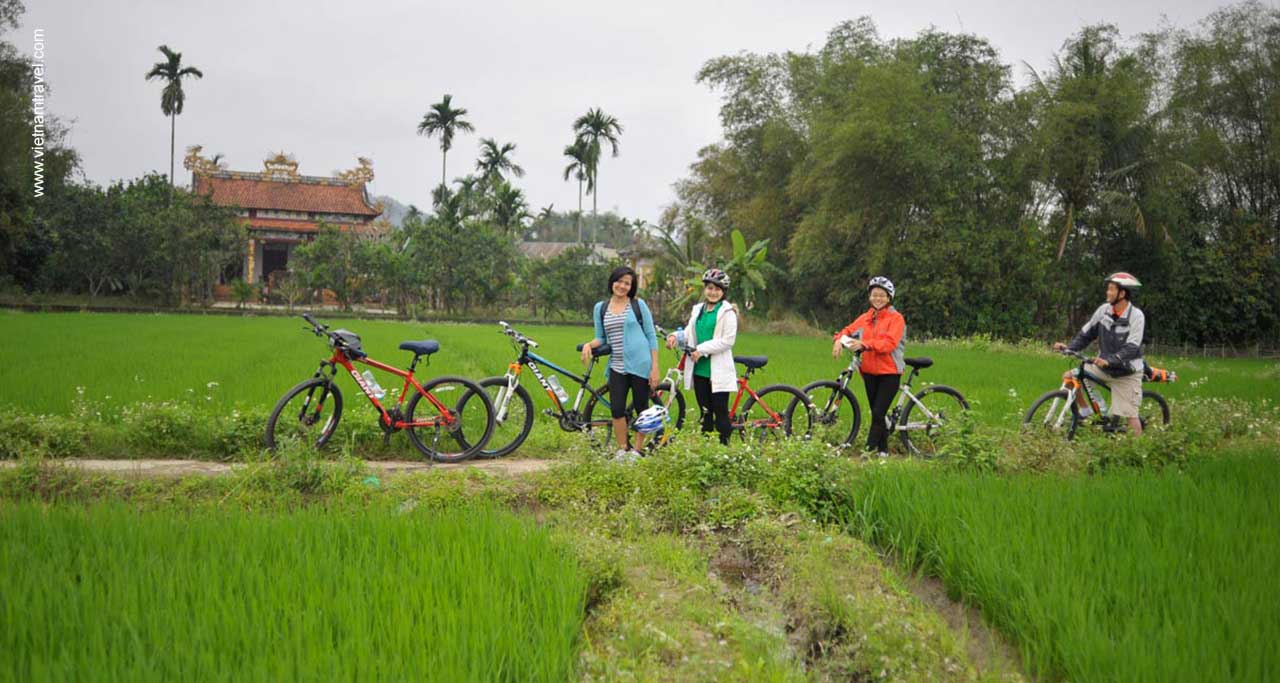 Thuy Bieu ancient village is located upstream of Perfume River only 5km from Hue City.
Thuy Bieu still preserve many ancient houses with the unique structures, some of the house is up to 183 years old. There is an old site game between elephants and tigers in the past. This coronary-scarf arena is almost integrated with inside citadel, outside citadel, stand, entrance gate and stone paths.
Visitor to Thuy Bieu will experience local life, learning the local methods of making sesame candy, Nam cake… visit the incense making home-factory and enjoy the tranquility of typical countryside of Vietnam.
11- Cam Thanh village, Hoian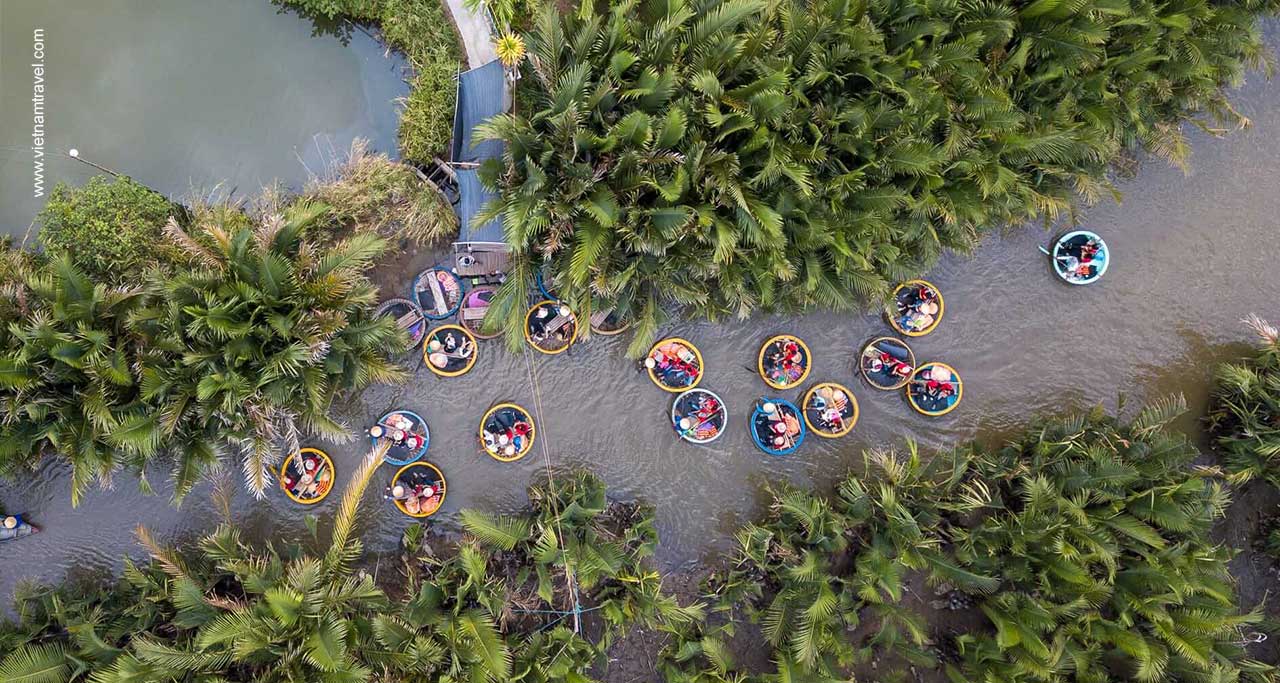 This used to be a army base during the Wars – Cam Thanh village, or the Coconut Village, about 5 miles from Hoian Old town.  The road is pretty flat and you could choose to drive there or take a bike or motorbike will be easy.
Things that make Cam Thanh village special is the water coconut known as nipa, or mangrove, palms. Local people often called water coconut (Dua Nuoc). These are the only members of the palm family which have successfully adapted to mangrove ecosystems. They grow in soft mud and areas of slow-moving tides and in rivers with roots submerged; only the stalks and leaves are above water.
These dense palms provide shelter from the monsoon storms and floods as well as providing a home for birds and many species of aquatic animals. The palm's fruit is a tasty snack or dessert and the palm leaves are used to thatch roofs throughout the village.
A half day trip to this village is worth to visit.
Read more: Overview of Hoian
12- Thanh Ha Village, Hoi An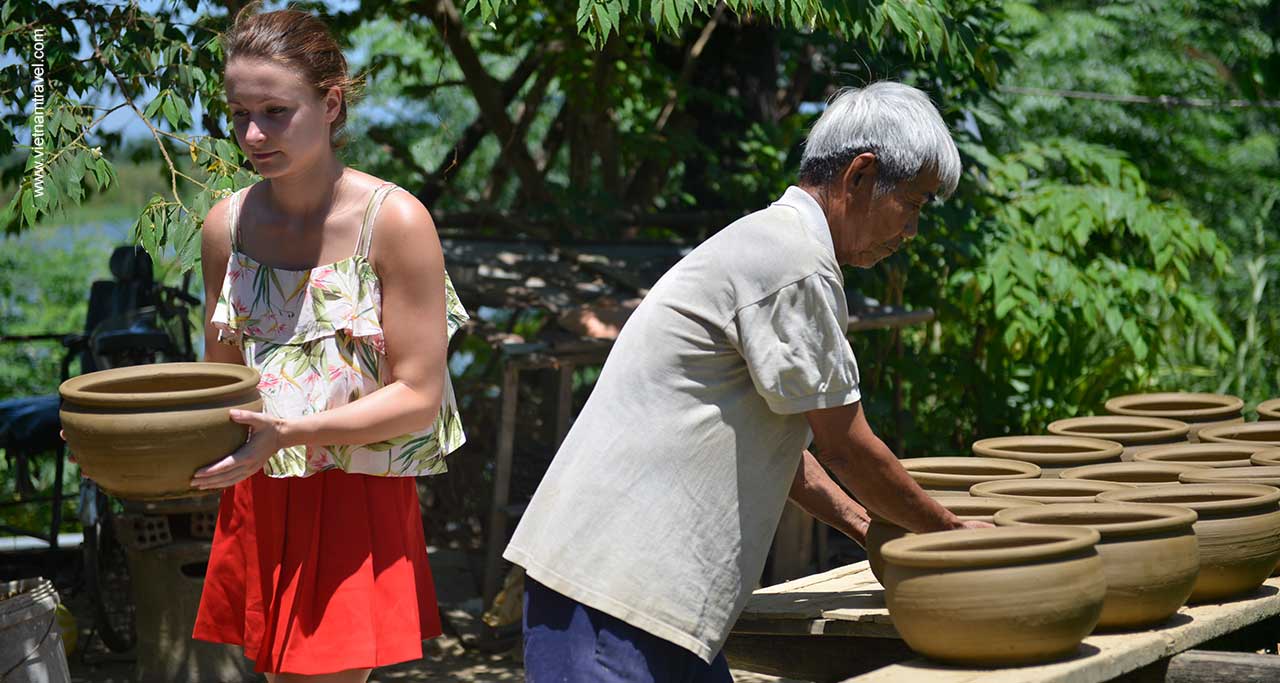 The Thanh Ha Pottery Village is located in the Thanh Ha ward of Quang Nam province, just off the Thu Bon River.
The village opens every day at 8.a.m. and takes its last visitors around 5:30.p.m., though they don't officially close until 6.p.m. Weekdays are better, and to avoid the heat, mornings are best. The tour groups showed up later in the afternoon—around 3 pm—but even at its busiest, the village did not feel crowded.
The pottery found at the Thanh Ha Pottery Village is especially unique. It's all manually crafted from terracotta clay taken from the nearby riverbeds and shipped worldwide.
Just a short drive from Hoian Old town, the Village is a great activity for those seeking a more authentic hands-on experience in Vietnam or those just looking to duck away from Hoi An's crowded markets.
13- Tra Que Vegetable Farm Village
Tra Que is a charming little village on the edge of Hoi An (about 15 minutes by bike). Take a scenic bike ride out to a farm in the village – exercise is a great way to kick start your day! Upon arrival, get an introduction to the village. Wander off around the beautiful garden and know different kinds of herbs that the locals grow here such as mints, basil, lemon basil, bok choi, spring onion, coriander, green beans, papaya etc. See how fresh vegetables are as the people just use seaweed as organic fertilizer for their farms. The farmers here will show you how to rake the soil, sowing, watering, picking vegetables that you have not seen before. Next, you will join in some farming activities by yourself and learn to carry water buckets to water the garden. Also, you will learn some of their farming techniques. Take the trip to Tra Que, visitors will experience the cooking class and taste some local dishes.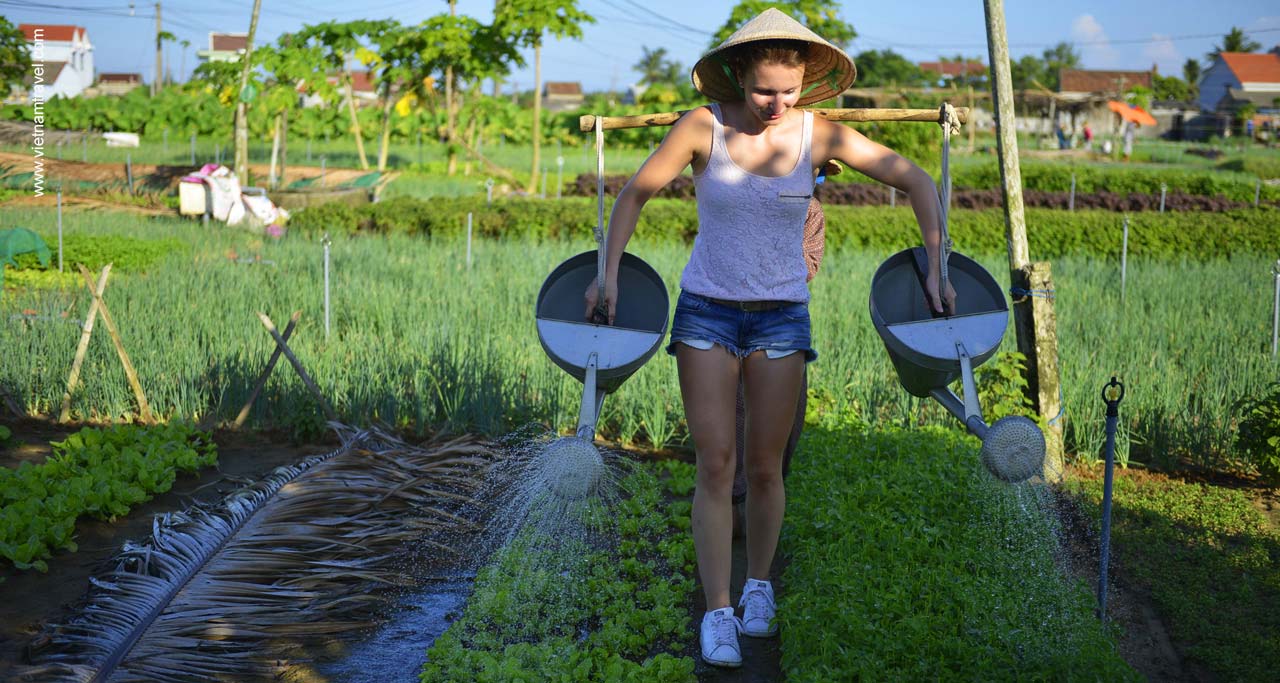 Charming Villages to Visit in South Vietnam
14- Phong Dien Village, Can Tho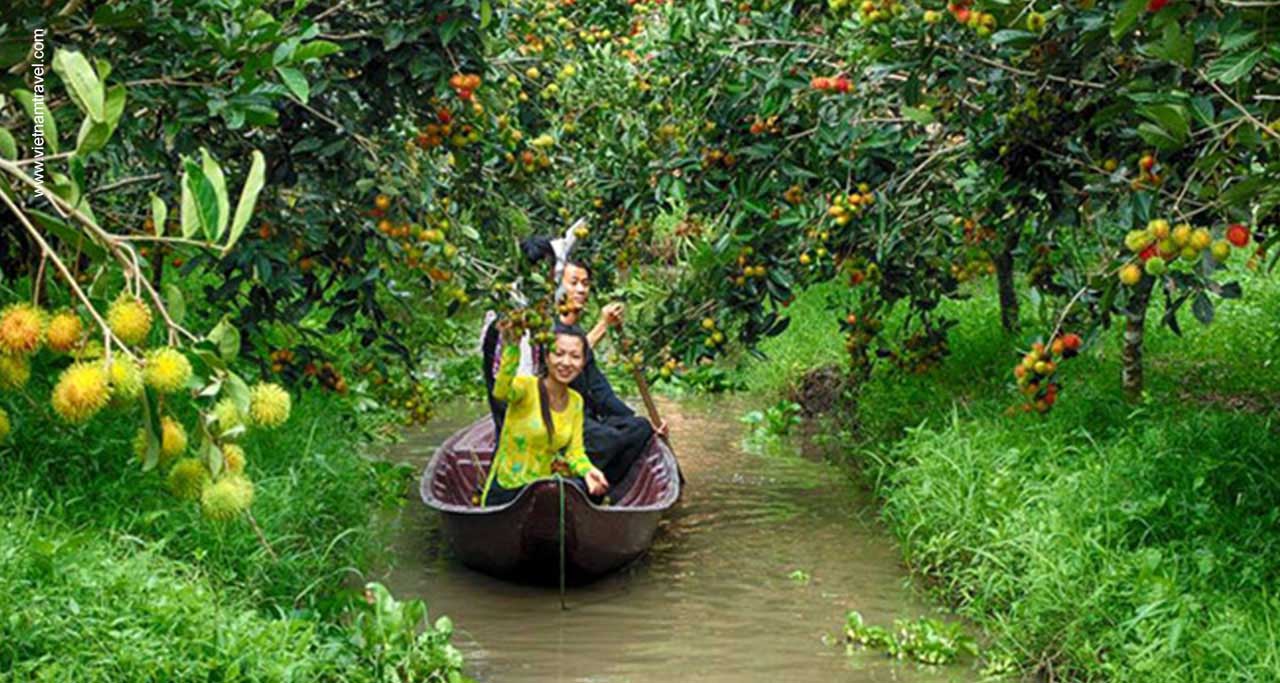 When you visit Floating village in Can Tho, Mekong Delta. If your time is permitted, you should visit Phong Dien village. You would love the orchard and taste lots of tropical fruit.
Can Tho is consider the capital of Mekong delta, it is fruit basket of the area and Phong Dien is the right stop. It is just 16 km from your hotel in Can Tho about 30-minute drive.
You may choose to stop at farm of My Khanh or Vam Xam or Chin Hong. You would love this stop.
15- An Binh Village, Vinh Long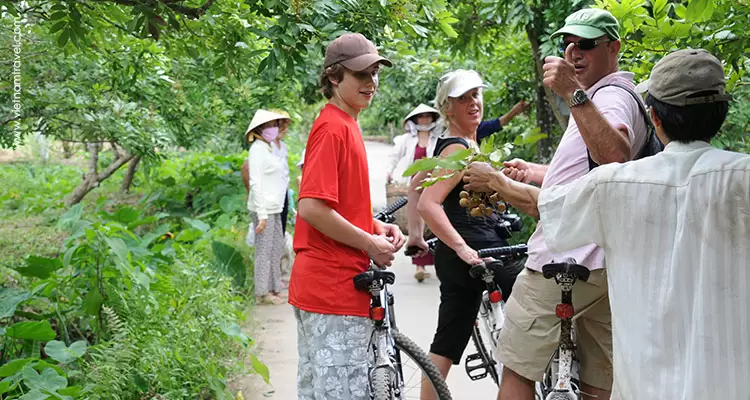 It is an island in the middle of Mekong river that most of the visitors would stop when they visit Mekong Delta.
Just 2- hour drive from HCM City. You could get to Cai Be then get on the boat to visit Candy factory, Floating market. Visitor could attend the show of traditional music and taste the fresh tropical fruits, experience the rowing boat and have lunch right in the garden.
It is good stop when you combine with trip in Can Tho or could be a day trip from HCM City.