Overview of Binh Dinh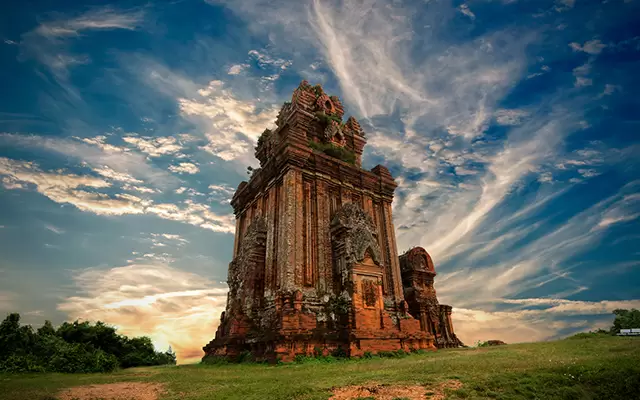 Binh Dinh province lies along the south central coast of Vietnam. This is the key economic region of central Vietnam. The capital city is Quy Nhon, which is 649km from Ho Chi Minh City or 1,065km from Hanoi. Binh Dinh share the border with Quang Ngai province on the north, Gia Lai province on the west, and Phu Yen province on the south. The province takes up a long coastline of 100km with many offshore islands. With advantage in well-maintained infrastructure, Binh Dinh has good condition to become an energetic economic center.
This coastline province is famous as the centre of the old Sa Huynh Culture. It used to be established as one of the capital cities of the former Cham Kingdom for a long period. The popular Cham towers are "Pyramid Shaped Black Cake" Tower, Duong Long Tower, "Flying Fairy Wings" Tower and Twin Towers. The long coast with many coves and lochs makes many beautiful spots and beaches such as Phuong Mai Peninsula, Queen, Quy Hoa and Ghenh Rang beaches. Besides these, Ham Ho Valley is a beautiful fresh water spot as a change for visitors who prefer tramping in the bush and a swim in the fresh water stream.
Binh Dinh is cradle of Tuong opera (hat boi), Tay Son martial music, Bai Choi musical plays, Ba Trao festival music of the fishermen along central coastline. The traditional festivals are Tay Son, Cau Ngu, An Thai Village Muscle art…
The province has special products such as silk, swallow nest, shrimp, fish, precious wood, vegetable oil, rice, marble, titanium, and handicraft articles.
1. Best time to visit Binh Dinh?
Binh Dinh province is featured with typical tropical monsoon climate with the average temperature of 27oC. Rainy season normally lasts from September to December and the rest months are in dry season (from January to August). The best time to travel to Binh Dinh is from March to May, when the number of tourists is relatively small so tourists can feel comfortable to enjoy their vacation. The weather at this time is relatively dry and not too hot, suitable for sightseeing and outdoor activities. The weather will be hotter if you come in later months. In addition, the beaches there can be quite crowded during summer vacation (at the end of May to August).
2. How to get to Binh Dinh?
Binh Dinh is 1,065km from Hanoi and is accessible either by car, train, or plane. The capital city – Quy Nhon is 174km from Quang Ngai, 186km from Pleiku, 223km from Buon Ma Thuot, 238km from Nha Trang, 304km from Danang and 677km from Ho Chi Minh City. There are National Highways No. 1A and 19.
Depending on where you are traveling from, there are several different ways to get to this province.
2.1. By air
The most convenient and quickest way to access to Binh Dinh is taking flights to Phu Cat Airport. It is located about 30km from the center of Quy Nhon City. There are daily direct flights between Quy Nhon and main cities in Vietnam, such as Hanoi, Ho Chi Minh City, Hai Phong, Thanh Hoa. These flights are operated by Vietnam Airlines, Vietjet Air and Bamboo Airways.
2.2. By train
Dieu Tri Tran Station is about 10 km outside of Quy Nhon City so taking train is a great option to consider when travelling to Binh Dinh. Especially, if tourists are already in Hue, Danang (Hoian) or Nha Trang; they are highly recommended to take train from these destinations to Quy Nhon (Binh Dinh) in case they are not pressed for time. If passengers take window seats, they'll have wonderful views of the countryside, experience to travel like local and even can make some new friends on the train journey. The train names Reunification Train, starting from Hanoi or Ho Chi Minh City but the run between Hanoi or Ho Chi Minh City and Quy Nhon is not suggested due to its very long and tired journey.
* Travel route: Hanoi > Hue > Danang > Dieu Tri > Nha Trang > Ho Chi Minh City
| Destination | Train SE5 | Train SE7 | Train TN1 | Train SE1 | Train SE3 |
| --- | --- | --- | --- | --- | --- |
| Hanoi | 06:00 | 09:00 | 13:10 | 19:30 | 22:00 |
| Hue | 19:55 | 22:50 | 03:47 (+ 1 day) | 08:56 (+ 1 day) | 10:35 (+ 1 day) |
| Danang | 22:47 | 01:43 (+ 1 day) | 07:15 (+ 1 day) | 11:41 | 13:15 |
| Dieu Tri | 04:23 (+ 1 day) | 07:25 | 13:38 | 17:41 | 18:36 |
| Nha Trang | 08:35 | 11:23 | 17:55 | 21:22 | 22:12 |
| Ho Chi Minh City | 16:08 | 19:11 | 02:30 (+ 2 days) | 04:39 (+ 2 days) | 05:20 (+ 2 days) |
* Travel route: Ho Chi Minh City > Nha Trang > Dieu Tri > Danang > Hue > Hanoi
| Destination | Train SE8 | Train SE6 | Train TN2 | Train SE2 | Train SE4 |
| --- | --- | --- | --- | --- | --- |
| Ho Chi Minh City | 06:00 | 09:00 | 13:10 | 19:30 | 22:00 |
| Nha Trang | 13:26 | 16:29 | 21:29 | 03:21 (+ 1 day) | 05:00 (+ 1 day) |
| Dieu Tri | 17:29 | 21:17 | 01:50 (+ 1 day) | 07:13 | 08:46 |
| Danang | 22:59 | 03:02 (+ 1 day) | 08:41 | 12:46 | 14:13 |
| Hue | 01:36 (+ 1 day) | 05:39 | 12:14 | 15:31 | 16:47 |
| Hanoi | 15:33 | 19:58 | 03:30 (+ 2 days) | 04:50 (+ 2 days) | 05:30 (+ 2 days) |
2.3. By coach
Lying in the middle of the country, tourists can choose public coach from any city in the North or South with a stopover at Binh Dinh. There are several coaches from both Ho Chi Minh City and Hanoi every day, but the journey is quite long. Passengers must be aware of about 15-18 hours on the bus. In the positive aspect, it's the most budget-friendly option to get to Binh Dinh/Quy Nhon, costing only about half as much as the train.
2.4. Private car/van
To make things more comfortable, travelers can book air or train tickets to Quy Nhon. Upon arrival at Phu Cat Airport or Dieu Tri Train Station, private driver and tour guide from Vietnam Travel will warmly welcome clients and escort them to hotels in any destination within Binh Dinh.
3. Attractions in Binh Dinh.
The majority of the province is covered by mountains or hills. Most districts of Binh Dinh have a topography that is a mix of mountains or hills and lowlands. The largest lowland area is located in the south of the province along the lower Con River. The long coast with many coves and lochs makes many beautiful spots and beaches such as Phuong Mai Peninsula, Queen, Quy Hoa and Ghenh Rang beaches. Besides these, Ham Ho Valley is a beautiful fresh water spot as a change for visitors who prefer tramping in the bush and a swim in the fresh water stream.
3.1. Ghenh Rang – Tien Sa Tourist Area
Ghenh Rang is one of the most attractive destinations in Binh Dinh, located 3km south east of Quy Nhon City. It has magnificent natural scenery with mountains, forests, beaches and islands that can't be seen in such a combination anywhere else. At the south west are high mountains that reach the ocean, and from these mounts you can survey great distances of natural beauty: the Lion's Head rock that leaps to reach the sea; the silent Waiting Statue; the Lying Elephant and Bear rocks that guard the beaches, and Chong Islet which seems to be light, but is stable in the heavy storms.
On the north east of Ghenh Rang is a blue ocean that covers the white sandbanks with cool water and a stunning view. This is one of the most beautiful beaches in Binh Dinh, and has greeted bathers in search of relaxation for many years. In 1927, Bao Dai, the last king of Vietnam, built a villa where his family could come and relax. He reserved the whole beach for just Queen Nam Phuong, his most beloved wife. It is because of this that the beach is now called Queen Beach. From the view on the top of the mountain, the beach looks like a large turquoise field filled with jade and granite eggs. And so, apart from "Queen's Beach", the local people also call it "Egg Stone" beach.
3.2. Ham Ho Tourist Spot
Ham Ho (Vietnamese: Hầm Hô) is a downstream part of the Kut River in Tay Son, Binh Dinh, and located 55km north west of Quy Nhon City. The name originated from an interesting phenomenon that occurs here in the dry season. In a drought year when people wanted rain, there were many strange sounds like people screaming and praying at this bend of the river. The locals began to call this place as Ham Ho, or 'Yelling Cellar'. This part of the Kut River is only 1km, but is a lush green all year long with cool streaming waters. Along the river banks are a dense forest mixed with high cliffs, dotted by a number of marble outcroppings with varied strange shapes. There are several stone places that are of particular interest to visitors, such as Chess Stone, Flying Fish Stone, and the Gates of Life and Death, which are also known as the Giant's Feet.
Ham Ho is also famous because it draws a considerable number of fish, especially in the flooding season. The local people say that this time of year is the Contest of Fishes organized by the Dragon King (the God that governs lakes, rivers and the ocean). The fish that wins the contest will turn into a dragon. In addition, fish that come to Ham Ho always swim against the river's flow and get pushed into the air like flying fish, so that this particular part of the river is also called The Flying Fish.
* Tour Activities in Ham Ho:
+ Boat tours on the river with man-powered punters make for a fun river ride through the rocky canals. Sitting on a boat along Ham Ho, you can explore a lot of amazing landscapes such as green old-growth forests, impressive mountainous sceneries, and wonderful rock masses on the riversides as well as under the pure water.
+ Swimming in the water to cool off is popular. There are safety ropes running through the river to aid those who want to sink.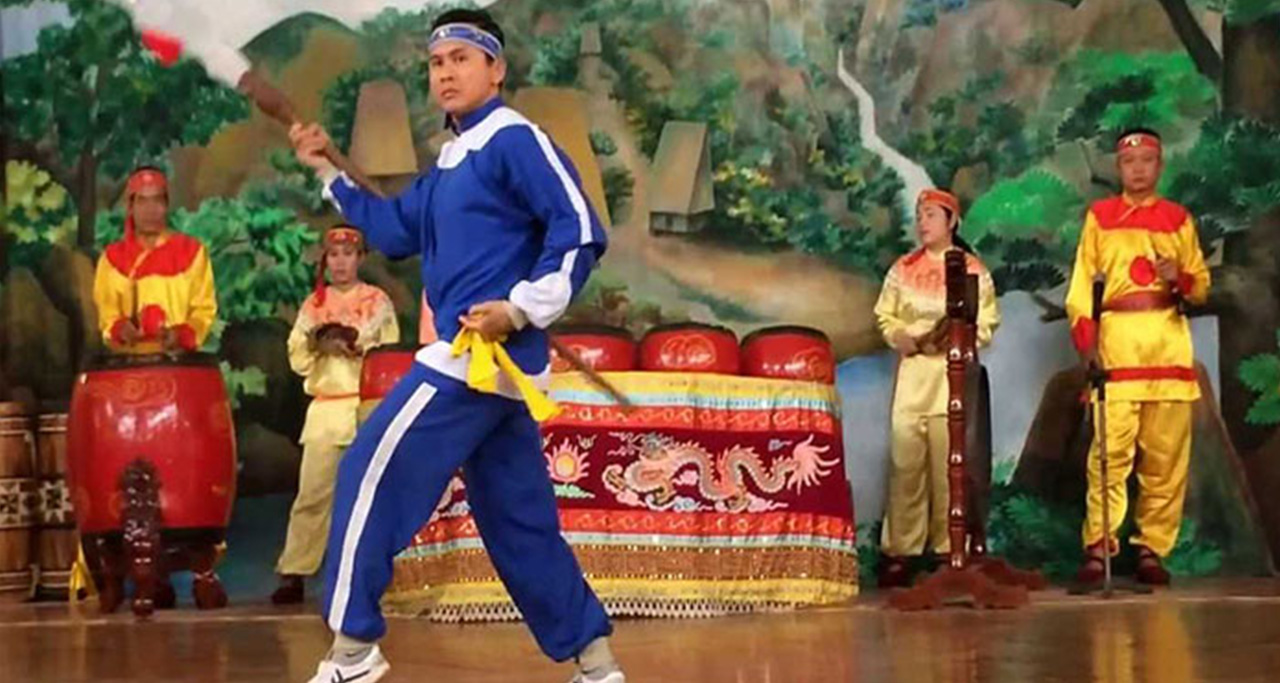 + Quang Trung Museum just across the Kon River has a display from once ruler, King Quang Trung. If you're lucky, you can experience some Kung Fu Dancing reenactments.
3.3. FLC Zoo Safari Park Quy Nhon
FLC Zoo Safari Park Quy Nhon is the first wildlife safari in the South Central Vietnam with the typical tropical climate, natural sand dunes and conifers. It was open to the public on 25 Mar 2017. As a part of Nhon Ly – Cat Tien Beach Tourism Spot, FLC Zoo Safari Park Quy Nhon is connected to the 5-star FLC Quy Nhon Beach & Golf Resort with high-class accommodation and recreation facilities. It covers a total area of 129 ha constructed under international standard for Safari park and is home to nearly 900 individual animals. Protect species in FLC Zoo Safari Park Quy Nhon come in a large number ranging from Purple Swamphen, Hare, Wild Duck, Chinese Goose, Geese, Spotted Deer, African Ostrich, Black Swans, Yellow Tadorama Duck, Monkey, Peacock, Swan….
3.4. Trung Luong Camping Site
Trung Luong Camping Site is located in Phu Cat District, about 30km from Quy Nhon City. Since its opening, Trung Luong has quickly become a hot tourist destination in Binh Dinh that attracted a lot of visitors, especially young people, who come for fun and camping activities.
Trung Luong is a picnic camping site with a huge green lawn area, overlooking to stretched coastline and white sandy beaches. It lies in the middle of the undulating mountains which will make you feel like you are visiting South Korea's Jeju Island.
The most highlight of this site is the spacious amusement park with beach view, including camps with red and green roofs, colorful chairs. For tourist groups, spending the night with fire camping, singing, watching the stars, listening to the waves lapping the shore will be an unforgettable experience.
From the picnic area, following the beautiful paved road, tourists can reach Trung Luong Beach. The sea with clear blue water is so peaceful. The beach stretches to the horizon with smooth sand. As you walk along this path, you will surely be attracted by the countless large rocks with all sorts of strange shapes around. Besides camping activity, tourists can enjoy snorkeling, diving to see beautiful coral reefs.
3.5. Cham Towers
Cham cultural relics can be found in all of Vietnam's central coast provinces. But Binh Dinh province was considered as the heart of the Champa Kingdom that flourished here from the 10th to the 15th century. The Cham Pa (Champa) were a group of pioneers that occupied a territory in today's Central and South Vietnam. There are eight complexes of 14 Cham towers scattered throughout Binh Dinh. In terms of architecture, the Cham towers in this province are the largest in Southeast Asia, mainly centered in Quy Nhon City and three districts of Tuy Phuoc, An Nhon and Tay Son in the area of Do Ban Citadel, the last kingdom of the ancient Champa Kingdom. Visiting Binh Dinh will give you the opportunity to see them in person.
Below are the most distinctive and famous Cham towers in Binh Dinh:
• The most famous Cham towers in Binh Dinh province, located in Dong Da Ward, Quy Nhon City.
• Built in the late 12th century.
• One of the pair is 20 meters high and the other is 18 meters.
• Constructed with roofs that curve up, unlike most other Cham towers whose tops taper to a point from a square foundation.
• Noticeable Hindu influences in the artwork:
+ Upper parts: carved with dancing monkeys, deer, elephant-head lions, and meditators.
+ Corners: decorated with mythical Hindu stone birds.
+ Decorative motifs: animal genies, revered in the Cham religion
• Recognized as the national cultural and historical relic in 1980.
"Pyramid Shaped Black Cake" Tower (Tháp Bánh Ít)
• Located near Phuoc Hiep Commune, Tuy Phuoc, 20km from Quy Nhon City.
• Built at the early 12th century atop a hill.
• 4-towers pyramid as its name.
• Each tower has a distinctive architecture, beautiful decoration, and great aesthetic value.
• Recognized art monument by Vietnam's Ministry of Culture in 1982.
Duong Long Tower (Tháp Dương Long)
• Located in Tay Binh Commune, Tay Son District, about 50km from Quy Nhon City.
• Built in the late 12th century, when the Champa culture was flourishing.
• 3-towers: central tower – 42m high; south one – 36m high; north one – 34m high.
• Exterior made of bricks, sculptures, and carvings depicting animals that seem to come alive.
• Vivid decorative patterns of flowers and animals show off delicate carving techniques.
• Recognized by the Ministry of Culture as an Art Architecture Monument in 1980.
• Recognized by the Prime Minister as a significant national monument on December 23, 2015
"Flying Fairy Wings" Tower (Tháp Cánh Tiên)
• Located at Do Ban Citadel in Nhon Hau Commune, An Nhon district.
• Built around the 16th century.
• Interior design includes purple sandstone that twists and carve in design.
• Exterior has 4-tiers that get smaller as they rise creating the image of a bird or fairy flying.
3.6. Ong Nui Pagoda (Chùa Ông Núi)
Ong Nui Pagoda (also known as Linh Phong Sơn Tự), lying on Chop Vung Mountain, Phu Cat district – 30km from Quy Nhon City, is one of the most important and famous Buddhist relic sites in Binh Dinh province.
The pagoda worships Buddhist monk Tinh Giac-Thien Tri who was called "Ông Núi" by local people (Ông means an old man, Núi means mountain). He cured villagers from diseases and epidemics by giving them medicines.
Binh Dinh provincial People's Committee and the provincial Buddhist Sangha carried out the VND 500 billion project to build a historical, ecological and spiritual tourism complex in Ong Nui Pagoda. The most highlight of this project is the 69m siting Buddha Statue. From Ong Nui Pagoda, looking down to the Southwestern direction, visitors can see immense rice fields while a boundless blue sea is visible in the East. To the Southeastern direction stand the Thi Nai lagoon and a willow forest.
3.7. The Windy Pass (Eo Gió)
Eo Gio – located just 20kms from Quy Nhon City, is where the lush mossy mountains meet the calm coastal waters of the South China Sea. Just ride across the Thi Nai Bridge towards the coast and make your way towards Nhon Ly Commune. Eo Gió is the best place to see the sunrise in Quy Nhon – Binh Dinh. Though it's not safe to swim here since the waves are strong, visitors can enjoy a nice, romantic walk and catch some cool breeze on the small winding walkway built on the side of the mountain. It is an unforgettable experience as one is surrounded by rough cliffs, massive caves, gusty wind and deep blue water smashing against large rocks which creates such a beautiful landscape.
3.8. Ky Co Beach (Bãi biển Kỳ Co)
About 25 km from Quy Nhon city center, Ky Co is a must – visit beach destination with the curved coastline and is fondly dubbed the "Maldives of Vietnam". It has three sides facing to the mountain and one side facing to the sea. So there are two ways to reach this beach paradise. From Quy Nhon's center, tourists can come to Ky Co beach by private car and enjoy the spectacular mountain scenery along the way. Or you can take private car to Eo Gio area and then go to Ky Co beach by 30-minute canoe. You are surely impressed by the magnificent rocky mountains, white sands and clear blue water with small sea rocks around. What could be better than to be immersing in the cool water or just simply lying down on the soft sand under the warm sunlight to enjoy a charming artwork from nature?
3.9. Phuong Mai Sand Dune (Đồi cát Phương Mai)
Just about 20km from Quy Nhon city, Phuong Mai peninsula is a secluded place with vast expanses of sand right beside Nhon Trach beach. Sand dunes on Phuong Mai peninsula are widely considered to be the most beautiful in the central region and are on par with other popular destinations such as Mui Ne in Binh Thuan province, Quang Phu in Quang Binh province, and Nam Cuong in Ninh Thuan province.
The huge sandy dunes keep changing its shape owning to windy blows from the nearby beaches. The sand dunes here are perfect for sand sliding activity. Tourists can see a lake formed in a sand pit at 100m depth and running close to Thi Nai Lagoon.
3.10. Cu Lao Xanh Island
Cu Lao Xanh (or Vân Phi island) of Quy Nhon city, Binh Dinh province is a hidden beauty and considered a charming pearl of the East Sea. The island is just about 24 km away from the mainland, located near the Xuan Dai Bay in Nhon Chau Commune, Binh Dinh Province. Cu Lao Xanh is translated into English as Green Islet, which refers to its greenery beauty and vitality.
The whole island is covered by the greenish lush natural forest, the lines of the tall coconut trees along the beach, the pure blue sky and crystal clear sea water. You may be fascinated by the sparkling water surface under the sunshine. Cu Lao Xanh has soft white sand dunes. From the above, Cu Lao Xanh looks like a sexy woman with full of vitality lying among the vast ocean. If you are on the planning step to visit Quy Nhon, Cu Lao Xanh must be included into your travel bucket list.
4. Binh Dinh's Special Cuisine.
4.1. "Jumping" Shrimp Pancake (Bánh xèo tôm nhảy)
The name itself makes tourists curious and originated from the special ingredients. To make the traditional "jumping" shrimp pancakes, locals only use living river shrimps that are red, round, fresh and still jumped when being catched up. This type of pancake is much smaller than the southern version. Eaters will listen to the sound of the fried powder, the fresh shrimps on the frying-pan, and watch the chef's skillful hands. This pancake can be ordered with squid, egg, or rare beef which is then complimented by bean sprouts, onion, and green onion. And the dish isn't completed without a tray of greens herbs, rice paper, and sweet fish sauce. The flavor of the fresh shrimp paste, topping with fresh regional herbs, and crunchy crust are combined to create a delightful dining experience.
* Price Range: VND25,000 – 30,000
* Where to eat?
• Mr. Hung – 24 Dien Hong St, Quy Nhon City, Binh Dinh.
• Gia Vy 2 – 14 Dien Hong St, Quy Nhon City, Binh Dinh.
• Rau Mam – 91 Dong Da St, Quy Nhon City, Binh Dinh.
4.2. Local thin vermicelli served with pig intestine (Bánh hỏi lòng heo)
This dish is a favorite breakfast of people in Quy Nhon. Made of rice vermicelli, bánh hỏi is another kind of noodle that are popular in several Central Vietnam provinces. It is prepared with a spoon of oil and finely chopped chives, and the intestine is placed in the middle of the bánh hỏi plate.
The side dish of bánh hỏi lòng heo consists of boiled bean sprouts, basil, salad, and coriander or a bowl of porridge. The sauce also plays a very important role in completing the taste of this delicacy. First, the server cooks down the fish sauce with sugar until it's thicker. Second, ground garlic, lime juice, and a few slices of chili are added to the fish sauce. Later, it is poured into a small bowl.
* Price Range: VND25,000 – 30,000
* Where to eat?
• Chi Hong – 20 Dien Hong, Ly Thuong Kiet, Quy Nhon City, Binh Dinh.
• Man – 76A Tran Phu, Quy Nhon City, Binh Dinh.
4.3. Fish rolls noodle (Bún cá)
Among the countless types of noodle in Vietnam, Quy Nhon fish rolls noodle is one of the most popular ones. The fish rolls are made from fresh fish that have just been caught, tough, fragrant and salty. There are two types of fish rolls in one noodle bowl: the deep dried rolls and the steamed one. The fried rolls are chewy, crunchy, and spicy and have a delicious smell of the tuna. The steamed rolls are more elegant, less oil; combine with the yellow layer of egg on the outside. The rolls are soft, and not too fat like the fried. They taste even better when dipped in the fish sauce. The broth is not made from pork bones, but from fresh fish bones, with little red onion, pineapple, … clear water without being fishy. A bowl of fish noodle is often served with a plate of fresh green herbs, added with red chili and sweet onion. These ingredients blend together, creating a sweet and attractive flavor.
* Price Range: VND25,000 – 35,000
* Where to eat?
• Bun ca Ngoc Lien – 379 Nguyen Hue, Quy Nhon City, Binh Dinh.
• Bun ca Phuong Teo – 209 – 221 Nguyen Hue, Tran Phu, Quy Nhon City, Binh Dinh.
• Bun ca Thuan Hong – 415 Nguyen Hue, Tran Phu, Quy Nhon City, Binh Dinh.
4.4. Water fern cake served in small plate (Bánh bèo chén)
Water fern cake is not originated from Quy Nhon but this dish is a flavorful and popular snack in this region. The water fern cake in Quy Nhon is made of rice flour, topped with chopped chives, dried shrimp, and ground peanuts. An alternate version of this dish has crunchy fried breadcrumbs on the top. Once cooked, it's sprinkled with a layer of onions and sweet fish sauce for that added Vietnamese punch.
* Price Range: VND5,000 – 10,000/ small plate
* Where to eat?
• Banh beo Ba Xe – 50/22C Nguyen Thai Hoc, Quy Nhon City, Binh Dinh.
• Banh beo Cay Man – 742 Tran Hung Dao, Quy Nhon City, Binh Dinh.
• Banh beo Kim Dinh – 20 Nguyen Hue, Tran Phu, Quy Nhon City, Binh Dinh.
4.5. Rice Pyramid Dumpling or Thorn Leaf Cake (Bánh ít lá gai)
This pyramid dessert is an iconic specialty of Quy Nhon-Binh Dinh. From the outside, the crust is made of sticky rice flour with thorn leaves and sugar. The inside is made of coconut flesh, peanut, green beans, and ginger. Then cakes are wrapped by banana leaves.
Locals wrap the cake with banana leaves. A good quality cake is soft, bland, and not too sweet. There is another salty version made from glutinous rice flour filled with minced pork and shrimp.
Tourists often buy this item as a gift whenever they visit Quy Nhon – Binh Dinh.
* Price Range: VND3,000 – 4,000/ item
* Where to eat?
• Thanh Liem – 128 Chuong Duong, Quy Nhon City, Binh Dinh.
• Nhu Y – 156 Nguyen Hue Street, Quy Nhon City, Binh Dinh.
• Ba Du – Tuy Phuoc Town, Binh Dinh.
4.6. Fresh Seafood
It's such a shame if you go to the beach destination without trying any seafood. Seafood in Binh Dinh is very diverse! There you can easily find shrimp, sea snails, crabs, king crabs, clams, scallops, and more. You can buy seafood directly from the fisherman or in the wet market. Or the most convenient way is enjoying them in local restaurants. Ngoc Han Cong Chua Street in Quy Nhon City is known as the sea-snail paradise where many carts full of sea-snails stand next to each other, with a variety of dishes.
5. Accommodations in Binh Dinh.
5.1. Anantara Quy Nhon Villas
Anantara Quy Nhon is situate 10km outside Quy Nhon Town, on a private stretch of beach overlooking the East Sea of Vietnam. Surrounded by mountain on three sides and overlooking the Bay of Quy Nhon, Anantara Quy Nhon Villas offers beachfront basking and adventurous discoveries. Expansive landscaped tropical gardens house 26 beachfront and ocean view villas featuring a private swimming pool and a spacious sundeck. A dedicated butler assigned to each villa ensures the highest level of personalised service. The villas are designed to seamlessly blend into the natural environment of the beachfront setting. The use of raw materials such as locally-sourced wood and Vietnamese blue stone enhance the vernacular and rural, while granite and marble elements introduce a touch of modernity.
Laze by your pool, periodically refreshed with Vietnamese iced coffee and gourmet street eats served by your butler at one of the best luxury resorts in Vietnam. Luxuriate with a synchronised four-hand massage at Anantara Spa.
Address: Bai Dai, Ghenh Rang, Quy Nhon City, Binh Dinh Province.
5.2. Avani Quy Nhon Resort & Spa
Avani Quy Nhon enjoys a somewhat off-the-beaten-path location just outside the town of Quy Nhon. Before the inauguration of Anantara Quy Nhon Villas – its sister resort opened next door in 2018, Avani Quy Nhon Resort is the most luxurious accommodation in the area. The resort enjoys an idyllic setting, nestled between a pristine beach and orchard covered mountains. The hotel buildings are located on a rocky promontory overlooking a wide and very picturesque gold-sand beach, which is the most stunning beach in the vicinity of Quy Nhon, an area not particularly known for the beauty of its shoreline. The resort features 63 Deluxe Studio Rooms & Junior Ocean Suites, with all accommodations enjoying views of the ocean and beach.
Address: Bai Dai Area, Ghenh Rang Ward, Quy Nhon City, Binh Dinh Province.
5.3. FLC Quy Nhon Beach & Golf Resort
FLC Luxury Resort Quy Nhon is located 40 minute drive from Phu Cat Airport and a 15 minute drive from the city center. Staying there, family with kids can easily access to famous tourist sites such as: Ky Co beach, Eo Gio and FLC Zoo Safari Park. The resort is a blend of traditional culture and contemporary decor. With the grace and artful simplicity of interior design incorporating natural features, every villa offers supreme comforts and signature luxuries of a five-star resort with the panoramic views of Nhon Ly – Cat Tien beach.
Address: Zone 4, Nhon Ly – Cat Tien beach, Nhon Ly, Quy Nhon, Binh Dinh.
5.4. Anya Premier Quy Nhon Hotel
ANYA Premier Quy Nhon is the first international standard 5-star hotel situated at the heart of Quy Nhon city. The 24 – storey building is at the intersection of two main streets of Chuong Duong and An Duong Vuong, over-looking the City Park and overlooking to the beautiful beach in Quy Nhon's center.
The hotel offers 256 well-designed rooms from Superior to Presidential Suite category. Having outstanding features in embracing a seamless blend of airy, elegant contemporary architecture and inspiration of natural beauty which gears toward nature as the breath, ANYA Premier Hotel Quy Nhon was built to accommodate guests to feel the light from the sun, from wind and fresh air from Quy Nhon beach, together with green landscape as the hotel inspired by resort touch in the heart of this coastal city.
Address: 44 An Duong Vuong Street, Quy Nhon City, Binh Dinh.
5.5. Anya Quy Nhon Hotel
ANYA Hotel Quy Nhon, a brand new 4-star hotel is perfectly located in the heart of dynamic Quy Nhon city, connecting to shopping, entertainment area as well as variety of wonderful natural landscapes.
The hotel features 229 comfortable rooms with stunning city or sea views and hotel-wide free WIFI. It is just about 37 km away from Phu Cat Airport, and it takes 45 minutes by car approximately.
The hotel outlets including a restaurant with international and special local cuisine, a lobby bar, a pool bar, healthy spa with special Himalaya salt rock sauna, kid club, fitness center and a swimming pool offer all that you will need for business trips or holidays
Address: No. 3 Nguyen Trung Truc Street, Quy Nhon, Binh Dinh.