Trekking in Sapa: Quick guide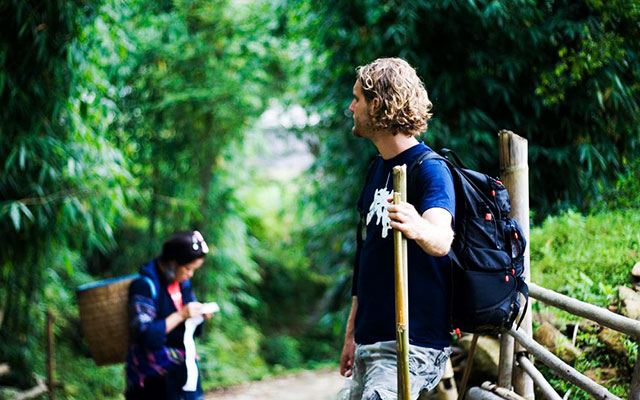 In addition to stunning rice terraces, spectacular mountain views, colorful hilltribe markets or famous Fansipan mount – "the roof of Indochina, Sapa is one of the top beautiful trekking places in North Vietnam with a dense network of mountain trails. A hike through ethnic minority villages, passing by terraced rice fields and rolling mountains will give you a chance to get insights of local cultures and immerse in the natural beauty. Sapa's various trekking trails from easy to hard somehow makes you confused to choose the best suitable one. So this article of a trekking guide in Sapa is a good source for you to get more detailed information and well prepare for your upcoming journey.
1. How long for a Sapa trek?
A full day trekking in Sapa is enough to explore highlight places for those who does not have much time. But if you don't want to miss an opportunity to totally experience local daily and unwind the natural beauty, spending 2-3 days will be perfect. For long trekking journey, tourists will choose to stay at homestays in the ethnic villages. This is a great chance to get close touch with the locals, interact with them and understand more about their daily life.
2. When is best time to go trekking in Sapa
Weather is one of the most important factors which can make your trek more enjoyable or break the experience. Clouds can impede your view and the mud makes it difficult and sometimes unpleasant to walk up a steep slope. So the ideal time to go trekking in Sapa is from March to May and from September to November. You can totally go trekking in summer or winter but it is not really perfect though.
• March – May (Spring): The weather is dry and sunny with moderate temperature during this time, creating a good condition for a trek. Besides, it's the time when plants and flowers are starting to bloom. It is also the time of year that the local ethnic minorities are planting rice.
• September – November (Autumn): This is autumn time in Sapa and the weather is relatively good and dry. You will have chance to enjoy golden terraced rice fields which will be at their most photogenic with beautiful shades of green and gold. However, it is high season in Sapa so there will be more crowded.
• June – August (Summer): This is summer but also rainy season in Sapa. You can certainly go on a trek during this time when you can find luscious green countryside. The heavy downpours can sometimes affect your trip but it does not rain all day long. You still enjoy sunny time in between.
• December – February (Winter): It is pretty cold in Sapa during winter with the temperature ranging from 8-15°C, even down to 0°C. You may have chance to see snow in the higher peaks.
For more information about Sapa Weather, check this link: https://vietnamtravel.com/sapa-weather-best-time-to-visit/
3. Trekking levels in Sapa
Sapa offers 3 trekking levels which are suitable for any travelers:
• Easy trekking: An easy trekking route will normally take you to ethnic villages nearby Sapa Town, which will give you a brief understanding of local culture. For those who are tight in time or not familiar with hiking, this is a wise choice. You can spend a half day to a full day for an easy trek.
• Medium trekking: The route for medium trekking in Sapa is quite similar to the easy one, but lasts longer. This will lead you to off the beaten paths which are not easy to access by car or motorbike.
• Hard trekking: The hardest trekking trail is absolutely the trek to the top of Fansipan peak. It is only recommended for experienced hikers becaused of requiring specific skills and good physical health. For easy to medium treks, you can go by yourself without a tour guide. However, you need go along with a local guide or porter, who know deeply about the places to avoid getting lost, for hard treks. Normally, you will need 3 days hiking to complete the trek but it depends on what trail you take.
4. Popular treks in Sapa
4.1. Lao Chai & Ta Van Villages
This hike offers you spectacular cloud-shrouded mountain scenery and the chance to walk through traditional hill tribe villages and their surrounding rice paddies. The trek initially follows a small track, cross the Muong Hoa River and pass well-tended rice terraces and the spread-out homes of Lao Chai and Ta Van villages. Here you will learn how the rice is cultivated, life of ethnic minorities such as Black Hmong, Zay, Red Dao.
Duration: 1 day
Trekking level: Easy – Medium
Distance: 6-8 km.
4.2. Cat Cat – Sin Chai Villages
This trekking trail is more like a stroll than a hike. Cat Cat is an old village of Black H'mong people which is famous for its brocade weaving craft as well as its gold and silver jewelry making. The walk to the village and its nearby hills provides an opportunity to see farms and techniques used by the people in the area. Hiking up to the mountain, you will reach Sin Chai – a village of Red Dao people, which offers many wonderful sceneries. Walking through the village, tourists are mostly accompanied by the local children. They are probably not well-educated but still extremely hospitable and enthusiastic. More than that, you will also have chance to take pleasure flowers as peach blossom, plum blossom, gladiolus, pear blossom, rose… if coming here in the spring.
Duration: A half day
Trekking level: Easy
Distance: 3-5 km.
4.3. Can Ho B – Ta Giang Phinh Village
Located about 25 km from Sapa Town, Can Ho B – Ta Giang Phinh Village is a beautiful untouched place. After 1-hour drive along the wild region of thick rained forest on high mountains, dotted with rolling valleys and local villages, you will reach the land of Ta Giang Phinh. Your trek often starts from Can Ho B, a home to Red Dao people, then continue to Ta Giang Phinh, a blue H'mong village. This village is not yet influenced by mass tourism so the local houses and lifestyles stay authentic. On the trekking journey, you are warmly welcome to visit any local home for better insights of local cultures and learn how the traditional costumes are made from hemp and dyed by indigo plant. People here are very friendly and love to share about their life. In addition, landscapes of large terraced rice fields and peaceful streams are so stunning and great for photos.
Duration: 1 day
Trekking level: Easy – Medium
Distance: 5-7 km.
4.4. Sa Seng – Hang Da – Hau Thao Villages (12 -15 km)
Sa Seng, Hang Da and Hau Thao are the villages of Hmong tribe in Sapa. They are located about 10km from Sapa Town and less visited and unspoiled. This trek to Hang Da Village, which is at 1,800m height, will offer you a great view of below Muong Hoa Valley. On the way, you will pass through some ethnic villages and may visit local houses to understand their ways of living and enjoy the sceneries and don't for get to take the best photos.
Duration: 1 day
Trekking level: Medium – Hard
Distance: 12-15 km.
4.5. Ta Phin Village
Ta Phin village is situated about 12km from Sapa Town. The village of Red Dao and Hmong people possesses a rich culture that has not been damaged by the modern life. The Red Dao are known for their expertise in herbal medicine as well as usage of plants from the land to treat many illnesses. Hiking through the surrounding countryside, you will enjoy the picturesque landscape of spectacular rice fields, mountains, streams, and hill tribe houses. It is great to spend a few hours wandering the village, exploring the local life and communicating with them.
Duration: A half-day to full day
Trekking level: Easy – Medium
Distance: 5-7 km.
5. What to pack for trekking in Sapa
For your trek, you should keep your bag as light as possible:
• Food and water: Make sure you have enough food and water during you trek since there won't be many stores in your path. Some foods should be carried such as: bread, snacks, sausages, canned foods…. and water.
• Lightweight jacket: No matter what time of year you go trekking in Sapa, you will want a warm jacket. The nights can get chilly even in the warmer months. If you're travelling to Sapa in the colder months, you'll need to layer up to stay warm, and it will be easier to adjust to the temperature as it changes during the day.
• Trekking shoes: A good and comfortable trekking pair of shoes is an absolute must. You will have to walk through muddy hill slides, traverse over slippery rocks in streams and there's a lot of steep uphills and downhills.
• Sunscreen/ hat/ sunglasses: These will be good friends while trekking in summer months.
• Camera: You will need it to take photos of beautiful scenes.
• Mosquito repellent/ Bug spray