8 famous local markets around Sapa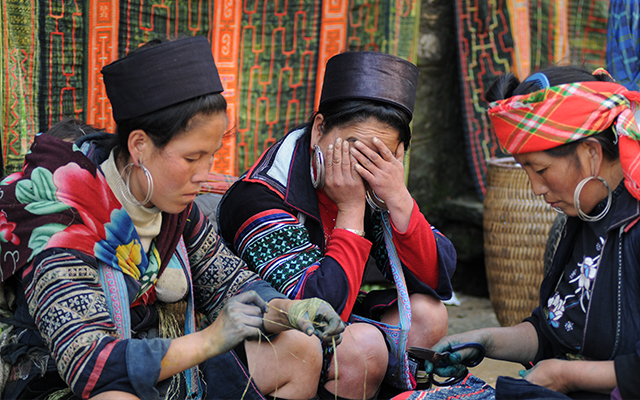 Northwest Vietnam is famous for its stunning natural landscapes, lush terraced rice fields, diverse culture of different minority groups, especially unique bustling local markets. For those who love to explore the ethnic culture, learn more about the local daily life and enjoy nature beauty, visiting 8 best local markets around Sapa listed as below is a perfect way to do.
1. Sapa Market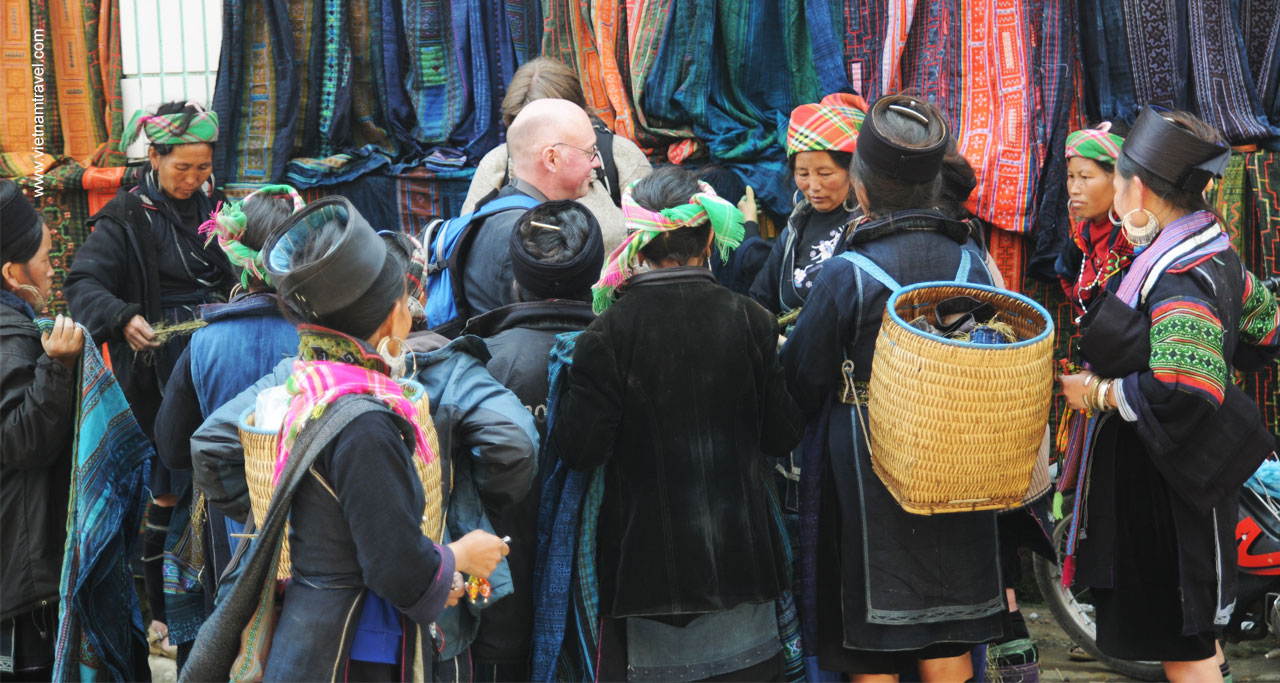 Sapa market is right in Sapa town, about 1,5km from Stone Church. Opening every day for people to buy and sell products, it is the most popular and touristic market. The most impressive feature of Sapa market is its unique brocade products in vibrant colors, and subtle patterns of the H'Mong, Dao Do, and Giay. On the other hand, such products as fruits, vegetables, and spices are also favorite goods of tourists.
Every Saturday night, Sapa Love Market would be operated, a place for young men and women from other villages come find partners. They show up sentiments and loving gestures through playing leaf-horns, traditional games, singing and dancing basing on special melodies, and if luckily, they might become husband and wife. However, due to the influence of the tourism industry, it is no longer a place to find true love; however, you can find something special here.
Time: Every morning (*Sapa Love market opens on Saturday night only)
2. Coc Ly Market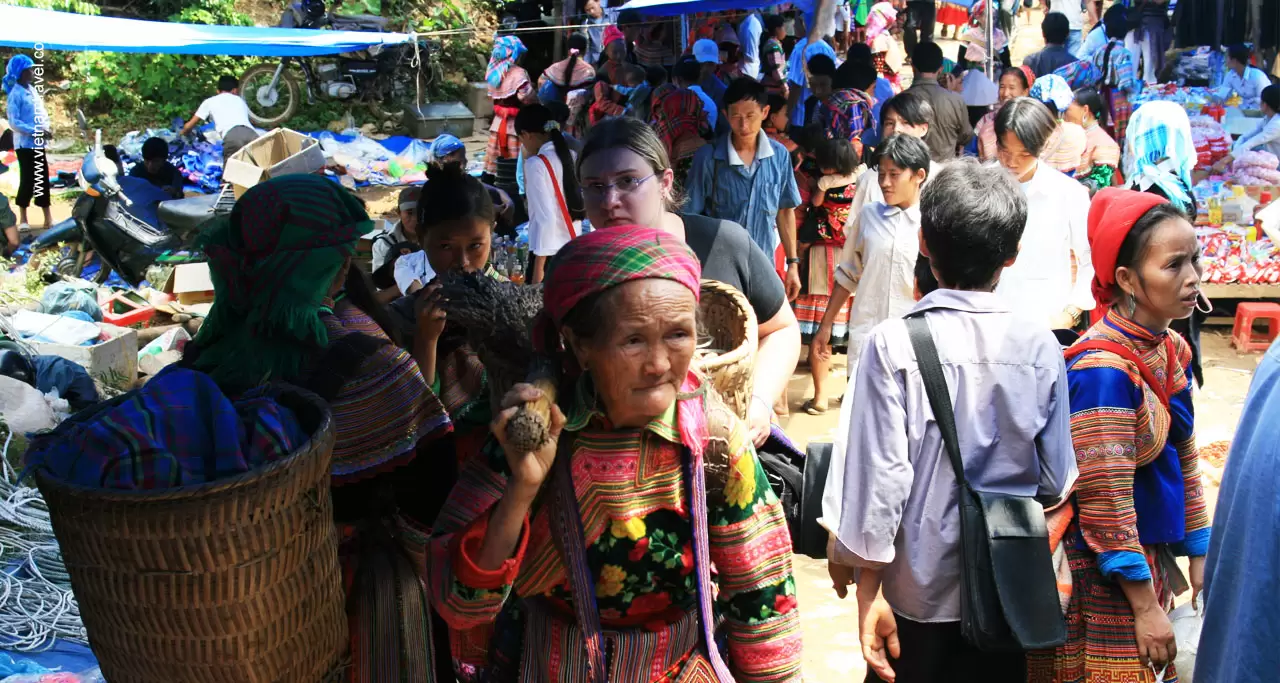 Coc Ly is a colorful market in a mountainous area where the Nung, Tay, Black Zao and H'mong ethnic minorities frequently gather every Tuesday. Here you will find a variety of goods from local fruits, vegetables, honey and corn wine to colorful fabrics, clothes and embroidered items, horses, cows and buffalos. For ethnic locals, going to market is an interesting activity which is an important chance for them to sell and buy products, to meet friends and exchange information, to date and find partners.
Time: Every Tuesday morning
Distance from Sapa: 80 km
3. Sin Cheng Market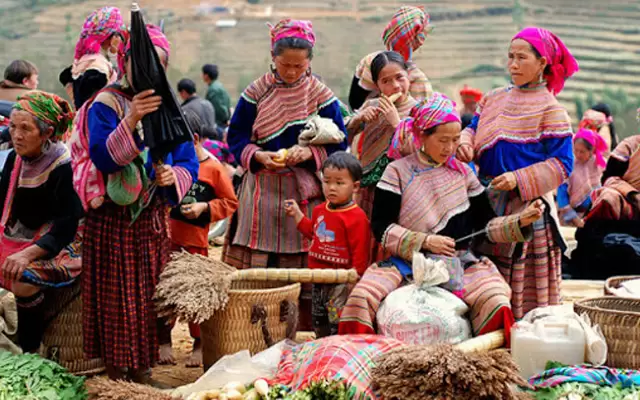 On every Wednesday, Sin Cheng market (100 km from Lao Cai Railways Station, or nearly 40km from Bac Ha Town) offers the opportunity to discover a colorful gathering point of many local minorities such as the Flower H'mong, Tay, Nung and Thu Lao.
This market is not only a place for people trading local products like buffalos, horses, vegetables, herbs, clothes…. but it is also a socialized place for the young people to meet and find partners, for the old to get away from life's struggles, and for men to enjoy the traditional corn whiskey with their old buddy.
Time: Wednesday morning
Distance from Sapa: 130 km
4. Cao Son Market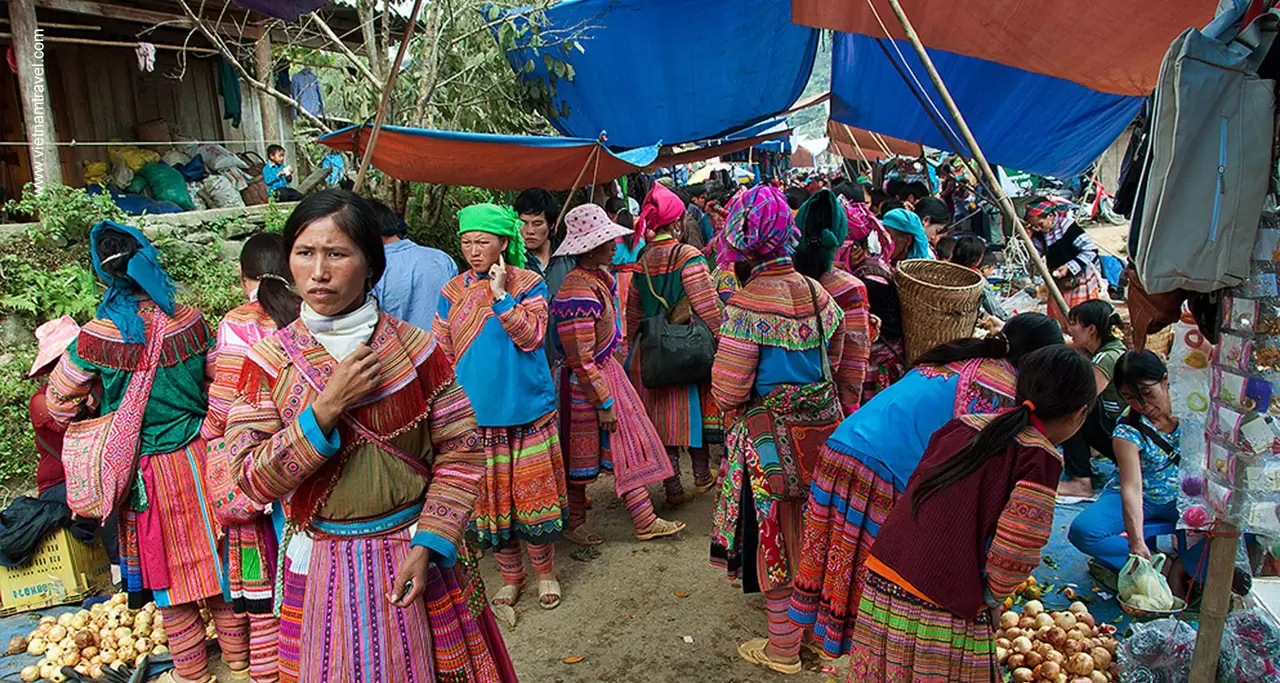 Cao Son is a small market of 4 ethnic minorities of Mong, Phu La, Dao and Black Han living in Muong Khuong district. Opened every Wednesday, this colorful market is set among majestic rolling mountains, terraced rice fields and mighty Chay river. Coming here, you will have opportunity to interact with local people, see how they exchange local goods and learn about their cultures. Like other local markets, the main products in Cao son include vegetables, herbs, honey, corn wine, household items, jewelry, brocade fabric, etc.
Time: Wednesday morning
Distance from Sapa: 90 km
5. Lung Khau Nhin Market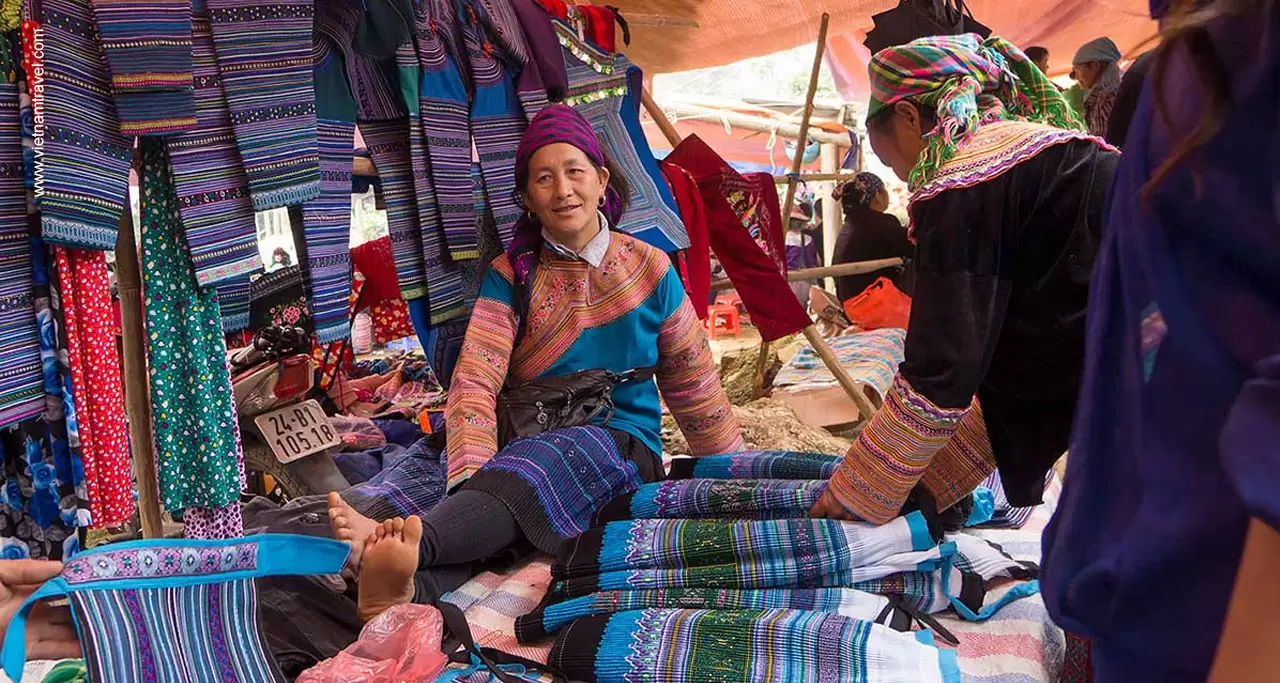 Located close to the border with China, about 80km from Sapa, Lung Khau Nhin market is operated every Thursday, starting around 7.30am and closing in the early afternoon. Compared to the other local markets, Lung Khau Nhin is smaller but older. This market is a place for Black Dao, Giay, Tay and Flower H'Mong groups to exchange agricultural products such as corn, rice, soybean, peanut, vegetables, handicrafts and livestocks.
Time: Thursday morning
Distance from Sapa: 80 km
6. Can Cau Market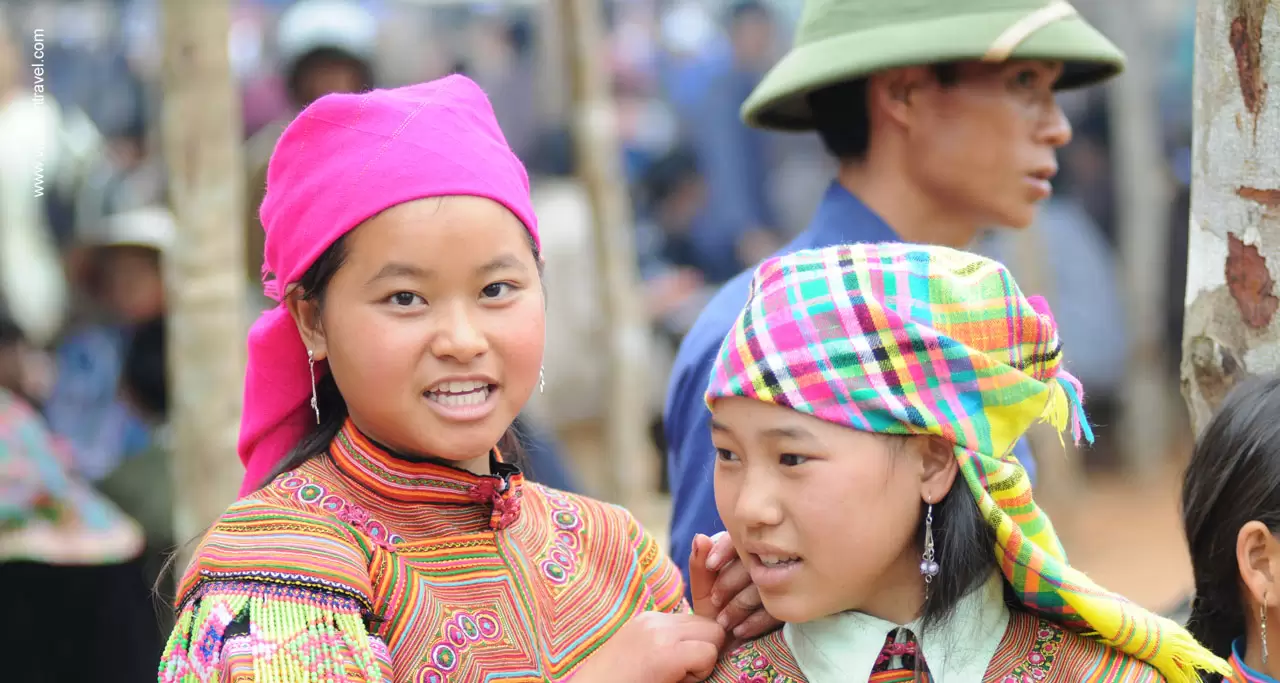 Can Cau Market is one of the most attractive outdoor markets in Sapa, specializing in cattle trade, or known as the largest buffalo market in the Northwest. This market is only 7km from the Chinese border, so do not be surprised when you see a large number of Chinese traders here. Organized every Saturday, Can Cau attracts many people from several ethnic groups surrounding like Flower H'mong, Black Dao, Red Dao, Tay… come to this market to sell and buy their products from vegetables, honey, rice, herbs, brocade fabrics to several of livestock like pigs, dogs, chickens, horses, etc.
Time: Saturday morning
Distance from Sapa: 120 km
7. Bac Ha Market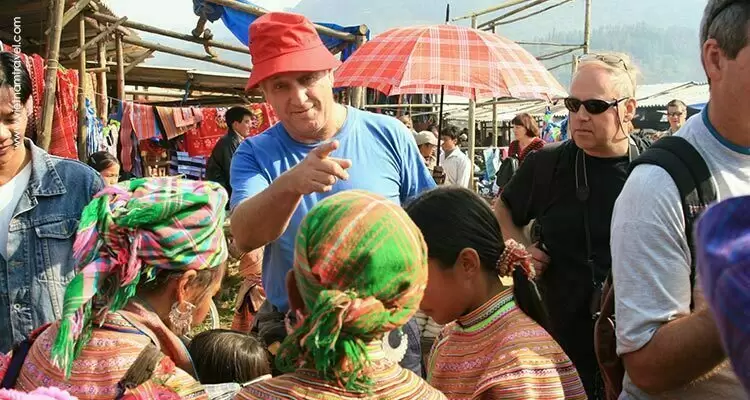 Bac Ha Market is typically assumed to be the largest and most famous market in Northwest region. The market takes place every Sunday, from 6.00am to 2.00pm but the best time to visit the market is in the early morning. It is so crowded with several ethnic groups such as Flower Hmong, Black Dao, Nung, Tay, Phu La, Xa Fang… They come from the surrounding hills and valleys and have to walk for some hours to take part in the market. Here you can see the local women in their beautiful handmade traditional clothing and colorful scarves focusing on selling and buying their local products such as fresh fruits, vegetables, brocade, homemade wine, etc.
Time: Sunday morning
Distance from Sapa: 100 km.
8. Muong Hum Market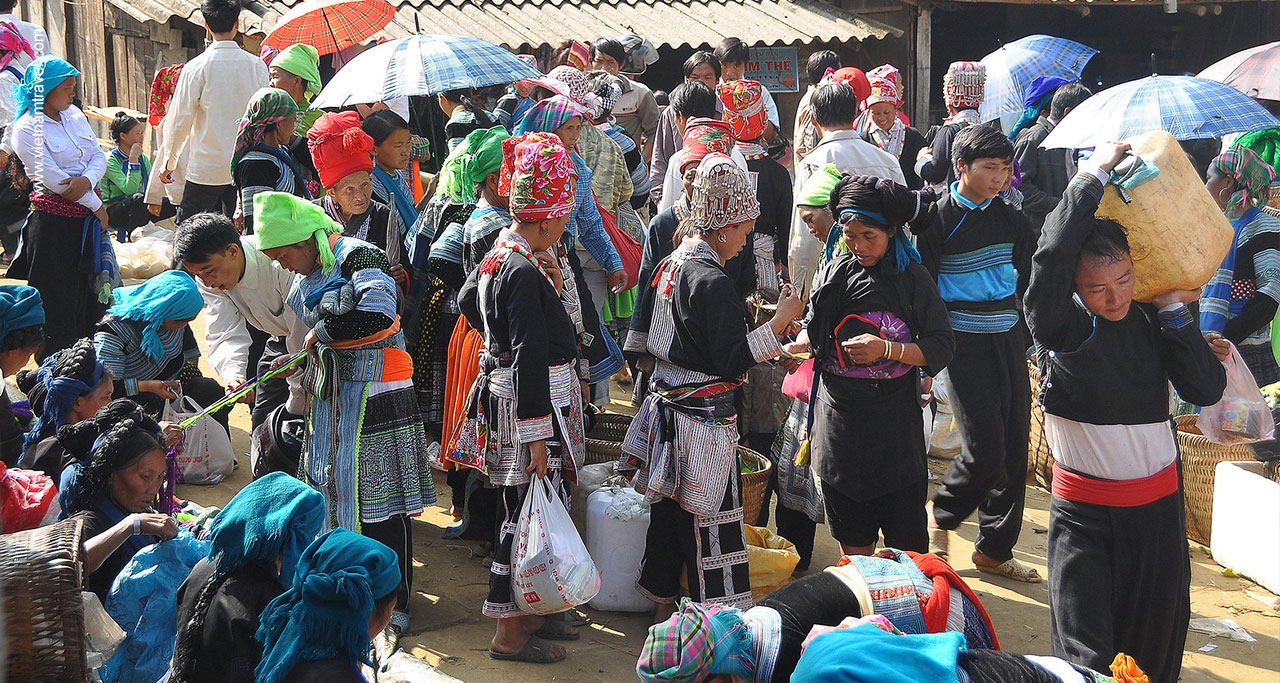 Muong Hum market is located in a small valley in Bat Xat district, next to lovely stream and surrounded by majestic mountains. Taking place every Sunday morning, this is a place for Hmong, Dao, Ha Nhi and Giay ethnic people to gather, meet, communicate each other and trade local communities in a very traditional and intimate village setting. Muong Hum is not as famous and touristic as Sunday Bac Ha market so it offers you the authenticity and bring you the true experience of mountainous hill tribe cultures.
Time:Sunday morning
Distance from Sapa: 45 km.