Best Hotels in Sapa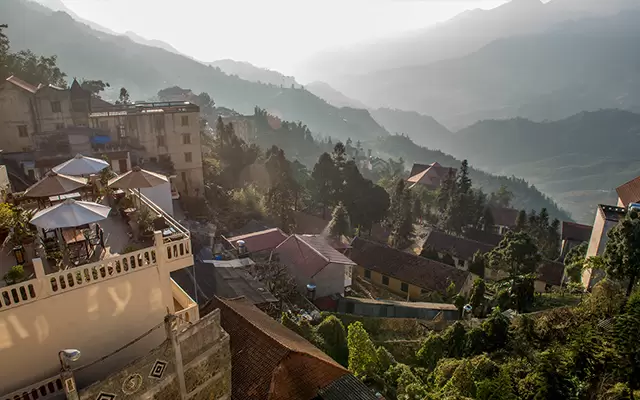 Sapa has been one of the top attractions in Vietnam. Lying in the northwest of Vietnam, about an hour drive from the border with China, Sapa is an absolute treat to visit. Sapa, Vietnam lies amidst beautiful mountains and is surrounded by brilliant terraced rice fields which is best seen in each Autumn.
While the scenery is spectacular, Sapa is just as renowned for its intoxicating cultural makeup. The colorful hill tribe villages dotted upon the hillsides are home to a diverse array of ethnic minorities, each with their own rich culture and customs.
Many new and nice hotels have been built or renovated in the recent years. Visitors could easily find good accommodation in this town since tourism has taken some great leaps forward and quickly turned a sleepy mountain town into a bustling city. When planning the visit to Sapa, besides finding information about transportation to Sapa; Sapa weather ; the most highlighted attractions and local culture & cuisine, one thing should not be missed is a great place to stay to make your time in Sapa the best it can be. Here is the best collection of hotels in Sapa voted by real travelers to Sapa last year.
1. Hotels in/nearby town's centre
1.1. Hotel de la Coupole MGallery
Hotel de la Coupole MGallery was opened at the end of 2018, opening a new Golden Age for luxury travel in this famous mountain retreat. Located in the misty heart of Sapa with views of the Hoang Lien mountain range in the background, the hotel's outstanding design is one the most fascinating creations ever conjured up by the award-winning architect Bill Bensley, who was once described as 'the king of exotic, luxury resorts' by Time Magazine. Bensley dreamed to turn Sapa into a "Versailles in the clouds" with Hotel de la Coupole with a true visionary with an eye for the spectacular.
With an air of nostalgia of the French Indochine era, Hotel de la Coupole fuses high-fashion glamour with colourful, hill tribe style. Featuring 249 luxurious rooms and suites, signature restaurants and rooftop bar, a peaceful wellbeing spa, and banquet venues for bespoke destination meetings and events.
All rooms feature full-length doors leading to balconies overlooking the hotel's pretty courtyard garden, Sapa town, the mountains or the iconic rice paddies of the Sapa valley, allowing guests to fully immerse themselves in the stunning surroundings.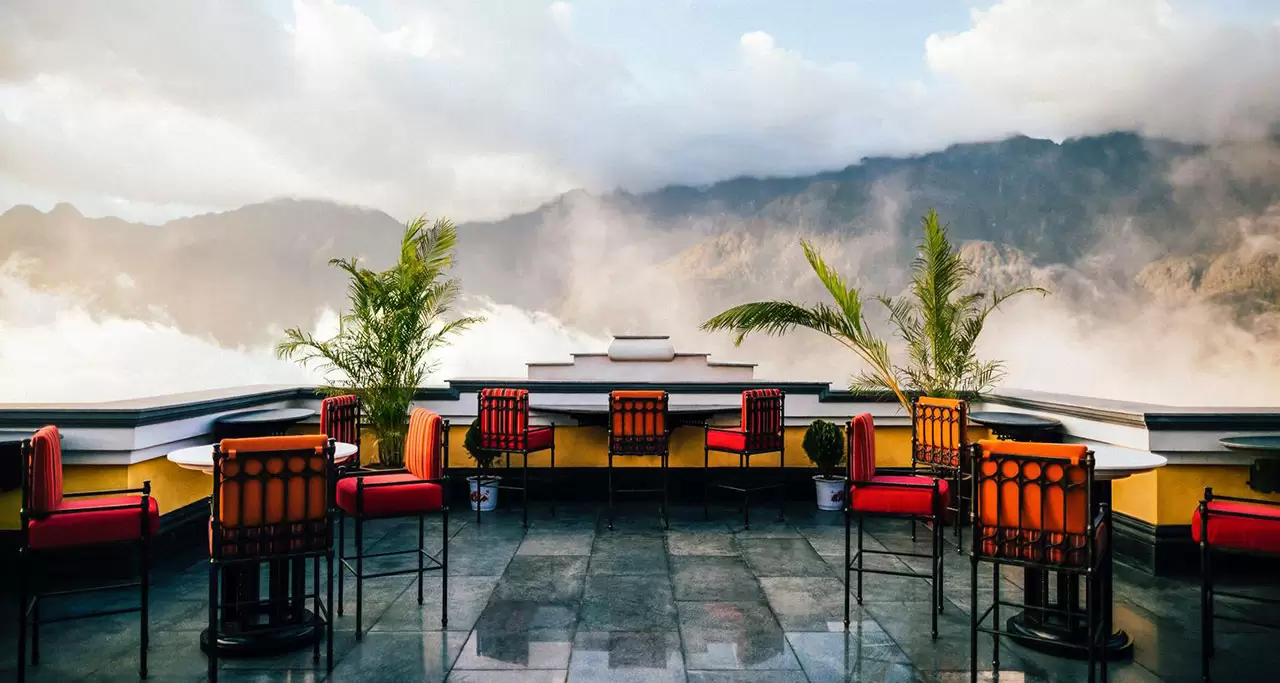 The heated, indoor pool, Le Grand Bassin boasts a stately air with large Romanesque pillars while the ceramic tiles are inspired by the tribal patterns and colours of local hill tribes.
Delicious food is central to the guest experience at Hotel de la Coupole. The hotel boasts a restaurant, a bar and a patisserie, each with a unique yet synchronous design, united by a dedication to dining and service excellence. From refined Haute-cuisine French dishes carefully created using fresh, seasonal local ingredients in our restaurant, Chic, to indulgent macarons and hot chocolate in our French-style patisserie, Cacao, to classic and bespoke cocktails in our stunning Absinthe bar, guests will be taken on a gastronomic adventure.
Hotel de la Coupole is conveniently located right next to Fansipan cable car station. From this station, tourists will take the 2km Muong Hoa mountain train to Fansipan Legend Complex, where they can conquer the peak of Mount Fansipan – "rooftop of Indochina".
1.2. Victoria Sapa Resort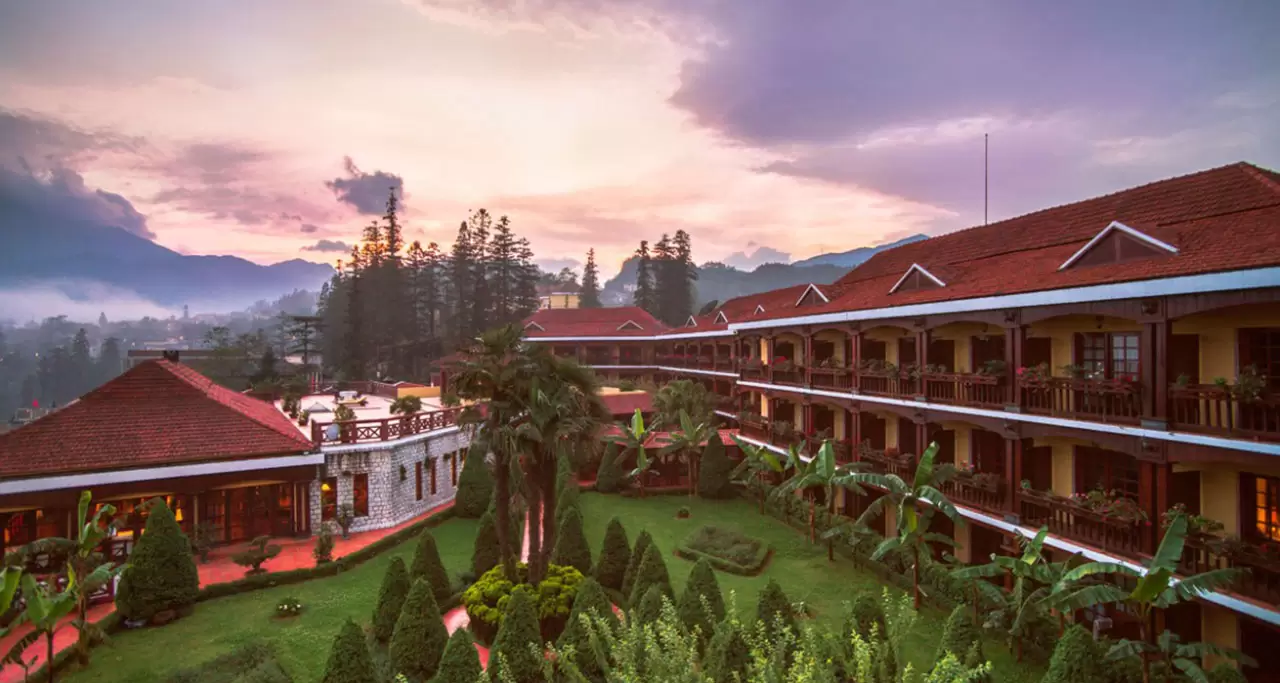 Located right next to Sapa's lake and the town park, Victoria Sapa Resort & Spa is modeled after a traditional mountain chalet, which blends in perfectly with the natural surroundings. With splendid views over the charming town of Sapa, the resort's lush gardens or impressive Mount Fansipan and only a few steps to local shops, restaurants and bars, the Victoria offers the best of both worlds.
The rooms at Victoria Sapa draw inspiration from the old French Indochina as well as the many surrounding hill tribes. Rooms feature private terraces, wood floors and locally woven textiles for an authentic yet sophisticated touch.
While staying here, enjoy the rooms decorated with traditional fabrics and patterns designed by the local hill tribes, get pampered at the state-of-the-art spa and indulge in the delicious culinary creations the chefs present at the resort's restaurants.
Besides mountain trekking, in-house guests in Victoria Sapa can play tennis or relax in the indoor heated swimming pool, perfect for soothing post-trek muscles!
Address: Xuan Vien Street, Sapa Town, Lao Cai
1.3. Silk Path Grand Resort & Spa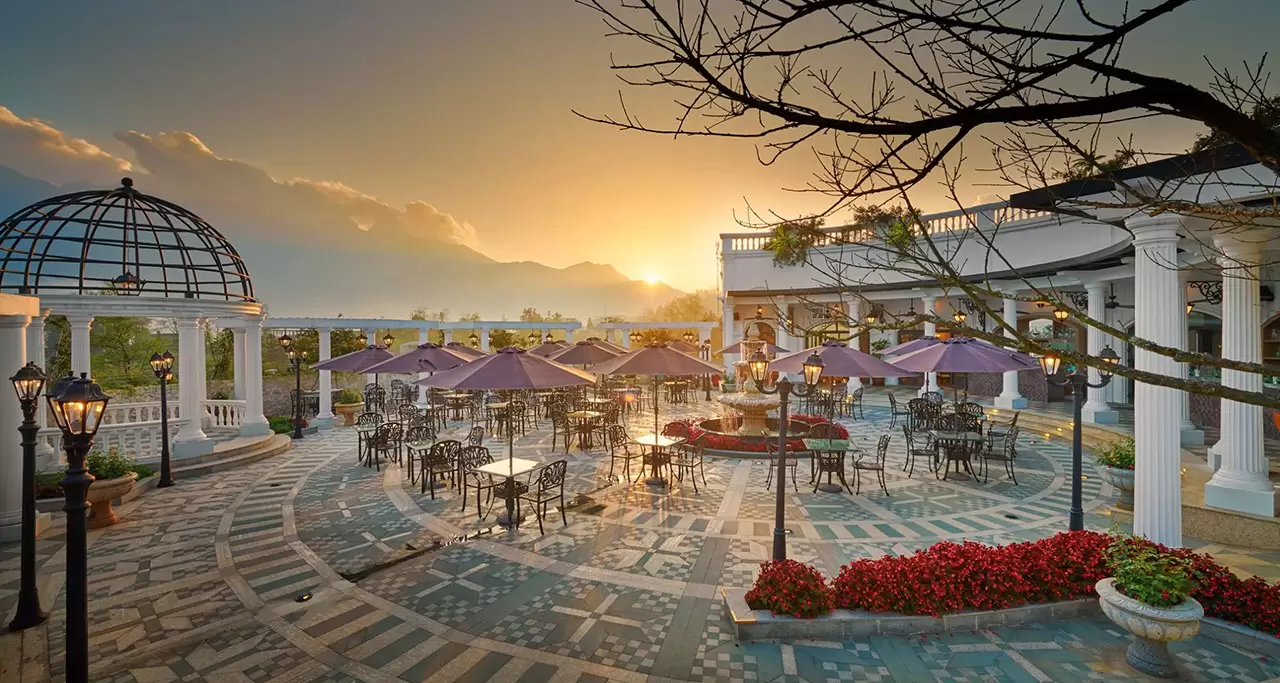 If tourists want to find a quite property outside the hustle & bustle of the busy downtown area, but still be within easy reach to main tourist attractions, Silk Path Grand Resort is definitely a perfect choice.
Set on a picturesque hill overlooking the marvelous Hoang Lien Son Mountain Range, Silk Path Grand Resort & Spa Sapa is an exceptional blend of local culture, French Indochina architecture and vibrant Sapa touches amidst the charms of Northwest Vietnam. It refined style boasts French colonial design with 152 super rooms and breathtaking views of spectacular mountains and glistening rice terraces. Adorned in neutral palette with accents of brown, blue and reddish orange from the fabrics, all rooms are elegantly design with dark wood furnishings. Fitted with large windows enjoying natural sun lights, air-conditioned rooms have a private balcony looking out over resort's garden or Sapa's endless mountains and rice paddies. En suite bathroom comes with a shower and bathtub. Guests can enjoy a dip in the indoor heated pool or relax with pampering massage at the Chi Spa.
Another great reason to stay at the Silk Path Grand Resort is their selection of restaurants. Guests can enjoy Western and Asian cuisine from morning 'til night at Samu Restaurant. Meanwhile, top-knot chef at Olivio Restaurant creates an explosion of Mediterranean flavors mixed with traditional Italian cuisine that will tantalize taste bud of any gourmet.
Address: Doi Quan 6, Group 10, Sa Pa, Lào Cai
1.4. Aira Boutique Sapa Hotel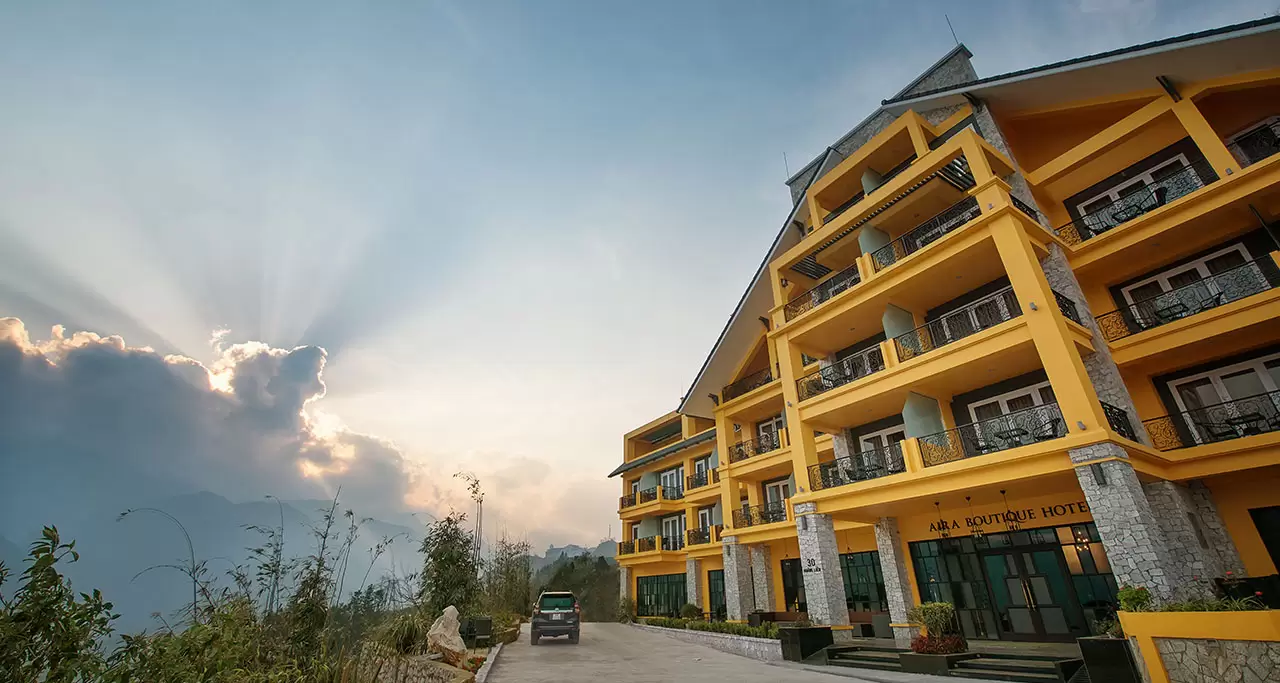 Set near the edge of a mountain and just far enough away from Sapa's busy town center, yet only a 5-minute walk from the central Catholic stone church, the luxury Aira Boutique Sapa Hotel & Spa is the perfect haven for relaxation and a gourmet's delight. The hotel offers chic and stylish accommodation in Sa Pa and features an outdoor swimming pool. After trekking days to explore hill tribe villages, guests can relax at the luxury Aira Spa, or sweat it out in the gym room. Each room at this hotel is tastefully designed with contemporary furnishings and has air conditioning, heating and personal safe. Spacious rooms have high ceilings, dark parquet flooring, and wood-paneled walls. A private balcony or terrace with awesome mountain view is fitted in certain units.
Apart from the great location and beautiful rooms, the team is what makes the Aira so unique. The hotel is run by a team of young, professional and enthusiastic staff who are old hands at the hotel industry. Here, in house guests will experience many moments of peace, good service and a welcoming smile. They are committed to ensuring their guests leave Sapa with happy memories of a unique experiences and a special hotel.
1.5. Pistachio Sapa Hotel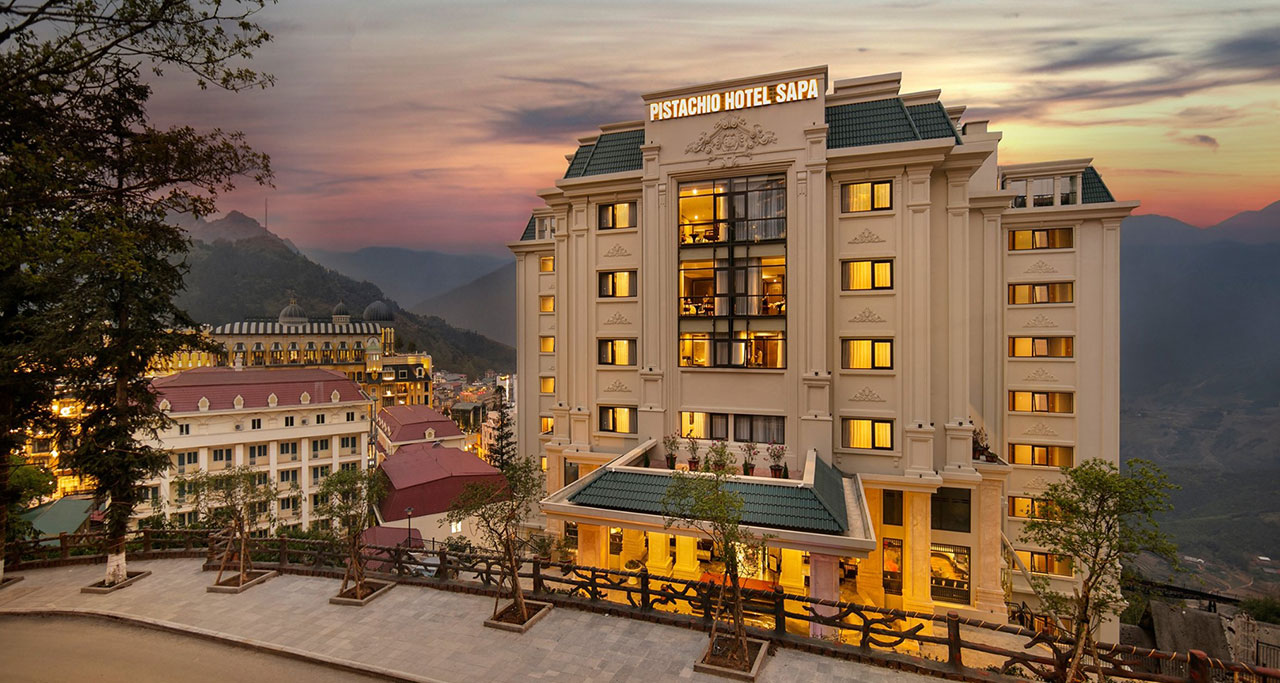 Not only an ideal residential place for tourists when travelling to "the misty township", Pistachio Sapa Hotel is also artistically decorated as a "scaled-down museum" – which preserves the unique cultural value of highland ethnicities, subtly blended with the neoteric style of a high class resort.
Located on Thac Bac Street in the middle of the town, Pistachio Sapa Hotel is literally an oasis in the heart of Sapa. Almost 95 soundproofed rooms overlook the spectacular view of majestic Hoang Lien Son mountains and the poetic Muong Hoa valley from brilliant sunrise to magnificent sunset. All you need is to open the balcony door, let the clouds pour into your room and you will be able to touch the "fairyland", at the same time experience the distinctive appeals of this land. Beds are dressed in Egyptian cotton sheets and bathrooms offer deep soaking tubs, hair dryers, and free toiletries. Safes, desks, and wardrobes or closets are also available.
Besides granting tourists a recognized accommodation fulfilled with religious signatures, Pistachio Hotel Sapa is also an exclusive gastronomic destination lying in the township's heart. Gourmet lovers are welcomed with excellent buffet breakfasts in Ta Van Restaurant, a stunning cocktail at Fansi Sky Bar or an unforgettable flavorful coffee cup from Coffee Lounge.
A remarkable highlight of the upper class facilities in the Pistachio Hotel Sapa is two swimming pools. The 1st one is the four-season swimming pool on the 1st floor of the hotel, surrounded by 4 transparent plates of glass. The other pool is an infinity outdoor one in the rooftop, impressively overlooking the entire poetic valley and magnificent mountains.
1.6. Bamboo Sapa Hotel
Set on the prime location with remarkable views overlooking endlessly stretching mountains and gently sloping terraced rice fields, Bamboo Sapa Hotel features more than 100 comfortable rooms, a restaurant named Bamboo with hanging garden and the infinity pool surrounded by the alluring greenery of northwestern mountains.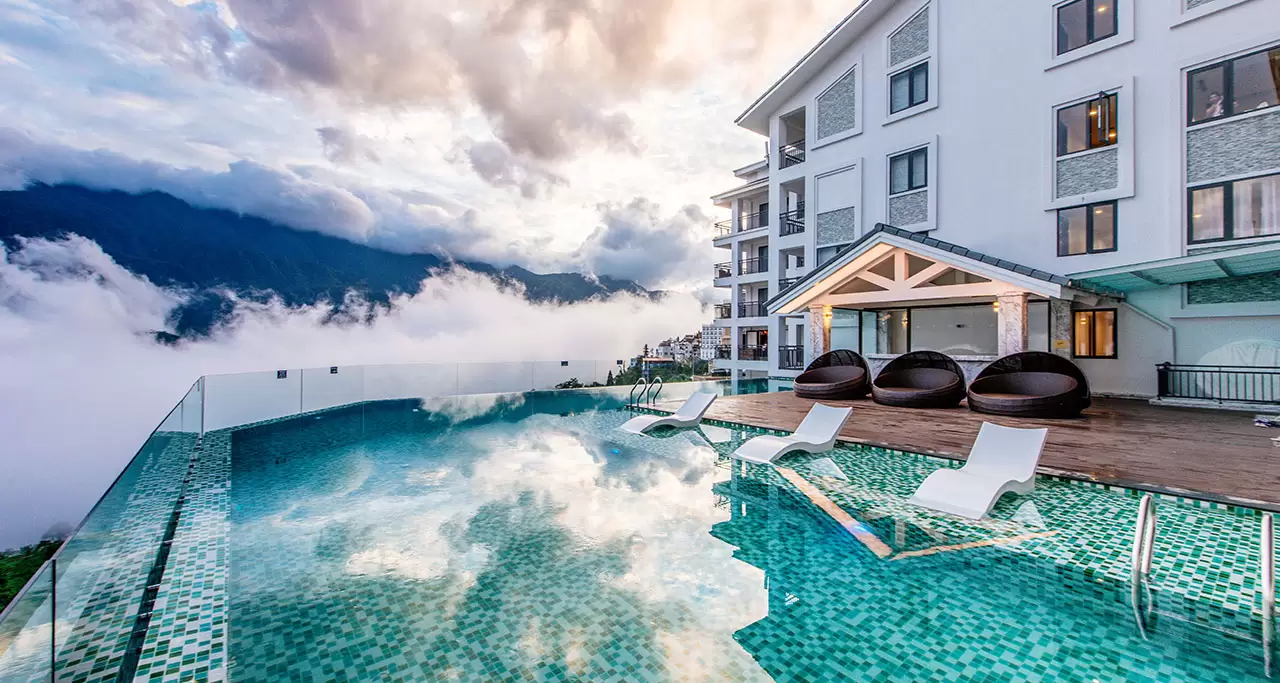 This relaxed hotel is a 7-minute walk from both the 19th-century Stone Cathedral and the Sapa Museum, and a 9-minute walk from the Ham Rong flower gardens. Especially, the Muong Hoa Street, where the hotel's located, is the main entrance leading to the most famous trekking route: Y Linh Ho – Lao Chai – Ta Van. Streamlined rooms with wooden floors feature free Wi-Fi and flat-screen TVs; some have balconies with mountain views. The outdoor infinity pool overlooking magnificent mountainous landscapes is the most highlight in this hotel, which draws many attentions from domestic and international tourists coming to the misty town.
Though being recognized as a 4-star hotel in Sapa, Bamboo Sapa Hotel is often chosen for 3-star standard travelers by Vietnam Travel's sales team due to its very reasonable rates. Staying in Bamboo Sapa will surely bring guests memorable moments full of indulgence and serenity.
2. Lodges in nearby villages
2.1. Topas Ecolodge
Topas Ecolodge is situated 18 km outside Sapa main town, atop two cone formed hills, set deep in the spectacular Sapa valley of northern Vietnam. It is the only one of its kind in Vietnam and may not accommodate to everyone's taste due to its sustainable orientation. Guests need to be open minded and adventurous to overcome 45 minute "adventurous bus ride" from Sapa town to this lodge. Along the way, road condition is fairly poor in places, but they can have chance to pass through ethnic minority communities in the area, or probably encounter a few buffalos, cows, goats or horses.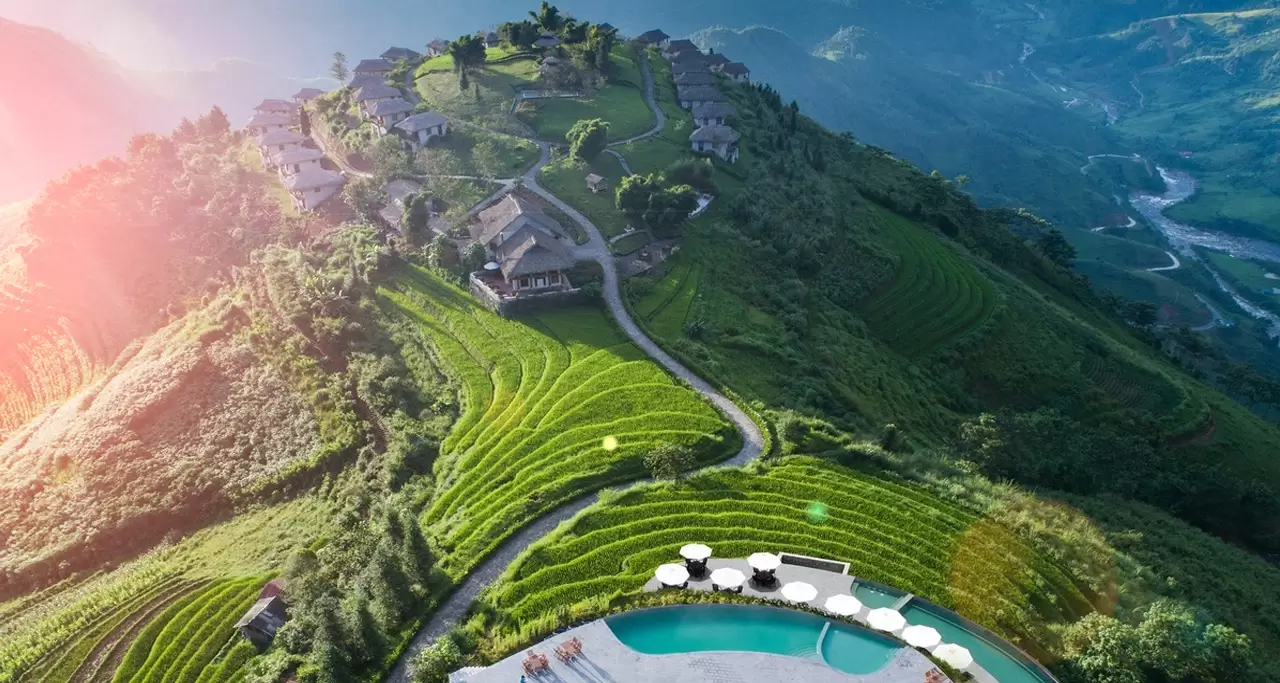 The lodge was opened in 2005, with no electricity, no mobile reception and no internet. It's not up to standard of a fully services, luxury 5 star accommodation and the owner wanted to have a simple lodge with minimum negative impact on the natural surroundings. Without TV and internet connection, guests completely escape from everyday life and immerse themselves with nature. There are 33 stylish chalet-style stone bungalows in local white granite from the Hoang Lien mountains, each has its own spacious balcony overlooking an expansive vista of towering mountain peaks and stunning, rice terraced valleys.
For tranquil relaxation, Topas Ecolodge offers two infinity pool surrounded by rice terraces high in the mountains and have incredible views of the majestic Hoang Lien Son mountain range and stunning valleys. It is the perfect setting to relax, take in the surroundings and feel at one with nature. Both pools have a shallow section for children and a massage-jet function. Based on sustainable hotel operation values to ensure minimum impact on the surrounding environment, Topas Ecolodge use eco-friendly water heating system for its pools, saving 85% energy compared to standard heating technology. It is named first in the list of best sustainable lodges in the world by National Geographic.
With the aim to community development, lodge's staffs are hired from nearby minority tribal villages with varying degrees of English proficiency. Therefore, guests are asked to be patient but be assured that there is always someone on site able to help with any language barriers.
Staying in this unusual Ecolodge, guests can experience Sapa in a different way and to escape the busy city life for a peaceful and authentic mountain getaway.
Address: Thanh Kim Village, Sapa, Lao Cai.
2.2. Sapa Jade Hill Resort & Spa
Located under 2km from the center of Sapa town, Sapa Jade Hill Resort & Spa is close enough for an easy access to the old town center and far enough to well preserve the much desired tranquility and privacy of a high-end resort.
Sapa Jade Hill Resort & Spa is a place embedded with Sapa indigenous culture – land of the legendary terraced rice fields. It has a perfect blend of both contemporary and indigenous architecture. The interior is made up of natural, eco-friendly materials such as stone, palm wood, pine, etc. harmoniously combined with brocade decoration patterns of ethnic minority. Moreover, all villas and bungalows have the mountain view, especially the fantastic view of Muong Hoa Valley – top 10 most beautiful rice terraces in the world. What's special about this resort is that some types of villa have a chimney and in house guests are handed a free bag of corn and sweet potatoes to grill by themselves.
The cozy yet elegant restaurant with the design inspired by the roof of ethnic minority people's home along with a carefully crafted lighting system with a touch of local ethnic crafts and textiles, creates a special indigenous and emotional ambience for dining experience. Staying in Sapa Jade Hill, guests can experience tribal market right in the resort's outdoor bar area, especially on the peak days. The fine dining foods at the Noj restaurant are now replaced interestingly by the hot dishes on each stall served by the ethnic minority sellers.
Sapa Jade Hill's pool possesses panoramic view down to Muong Hoa valley. The automatically glass roof can be opened which makes the pool become outdoor on any day with nice weather to optimize guests' experiences or closed for a warm cozy pool on chilly days.
Sapa Jade Hill is an ideal hideaway for romantic breaks, family vacations, and inspiring events.
Address: Cau May Ward, Sapa Town, Laocai
2.3. Topas Riverside Lodge
Topas Riverside Lodge is located deep in the wild jungles of Hoang Lien National Park, connected to Nam Cang Village by a wooden suspension bridge across a busting river, around 35 km from Sapa Town. The lodge was built by Red Dao minority family, and operated in partnership with Topas Travel since the end of 2013.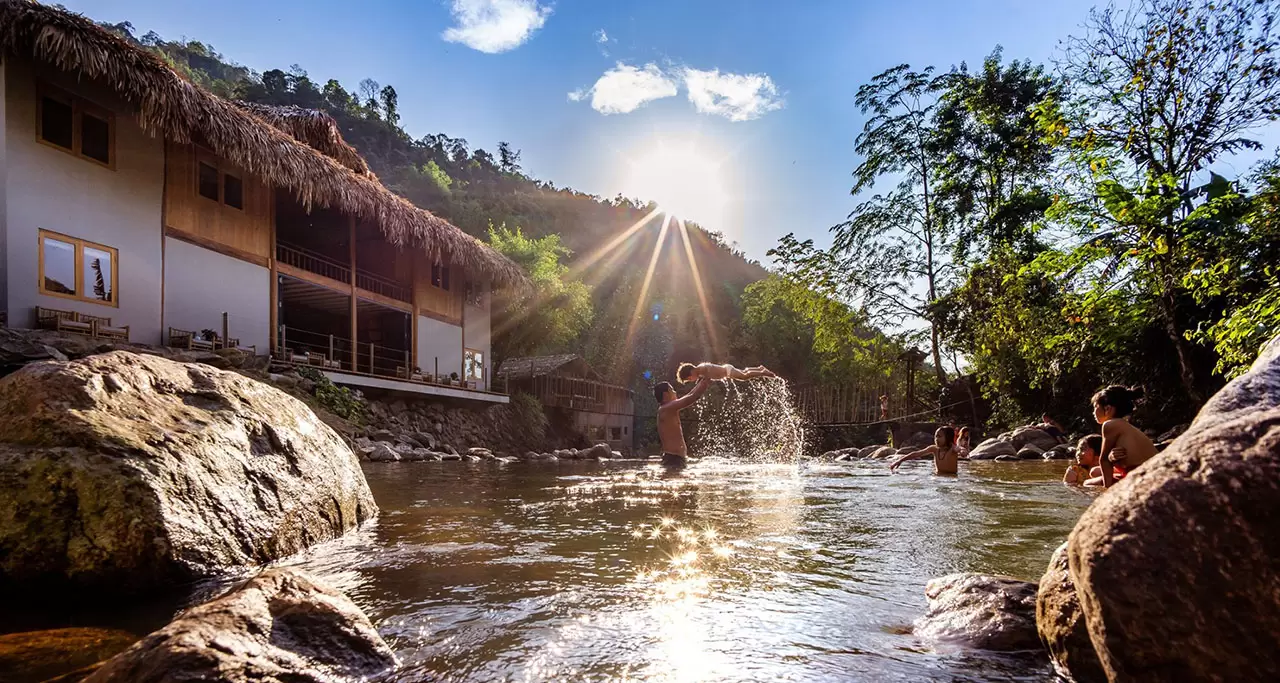 Being the sister property to Topas Ecolodge, Topas Riverside Lodge focuses more on discovering the real and remote Vietnam beyond the well-trodden tourist paths of Sapa and witness the friendly hospitality of the local minority people. The lodge has 14 rooms and can accommodate a total of 28 adults and 8 children aged six and under when they share a bed with their parents.
The lodge's highlights include cultural engagement with 5 different ethnic minority villages and local cuisine prepared by a Danish chef with help from the local community to deliver outstanding dining experiences.
Address: Nam Cang Village, Sapa, Lao Cai
In conclusion, it can't be denied that Sapa is going through a huge wave of modernization but its charm lies in its old customs and unique culture. Taking private Sapa Tours with Vietnam Travel, tourists will definitely enjoy Sapa in the most authentic approaches, as well as get the most valuable advices to choose accommodation in Sapa from our senior travel consultants.