Rice Terraces in Sapa & Photo Tour
When is the best time to see the rice fields in Sapa?
Sapa is the mountainous district of Lao Cai province which located by the border with China. On the steep hillsides, there is not much of water and local people farmer take advantage of the rain fall to grow rice, that is the reason why Sapa has only one rice crop a year.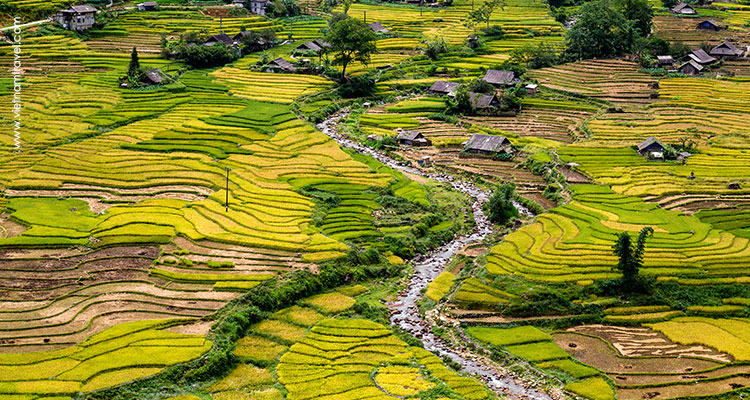 The best time to see the rice field in Sapa is first 2 weeks of September when rice field turns to gold color and rice is ready for harvest. Rice terraces in the harvest time is material of many postcards.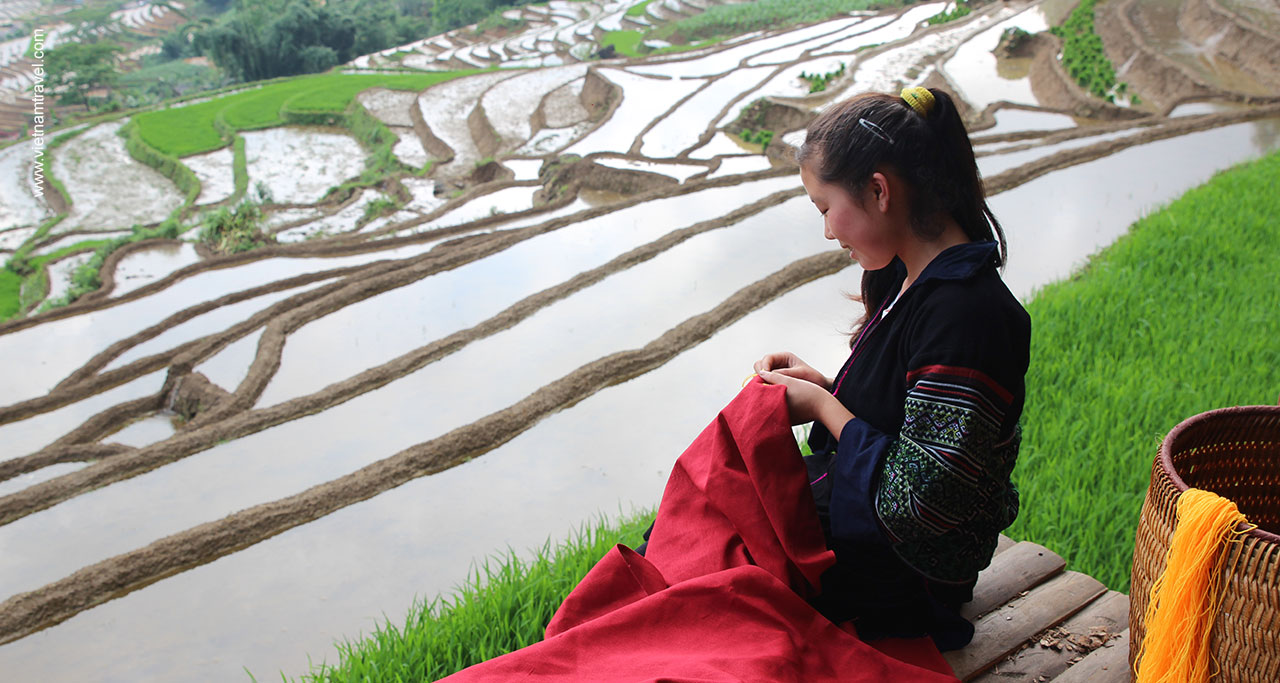 Another good time to see the nice field in Sapa is May when Sapa farmers water the rice terrace fields and planting the next crop.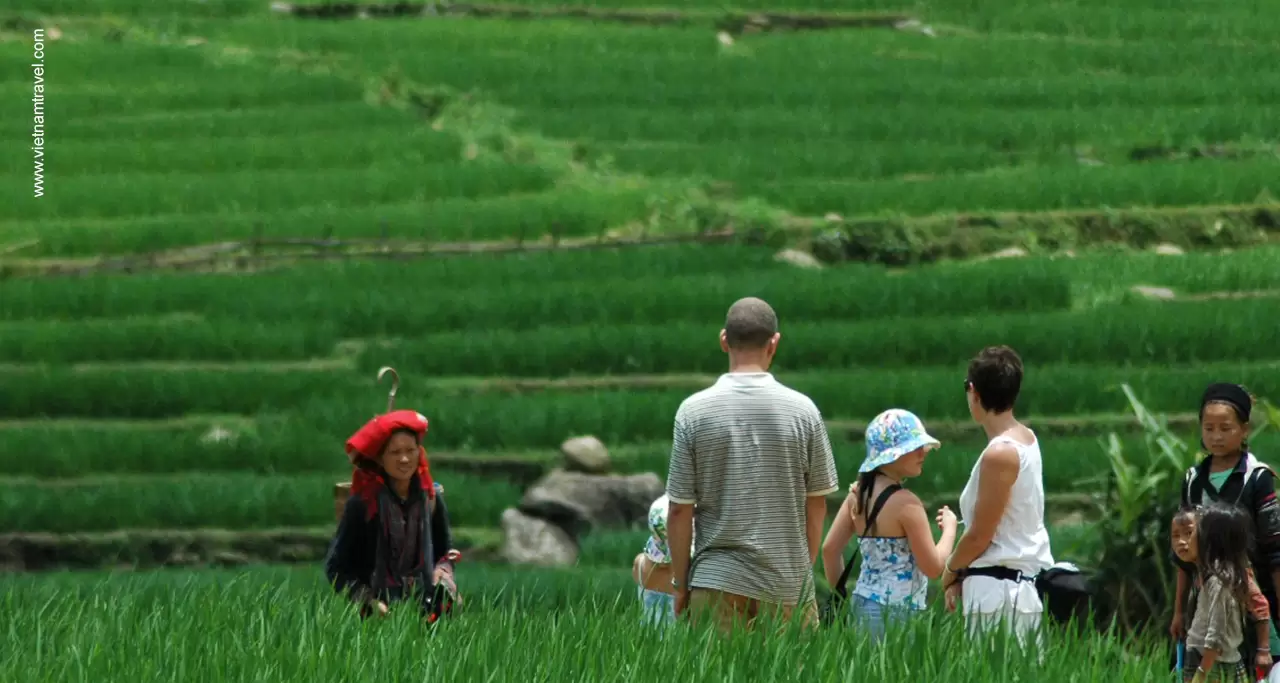 In July Sapa is very green, more rains but shower is heavy rains, it lasts for 20 minutes or an hour and normally it is fresh and nice after the rain.
Read more: Sapa in Green Season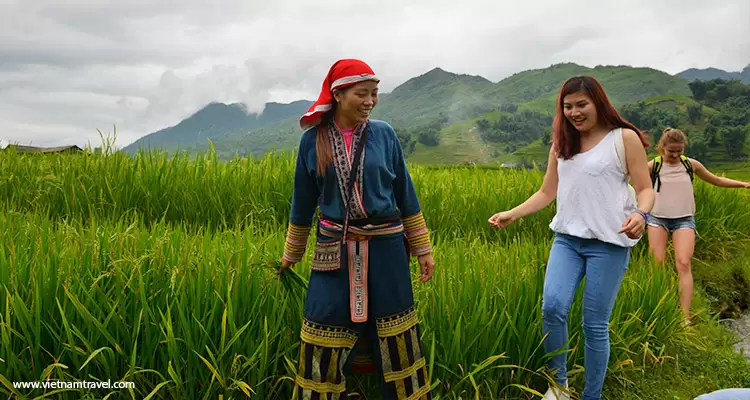 August is time when rice is blooming. There is beautiful smells of young rice seeds ( milky rice seeds) in the air.
In 7 years working as a local tour guide. I noted the best time and marked each location to see rice field for shooting the best photos of the rice fields here in Sapa.
Hmong people even has a new rice ceremony" Le Cung Com Moi". It is held at home within the family in the last month of August. They pick some good new rice and offering some chicken or pig to the Spirit and pray for good crops in the next season. The new good rice they first picked will be kept as seedling for the next crop.
Where is Sapa and how to access Sapa?
Sapa is more than 300 km from Hanoi and you could drive 6 hours on the newly built freeway to get there. You could also take the night train Hanoi to Lao Cai Station then take an hour drive to Sapa.
The best time to take photo of rice field in Sapa is in 1 week in the mid of September, you will see terrace rice paddy on the hill side and Hmong and Red Zdao family working on it. That would be the great combination of rice field and colorful hill tribes which contribute a great decoration for your photo.
Normally family of Hmong and Redzao people working together on their own farm. They talk, they sing the song or tell the jokes to entertain themselves that make their hard work become less hectic.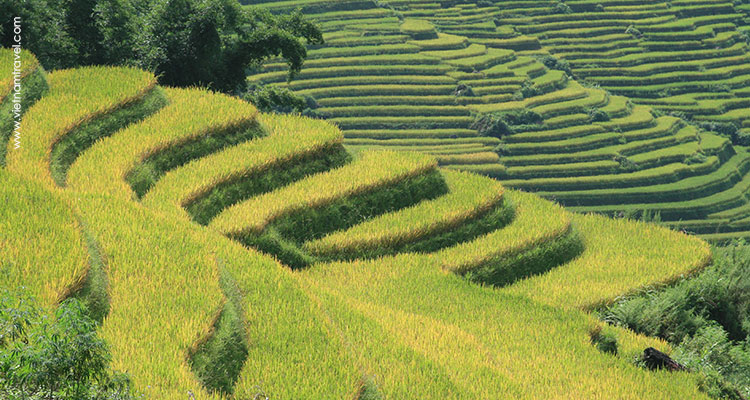 After cutting rice, they don't bring straight home like farmer in the Red River Delta do. They leave cut rice on the field to dry it then separate the seeds from straws. They bring only bring rice seeds home once it is very dry. That make the working time on the field of Hmong people getting longer.
If you come bit late, there will be some part of rice not harvested yet but people start to burn rice straws, the air becomes smoky and sometimes you could even smell it.
Read more: How to get to Sapa from Hanoi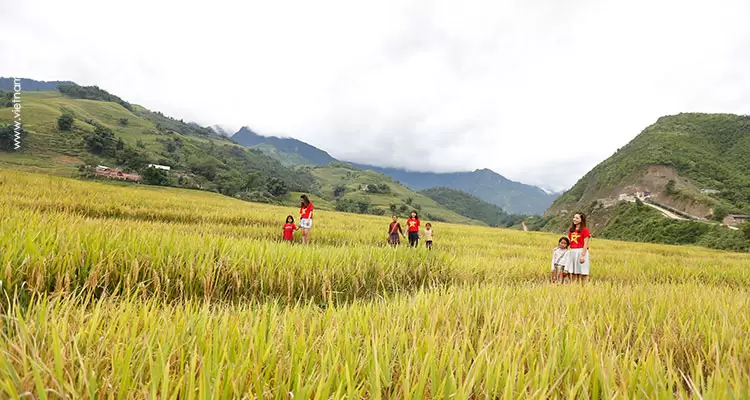 You should spend 3-4 days to visit Sapa. My personal advice is don't stay too long in town. You rent a Jeep or motorbike and drive several routes:
Route 1– Sapa – Sapa- Ta Phin ( pass the old church)
Route 2– ( Best of Sapa rice field): Sapa – Ylinh Ho- Lao Chai- Ta Van
Route 3– Longer journey. You head to Muong Hoa Valley but go further, passing the ancient rocks and drive downhill to Thanh Kim, Thanh Phu…(Full day trip)
If you have longer time in Sapa. You may take a full day trip to Phong Tho, the neighbor town of Sapa, you will see more rice terrace along the drive and meet many more hill tribes people.
Sapa is high up in the mountains (1200 -1500 meters above the sea) and it is always cooler than Hanoi but September is still hot. Please remember to bring hat and eyes wears for Sapa trip. Sun block is recommended too.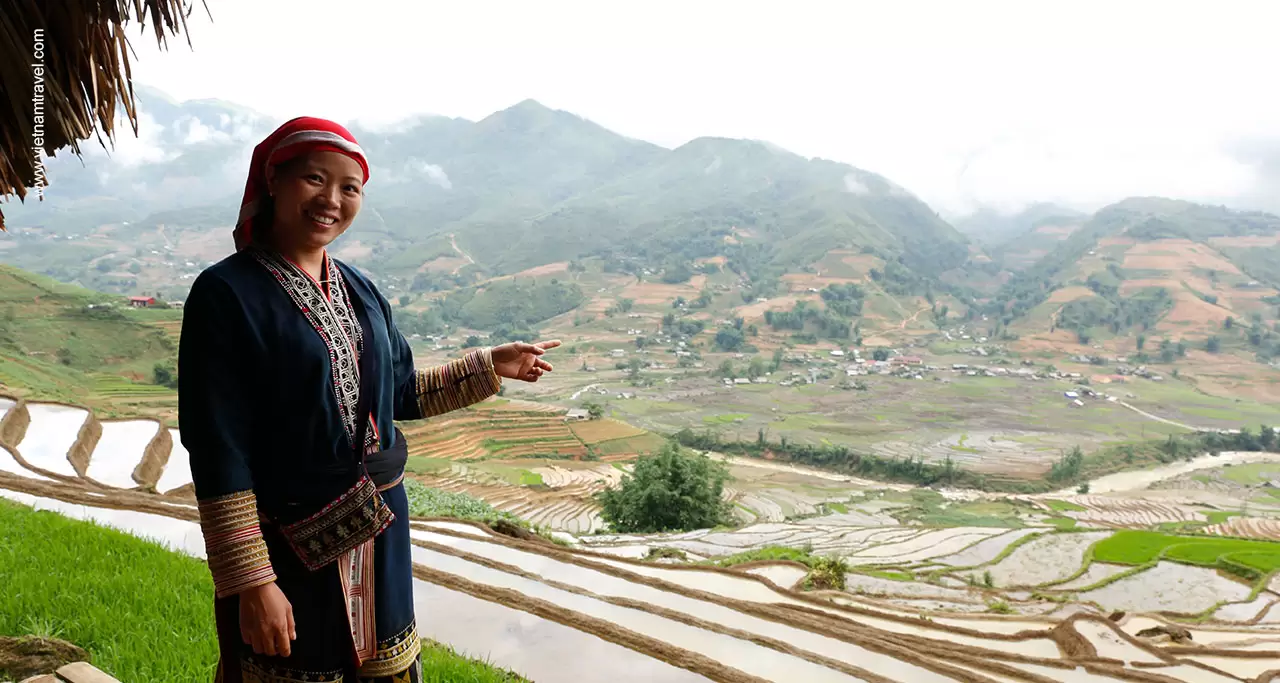 During the harvest time, the hairs from rice straw flying in the airs and it may cause the skin rashes for those who has sensitive skin. You could avoid it by wearing long sleeves shirt & mask.
Let private guide of Vietnam Travel take you on the less touristy routes and perfect timing trip. You will meet friendly and nice local people along the trip and talk to them or have tea with them at their home and their farm that makes your trip to Vietnam is memorable and unique. That is far different from other join-in trips of the mass market.