Danang International Airport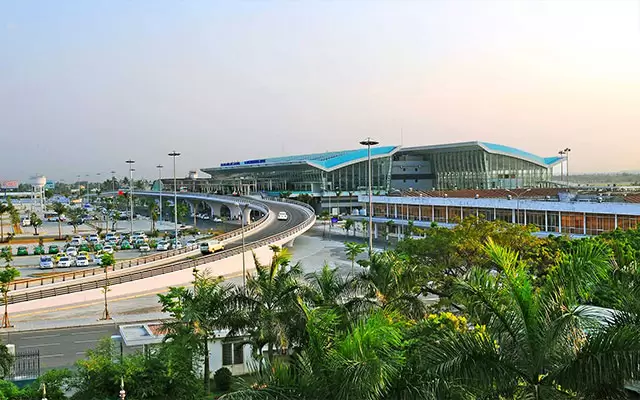 Danang International Airport is the 3rd largest and busiest airport in Vietnam, after Tan Son Nhat International Airport (Ho Chi Minh City) and Noi Bai International Airport (Hanoi). It is situated in Duy Tan Ward, Hai Chau District, about 3km from Danang City Center. Danang Airport is a vital transportation hub in Central, connecting between North and South Vietnam.
1. General Information
Danang International Airport was built in 1940. It was served as the airbase of the US military and The Republic of Vietnam Air Force during Vietnam War until 1975. At that time, it was one of the busiest airports in the world.
Currently, there are 5 domestic airlines and 38 international airlines having routes to Danang International Airport, the 3rd-most in the country. From Danang, there are 16 domestic routes, 51 international routes (25 regular direct routes and 26 direct charter ones), with more than 250 domestic and international flights per day. According to a recent announcement at the Skytrax World Aviation Awards, Danang International Airport was honored to be in the Top 10 of the World's Most Improved Airports 2020. This award was conducted by Skytrax based on the results of the survey of passengers traveling at international airports worldwide for the improvement of the quality of passenger service and the satisfaction level.
2. Two Terminals in Danang International Airport
There are 2 terminals in Danang Airport, one for domestic flights (T1 station) and one for international flights (T2 station). The distance between T1 and T2 stations is about 200m and it takes 10 minutes walking from each other. If you need to catch a connecting flight in the other terminal, you're required to exit the arrivals hall and take the covered corridor outside to change terminals.
2.1. Domestic Terminal – T1
It was put into operation in December 2011 with total usable area of 36.600m2, including:
• 9 domestic boarding gates
• 40 domestic check-in counters
• 5 domestic arrival baggage conveyor belts
• 1 domestic departure baggage conveyor belts
• 6 domestic boarding bridges.
The Domestic Terminal is made up of three floors though the middle floor is restricted airline office space. The ground floor houses arrivals and some limited amenities including cafes, SIM card services and money exchanges. The top level is check-in counters, security checks and departure gates. The terminal is designed to serve the capacity of 6 million passengers per year.
Vietnam Airlines, Vietjet Air, Jetstar Pacific, Bamboo Airways and VASCO are 5 domestic airlines operating flights in and out Danang from other cities of Vietnam. The most popular domestic flights are to the larger cities of Hanoi and Ho Chi Minh City.
2.2. International Terminal – T2
It was put into operation in May 2017 with total usable area of 48.000m2, including:
• 10 international boarding gates
• 54 international check-in counters
• 5 international arrival baggage conveyor belts
• 2 international departure baggage conveyor belts
• 4 international boarding bridges.
This terminal has 4 levels. The ground includes a baggage claim, arrival hall, immigration check, Visa on arrival counter, customs, gate lounges, and lost and found… The 1st floor is exit hall with arrival corridors and gate lounges. The 2nd floor is departure hall and holds 54 check-in counters, customs and security check. Lastly, the 3rd floor contains CIP Orchid Lounge and Lotus Lounge for Vietnam Airlines' passengers.
3. Da Nang International Airport's Services and Amenities
3.1. Free Wi-Fi
Wi-Fi in Da Nang airport is free to access. Connect to "@Airport Free WiFi" then a login page of the system will automatically appear, click on the "Connect" button to log in, click the "Finish" button and proceed to the browser to use the internet. Wi-Fi connection is weak sometimes; however, the nearby café and restaurants have free-Wi-Fi as well.
3.2. SIM Cards
Buying a Vietnamese SIM cards at the airport is quite easy. There are some kiosks selling local SIM cards on the ground floor. Viettel, Vinaphone, Mobiphone and Vietnamobile are four most popular providers in Vietnam but Viettel is the best with strong connection, even in remote places of the country. A SIM card costs you about 10-20 USD depending on the provider and 3G package. You just need an unlocked phone and show your passport ID then the staff there will help you to register.
3.3. Money exchange and ATMs
Money exchange counters are located in the public halls and arrival halls of both terminals. You can exchange to Vietnamese Dong or other currencies. The exchange rate is quite good. ATMs of BIDV, Agribank and Vietin Bank are available here, near the exit of the arrival hall.
3.4. Food and Beverages
Both domestic and international terminals have a variety of food and drinks to choose from. You can find some local dishes such as bread (banh mi), noodle (pho), coffee, fast food… at local food stalls scattering around the airport. But the price is a bit higher.
3.5. Shopping and Duty Free
Souvenir shops are scattered around both terminals, selling some local specialties such as handicrafts, local teas and coffees, some silk clothing. There even is a mini-mart in the gate lounge of the international terminal full of snacks and soft drinks. You can also find Lotte and Jalux duty-free shops in the departure area of T1 and T2 terminals. There are a variety of products including: wines, cigars, cigarettes, sweets, ginseng, cosmetics and perfumes…
3.6. Airport Lounges
Da Nang International Airport offers lounges at both terminals for those who want to relax before the fight or need to get some work down. Having a lounge membership allows you to access these lounges complimentary. But every passenger can still access to the lounge, regardless of airline and ticket class as long as you buy voucher upon entry.
The business lounge is at both T1 and T2 terminals. This service will offer for business class passengers but if you are not, you can still enter the lounge with the entrance fee about 15-16 USD for domestic lounge and 30 USD for international one. This lounge provides charging stations, massage chairs, newspapers and magazines, as well as food and drinks.
CIP Orchid Lounge at international terminal only features all amenities that you would expect to find in a business standard lounge. There are eating zone, relaxing zone and working zone which are fully equipped. The Orchid Lounge is opened 2 hours before the first flight and stays opened until the last flight departs from the terminal. Entrance fee is 25 USD for adults, 11 USD for children and it is free for infants (under 2 years old).
3.7. Other Services
Beside above services, Danang International Airport also offers useful services like Airlines Ticketing, Baby Care Room, Luggage Wrapping, Smoking Room (2nd floor), Bamboo Spa (2nd floor of T2 Terminal), Tourist Information Center…
4. How to get to Danang City from Danang International Airport
There are many ways to reach Danang City Center, just 3km from Danang International Airport:
4.1. Taxis
Taxis are available at the taxi stands, just outside the Arrival Hall. Fares are metered which vary between 4 USD and 6 USD for a 10-minute ride to the city center and a 15-minute ride to the seaside. Some recommended taxi operators are: Taxi Mai Linh, Taxi Tien Sa, Danang Taxi, Airport Taxi…
4.2. Motorcycle Taxi
Traveling by motorbike taxis or "xe ôm" is a good way of exploring outside the city center on a budget. To catch a "xe ôm", you should take a short walk to the domestic terminal where you can easily find several next to its motorbike parking. The price is very cheap, about 2-3 USD.
4.3. Local Bus
If you want to go by bus, take the bus number 12, the nearest bus stop is approximately 8-min walk away from the Terminal. A bus ticket just costs 5,000 VND but the trip takes quite a long time.
4.4. Private car
It is much more convenient and flexible with a private car if you book it with travel agency. The driver will go inside at baggage claim and wait for you with a welcome board so you can easily recognize him. Then you will be transferred to Danang City or Hoi An Ancient Town if you stay there.