Tra Su Cajuput Forest
Tra Su Forest is an ecosystem of cajuput trees that line dusty dirt paths and home to a large variety of birds and other wildlife. Tra Su Forest, also referred to as Tra Su Flooded Forest, Tra Su Mangrove Forest, Tra Su Bird Sanctuary or Tra Su Melaleuca Forest, Tra Su Cajuput Forest is located in Van Giao Commune, Tinh Bien District, An Giang Province, just about 10km from Cambodian border. For those who love the beauty of wild nature, Tra Su is an ideal place to explore the typical ecosystem of Mekong Delta. In flood season, the forest is dressed up with the appealing look of the green carpet of duckweed covering the whole large area.
1. Overview
Prior to 1975, Tra Su was destroyed by the American's bombs and became uncultivated area. After the war, authorities of An Giang province have invested to reforest cajuput and build a 12km long, 4m wide and 4m high dyke system that helps prevent the area from being swamped during flood season. The forest has been designated as a special restoration zone since 1983, with the target of becoming a renowned scientific forest and nature reserve.
Today, with the area of 850 ha with a very rich ecological ecosystem, Tra Su offers a marvelous beauty of immense wetland, emerald-green duckweed carpet and dense cajuput forest. Visitors will be overwhelmed by the forest's magnificence while penetrating inside. Lines of cajuput trees along the waterway make the vista more alluring. Moreover, it is great to witness wide paddy fields dotted with Palmyra palm trees in proximity to the forest.
Tra Su forest has a significant effect on the water environment and climate regulation for the whole of the Seven Mountains (Bay Nui) region. It is the habitat of more than 70 species of birds and storks, of which two species named in the Vietnam Red Book are painted stork (Giang Sen) and oriental darter (Dieng Dieng). Also, there are 22 species of reptiles, 11 species of mammals, 23 species of aquatic animals. Not only rich in animals, there are up to over 140 species of flora spreading through the forest.
The forest is sub-divided into several sites to make getting around easier, that include a 3,000m2 fishing area, a 3,200m2 bird sanctuary and a 2,500m2 bat sanctuary, all of which cater to the specific individual demands of different types of tourists.
2. Best time to visit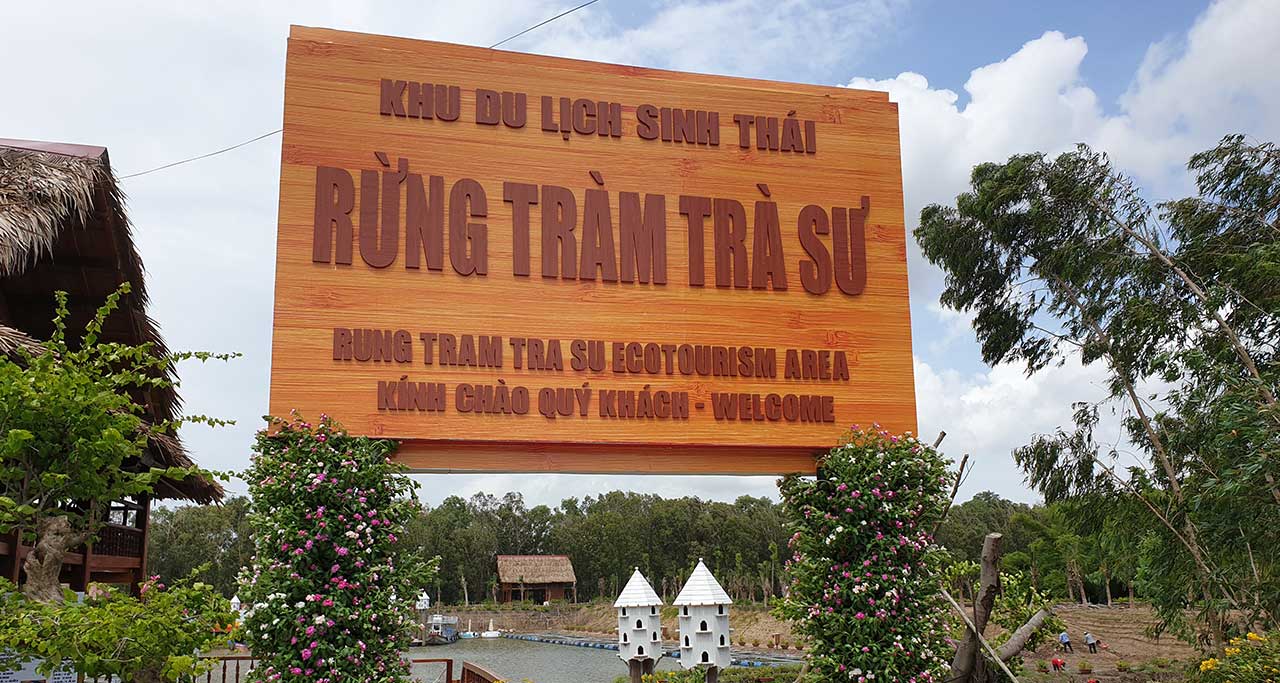 The best time to discover Tra Su cajuput forest is from September to November – when water covers entire forest. This enables boats to ride around and make an incredible sight especially when the sunlight reaches down the water surface.
To admire the most vibrant perspective of the forest, you should be here from 7 A.M to 9 A.M as the weather is quite pleasant and you are rewarded to witness thousands of birds flying for food and singing songs of the wildlife. Between from 5:00 P.M and 6:30 P.M, it is also the right time to see birds returning their nests. Otherwise, you can hike to observation tower to watch closely the life of birds and storks through binoculars.
However, Tra Su is a year-round destination and it is worth to stop over for visitors traveling to Chau Doc or Mekong Delta.
3. How to get to Tra Su Cajuput Forest
• From Ho Chi Minh City, you can buy a bus ticket at Mien Tay bus station to reach Chau Doc or Long Xuyen City and it takes around 6 hours. Some recommended local buses are Phuong Trang, Thao Nguyen, Hung Cuong, Trong Tin Limousine… The ticket price is about 150,000 – 250,000 VND/ one way. Then you still need to hire a taxi or motorbike to reach to Tra Su forest. Too much time, quiet risky, and it is only recommended for youngsters, as well as budget travelers.
• If you are in Can Tho, where all visitors come to explore Mekong's largest floating market – Cai Rang, you can travel to Chau Doc by bus. The journey is much shorter than starting from Saigon (3 hours) and the ticket is cheaper, about 100,000 VND/ one way. The same to information mentioned above, another vehicle is required to come to Tra Su. If you don't mind to deal with the difference of language, communication, negotiation that may be caused by bus driver, taxi or boat rowers, you absolutely can take adventure this way.
Vietnam Travel recommends you to book a private car with experienced guide who know deeply about the region to enjoy the trip worry-free.
4. What to do in Tra Su

A journey to explore Tra Su cajuput forest starts aboard a long small motorboat which called "tac rang" by the locals. It is a very common mean of transportation in Mekong Delta region. Along the small canals lining the forest, you will admire the lush greenery of lotuses and water lilies on the water. You also see the locals harvesting cajuput flower honey, which costs 15-45 USD depending on its quality. To reach the heart of the forest, you will be switched to a small wooden rowing boat, just enough space for 4 people. Gently drift along the water and go deeper, through small canals, you will be in awe of different kinds of birds scattering all around. You can observe a thousand of white storks and other colorful species of birds flying above or perching on the branches. The further you go, the more peaceful you feel. The sampan rower will help you to understand more about the forest and show you where the birds are.
After the boat tour, climb up to a 14m high watchtower where you can enjoy a fantastic panorama of the vast Tra Su cajuput forest, dotted with birds in the silhouette of the Forbidden Mountain (Nui Cam) in the background. In particular, there is also a telescope for those who wants to get more details of the bird nests or a closer look to the birds underneath when they are finding food or building nests. The forest rhythm of life seems to be exposed to the visitors and even become more vivid and lively. Get there when the sun is about to go down, it will be the most memorizing scene of this trip.
Vietnam's longest bamboo bridge, added recently by Chau Doc tourism authority, is a must do in Tra Su forest. Stepping on each span of this unique 10-kilometer bridge, you will be immersed in the nature of white cajuput flowers with a delicate scent, which is far different from the busy city life. It is also the world's longest bamboo bridge as of today. Sound interesting, isn't it?
Don't forget to try some local specialties in a small hut at the center of forest, including grilled chicken with honey, hotpot of Mekong's fishes and sesban flower, fried or roasted fishes… Local foods are often cooked and served with many tropical herbs and vegetables. You will surely get an unforgettable experience while savoring a lunch among the natural atmosphere in the forest.
5. Advice & Tips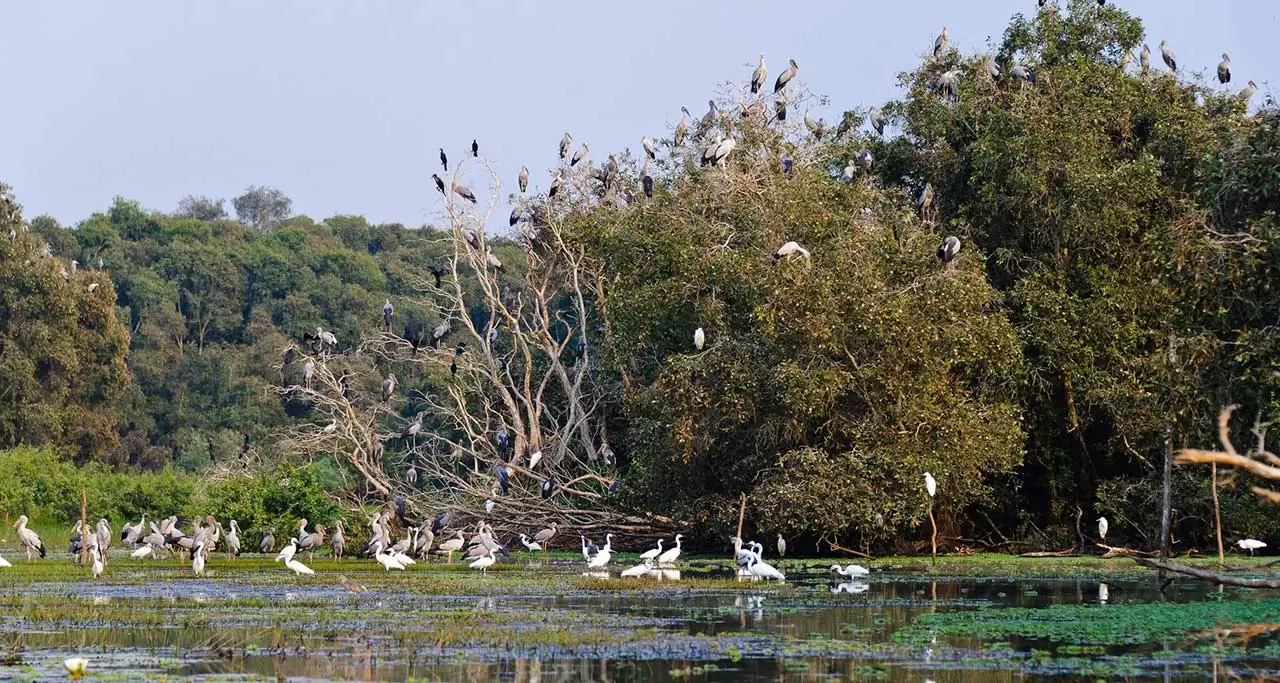 • Price for boat tour in Tra Su cajuput forest: 95,000 – 190,000 VND/ passenger depending on group size.
• It is recommended to bring sun cream and bug spray, and wear hat, light clothes and sandals.
• A binocular is great equipment to get extended reach. Always have your camera ready and just ask boat rower where the birds are the most.
• The time of sunrise and sunset is the best when you can get the best scenes to take impressive photos and to witness the active birds.
• You should keep quiet to not scare the birds.
Vietnam Travel offers an excursion that visits the stunning Tra Su Forest. If you want to add Tra Su Tour into your Mekong trip, ask us here or email us to sales[at]travelvietnam.com