How to get to Hoi An from Hanoi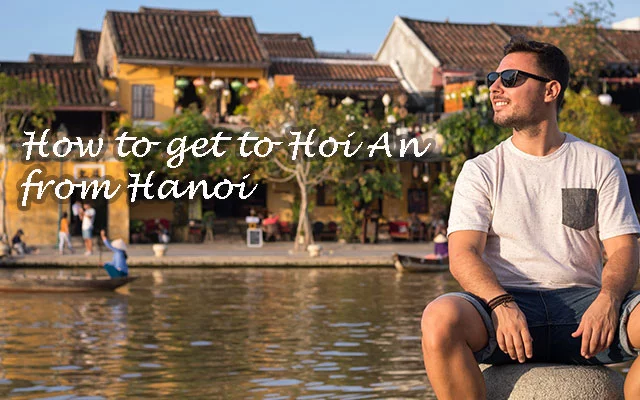 Known as a prosperous trading port between 17th and 19th centuries, Hoi An today is one of the most attractive destinations in Vietnam. For those who want to escape from the bustle city life and look for the peace and tranquility in beautiful surroundings, Hoi An is an ideal place.
Hoi An has no airport and train station either. The only way to get there is by road. So if you are in Hanoi – Vietnam's capital and want to travel to Hoi An, you may wonder how to get Hoi An from Hanoi? Which transportation can you choose for the first-time visit? Let Vietnam Travel guide you!
1. Hanoi to Hoi An by plane
Time: 1 hour 20 minutes flight
Cost: ~35 – 140 USD/ one-way ticket
The fastest and most convenient way to get to Hoi An from Hanoi is taking a flight to Danang, the closest airport to Hoi An. The flight from Hanoi takes just 80 minutes and there are numerous direct flights operated daily by Vietnam Airlines, Vietjet Air, Bamboo Airways and Jetstar Pacific Airlines for your selection. Upon arrival Danang Airport, you continue to move to Hoi An.
A flight may be the quickest option, but if you want to see more of Vietnam's natural beauty, you can opt for one of the choices below.
2. Hanoi to Hoi An by train
Time: 15.5 – 16.5 hours
Cost: ~18 – 80 USD/ one-way ticket.
For those who want to experience Vietnamese railway system and also enjoy scenic view through seat windows, you may take a train. Like taking a flight, there is no train station in Hoi An so you have to get to Danang, then catch a taxi or bus to Hoi An. There are several trains per day from Hanoi, operated by Reunification (Thong Nhat) Train. The earliest train departs at 6:00 am while the latest one is at 22:00 pm. The train ticket price varies depending on the seat type, which includes a hard seat, a soft seat, a hard sleeper and soft sleeper. Generally, one-way ticket costs you from 18 USD for a hard seat to 35 USD for a soft sleeper.
Besides, travelers can also book private trains with Violette Train or Livitrans Express, which are decorated nicely and have better services. They both provides nighttime trains leaving Hanoi at 19:30 pm and 22:30 pm. The ticket price is pretty expensive, even more than taking a flight, about 60 – 80 USD for a deluxe sleeper 4-berth.
To buy train ticket, you can go directly to train station to buy ticket or book online via travel agency. It is recommended to purchase ticket as soon as you know your travel date to choose the best suitable seat.
Train stations:
– Hanoi Railway Station: 120 Le Duan, Hoan Kiem, Hanoi
– Danang Railway Station: 202 Hai Phong, Thanh Khe, Danang.
Note: The train and plane will get you to Danang City, 30km north of Hoi An. From Danang, you have to take another ride to Hoi An which takes about 45 – 90 minutes depending on mean of transport such as private car, taxi, local bus, express shuttle bus. You can read more on how to get to Hoi An from Danang in our article here.
3. Hanoi to Hoi An by bus
Time: 17-18 hours
Cost: ~ 15 USD/ one-way ticket.
The advantage of taking a bus is that you do not have to change the vehicle, you will get directly to Hoi An from Hanoi without stopping in Danang. It is recommended to take a sleeper bus instead of a regular bus because you will spend about 17 hours on it. The inclined, allocated seats or padded flatbeds, Wifi, TV, and charging outlets will make your journey more comfortable and convenient.
Bus is also the easiest and cheapest way to travel from Hanoi to Hoi An, especially for last minute or low budget tourists. Almost buses depart from Hanoi in the evening and arrive in Hoi An around midday of the following day. You take the bus from their offices in Hanoi and will be dropped off at their offices in Hoi An. The journey takes approximately 17 hours. Hung Thanh and Queen Cafe are two companies commonly preferred by locals.
Hung Thanh Bus
Hung Thanh offers a sleeper bus service to Hoi An from Hanoi. There are 2 buses depart daily at 18:00 pm and 18:30 pm.
Ticket price: 300,000 – 350,000 VND/ one-way.
Bus stops:
– Hanoi Dong Mac bus stop: 287 Tran Khat Chan, Hai Ba Trung, Hanoi
– Hanoi Hoan Kiem bus stop: 162B Tran Quang Khai, Hoan Kiem, Hanoi
– Hoi An bus stop: 105 Ton Duc Thang, Hoi An, Quang Nam.
Queen Café
It is a high-quality sleeper bus company offering buses from Hanoi to Hoi An, also departing at 18:00 pm and 18:30 pm, and arriving Hoi An at 13:00 pm the next day.
Ticket price: 300,000 VND/ one-way.
Bus stops:
– Hanoi bus stop: 208 Tran Quang Khai, Hoan Kiem, Hanoi
– Hoi An bus stop: 117 Ton Duc Thang, Tan An, Hoi An, Quang Nam
4. Hanoi to Hoi An by motorbike
Time: 2-3 days (recommended)
Cost: ~ 10-35 USD/ day.
For those who are looking for an adventurous journey, traveling by motorbike from Hanoi to Hoi An is a great option. If you are familiar with motorbikes, you can simply buy or rent one from a shop. There are many shops, such as Style Motorbikes and Tigit Motorbikes, offering one-way rental options. Specifically, you can rent a motorbike in Hanoi and drop it off in Hoi An.
Having a good bike will be very important since you may be driving through unpredictable weather and windy roads. However, this option will allow you to freely customize your itinerary and experience all the grandeur Vietnam. If you have time, you should plan at least 3 days to drive from Hanoi to Hoi An by motorbike. Along the way, you can make some stops at some famous places, including Ninh Binh, Phong Nha, Hue, Hai Van Pass and then Hoi An. Before traveling, make sure you have a valid driver's license and be aware of the rules and regulations in Vietnam.
If you have prior experience and feel comfortable enough to ride a motorbike, it is highly recommended to ride the Ho Chi Minh Trail. This incredibly quiet road offers spectacular scenery of stunning mountains, rivers and villages, ideal for nature lovers who want to experience untouched Vietnam.
5. Hanoi to Hoi An by private car
If you cannot drive a motorbike but still want to enjoy scenery along the way and seek for the privacy, traveling from Hanoi to Hoi An by a private car is a good choice. You can book this service with a local agency. A private driver will accompany with you and a tour guide is recommended since the driver is not good at English. You can also customize your itinerary and stop at some places on the way, same with driving a motorbike. This option is perfect for those traveling with the old people and kids. The price varies depending on your travel program and number of people in your group, so just contact our travel consultant for detailed information.
No matter which option you choose, you also find pros and cons on it as long as it matches your budget and preference. And Hoi An is undoubtedly a wonderful ending place.