Hai Phong, Vietnam – What to do?
Not far away from Ha Noi, there is a beach city named Hai Phong, which is known as tourist hub and ferry links to Cat Ba island, Lan Ha Bay. Taking 2.5 hours by bus from Hanoi, you will get to Hai Phong and let yourself get attracted by its charming. In this article, Vietnam Travel gives you information regarding top lists things to do in Hai Phong.
Attractions
Staring from the city, you will visit the Colonial Quarter Hai Phong which is famous for its own colonial charm, broad avenues, and impressive French –style architecture. Next, our tour guide takes you to the Opera House considered as the central area of the city of Hai Phong on Tran Hung Dao street. Hai Phong Opera House was built by the French in 1904 in the old market area of An Bien ancient village and completed in 1912.  The building was designed according to the prototypes of Paris Opera House and simulated the architecture of medieval French. The building materials are shipped from France to Vietnam, then constructed by Vietnamese workers under the direction of French architect. If you want to have some fresh air, head to the Tam Bac Lake which is located close to the old colonial quarter and enjoy a relaxing time there. This is a great place to go fishing. Both beginners and experienced ones find themselves relax to fishing here.  If you are not into go fishing, the trees are perfectly lined along the banks of the lake and make it a perfect place to go for a walk. Besides, visitors will see an interesting flower market or Flower Market (Quan Hoa) at the eastern side of the lake. It was established around 1941 by the French as a small center selling fresh flowers and is made up of five beautiful arched-roof kiosks. Head above, you will find Iron Market (Cho Sat), a famous and unique place of the port city. It was built in the late 19th century, under the French colonial time. Its materials were mainly steel to be erected on a concrete ground, and "Iron Market" was so called. Visitors can witness the locals trading at "Iron Market", a busy city market covering a large area. Even if you don't plan to buy anything here, it's still an interesting experience to observe local life in this busy downtown area.
Conclude your city tour of Hai Phong at Du Hang Pagoda, the ancient architecture originated during the Early Le dynasty. Admire the many valuable Buddha statues, horizontal lacquered boards and parallel sentences bearing the art style of the Nguyen Dynasty.
Away from the city, you will have time to explore Cat Ba island, located in Halong Bay, an archipelago of islands comprising wisps of green clinging to their sheer cliff faces, Cat Ba Island is the largest of its kind and is a favorite with both international and Vietnamese tourists. While the main hub of Cat Ba town has been reserved for tourism infrastructure with hotels, restaurants and bars lining the streets, the rest of the island is still covered in pristine wilderness, half of which has been declared a national park in order to keep it that way. Most travelers visit Cat Ba Island as part of a tour around Ha Long Bay but it is possible to go independently as well.
Another choice for visitors is Lan Ha Bay, situated off the southeast coast of Cat Ba Island, is an idyllic spot and quieter alternative to the popular and often busy Ha Long Bay. The area features some 300 karst islands and limestone outcrops, as well as several white-sand beaches. Many travelers come here for simply relaxing or take part in swimming, rock climbing, hiking, and kayaking.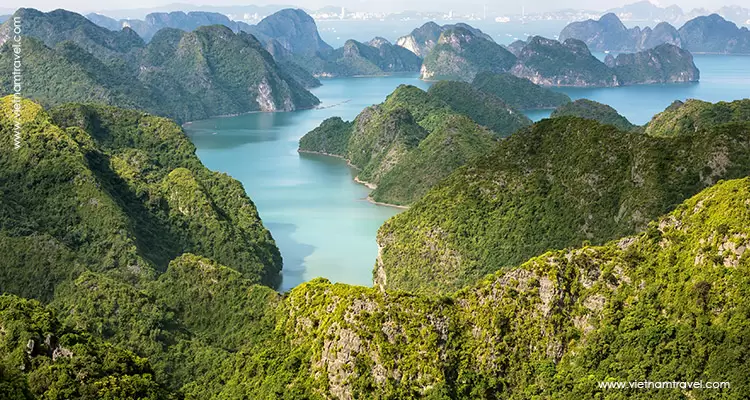 For golfers looking for a nice weekend away and playing some golf, Hai Phong also offers three top golf courses: Vinpearl Golf Vu Yen, Song Gia Golf and BRG Ruby Tree Golf Do Son.
If you have time, please do not miss the Blue Lake (Tuyet Tinh Coc) in the outskirt of the city. The water is initially opaque in nature, but due to the exploitation of limestone mountains, the chemical reaction occurs cause the water to turn green like jade. It is the color of unreal illusion, beautiful as in paradise that makes the peaceful land, which has not been noticed now, as the most attractive tourist destination of young people.
Another destination in the countryside in Bach Dang Giang relic site, located at the estuary of Bach Dang River, just 20 km from downtown Hai Phong. Bach Dang Giang relic site is the city's largest complex of historical, cultural and spiritual monuments and a popular tourist attraction.
Cuisine
You cannot say that you have been to Hai Phong unless you try the famous local dishes here. Hai Phong is famous many delicious foods such as spicy bread (banh my cay), crab spring roll (nem cua be), vermicelli soup with fish (bun ca), noodle soup with crab (banh da cua), and many kinds of fresh seafood. It is a great idea to taste them in restaurants on the Colonial Quarters or in Hai Phong best restaurants such as Big Man restaurant (07 Tran Hung Dao street),
Lucky restaurant (22B2, Minh Khai street, Hong Bang district).
Van Tue restaurant (01 Hoang Dieu street).
Com Vietnam (4A Hoang Van Thu street).
Accommodation
There are variety of accommodation options for travelers in Hai Phong. If you want to stay near the city center for your traveling convenience, you can choose to stay at Avani Hai Phong Harbour View, Vinpearl Hotel Imperia Hai Phong, Mercure Hai Phong, Pearl River Hotel, and Sea Stars Hai Phong.
If you decide to stay at Cat Ba islands, Cat Ba Island Resort & Spa, Cat Ba Beach resort and Cat Ba Sunrise resort will never be disappointed you.
Overnight on Lan Ha Bay is also a memorable experience for visitors. You can choose which one to stay from those best cruises: V'Spirit Premier Cruise, Calypso Cruise, Perla Dawn Sails, Mon Cheri cruise, La Regina Legend, and Orchid Premium Cruise.