Tra On Floating Market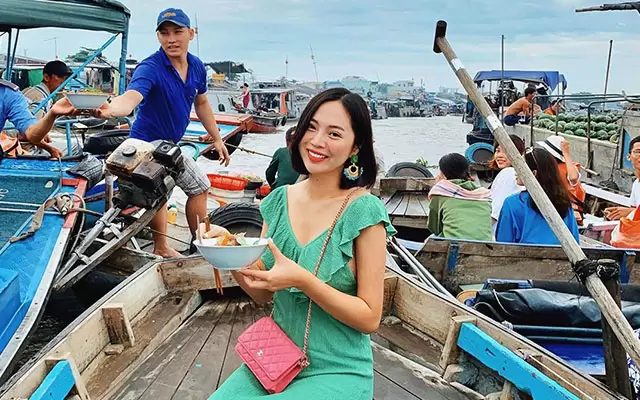 Tra On Floating Market is located in Tra On District, Vinh Long Province, at a prime location between the junction of Hau River and Mang Thit River. Even not being as famous and familiar in tourists' perception as other floating markets like Cai Rang (in Can Tho) or Cai Be (in Tien Giang), Tra On Floating Market still possesses its own special cultural features of the people in the Southwestern river area. It's definitely worth a visit for those who opt for less touristy floating markets.
1. Where is Tra On Floating Market located?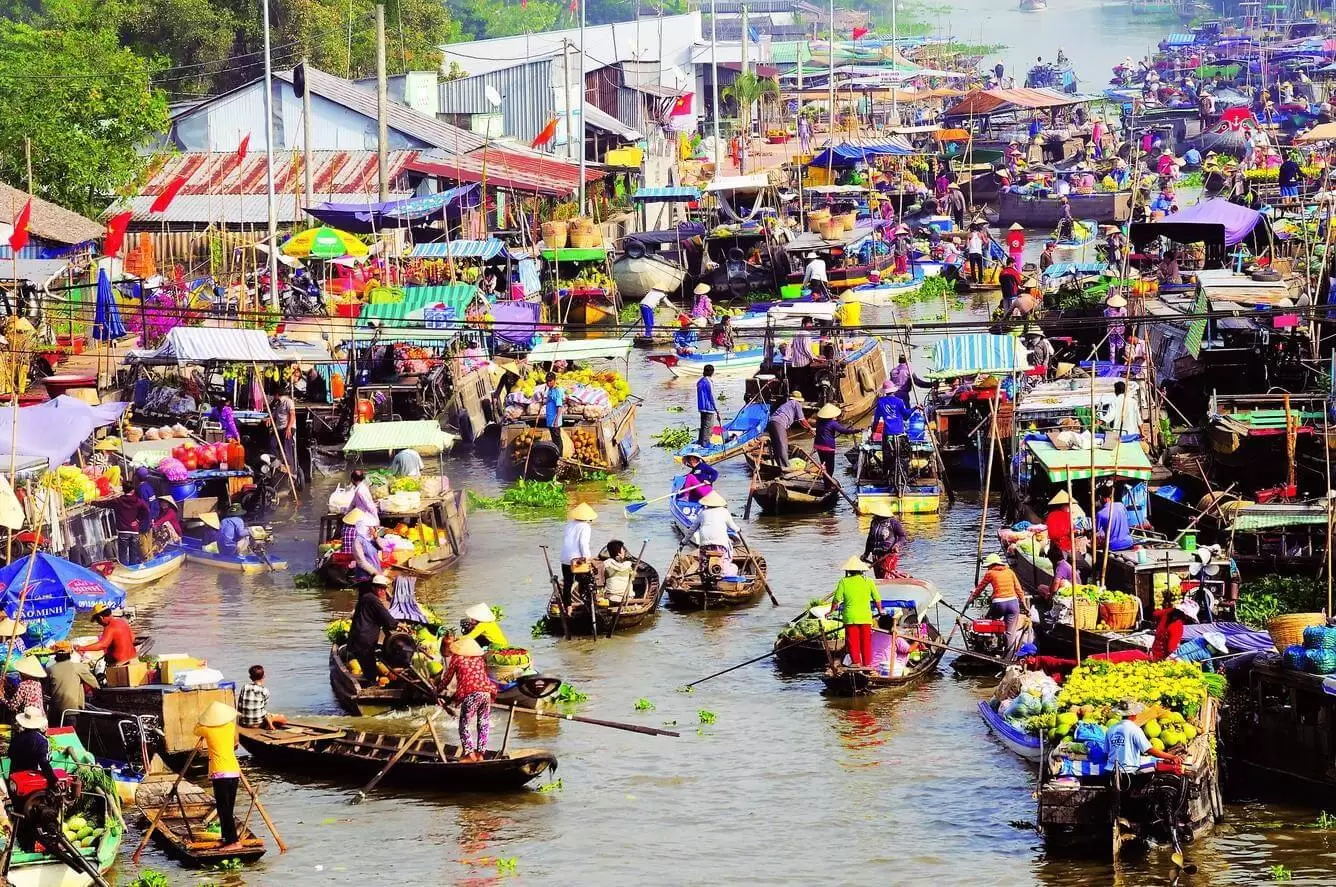 Hau Giang is one of the two main branches of Mekong River when flowing into Vietnam's territory. The intersection between Hau Giang River and Mang Thit River is the position of Tra On Floating Market. Therefore, this market is the last one on the Hau River before the river flows into the East Sea. This prime location brings many benefits for agricultural activities with mild year-round fresh water, alluvial fertile farms, and many types of seasonal fresh fruits & vegetables. The appearance of Tra On Floating Market has been accommodating the demands of trading activities in the area. It is considered as one of the oldest floating bazaars associated with many cultural activities of Southwestern residents.
2. How to get to the market?
The market is situated in Tra On District, Vinh Long Province. So tourists must find the way to reach Vinh Long firstly. The 135km distance from Ho Chi Minh City to Vinh Long takes around 3-hour drive. On arrival at Vinh Long bus station, they can hire taxi or motorbike taxi for another 40km to Tra On Town.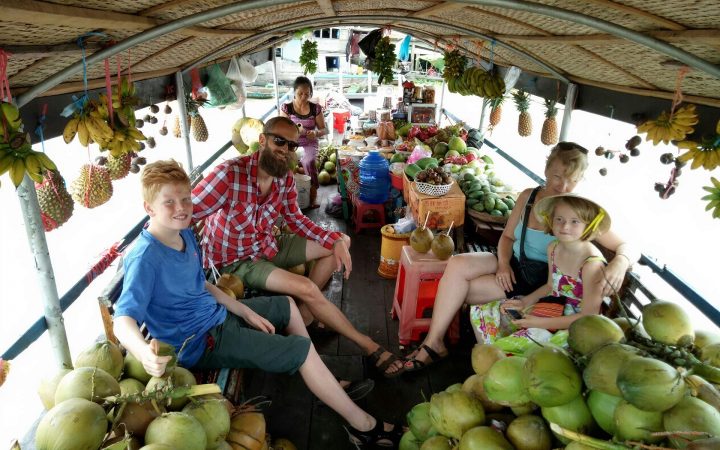 However, the busiest time of Tra On Floating Market happens in the early morning whereas it takes at least half day for the journey between Ho Chi Minh City and Tra On. So tourists are recommended to spend at least one night to stay in Vinh Long City then wake up early in the next morning to visit the market.
If you have limited time, just let Vietnam Travel team to organize the private trip at your convenience. We offer flexible itineraries to escort you from Ho Chi Minh City to Tra On Floating Market and ensure that you will not miss any highlight along the way to discover Mekong Delta area.
3. When is the best time to visit the market?
Tourists can visit Tra On Floating Market in rainy season (from May to November) as well as in dry season (from December to April) because the temperatures in both seasons are generally comfortable (average tempt. 230C – 340C). Of course, each period can create different travel experiences. In dry season, Mekong Delta is at its most beauty with blue sky, brilliant green landscapes, fresh atmosphere and low humidity. These conditions are excellent for tourists to sit on a motorized boat for several hours to witness trading activities and local daily life at Tra On Floating Market.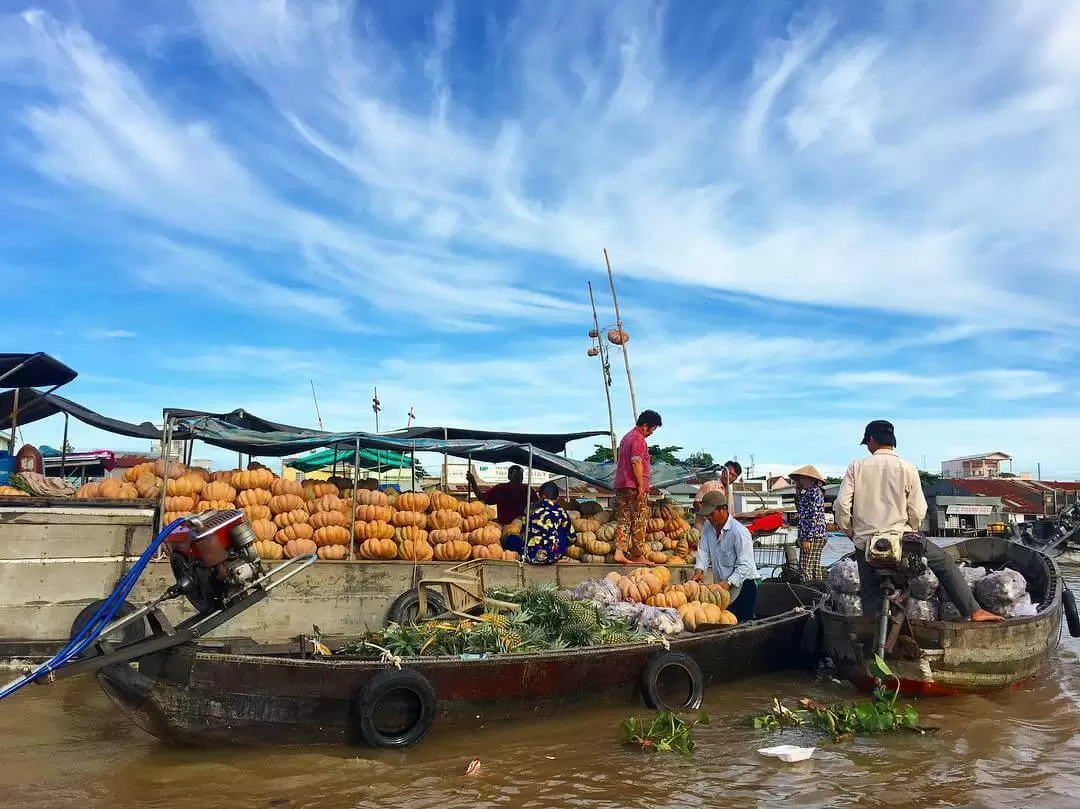 Raining season here comes with uncomfortably high humidity, heavy but quick rainfalls. In contrast, tourists can try various types of tropical fruits if visiting the market in rainy months. Also the higher level of river water helps the trading activities on floating market more bustling than in dry season.
The market is operated on daily basis but will be closed in some special occasions, such as: Vietnamese lunar new year (on the first half of lunar January).
Tra On Floating Market starts its new working day very early from 2 – 3 PM, when people are still in the middle of their night sleeps. It's really an interesting experience if tourists can wake up as early as at 2 AM to see traders practice morning rituals when they prepare the boat for a new working day. Boats are the dominated means of transportation in the floating market so all activities there depends mainly on the river water level. Early morning is the high peak of tide so the market is busiest and most crowded during this time. Thus, 5 – 6 AM is suggested as the best time to explore Tra On Floating Market.
4. Which makes the market be interesting?
Lying about 250m far from Tra On rivulet mouth, Tra On Floating Market has been expanded over the time and currently has the sizes at 300m in length and 150m in width. There are two main parts can be seen in this floating market: some trading activities are taken place along riversides, and the main floating part are made by hundreds of boats. Whether on the dock or on boats, all activities here are exciting and create bustling atmosphere.

4.1. Trading activities in the market
Tra On Floating Market is well-known as a major wholesale market in the region. The main commodities sold here are fresh tropical fruits and seasonal agricultural products. These items are categorized and packed in groups with large quantities. Then boats are used to deliver goods from those that produced to those that barter and trade. From Tra On Floating Market, agricultural products are transferred throughout river systems of Mekong Delta and distributed to neighboring areas. Each boat is filled up with one or two types of tropical fruits/ vegetables so they make the river more vivid and colorful by their vibrant colors.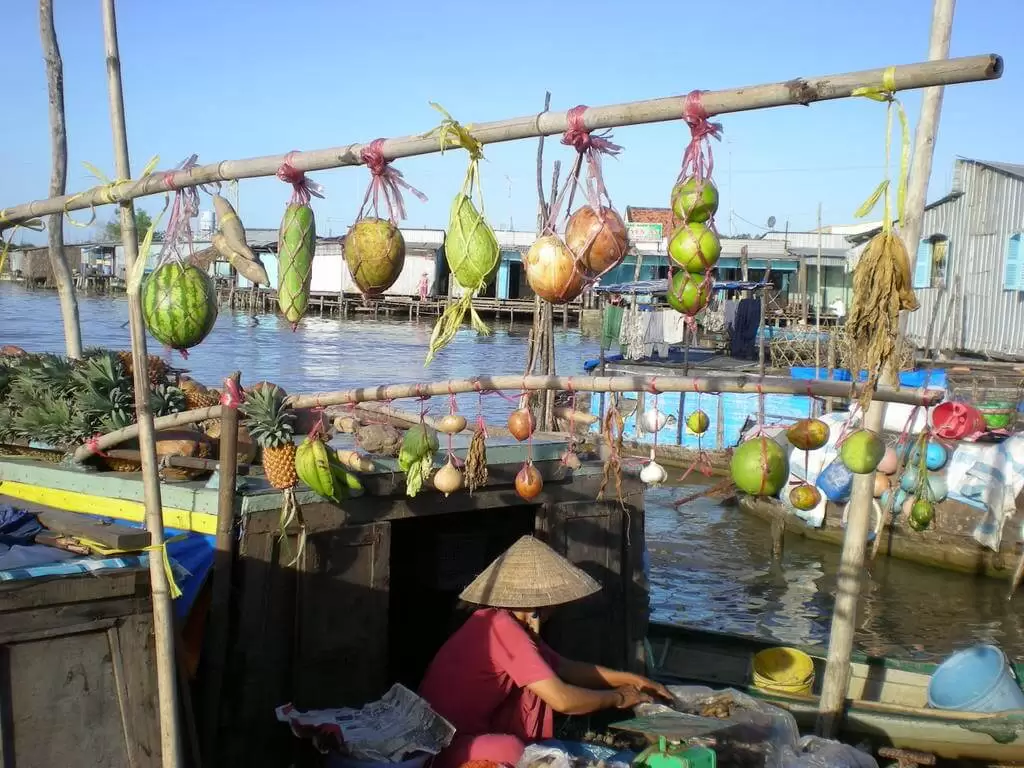 All kinds of fruits in tropical region can be found here, such as bananas, guavas, tangerines, oranges, durian, mangosteen, mango, grapefruit, watermelon, pineapple. The sellers here only say the right price whether you are local or foreign visitors so don't hesitate to try some and feel the fresh taste of any fruit when you are there. Besides, there are many other seasonal agricultural products such as gourds, okra, potatoes, radishes, cabbage, melon.
Merchandisers in floating market have their very unique way to advertise their products. Due to the vastness of the river and the noise from boat engines, buyers may not hear the voices of sellers. Therefore, sellers tie all kinds of sample goods they have to a tall bamboo pole so that buyers can see them from a distance and have enough time to find the way to approach the buyers' boats.
4.2. Local daily lives in the market
With a long history, the floating market of Tra On has become a long-standing floating market and connected with many cultural activities of people in the area. And it will not be a complete picture without mentioning about floating stores and restaurants, floating houses of locals in the floating market.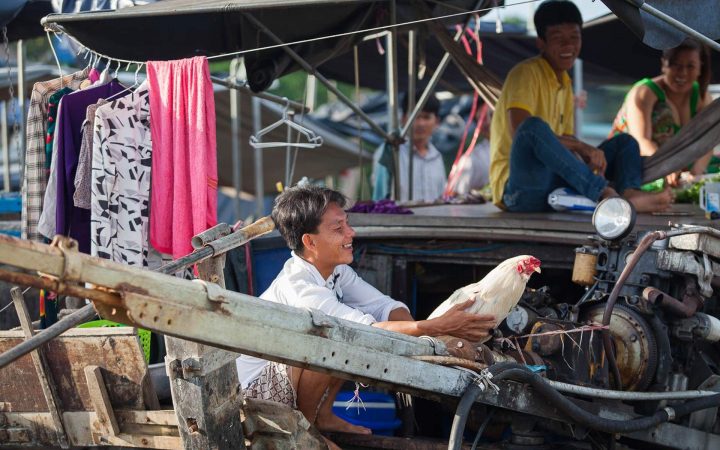 On the journey to see local trading activities, tourists should try delicious dishes being sold by locals in their small boats. The most popular dish here is beef noodles served with thinly sliced banana blossom. The market scene is more lively and bustling with small boats selling coffee, ice tea, bread, rice noodles, bread, tobacco. Or you also see the boats on which there are many items from the needle, spool, sugar, salt, cooking oil, peanut oil. Sounds of local vendors, paddles, and boat engines all create an exciting atmosphere, which is only can be found in floating markets in Southwestern region.
Later of the day, there are fewer motorized boats and Tra On Floating Market cedes the tranquility to the river. However, there are several boats anchoring around the wharf because their lives are attached with this place. They live in floating houses and anchor themselves on the floating market day after day, from generation to generation.
Conclusions
In recent years, the road traffic network system has been developed significantly and many traders leave their boats to do business on shore. However, Tra On Floating Market maintains its own values and contributes positively to the economy development in the Southwest region. While other bigger floating markets are fully occupied by local and foreign tourists, Tra On Floating Market is an alternative option for those who want to experience local authenticity in a not modernized place, but still be in convenient location connected to other famous travel routes. For further information or best offers of tour excursions ton Tra On Floating Market and nearby places in Mekong Delta, please contact our Travel Consultant at your convenience!