Holidays and Observances in Vietnam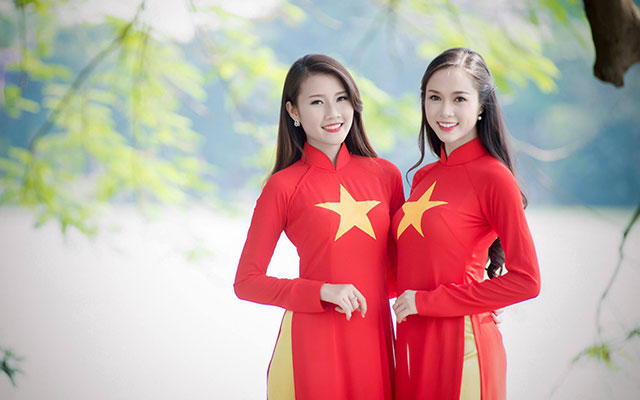 Public holidays in Vietnam are regulated by Vietnamese Labor Laws and there are 10 days of public holiday per year at the time of this article published (from 2021, there will be 11 days). Some holidays are based on the Gregorian calendar and some based on the lunar calendar which means that they are not the same every year. If a public holiday falls on a weekend, workers are entitled to have the following day off as compensation. During these holidays, Vietnamese people enjoy the time off to go on a vacation or reunite with family. Besides, government offices, schools and most businesses are closed. For those who want to visit Vietnam, having information about these public holidays is useful so you can plan your trip perfectly.
International New Year's Day
(1st January – 1 day)

Like other modern cultures of the world, Vietnamese people celebrate the International New Year's Day in the first day of January. The day marks the transition from the old year to the new year. The history of New Year dates back to the 18th century when Vietnam was under French colonization. The day has gradually been accepted by local people. Nowadays, people often have a day off and say farewell to the past year and welcome a new one. Many go out and join countdown parties, others will spend time with families and friends at home.
Tet Holiday (Vietnamese Lunar New Year)
(1st – 5th of the first lunar month)

Tet is the longest and most important holiday in Vietnam. It often falls between late January and early February. Workers and students often have one week off and come their hometown to reunite with their family. Streets are decorated with various kind of vivid lights and flowers like peach or apricot blossom, kumquat trees and daisy flowers. People will clean their houses, streets and prepare many kinds of food such as "Banh Chung" or "Banh Tet" (a traditional Vietnamese food consisting of glutinous rice in a square shape wrapped in dong or banana leaves and stuffed with mung beans, fatty pork, and black pepper), pork stewed in coconut juice, Spring roll… with hopes that they will achieve prosperity, happiness and wealth in the following new year. Families usually visit each other's houses and perform ancestor worship. Some practices include giving "Li Xi" or lucky money to the old people and children. On the Eve of Tet, all the major cities hold fireworks displays.
Read more about flowers in Vietnam: https://vietnamtravel.com/flowers-in-vietnam/
During Tet Holiday, most of tourist spots, restaurants and stores are closed but you will have chance to learn more about Vietnamese culture, enjoy green tea, taste special foods and immerse in yourself in the joyful atmosphere.
Hung Kings Commemoration Holiday
(the 10th day of the third lunar month)

Hung Kings Commemoration Day has been an official holiday in Vietnam since 2007. It is scheduled for the 10th day of the third month of Vietnam's traditional calendar, around April in solar calendar. People will get a day off on the 10th and may choose to have a warm family gathering. But the real festival is taken place in Phu Tho province, the hometown of Hung Kings, from the 8th to 11th day. It features some dynamic activities, namely, traditional sports competitions and cooking sticky rice cakes competitions, along with typical rituals of presenting offerings and burning incense to the main temples in Den Hung Historical Site.
Liberation/Reunification Day Holiday
(30th April)

On 30 April every year, Vietnamese people all around the country celebrate the Liberation of Saigon and the Reunification of Vietnam, which dates back to 1975 when the North and the South Vietnam reunited into one: one country, one politics. A week during the holiday, you will see the Vietnamese flag flying high all over the country as well as the streets are decorated with full of neon lights and colorful banners.
Labor Day
(1st May)
Labor Day, as known as International Workers' Day, is a celebration of laborers and the working classes that is promoted by the international labor movement and occurs every year on 1 May. Vietnam also celebrates Labor Day, which is right after Reunification Day so people often enjoy 2-4 days off along with Sunday and Saturday. During this time, the weather is quite pleasant and favorable in all of Vietnam and people tend to travel a lot. So the tourist destinations and beaches over all the country are likely to be crowded. If you plan to visit Vietnam on these holidays, it is suggested to book flights, hotels and transfers in advance.
Vietnamese National Day
(2nd September)

Vietnam celebrates National Day every 2 September to commemorate the day in 1945 that President Ho Chi Minh read Vietnam's Declaration of Independence and announced in public in Ba Dinh Square, Hanoi. It led to the independence and freedom of Vietnam from the enemies. This is a very patriotic holiday with the national flag of Vietnam displayed everywhere and large posters of President Ho Chi Minh adorning city walls. Starting 2021, Vietnamese will enjoy an extra day off for the National Day Holiday, either on September 1 or September 3.
Other Holidays

Beside 6 public holidays mentioned above, Vietnam has many other holidays and observances that people don't work off but they still celebrate them.
Valentine's Day
(14th February)

Valentine's Day is a relatively recent tradition in Vietnam due to the Western influence. It is a time when people show feelings of love, affection and friendship. Though there are no rules attached to this occasion, men usually give a gift such as flowers or chocolate to their loved ones on 14th February. Valentine's Day is the perfect excuse to demonstrate the love of couples, the decisive step to try to conquer the beloved person, or to find love.
International Women's Day (8th March) and Vietnamese Women's Day (20th October)
International Women's Day is celebrated in many countries around the world, including Vietnam. It is on 8th March, a day to recognize women's achievements and contributions in the social, economic, cultural, and political spheres. It also raises the awareness of issues that women face such as discrimination, gender inequality sexual harassment and violence.
Vietnam has its own Vietnamese Women's Day on 20th October. On this day, men often present flowers and gifts to their mom, wife and colleagues to thank and show appreciation.
International Children's Day
(1st June)

Vietnam celebrates Children's Day on 1st June and as its name suggests, this holiday is for children. Children's Day is the occasion of promoting the bond between parents and kids as well as the connection among children, of enhancing child welfare and protection. Parents often do something special for their kids on this day, namely, go to the park, buy them toys, have a small party at home…
Vietnamese Teacher's Day
(20th November)

The Vietnamese Teacher's Day falls on 20th November every year. It is one of the most traditional and important day to honor every single individual that has contributed to the development of education sector. This holiday is also an opportunity for students to express their respect and gratitude to their teachers. Students often buy flowers to give to their teachers, so many flower vendors will set up in front of school gates on this occasion. And schools usually organize some special events like concerts, recitals and exhibitions to celebrate this special day.
Christmas Celebration
(24th – 25th December)
In Vietnam, Christmas is not an official public holiday but people, especially youngsters and children are all looking forward this holiday. A few weeks before Christmas Day, all streets and shops are decorated in red and white – characteristic colors of Christmas. Going through big hotels, shopping malls and buildings, you can easily catch many Christmas trees with sparkling ornaments. On Christmas's Eve, people often come to a local church or Catholic Cathedral to pray for peace and happiness. It is extremely crowded at the central hubs in big cities like Notre Dame Cathedral in Saigon, Saint Joseph Cathedral and Old Quarter in Hanoi. People are all excited and happy to enjoy this holiday.
How Vietnamese take holidays

Most of Vietnamese people don't take holidays since it is quite short. They will spend a day off staying with families, friends and loved ones and relaxing. It is also a perfect time for family reunion. Half of Vietnamese don't go on vacation; they live at their birthplace their whole life. Only people in big cities do travel and take holidays. Most people would choose beaches or resorts near their hometown to celebrate their holidays. Some of them start to discover the famous places far from home and very few of them could afford to travel outside Vietnam.
Vietnamese people often travel during the longer holidays for vacation such as Tet Holiday, at the end of April or around 2nd September. Some choose to travel in 3 months of summer (June, July and August) when the kids are off school and can be able to travel with them. In the past 2 years, the number of domestic travelers has been increasing steeply. That is a good signal of economy growth and number of middle class is getting larger. It will be a good future for domestic travel.
In conclusion, Vietnamese public holidays are the New Year's Day on the Gregorian calendar; the commemoration day of the Hung Kings, the nation's mythical founders, on the 10th day of the third lunar month; the National Reunification Day on April 30; the Labor Day on May 1; the National Day on September 2; and the Tet or Lunar New Year holiday which normally lasts from seven to nine days that includes weekends.
Vietnam is always one of the safest travel destinations in the world. It is an awesome country with so many famous natural landmarks, good foods to enjoy, unique and fun things to do, as well as friendly people. Let Vietnam Travel be your guide to limitless adventure. Sign up for our newsletter to receive all the latest news, travel tips and special deals.