Ninh Binh Day Trip From Hanoi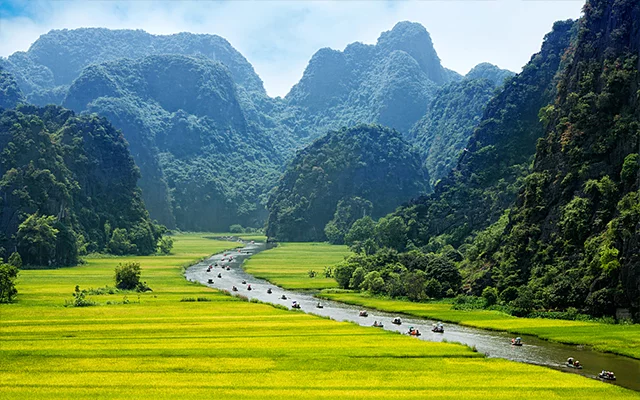 Leave in the morning for full day tour and get back Hanoi in the late afternoon.
To give some ideas for regular travelers, for expats, business people, office staffs who are looking for extra excursion from Hanoi, I traveled to Ninh Binh and listed out the must-see highlights of this beautiful Vietnamese typical countryside. No need to look for more but if you need personal assistance or agent support, please contact Vietnam Travel.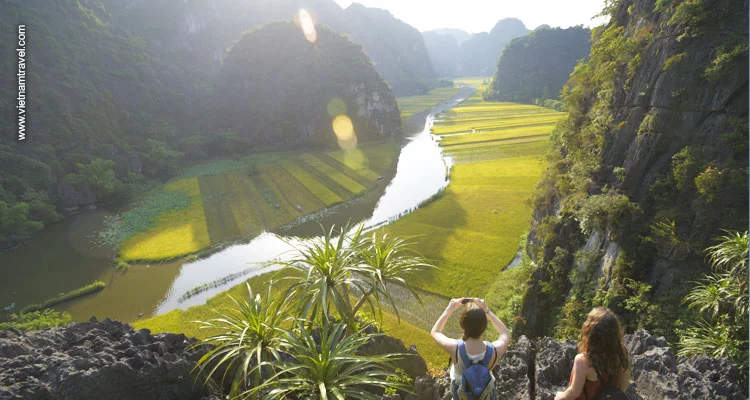 Ninh Binh is perfect choice for natural loved travelers and an oasis for nature lovers. Vietnam's It once the capital of Vietnam from 968 till 1009 in Dinh dynasty. Today the area is protected as UNESCO World Heritage Site, full of mossy pagodas, striking limestone karsts, and surreal landscapes. It is definitely the best opportunity  to explore the magnificent natural scenery and to enjoy the cultural and historical space of Vietnam.
How to get from Hanoi to Ninh Binh
Ninh Binh city is located just 100km south of Hanoi or almost 2 hours' drive. You could travel by train, by motorbike, public bus and best is by private car/ van.
From Ninh Binh City  to Tam Coc + Bich Dong + Thai Vi temple about 11 km and you could go by car, motorbike, bike  but not train.
From Ninh Binh city to Hoa Lu (other direction)about 9 km except train.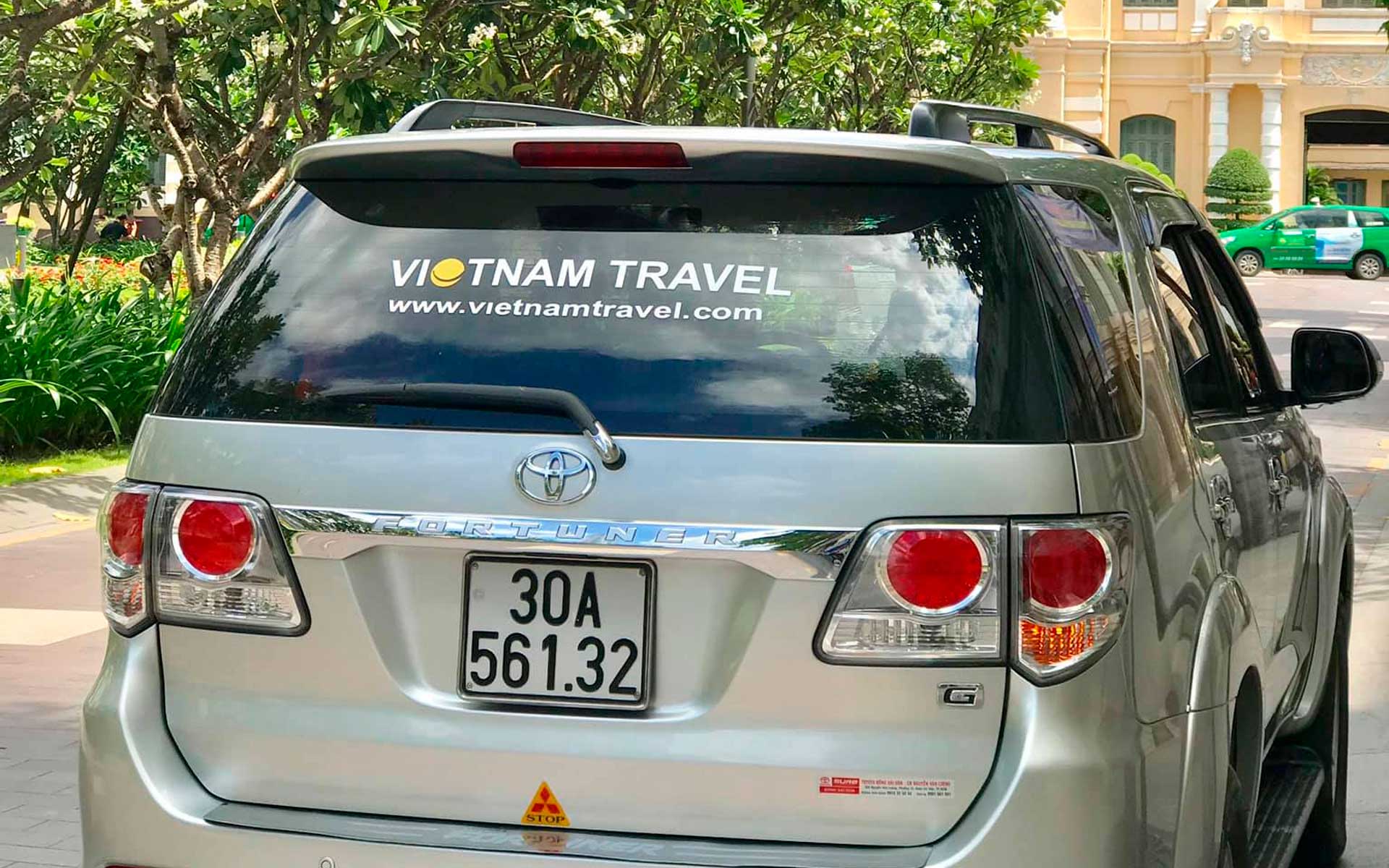 You could choose any type of transportation but if you want to relax and enjoy most of the drive to Ninh Binh, my advice is by private car and a local guide who could provide nice source of information and local knowledge for your short valuable time of your holiday.
Riding motorbike or driving yourselves to Ninh Binh is not a bad idea, but traffic in Vietnam is bit different to the rest of the World and most of visitors would not choose that.
Best time to visit Ninh Binh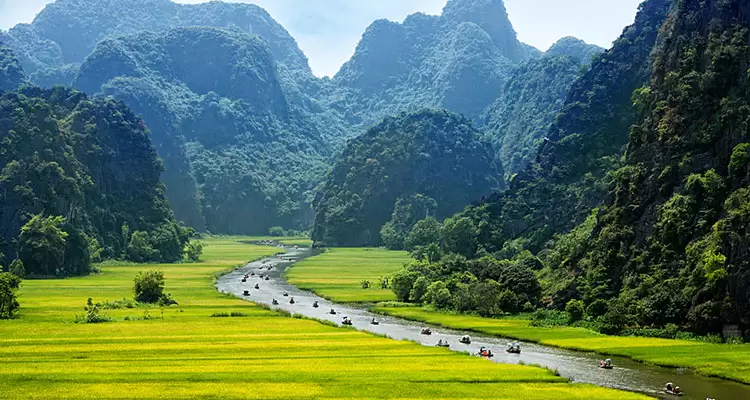 Almost any time of year is good to visit Ninh Binh. Like other places in the North, Ninh Binh is cool and dry from November to April and it is hot, humid with rainfalls in May and October. However, the rainy season is also when the rice fields are at their best vivid green, so it becomes a really good reason to visit all year round.
Photographers would choose mid of May when rice field turns to gold color and ready for harvest.
Things to do for a day tour in Ninh Binh
1. Tam Coc boat ride along Ngo Dong river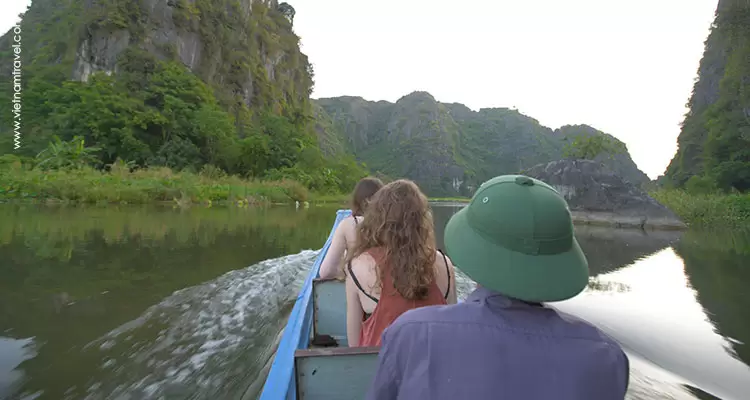 The distinctive cliffs that jut up out of the countryside are often called "Ha Long Bay on land". The most famous thing to do in Ninh Binh is tour Tam Coc by boat. Boat rides in Tam Coc run through the Ngo Dong River, starting from Van Lam Pier. The 2-hour round trip takes you through caves, rice fields and past the ever so unique karst rocks. You may feel surprise by the rowing technique of the woman here. They row the wooden paddles by their feet. Make sure you prepare a camera to film it. During the trip, you will feel like you are in a movie scene cruising down a natural kingdom. If you visit Tam Coc – Bich Dong in harvest season, the floating rice fields on the two sides of the river will turn golden. It is just a magical scene to witness.
2. Bich Dong Pagoda & cave
No Ninh Binh itinerary would be complete without a trip to Bich Dong. Bich Dong, which means "green cave" is located 2 km from Tam Coc. Much like its name, Bich Dong nestles in the jungle of mountains, rivers, water, rice fields around in green. This stop will not disappoint you, be sure to take lots of photos.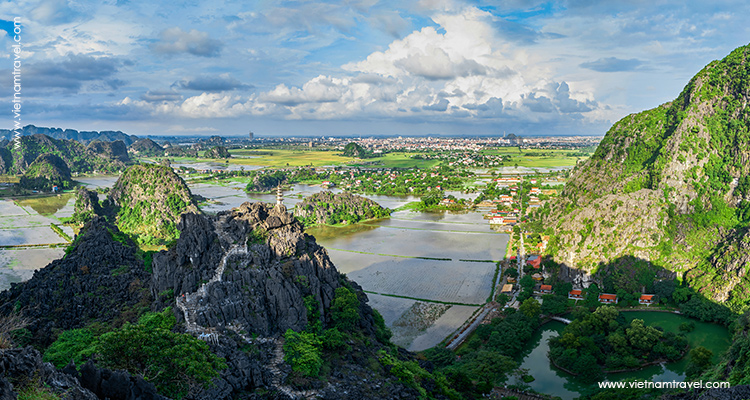 Visitors can go biking in Tam Coc or from Tam Coc to Bich Dong to enjoy the beautiful and peaceful countryside of Ninh Binh. Biking from Tam Coc to Bich Dong, then stop at Bich Dong pagoda which entrance was built on a limestone island. Visitor will walk on a thin stone bridge to pass the gate to go inside the chambers of Bich Dong Grotto – 'the second best grotto in Vietnam'.
3. Thai Vi Temple
From Tam Coc, you can pay a visit to Thai Vi Temple which distinguishes itself with unique features of worship and typical Vietnamese culture. The temple worships Kings and generals of Tran dynasty. During the trip, tourists will learn more about the history and establishment process of Vietnam. Thai Vi Temple also attracts visitors by its beautiful architecture and peaceful atmosphere.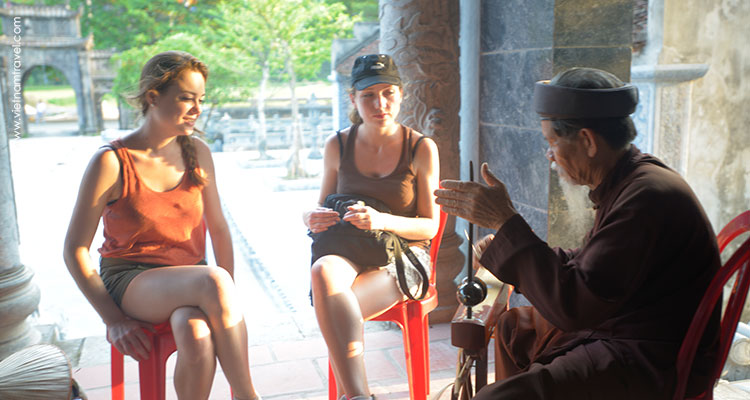 Thai Vi Temple is about 2-kilometer boat ride from Tam Coc. Do not miss it as you could stop at Van Lam Prier and take a short walk to the temple.
My advice is walking back to  boat station of Tam Coc so yo could see, feel and touch the atmosphere of typical countryside of Red river delta. If you not in the rush, may be stop by the local bar by road next to the rocks ( view to Ngo Dong river and rice field) and enjoy some cold beers or juices.
4. Hang Mua (Mua Cave)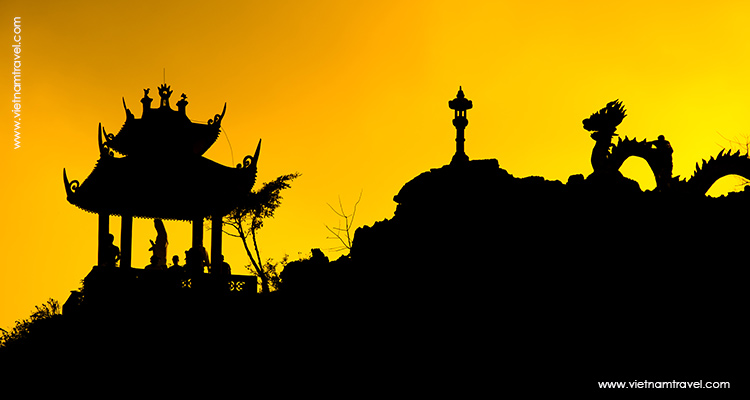 Hang Mua is situated 3 kilometers away from Tam Coc and 7 kilometers from Ninh Binh. Biking from Tam Coc to Mua Cave is a favorite activity of visitors. You should visit Mua Cave first to enjoy the cool air and the stalactites which are formed in many shapes and sizes. Then, if you are looking for a short mountain trek and an amazing panoramic view, conquering Hang Mua will not disappoint you. After climbing 500 steps, you will surely be rewarded on top with the magnificent panoramic 360-degree views. From this peak, you'll marvel at the giant dragon statue, the patchwork quilt of green rice fields below, the snaking rivers weaving in, out, and around the ancient karsts. On a clear day, you can really see for kilometers.
5. Bai Dinh Pagoda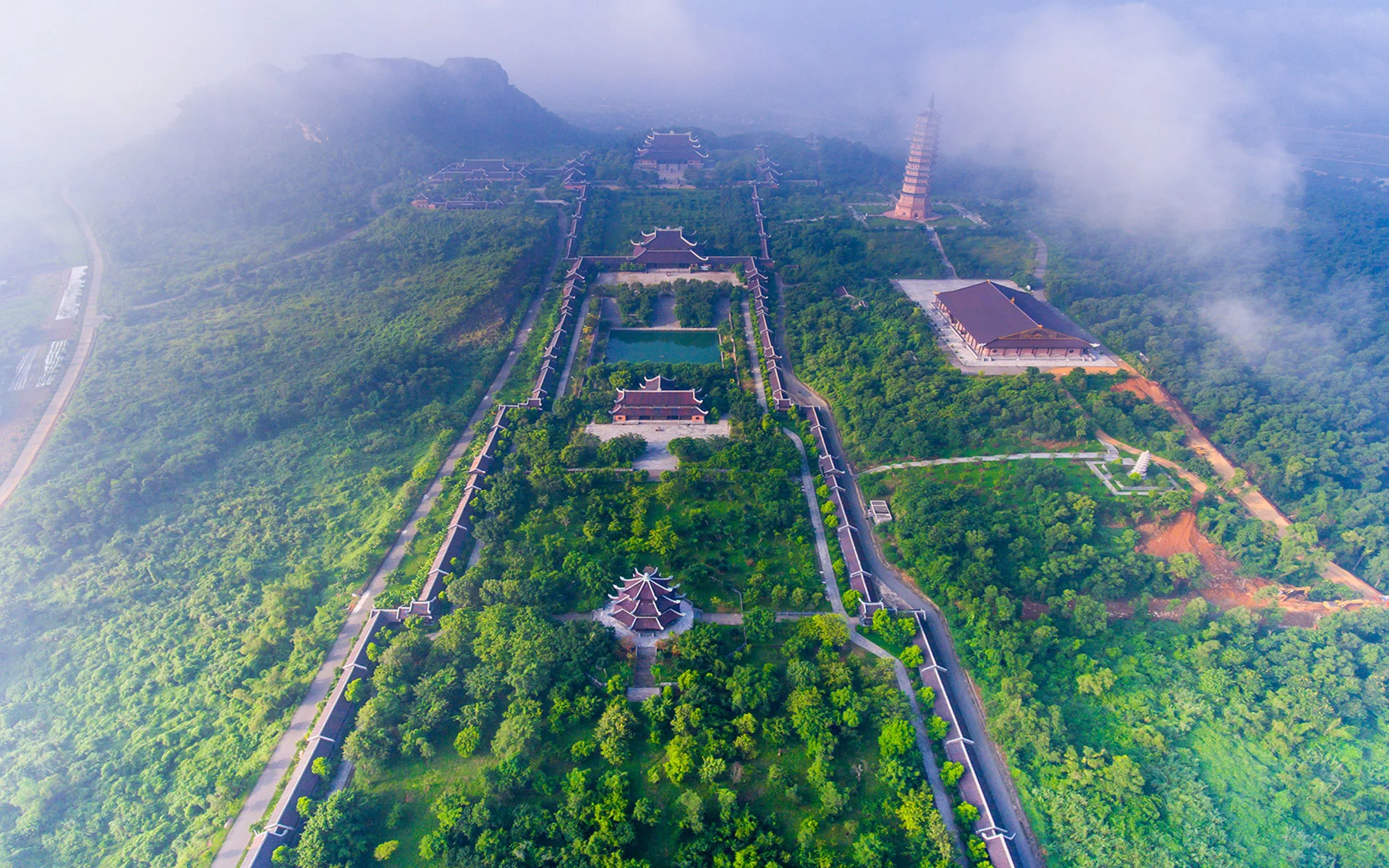 With 12 kilometers drive from Ninh Binh centre or 5 kilometers northwest from Hoa Lu, you will see Bai Dinh pagoda – the second largest pagoda in Vietnam (after Tam Chuc pagoda), covering a total area of 539 hectares including 27 hectares of the old and 80 hectares of the newly built areas and others. This place is scenically set on the foothill of Dinh Mountain, surrounded by amazing views of the exquisite river valley below, and dotted with limestone karsts, which will take your breath away. The pagoda complexes stunningly boast an array of the most massive and magnificent refined Vietnamese architecture which will take a full day to explore. With sacred atmospheres and an intriguing Buddhism story told by your guide, you cannot fail to be enchanted. Some of the highlights are: 500 stone statues of "La Han" (Arhats), two huge bronze bells, one weighs 27 tons, the other 36 tons, three bronze statues of "Tam The" (50 tons each). The visit ends with a walk up the summit mountain to see the 100-ton bronze statue of Buddha Sakyamuni and a chance to enjoy the panoramic view of the picturesque landscape dotted with limestone mountains.
6. Trang An complex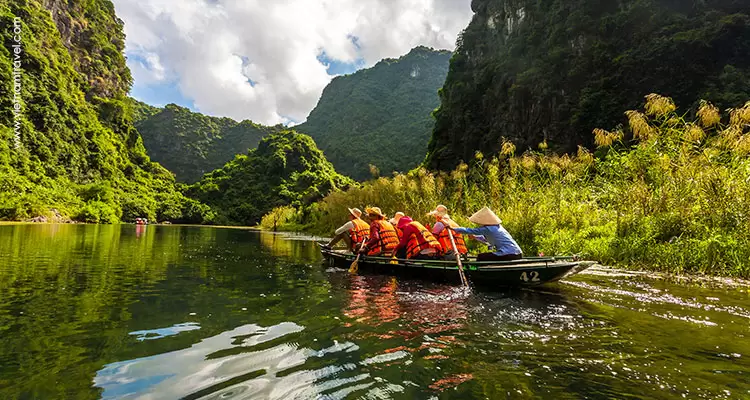 Trang An complex is UNESCO-listed series of grottoes carved from the region's striking natural monoliths of limestone, which rises dramatically out from the rice paddy fields. Deep among the towering mountains, are pristine places of mystical valleys, numerous fresh water ponds, and jungle. Visitors will embark on a traditional sampan gently rowed down the exquisite river through numerous caves: "Hang Toi" (Dark Cave), "Hang Sang" (Light Cave) and "Hang Nau Ruou" (Cave of Distillery). Every passage brings a new hidden inside isolated valleys of tranquility, which perhaps transformed to another world and time. The fauna and flora is rich, and a scene of a goat jumping from one cliff to the other is a common sight. It is the time for you to enjoy the sunset over the lime karsts while cruising on the clear water back to the main tourist boat terminal. The boat trip in Trang An is around 2.5 hours and through 9 to 11 caves like a circle.
Read more: Trang An Scenic Landscape Complex
7. Hoa Lu Citadel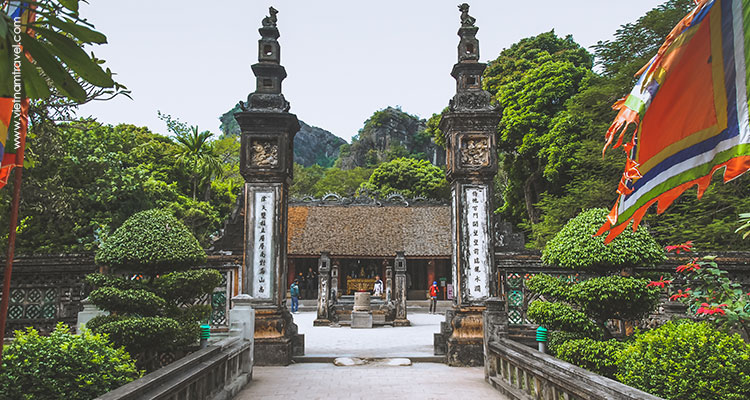 Located just 20 minutes by car from the Trang An area, travelers will find an ancient Hoa Lu. Unlike the new and shiny Bai Dinh, this site dates back to the 10th and 11th century. It used to be Vietnam's very first capital city during Dinh and Le dynasties. Now, Hoa Lu is fairly crumble, and all the remains of Hoa Lu today is a few relics – the remains of an ancient temple and a collection of new pagodas dedicated to Hoa Lu's former dignitaries. Tien Hoang Temple and Le Dai Hanh Temple are two most popular points for visitors. On Lunar New Year, Truong Yen Festival is held at Hoa Lu to commemorate the great victory of King Dinh Tien Hoang and King Le Dai Hanh. If you visit Hoa Lu at this time, you will have a chance to soak in the historical atmosphere of the locals.
8. Cuc Phuong National Park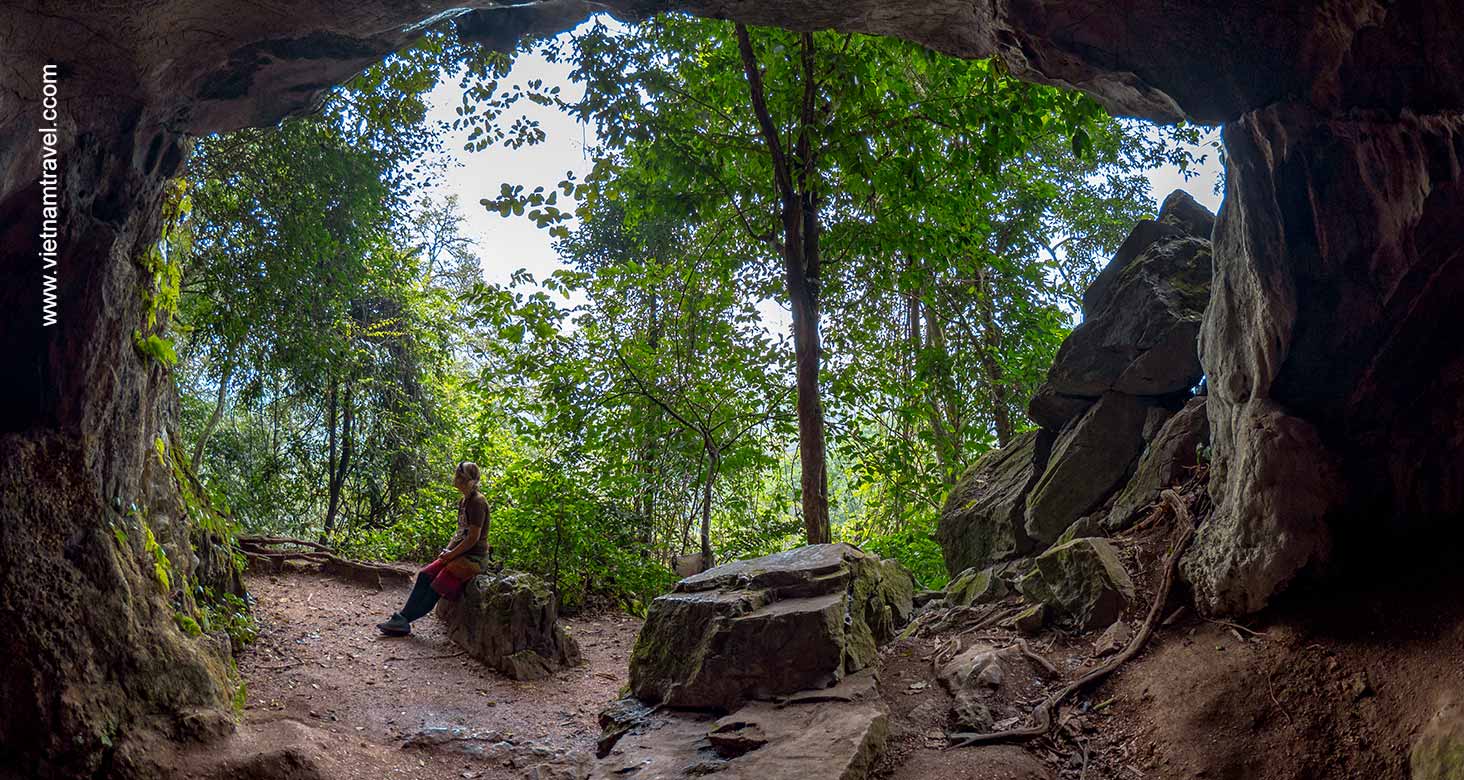 Only an hour away from Ninh Binh City, Cuc Phuong is one of the oldest national parks in Vietnam. Cuc Phuong is known as the first national park in Vietnam, covering a broad area of 25,000 ha. Cuc Phuong is considered as a green lung of northern Vietnam and also a large natural museum with a dense forest of millennia-old trees, caves, botanical gardens, and two animal sanctuaries which are worth exploring. The Endangered Primate Rescue Centre rescue, rehabilitation, breeding, research and conservation of Vietnam's endangered and critically endangered primate species. While the Turtle Conservation Centre runs as a regional flagship for tortoise and freshwater turtle conservation efforts and for educating the public about the critical threat to the critical threat to the survival of turtles in Vietnam. In Cuc Phuong, you can spend your time trekking, bird-watching, and kayaking.
Read more: Cuc Phuong National Park – Travel Guide
9. Local cuisines/drink
It must be a big regret if you do not taste the local signature specialties at Ninh Binh such as: "Com Chay" (Fried Rice Crust), and goat meat. "Com Chay" is made from cooked rice, then being soaked into hot oil pan until it turns yellow. Beef and pig's heart and kidney are crushed into thin slices and mixed with spices and other ingredients. Then the mixture is well-fried and put into the bowl. This cuisine is very famous and it should come first in the list of dishes that you should try. Another famous cuisine that you should try is dishes made from goat such as fried goat meat, grilled goat meat, lemon rare goat, etc.
Even Ninh Binh is always warm or hot but beer here is always cold 😀
Local keep beers in ice and this is what I like the bests.
Good restaurants below are recommended for you to try those specialties with a price range from 10 USD per person
Trung Tuyet restaurant (14 Hoang Hoa Tham Street, Ninh Binh).
Minh Toan restaurant Father cooking (Tam Coc Village, Van Lam Commune, Ninh Binh District).
Bao Anh Restaurant (15 Hoang Hoa Tham Street, Ninh Binh).
Read more: Vietnamese Cuisine: The Definitive Guide to Classic Vietnamese Foods
Recommendations & Tips
*Tips
When visit the temples and shrines, visitors are required to cover up their shoulders and knees, see-through items are not allowed, too.
Bring comfortable shoes with you. Climbing those stairs with flip-flops will be hard if not impossible.
Make sure to pack a snack and bring some water on your boat tour — each one lasts two to three hours and when climbing, tracking to avoid yourself from dehydrating.
Remember to bring some pence when coming to pagodas and donating. Visitors should avoid putting money on Buddha statues. This behavior can damage the beauty of the pagoda area. Instead, tourists had better donate money into donation boxes.
Finally, don't forget to bring a fully charged camera to take various memorable pictures at Ninh Binh.
*Recommend one-day-tour options for travelers
Of course, you could not visit all of these spots in a day. So for a  day trip from Hanoi to Ninh Binh, we recommend you some options as below:
Hoa Lu & Tam Coc with Hang Mua and Thai Vi Temple included.
Bai Dinh Pagoda & Trang An Complex.
Hoa Lu & Tam Coc with a biking to Thai Vi Temple or Bich Dong Pagoda.
Hoa Lu Ancient Capital & Trang An Complex.
Biking Ninh Binh: From Hoa Lu to Tam Coc.
Tam Coc & Cuc Phuong National Park.

Vietnam Travel organizes daily private Ninh Binh Day Trip from Hanoi that introduces the two best highlights of Ninh Binh, from Bai Dinh Pagoda – the largest glimmering pagoda complex in South East Asia to Trang An Grottoes, a UNESCO-listed series of grottoes. Tour is escorted by our professional & friendly guide (English, Spanish, Italian or French on your request) and transferred by private modern vehicle from sedan to grand bus on your group size and your own request.
By TD March 26th 2020 – Covid Time.