Kayaking in Trang An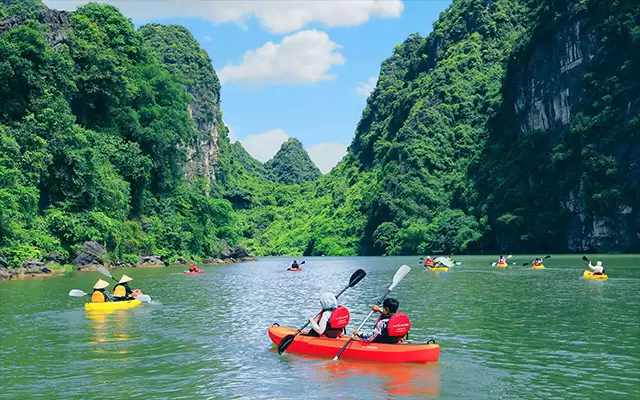 Trang An in Ninh Binh is also known as "Halong Bay on land" thanks to its scenic landscapes with numerous limestone karsts and caves. Though it is possible to cycle, drive or even walk around the mountains, most tourists take a Trang An rowing boat to visit the most stunning parts of the site. But now you will have a totally new experience to explore Trang An in a different way with kayaking service.
Kayaking tour in Trang An has recently been introduced by Trang An Landscape Complex Management Board in aim of increasing better experience for tourists to Ninh Binh. With international travel off the agenda because of Covid-19 restrictions, it is also a part of the domestic travel campaign to encourage country-bound Vietnamese people to travel and see their own backyard, launched by the Ministry of Culture, Sports and Tourism.
There are 2 kayaking routes to choose from. The first route is 8 km long (round trip), departing from Trang An wharf, then passing Trinh Temple, Tam Quan Gate, Dark Cave's mouth, Quy Hau Cave's mouth and Nui Ngoc. The second route is shorter with about 5km long. It also starts from Trang An wharf to Kong Island, Thuy Dinh, Vu Lam Palace then paddling back to the wharf.
The price of this kayaking tour varies from 250,000 VND to 400,000 VND, depending on single kayak or double kayak and kayaking time between 2 and 3 hours.
Before boarding, you will be instructed some basic kayaking skills. You also have to follow some safety rules throughout journey such as: wearing life jacket, paddling on the right route, not bathing on the river… There is a motorboat driving rescue team and hotline to assist passengers if needed.
The Trang An Scenic Landscape Complex has a total of 40 tourism spots of historical, cultural, art and natural vestiges including 20 recognized as national heritages. In 2014, it was recognized as UNESCO World Cultural and Natural Heritage site thanks to its outstandingly natural and cultural values. Just located about 100km from Hanoi, Trang An particularly and Ninh Binh generally is a perfect destination for a day trip if you have short time. There's nothing quite like having someone who knows a destination well to help you plan a trip, ask us today for further information and assistance.