Presidential Palace Hanoi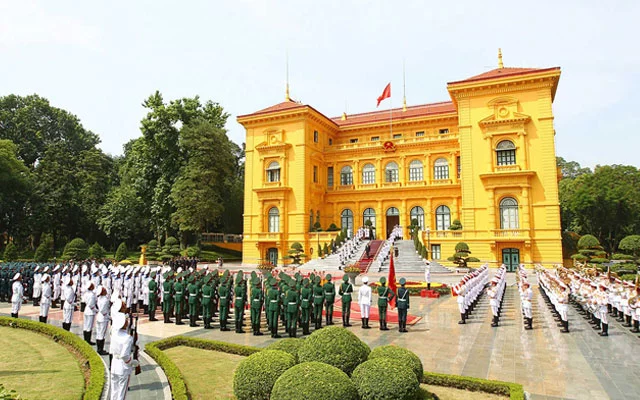 As a part of Ho Chi Minh Complex relic, the Presidential Palace Hanoi is one of the highlight attractions for your visit in Hanoi capital. This building was ranked sixth on the list of top 13 most beautiful presidential palaces in the world voted by Architectural Digest in 2017. Featuring a typical & beautiful French colonial architecture, it creates a unique and charming Hanoi today with its elegance and nobility. You will find more information about this site in the following article. Let's read!
History of Presidential Palace Hanoi
Built in 1900 and completed in 1906, the palace was originally used as the head office of the French Governor-General of Indochina. From the time of completion to the successful August Revolution in 1945, there were 29 Governor-Generals who lived and worked here.
After the victory in Dien Bien Phu battle, President Ho Chi Minh & Government came back to Hanoi on 10 Oct 1954 (Hanoi capital liberation day). This palace was intended to become Ho Chi Minh's official residence as well as the headquarter of new-born government. However, the leader Ho Chi Minh refused to live here and chose a humble house nearby to live and work which is now well-known as Ho Chi Minh's stilt house. So, the palace was only used for holding important diplomatic or governmental meetings or receiving significant foreign dignitaries.
After President Ho Chi Minh passed away in 1969, this place became one of the historical monuments commemorating Uncle Ho and ranked by the State as a special monument. Until now, this place is still used as the workplace of the State President and important activities of the Party and State are still held solemnly here. Although the building does not open for the public to visit inside today, but visitor can still visit the surroundings at small fee.
Architecture of the Presidential Palace
Designed by the French architect Auguste Henri Vildieu, it is of an architectural style called Beaux-Arts, which was quite prevailing back that time. This work of art is painted a bright yellow color, consisting of the massive iron gate, grand staircase and 30 rooms with different décor each.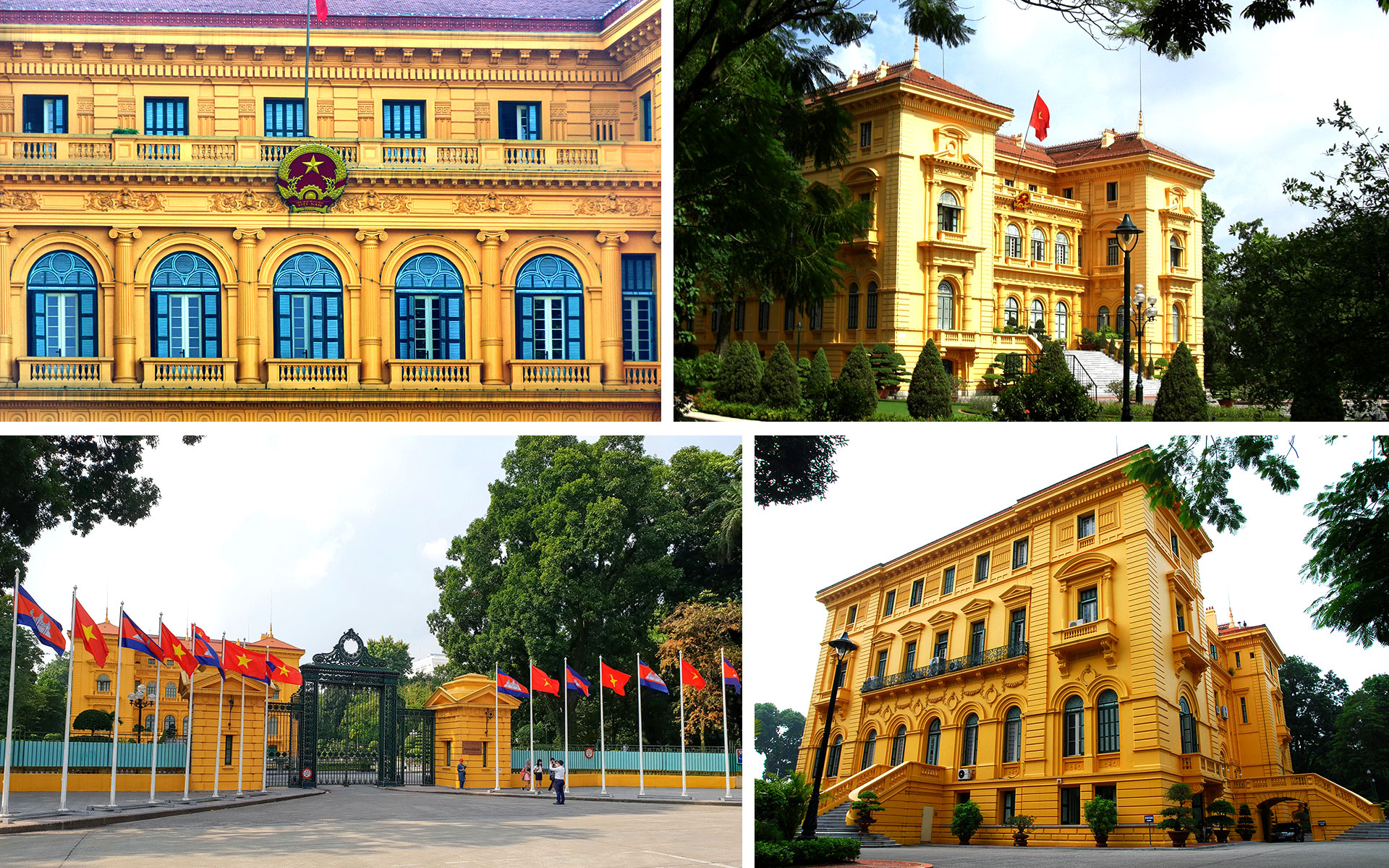 Surrounded this three-storey building are an orchard, carp pond and a 91-metre long boulevard of lush gardens. The only tropical character in this structure is the mango street that lead to Ho Chi Minh's stilt house at the end. The special monuments in this Ho Chi Minh Complex relic, including:
House 54.
This was the place where Uncle Ho lived and worked from December 1954 to mid-May 1958. After that, Uncle moved to live in the house on stilts built in the garden of President's Palace, but he still comes back here every day for meals and periodic health checks.
This house was originally the residence of an electrician located in the area for the service staff of the former Governor-General of Indochina. The house has three rooms including the office where Uncle Ho received guests, the dining room in the middle and finally the bedroom. All living utensils together with materials, books, souvenirs from international friends are still kept, neatly arranged like Uncle Ho's last days. At the dining room, a daily set of Uncle Ho's dishes is currently displayed. In the bedroom, there is a set of tables and chairs for Uncle Ho to read at night, a small bed, a wardrobe containing several sets of clothes. House 54 has nearly 400 documents and exhibits reflecting the simple, pure and noble lifestyle of beloved President Ho Chi Minh.

Wooden house on stilts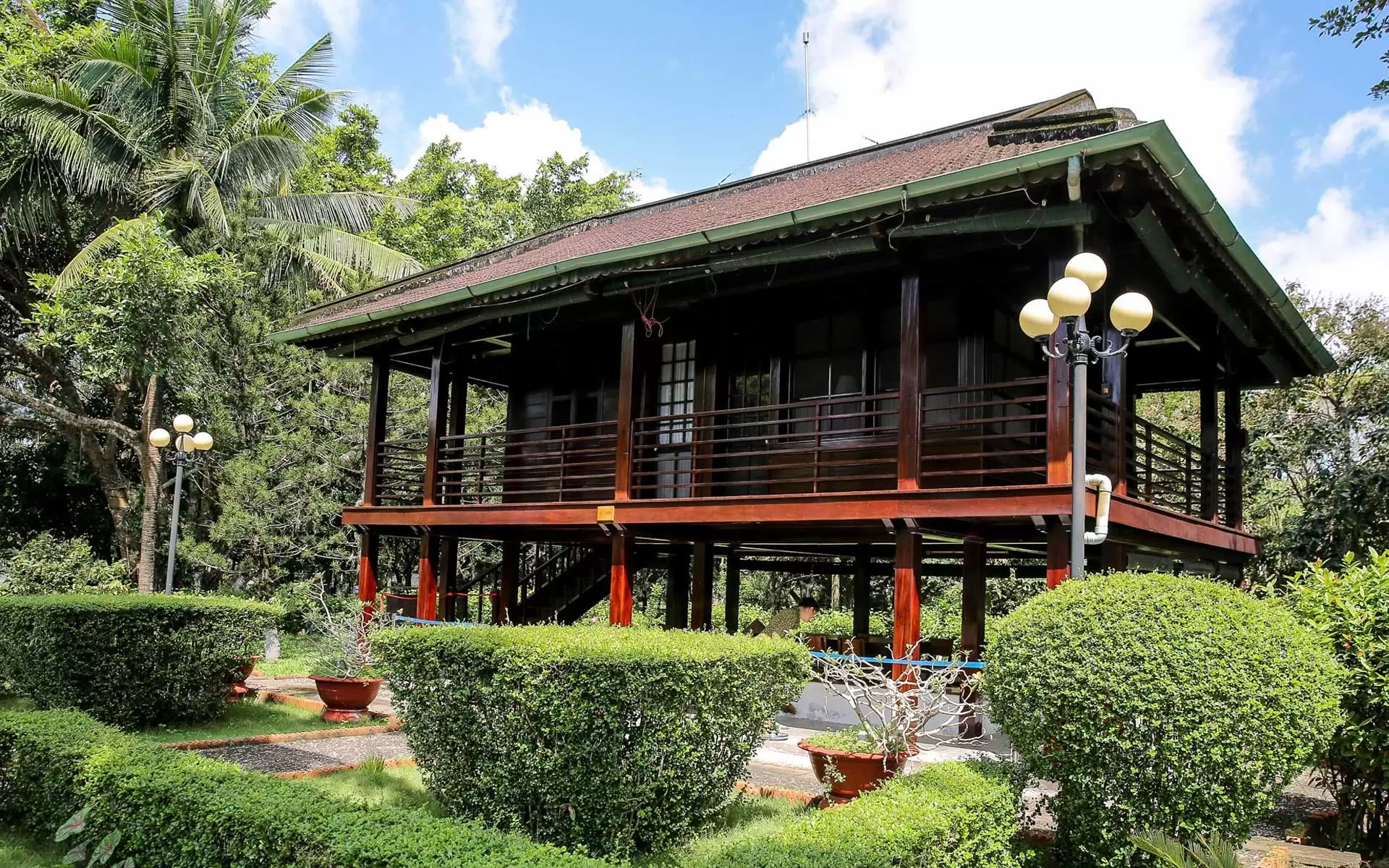 Wooden house on stilts at the relic of Ho Chi Minh Complex is the place where Uncle Ho lived and worked from 5/1958 to 1969. This is the type of stilt house chosen by Uncle Ho after the meeting with representatives of ethnic minorities in Vietnam at the Presidential Palace and after the trip to visit some localities of Thai Nguyen Province.The house consists of 2 floors made of sapwood and tiled roof. In front of the house is a small flower garden, growing a variety of fragrant flowers. Outside is a hibiscus fence reminiscent of the house Uncle Ho was born and raised in his hometown of Nghe An. Downstairs is where Uncle Ho lived and received guests. Upstairs there are two rooms: a study room and bedroom. Currently, nearly 250 documents and artifacts of many different materials in stilt houses are still intact and carefully preserved like the last days of Uncle Ho.
House 67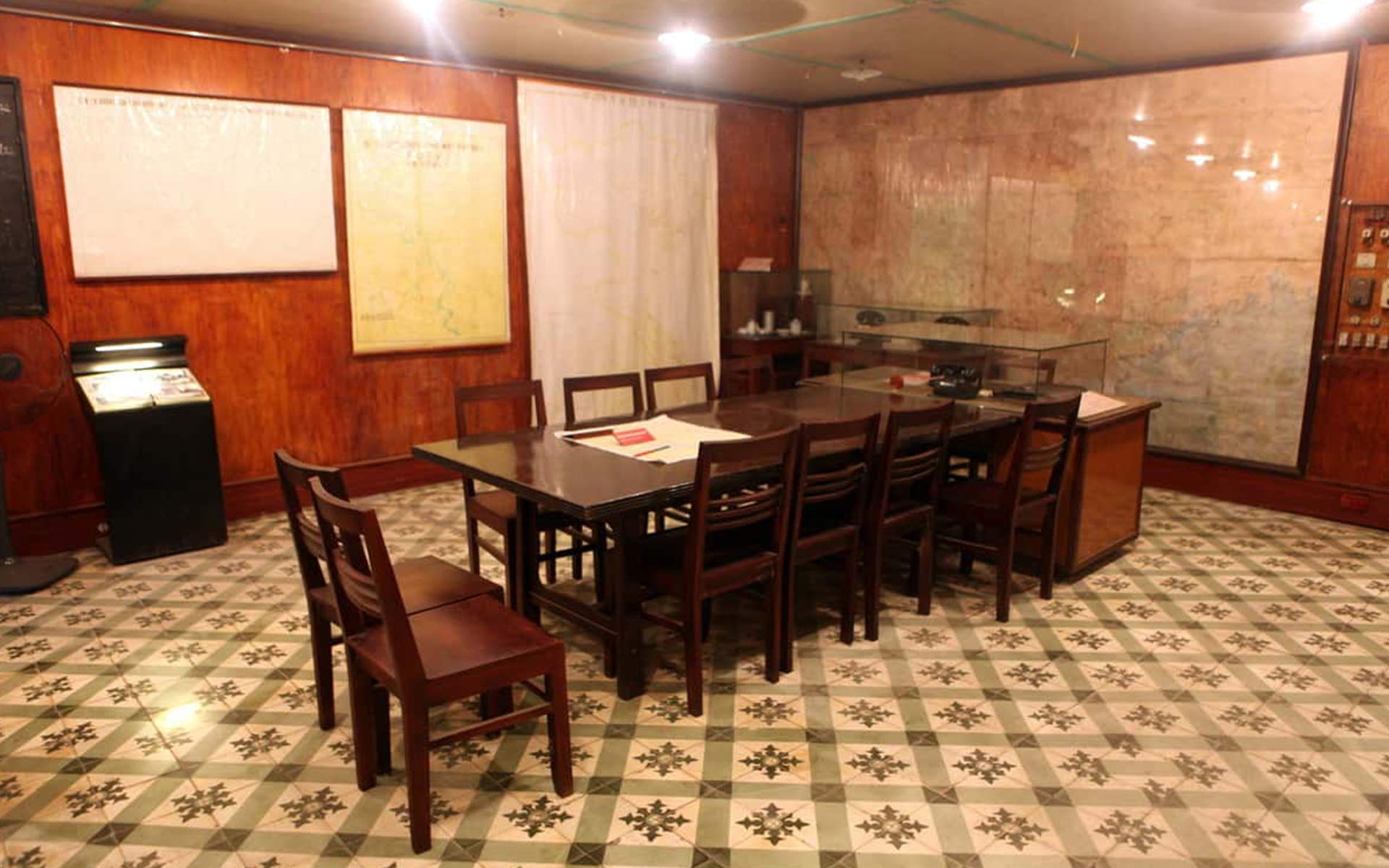 House 67 is a light green house behind the stilt house, close to a high hillock, where Uncle Ho worked from 1967 to 1969 and was also the place where Uncle Ho cured and died. The house was built on May 1, 1967 to ensure absolute safety for Uncle Ho before the expansion of the American Empire.The house was used as the place where Uncle Ho met the Politburo, worked with the Central comrades, and leading officials in charge to discuss important issues of the country. Currently, at home 67 still hang 2 military maps, ZENITH radio on the desk, the clock on the small cupboard next to the bed and the wall calendar stops the moment Uncle Ho is away: 9:47 minutes day September 2, 1969.
Mango Street.
Mango Street is 5m wide and 200m long, where Uncle Ho usually exercised in the morning and walked after working hours in the afternoon. The road is named Mango Street by two rows of ancient mango trees. The mango street has marked many beautiful and touching memories between Uncle Ho and the people and soldiers in the South.
Carp pond (Fish pond).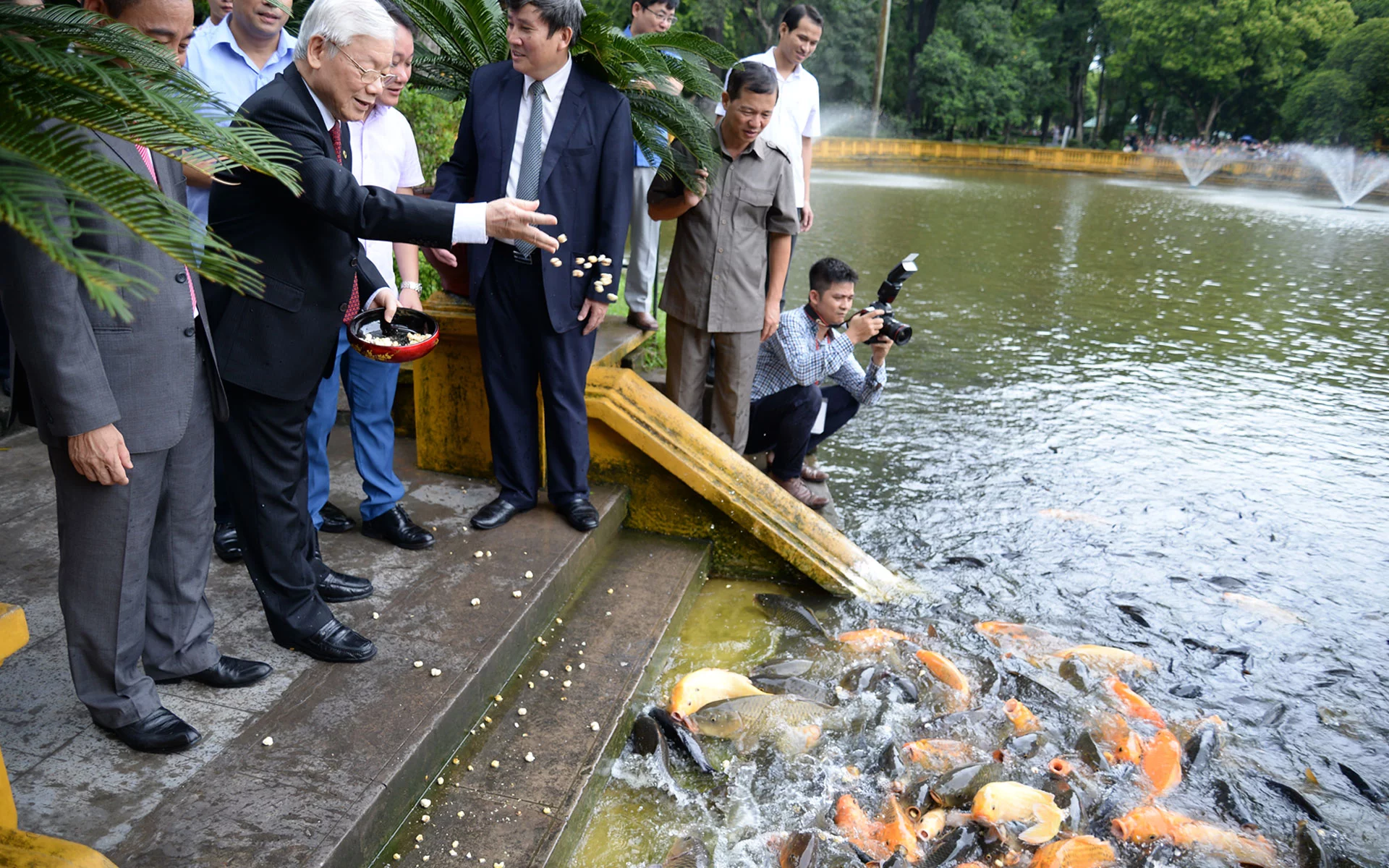 The carp pond in the relic is more than 3,000m² in front of the stilt house. In the pond there are many different types of fish such as: carp, sesame, tilapia… After afternoon work, Uncle Ho went to the pond to feed the fish. Before feeding the fish, Uncle Ho often clapped his hands to call. Gradually, the sound of applause gave the fish a familiar reflex. Whenever they heard the sound of the fish clapping, they would swim back to the pond.
Green gardens.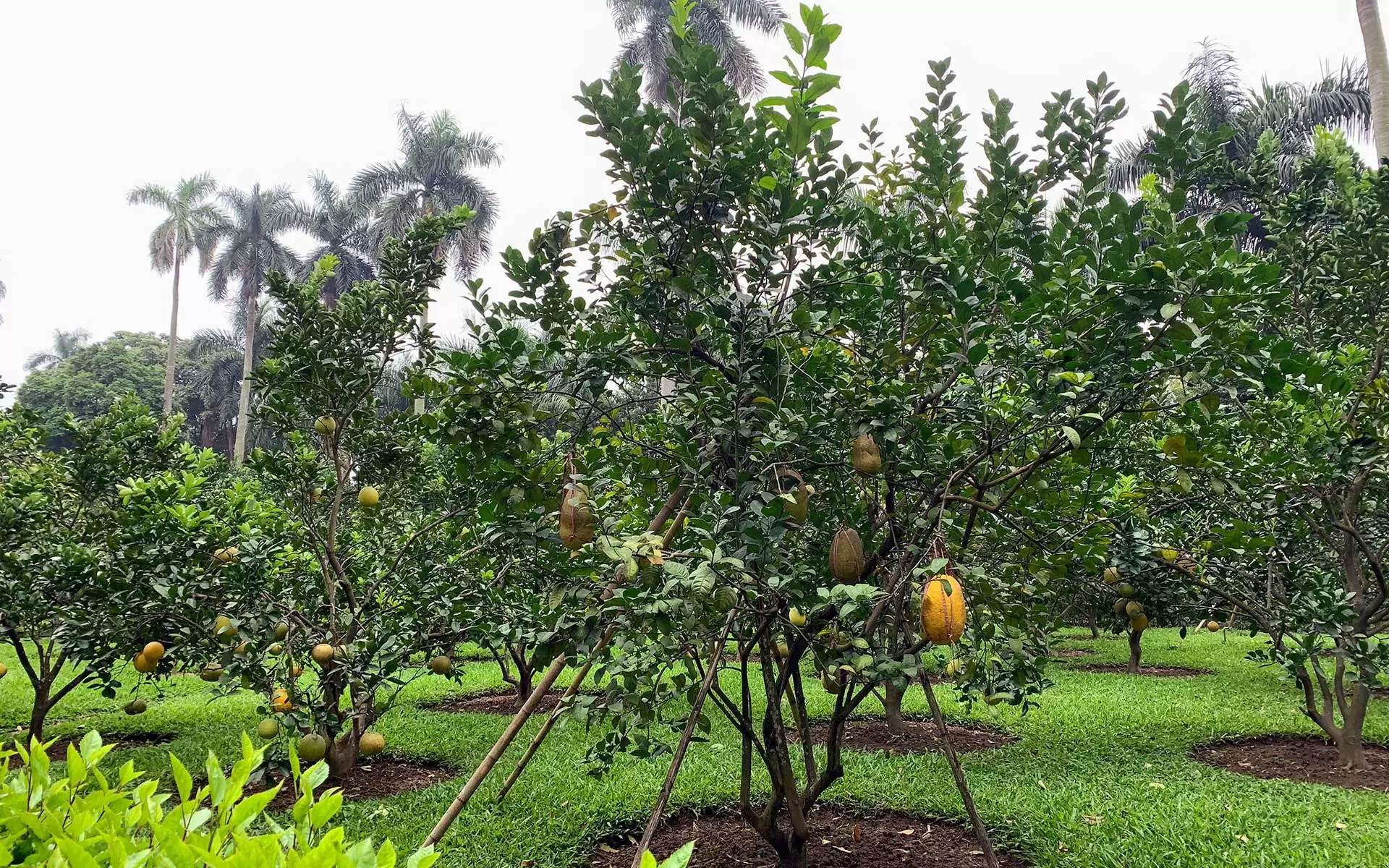 Green gardens with an area of ​​more than 65,000m², combined with fish ponds create a charming natural picture. The flora ecosystem in the garden is very rich and diverse. The tree species are planted alternately to create breakthroughs, increasing the lively attractiveness of the landscape. Many trees have historical and cultural significance, are associated with the homeland of the country, associated with comradeship, international friends, and friendship between nations.
When to visit the Presidential Palace?
Opening Hours: All week, except Monday
+ Summer time (Apr – Oct): 07.30 – 11.00 (morning) & 13.30 – 16.00 (afternoon)
+ Winter time (Nov – Mar): 08.00 – 11.00 (morning) & 13.30 – 16.00 (afternoon)
Location: 2 Hung Vuong, Ngoc Ha, Ba Dinh District, Hanoi
Price Range: VND 40,000 / person
Leave yourself enough time to visit Ho Chi Minh Residence (house on stilt), which can be long lines during busy periods. Dress politely is necessary.
How to Get there?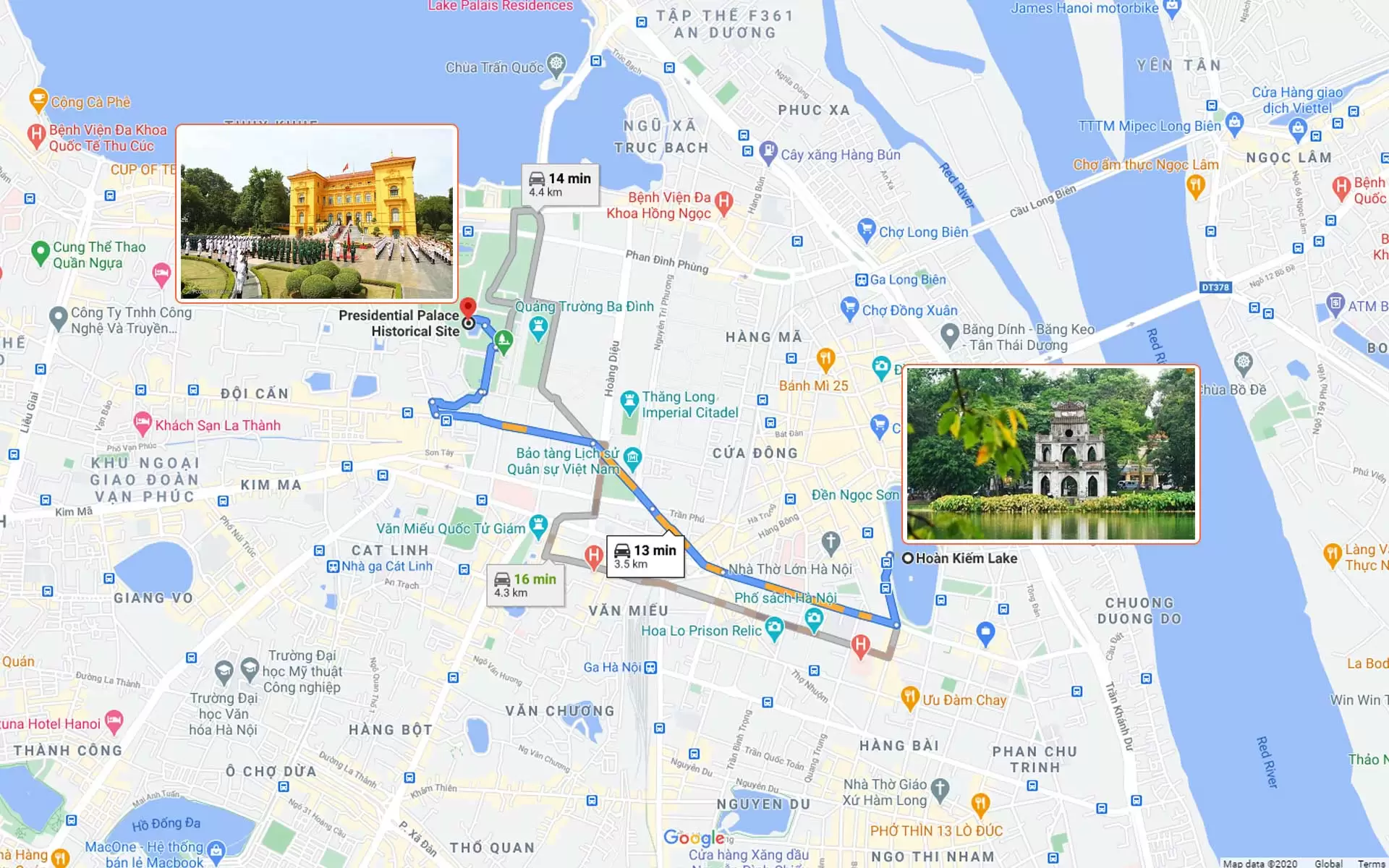 Located in the heart of Hanoi (around 15 minutes from Hanoi Old Quarter), it is very easy to access this site by motorbike, taxi, public buses which stop nearby (No. 09, 22, 23, 45, 50) or even on foot.
Next to many other top historical and cultural sites of Hanoi, it is worth for your day out to visit all around, including Presidential Palace and its surrounding covering Ho Chi Minh's house on stilts, Ho Chi Minh Mausoleum, One Pillar Pagoda, Ba Dinh Square, Hanoi Flag tower, Vietnam Military History Museum, West Lake, Tran Quoc Pagoda, Quan Thanh temple or Temple of Literature, Hoan Kiem Lake with enjoying traditional water puppet show, cooking class as well.
A private trip with skillful driver and experienced tour guide will definitely deliver you the best of things to know at each site. Don't hesitate to contact us and our Travel Consultant team will always be happy to assist at any of your travel requirements!