Top Hanoi Attractions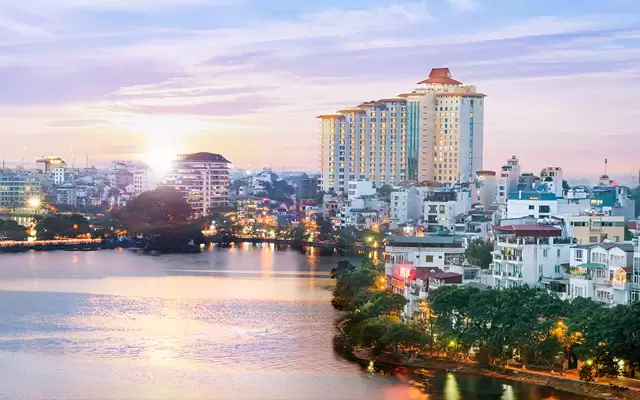 Hanoi is the charming capital of Vietnam. It was first named Thang Long ( Ascending Dragon) by King Ly Thai To in the 11th century. Throughout the thousand years of its eventful history, marked by destruction, wars and natural calamities, Hanoi still holds many well-preserved French colonial buildings, ancient oriental pagodas, historic temples, unique museums, peaceful lakes and a lot of other amazing spots. This makes Hanoi is a perfect starting point for any travel itinerary. Here is the list of top Hanoi attractions you should not miss when traveling to Hanoi, Vietnam.
1. Hoan Kiem Lake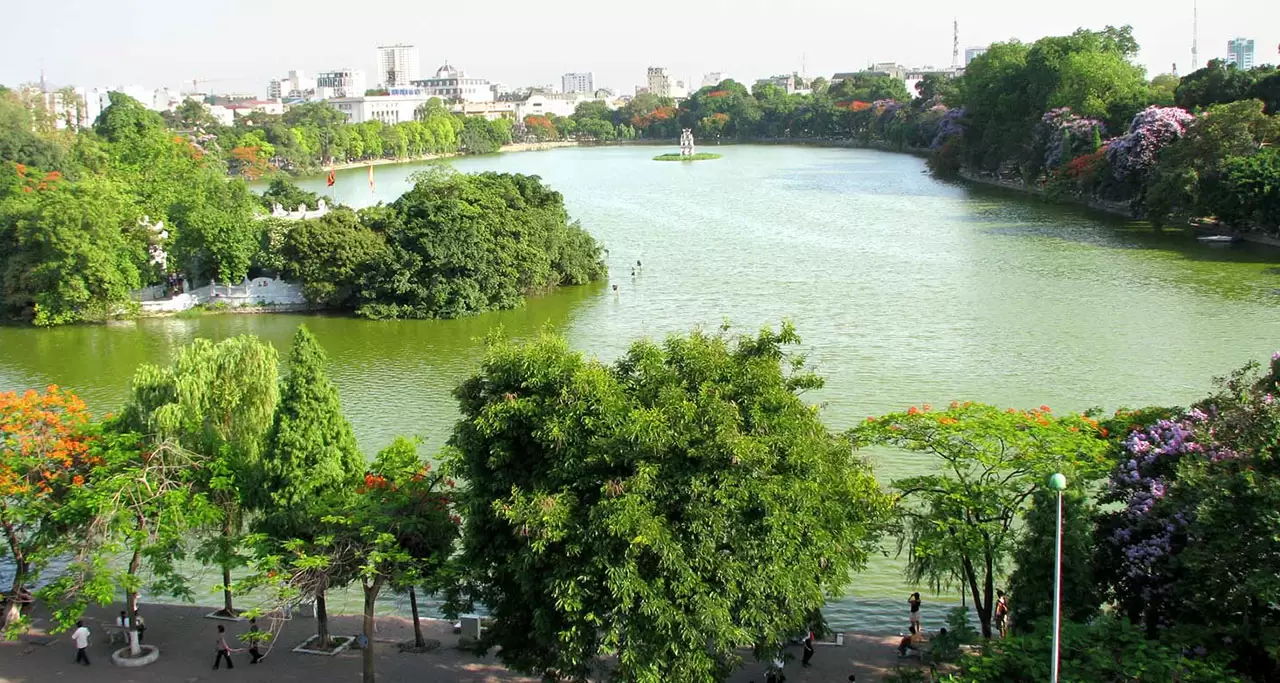 Hoan Kiem Lake is considered as the heart of Hanoi. It has been called many names like Luc Thuy, Thuy Quan, Ta Vong and Huu Vong. The recent name "Hoan Kiem Lake" means "The lake of Returned Sword" dated back to the 15th century. It relates to the legend of King Le Loi who got a Sword from and then returned to a sacred turtle after defeating Chinese Ming dynasty invaders. There used to be some big turtles living in the lake for all those years.
A day in Hoan Kiem Lake changes from the early morning to late evening, from calm and peaceful to lively and bustling. Come here at dawn, around 5:00am, you will see lines and lines of the old and teenagers doing yoga, tai-chi, aerobics and gymnastics. When the sun rises higher, the atmosphere becomes noisier. Thousands of people pass by on their way to work; students go to school; restaurants and vendors open their shops. You can see a flood of motorbikes twisting along the lake and gangs of "xich lo" – one of the most typical vehicles in Hanoi who are ready to take you around the lake. Especially, this area turns to the only pedestrian zone during the weekends with a lot of young people, couples and families gathering to entertain, relax and participate in some folk games.
2. Old Quarter of Hanoi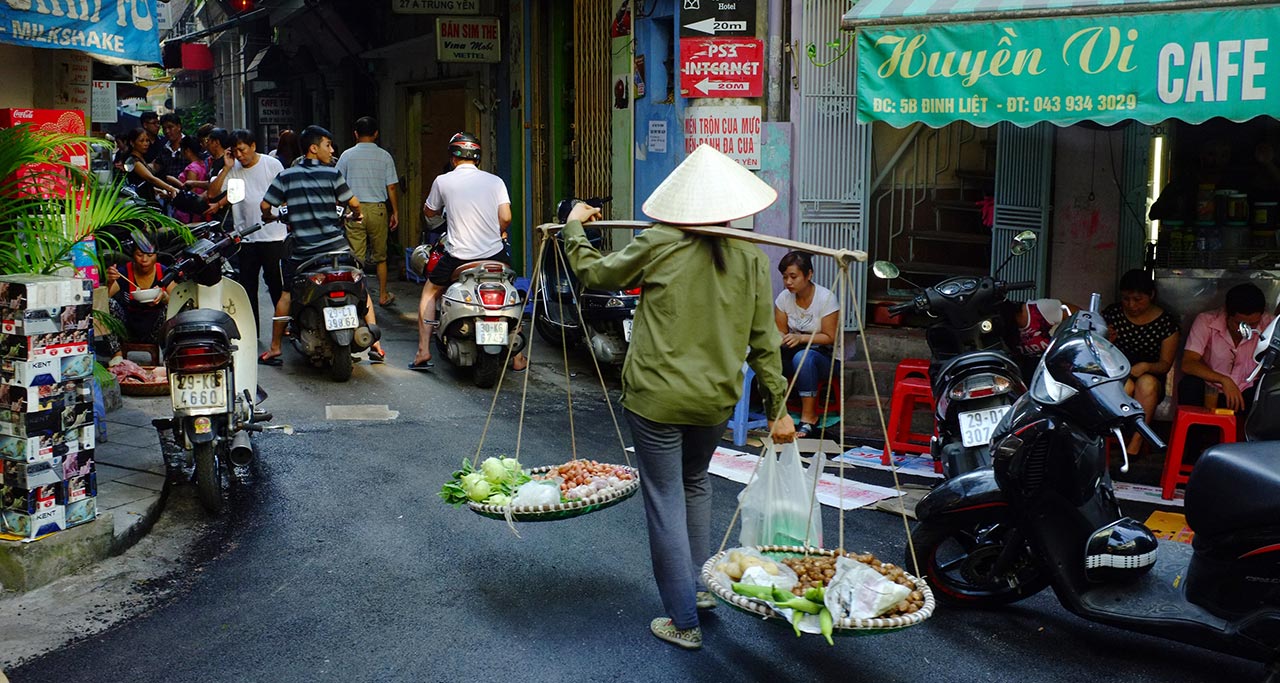 Hanoi Old Quarter has remained the original street layout and architecture of the old Hanoi. At the beginning of the 20th century, the city consisted of only about 36 streets, which is reason why Old Quarter is also called "the 36 Streets". It is a perfect stop for those who want to discover Hanoi with a genuine desire to have a grasp of the city's culture or a curiosity to travel back in time. With its old-styled narrow streets full of antique brick houses, it seems to nostalgically resist the flow of time while still actively trying to adapt to the dynamic atmosphere of the modern city.
On Friday to Sunday evening, there is a night market (called Dong Xuan night market) in the heart of the district. This is a big and bustling covered market packed with vendors selling food, clothing, goods and souvenirs at wholesale prices. It is very crowded and amazing with the always holiday atmosphere. Besides, a part of the Old Quarter turns into walking streets in the weekend. It is an extraordinary place to chill out and relax. You also have a chance to experience the Vietnamese cultural activities, folk games as well as traditional lifestyle of the locals.
3. Hanoi Opera House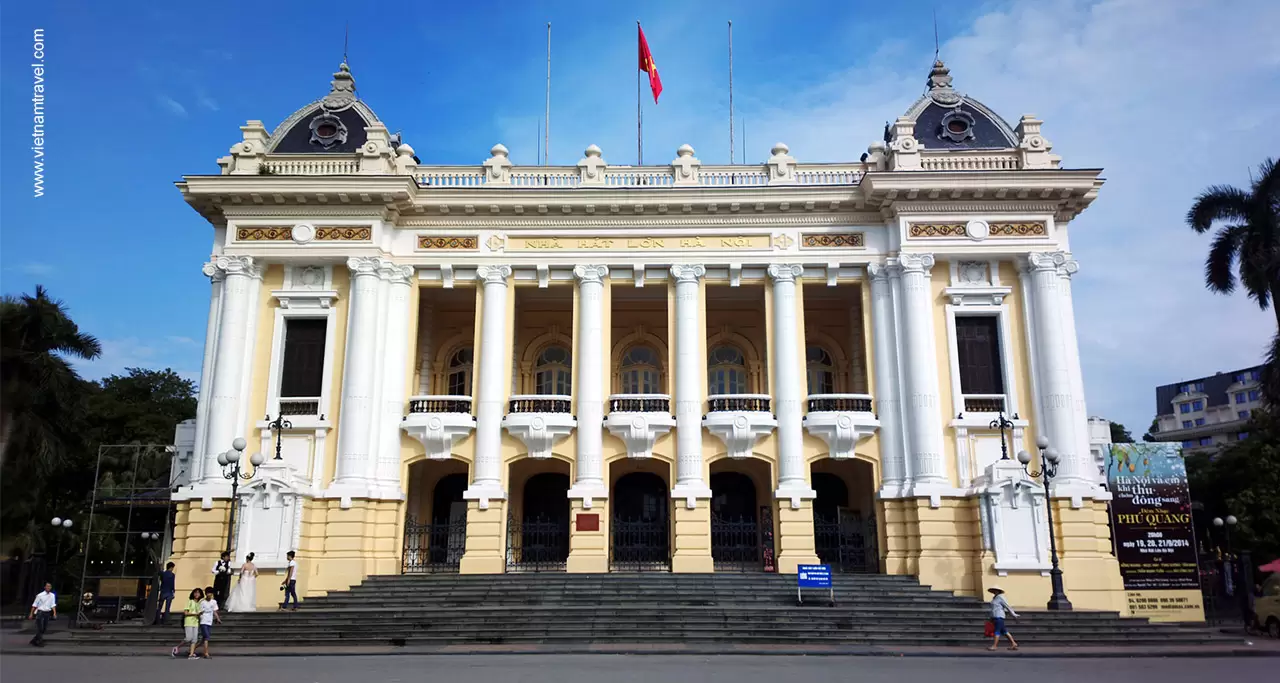 Located at the heart of central Hanoi, Hanoi Opera House stands strongly as one of its most famous architectural, cultural and political symbol. It is just a few steps from Hoan Kiem Lake, Hanoi Old Quarter and Vietnam History Museum. The 900-seats venue was completed in 1911 after 10 years of construction by two French architects, Broyer and V. Harley, resembling the Opéra Garnier de Paris.
Hanoi Opera House's design is influenced by the French architecture style from 19th century. In the past, the theater solely hosted performances by Western artists for French officials and wealthy Vietnamese people. It has been a meeting place for those who love theatrical performance and traditional songs and music, symphonies, opera and classical opera.
It is now one of Hanoi's cultural centers where art shows, concerts, dance performances and other events are usually taken place, with the scale ranging from national to international. You will need to buy ticket to see inside of the opera house or enjoy the concert. Or simply, go around the building and don't forget to take some beautiful photos.
Address: 1 Trang Tien, Phan Chu Trinh, Hoan Kiem, Hanoi.
4. Ho Chi Minh Mausoleum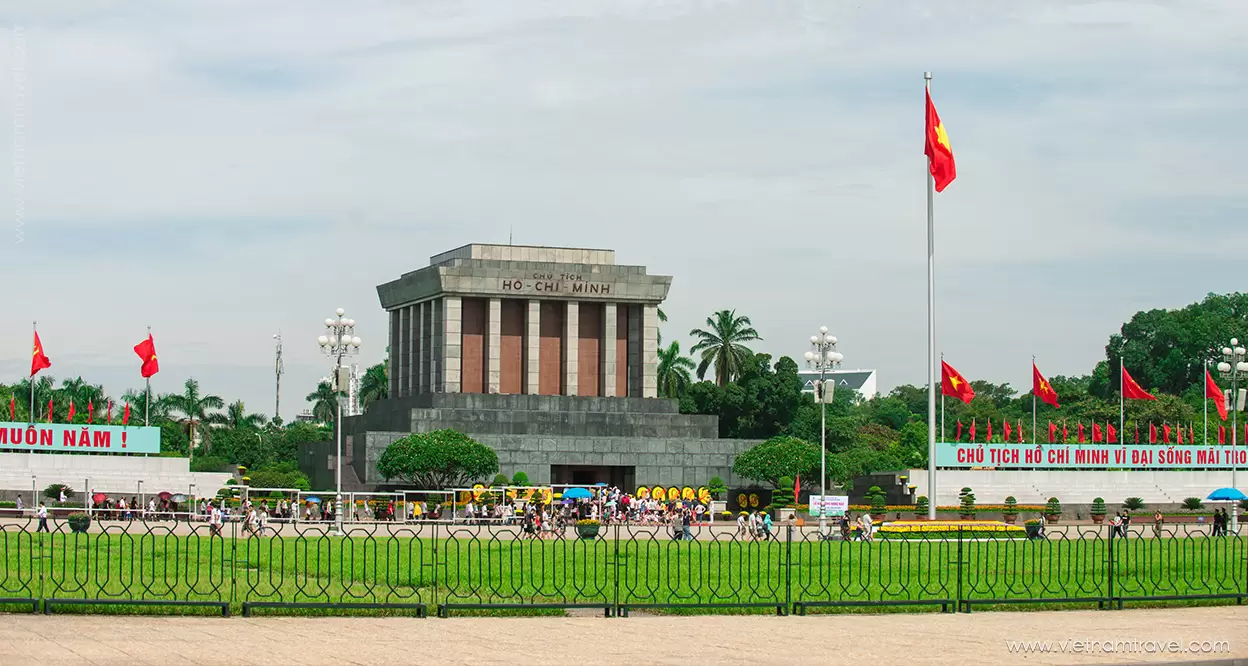 Situated in Ba Dinh Square, Ho Chi Minh Mausoleum is the final resting place of Uncle Ho who had led Vietnam to independence and reunification. His body is preserved here in a glass case at the mausoleum. Many visitors come here to express their admiration and gratitude towards him.
The embalmed body of Ho Chi Minh is preserved in the cooled, central hall of the mausoleum, which is protected by a military honor guard. He rests in a glass case with dim lights as if he were sleeping in the simple clothes worn when he was alive.
Built over 2 years from 1973 to 1975, this project was the result of a close collaboration between engineers from Vietnam and the former Soviet Union. The mausoleum is divided into three floors and the second is the center of the construction, where the remains of the president are kept in a chamber, accessible through a series of passages and flights of marble stairs.
Visiting the Ho Chi Minh Mausoleum is free of charge but involves a set of strictly enforced regulations. Do not wear short skirts, tank tops or hats. You may be requested to store day packs, cameras and phones before entering. Taking photos, talking, putting your hands in your pockets or finger-pointing are strictly prohibited inside the mausoleum. Visitors are expected to remain silent and walk in two lines slowly and steadily through the mausoleum.
Address: 2 Hung Vuong, Dien Ban, Ba Dinh, Hanoi.
Entrance fee: Free.
Opening time: 7:30am – 10:30am from Tuesday to Thursday; 7:30am – 11:00am on Saturday & Sunday.
4. Temple of Literature
The Temple of Literature (Van Mieu) is a famous historical and cultural relic in Hanoi. It was built in 1070 at the time of Emperor Ly Thanh Tong in honor of Confucius, sages and scholars. The temple hosts the first university in Vietnam – Quoc Tu Giam which was built in 1076 for royal family members, and it was later opened to talented students from all over the kingdom.
Tourists will have chance to discover historic buildings from the Ly and Tran Dynasties, ancient constructions such as Khue Van Pavilion which is the symbol of Hanoi, Worshipping Hall and see a system of 82 stone stelae above turtles' back. They were inscribed with the names, places of birth and achievements of the Confucian graduates who had passed examinations from 1442 to 1779.
If you visit the temple at the beginning of the year or during the summer when many important examinations are taken place, you will catch sight of numerous students making group photographs and praying for the dose of luck to pass the test.
Address: 58 Quoc Tu Giam, Van Mieu, Dong Da, Hanoi.
Entrance fee: 30,000 VND/ visitor.
Opening time: 8:00am – 18:00pm.
5. Vietnam National Museum of History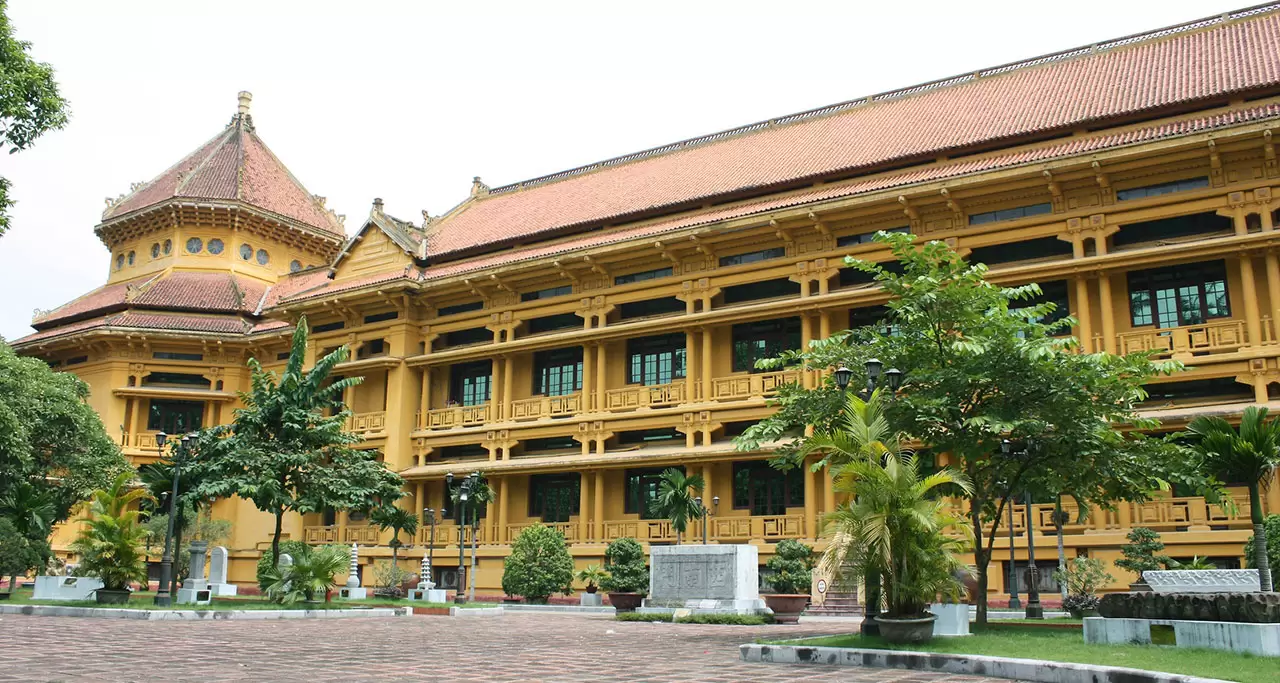 Founded in 1958, Vietnam National Museum of History contains a great deal of valuable objects which reflect all the periods of Vietnamese history. Nearly 7,000 objects and documents depict vividly the long process of development of the Vietnam community, its undaunted and heroic struggle for thousand years, from its early history up to the August Revolution in 1945. The system of computers installed on the second floor is intended for visitors to search for information effectively.
The exhibits provide systematic, scientific and reliable information for those who want to understand and research on the history of Vietnam. The museum is a tourist attraction for people inside and outside Vietnam.
Address: 216 Tran Quang Khai street, Trang Tien, Hoan Kiem, Hanoi.
Entrance fee: 20,000 VND/ visitor.
Opening time: 8:00am – 12:00pm & 13:30pm – 17:00pm, except for Monday.
6. Vietnam Museum of Ethnology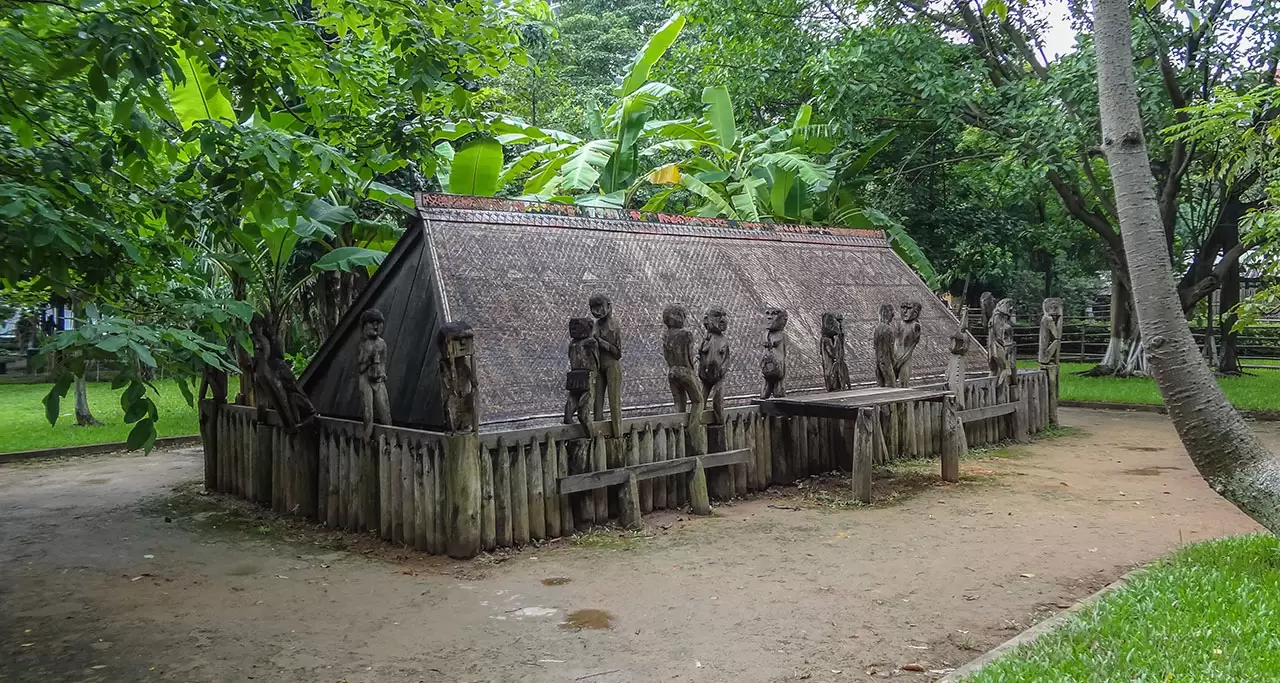 Vietnam Museum of Ethnology offers an insight into the 54 different ethnic groups of the whole Vietnam in an effort to preserve cultural heritage and promote socio-cultural diversity within the country.
There are both indoor and outdoor exhibitions. The indoor area focuses on Vietnam's various ethnic groups whose objects are displayed in glass cases and dioramas. Meanwhile, the open-air exhibition includes houses of some ethnic groups like the Ede long house, the Tay stilt house, the Yao house half on stilt and half on earth, the Hmong house, the Viet house with tile roof, etc.
The museum is suitable for children, for students and for those who are keen on learning about the multicultural of Vietnam or simply find a green space to relax. You don't need to worry about language barrier because all documents and display signs throughout have been translated into French and English.
Address: Nguyen Van Huyen Street, Cau Giay District, about 8km from Hanoi center.
Entrance fee: 40,000 VND/ visitor.
Opening time: 8:30am – 17:30pm, except for Monday.
7. West Lake – Ho Tay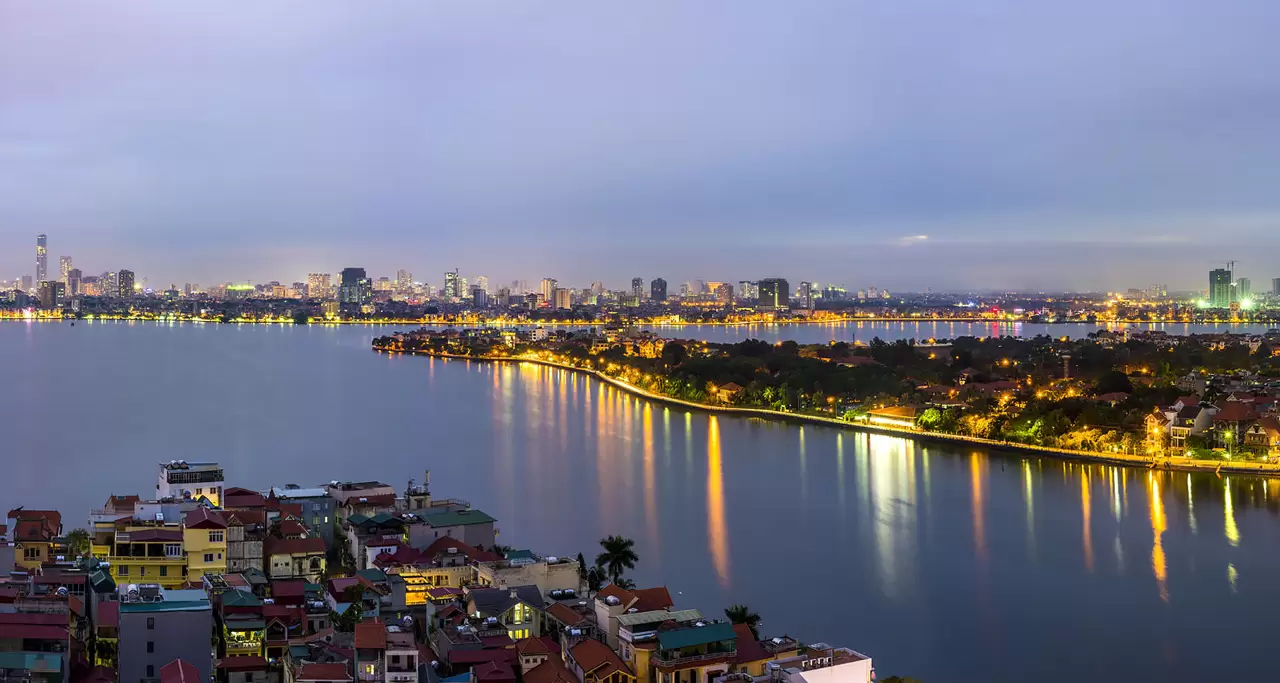 West Lake is the largest freshwater in Hanoi with an area of about 500ha and the shore length of 17km in total. It is also known as Foggy Lake (Mu Suong Lake), Golden Buffalo Lake (Kim Nguu Lake), or Fox Corpse Swamp (Dam Xac Cao Lake). Each name comes from a legend of the origin of the lake. This area is home to more than 20 temples and pagodas ranked as national relic sites for their unique and architectural values. Among them, Tran Quoc Pagoda, Quan Thanh Temple, Tay Ho Pagoda are the most famous tourist destinations.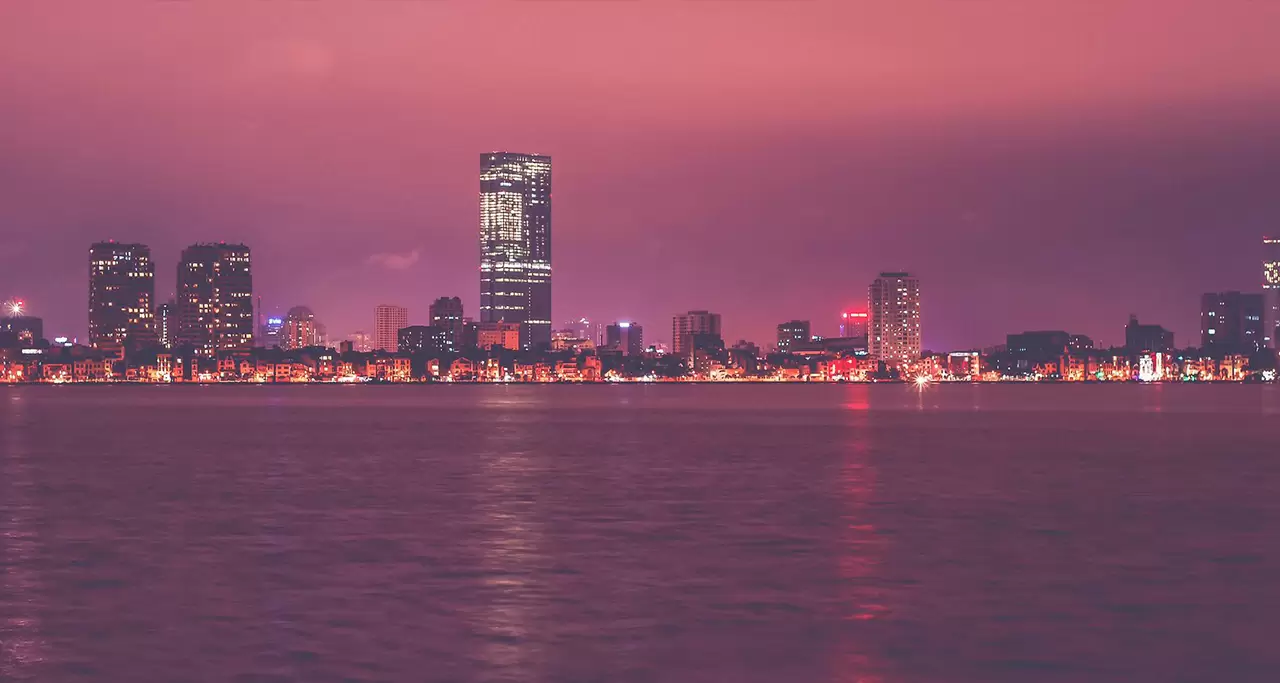 West Lake is beautiful and clean. It is an ideal place to witness sunrise and sunset. In the morning, there are a lot of locals, both the young and the old, doing exercise, aerobics, cycling and fishing around the lake. It is usually more crowded in the weekends since many people find this place to inhale fresh air, walk along the sidewalks, sip a cup of coffee and enjoy the peaceful moments of life.
Food is also one of the most outstanding points in West Lake. Try some famous dishes like Banh Tom and Bun Oc if you come there. Moreover, you can easily find a plenty of five-star hotels, stylish restaurants, cafes, shops and nightlife venues that are worth exploring along the shoreline.
8. Tran Quoc Pagoda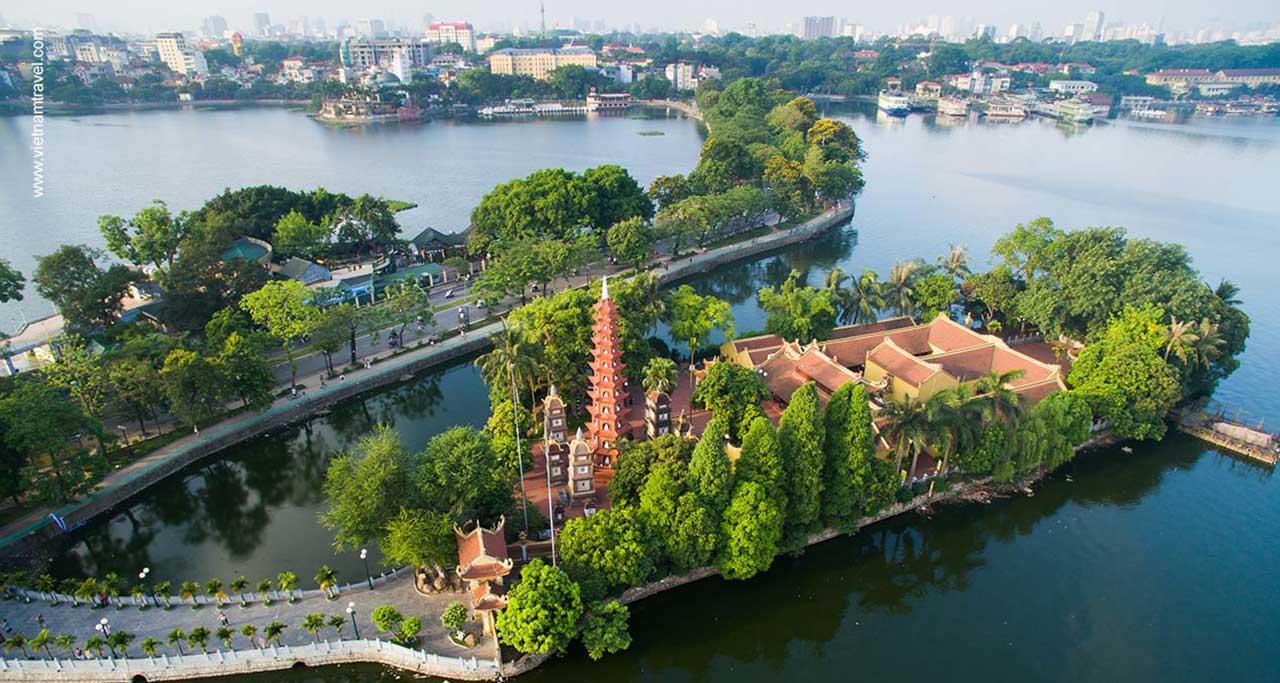 With its history line of more than 1,500 years, Tran Quoc is the most ancient pagoda in Hanoi. It is located near the West Lake, in the middle of Thanh Nien road. The most outstanding feature of the pagoda is its architecture that follows the strict rules of Buddhist architecture with many layers of buildings and three main houses. You can also see intricately carved statues dating to 1639, each of which bears unique facial feature.
It would be a miss if not mentioning the Bodhi tree regarded as Buddhism symbol in the garden of Tran Quoc Pagoda. It is a gift of the former Indian Prime Minister Razendia Prasat on the occasion of his visit to Hanoi in 1959. Now the tree is green and is easily recognizable in accordance with the heart-shaped leaves.
Address: Thanh Nien street, Yen Phu, Tay Ho, Hanoi.
Entrance fee: Free.
Opening time: 8:00am – 16:00pm.
Advice: It is a place of worship, remember to dress conservatively out of respect for the monks and locals.
9. St. Joseph's Cathedral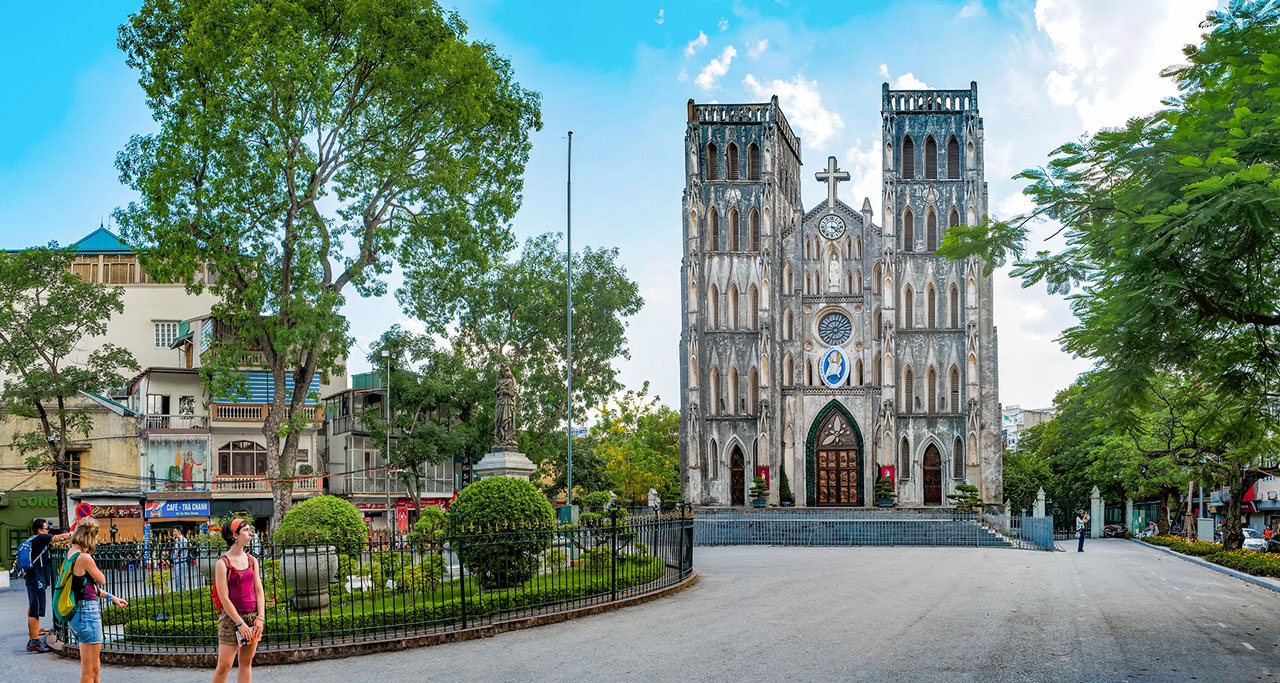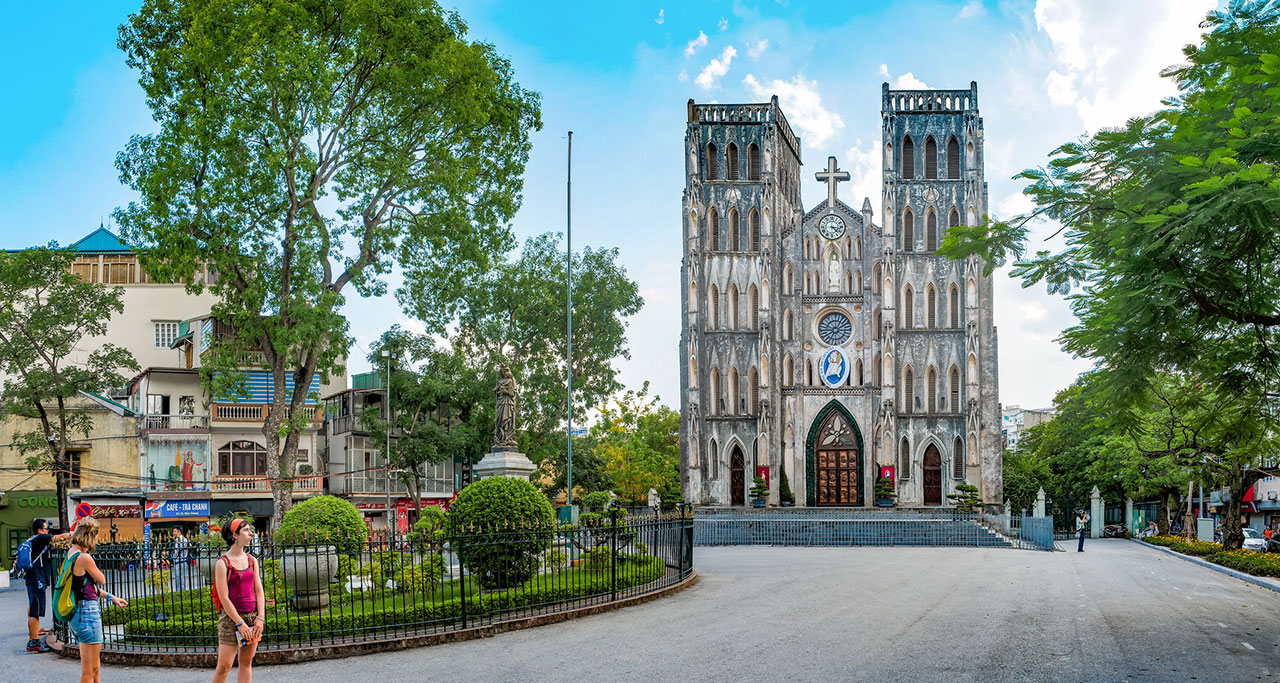 Located at 40 Nha Chung Street, within Old Quarter and near Hoan Kiem Lake, St. Joseph's Cathedral (known as Nha Tho Lon or The Big Church) is a Roman Catholic neo-gothic style cathedral. The church was built about 120 years ago and it is the oldest church to hold the religious activities of the parishioners of Hanoi.
The church's design is similar to the architecture of Notre Dame Cathedral in Paris. The appearance of the cathedral including the doors, colorful window glass and the religious paintings for decoration follows Western style; however, the main interior part is decorated in Vietnamese way with two typical colors yellow and red. Outside, in front of the cathedral stands the statue of Mother Maria.
Thanks to its beautiful architecture and good venue at the city center, the area surrounding the cathedral is always packed with hundreds of local people and tourists hanging out with friends for drinking, talking, and watching the street.
Address: 40 Nha Chung, Hang Trong, Hoan Kiem, Hanoi.
Entrance fee: Free.
Opening time for inside visit:
+ 8:00am – 11:00 am & 14:00pm – 17:00pm from Monday to Saturday
+ 7:00am – 10:30 am & 15:00pm – 21:00pm on Sunday.
10. Hoa Lo Prison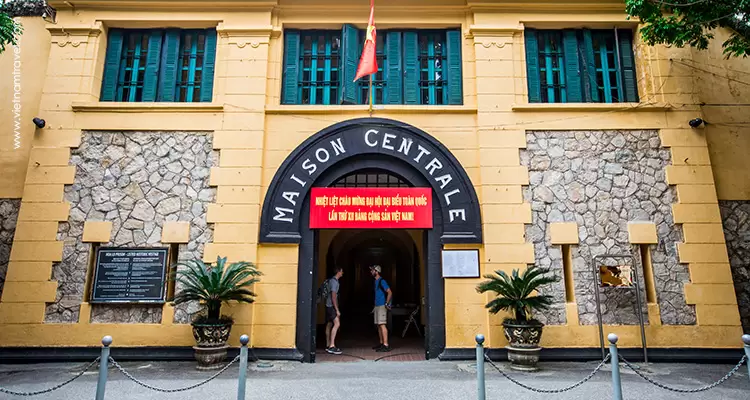 Hoa Lo Prison was built by the French in 1896 to intern thousands of Vietnamese patriotic and revolutionary fighters. These prisoners were tortured physically and mentally. The living conditions here were appalling; poor quality food, poor sanitary conditions, many diseases and bad personal hygiene. However, the detained revolutionists still believed in the Communist Party by turning the prison into a revolutionary school where they dispersed the revolutionary causes. Many people successfully escaped from here, coming back to lead the general uprising.
After North Vietnam was liberated in 1954, the Vietnam Government used Hoa Lo Prison to temporarily imprison regular prisoners. From 1964 to 1973, a part of the prison was used to capture American pilots who were shot down during their bombing raids against North Vietnam. In this period, Hoa Lo was euphemistically called the "Ha Noi Hilton" by the prisoners in detention.
In 1998, the old front of the prison was painted and restored and the remaining portions of the prison were turned into a tourist site. It attracts a lot of locals and foreigners who want to explore Vietnam history.
Address: 1 Hoa Lo street, Tran Hung Dao, Hoan Kiem, Hanoi.
Entrance fee: 30,000 VND/ visitor.
Opening time: 8:00am – 17:00pm.
11. Thang Long Imperial Citadel (Hanoi Citadel)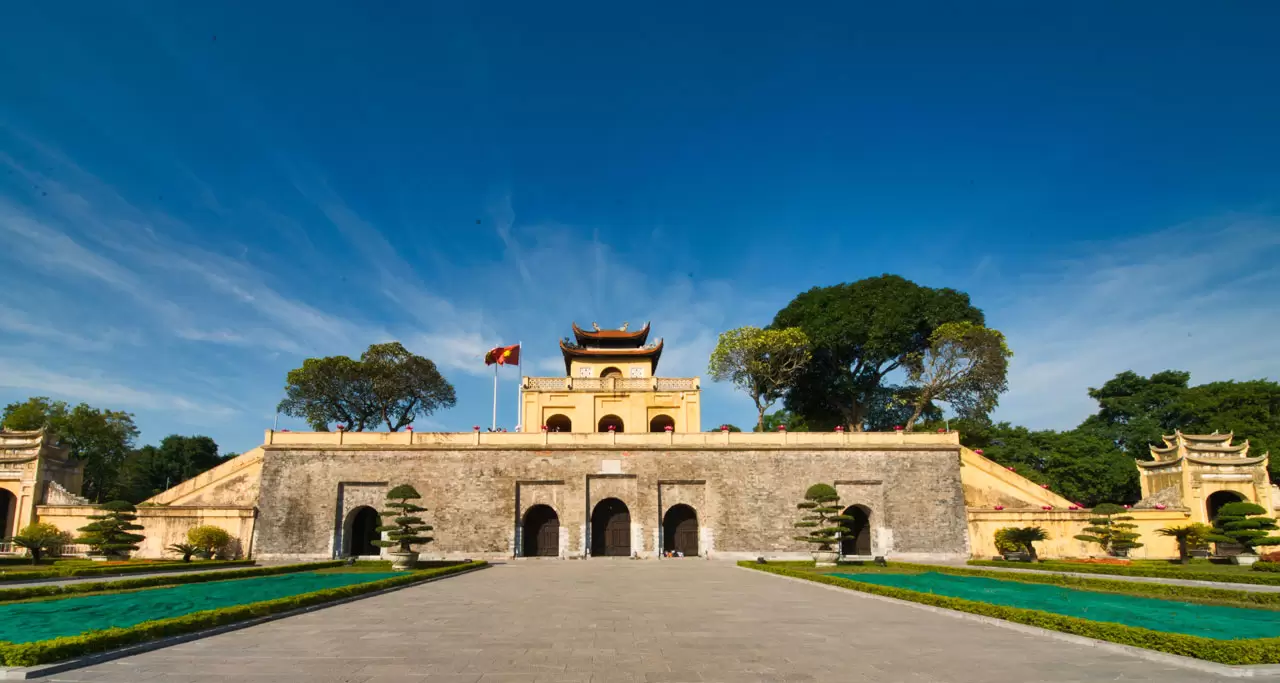 Thang Long Imperial Citadel was recognized as a UNESCO World Heritage Site, just in time for Hanoi's millennial anniversary in 2010. It is home to a number of artefacts and items dating back to between the 6th and 20th centuries that signify the historical and cultural importance of Vietnam and its history. Visitors should head for the display room that features interesting excavated items and mock-ups of the citadel itself. This ancient site was served as the political center of Vietnam for more than 1,300 years. When visiting Hanoi Citadel, you could also visit Hanoi Flag Tower, rising to a height of 33.4m (41m with the flag). Built 1812 during Nguyen dynasty, it remains an undamaged and the most imposing structure and also is frequently used as a symbol of the capital city.
Address: 19C Hoang Dieu, Dien Ban, Ba Dinh, Hanoi.
Entrance fee: 30,000 VND/ visitor.
Opening time: 8:00am – 17:00pm, closed on Mondays.
12. Local markets in Hanoi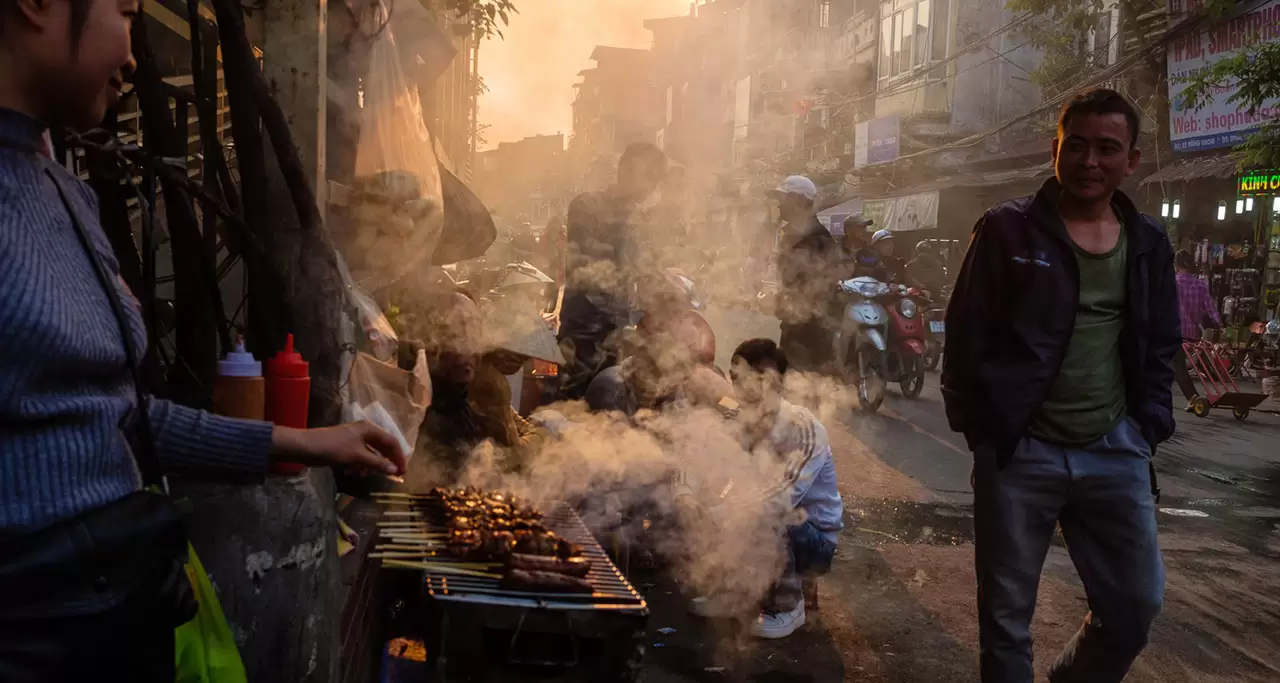 Local market is a place for those who want to gain insights into the local life – how people purchase, how people prepare for their meals, what they eat every day and what are the hot stuff to buy at the moment. And Hanoi's bustling local markets with hundreds of stalls selling fresh produce, quality textiles, and household supplies are what you should not miss.
Depend on your hotel location and your own interests, you could choose to visit one of best local markets as below:
• Quang Ba flowers market (236 Au Co, Quang An, Tay Ho): Selling all species of fresh flowers early each morning.
• Dong Xuan market (15 Cau Dong, Dong Xuan, Hoan Kiem): You can find everything you want here.
• Hom Market (293 Tran Nhan Tong, Hai Ba Trung): Selling fresh local food and extensive collection of fabrics.
• Cho Troi "Russian market" (33 Thinh Yen, Pho Hue, Hai Ba Trung): Specializing in mostly mechanic accessory, electric stuff.
• Hang Da market (Hang Da, Cua Dong, Hoan Kiem): A great place for purchasing imported wines, second-hand clothing, and quality fabrics.