Hanoi's Best Restaurants: A Guide to the Top 9 Must-Try in the City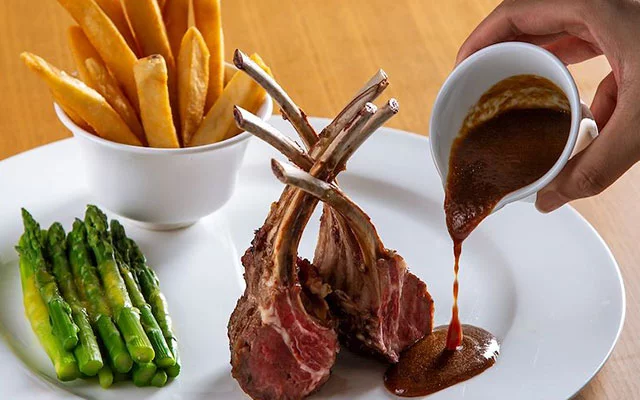 Hanoi is very famous for its diverse, toxic, flavor food culture. You can easily find many street food vendors and local eateries in every corners of streets. But if you want to treat your taste buds with a wide range of selections, well-decorated dishes,  good quality and great service in a pleasant setting, the following list of Hanoi best restaurants is a hint for you.
1. Essence Restaurant
Essence Restaurant is a perfect choice for fine dining in Hanoi focusing on Vietnamese menu with a touch of European influence. It features with exotic décor blending both colonial Vietnam and contemporary design to create an enjoyable and comfortable atmosphere for diners. The restaurant serves traditional Vietnamese dishes from all regions of the country with their distinctive characteristics. "Bun cha", spring rolls are some famous dishes you should taste when coming here. Besides, there are many Western dishes, vegetarian food and deserts for your choices.
2. JW Café at JW Marriott Hotel Hanoi
JW Café at JW Marriott Hotel Hanoi offers both buffet and a la carte selections with 5 open cooking stations, each focusing on specific cuisine such as Vietnamese, Korean, Japanese, Chinese and Italian. As one of the top restaurants in Hanoi, you will be impressed by a variety of dishes from traditional Vietnamese food, fresh seafood collection, BBQ to extensive baked pastries and desserts.
In addition to its high quality of the foods, JW Café also features with its thoughtfulness of the staffs and an open yet chic dining setting, glittering chandeliers, leather seats, and floor-to-ceiling windows overlooking a nearby lake. Opening daily from 6:00 – 22:00, you can come here for breakfast, lunch and dinner. Especially, it offers a Sunday brunch menu (12:00 to 15:00) and a seafood buffet every weekend between 17:30 and 22:00.
Relatively far from Hanoi Old Quarter, about 30 minutes driving but it is definitely worth to visit and treat your taste buds.
3. Le Beaulieu Restaurant at Sofitel Legend Metropole Hanoi
Opened in 1901, Le Beaulieu Restaurant is well-known for its exquisite French cuisine and cocktails – perfectly crafted in both flavor and presentation. It is highly considered as the first upmarket restaurant in Hanoi, having served entrepreneurs, diplomats, politicians, and affluent travelers for over a century. Wine connoisseurs will find pleasure in the restaurant's impressive wine list featuring selections by its passionate sommeliers.
On every Sunday from 12:00 – 16:00, Le Beaulieu offers the unique recipes for a brunch. This sumptuous brunch has everything which your heart can desire, from sushi to carvery, from fresh French oysters to homemade ice cream.
Located in Hoan Kiem District, Le Beaulieu is within a 5-minutes walk from Hanoi's key sites such as Hanoi Opera House, Hoan Kiem Lake and Trang Tien Plaza. The restaurant is a blend between French colonial décor and Indochinese touches, featuring dark wooden furnishing, marble floors, large windows overlooking the street, ceiling fans and white chandeliers.
4. KOTO (Know One, Teach One) Villa
KOTO is a non-profit social enterprise that empowers at-risk and disadvantaged youth in Vietnam through its holistic hospitality training program. Amiable staff are young Vietnamese seeking to better themselves and move beyond shining shoes on the street. This all day dining restaurant serves mainly Vietnamese favorites as well as South-East Asian and Western dishes. Due to Covid-19, KOTO Van Mieu has to be closed but KOTO Villa in Tay Ho District is open to welcome you.
5. Quan An Ngon
Quan An Ngon means "delicious restaurant" is one of the best restaurants in Hanoi offerings authentic Vietnamese specialties from across the country. Coming to the restaurant for the first time, diners will be surprised by a space of dreamy ancient architecture with mainly earth-tone colors. The image that seems to be only in the memory of the original Hanoi or in books and art works is now more vivid than ever.
Serving as a food court, you can find all famous dishes in Quan An Ngon, from street food to royal cuisine such as "pho", spring rolls, dumplings, pancakes and many kinds of sweet soups… This is a perfect place for those who want to learn more about Vietnamese cuisine without enough time to travel throughout country.
6. Cau Go Vietnamese Cuisine Restaurant
With a prime location nearby Hoan Kiem Lake, Cau Go Restaurant is a popular choice of both local and foreign tourists for tasty Hanoi culinary amongst elegant interior design and breathtaking views. It also draws upon flavors from across the nation to devise a menu that combines the best of all the regions in Vietnam. Nestled up high between the bustle of the Old Quarter, Cau Go Restaurant definitely brings you a dignified dining experience in the very heart of the city.
7. Downtown Cafe & Restaurant
Nestled in the heart of the vibrant Hanoi Old Quarter, Downtown Cafe & Restaurant is a great option for both locals and foreign travelers. There is a wide range of authentic Vietnamese dishes and Western food. From traditional "pho", spring rolls, stewed pork, salad to spaghetti, beefsteak, pizza, desserts and many kinds of drinks, Downtown Cafe & Restaurant gives you more choices to suit any tastes.
8. Home Moc Restaurant
Home Moc Restaurant is another branch of Home Vietnamese Restaurant in Chau Long (temporarily closed). Set within a classic French villa, the restaurant stands out in the middle of a crowded street with a distinctive yellow wall and the vintage-style architecture. This brings a special feeling of romance and relaxation for guests. Home Moc Restaurant offers authentic Vietnamese delicacies, Western food, imported wines and classic cocktails at reasonable prices. With a delightful a la carte and several set menus served throughout the day, you are guaranteed to be satisfied whenever you want to treat yourself to a great meal.
9. Red Bean Ma May Restaurant
Red Bean Ma May (formerly Red Bean Classic), launched in 2014, is the first Red Bean restaurant of Elegance Hospitality Group. It is designed with both classical and traditional Southeast Asian features, which brings a cozy and soothing space.
Red Bean Restaurant serves modern Vietnamese dishes with high quality and innovative ideas but never forgetting the roots and value of Vietnamese cuisine. There is a wide range of options you can order from a la carte, set menu to vegetarian food to drink list and desserts.