Bun Cha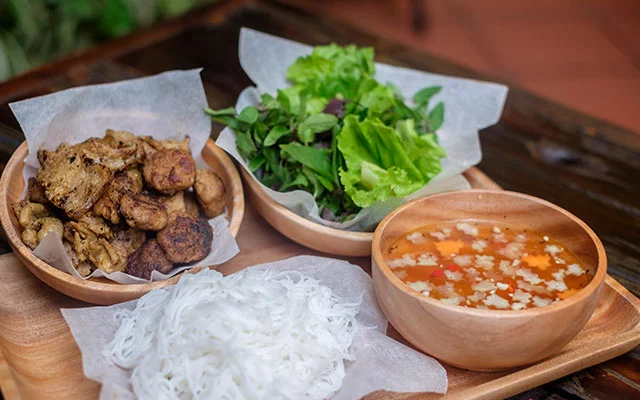 Bun Cha (white rice vermicelli with grilled pork) is a very well-known local dish that is thought to be originated from Hanoi. Along with Pho, Bun Cha also stands for Hanoi's stunning cuisine culture which is the perfect combination of rice products, meat, vegetables, herbs, spices, and local special dipping sauce. You can easily find Bun Cha in Hanoi and other big cities in Vietnam, from small street vendors to high-quality restaurants. Listed as one of the top 7 specialties of Hanoi street food, it is pity if you miss a chance to try Bun Cha when coming to Hanoi. But it is fine to taste Bun Cha in other places within Vietnam.
The following article will give you some interesting information about Bun Cha and best places where you can try this famous local dish when you are here, in Vietnam. Let's check it out:
What is Bun Cha?
It is said that Bun Cha is originated in Hanoi and because of that Hanoi is definitely the most appropriate place to try Bun Cha for original taste. The ingredients to make Bun Cha is very simple. Where matter you eat Bun Cha, in an elegant restaurant or in a small eatery in narrow streets, you will be served with a plate of fresh vermicelli, a bowl of sweet-sour dipping sauce with grilled pork and a basket of fresh vegetables and herbs.
– White rice vermicelli (bun): If you notice that Vietnamese people use different kinds of noodle/ vermicelli for different dishes. To make a decent bowl of Bun Cha, the vermicelli has to be thin, soft and chewy.
– Grilled pork (cha): There are 2 types of Cha: minced pork (cha vien) and thin sliced pork (cha mieng). People use pork belly to make the delicious cha, not too dry and not too fat. Pork is seasoned, marinated and grilled over smoldering coals, usually smoked by a simple hand fan, creating a special flavor.
– Hot dipping sauce: This is the most important components of Bun Chat that diners can decide the good or bad taste of the dish. Dipping sauce is made from fish sauce, sugar and vinegar. The broth also contains crunchy pickled papaya and carrot, seasoned with chili and garlic to make the taste stronger. The ingredients of dipping sauce seem very simple but the taste varies from one shop to the next, from North to South also.
– A big basket of fresh vegetables and herbs: Bun Cha is not complete without many kinds of Vietnamese vegetables and herbs. You will find fresh lettuce, Vietnamese basil, cilantro, fish mint, bean sprouts, banana flower and coriander.
When to eat Bun Cha?
In the past, people usually had Bun Cha for lunch. Nowadays, since most of the shops are open from morning until night, people can enjoy it at any time of day, from a hurry breakfast to complete lunch then hearty dinner. However, Bun Cha is the top choice when it comes to lunchtime in the capital.
How to eat Bun Cha?
The simple and ideal way to eat Bun Cha is to dip the vermicelli, vegetables and herbs into the dipping sauce bowl, then mix them together and put everything into your mouth, like you eat a bowl of Pho. Since the vermicelli is quite slippery, this can be a fun yet challenging experience for those who are not familiar with using chopsticks. This is also the way the Hanoians eat Bun Cha.
Where to try Bun Cha in Vietnam?
Obviously, Hanoi is the best place to try Bun Cha. However, you can also find Bun Cha in the menu of many restaurants or street vendors in other parts of Vietnam. The taste can be different due to the locals' needs but it basically includes all vital components. Here, Vietnam Travel would like to recommend you the list of the best eateries to eat Bun Cha in Hanoi, Danang and Saigon (Ho Chi Minh City) so no matter where you visit in Vietnam, you can get a chance to try this famous local dish.
Best places to enjoy Bun Cha Hanoi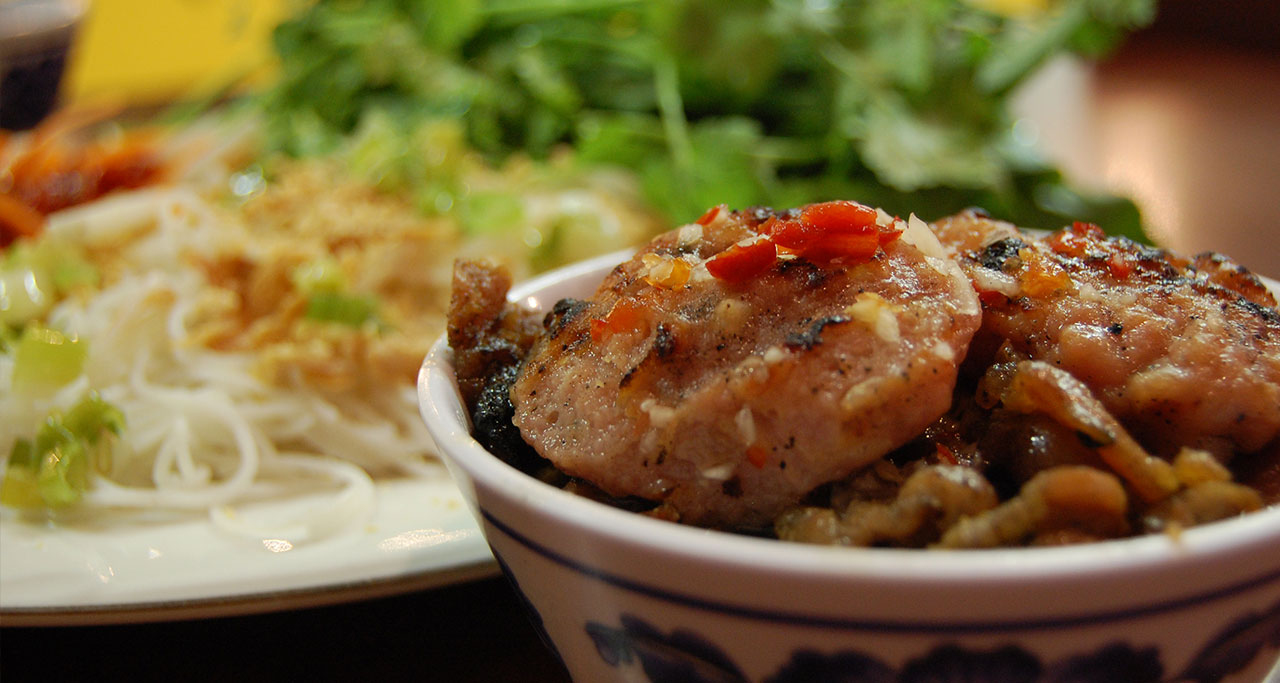 – Bun Cha Ta
Address: 21 Nguyen Huu Huan Street, Hoan Kiem District, Hanoi
Opening hours: 08:00 – 22:00
Price: ~ 60,000 VND
– Bun Cha Hang Quat
Address: 74 Hang Quat Street, Hoan Kiem District, Hanoi
Opening hours: 10:30 – 14:00
Price: ~ 35,000 – 60,000 VND
– Bun Cha Tuyet
Address: 34 Hang Than Street, Ba Dinh District, Hanoi
Opening hours: 08:30 – 17:30
Price: ~ 40,000 VND
– Bun Cha Cua Dong
Address: 41 Cua Dong Street, Hoan Kiem District, Hanoi
Opening hours: 10:30 – 21:00
Price: ~ 50,000 – 60,000 VND
– Bun Cha Dac Kim
Address: Hang Manh Street, Hoan Kiem District, Hanoi
Opening hours: 09:00 – 21:00
Prices: ~ 60,000 – 100,000 VND
– Bun Cha Huong Lien
Address: 24 Le Van Huu Street, Hai Ba Trung District, Hanoi
Opening hours: 10:00 – 19:00
Price: ~ 40,000 – 60,000 VND
Best Bun Cha in Danang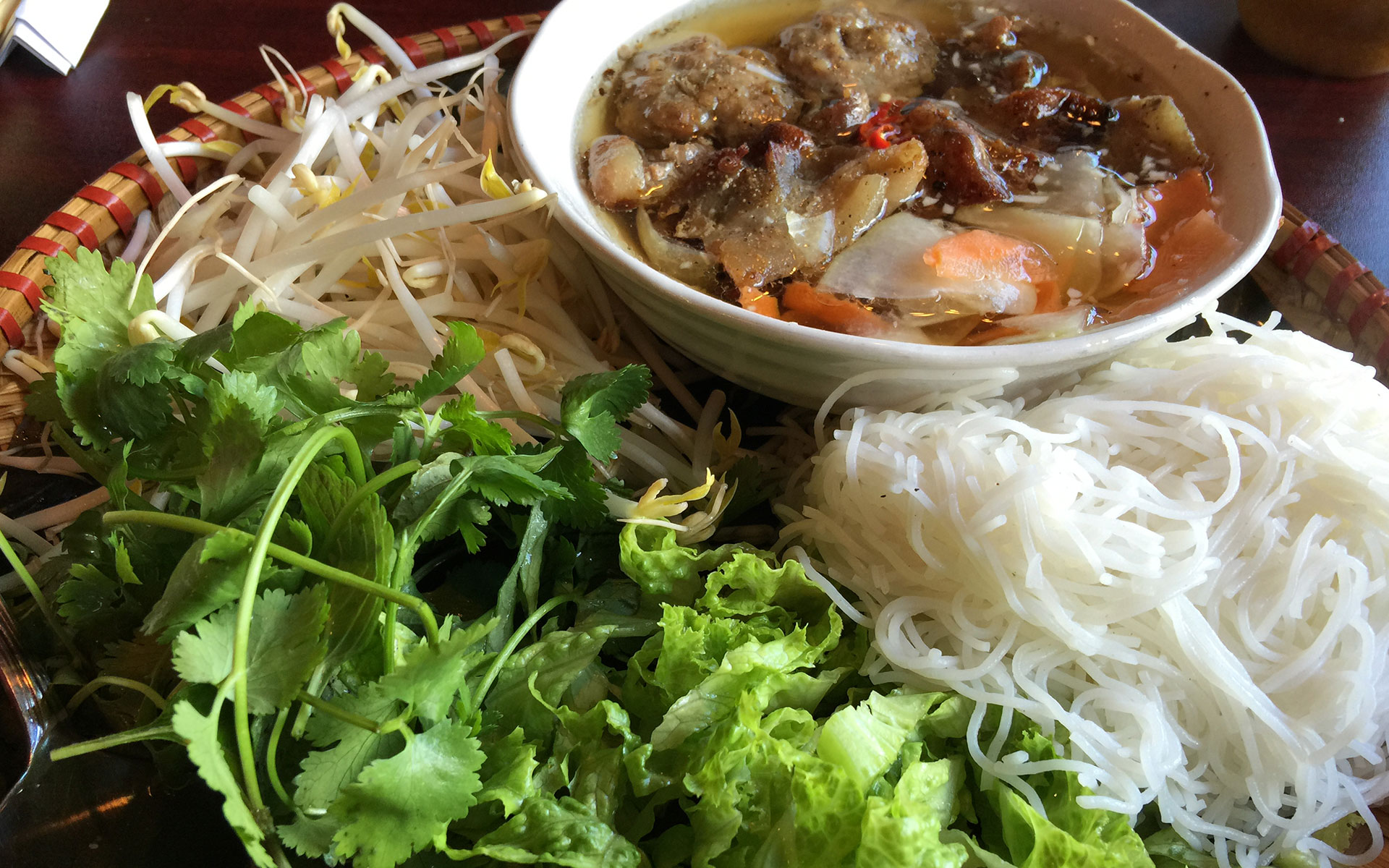 – Hanoi Xua
Address: 95 Nguyen Chi Thanh Street, Hai Chau District, Danang City
Opening hours: 10:00 – 14:30
Price: ~ 30,000 – 50,000 VND
– Tay Ho Quan
Address: 80 Quang Trung Street, Hai Chau District, Danang City
Opening hours: 07:00 – 21:00
Price: ~ 25,000 – 40,000 VND
– Quan Khoi
Address: 19 Ong Ich Khiem Street, Hai Chau District, Danang City
Opening hours: 08:00 – 22:00
Price: ~ 25,000 VND
– Bun Cha Ba Beo
Address: K10/5 Pham Van Nghi Street, Thanh Khe District, Danang City
Opening hours: 08:00 – 21:00
Price:~ 35,000 – 42,000 VND
Places to Taste Bun Cha in Ho Chi Minh City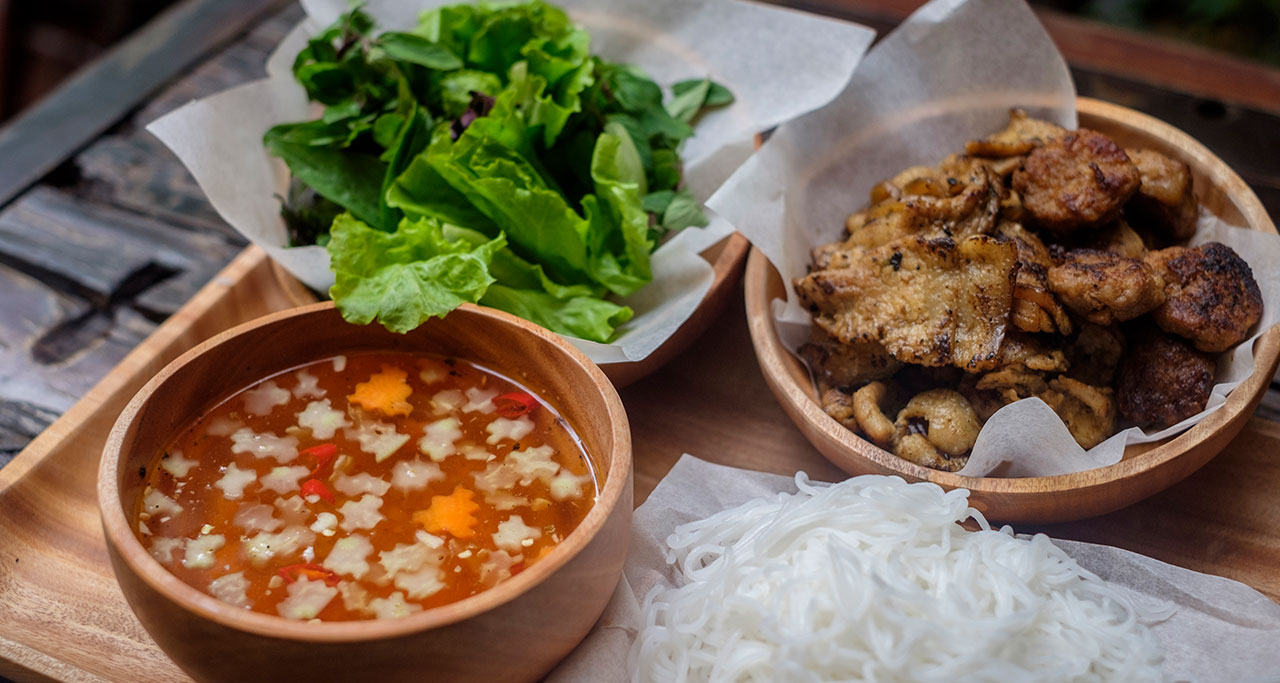 – Bun Cha Ho Guom
Address: 135 Vo Van Tan Street, Ward 6, District 3, Ho Chi Minh City
Opening hours: 07:00 – 21:00
Price: ~ 40,000 VND
– Bun Cha Hoa Dong
Address: 121 Ly Tu Trong, District 1, Ho Chi Minh City
Opening hours: 06:00 – 23:00
Price: ~ 60,000 VND
– Bun Cha Dong Xuan
Address: 92 Bach Dang Street, Tan Binh District, Ho Chi Minh City
Opening hours: 07:00 – 18:30
Price: ~ 38,000 VND
– Bun Cha Pho Co
Address: 225 Phan Xich Long Street, Phu Nhuan District, Ho Chi Minh City
Opening hours: 07:00 – 21:30
Price: ~ 40,000 VND
– Bun Cha Anh Hong
Address: 34 Mac Dinh Chi Street, District 1, Ho Chi Minh City
140 Ly Chinh Thang Street, District 3, Ho Chi Minh City
Opening hours: 06:30 – 20:30
Price: ~ 50,000 VND