Flavours of Mooncake & Traditional Mooncake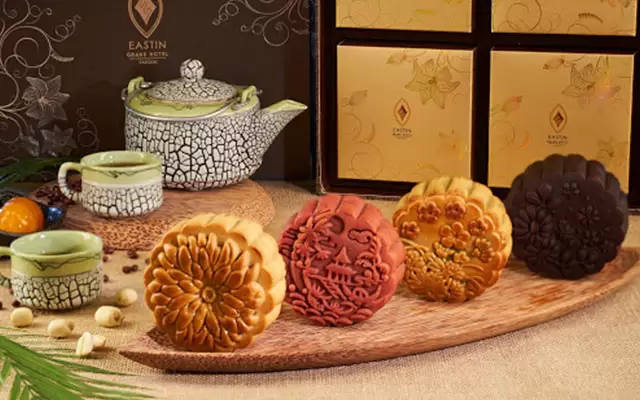 Moon Cake in Vietnam (Banh Trung Thu) is symbol of Mid-Autumn festival. A month in advance, when people start selling Moon Cake, we know Trung Thu festival is coming soon. The traditional Moon Cakes are Banh Nuong (Gold baked Moon cake) and Banh Deo (Soft sticky rice covered Moon Cake). Nowadays, you will find Moon cake in different forms with variety of designs with different kinds of crust, fillings…
Taste Moon cake and sipping hot tea with family and friends in the Mid-Autumn Moonlight is my nice memory when I think of Moon Cake. Let 's finds out more about Moon cake with Vietnam Travel…
The meaning of Moon cake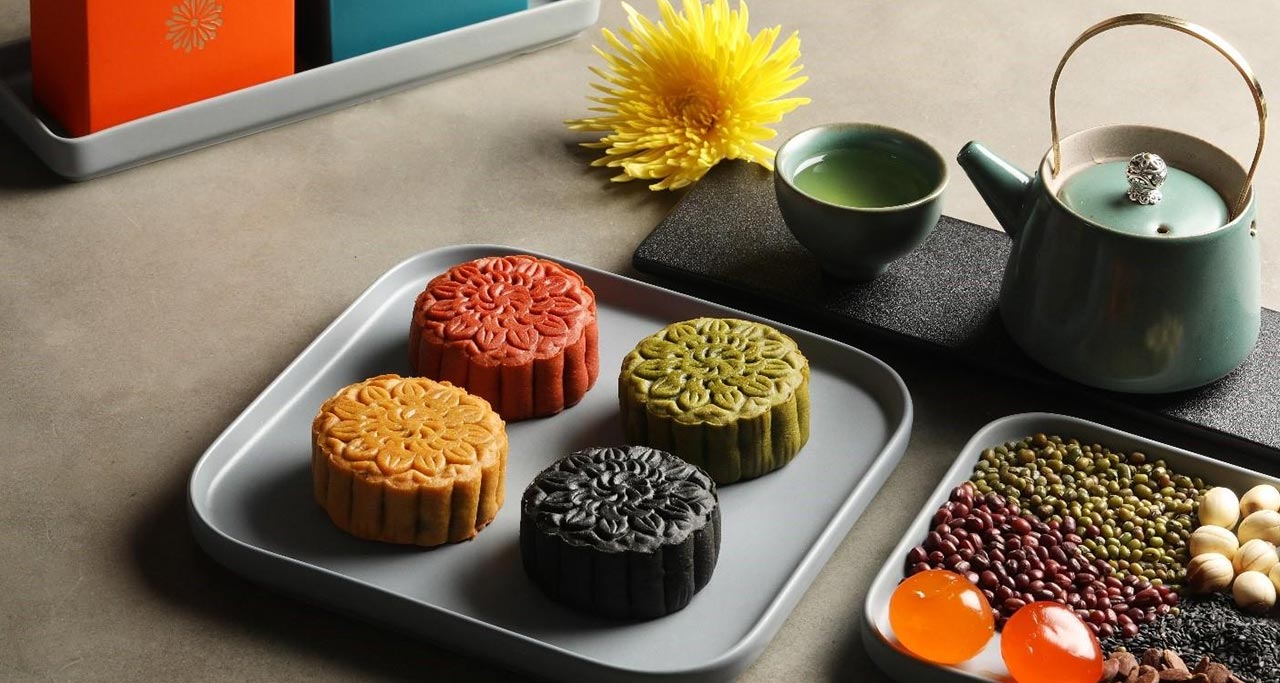 In fact, moon cakes originated in China, then it spreads throughout East and South-East Asia.  At first it has  round shape – shape of full moon.
Nowadays, people have created in many different designs, sizes and colors. But the most popular and preferred choice is still the circle and square. Because this is the symbol associated with its meaning. Round moon cakes are like a bright full moon. Some square shape like the Earth (Older people in Vietnam believe the sky is Round the Earth is square. Moreover, it signifies solidarity, wishing for a prosperous and fulfilling life. It has also become a fad to purchase Moon cakes as a gift among relatives, friends, and business associates, and also
to worship the ancestors' altar to celebrate the Mid-Autumn Festival. Along with the gifted Moon cakes, the most meaningful wishes are included to send to the receivers.
Popular moon cake flavour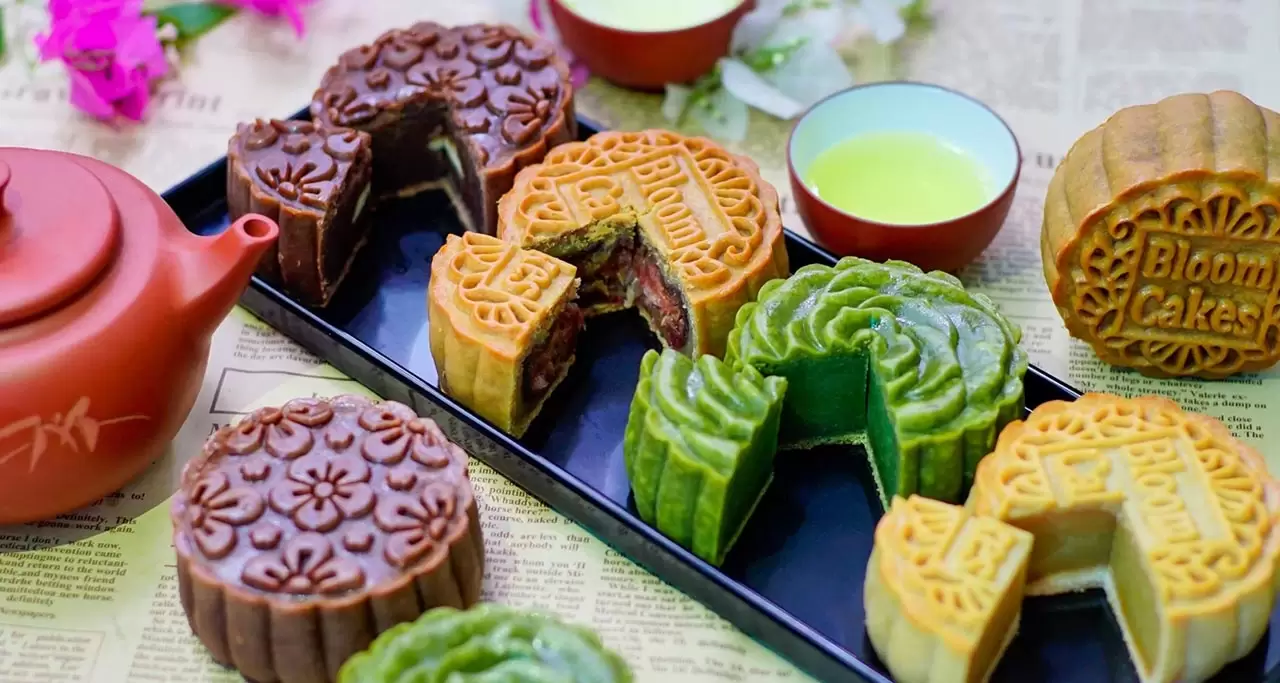 In Vietnam, people usually make the two most common types of mooncake crusts which are call Banh Nuong" ("Baked Mooncake" which has an eye-catching golden brown on the crusts. And this is also a type that many people love) and "Banh Deo" ("Sticky Rice Mooncake" – a type of cake with white dough, smooth and very flexible as the name implies. Nowadays, the flavors as well as its colors have been more varied thanks to ingredients such as pineapple leaves, green tea powder, coffee powder, food coloring, etc). The crust has 2 types that buyers can choose as their favorite but the filling is variety and tasty that may make them get lost in the savory land of mooncakes.
1. Traditional mixed flavor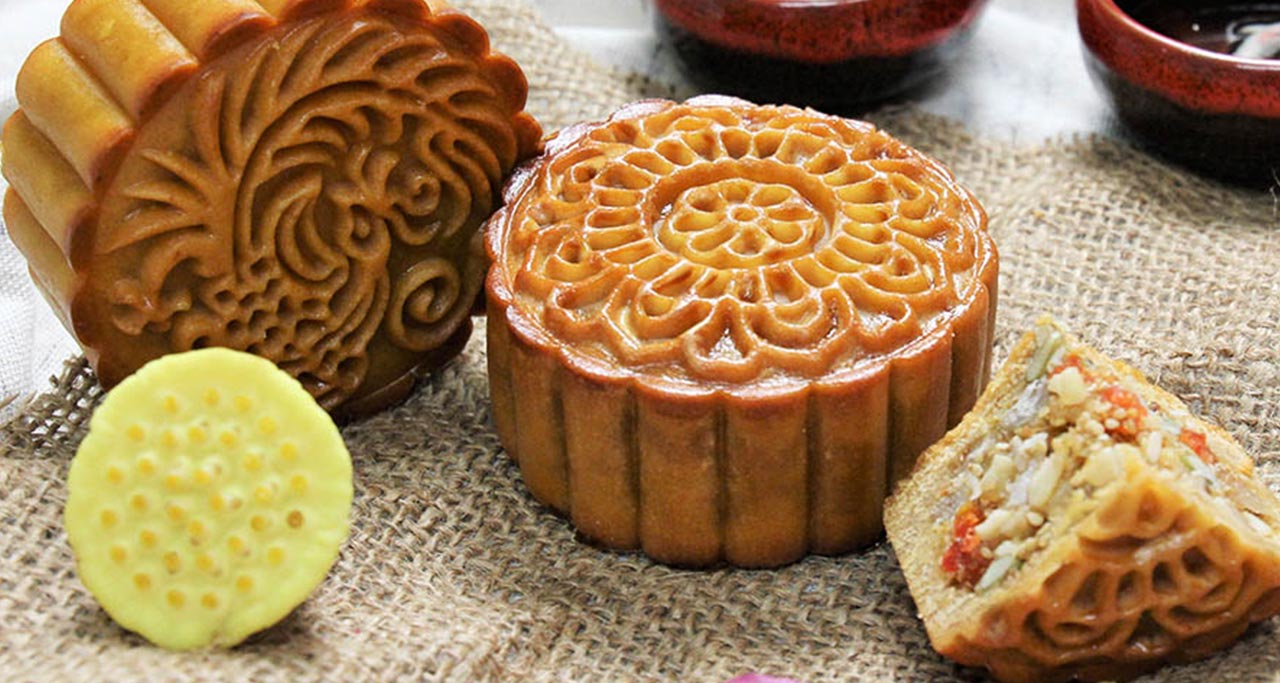 This is the most favorite flavors of Vietnamese people. It is made from natural ingredients of the country. The dough is made from wheat flour, cooking oil and lye water. After being filled with salted egg yolk, dried sausage, mug bean paste, sugared pig fat, pumpkin seed, it will be brushed with egg wash, then baked in the oven. Just that much is enough to evoke the rustic and attractive that captivates countless generations of people to enjoy. Traditional moon cakes are handmade from skillful hands of people. The secret of making mooncakes together with the careful selection of ingredients has made the traditional cakes have its own taste, very delicious and become the top favorite of traditional moon cakes.
2. Green bean and salted yolk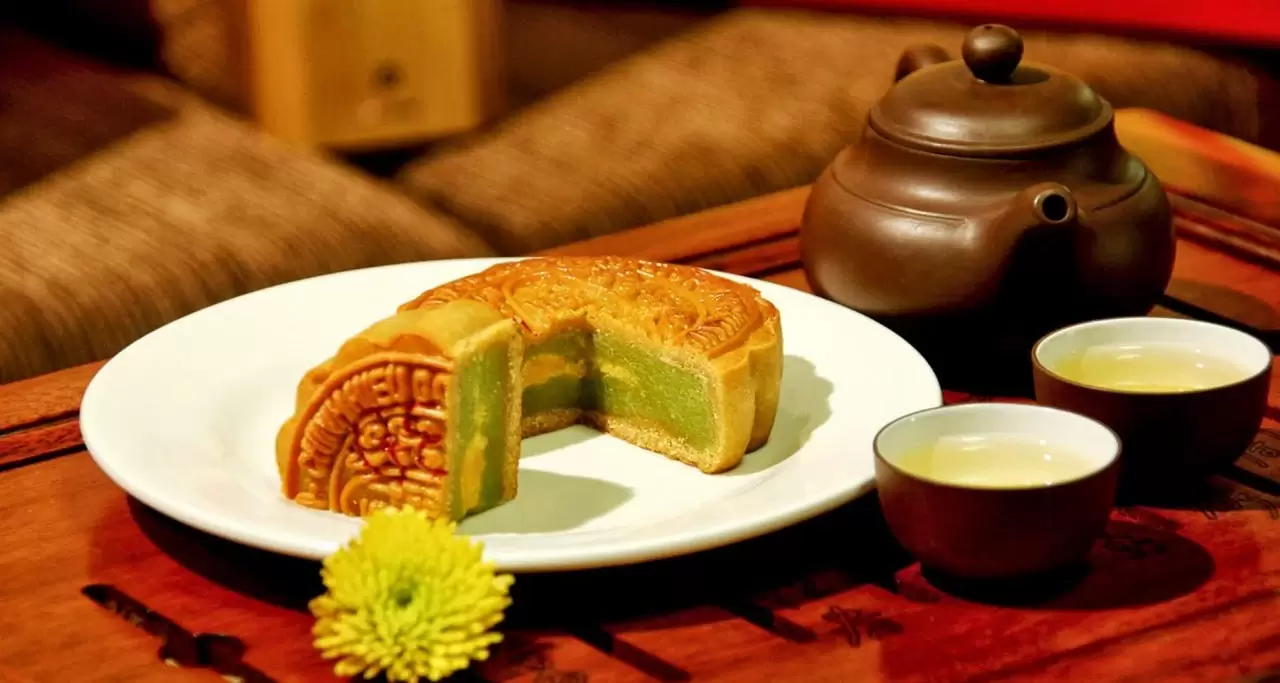 Thanks to not-so-sweet and easy-to-eat flavor, red or green bean paste is a perfect alternative to traditional mixed ones. Both sweet and salty filling made from bean are widely interested by lots of Vietnamese people. The harmony of organic ingredients like red bean, green bean, cooking oil, white sugar, sticky flour and sesame oil has created the smooth paste that make everyone eager to enjoy this fascinating piece, especially when sipping with a cup of hot jasmine or oolong tea.
3. Lotus seed paste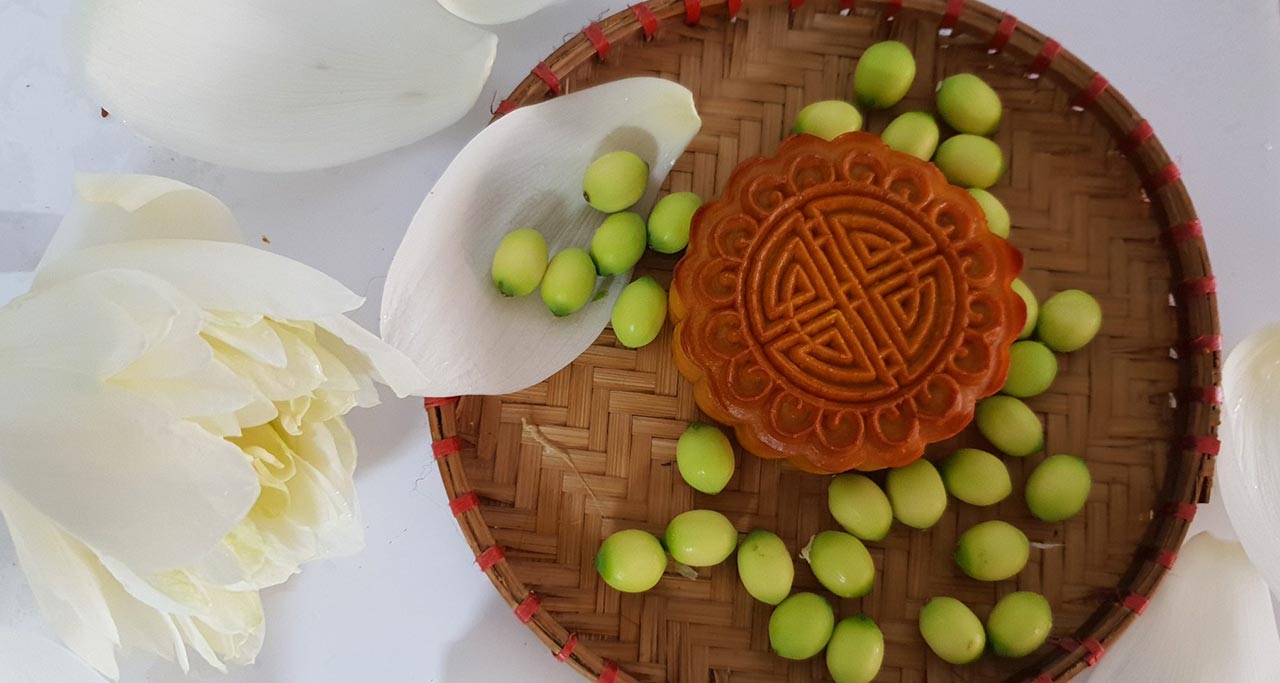 Lotus is not only a good ingredient for health and help getting a good sleep but very tasty also. It is made from dried lotus seeds which create a sweet and smooth filling paste of mooncakes. The traditional-style mooncake is usually filled with pure lotus and a single salted egg yolk in the center.
4. Salted egg custard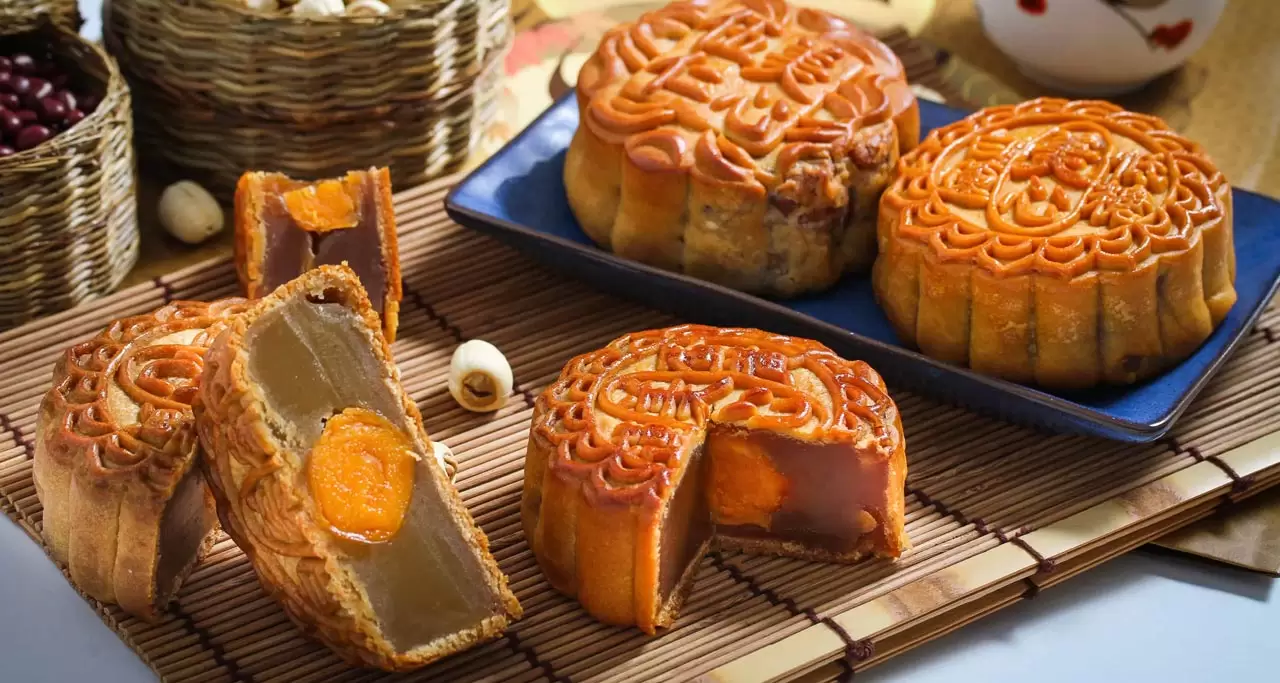 This type of mooncake which originated in Hong Kong, has become popular in Vietnam over the past 4 years. Moon cake with tasty filling – fatty – salty of butter and salted eggs is also a very good choice for foodies. When you cut the cake in half, you will immediately see a nice, flowing flow of yellow egg custard that is very stimulating to look at.
5. Taro paste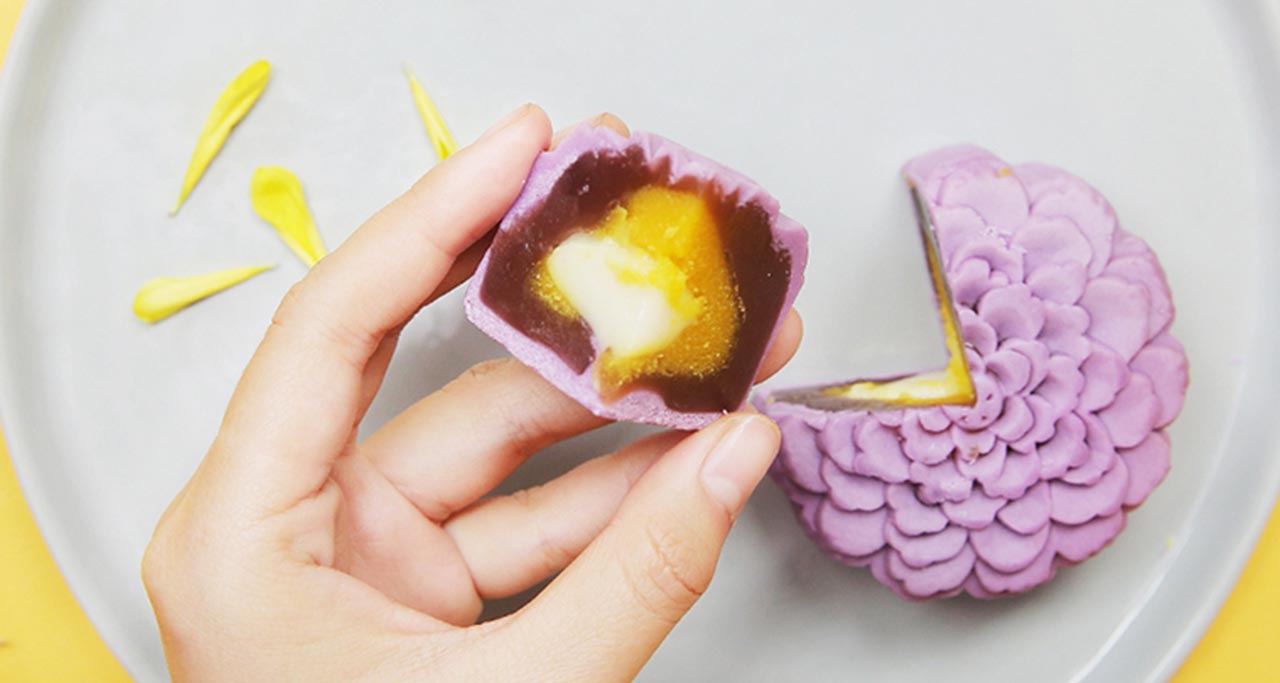 The soft texture and nice smell of taro made great ingredients for mooncakes. The essential ingredients include smooth taro paste, sticky flour, wheat flour, malt, cooking oil and sugar. Especially, the filling of taro mooncakes will be more delicious with one or two salted egg yolks.
6. Coconut mooncake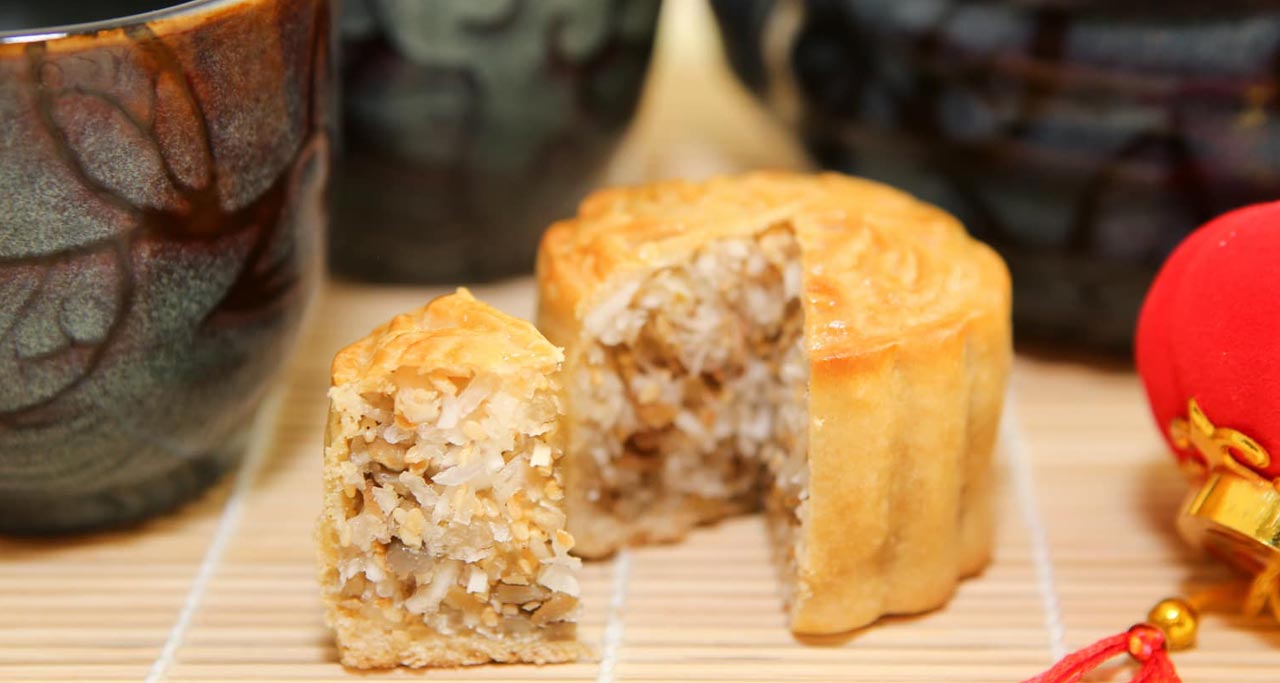 A tenderly sweet filling made of coconut offers you the appealing mooncake that you cannot resist. One of the popular combinations contains shredded coconut, young coconut milk, lotus seed and sesame seed. Coconut mooncakes give tasters a distinctively mesmerizing savor unlike other mooncakes that you ever try before.
Beyond round and square mooncakes, you can find delightful mooncakes shaped like rabbits, lanterns, fish and peonies. Some bakers decorate their mooncakes with a piece of gold leaf, or hide crunchy nuts, chocolate truffles, or tropical jams inside. Of course, the best mooncakes are always made with fresh ingredients and no preservatives. They are best eaten within a week or two.
Where to buy?
During a month ahead the Autumn Festival, Moon cake is selling at most of the shop all over the country.
Moon cake is best served with hot tea especially lotus tea- the most complicated serving tea in Vietnam.