50 Vietnamese Dishes, You Need To Try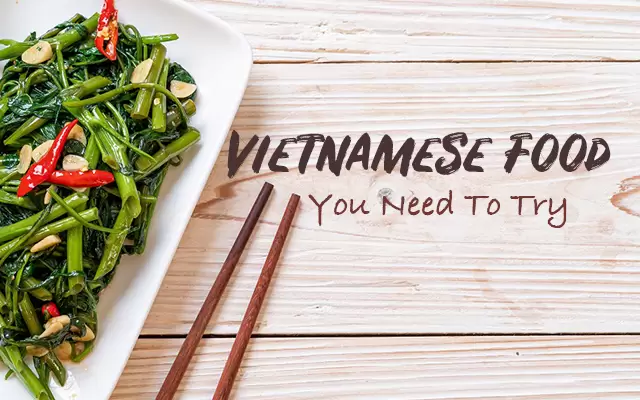 "Vietnamese cuisine doesn't win any points for complexity. Many of the most popular dishes can be made just as well on the side of the road as in a top-end restaurant", CNN wrote in an article related to Vietnamese food in 2017. Are you ready to taste insanely delicious Vietnamese food when you're in this S-shaped country? Here are 50 Best Foods you need to try in Vietnam.
50. Pho
Pho is a traditional dish of Vietnam, originated from northern province of Nam Dinh and invented in Hanoi from the early 20th century. Nowadays, Phở is a popular street food in Vietnam and served in many restaurants around the world.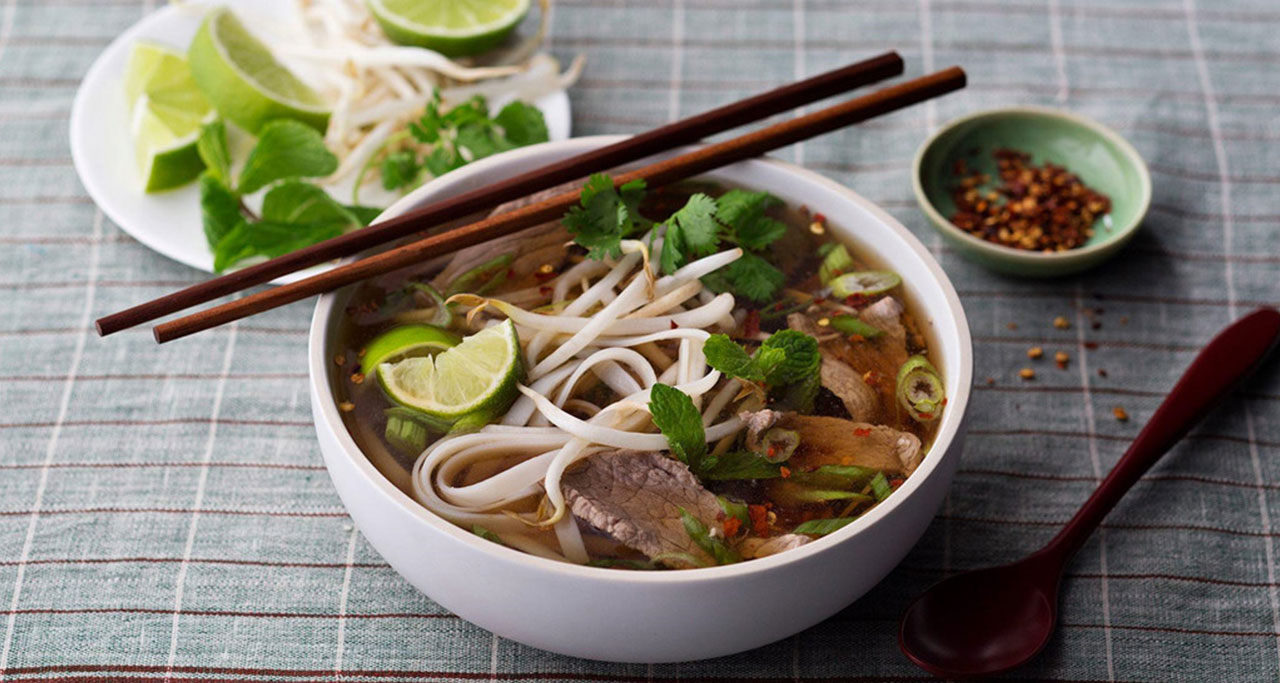 The dish consists of broth, rice noodles, herbs and meat (usually beef or sometimes chicken). Beef Phở is served in a bowl with a specific cut of flat rice noodles in clear beef broth, with thin cuts of beef (steak, fatty flank, lean flank, brisket) or with slow-cooked tendon, tripe, or meatballs in southern region. As same spices as beef, but chicken Phở is made using chicken bones and meat, or some internal organs of the chicken such as the heart, undeveloped eggs, and gizzard. When eating, you can ask which parts of the beef/chicken you would like and how it done.
49. Cha Ca
Cha Ca is one of the most beloved dishes in northern Vietnam, a classic Hanoi specialty.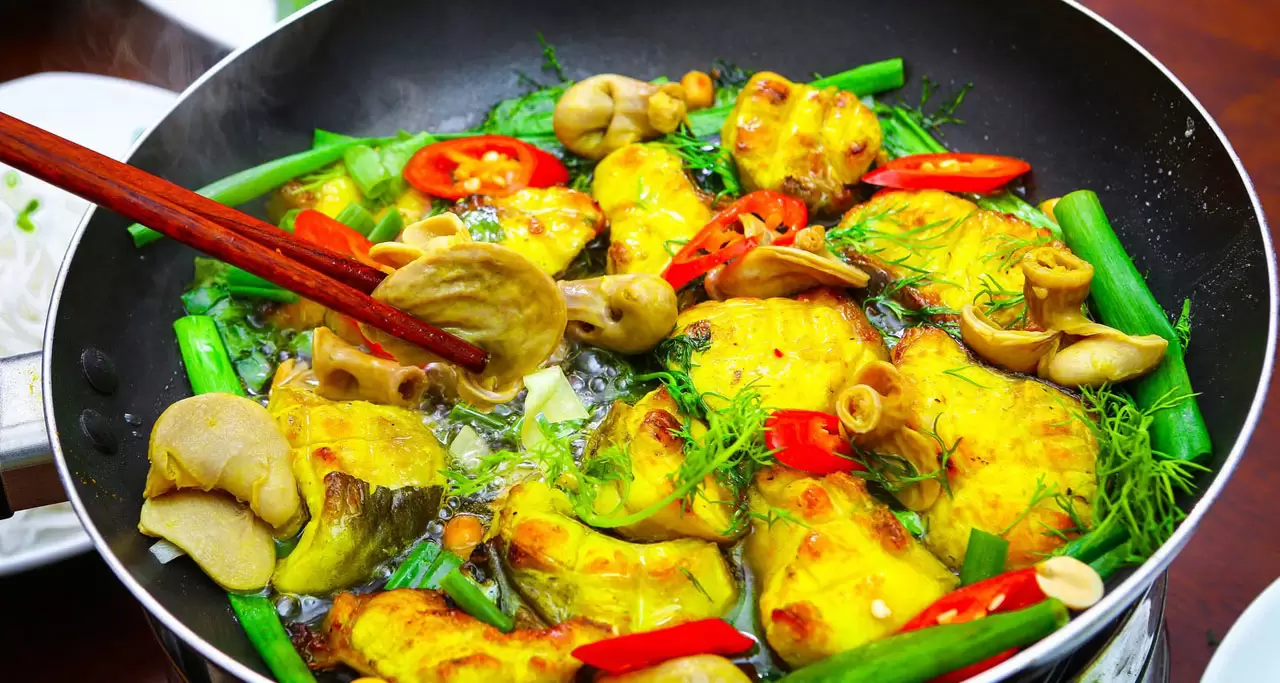 The grilled fish dish is traditionally made of hemibagrus (cá lăng in Vietnamese). The fish is cut into pieces and marinated in a turmeric-based sauce including shrimp and fish sauce, ginger, and chili peppers and then grilled on charcoal before serving guests. The dish is fried in a hot pan on your table with oil, spring onions, particularly fresh dill. It is eaten with rice vermicelli ("Bún" in Vietnamese), peanuts, fish sauce, vinegar and garlic, a bit of Vietnamese shrimp paste (mam tom) mixed with lime juice can be used if you like.
Cha Ca is nearly served in restaurants, but not street food. It was popularized by the La Vong restaurant in Hanoi, now there are some more good places to enjoy the dish in Hanoi as Cha Ca King, Cha Ca Lao Ngu.
48. Banh Xeo
Banh Xeo, a savory fried pancake made of rice flour, is popular in some Asian countries including Vietnam. It is named for the loud sizzling sound it makes when the rice batter is poured into the hot skillet.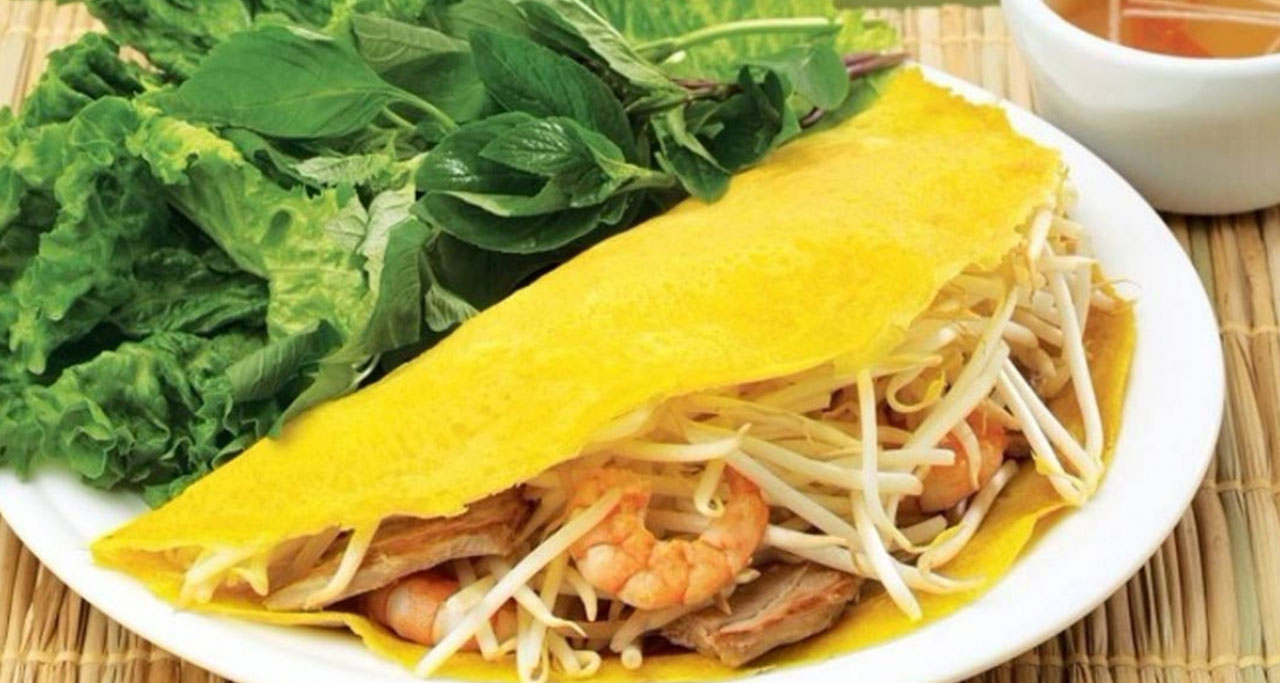 You can find the different ingredients to make this cake in three regions of Vietnam, but some common stuffing includes pork, shrimp and vegetables (diced green onion, mung bean, and bean sprouts). Banh Xeo is also served with lettuce, mint, basil and fish mint.
47. Cao Lau
Cao Lau is a unique noodle dish, from the town of Hoian, in central Vietnam's Quang Nam province. The main ingredients include rice noodles, meat (sometimes shrimp can also be used), greens, been spout, herbs and served with a small amount of broth (made from pork bones with onions).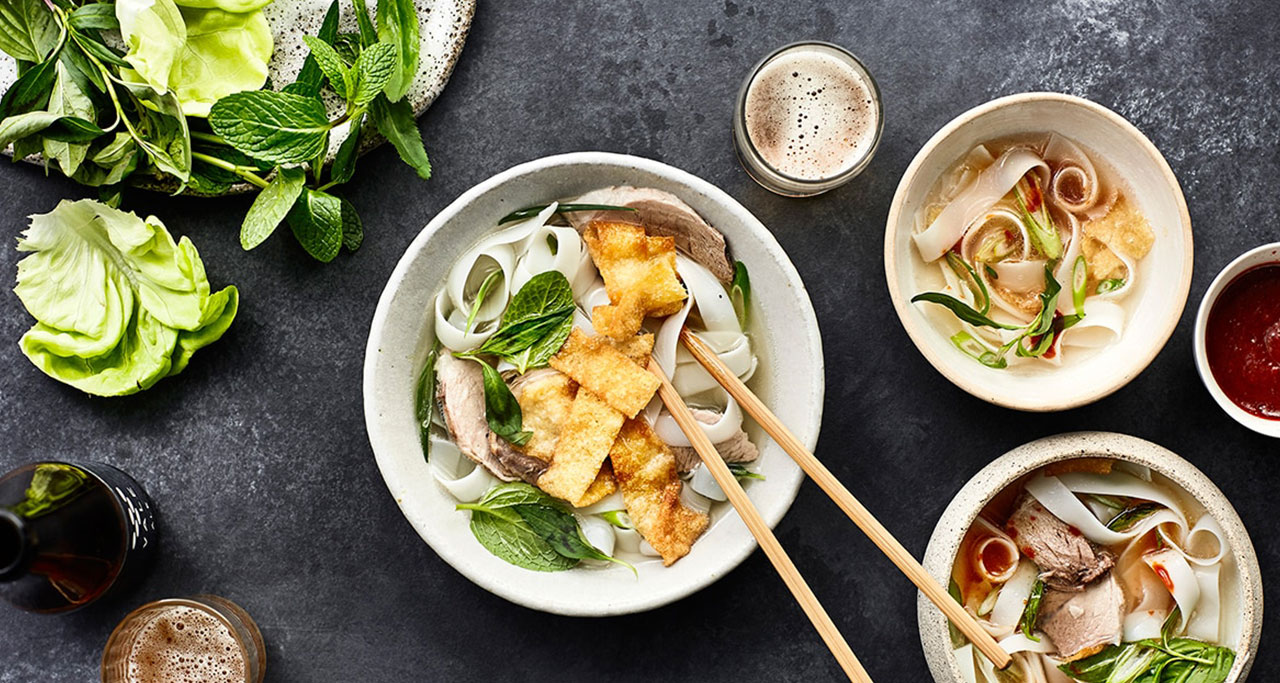 The meat used in Cao Lau is typically pork marinated in five-spice powder, sugar, salt, pepper, garlic and soy sauce to give a taste similar to char siu pork. All ingredients are placed on a bowl and mixed together before eating.
46. Rau muong xao toi (Stirred fry morning glory with garlic)
Rau muong xao toi is known as a specialty of Vietnam, a tasty and healthy dish that eats with steamed white rice.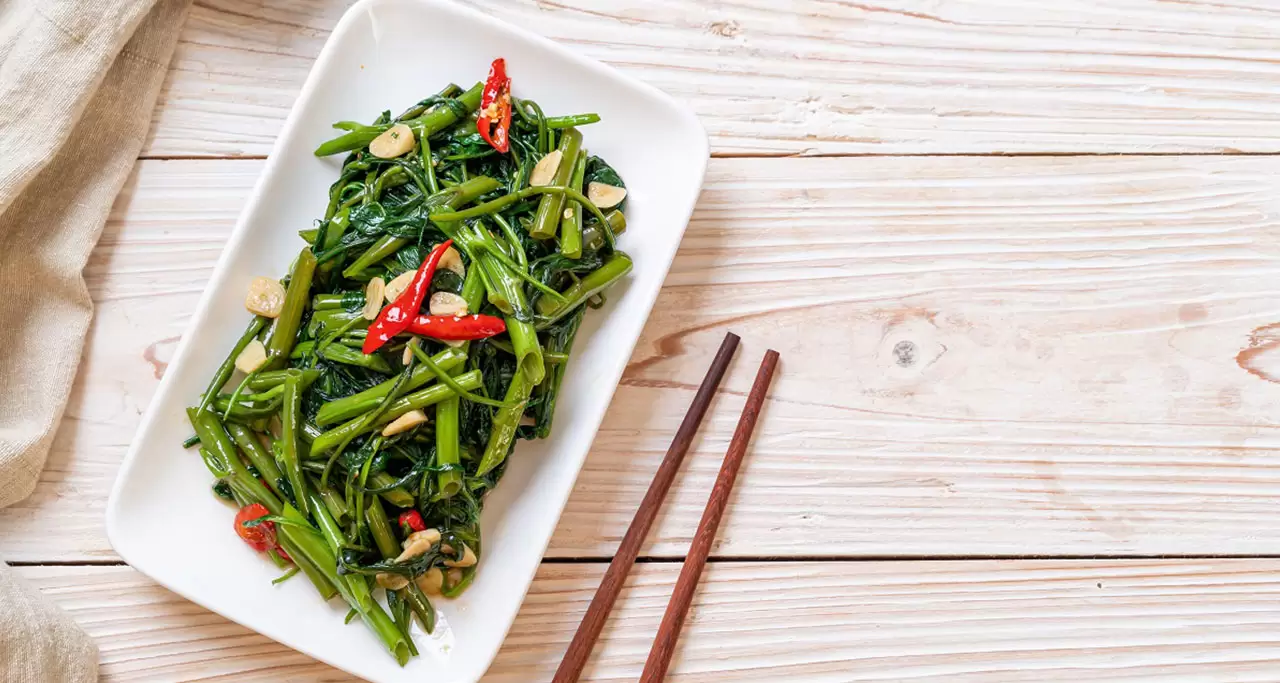 Garlic should be peeled and crushed before being fried with greens in oil and a little of fish sauce and sugar added. Rau muong can be sauteed with many dishes such as pork ribs and beef. You should also squeeze a little of lemon over the dish to make it more delicious.
45. Nem Ran/Cha Gio
Fried spring roll (called Nem ran in North or cha gio in South) is a popular dish in Vietnam. The main ingredients are commonly minced pork, mushrooms, noodles, vegetable (carrots, kohlrabi, jicama) wrapped in rice paper and deep fried until the outside turns golden brown and crispy.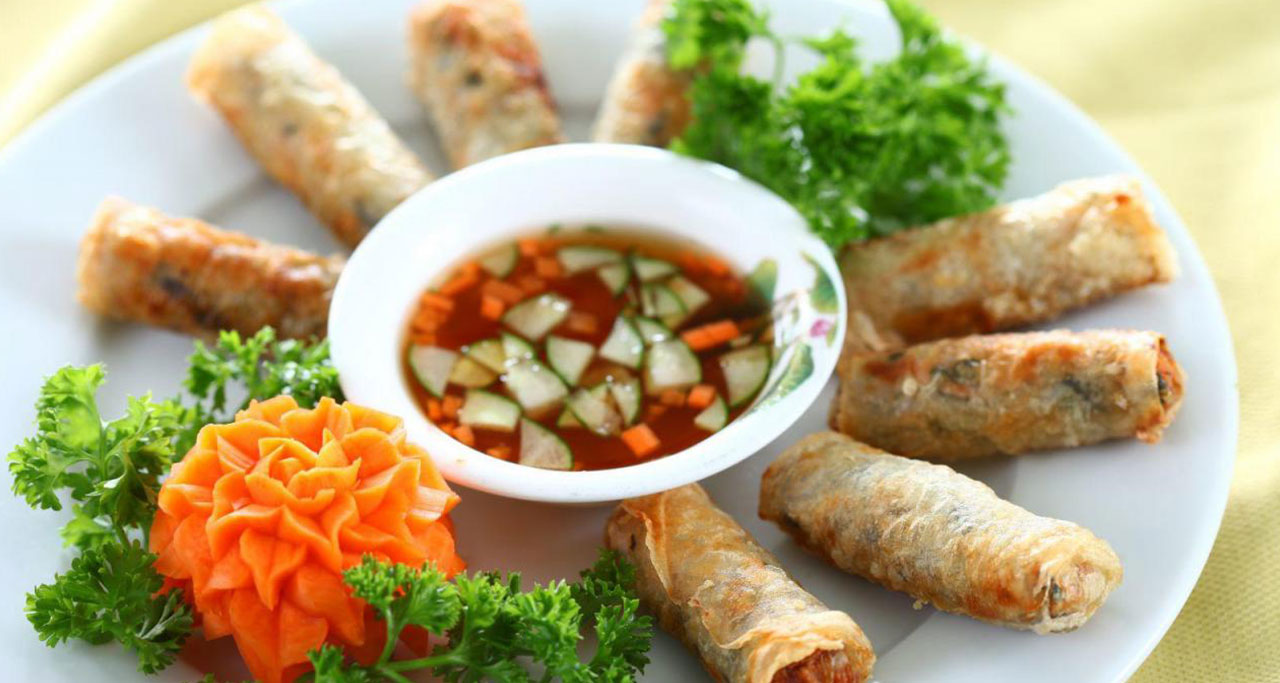 Fried spring roll can be eaten by itself, served with rice vermicelli (bún), or with raw vegetable, commonly is wrapped in lettuce before dipped into fish sauce (mixed with lemon juice or vinegar, water, sugar, garlic and chili pepper).
44. Goi Cuon
Goi cuon is a delicious and fresh spring rolls. This is a Vietnamese dish normally made with shrimp, pork, vermicelli, vegetables, herbs wrapped in rice paper (banh trang).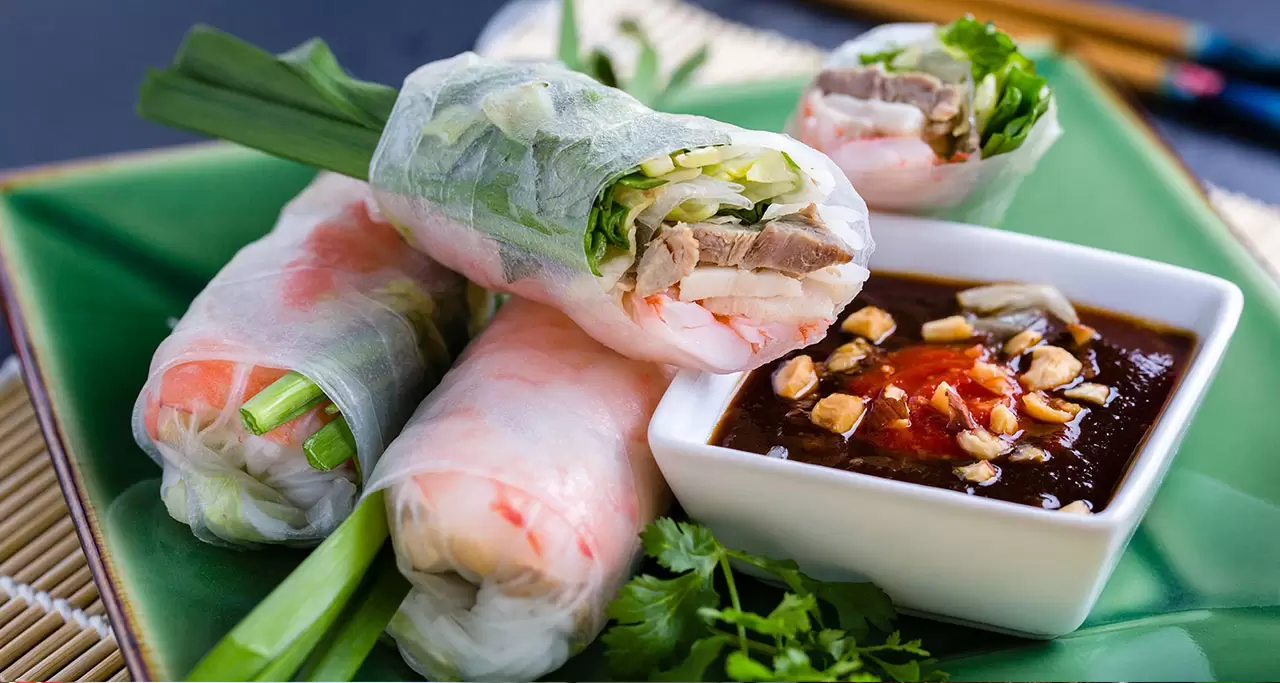 Rice paper will be dipped in water, then laid flat on a plate with all prepared ingredients placed on top, then roll up and ready to be eaten. Goi cuon is often served with peanut sauce or other dipping sauces, use at room temperature (or cooled), but not deep fried or cooked outside.
43. Bun Bo Hue
Bun Bo Hue is easily available throughout Vietnam, however, the best place to slurp the spicy Vietnamese soup is in Hue where it was invented.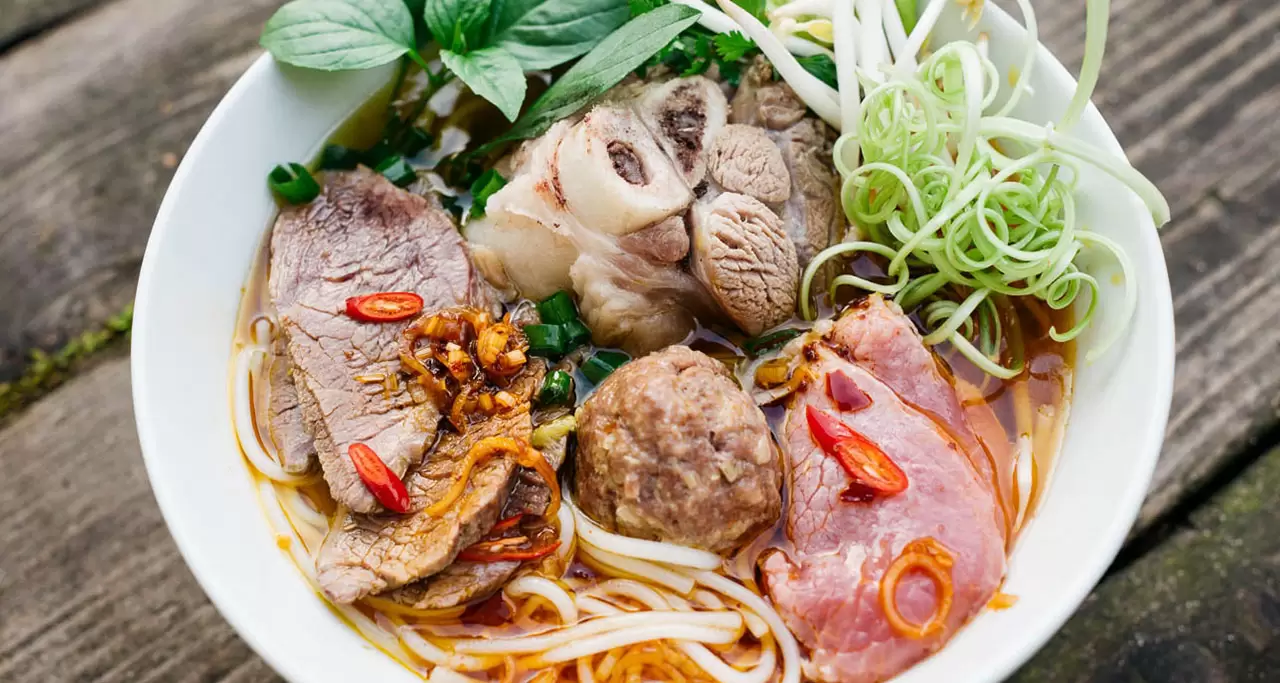 Bun Bo is a popular Vietnamese soup containing rice vermicelli (bún) and beef. The dish is great for its balance of spicy, salty, umani flavors and special flavor of lemongrass. Bun bo is served with lime wedges, cilantro sprigs, diced green onions, raw sliced onions, chili sauce, thinly sliced banana blossom, red cabbage, mint, basil, saw tooth herb (ngò gai) and sometimes mung bean sprouts. Fish sauce and shrimp sauce can be added to the soup according to the taste, and the ingredients might be varied by regions.
42. Banh Mi (Bread)
Banh Mi originates from the southern part of the country – Saigon. Though they're available all over the country, you will find the best Banh Mi sandwiches in Vietnam's southern and central cities.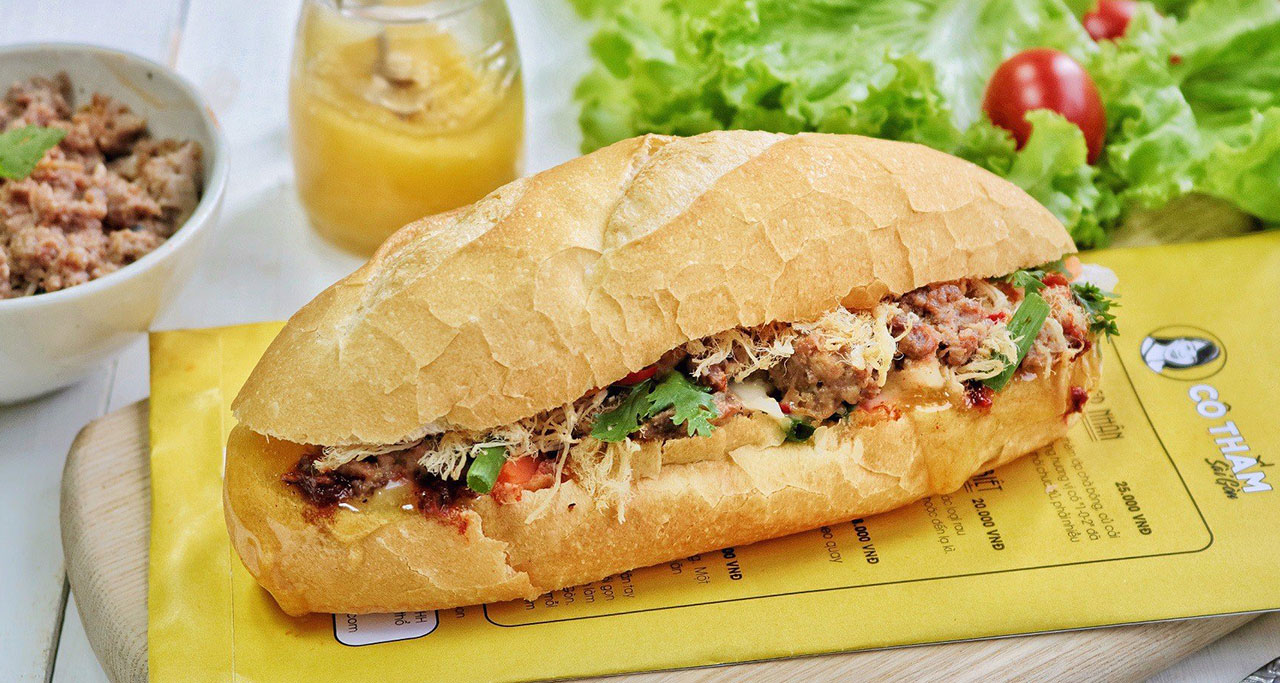 A typical Vietnamese sandwich is using meats and vegetables such as pork sausage (cha lua), coriander leaf, cucumber, carrots combined with pate, chili and mayonaise. In Vietnam, sandwiches can be found from mobile metal food carts or small stalls and typically eaten for breakfast or as a snack.
41. Ca Phe Trung
Ca phe trung (Egg coffee) is quintessentially Hanoi, a type of Vietnamese coffee made with egg yolks, sugar, and condensed milk. It's prepared by beating egg yolks with condensed milk and coffee until frothy. Half a cup of freshly brewed Vietnamese coffee is poured into a cup then topped with this fluffy egg mixture. The cup is served inside a bowl of hot water to retain its temperature.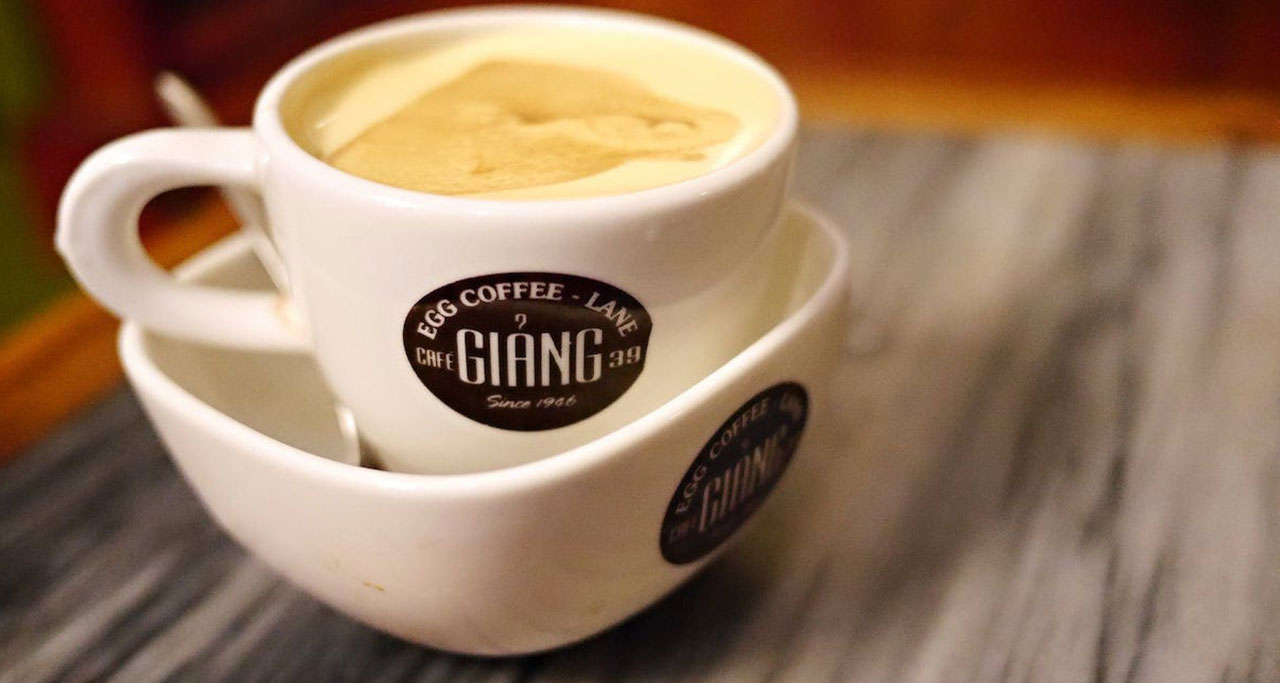 You can try egg coffee when come to Hanoi at some popular places as Café Dinh, café Giang, Hidden Gem Coffee.
40. Bun Cha
Bun Cha hit the international radar when President Barack Obama and Anthony Bourdain rolled up their sleeves to dip rice vermicelli noodles (bún) into little bowls filled with a grilled combination of ground and whole pork drenched in Nước Chấm – a sweet yet savory sauce made with ingredients like fish sauce, sugar and vinegar. They both loved the experience and who can blame them – eating Bun Cha is fun.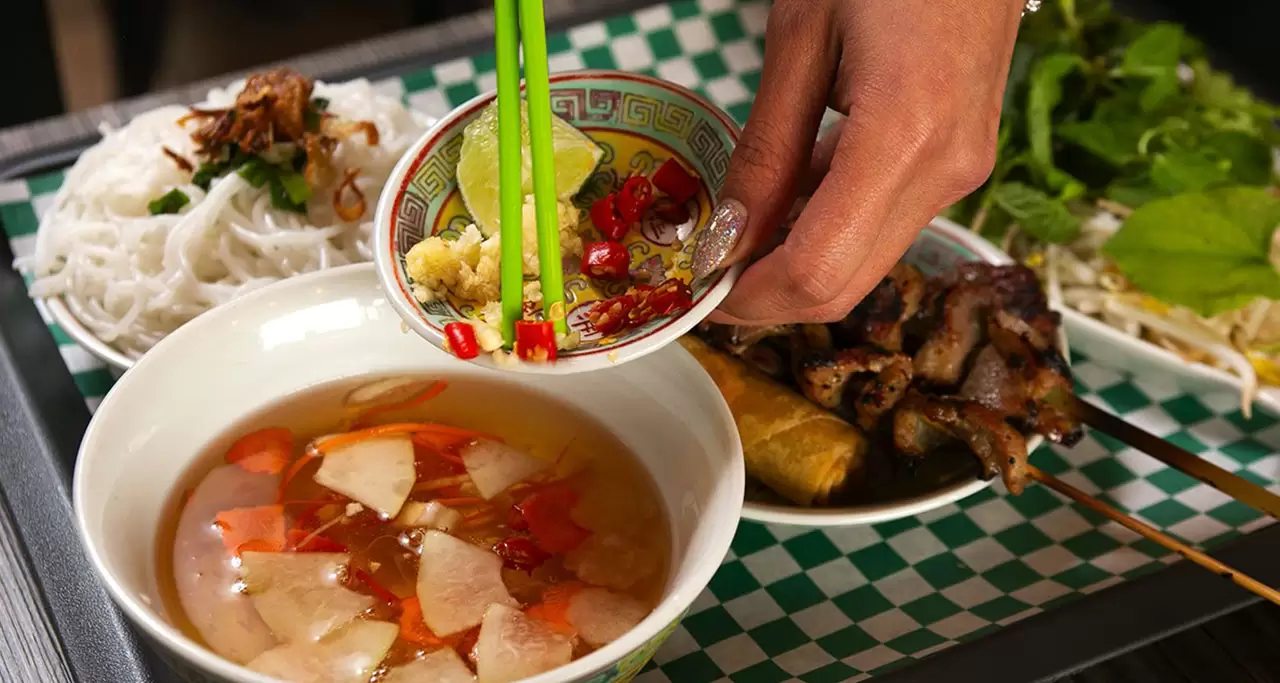 Bun cha is originated and remains very popular in Hanoi. In some regions of Vietnam, a similar dish called bún thịt nướng is alternately served. Bun cha contains main ingredients of meat (minced pork shoulder or pork belly), rice vermicelli, dipping sauce (diluted fish sauce with sugar, lemon juice, vinegar, stock, crushed garlic, chili), pickled vegetables (green papaya, carrots, onion), fresh herbs, etc.
39. Banh Khot
Banh Khot – a specialty of southern Vietnam, are the little pancakes made from rice flour or tapioca.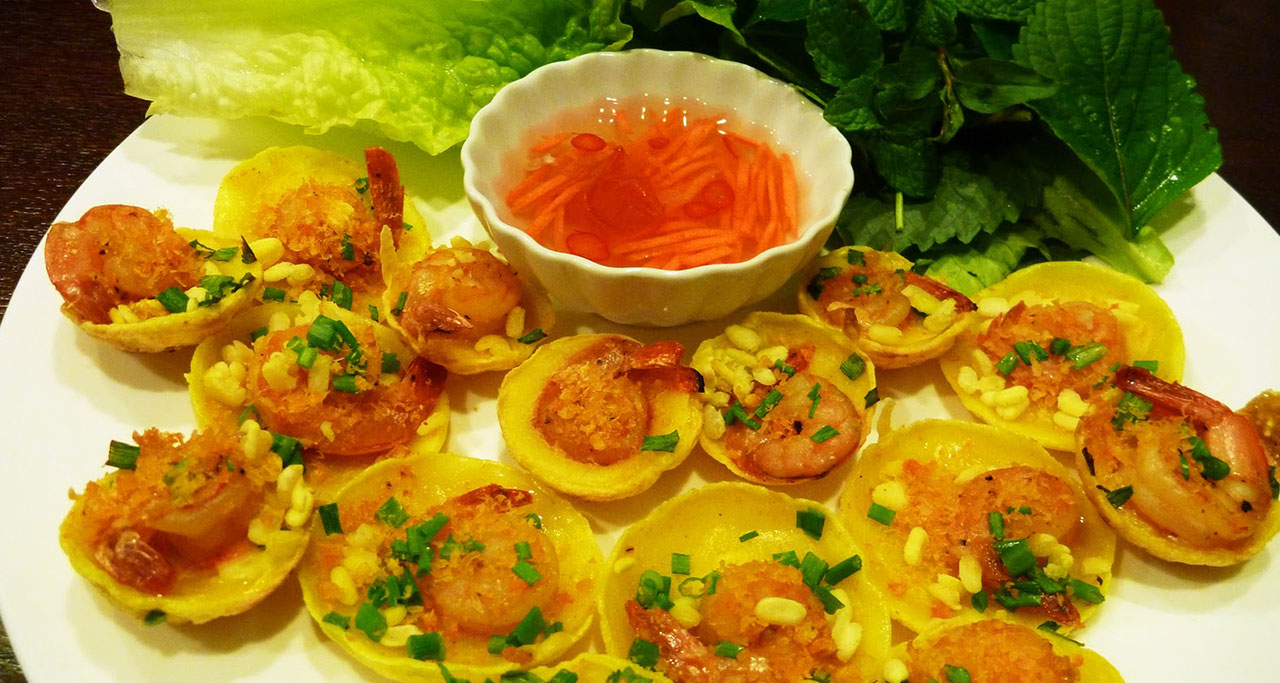 After the batter of pancakes is sizzling away in plenty of oil, a shrimp with green onions are placed in the center of the hot griddle pancake, the Banh khot is finished when the batter is cooked until the outside turn golden and crispy. Just like Banh xeo, Banh khot is served with lettuce and mustard leaves, herbs and green leafy vegetables, but without fish sauce.
38. Ga Tan
Ga tan or Vietnamese chicken stew is known for its medicinal properties. Apart from being delicious, the dish is also healthy and fulfilling. There are two choices of regular chicken or black chicken. Normally, only chicken wings and drumsticks are used because these parts of chicken are really delicious for making a stew.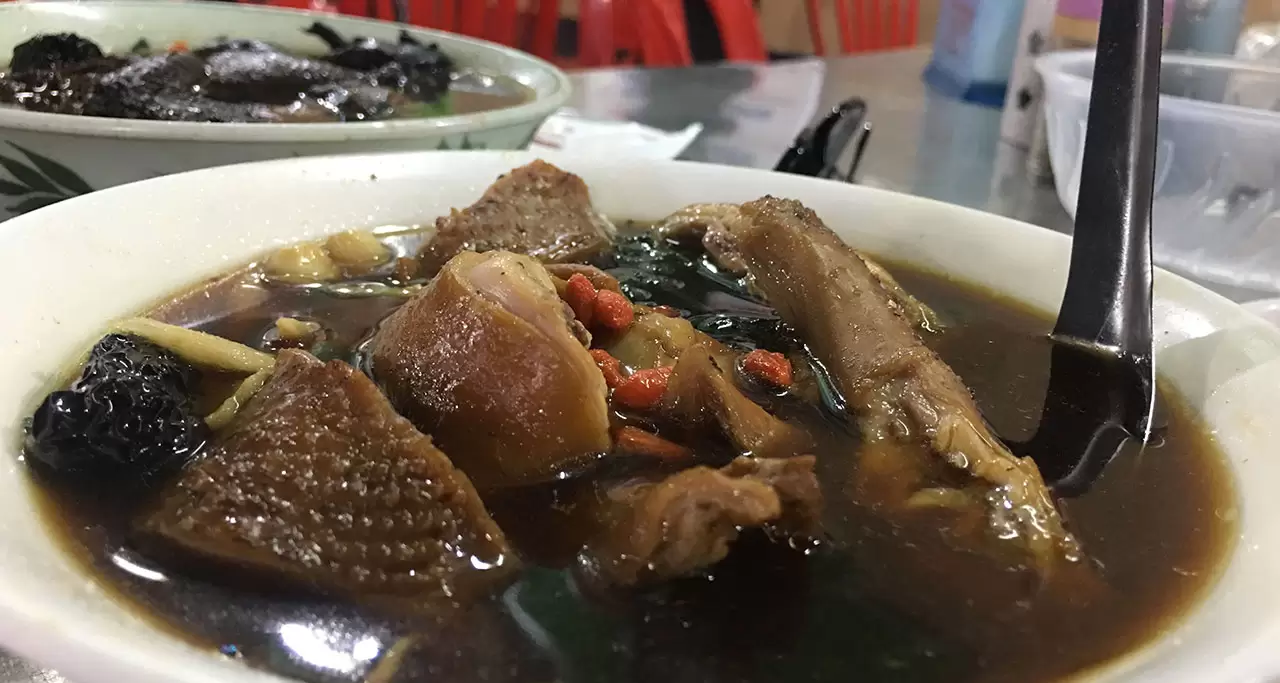 The chickens are soaked with aromatic medicinal herbs (ingredients called thuốc bắc containing several kinds of dried mushrooms, ginseng, almonds, dried dates, dried jujube, dried lily bulbs, dried longans and fresh ginger). Next, they are placed over heat, helping the meat soak up all of the flavors while simmering. It is usually served with instant noodles.
37. Nom hoa chuoi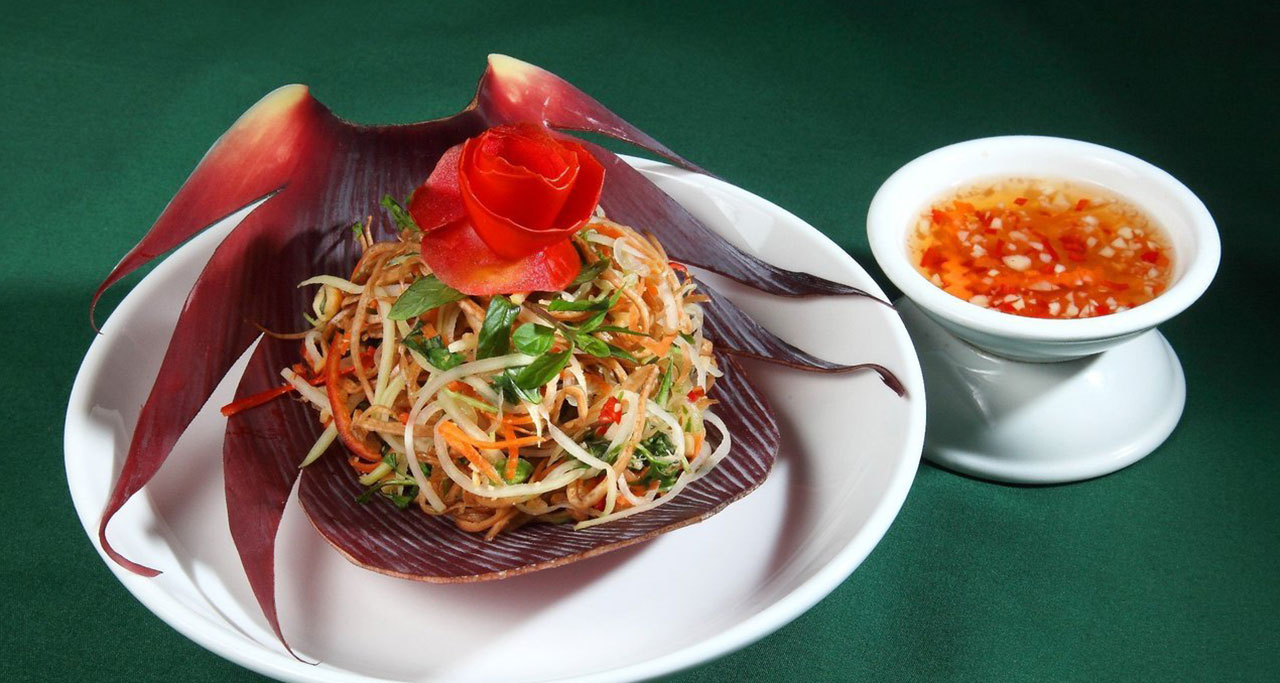 Nom hoa chuoi – a kind of crunchy salad is made with banana blossom which are sliced very thin and placed in a bowl of ice water and lime, then squeeze until dry. Combine sliced banana blossom, papaya, onion, carrot, green pepper, coriander and peanuts in a large bowl and stir with the marinade (the ingredients include water, fresh lime juice, garlic, chopped, shallots, chopped, red long chili, etc.) until dissolved. The salad is served with shallots, peanuts and extra red chili if you like.
36. Banh Cuon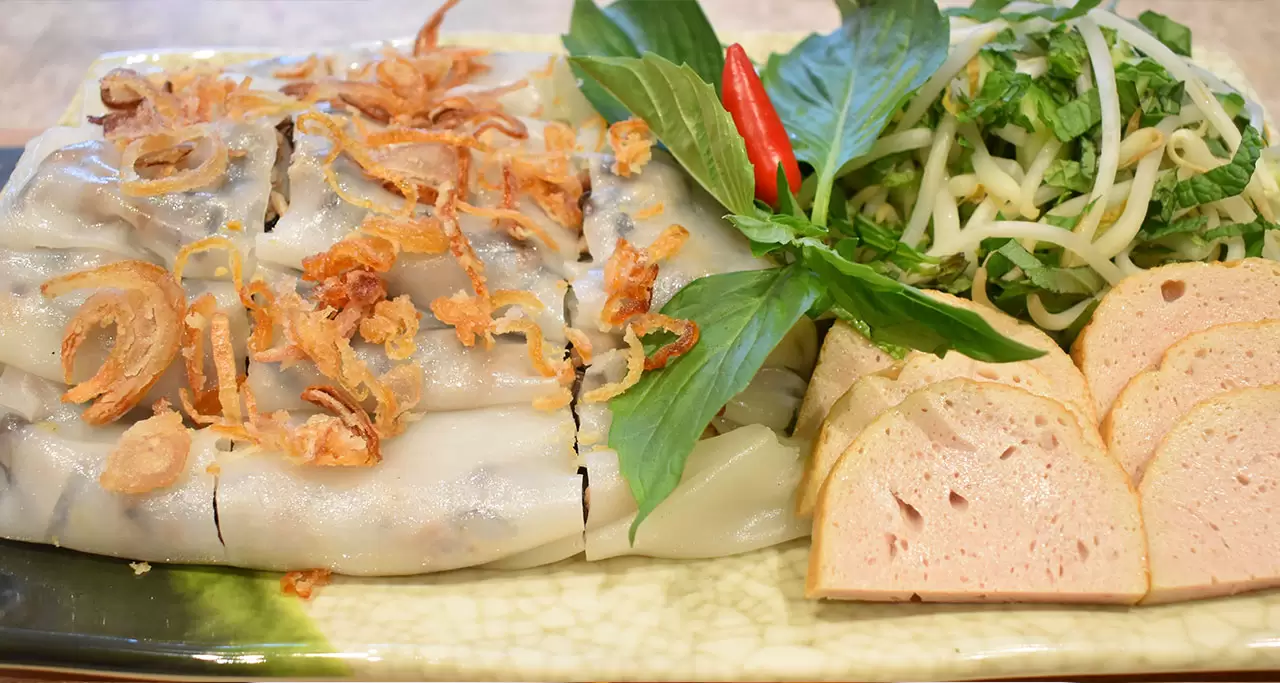 Invented in Northern Vietnam but available throughout the country, Banh cuon are made from a thin sheet of steamed rice batter filled with ground pork and wood ear mushrooms. It is served with herbs and fried onions and sweet dipping fish sauce (nuoc cham), it's also served with a side of Vietnamese pork sausage (gio lua). Banh Cuon is typically made with pork, but it can be filled with other ingredients like shrimp.
35. Bun bo nam bo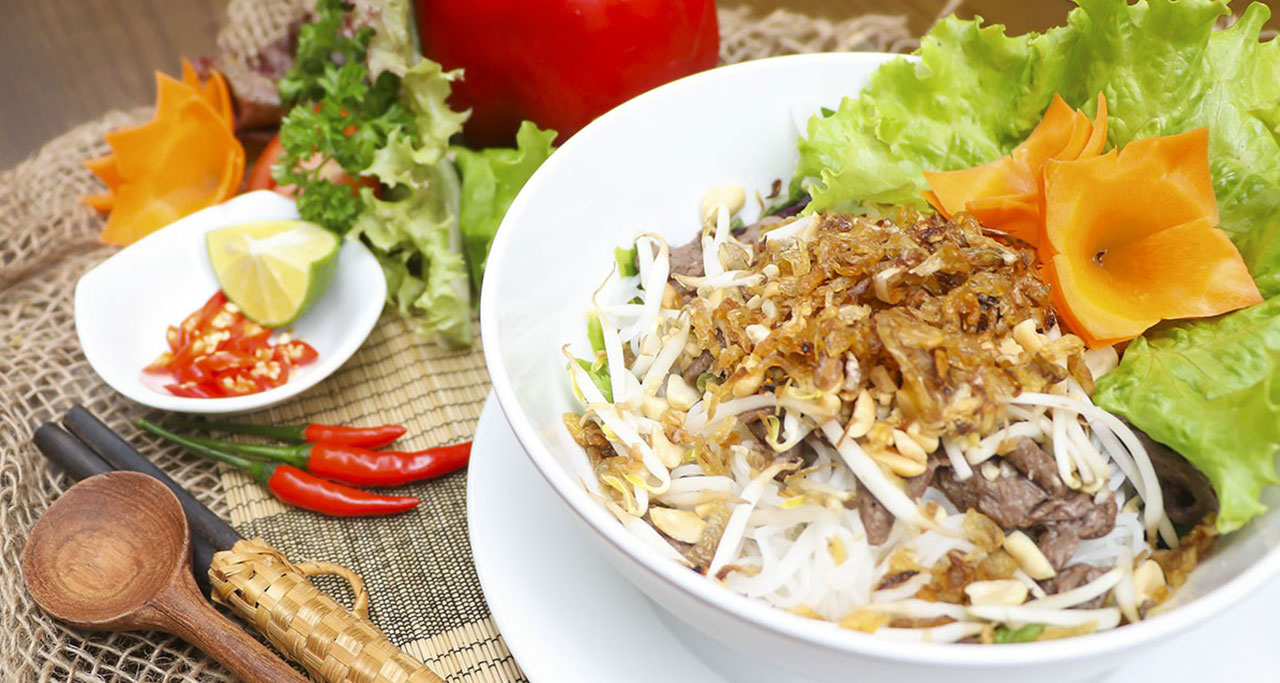 Bun bo nam bo literally means "southern-style beef vermicelli" which is affected by southern Vietnam's cuisine, however, it is more popular in the North. Bun bo nam bo is a delicious Vietnamese favorite food consisting of cold vermicelli noodles topped with marinated stir-fried beef, bean sprouts, fried shallots, fresh vegetables, herbs, roasted peanuts, and Vietnamese fish sauce (nuoc cham). Different from the other noodles, it's served with a mixture of sweet, sour fish sauce and fried onions, without broth.
34. Bo nuong la lot
Bo nuong la lot or bo la lot is one of the favorite foods across Vietnam, but more popular in Southern region. The main ingredients of this dish are minced beef and wild betel leaves (lá lốt). The spiced minced beef are filled into the wild betel leaves and tightly wrapped into thin tubes. They are then grilled over charcoal with hot heat until the outside slightly charred.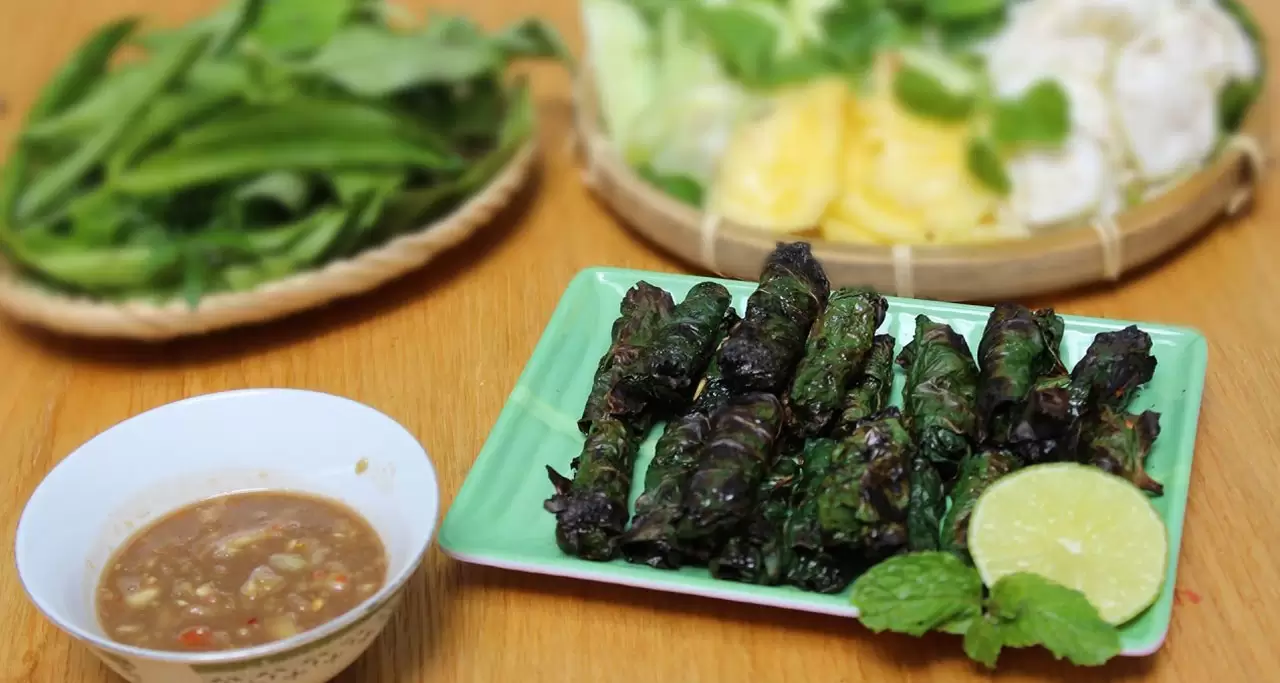 Bo nuong la lot is served with rice paper and some kinds of raw vegetables as lettuce, basil, fish lettuce, banana acrid, cucumber, star fruit and dipping sauce (which is made with fermented fish sauce and chilies).
33. Xoi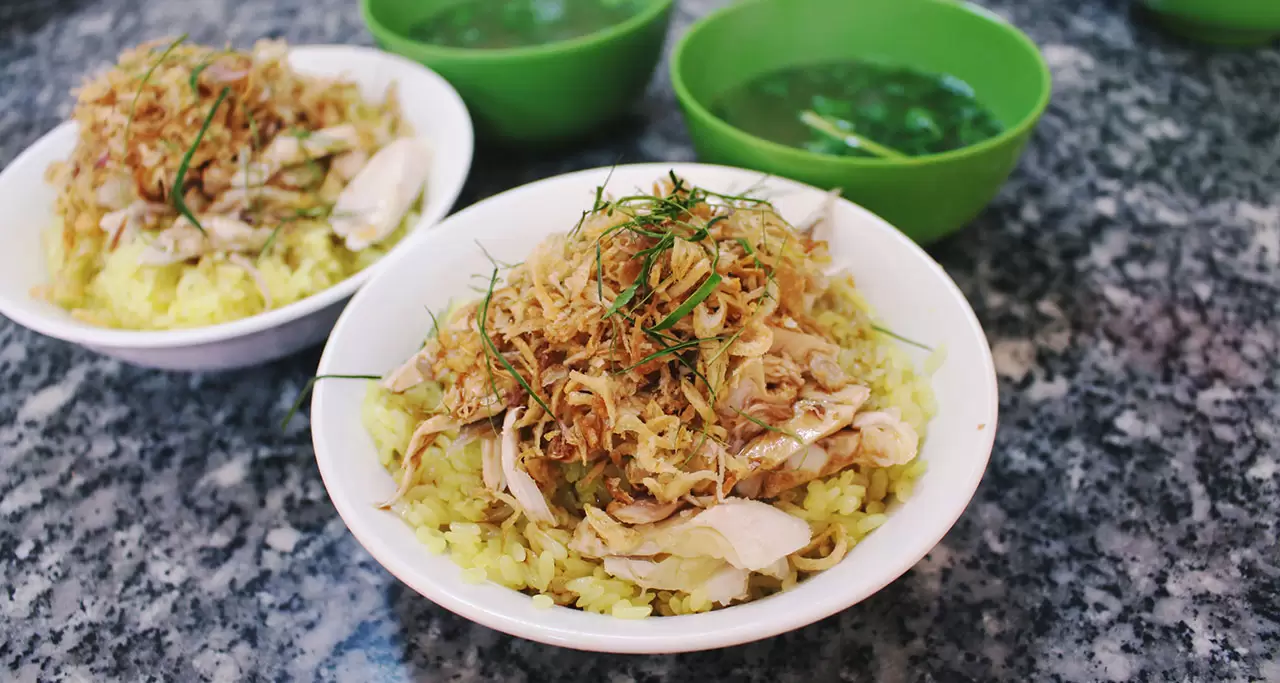 Xoi is a popular food of almost Vietnamese families made with glutinous or sticky rice. The rice will be soaked into water for several hours, then drained and steamed dry. Xoi can be served with pate, sausage, roast meat, char siu, smoked meat, chicken, eggs, pork sausage (gio lua), beef sausage (gio bo). There are various kinds of Xoi according to the different ingredients named:
– Xoi xeo: yellow colored sticky rice, topped with fried onion and green mung beans.
– Xoi ga: white sticky rice with steamed chicken and soya sauce.
– Xoi ruoc/ xoi thit: stickey rice served with stringy, salty dried pork
– Xoi ngo: mixed sticky rice and corn.
– Xoi lac: sticky rice steamed with peanut
– Xoi dua: sticky rice with sliced fresh coconut
– Xoi gac: red sticky Rice from Gac fruit
32. Pho cuon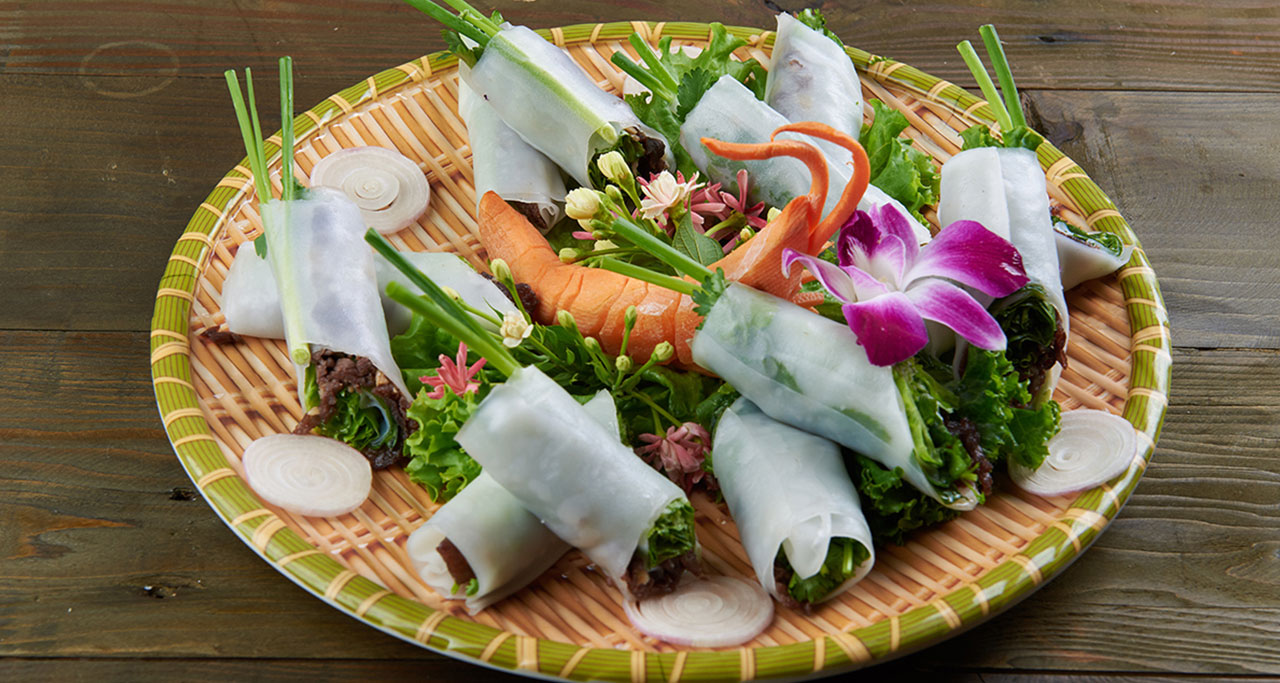 Pho cuon (Rolling Pho), a dish originating from Phở, has been very popular in Hanoi. The dish consists of a slightly cooked rice paper with same thickness as a Phở noodle. Thin slices of beef are marinated with garlic, salt, sugar, pepper, and fish sauce then sauteed are filled inside the soft shell together with herbs or greens, mainly cilantro, mustard leaf, and lettuce. It is served at room temperature and dipping into a bowl of fish sauce mixed by garlic, carrots, vinegar, boiled water, sugar, chili.
31. Bot chien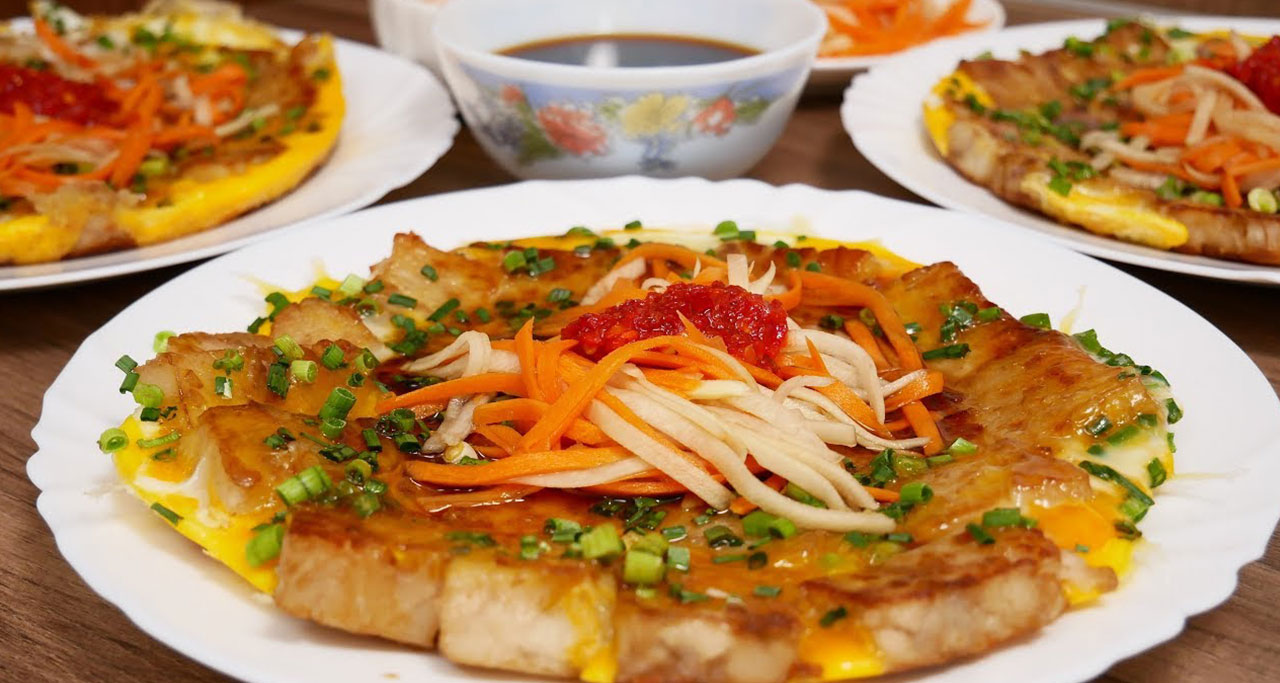 Bot chien is a classic Vietnamese street food from Saigon. The dish is basically rice flour mixed with tapioca starch that's steamed, cooled, then cut into bite sized pieces before being fried on a hot pan in lard/oil until golden brown and crispy. Finally, the rice cakes are eaten along with eggs and green onions. You may find Bot chien similar to char koay kak or chai tow kueh ("carrot cake") of Malaysia and Singapore, but much crispier. It's usually used for breakfast, but you can eat it any time of the day.
30. Bun dau mam tom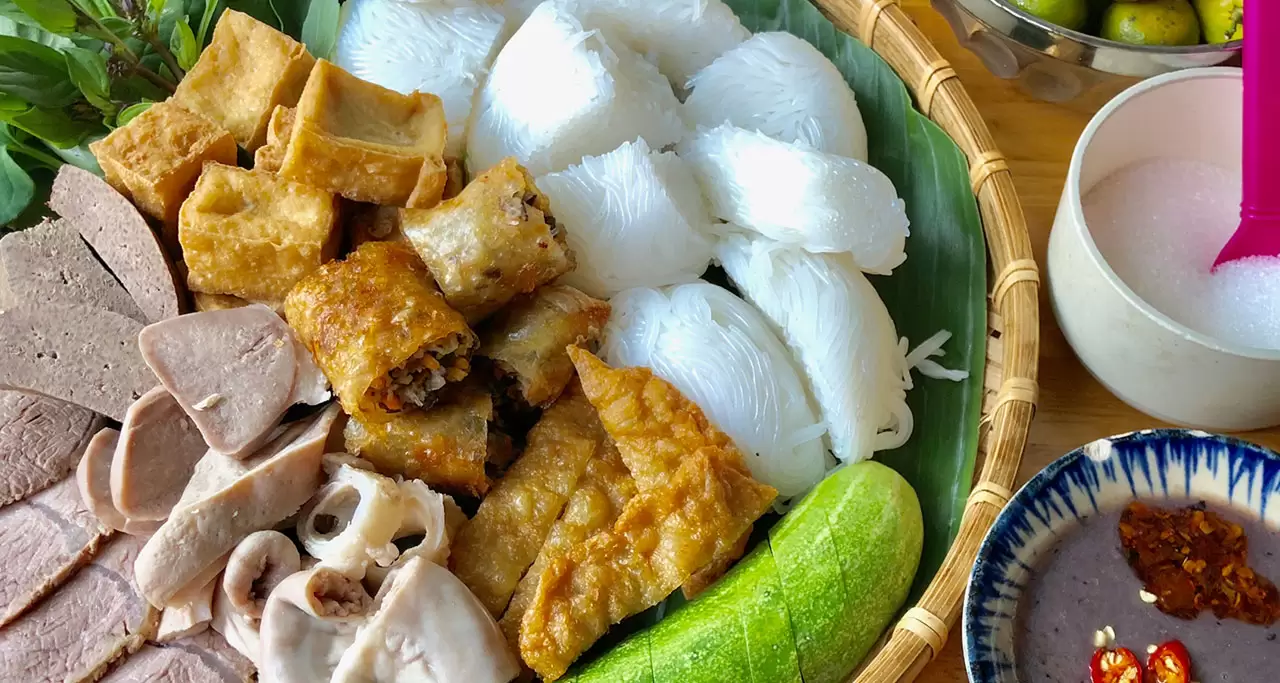 Bun dau mam tom is a popular and rustic dish in Northern Vietnam. The main ingredients include rice vermicelli and fried tofu. It's typically served along with boiled pork muscles, cha com (mainly made of green sticky rice and pork paste), spring rolls. Bun dau mam tom is also served with cucumber, fresh herbs as perilla, marjoram, basil, lettuce. Especially, one thing makes it different and off-putting for many people is its dipping sauce called mam tom which is made from crushed shrimp, fermented for weeks so its smell is extremely pungent. That's why not everyone can eat it.
29. Banh goi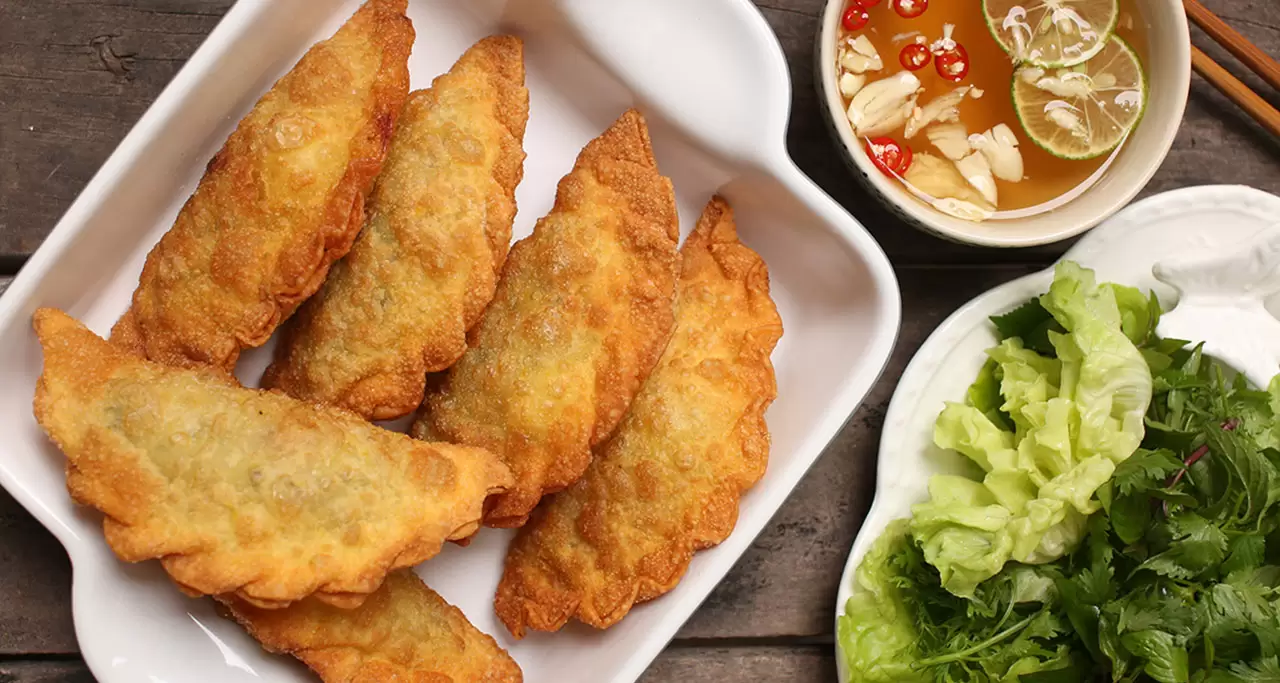 Banh goi means "pillow cake" because its shape is said to resemble a pillow. Like most cakes in Vietnam, Banh goi is not baked but deep fried to create a yellow pastry outside, crispy and fragrant. Firstly, rice flour and water are mixed to make soft and moist dough. Next, glass noodles, wood ear mushrooms, kohlrabi are chopped and blended with minced pork and seasonings and placed in the center of the pastry skin which is then folded into a half-circle before being deep fried to a golden crisp. This cake is served with some fresh herbs such as lettuce, coriander and dipping sauce to reduce its oiliness.
28. Com Tam suon nuong

One of the most common meals noticed in Saigon is Com tam suon nuong. It is the combination of broken rice (which are partially broken grains of rice occurred during the milling process) and topped with a grilled pork chop. A part from the difference of broken rice, the dish is perfect thanks to the pork chop that are marinated and grilled over charcoal to make it savory, sweet and very tender. Com tam suon nuong is served on a plate and accompanied by fish sauce, cucumber pickles, green onion and chilies. Or upgrade with other foods like a fried egg, pig skin, sausage if you like.
27. Ca Kho To (Cá Kho Tộ)
Ca kho to (Fish slow cooked tenderly in a clay pot) is extremely common dish in Vietnam, often cooked at home or served at restaurants, street food stalls. The dish is typically made from catfish braised in a sweet caramel sauce and served in a clay-pot.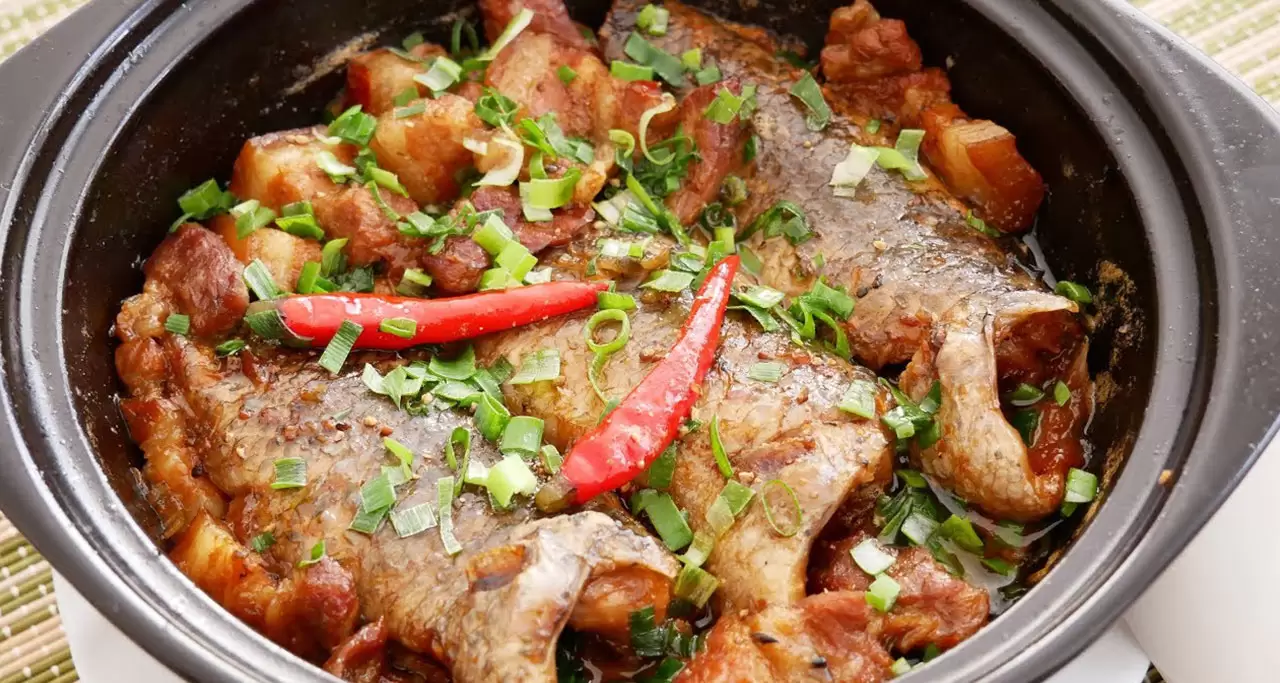 The catfish is cut into sliced pieces, marinated with a few light spices and seasonings, then braised in a rich gravy made from soy sauce, fish sauce, sugar, shallots and garlic. The result is tender, moist, sweet and savory and eaten along with hot rice.
26. Gio Lua, Cha Que
Gio lua/cha que are a common types of Vietnamese pork sausage that are often eaten along with rice vermicelli (bún), sandwishes (bánh mì), banh cuon. Gio lua is made of lean pork, fish sauce and black pepper. The pork is pounded to become pasty and added with salt, black pepper and sugar. After being seasoned, the mixture is then wrapped tightly in banana leaves into a cylindrical shape and boiled.Cha que has a bit difference from gio lua thanks to being added a dose of cinnamon which gives a deep spicy-sweet flavor. The mixture is spread on a tray and then fried or toasted instead of being boiled.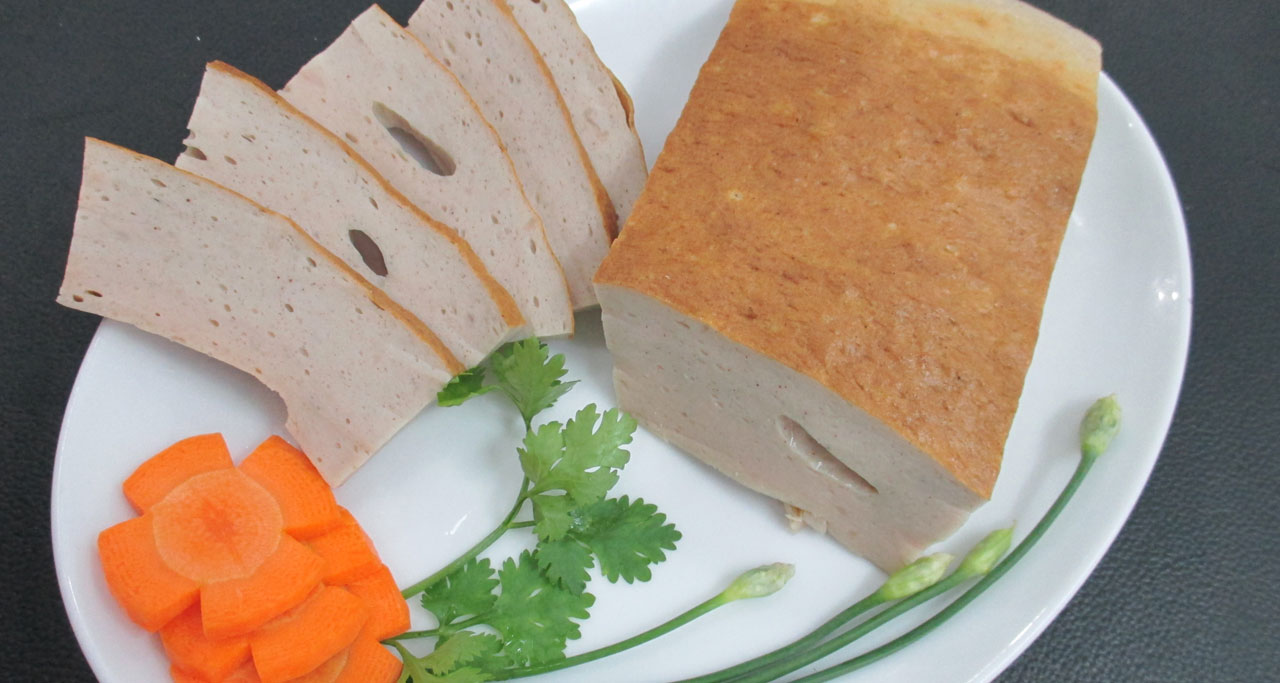 Hanoi: Viet Huong- 102 Pho Hue. A family run business, they have been making Gio Cha for 4 generations. Things has been changing much on the last 50 years but the traditional methods and their own secrets of making this specialty of this family has been remained unchanged.
25. Chao (Cháo)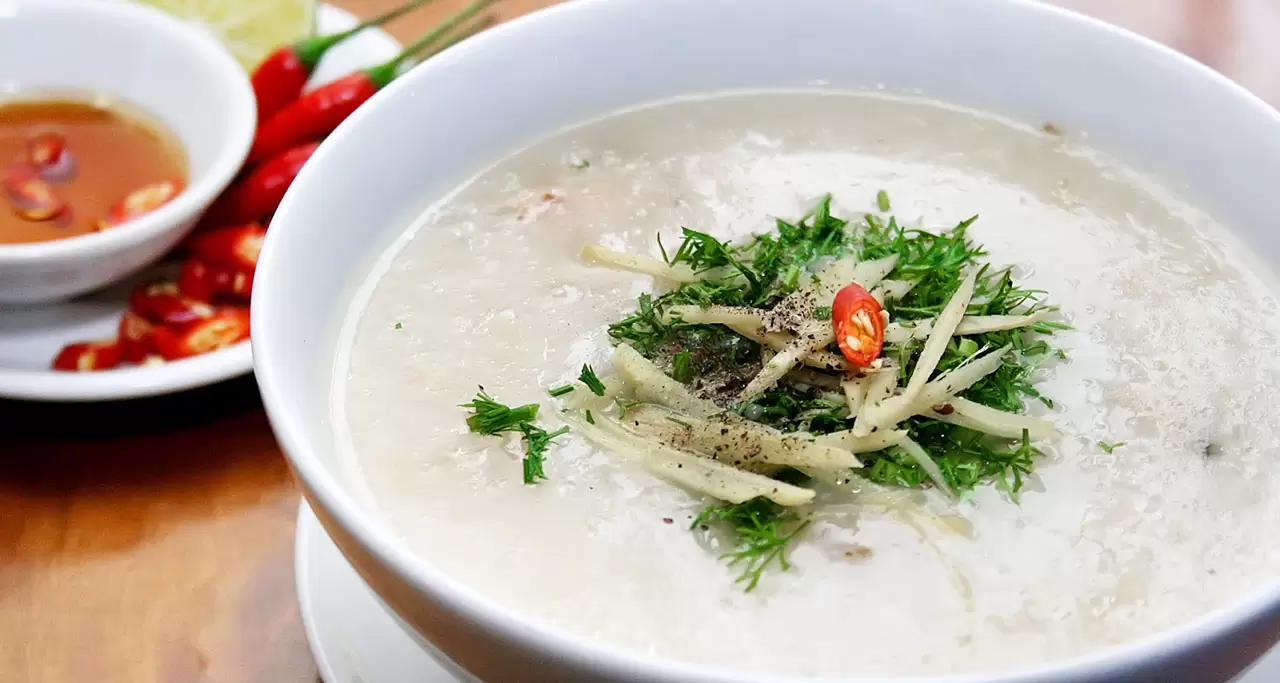 Chao is the name for Vietnamese rice congee with main ingredients of rice and broth (or water). The dish is typically consumed for breakfast or enjoyed in the late afternoon. There are many different types of Chao according to the foods eaten along with, mainly ground pork (chao thit bam), pork ribs (chao suon), pig organs (chao long), duck (chao vit), etc.
In Vietnam, Chao is usually served with "quẩy" (Fried hollow bread sticks) and several seasonings such as pepper and paprika, fried onions are also indispensable ingredients.
24. Hoa qua dam
Hoa qua dam (Mixed fruits) is popular dessert and healthy alternative in Vietnam. It is basically contained many types of fruits put in a glass or bowl with sweetened milk, coconut milk poured on. It will be a perfect treat if you try it in summer by mixing ice to make colder. However, it's also interesting to enjoy it in cold weather.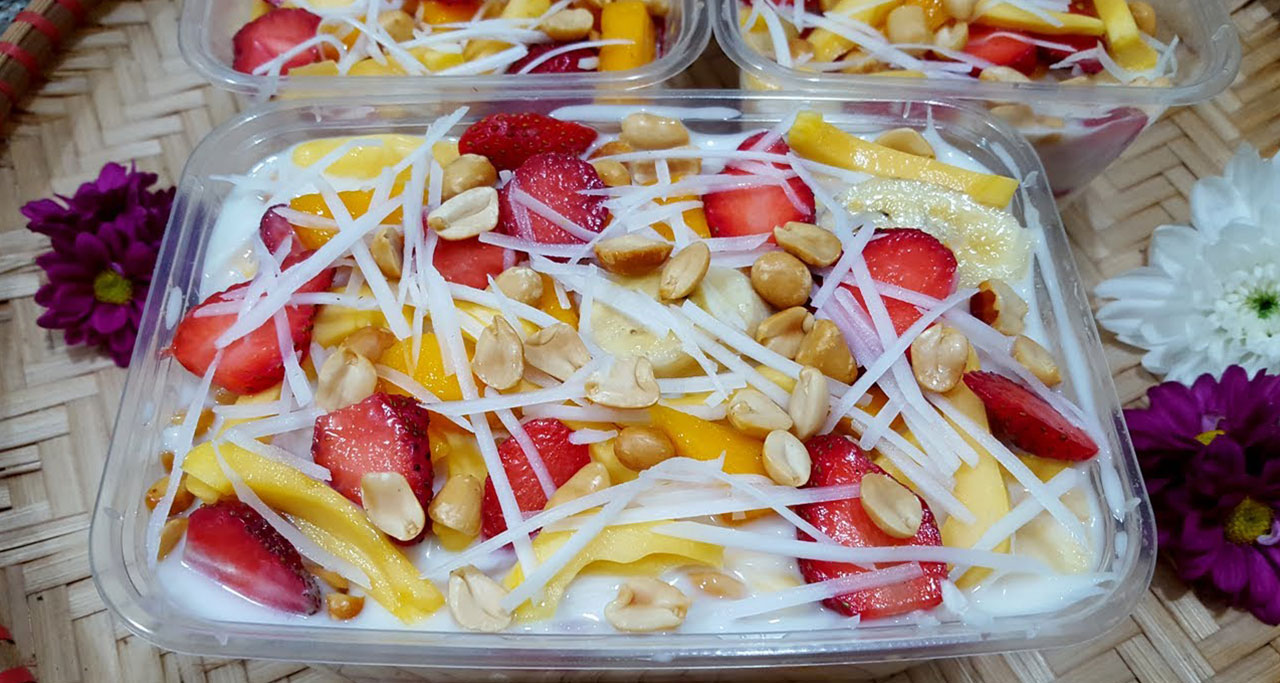 The types of fruits differ according to the season, normally it is made from water melon, custard apple, mango, avocado, golden melon, jackfruit, longan.
Travelling to Hanoi, you would be recommended to To Tich street where the teenagers and foreigners hang out at many stalls along the street.
23. Ga nuong (Vietnamese grilled chicken)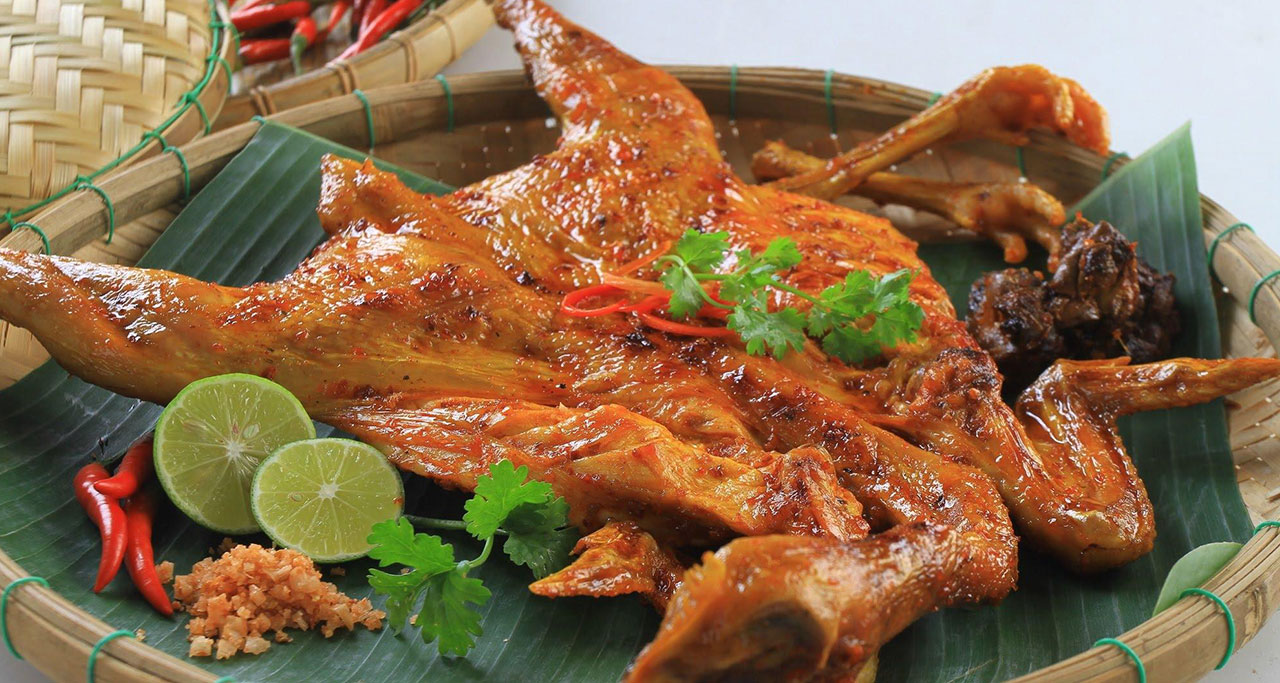 Ga nuong (grilled chicken) is a popular dish and specialty of some places in Vietnam. The dish is made from some parts (wings, thighs) or the whole of chicken. Before grilling on charcoal or in the oven, chicken is seasoned and covered with a mixture of barbecue sauces including garlic, sugar, honey, fish sauce, salt, pepper, onion, lime, etc. to make the chicken softened and flavor. You can use the grilled chicken as the filling for sandwiches, topping for salads or eat it with hot rice.
22. Pho xao
Pho xao is a variation of pho and its ingredients as same, except addition of broth. Instead, rice noodles are stir-fried in a fat liquid. It is typically cooked with beef or without meat if you are vegetarians.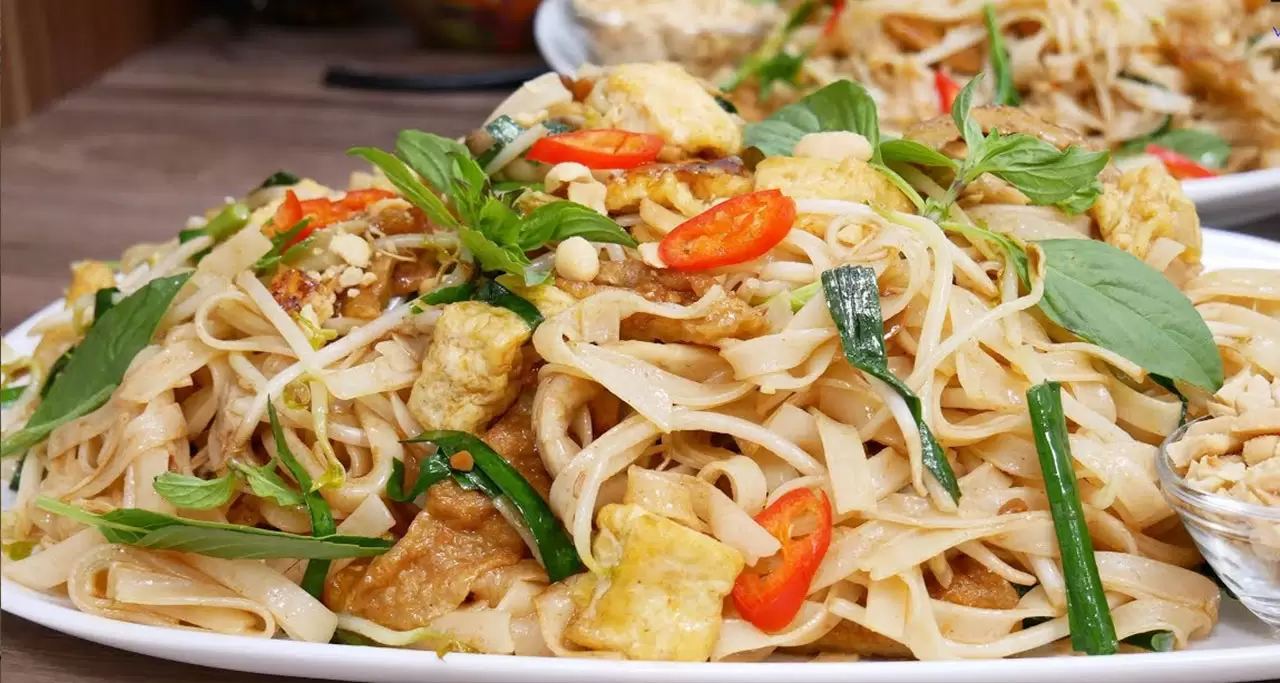 The beef is sliced thinly, seasoned with salt and cooking oil, and then stir-fried with rice noodles, vegetables (mustard greens, celery, leek, carrots or onions), tomatoes and garlic. To make Pho xao more delicious with various color and flavors, it requires an addition of sauce on top which made from the juice of stir-fried mix and tapioca starch. Pho xao is served with herbs or pickles and adding chili paste, soy sauce, vinegar with garlic, or fish sauce is optional.
21. Bo luc lac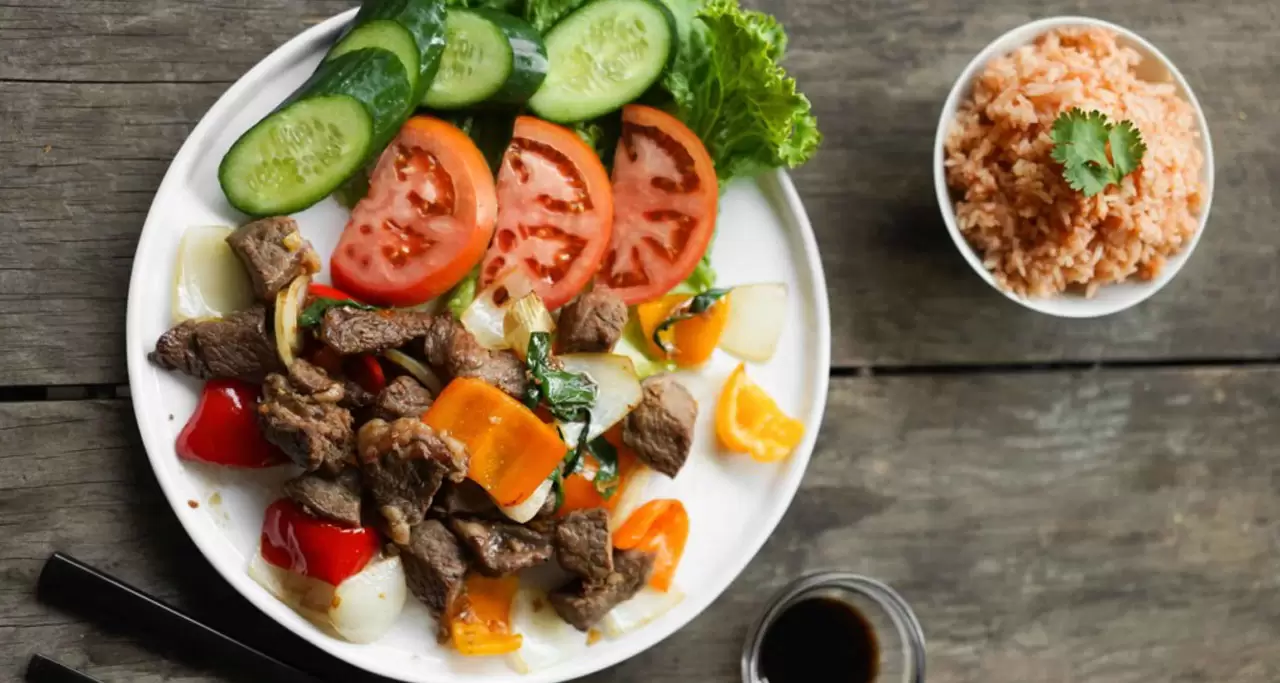 Bo luc lac (Vietnamese shaking beef) is a dish inspired from French cuisine that contains of beef sautéed with cucumber, lettuce, tomatoes, red onion, pepper and soy sauce.
The beef (typically bottom sirloin or culottes) is cut into small cubes, then marinated with all ingredients of pepper, sugar, garlic, oyster sauce, fish sauce and soy sauce in a bowl before sautéed. When the beef is done, pile the beef on top of the watercress and serve immediately with bread or rice.
20. Ca tim kho to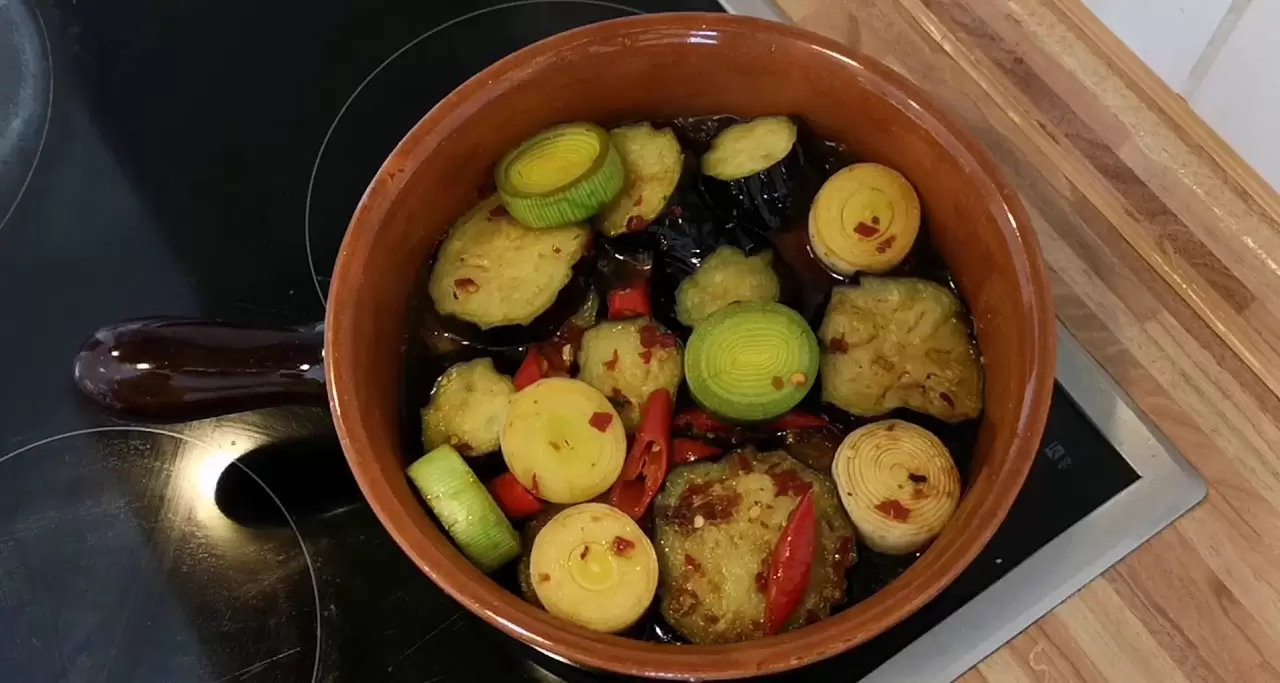 Ca tim kho to (Vietnamese braised eggplants) is one of the popular vegetarian dishes in Vietnam. Eggplant is braised with some sauteed basing on many flavors (consists of chopped garlic, hot chili, chopped scallions, lemongrass, turmeric, tomatoes, etc.) and sauce (fish sauce and brown sugar). The result of the eggplant is tender, wilted, but still bright green. Serve the braised eggplants with rice and garnishing with roughly chopped cilantro and basil.
19. Hat de nong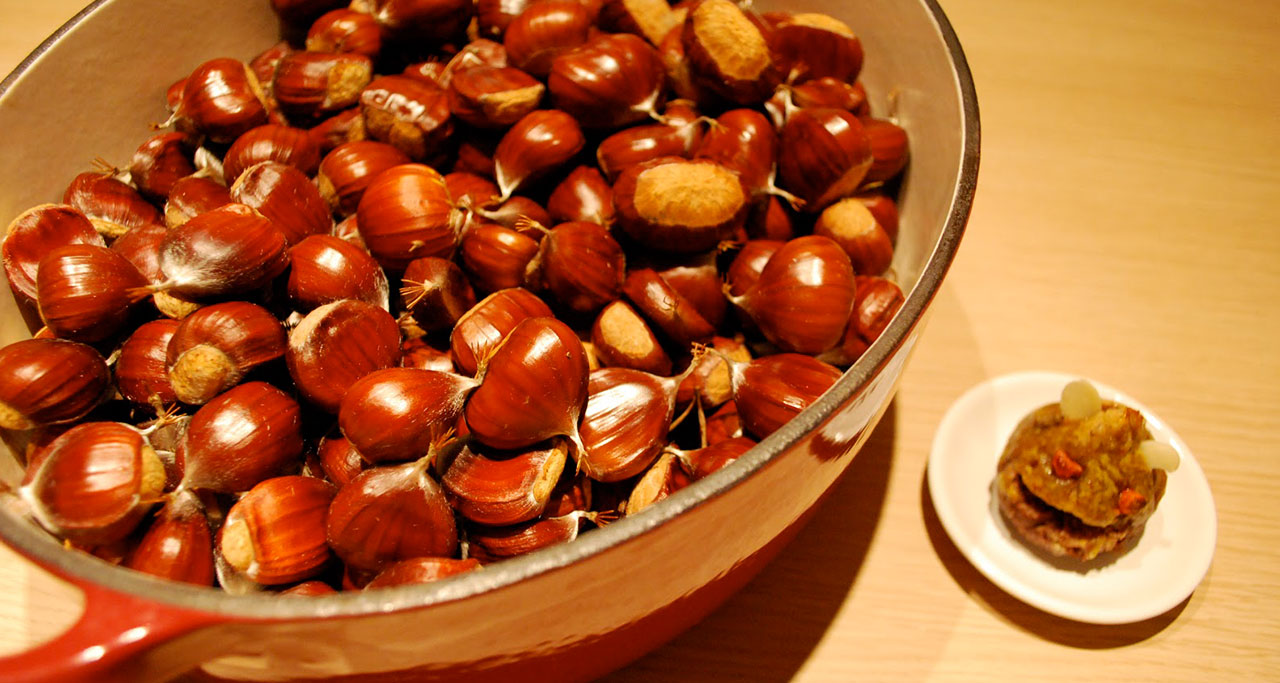 Hat de nong (hot chestnuts) have become an indispensable snack for Hanoi winter for a long time. The chestnuts are first boiled before being roasted with salt or sand (the ingredients help to keep the nuts from burning) because of their hard shell. Chestnuts allure lovers thanks to it scent when the shell turn into brown, the light yellow core is revealed. Not only have a tasty snack, chestnuts are parked with many nutritional values for a healthy body. The chestnuts are known as the specialty of some places in Vietnam such as Lang Son, Cao Bang, Lao Cai. You can easily find it on the sidewalk of Hanoi's streets like Lang, Giang Vo, Cat Linh, Hang Bac or To Tich. It's been a long time since hot chestnuts have become an indispensable treat for Hanoi winter.
18. Banh uot thit nuong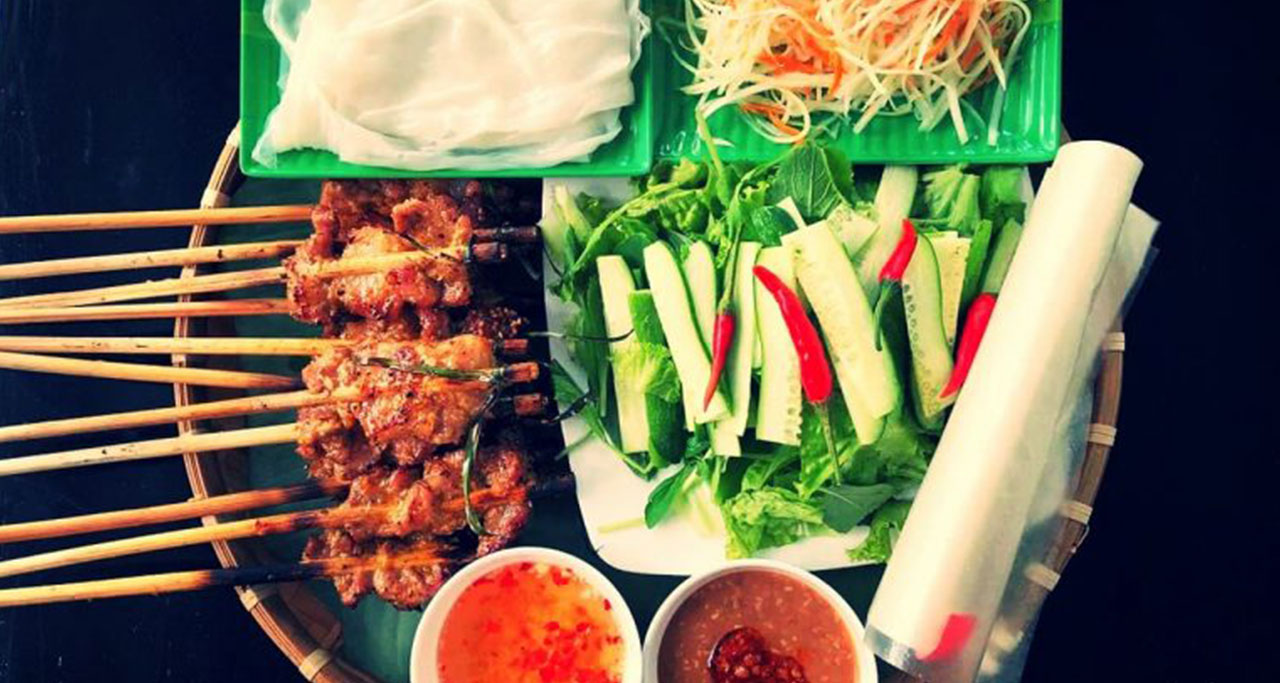 Banh uot thit nuong (steamed rice pancake with grilled pork) is known as a popular dish in Hue Ancient Capital. Steamed rice pancake is made from rice flour and tapioca starch and used right after being made. Pork is sliced side and marinated with pepper, onion, fish sauce, five-spice powder and sesame, then grilled on fire coal until smell good. Finally, spread one leave of steamed rice pancake, add vegetables and grilled pork on the surface, wrap and roll all gently and carefully. Not as same as other dishes, banh cuon thit nuong is served with typical dipping sauce that is made from minced meat sautéed with garlic, soya sauce, sesame, sugar, etc. Some raw vegetable as lettuce, herbs, cucumber, bean sprouts are also eaten together with it.
17. Lau
Vietnamese hotpot (lẩu) is a harmonious combination of the rustic flavors to create a delicious dish. There are different types of hotpot according to taste in the three regions across the country. You can easily find duck hotpot (lẩu vịt), chicken hotpot (lẩu gà), field crab hotpot (lẩu riêu cua) or mushroom hotpot (lẩu nấm) in the Northern Vietnam, while Central region is popular with snakehead (lẩu cá lóc) and ray hotpot (lẩu cá đuối). Meanwhile Southern cuisine prefers goby fish (lẩu cá kèo) or fish sauce hotpot (lẩu mắm).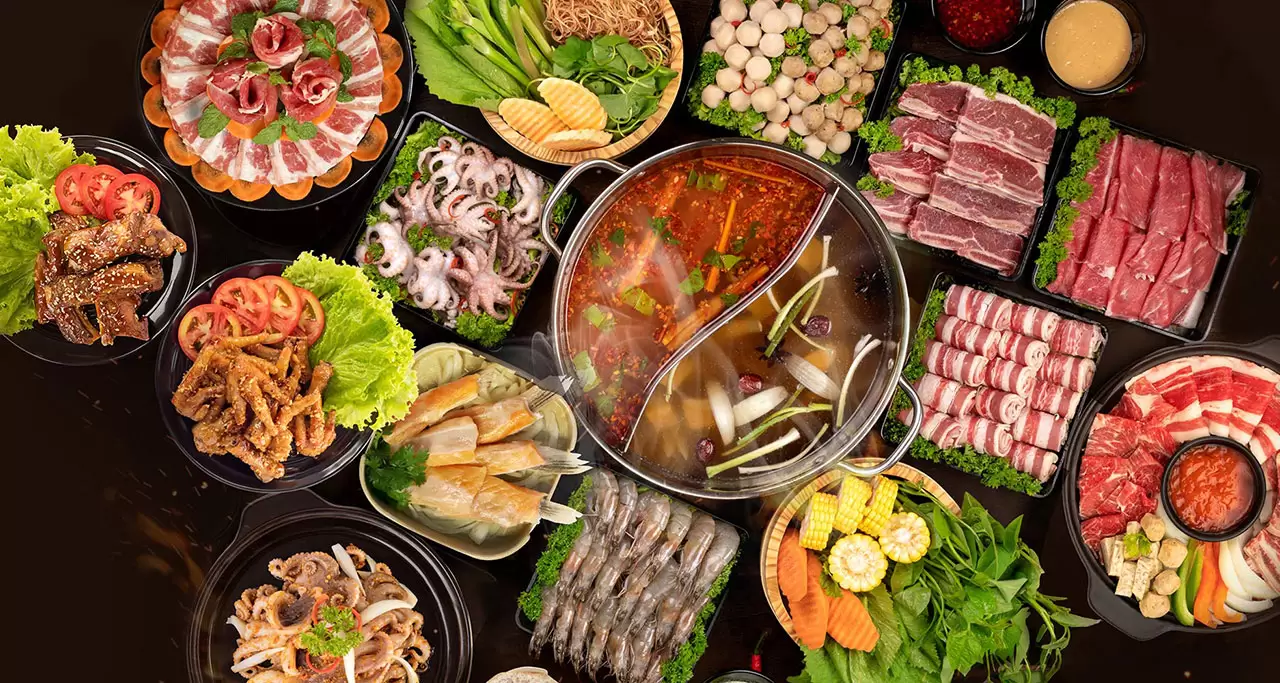 Despite the difference of taste, they are same in usage. The hot pot with delicious and simmering broth is always on a small kitchen, placed in the middle of table. Various types of vegetables (typically are water spinach, cabbage leaves, banana blossom, mushroom, etc) and food (duck, chicken, seafood, fishes, etc.) dipped in the pot until cooked thoroughly or re-cooked as you like. It can be served with noodle or rice noodles.
16. Banh bao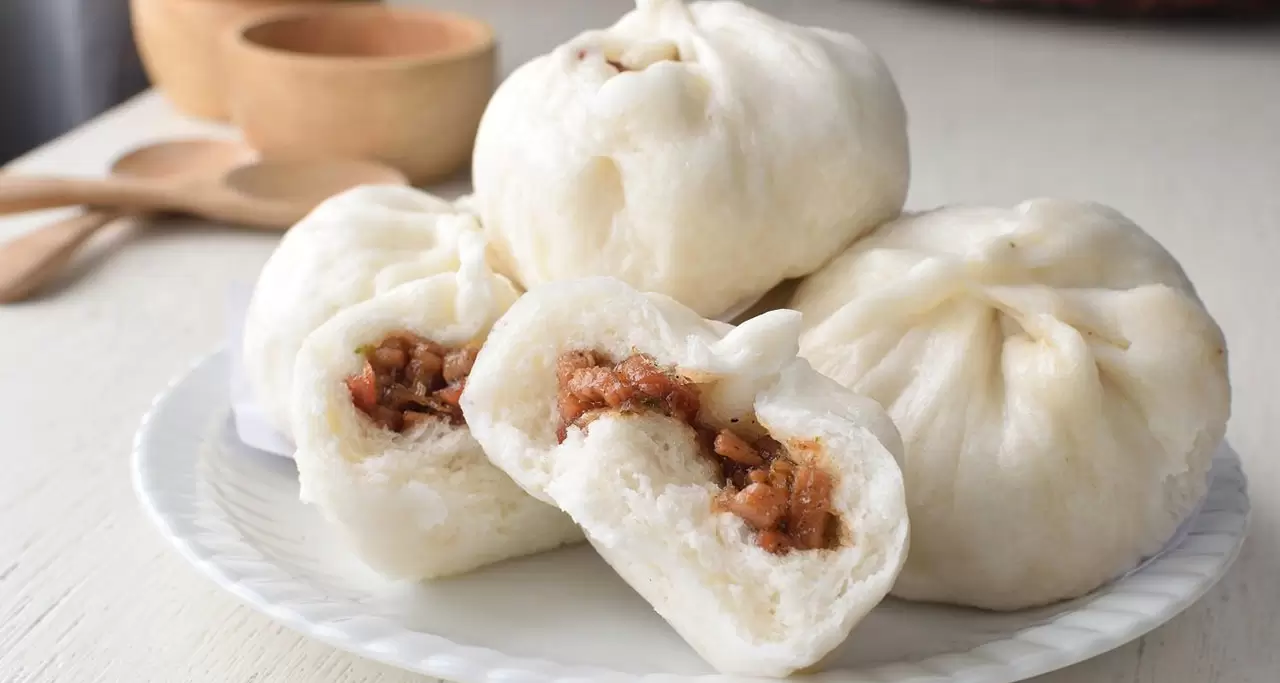 Banh bao is a Vietnamese bun that is said to be originated from China. It is a ball-shaped bun containing ground pork or beef, chicken meat, onions, wood ear mushrooms, cellophane noodles and eggs inside. A vegetarian version of Banh bao also exists without meat or even no fillings. Banh bao is usually a dish for Vietnamese breakfast.
15. Com rang (Fried rice)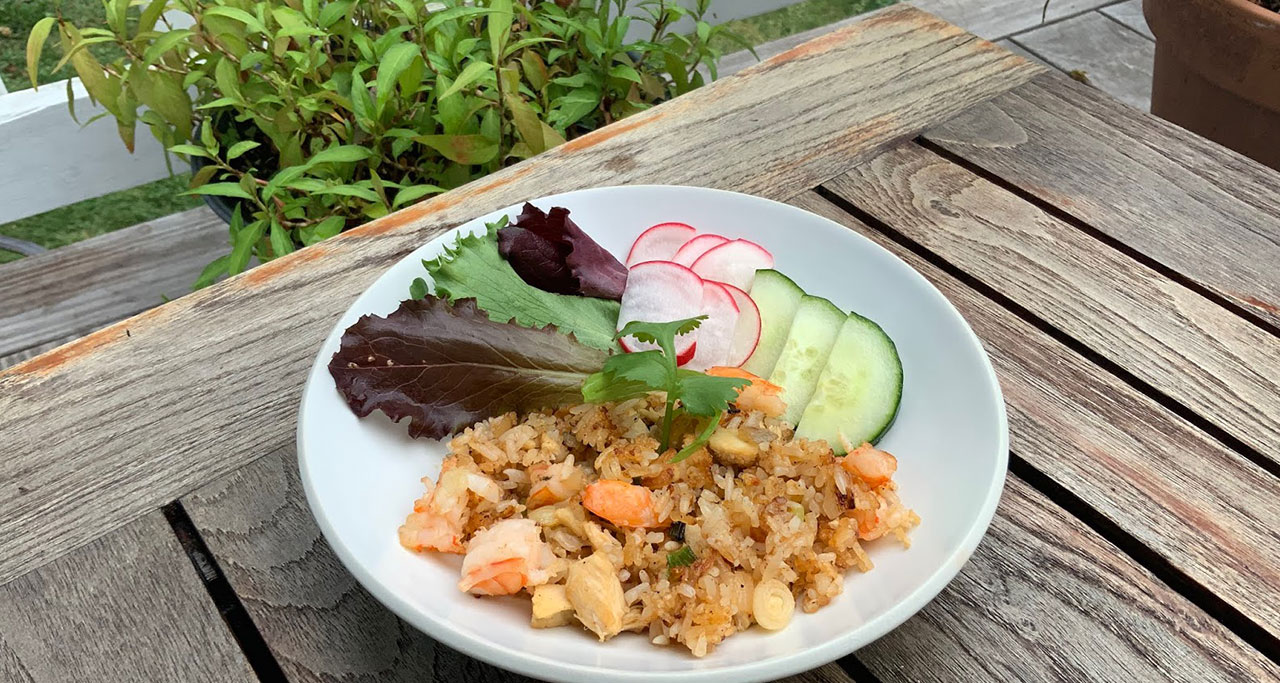 Fried rice is a popular dish for Vietnamese people. It is made from cooked rice, and then stir-fried in oil pan. In Vietnam, the dish is usually mixed with other ingredients as eggs, vegetables (cucumber, carrot), seafood (shrimp, squid) or meat (beef, chicken, pork). It can be eaten by itself or another dish, adding with sauces of tomato, soy or chili.
14. Bo bit tet
Bo bit tet (beefsteak) is not a traditional dish of Vietnam. However, you should not missed to explore a little Western flavor in Hanoi.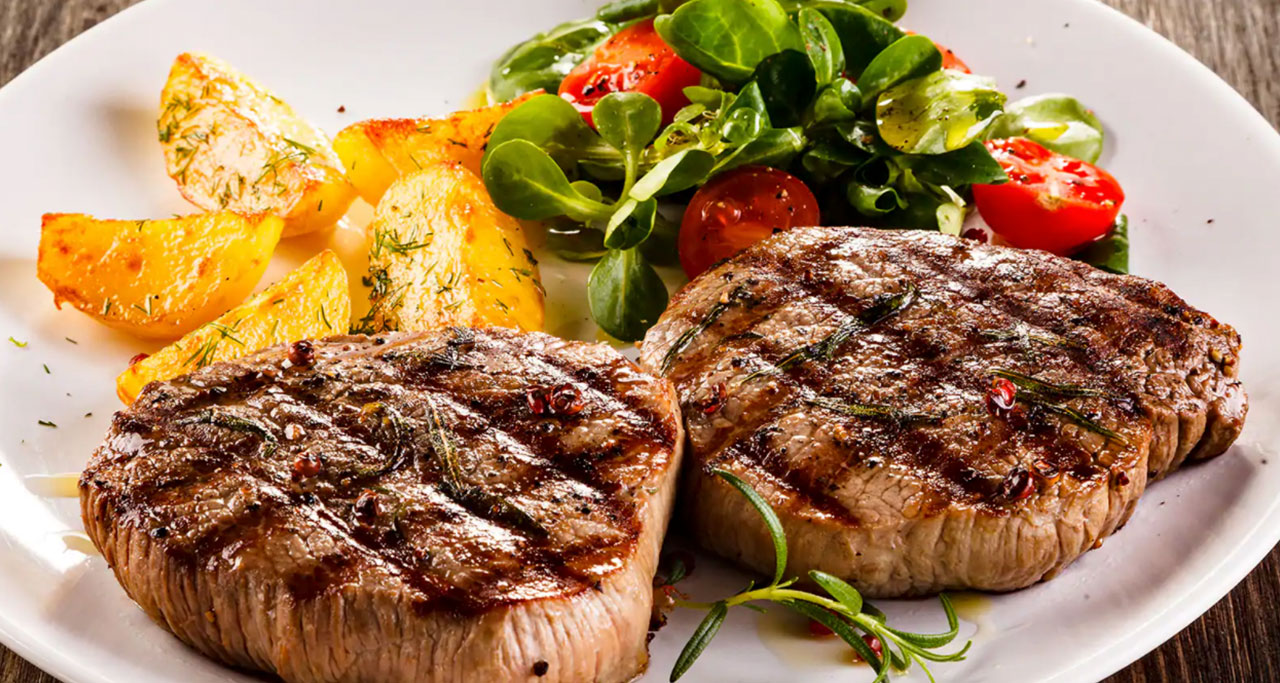 Vietnamese beefsteak is based on a classic dipping sauce with brown sugar, garlic, soy sauce, oyster sauce, fish sauce, and black pepper. Beef is marinated with the ingredients to combine before frying in a skillet over high heat until the meat is slightly charred. Finally, the cooked beef is arranged on the bed of watercress and tomatoes placed on a plate, with onion and fresh cilantro on top. The dish is normally served with Vietnamese sandwiches (banh mi) or white rice.
13. Com chay (vegetarian cuisine)
Com chay (Vegetarian cuisine) is based on food not including meat and all products made from animals. Vegetarian foods can be classified into several types such as traditional foods (including cereals, grains, fruits, vegetables, nuts, etc.); soy products; meat analogues (which mimic the taste, texture of traditional recipes with meat); eggs and dairy products analogues in vegan cuisine; or fish and shellfish are eaten instead of meat.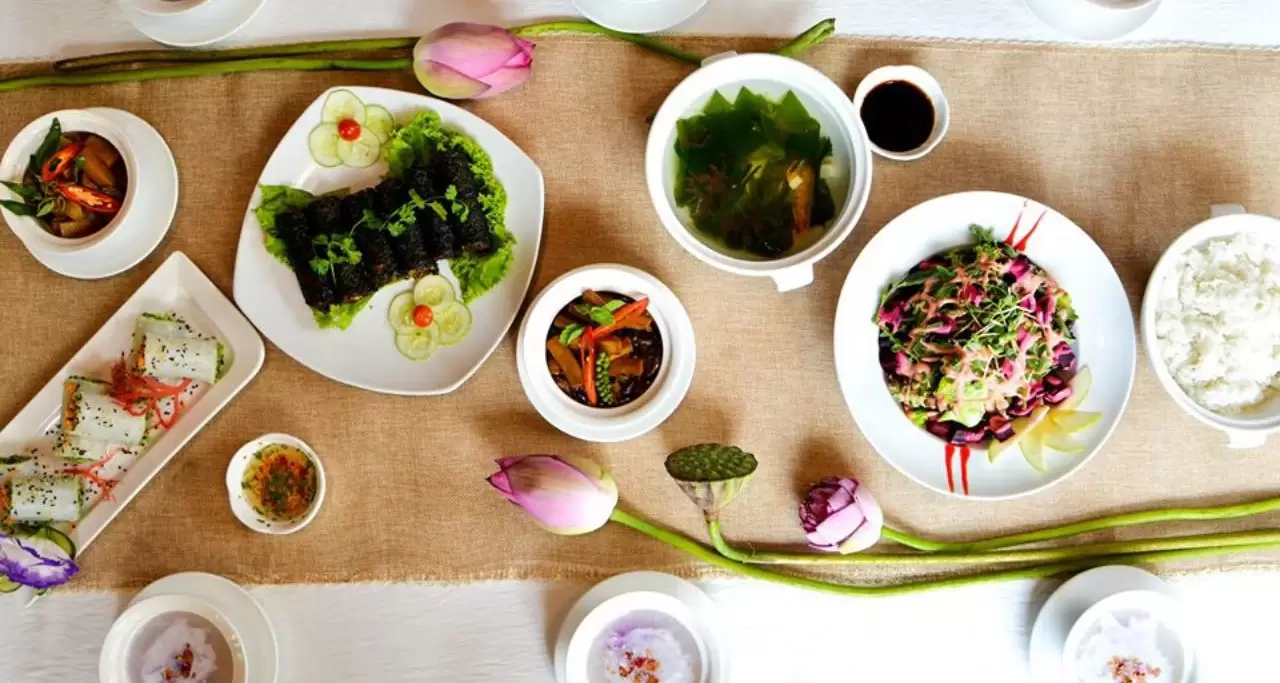 Visiting Hanoi, you can easily find out some good places diversified both in range and size for vegetarian foods. This is a list of 3 recommended restaurants:
* Com Chay Nang Tam (Nang Tam restaurant): Located at 79A Tran Hung Dao Str, behind an old villa, is the oldest vegan restaurant in Hanoi.
* Com Chay Uu Dam (Uu Dam vegan Hanoi): Located in 34 Hang Bai street. Vegetarian Uu Dam restaurant is well-designed with Buddhist influences, attracting many vegetarian food travelers to Hanoi.
* Com Chay An Lac: Located in 109 Tran Hung Dao street. This is great address for a group meal as the restaurant is spacious
12. Che
Che is general Vietnamese word to describe any traditional sweet beverage, which is usually available in the form of soup, pudding or plain drink. The dish is a mixture of fruit, beans, seeds, glutinous rice and tapioca powder cooked in water and sweetened with sugar. It is often topped with coconut creme and served either hot or cold.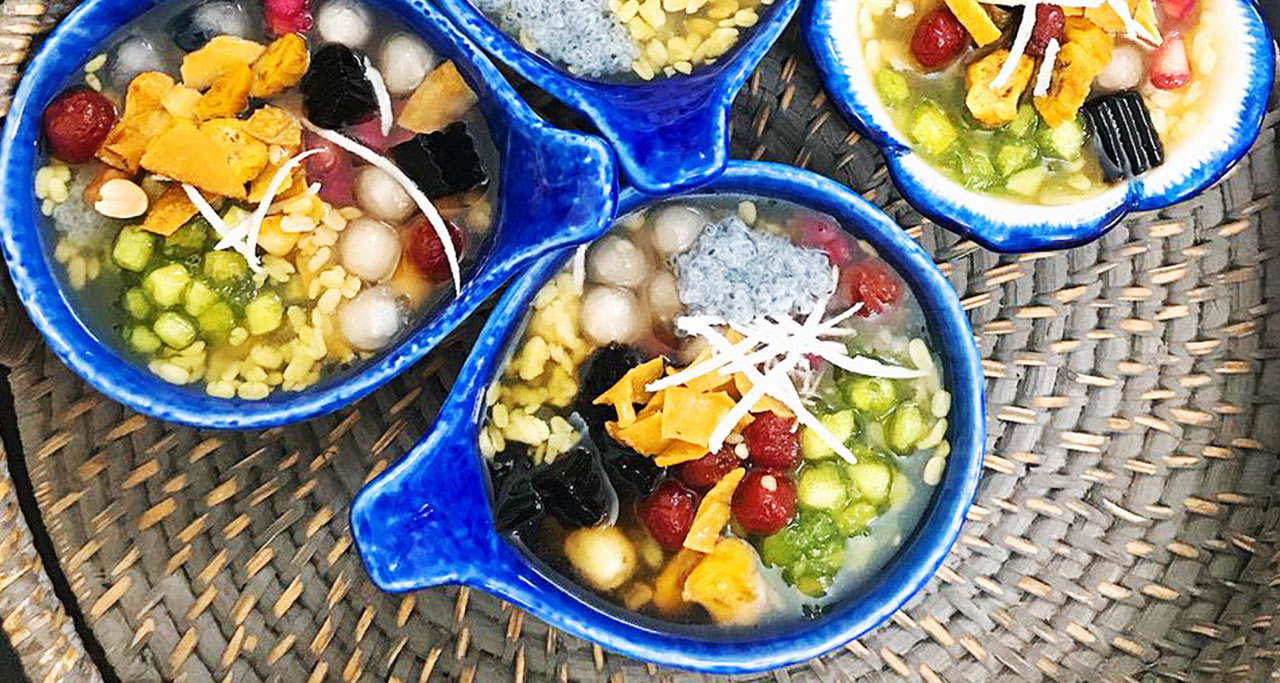 There are so many varieties of "chè" to make a list. Each variety of chè is designated by a descriptive word or phrase that follows the word chè and name of main ingredients such as chè đậu đỏ (made from red bean). Chè may be made at home, but are also commonly sold in plastic cups at Vietnamese grocery stores.
11. My xao bo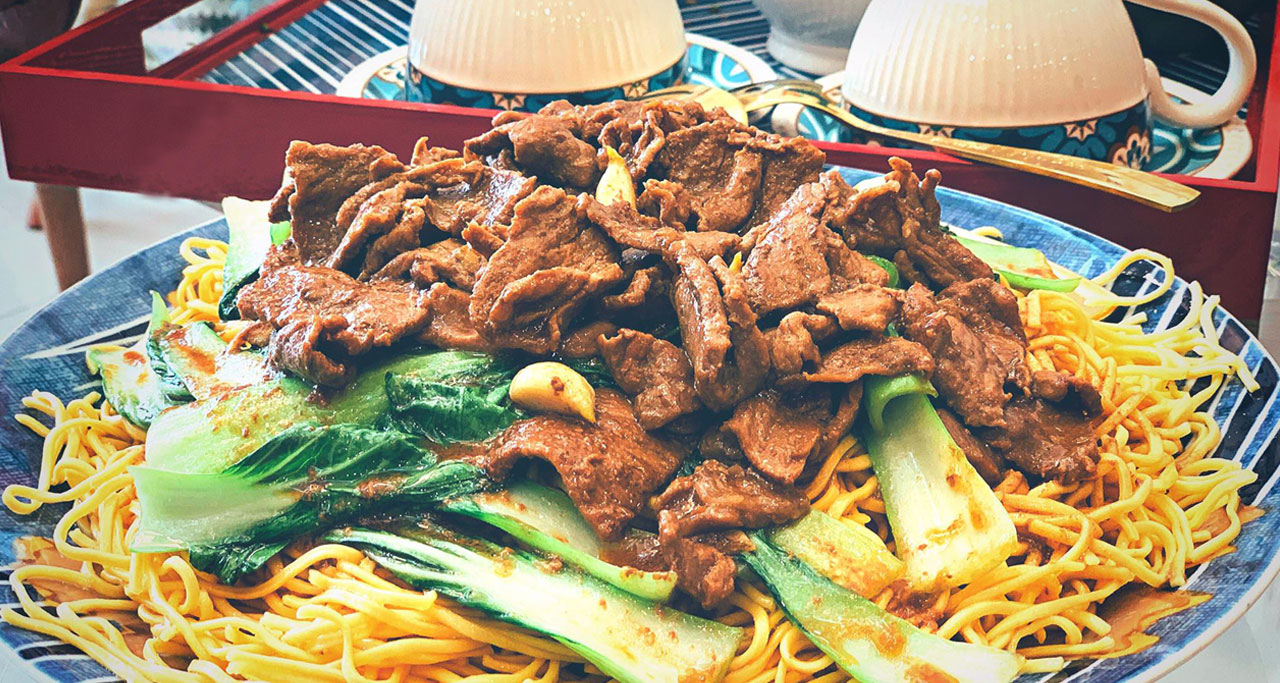 My xao bo (fried beef noodles) is a common dish in Vietnam which is sold in restaurants or food stalls. The dish consists of main ingredients including instant noodles, beef and some vegetables. The noodles are soaked in hot water before being fried with beef and green (typically brassica rapa and green onion).
10. Dau phu sot ca chua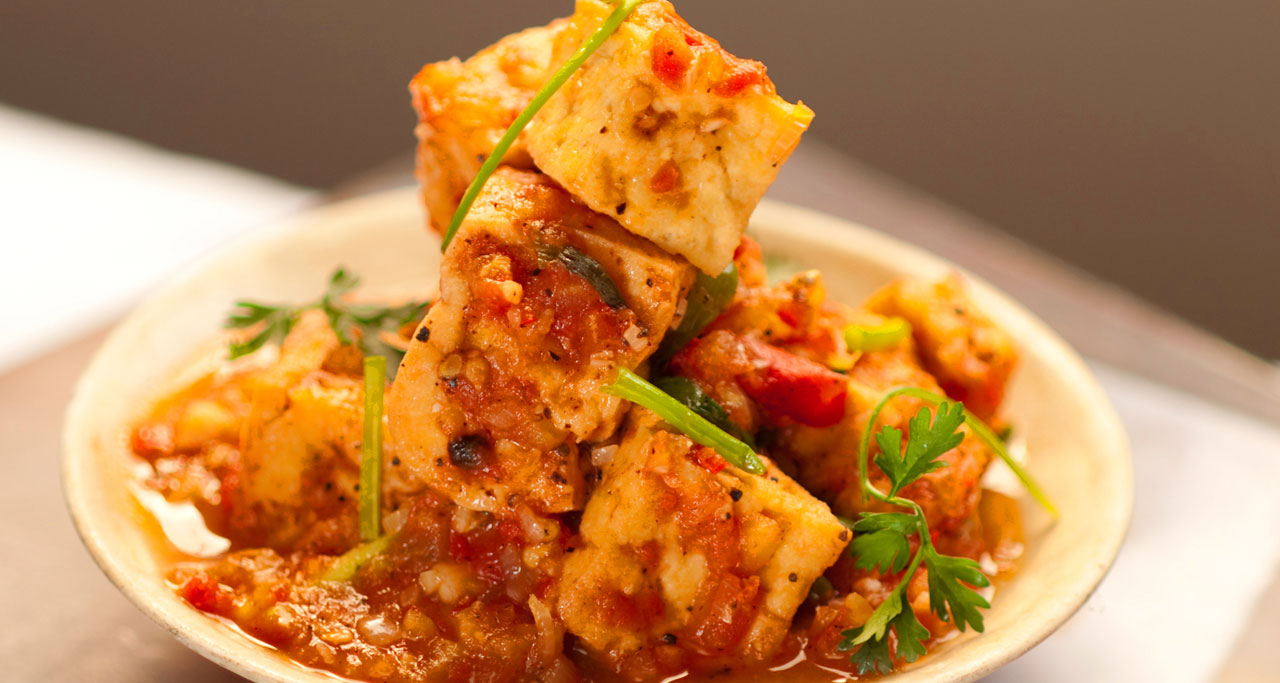 Dau phu sot ca chua (Tofu with tomato sauce) is one of the most popular dishes in almost Vietnamese families. Tofu is cut into squares and fried in heat oil until golden brown and then tossed with the tomato sauce (made from ingredients of tomatoes, water, salt, sugar and fish sauce) until softened. A version is usually tofu filled with ground pork. It is served with steamed rice.
9. Canh bun (Vietnamese noodles soup)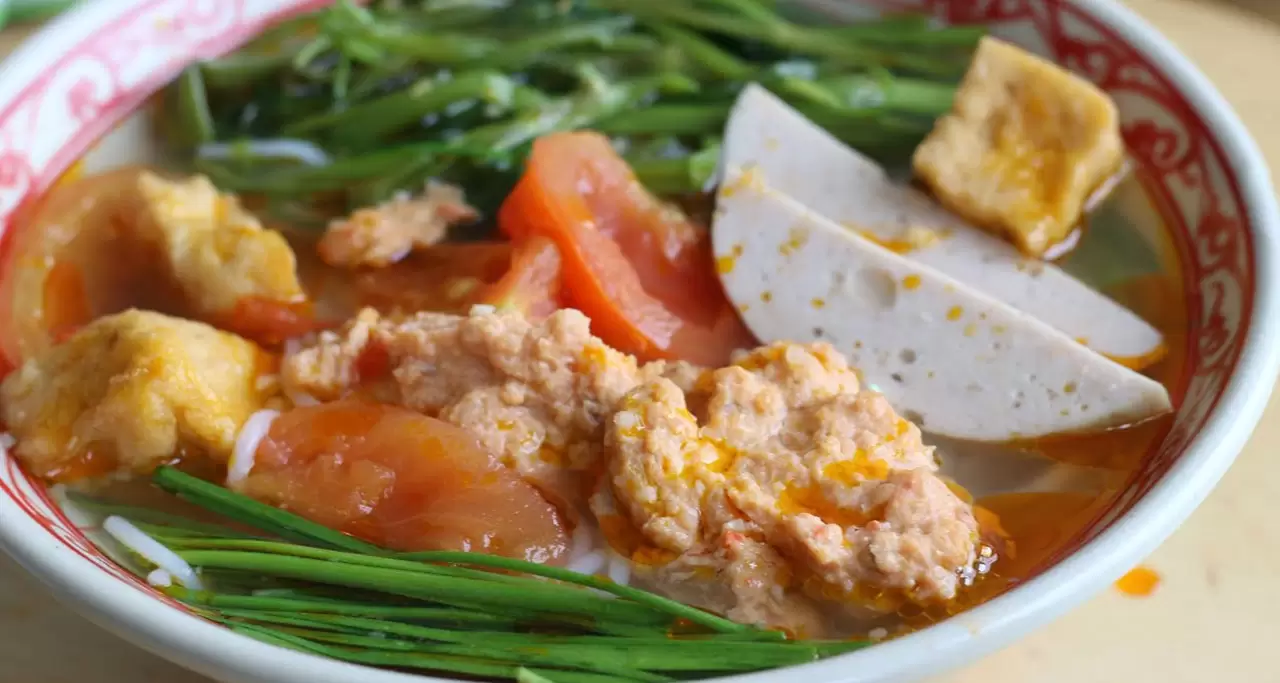 Canh bun is a Vietnamese dish that uses a big vermicelli noodles and served with boiled water spinach. The broth of this dish is made from field crab as same as bun rieu cua which served with raw vegetables instead. Canh bun is often eaten along with fried tofu, pork sausage and added with shrimp sauce, lemon sauce or sweet fish sauce. Also, it has different taste depending on each region.
8. Va tron tom thit (Fig fruit salad with fresh prawn & pork)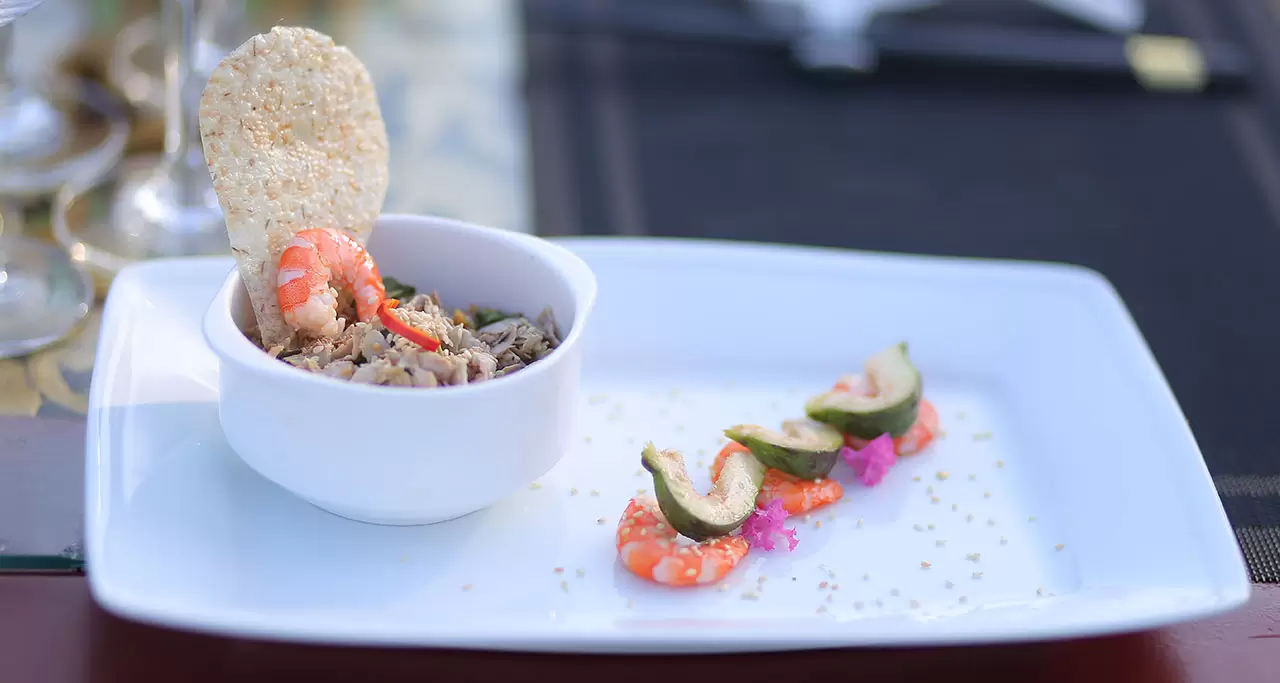 Fig fruit salad with fresh prawn & pork is a delicious and popular dish in the Central Vietnam, particularly in Hue. Not only has the nutritional value, but figs also can make a lot of great dishes such as salad, soup, slow cooked with fish.
With the dish, figs are boiled until cooked and then cut into pieces before being sautéed with prawn and pork. Scallions, cilantro, sesame, peanuts are added and mixed to make more taste. It is delicious to be eaten with baked rice paper and dipping sauce.
7. Be Thui (Roasted Beef)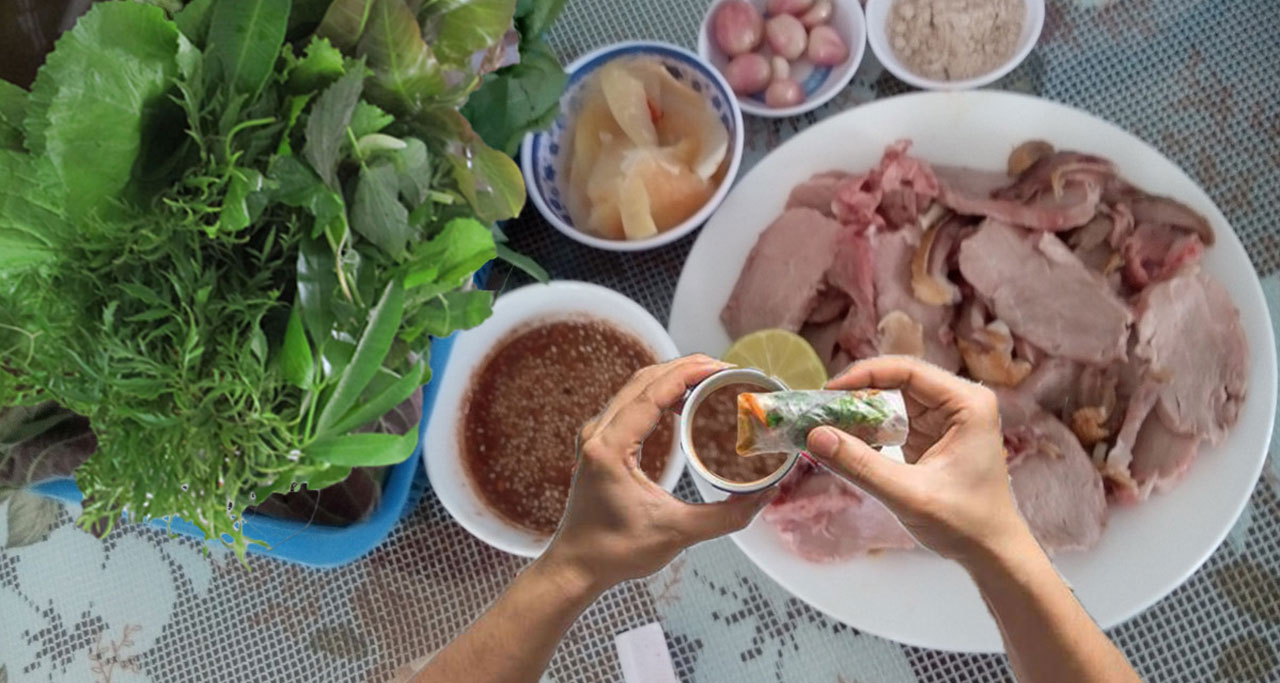 This is far different from most of the steak I ever tried. If some Western style roast beef use different parts of the cow and roasted in an oven, Vietnamese be thui is a whole veal calf roasted over an open flame until the skin blackens but the meat inside is pink and tender. The key to make it good is type of cow (free-ranges in Tay Ninh, Chau Doc area) + Spicy + Fish paste + the secret of roasted whole the cow through a night (Slow cook). The dish is prepared with toasted sesame, chopped Vietnamese coriander (rau ram), and pickled onions and served with a ginger dipping sauce or fermented soy bean sauce.
Some famous names for this dish can be recommended as Be Thui Son Ca, Bo To Tay Ninh.
6. Ca Tai Tuong Chien Xu ( Dep fried Elephant- ears-fish)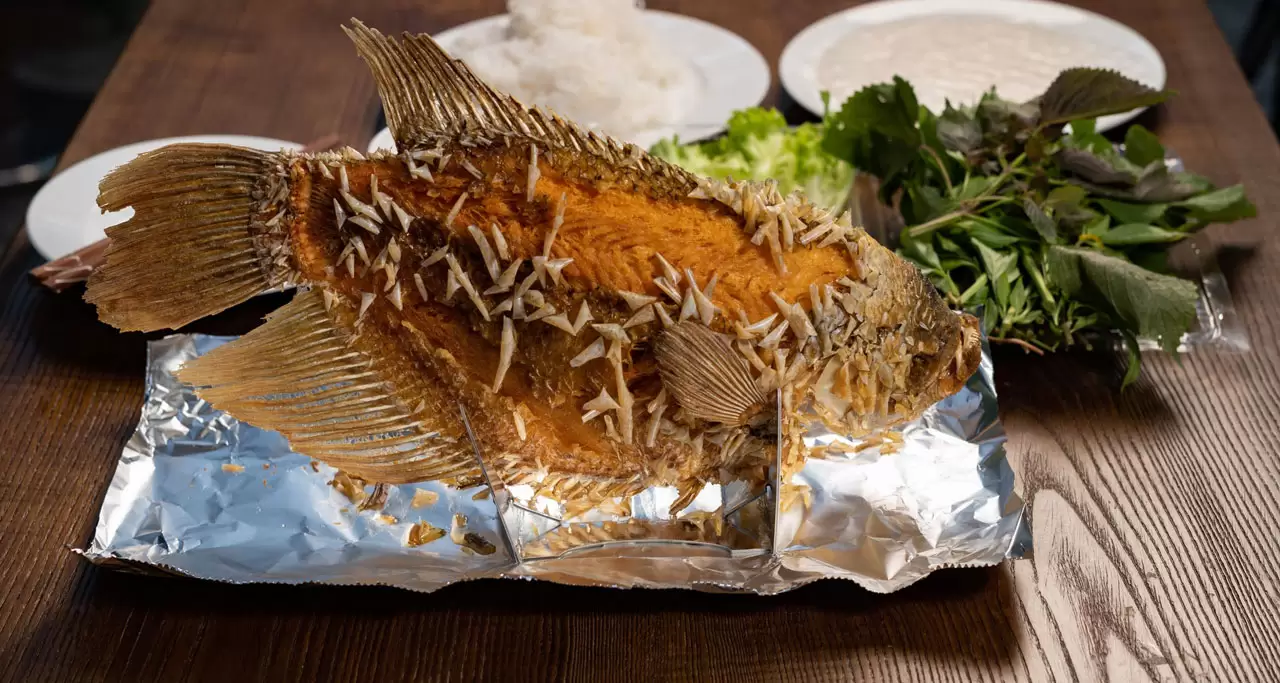 A same family of Snapper farm in cannels of Mekong Delta, It grows big as Elephant Ear, that is why local name them after the shape.
Tasty and fresh and doesn't taste fishy at all. It is best served by deep fried and rolls with vermicelli and lots of leaves (herbs). Vietnam Travel treat their clients when visiting Mekong delta. Lunch often served out door, right in the orchards.
5. Bun Ca Kien Giang
Specialty of Kien Giang and once you travel to Phu Quoc island by Ship, don't forget to enjoy rice noodle soup with fish.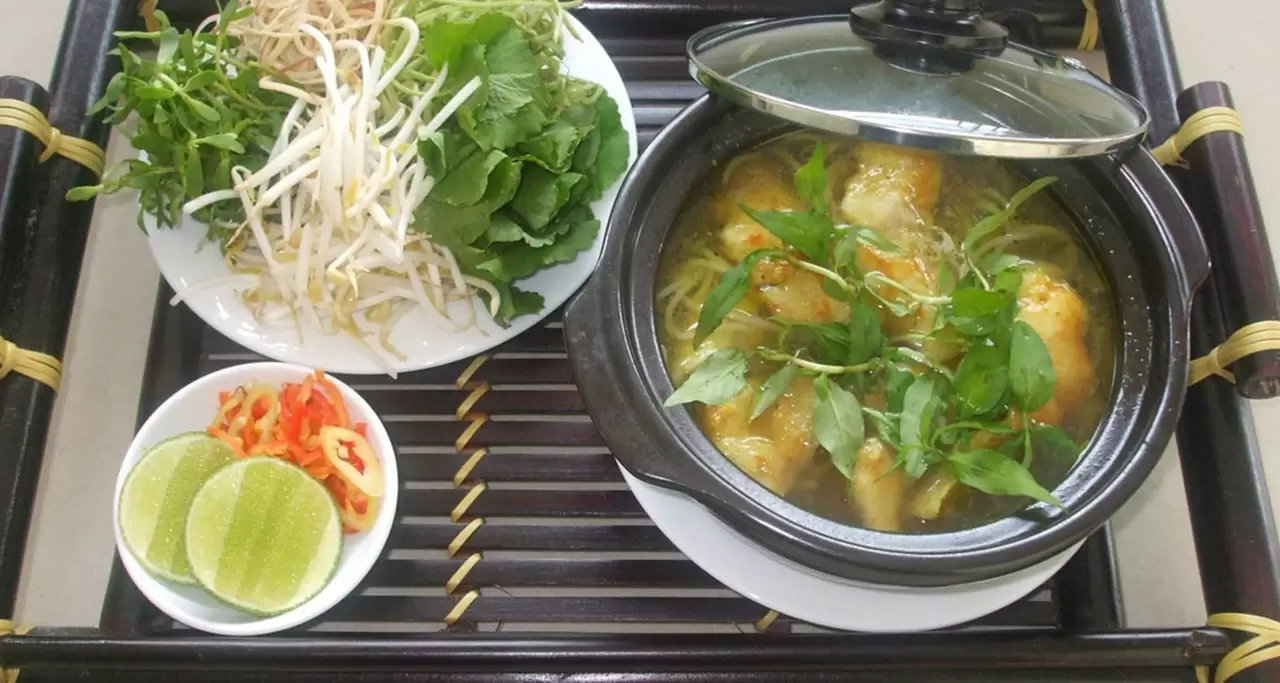 The broth of this dish is spiced up with fermented fish sauce and mắm ruốc (a special sauce made from a small variety of shrimp, which give it a rich flavor). Snakeheads are usually chosen, then boiled before being separated into flesh and bones. The flesh is used to top the dish together with fish egg or steamed ground fresh shrimp and egg yolk, stir-fried peeled wild shrimp, and herbs (usually coriander and green onion) that make an impression for bowl of fish noodle.
The dish is served with vegetables (shredded banana blossom), lime wedge, chili pepper (minced, sliced or whole).
4. Cha Com ( Chả Cốm)
Chả cốm (Vietnamese sausage with green rice) has been known as a specialty of Hanoi's autumn. The main ingredients of this dish includes green sticky rice and minced pork, pork paste.

The mixture of minced pork and green rice should be added with salt, seasoning and fish sauce, but without onion or garlic to keep the original scent of green rice. It is then kneaded into small pieces and steamed before fried until it becomes light brown on both sides. Chả cốm is typically placed on lotus leaves instead of plates to absorb the subtle scent of the lotus. It can be dipped into chili or fish sauce and eaten with steamed rice or rice noodle.
3. Muc Chien Gion ( Mực Chiên – Deep Fried Calamari)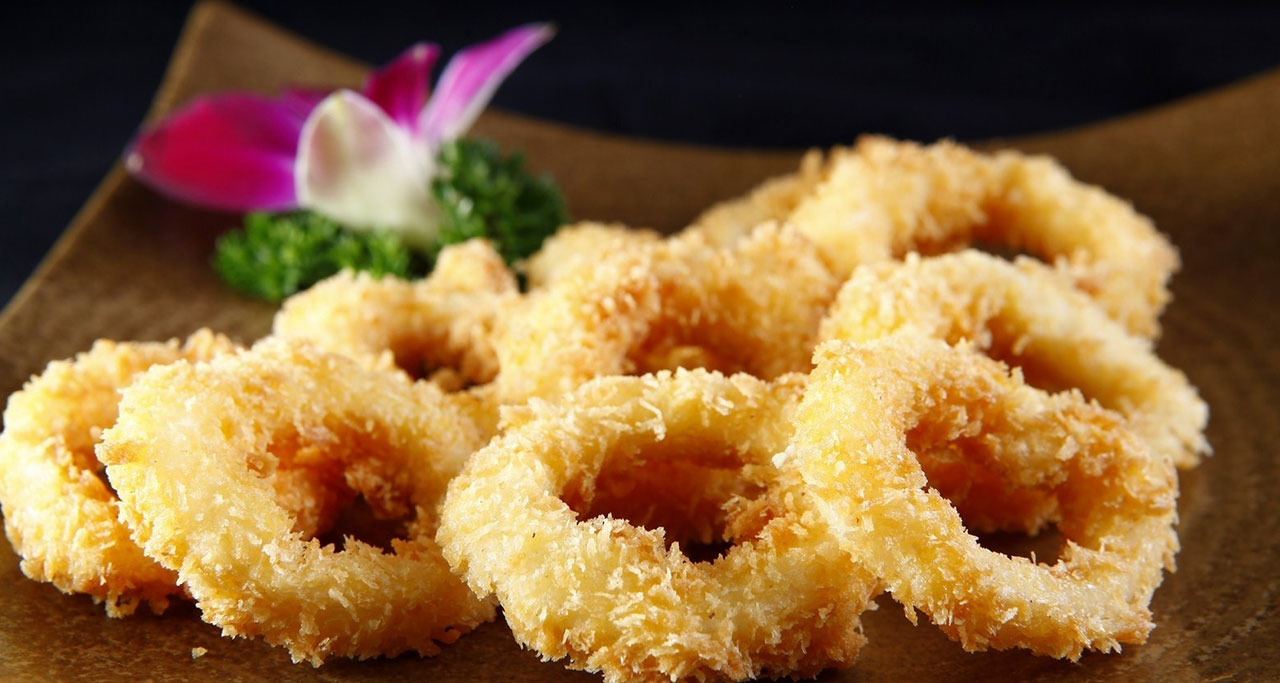 Muc chien gion (deep fried calamari) is a common Vietnamese's snack to enjoy with beer and also great dish for party. They are rings and tentacles of squid deep fried in cooking oil until crispy golden. The calamari are soaked in lemon juice to tenderize, then in turn put into spiced flour, buttermilk, and spiced flour before frying. It is served alongside lemon wedges, marinara sauce or aioli.
2. Tom Chien Com (Tôm chiên cốm) – Deep Fried tiger prawn with green rice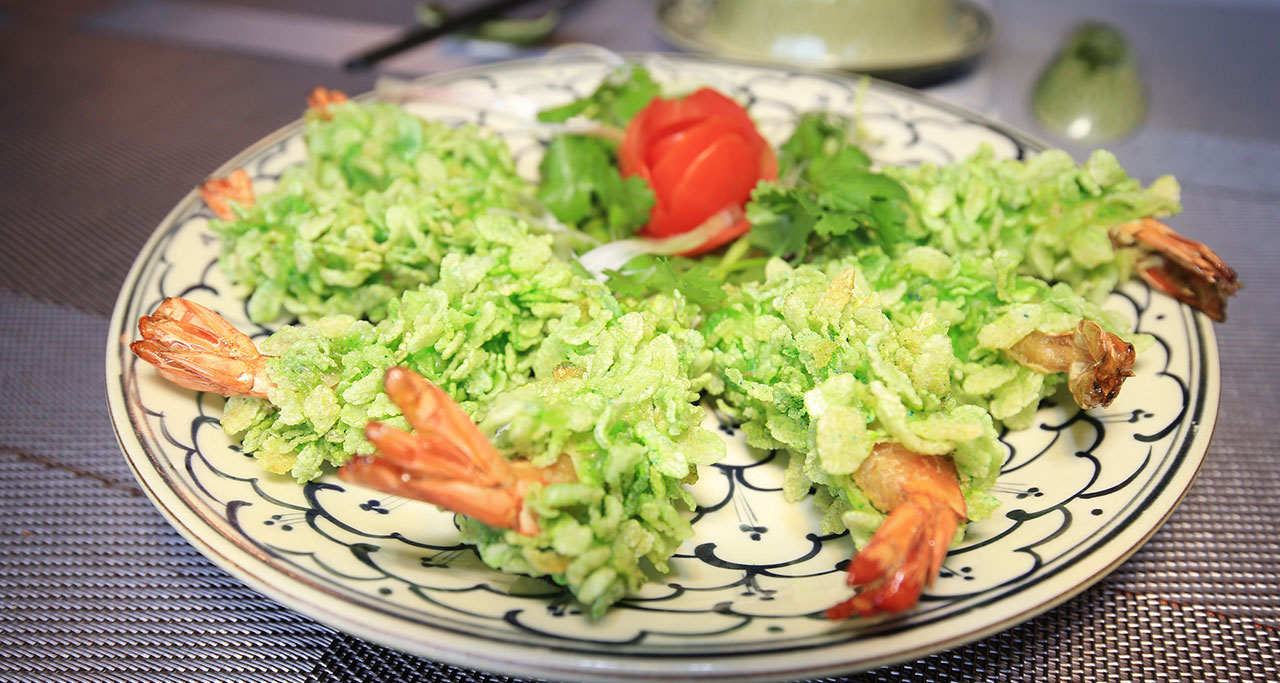 Tôm chiên cốm (Deep fried tiger prawn with green rice) is a favor dish thanks to the deliciousness of prawn meat and unique flavor of green rice. After being peeled, the prawn is put into rice flour and dipped in the batter, then coat with the green rice flakes. Finally, they are fried in a heat cooking oil to make the rice flakes puffed up and crisp. It is served with lettuce, herbs, pickled carrot and papaya, and dipping sauce.
1. Cua lot chien toi ( Cua Lột Chiên Tỏi) – Fried soft shell crab with garlic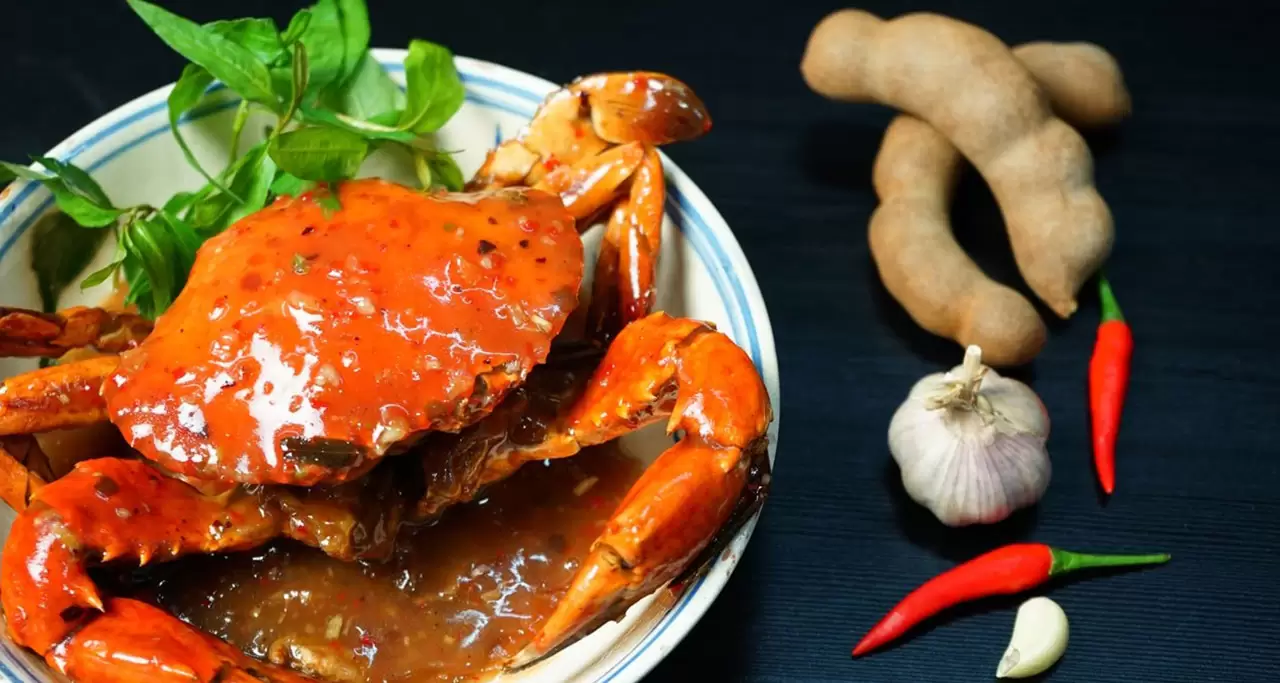 Cua lot chien toi (fried soft shell crab with garlic) is not only a nutritious dish, but also a specialty that attracts many people.
The cleaned soft shell crabs are marinated with pepper, garlic, onion, then dredged with seasoned flour, and finally deep-fried in the hot oil until they are cooked and the garlic is golden. This dish is served hot with salt and lemon pepper.