Top vegan and vegetarian restaurants in Hanoi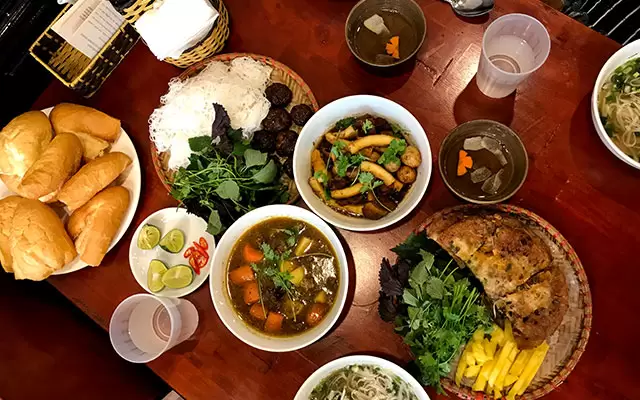 Vietnam's capital – Hanoi is without doubt a food hub from mouth-watering noodle soup, tasty spring rolls to delightful snacks and street food. There is a wide range of food options to choose while in Hanoi. Besides, vegan or vegetarian eating also becomes more and more popular as not only a way of enjoying food but a very good form of body scrubbing, a different view of life or regional purposes. That's why it will not difficult to find a variety of vegetarian restaurants with diverse menus and budget to meet those requirements nowadays.
No need for further looking if you are searching for the best vegan and vegetarian restaurants in Hanoi. Read this article and try your favorite one!
1. Uu Dam Vegan
Catering the small percentage who follows a solely vegetarian/vegan lifestyle, Uu Dam Vegan is a place for you. This is elegant, well-designed restaurant with nutritious, heathy and exotic cuisine which surely offers you a fancy meal with a fine-dining experience in a peaceful and relaxing environment where you find yourself in a serene and calm mind.
Uu Dam serves a wide variety of Vietnamese popular dishes with main services from breakfast, starter, entrée, hotpot, desserts and drinks. There are also some Western options for your choice. The price can be up to US$ 15/dish.
Add: 34 Hang Bai street, Hoan Kiem district, Hanoi
Opening hours: 7.30am – 10.00pm (Mon-Thu) or 10.30pm (Fri-Sun).
Only beverages served from 7.30am – 10.00am
2. Nang Tam Vegetarian Restaurant (Cơm chay Nàng Tấm)
As the first vegetarian restaurant in Hanoi since 1995, Nang Tam offers vegetarian food as a gastronomic art full of cultural identity which is very suitable for modern life.  Located in a small alley of Tran Hung Dao street, you will feel the quiet and calm sense with elegant, traditional decoration when walking inside this restaurant.
Serving home-cooked food, most of ingredients are from popular but outstanding vegetables with mild flavor such as cauliflower, banana blossom, tofu, zucchini, mushrooms…
An attracting point to come this restaurant is cheaper price (from US$ 2.5 – 6.5/dish) which shows you Vietnamese hospitality to the fullest.
Add: 79A Tran Hung Dao street, Hoan Kiem district, Hanoi
Opening hours: 10.00am – 9.00pm
3. Bo De Vegetarian restaurant
With its location in Quan Su street – a busy, densely populated neighborhood, Bo De is a family-owned vegetarian restaurant, great for home-cooked comfort food. The menu covers rice, noodle, vegetable dishes which can change daily. Both buffet and rice plate can be chosen here where you feel to immerse yourself in the space of Buddhism – cool and pure, with dedicated and attentive service staff. End your meal with their special tea made of a favorite Asian spice, the pandan leaf.
It is a miss if you have not once been to the restaurant and enjoyed the vegetarian dishes here with very reasonable price (from US$ 3/dish).
Add: 65 Quan Su street, Hoan Kiem district, Hanoi
Opening hours: 9.00am – 10.00pm
4. The Veg – Organic Vego & Tea
The Veg offers a venue for both clean and green meals as well as comfortable place to have a special cup of tea or coffee where you can chill out with your friends.
The special point of this restaurant is that all dishes are prepared by organic and fresh ingredients because vegetables are grown in organic farms, and free of artificial colors and preservatives.
In addition to Vietnamese flavors, there are also Western-style dishes to choose including vegetarian pizza, pasta or even Thai curry. Delivery service is offered as well.
Add: 18 Hang Chinh street, Hoan Kiem district, Hanoi
Opening hours: 8.00am – 11.00pm
5. Jalus Vegan Kitchen And Café
Nestled on 2nd floor of a busy old town street, Jalus is a little vegan restaurant in Hanoi featuring a laid-back vibe of delightful wooden design and relaxing lighting and gorgeous cuisine. This is a popular spot for the Western vegan community, and even the locals who are looking to take a break from their carnivorous diet.
The restaurant provides organic food, and all meals are free of MSG and preservatives. According to the season, the restaurant will serve vegetarian Vietnamese specialties, such as pancakes made with rice noodles and coconut, glutinous rice flour dumplings with mushroom filling, vegetarian spring rolls, etc. An extensive menu of both Asian and European dishes including burgers, pizza, Asian veg and tofu dishes or gnocchi are for your choice. You'll also be able to enjoy healthy smoothies, coffees made with plant milk and more. Its prices are reasonable at around US$ 3/dish.
Add: 46 Hang Trong street, Hoan Kiem district, Hanoi
Opening hours: 10.00am – 10.00pm
6. Loving Hut
Loving Hut is a brand name of restaurant chain in many countries worldwide, and was awarded as the most excellent vegetarian restaurant in the world in 2014.
This is one of Hanoi's best-loved restaurants that specializes in fresh, seasonally inspired vegan meals, offering a variety of healthy dishes suitable for all diets including vegan chicken, vegan pork ribs and other meaty favorites in a delicious vegetarian twist.
Buffet with around 25 dishes will be served twice a month (1st and 15th day of lunar calendar). There are 2 floors for your choice. Taking a seat on the balcony for a beautiful view while enjoying your great vegetarian meal, that's worthy.
The prices here are affordable (~ US$ 3-5/dish), so if you are dining on a budget, this restaurant will be a good treat.
Add: 147B Au Co street, Tay Ho district, Hanoi
Opening hours: 9.00am – 10.00pm
7. Aummee Vegetarian Restaurant
Aummee is an elegant, mid-range vegetarian restaurant offering delicious traditional Vietnamese all plant-based dishes. Just off Truc Bach lake, the gracious space and intimate setting will nourish your soul and delight you at the first sight. As a well-known vegetarian restaurant in Hanoi for its eye-catching and creative presentations and preparations, it is really worth your experience.
The restaurant offers an extensive menu for a fancy meal from fresh salads to well-presented dishes to even homemade lemongrass tea. The square spring rolls are a must to try which satisfy even meat lovers. There are also a souvenir corner selling handicrafts made by local artisans.
Add: 26 Chau Long, Truc Bach Street, Ba Dinh district, Hanoi
Opening hours: 10.00am – 9.30 pm
8. Ha Thanh Vegetarian Restaurant
Ha Thanh is an exciting vegetarian restaurant offering a wide range of food for different vegetarian meals from fried banana flowers, vegan fish, maize pancake, lemongrass tofu with tomato sauce. The restaurant also serves several specialties like Thai hot pot, vegetarian spring rolls or vegetarian beef noodles with fresh and pure ingredients. Don't miss their exotic snack counter that features vegan snail chips which you can't get in many places.
Buddhist monks sometimes gather here on occasions. The prices are also affordable, so you will definitely get a real deal.
Add: No 116, 166 Kim Ma street, Ba Dinh district, Hanoi
Opening hours: 6:00 am – 9:00 pm
9. An Lac Vegetarian Buffet
Only cost 99,000VND/person (~ US$ 4.3/person), you can be pleased to try all of over 50 heathy vegan dishes at An Lac restaurant. With spacious area with 2 floors, this is great place for family, group of friends.
The vegetarian buffet menu at An Lac covers different kinds of salads, soups, and main dishes, desserts with fruit sweet soups or yogurt…
Thanks to the restaurant's popularity and attractive price tag, you are advised to get seats reserved in advance. Especially in the 1st and 15th day of lunar calendar, the restaurant will be easily filled up.
Add: 109 Tran Hung Dao street, Hoan Kiem district, Hanoi
Opening hours: 10.00am – 9.00pm
10. Vegan Banh Mi Food Cart
Located along a small alley, Vegan Banh Mi Food cart is just very local serving vegan banh mi (Vietnamese sandwich) which typically contain seitan, lentils, vegan mayo and homemade plant-based pate, and different fresh veggies depending on the day. The food cart also offers some other dishes such as banh goi (similar to samosa), fried spring rolls and traditional Vietnamese desserts made from lotus seeds, agar jelly and coconut milk. A total must-try!
Add: 66B Tran Hung Dao street, Hoan Kiem district, Hanoi
Opening hours: 11.00am – 7.00pm (Mon-Fri)
11. Apron Up Restaurant
One of the best ways to explore a food culture is by joining a local cooking class. There are plenty of fabulous cooking classes in Hanoi, and most of them offer a vegetarian version. Apron Up restaurant is among of them with high ratings.
Here you will get the family handed-down recipes and tips which cannot be found in books or anywhere else as well as be inspired to cooking by the enthusiastic and energetic people.
Joining daily class opens in several time frame, such as 9.00am – 12.00pm; 11.30am – 2.30pm; 4.00pm – 7.00pm and 6.30pm – 9.30pm. Private class lasts 4 hours and upon your request. The class will include local market visit, English speaking chef & food.
With Apron Up Cooking Class, you can really get your hands on the cooking from buying, bargaining your own ingredients and making everything from the scratch. This will be one of your unforgettable experience while in Hanoi.
Add: 66 Bat Su street, Hoan Kiem district, Hanoi
While most restaurants have vegetarian-friendly menus, we hope that the above list will be helpful for your choice while travelling in Hanoi. Coming to Vietnam – a food paradise with great balance of taste, that will be great experience. Vietnam Travel team are ready to assist you whenever your plan of Vietnam holiday is set up!