The 6 Most Popular Vietnamese Drinks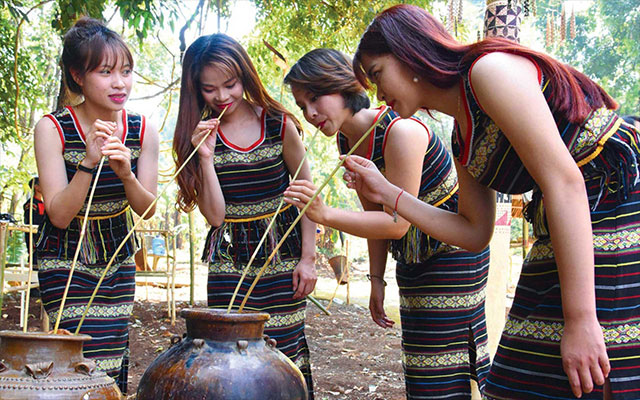 Not many people know that Vietnamese drinks are as diverse and mouth-watering as its cuisine. Located in the tropical monsoon climate region, Vietnam luckily possesses the beverages with great flavor that can satisfy even the difficult drinkers. Drinking session is considered as an indispensable part of Vietnamese daily lives. Whether it's meeting friends for a coffee/tea or stopping at a street side stalls for a refreshing juice/smoothie, even in important events such as public holidays and ceremonies. Trying each drink in Vietnam, you can experience the local traditions and many interesting stories revealed by Vietnam Travel's guidance.
1. Tea
Vietnam Tea has been an essential drink and a very unique cultural characteristics of Vietnamese for three thousand years. From the urban to rural areas, tea is considered as an indispensable part in local daily lives at family reunion, meetings, celebrations, public festivals. Tea and its accompanied rituals are intrinsically tied to perceptions of hospitality, respect for one's elders, and peaceful communion with nature in Vietnam.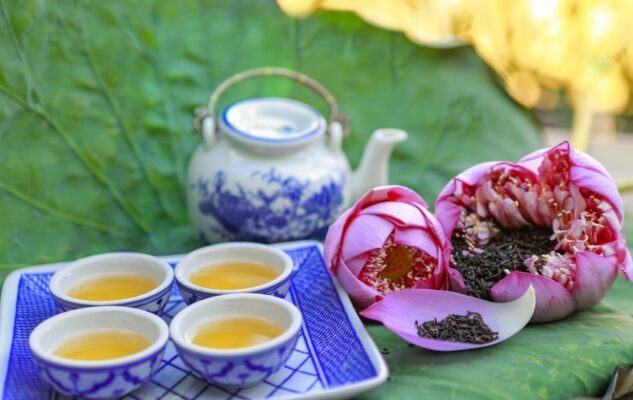 In the modern time, tea can be experienced in many styles. People can spend few hours in small street vendors (or known as "quan coc" in Vietnamese) to enjoy hot or iced tea and gossip about many things in the world. Young people create their own tea version called "tra chanh" – tea served with ice, lemon and sugar. This become an interesting modern trend of Vietnamese street culture for youngsters. Beside the most popular green tea, lotus scented tea symbolizes the national soul of Vietnamese tea culture because it requires meticulous procedure to have the finest lotus tea. Nearly one thousand lotus flowers only can make a kilo of lotus tea.
For more details about Vietnamese tea culture, just click to the link: https://vietnamtravel.com/vietnamese-tea-culture/ 
2. Coffee – the most popular Vietnamese Drinks
Thanks to the favorable lands and climate conditions of a tropical country, Vietnam has emerged as the second largest coffee-producing and exporting country in the world. Walking in the streets throughout the country, visitors will quickly find out how local people love coffee. Many people sit on low plastic stools on the sidewalk, take a sip of coffee and talk with friends. Or some prefer the high-end cafes popping up around big cities. Each place could serve from one to many types of coffee so tourists can easily find the most suitable ones.
"Cà Phê Trứng," or egg coffee, is the pride of Hanoian because this is their unique coffee in the world. This strange kind of coffee is made by the thick, strong and dark Vietnamese brewed coffee topped with a sweet, light and airy foam of egg yolk and condensed milk. Even there are several café shop around the city now serve it, Cafe Giang claims to have created it. There are hot and cold versions but the hot one seem to be more popular.
Coming to Saigon, tourists can taste another version of coffee: iced coffee with sweeten condensed milk. Locals find their own relaxing moments in sidewalk coffee carts on nearly every corner of the city. Coffee is made in a tool called "phin" as the most traditional way. Minced coffee is mixed with hot water, going through the bottom of "phin" then dropping into the cup. The dripped coffee then is mixed with sweeten condensed milk and some cubic of ice. This type of coffee requires abundant time and it's such a way of enjoying relaxing time when you wait for every drop of this mixture.
Nowadays, more and more instant coffee shops are opened to meet the demand of modern people with quick lifestyle, such as Starbucks, Trung Nguyen, Highlands Coffee and so on. No matter what coffee type it is, don't forget to add Vietnamese coffee into your must try Vietnamese drinks when you are in our country.
3. Beer
In tropical countries like Vietnam, beer is the first drink men think of as the most effective way to cool down their thirsts in hot summer days. After a hard working day, it's such a great time to gather with coworkers or friends and drink cold glasses of beer. More than a daily routine, drinking beer has become a cultural trait of Vietnamese when it's expected as courtesy to invite others beer when doing business or celebrating any important event. It will be not surprised when seeing "sidewalk beer restaurants" with plastic chairs and tables lining up along the street sides and packed with people from different classes of life, especially in the hot weather of late afternoons.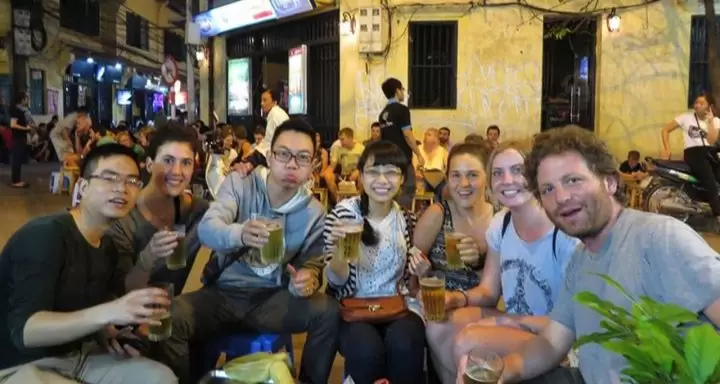 Among three popular types of beer in Vietnam: draft beer, bottled/canned beers and craft beer; draft beer is the most favorite and cheapest one. Draft beer (or locally known as Bia Hơi) is brewed in about 7 – 10 days, and has its fresh taste because no preservatives are put during fermentation and brewing process. It then will be kept into kegs and cooled down with carbon dioxide gas. After being ordered, draft beer will be poured from the keg into a mug with ice cubes. A mug of draft beer costs only 10,000 VND. It's best served with local snacks: peanuts, Vietnamese rice cracker, fried tofu, French fries, cheese sticks; or even delicious dishes like a feast, such as: fried frog, fried salted chicken feet, fermented raw sausage, etc.
For persons who prefer bottled/canned beer can find many local brand names all over Vietnam: Hanoi Beer, Huda Beer, Saigon Beer. Or other tastes of imported brands: Heineken, Tiger, Budweiser, Sapporo also can be found in sidewalk as well as fine dining restaurants. Just remember these Vietnamese words into your memory: "Mot – Hai – Ba – Dzo!" (1 – 2 – 3 – Cheers!) because you will hear and say them a lot during the "beer meeting" with locals.
4. Rice Wine
In Vietnamese drinking culture, it will be a miss if not mentioning about rice wine. Rice wine is the liquor distilled from ferment rice. Rice wine in Vietnam can be classified into three main types:
+ Plain rice alcohol is known in Vietnamese as "rượu gạo" in the North and "rượu đế" in the South. The freshly harvested rice is cooked and mashed. Then the mixture of mashed rice, water and yeast is left in ceramic pots within several days to weeks to ferment. The resulting liquid can be used for immediate consumption.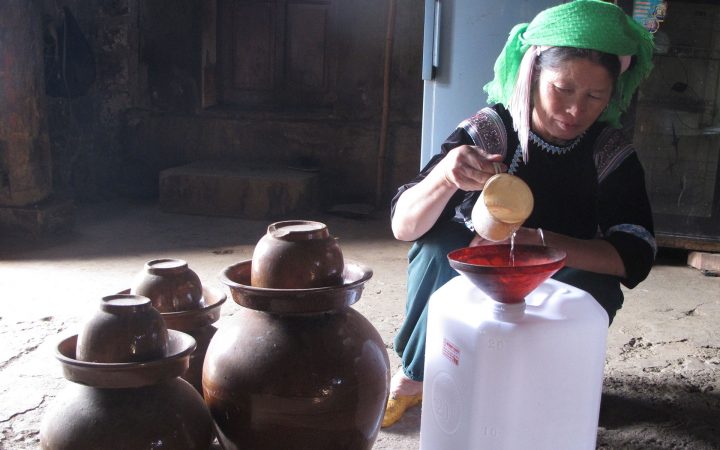 + Wine brewed in large ceramic jars called "ruou can" are made by hill tribe ethnic people in special occasions. Unlike plain rice alcohol, "ruou can" is not distilled but all ingredients (black sticky rice, honey, lemongrass, other natural flavorings) are put into a large ceramic jar and fermented for around several weeks. The final resultant will be consumed  through long bamboo straws.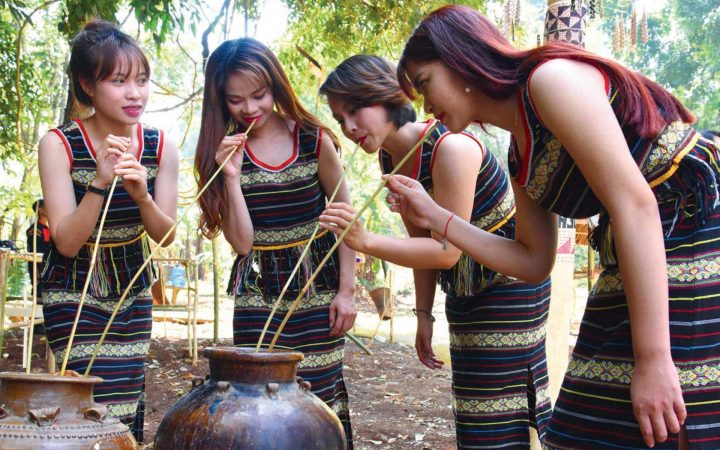 + Herbal wine or medicine wine is distilled alcohol infused with medicinal herbs, plants and animals, known as "ruou thuoc". Locals have believed that this type of wine can help to cure a wide range of physical problems and improve men's virility.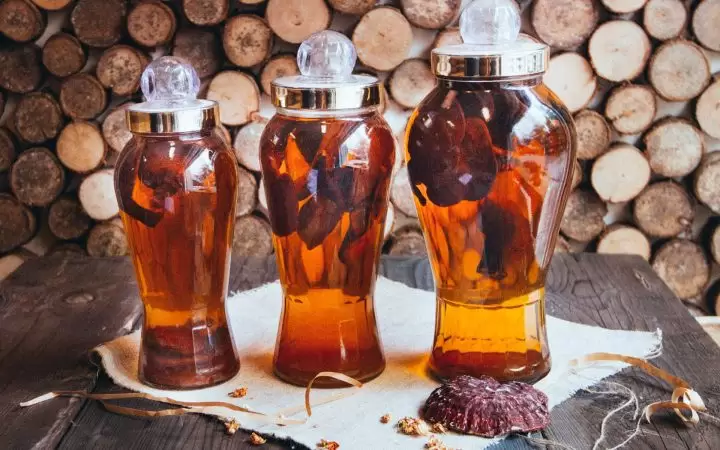 For centuries, rice wine has become an integral part in local daily lives as well as traditional activities. In rural areas, men drink a little wine before going into the fields or in daily meals. In special occasions such as: New Year festival, funerals and weddings, rice wine also holds a significant position. Whether enjoyed during a festival or on a casual daily basis, being consumed as plain, combined with herbs, or even with snakes and other small animals, rice wine has been turned into the focal point of every party and become national alcohol drink.
5. Fruit Juice and Smoothie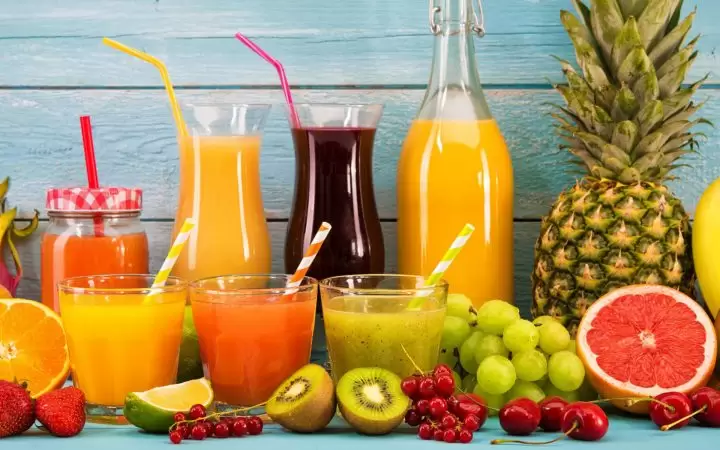 Vietnam is broadly known as the heaven of tropical fruits due to its geographical location and favorable tropical climate conditions. There is no reason why visiting Vietnam without trying a glass of cool juice or smoothie, which is made from local fresh fruits blended with crushed ice, condensed milk and/or sugar. This tasty and healthy drink is so common in Vietnam that juice stalls can be found on every street and alleyway or anywhere near schools, markets, and public parks. Street side juice stall's set-up is small, simple, but tidy, organized & efficient: one juicer, one blender, a press. In front of the stall is the display space of fresh seasonal fruits such as: mangoes, avocados, oranges, passion fruits, sapodilla, carrots, coconuts, apples, etc. The vendor will only slice the fruits once customers finish the drink order. By this way, the fruits are always kept fresh for longer.
Beside possible combinations of fruits and vegetables listed in drink menu, consumers can be creative to pick and choose which to combine in their juice or smoothie. Sellers typically add sugar and/or condensed milk into juices and smoothies because many Vietnamese like sweet flavor. Therefore, foreign consumers have to state it clearly when making order if they do not want to have sugar or condensed milk. One thing that tourists may be surprised is that most Vietnamese choose juices or smoothies based on the health giving properties, or the seasonal appropriateness. Therefore, don't hesitate to ask their advice if you find any difficulty in choosing any drink.
6. Other – Pho Cocktail
Pho Cocktail was invented by mixologist Pham Tien Tiep and helped him to won the Diageo World Class Cocktail Competition 2012 and took part in the World Finals in Brazil the same year with this cocktail. And he was awarded "Best Bartender in Vietnam".
It may not be strange that Pho is Vietnamese iconic noodle soup, which is well known around the world. Inspired of the unique flavor of Pho, Tiep created the cocktail with a mix between Gin and Conitreau. Then he set them on fire and mixed with cardamom, cinnamon and star anise. After this, he mixed the spirits with a simple syrup, lime juice, and fresh coriander. Therefore, the alcohol gets the traditional flavors used in Pho, without any broth or meat in the drink.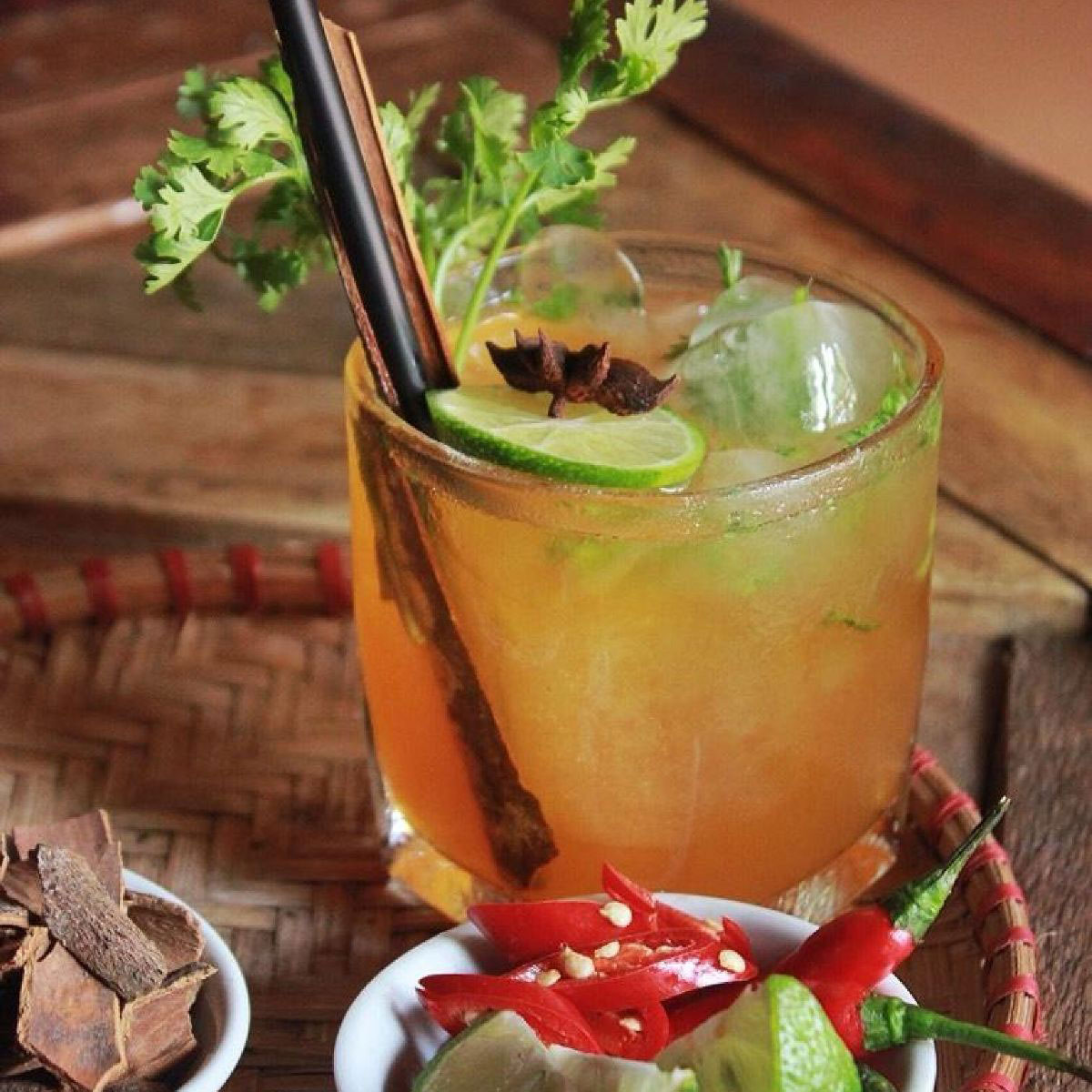 After Tiep's success, many upscale bars in big cities across Vietnam copied Pho Cocktail recipe and added it into their menu drink. If tourists want to try the original version and meet its creator in person, they are recommended to pay a visit to the NE Cocktail and Wine Bar at 3B Tong Duy Tan or Attic cocktail & wine lab at 46 Trang Tien in Hanoi.
If you are still concerned about the most popular Vietnamese drinks, follow Vietnam Travel's guides and you will know the way to enjoy them as locals do. Let's come and try all of them!