8 Best Bars In Hanoi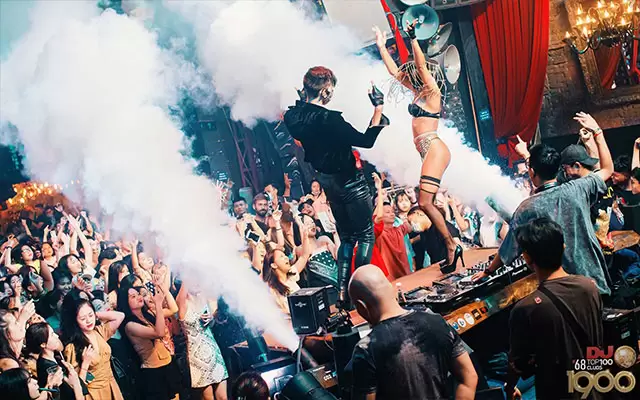 When thinking about Hanoi, tourists often consider it as a colonial capital and as a melting pot of cultural influences – Southeast Asian, Chinese, and French – and stunning architecture. But wait till the night comes, and you'll see the nightlife here is getting a new coat with a rise of bars and night clubs. It's very convenient that the best bars and pubs in Hanoi are gathered within the Old Quarter or West Lake areas, getting more attentions among tourists and expats. Just read on to discover the best bars in Hanoi where you can mingle with the city's friendly locals and other tourists.
1. 1900 Le Theater Bar
Located at Ta Hien Street – the center of Hanoi's Old Quarter and the street beer junction, 1900 Le Theatre Bar has been a popular hangout place for youngsters in Hanoi in recent years. The bar was established on the base of the old Quang Lac Theatre, which was destroyed more than 100 years ago through ups and downs of history. Based on the spirit of the old theatre's name (Quang Lac means "spreading the joy"), the new bar was born from the idea of combining the classic values with modern electronic music trends and styles and reviving the moribund place by a group of talented Vietnamese youngsters.
People are impressed by an emerging playground with great music, impressive space and unique feelings compared to the contemporary luxurious night clubs in Hanoi. From its opening in the beginning of 2016, the name of 1900 Bar has been continuously spreading on social media networks among Hanoi's youngsters about an exciting place for weekend hang out. Its familiarity is featured from the saying: "There's no boundary between tables here as long as you are willing to play hard". Coming here, visitors will not feel alone because they can easily grasp a beer, dance in the music or walk around to make new friends without hesitation.
Address: No. 8 Ta Hien Street, Hoan Kiem, Hanoi.
2. Lighthouse Sky Bar
Lighthouse Sky Bar occupies the top three floors of La Siesta Premium Hang Be Hotel – one of the best boutique properties in Hanoi's Old Quarter. The name "Lighthouse" itself was originated from an interesting story of Hang Be Street. In the past, the main product was traded in Hang Be Street are basic types of wooden boat called "bè" in Vietnamese. In addition, the design of the bar is simulated on a boat facing the direction of Red River.
Climb up to steps leading up to the "ships bridge", visitors will pay attention to modern and stylish design. A perfect combination of materials such as glass, metal and wood match with a monochromatic color of black, granite grey and hints of cream. The terrace areas are designed in lush and open-air, well equipped with comfortable lounge sofas and front-row bar stools. The bar menu offers from well-made and unique signature cocktails, to classic ones, or local craft beer and premium spirits.
You can come here from 4 PM – 6 PM to enjoy a relaxing afternoon cocktail while enjoying the amazing sunset over Hanoi's skyline. Or simply immerse in the stylish al-fresco vibes at night time with background chill-out music.
Address: No. 27 Hang Be Rooftop, La Siesta Premium Hang Be, Hoan Kiem District. Hanoi.
3. La Plume Bar & Lounge in Hanoi Press Club
Just a five-minute walk from Hanoi Opera House, Hanoi Press Club is best known for its excellent service and sophisticated setting, which are suitable for more affluent clientele. However, this is not only the best place of French dishes in Vietnam but also offers a special gentleman's style bar which has exotic dancers performing. La Plume Bar & Lounge in Hanoi Press Club's décor was inspired by the design of the legendary Long Bien Bridge. The shining lights shining, the soft and luxurious sofa, the precious wooden doors all create the cozy atmosphere. Guests can have chance to enjoy the best cocktails in town, made by world champion Master Mixologist Phạm Tiến Tiếp. Don't forget to try Pham's standout Pho cocktail, fusing gin and Cointreau with traditional pho flavors like star anise, cardamom, cinnamon and lime.
Moreover, the bar offers a very explanatory wine menu with 600 labels from the most famous producers of the world, a majority of French wines, all stored in the open cellar on site. In the evening time, the lounge becomes an exciting venue with Jazz performance on Wednesday and Friday evenings as well as other live entertainments.
Address: No. 12 Ly Dao Thanh Sreet, Hoan Kiem District, Hanoi.
Opening Hours: Daily 08:30 – 24:00.
4. IP Club (old The Bank Hanoi)
IP Club Hanoi is the largest and most popular nightclub in Hanoi. Set on the sixth floor of Hanoi's Capital Building, IP Club Hanoi's terrace offers its guests with a great view of Hoan Kiem Lake and downtown Hanoi. It's home to three venues, which playing three different upbeat tunes via top name DJs, and equipped with an impressive sound system imported from London. The bar's interior design reflects the party nature of the venue with an array of strobing neon lights, glittering disco balls and dripping chandeliers.
Crowds of locals, expats and tourists come here to let off steam, dance around their hi-top tables (space is at a premium), down premium spirits and smoke shisha. Its music policy comprises hip-hop, top 40 hits, lounge, deep house, and house tunes while drinks here are relatively inexpensive compared to most nightclubs in Hanoi.
Address: 6th floor, Capital Building, 41 Hai Ba Trung Street, Hanoi.
Opening Hours: 20:45 – 00:00
5. Binh Minh's Jazz Club
Binh Minh's Jazz Club is located right behind Hanoi Opera House along Trang Tien Street, just a five-minute walk from the legendary Sofitel Metropole Hanoi Hotel and the Hotel de l'Opera Hanoi. Binh Minh's Jazz Club as established in 1998 by Quyen Van Minh – a Vietnamese famous saxophonist. As its name suggests, tourists can go there to enjoy live jazz music performances (between 21:00 and 23:30 every night) by local jazz talents, as well as prominent international musicians in some special occasions.
It's really a legendary nightlife spot for jazz lovers to escape from bustling cityscape. The club welcomes guests with an intimate ambience, features minimal décor, cosy seats, warm lighting, and efficient service. The drink menu comprises classic cocktails, imported beers, whisky, and coffee, as well as a selection of Western and Vietnamese delicacies.
Address: No. 1 Trang Tien Street, Hoan Kiem District, Hanoi.
Opening Hours: Daily 08:00 – 24:00.
6. Summit Lounge
Summit Lounge of the Pan Pacific Hanoi is among one of the most luxurious rooftop bars throughout Hanoi. It gets fame due to its spectacular panorama view of the city's skyline, West Lake and Red River, especially at sunsets. Besides fabulous view, this rooftop bar offers great drinks, luxury furnishings, and a comfortable and relaxed atmosphere. Tunes of soft house music from the live DJ echos from the speakers. Guests can order tasty signature cocktails and Pan Pacific Hanoi own classics. There are classic barbites with Asian gourmet character for those who are hungry. Even the drink and food menu here are pricey, it's still a must to come for those who like luxury, fine dining and majestic views among rooftop bars in Hanoi.
Address: No.1 Thanh Nien Road, Truc Bach Ward, Tay Ho District, Hanoi.
Opening Hours: Daily 16:00 – 24:00.
7. Hero Club Hanoi
Hero Club Hanoi is an industrial-style nightlife club where party-loving locals and expats dance the night with the tunes of EDM and deep house to hip-hop and R&B. The club's interior is decorated with colorful murals of popular super heroes and propaganda posters, while the DJ booth is embedded in an old Soviet truck cabin. Themed nights with great drink promos, in combination with regular visits of international DJs at Hero Club Hanoi always create the loud and fun party scene there. Coming to Hero Club, you can take an extensive mixology list of brand-name spirits to accompany assorted mixers, as well as a choice of imported bottled beers.
Just 10-minute drive from downtown Hanoi, Hero Club is a good option for those who want to continue the party whereas Hanoi's Old Quarter nightlife shuts down at midnight.
Address: No. 42M Yen Phu Street, Truc Bach Ward, Hanoi.
Opening Hours: 22:00 – 03:00.
8. 88 Lounge
88 Lounge is a four-story upscale wine lounge in Hanoi's West Lake area. It showcases an extensive wine list from wine-producing regions all around the world, from France and Italy to South Africa and New Zealand. Set over several floors, 88 Lounge has an architectural layout that is a mixed bag of oriental culture and traditional French country style. In addition, the flexible furniture can be rearranged with various seating styles to suit different events or clients' preferences. You can dine at a table or relax and lounge in one of several areas on a couch or comfy chair very much like their own living room. In 88 Lounge, everything combines together creating a unique lounge experience second to none.
Address: No. 88 Xuan Dieu Street, Tay Ho District, Hanoi
To sum up, top best bars and pubs in Hanoi are more than enough to keep you busy if you're looking to party during your holiday. If you're a culture vulture, ticking off all the 8 best bars above, which help shape Hanoi's vibrant nightlife. Ask our travel experts to add at least one of these bars, or other names you have in mind, into your itinerary while you are in Hanoi.