Van Phuc Silk Village Hanoi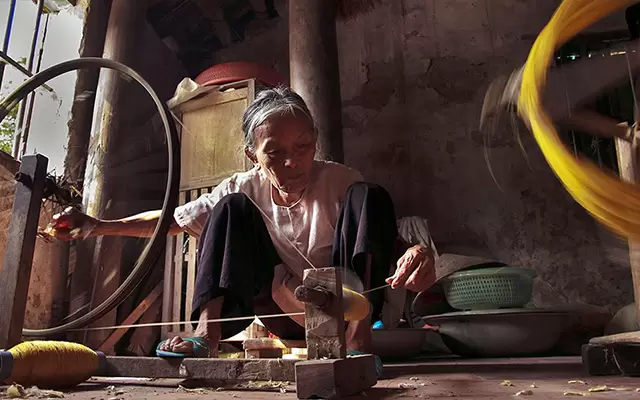 Listed as one of more than 1,000 traditional villages in Vietnam, Van Phuc is a silk weaving village with a long history of development. The village captivates visitors not only with its unique embroidery lines and patterns, but also with its most beautiful cultural and historical tradition of the country.
1. Overview
Vietnam has a long history of silk production and Hanoi is one of the best places in the country to discover the ancient handicraft. Van Phuc Village, located 10km far from the Hanoi Old Quarter, is renowned for its traditional weaving and premium quality silk products. Like other so called "craft villages", there's not a strong sense of tradition here and most of the village has been turned over to modern shops selling silk wares of varying quality and appeal. Shoppers or visitors just need to spend a half-day trip or less to Van Phuc Silk Village that reveals the secrets of traditional silk weaving and offers plenty of opportunities to purchase quality silk products.
2. History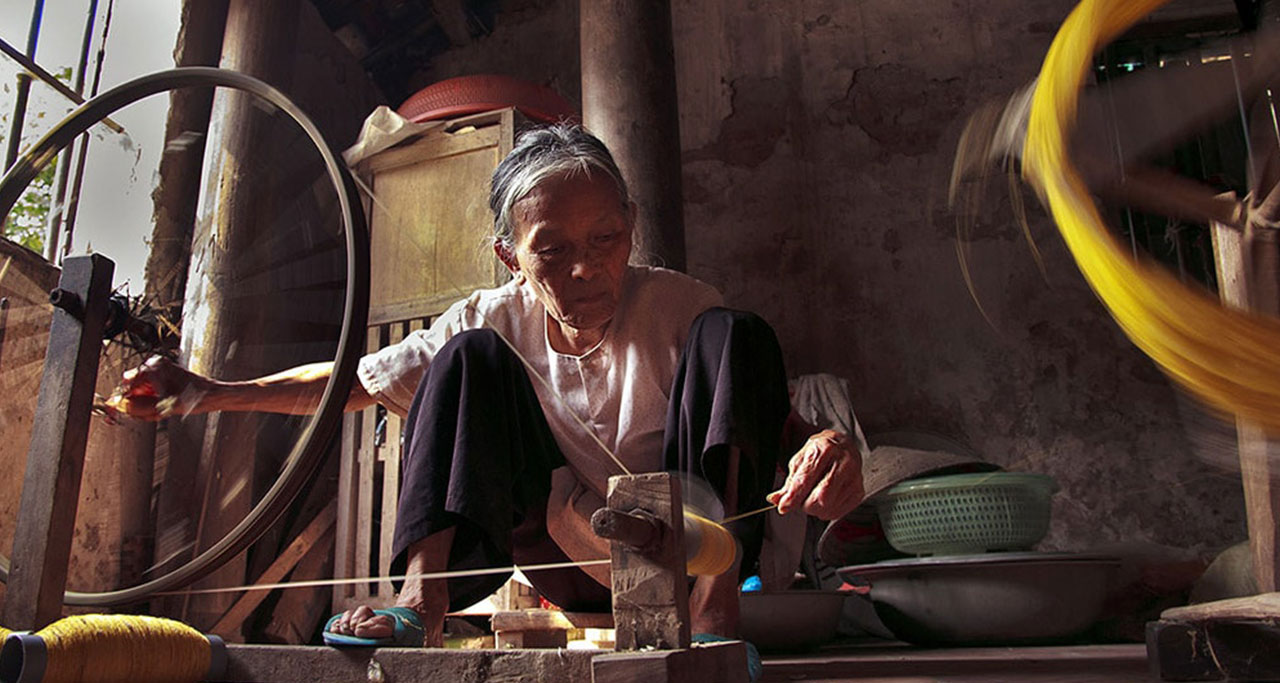 Some documents & relics say that the weaving of Van Phuc village originated in the 9th century. It was rumored that a local girl gave birth to the rough silk weave with simple, ordinary silk products and the tradition didn't become flourished until the 16th century, when a lot of premium items had been created with vivid, subtle patterns.
Van Phuc Silk Village once used to select as the tailor taking responsibility for making royal outfit under Nguyen Dynasty in Hue. Between 1931 and 1932 during French colonial, Van Phuc Silk, for the first time, was introduced worldwide in international exhibitions in Marseille and Paris. Since then French clients have paid special interest in Van Phuc Silk. From 1958 to 1988, Van Phuc Silk mostly was exported to Eastern European market, and it has been popular product worldwide since 1990.
3. Special features of Van Phuc Village's Silk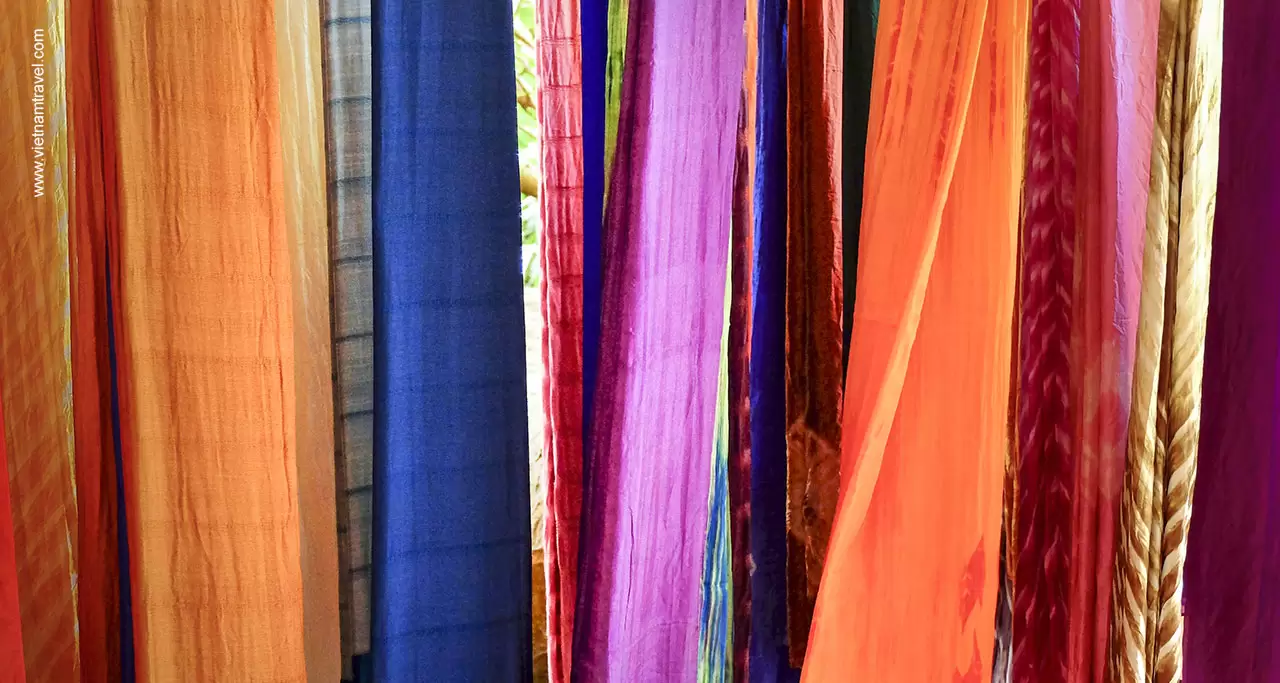 With long tradition and well conservation by the locals, weaving has been passed from generation to generation, contributing to create unique cultural features on costumes of Vietnamese people.
All the patterns are made elaborately and sophisticatedly, each sheet of silk is a masterpiece bearing the enthusiasm and soul of each artisan. Moreover, all the processes are done by the oldest techniques that can only be achieved by Van Phuc villagers. Each stage follows strict regulations.
Van Phuc Silk has been known for its smooth, soft, and elegant appearance. Especially, a traditional kind of silk called Van Silk made in Van Phuc make the wearers feel cool in summer and warm in winter. Today, to satisfy various demand for silk of the market, Van Phuc handicraftsmen have expanded their silk and garment goods like embroidered silk, wrinkled silk, double layers and more colors for silk products.
4. What to explore at Van Phuc Silk Village?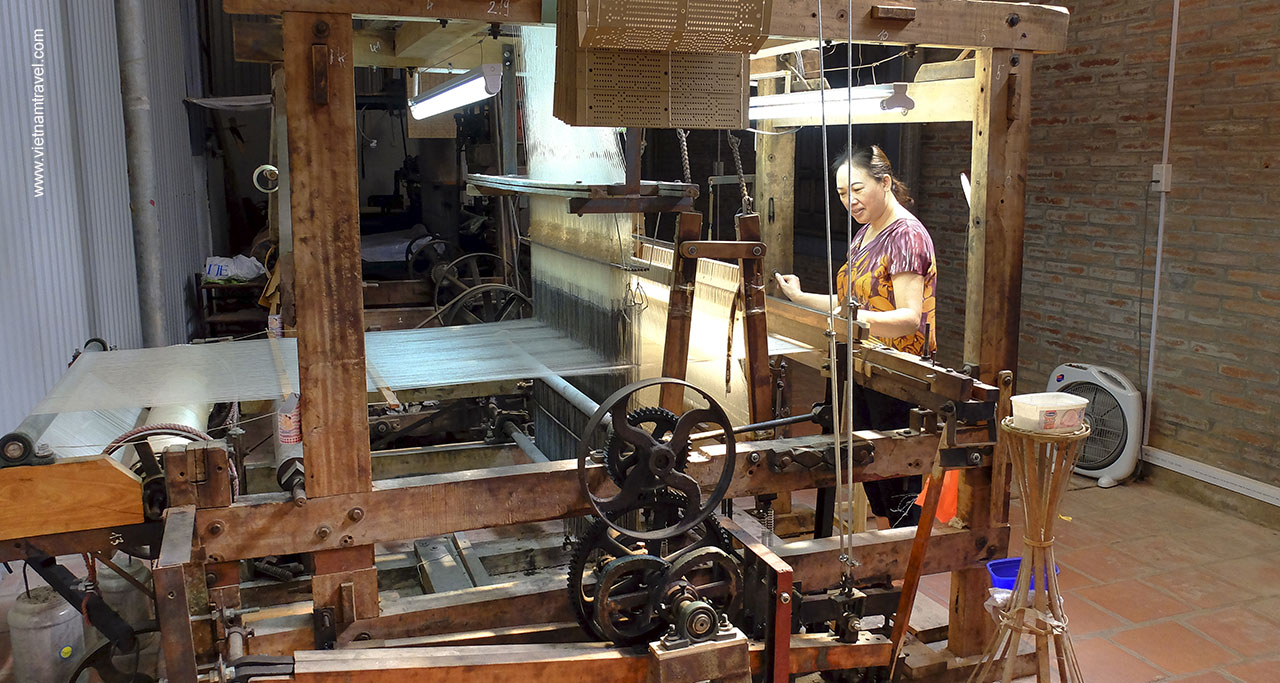 Many families in Van Phuc open their own shops in a convenient location in the village; create a "town of silk" that sell eye-catching and high quality silk products. You may buy items available in the shop, or favorite fabric to get customized products. Most of the sellers are very friendly and can speak a basic English and French to serve foreign tourists.
Silk products of Van Phuc could vary differently from clothes to accessories like handbags or purses. Price is incredibly reasonable (the price for the meter of silk usually depends on the material, about 10 USD in average), some of the models you could bargain for a lower price even. Additionally, you could also drop in spiritual spots like Van Phuc Pagoda, or Natural Silk Protected area to understand more about the tradition of Van Phuc Village.
A highlight of a visit to Van Phuc will be an opportunity to see the old looms in operation. While some basic technology has been introduced to the process in recent years, there is still plenty of manual labour in Van Phuc's silk production processes.
Additionally, a 100 meter-street decorated with colorful umbrellas that look no less than the art of Agueda in Portugal. Don't skip to wander along it and snap some photos!
6. How to get there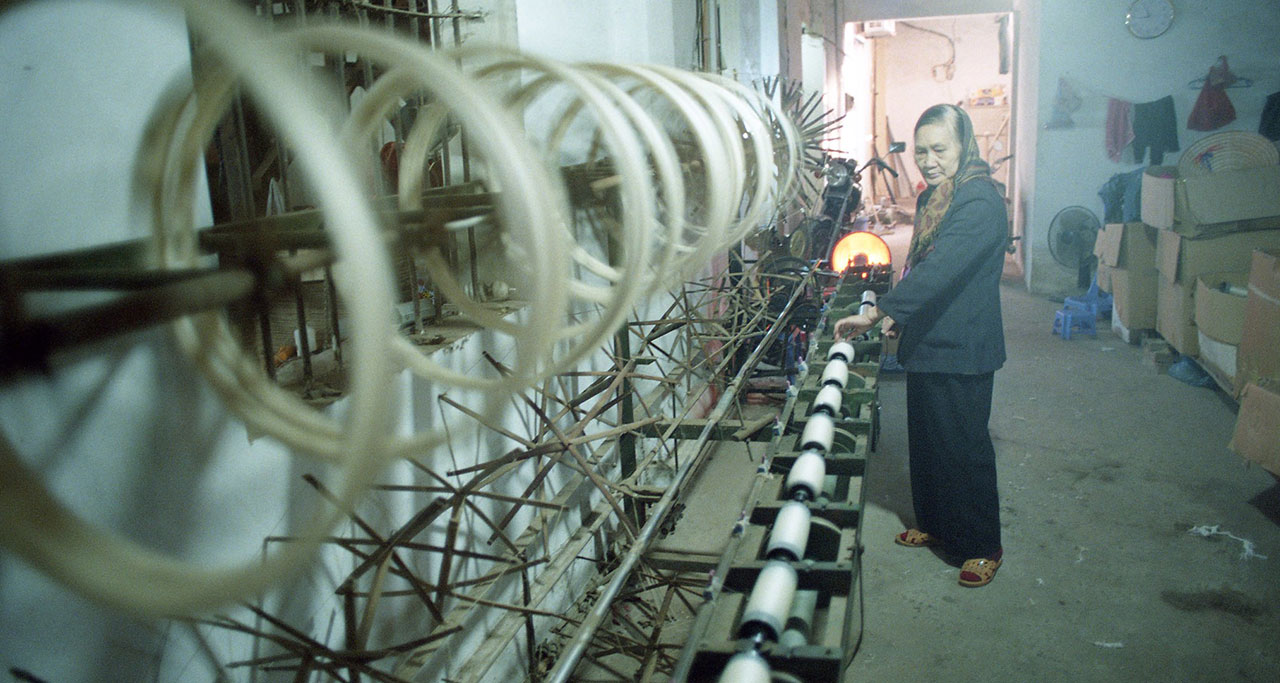 In a short distance to Hanoi Old Quarter, it is very convenient to access Van Phuc Silk Village.
You can easily rent a motorbike, take a taxi or catch a local bus number 02 or 21 before going on foot 500m to reach the village gate. You should travel south west out of Hanoi center on Nguyen Trai Road until reach the border of Ha Dong District, then turn right and drive about 3km to reach the village.
Opening Hours: Daily 08:00 – 22:00.
Location: Van Phuc Village, Ha Dong District, Hanoi.
Final lines
Van Phuc can be visited enroute to Duong Lam Ancient Village or the Perfume Pagoda. Otherwise it's probably only for those with lots of time or a special interest in silk production. Ask Vietnam Travel to help you for the short excursion to Van Phuc Silk Village – it's best to learn about value of the village's history, culture and traditional handicraft products with a local guide.