Hanoi Nightlife Guide: Clubs, Bars and Activities
Hanoi after dark is really different from what you see on the daytime. The city now becomes colorful and exciting with night activities. There is not an endless amount of nightlife entertainment options in Hanoi, but the city has dozens of lounges where you can spend an incredible night dining, enjoying a drink or chill with loudness of DJ music, as well as other selection of options to have fun. Let's find how to enjoy Hanoi's best nightlife when stay in Vietnam's elegance capital city.
The vibrant party scene at bars, clubs.
The night bars, clubs are suitable places for those who want to get away from stress and immerse themselves in music. Here comes a list that you should try at least once.
Binh Minh's Jazz Club
(1 Trang Tien street, 5.00PM – 12.00AM)
Binh Minh's Jazz Club is a legendary nightlife spot where you will have a chance to catch live jazz music performances. Opened 20 years ago, the club brings an intimate ambiance with cozy seats & warm lighting.
Dragonfly Bar Lounge
(15 Hang Buom street, 6.00PM – 11.00PM)
This is one of popular night spots in Hanoi Old Quarter where attracts young Vietnamese and youthful expats. The music varies between hip-hop and party pop music with available space for your dance as well. Shisha pipe with a range of flavors will be available on upper floor.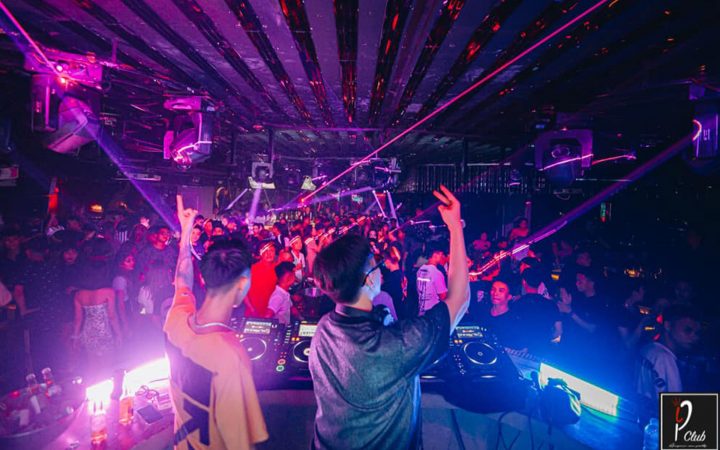 The Bank Hanoi
(6th floor, Capital building, 41 Hai Ba Trung street, 8.00PM – 12.00AM)
The Bank Hanoi is now the biggest nightclub in Hanoi where displays different upbeat tunes until late night. Its music comprises hip-hop, top 40 hits, lounge, deep house, and house tunes. This places a well-dressed crowd of locals, expats and tourists.
Hanoi Press club
(59A Ly Thai To street, 5.00PM – late)
This is not only the best place of French dishes in Vietnam but also offers a special gentleman's style bar which has exotic dancers performing. Besides, the open terrace brings the ideal time to enjoy a quiet evening.
Hero Bar
(42M Yen Phu street, 10.00PM – 3.00AM)
Attracting both the local and expat variety, Hero is an industrial-style Hanoi nightclub churning out the latest tunes while offering bottle service and hookah pipes to late-night partiers. Located near the West Lake, Hero Club always gets crowded even after midnight.
Quieter scene with culture preference.
You have just seen the vibrant party scene that the city has to offer above. However, what nightlife in Hanoi can do more if alcohol, flashing lights and thumping music aren't your things? Worry free. Hanoi has another thing for those who prefer a quieter scene and better feel the true essence of life in Vietnam's capital.
Water Puppet Show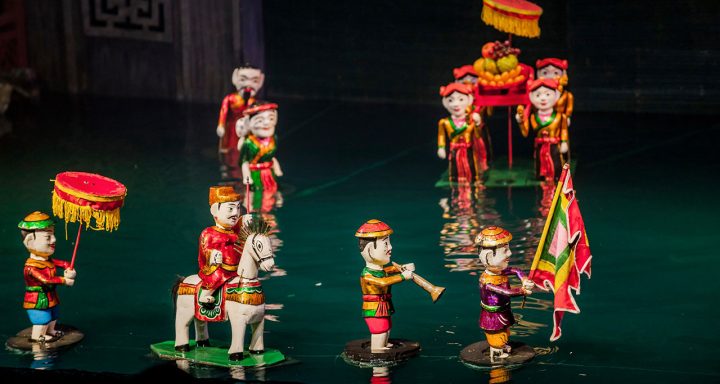 This is a legendary presenter of traditional Vietnamese art. Shows are played by a Vietnamese orchestra who accompanies stories, and musicians playing songs using traditional instruments. There are two main puppet theaters sat on Hoan Kiem lake including Bong Sen Puppet Theater (79 Hang Trong street) and Thang Long Puppet Theater (57B Dinh Tien Hoang street).
The show lasts 50mins – 1 hour with several daily schedules for your flexible choice: 15.00, 16.10, 17.20, 18.30 & 20.00.
My Village Show
The show is the poetic memoirs of the rural life in North Vietnam with a blending genre of bamboo cirque, acrobatics and juggling and live music on stage with traditional musical instruments. Each show lasts 60-70 minutes at Hanoi Opera House (1 Trang Tien street) or Vietnam Tuong theater (51 Duong Thanh street).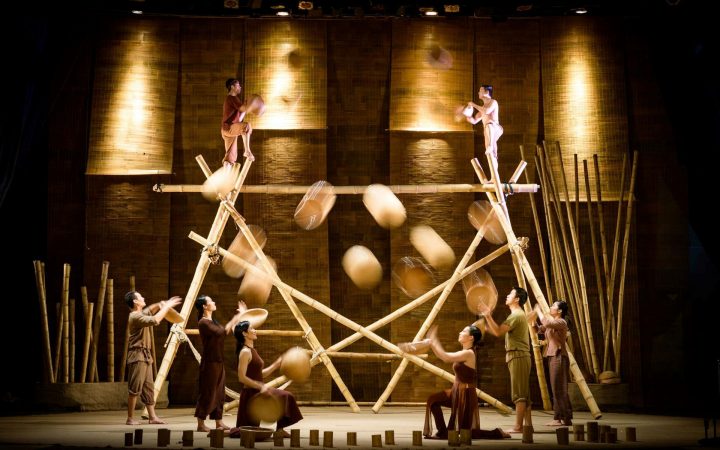 As one of the biggest theaters nationwide, Hanoi Opera House speaks volumes as cultural and historical evidence of Vietnam under the French rule. The performances in this venue are various, including traditional folk music, international concerts, Vietnamese opera, and ballets as well.
Vietnam Central Circus
Established in 1956, Vietnam Central Circus (67-69 Tran Nhan Tong street) becomes the oldest circus in the country. This will be an ideal site for fund if you travel with family and kids to watch clowns in vibrant costumes or animal performances, and especially the gravity-defying acrobatic performances.
Performances run every weekend (Saturday & Sunday) at 9.30AM & 20.00PM.
Down to the streets with many other interesting activities.
Local street food & drinks
Bia Hoi Junction
Bia hoi is a type of draft beer which is cheap & popular with Vietnamese locals. You can find Vietnamese enjoy Bia hoi at anytime and anywhere.
Widely-regarded as the quintessential nightlife spot in Hanoi, Bia Hoi Junction is open throughout the day and late into the night at the corner of Ta Hien and Luong Ngoc Quyen street.
This place attracts a steady following of locals, expats and tourists looking to down some ice cold beers and some snacks on the plastic chairs all night long. You will find it great for drinking on a budget as well as experiencing the local cultural.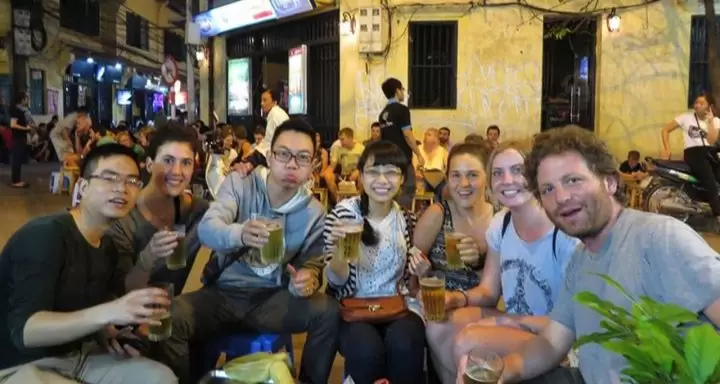 For craft beer lovers in high quality, there are some places for you to go & enjoy such as Craft Beer Pub (26 Hang Buom Street) where serving a large variety of both locally made beer and beer imported from Belgium, Czech Republic, Germany; Standing Bar (170 Tran Vu street) where serving up brews from a host of Vietnamese craft beer brands across the length of the country; or Legend Beer (1-3-5 Dinh Tien Hoang street, third-storey bar with lake view) which is famous for its own brewed drinks and German-style dishes such as sausages and pork knuckle.
Lemon tea, or "tra chanh" in Vietnamese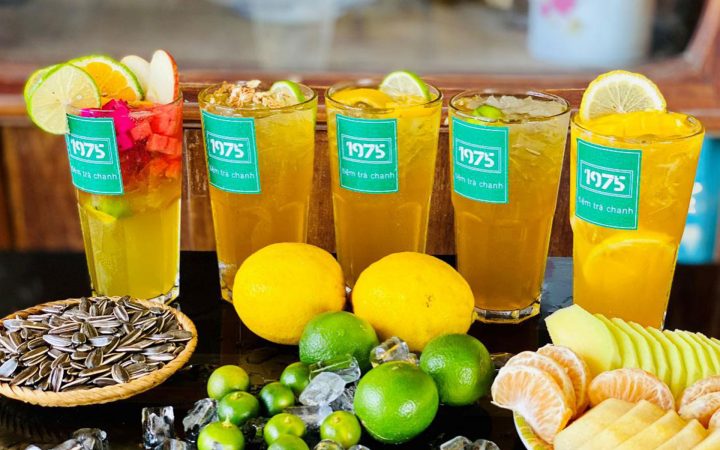 It is a pity to miss lemon tea when you have an opportunity to visit Vietnam. Just a cup of tea while sitting on the pavement, you can gather to chat with friends and enjoy some street foods. Nearby St. Joseph's Cathedral is a favourite place to enjoy this drink and see the beauty of the church in Hanoi.
Street foods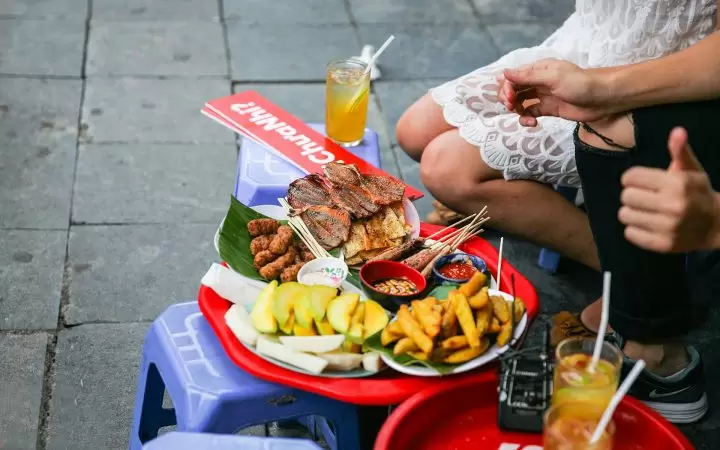 Getting more popular worldwide, Vietnamese food is fresh, healthy and reasonable. Even President Barack Obama and his chef Anthony Bourdain cannot resist Vietnam fascinating cuisine on their visit in 2016.
Grab a low plastic chair and adventure the authentic and local culture on Hanoi specialities including Pho (rice noodle soup with beef or chicken); Bun Cha (fresh noodle together with a bowl of sweet and sour fish sauce with chargrilled pork patties); Xoi (sticky rice); Banh Xeo (crispy pancake with savoury fillings); Goi Cuon (fresh spring rolls)…
Another favourite taste with the young generation will come to the food stalls with barbecued or steamed seafood such as clams, snails, egg squids, oysters, crabs…
Of course, enjoying meals at one of finest-dining restaurants in Hanoi over-viewing Hoan Kiem lake or taking fast food (KFC, Lotteria or McDonald's) are also great choice according to your flexible tastes.
Enjoy local life
Walking around Hoan Kiem Lake which is famous for its peaceful beauty, its cultural as well as historical values. Not only early morning, but evening is also good time for the flocks of local residents gathering here for doing exercise such as yoga, aerobic and tai-chi.
During weekends, Hoan Kiem lake area becomes more crowded because the surrounding streets will be blocked to make it as a public square for walking only.
Folk games and traditional music performances will be displayed through this Hanoi pedestrian street. You can also visit Hang Dao Night Market which is open from 18:00 to 23:00 every Friday, Saturday and Sunday and buy souvenirs or enjoy local foods here.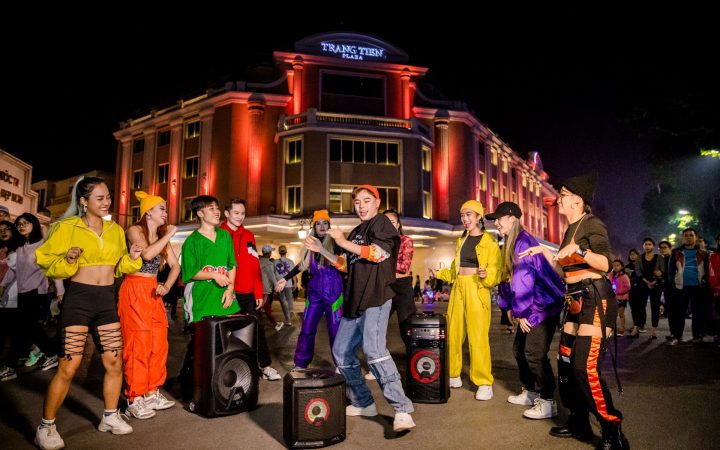 Exploring the Old Quarter where used to be the residential, manufacturing and commercial center and where each street was specialized in one specific type of manufacturing or commerce should not be missed. Many shops are along this area for you to pass by & find something for your own preference.
Witness the moment of the flag lowering ceremony in Ba Dinh Square at 9.00 PM daily is also impressive thing. This is national ritual taking place twice per day at 6.00AM (flag raising ceremony) & 9.00 PM with excited orchestra and national anthem performed by military solders in white uniforms.
Visiting Quang Ba night flower market can be added in your to-do list thing as one of Hanoi's most colorful attractions as well. This is the largest market in Hanoi where flowers are shipped in from all over Vietnam. Its busiest and most atmospheric time is when the market first starts up in the early hours (begins at around 2.00AM). This site will be especially worth during Vietnamese Lunar New Year (Tet) when flowers are used in abundance to mark the festival.
See Hanoi from the above
Spend your time at one of best Rooftop bars in Hanoi to enjoy lively atmosphere and stunning view overlooking the shimming Hanoi city is really great & memorized. Some favorite names can be listed here for your choice:
Cielo 13 Sky Bar & restaurant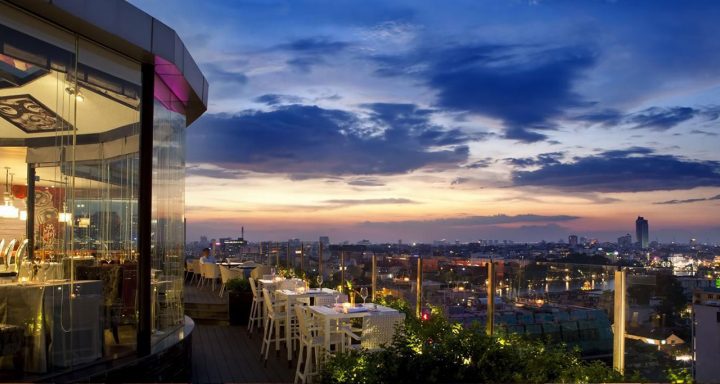 Highlights: spectacular views, excellent authentic dishes, bountiful wines & flavorful cocktails
Add: 13 Hai Ba Trung Street, Hoan Kiem District, Hanoi
Opening hours: 10:00 am – 11:30 pm
Menu: Western/ Asian
Dress code: smart casual.
The Rooftop Hanoi
Highlights: 19th floor, resto-bar, panoramic view, live music & DJs
Add: 19th floor, Pacific Place, 83B Ly Thuong Kiet Street, Hoan Kiem District, Hanoi
Opening Hours:
Restaurant: from 09:00 AM to 09:00 PM every day
Bar: from 09:30 PM until midnight
Menu: Western/ Asian
Dress code: smart casual.
Lighthouse Sky Bar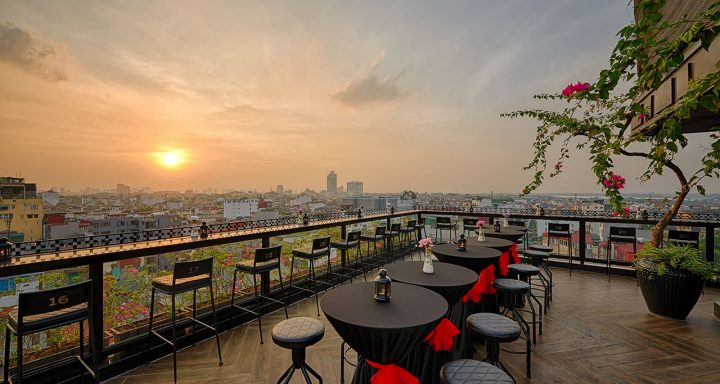 Highlights: 360 panoramic view over Hanoi, excellent service
Add: No 27 Hang Be Street, Old Quarter, Hoan Kiem District, Hanoi
Operation hours: 16.00 – 00.00 daily
Menu: Asian / Western
Dress code: Smart casual
Twilight Sky Bar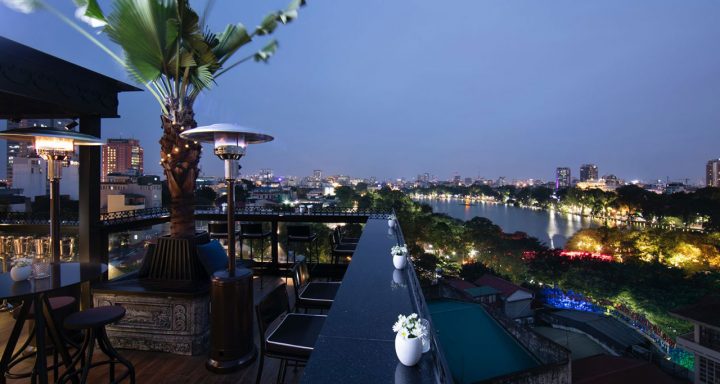 Highlights:  8th floor bar, Hoan Kiem Lakeview & Skyline, Charming & sophisticated crafted cocktails
Add: 1 Cau Go Street, Hang Bac Ward, Hoan Kiem, Hanoi
Opening hours: 09.00 – 00.00, daily
Menu: Asian / Western
Dress code: Smart casual.
Summit Lounge at Pan Pacific Hanoi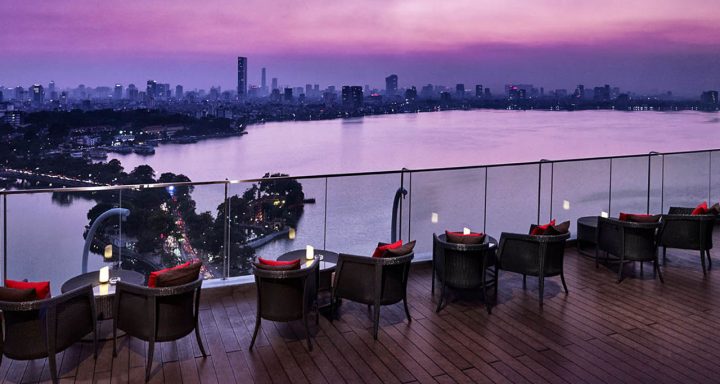 Highlights: 20th floor, 360-view nice ambience, crafted cocktails
Add: 20th floor – Pan Pacific Hanoi, 1 Thanh Nien Road, Ba Dinh District, Hanoi
Opening hours: 16.00 – 00.00, daily
Menu: Western/ Asian
Dress code: smart casual.
Tips on Getting Out at Night in Hanoi
– Bring your identification along in case you are asked.
– Do not bring valuable things like jewelry or too much money.
– Keep yourself warm and bring your jacket if you visit Hanoi in the winter.
– Rent a motorbike with helmet which is much more convenient and money-saving than taxis.
– Choose reliable tour agencies if you need a well-organized trip with stress-free.